Patriot Viper Elite DDR4-3200 16GB Dual-Channel Memory Kit Review
It looks as if Patriot is at the top of its game with its new Viper Elite DDR4-3200 16GB dual-channel memory kit. If you want some killer memory, read on.

Published Wed, Feb 17 2016 8:47 PM CST
|
Updated Tue, Nov 3 2020 6:58 PM CST

Patriot has been more than willing to help us at TweakTown with samples of memory and has handed us kits for X99 as well as a couple of kits for Z170 already, all of which sported the Viper name. Their newest submission also sports the Viper naming but is followed with the Elite moniker this time. Along with a new name for their DDR4 comes a new design in heat spreaders to help to differentiate the Viper Elite quickly from the more standard offerings.
Today we are taking a close look at the PVE416G320C6KGY 16GB kit of dual channel DDR4 memory that is intended for use with Skylake processors. There is a vast array of products in this series with speeds of 2400, 2666, 2800, 3000, and 3200MHz. Also, within this line, there are three options of colors to the heat spreaders. The majority of all of them are grey, but they offer blue accents, red accents, or a solid grey version, which we have received. As far as density is concerned, these kits are sold in 8GB kits on up to 64GB kits. As to the particular set we are about to be testing, we have a 16GB kit of 3200MHz sporting 16-16-16-36 2T timings, using the maximum voltage of 1.35 volts.
The new Patriot Viper Elite is a complete departure from any kits we have reviewed this far, as far as styling goes. Carrying the Elite moniker ramps up both the design of the spreaders as well as what we can do with this kit compared to the mainstream Viper 4 kits in the past. Offering the trio of color options allows users to fit almost any theme, and if the red or blue highlights don't suit your needs, the solid grey versions we have, as you are about to see, will fit the bill for any other color your motherboard may offer.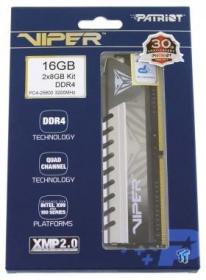 The packaging is standard to all of the other kits of DDR4 we have received from Patriot in the past. The use of a blue box and chrome-like lettering, along with a 30th-anniversary sticker on the box has all been seen before. However, this time, as we peek through the window offered in the packaging, we get our first glimpse of the whole new design of the heat spreaders that come on the Viper Elite sticks.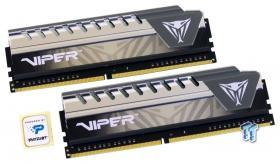 Inside of that box we find a pair of 8GB, single sided RAM sticks, and as per usual, we are also shipped a Patriot case badge. The Elites come with angled slots cut into the top of the spreaders, with a large Viper logo to the right. The sticker on the side also offers the Viper name as well as a close up of the Viper logo on them. As to the optional colors, the darker gray section to the right and the bit across the top are what comes in red and blue with the other variations of this design.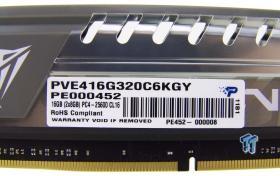 The stickers found on the reverse of the spreaders offers the PVE416G320C6KGY part number in bold text at the top. As we look a bit lower, we are shown that this is part of a 16GB kit made of two 8GB sticks, both with an XMP 2.0 profile to run these at 3200MHz with a CAS latency of 16.

With the grey versions we were sent, the top of the spreader is of course painted grey, and sports the Viper name right in the middle. This design is offset at the top, at the left end of the spreaders drops a bit lower than the 43mm overall height across the majority of the top of the spreaders.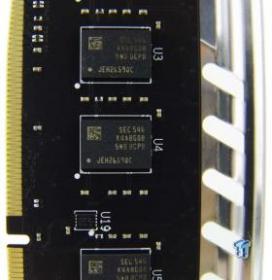 Using thermal tape on the ICs, it was relatively easy to remove the spreaders to get a look at what type of memory we are dealing with. As you can see by the SEC naming, the Viper Elites are based on the use of Samsung ICs mounted on a black, multi-layer PCB.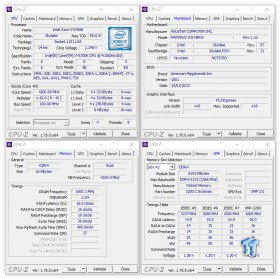 Our initial boot of this memory with the XMP 2.0 profile active gave us 3200MHz on the nose with 16-16-16-36 2T timings, with a tRFC raised to 450 to help to stabilize these at this speed. We also noticed the System Agent as well as the VCCIO voltages increased with the profile active, while the VDIMM was set to 1.35 volts.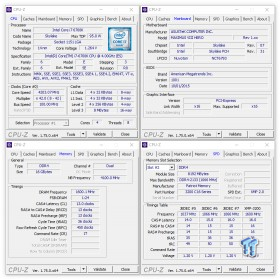 What comes as a bit of a surprise to us, is when we added a tenth of a volt to the memory to begin reducing the timings, we were able to get this kit of 3200MHz memory to run at 13-13-13-36 1T. Of course, you can find others pumping way more volts than we are, and getting lower timings on similar kits, but this is impressive for as little effort as we put into getting these results.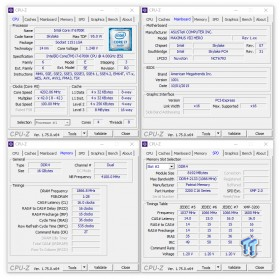 Typically we would consider a gain of 300MHz impressive on most DDR4 that we have tested in the past; these Patriot Viper Elites had way more to give. Using the XMP timing, we pushed this kit as far as we could, raising the frequency to an incredible 3733MHz. That is over 500MHz more than what the sticker shows this kit will do. As far as the tRFC change to 535, that was done automatically by our ASUS motherboard to help with the increased speed.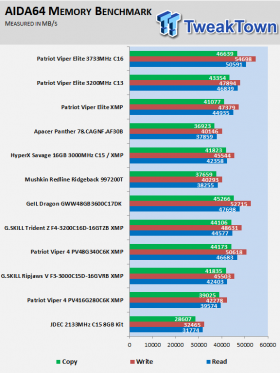 AIDA64 testing shows us that there are only two kits on the chart that offer better results using the XMP profile, and both the Viper 4 and the Dragons are clocked higher than these, so it all makes sense. Reducing the timings does offer a nice increase in the results, but with the massive speed boost, none of the other kits come close to those results.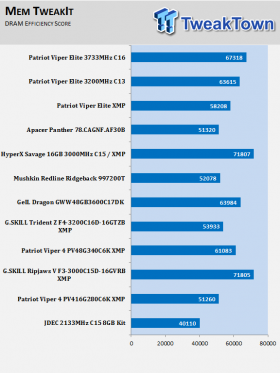 When it came to running MemTweakIt, we found that the secondary and tertiary timings play into these findings in a big way. The XMP run falls into place where we expected it to, but reducing the timings or increasing the speed in this test do not seem to offer the type of results one would expect to see.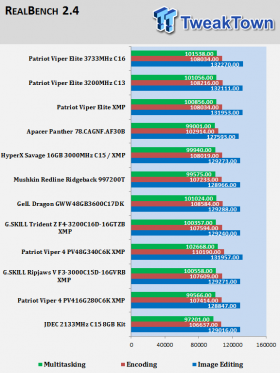 RealBench shows us that only the Patriot Viper 4 at 3400MHz comes close to the XMP results, and even then the Elites with a 200MHz handicap are only slightly less than that kit. We also see here that with timings dropped or the speed increased, the results are only marginally better than the XMP run. In this sort of an environment of testing where encoding can take hours, any advantage will show in the long term and can be appreciated by those who do such work on their PCs.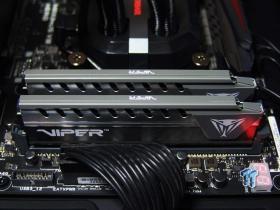 Installed in our ASUS M8 Hero, the Viper Elites offer a very pleasing aesthetic appeal. From the top, they do look a bit plain with just a flat top and the Viper name, but once you move to a slight angle to get a view of the sides, that is where the design shines. As we mentioned earlier, you can buy blue or red versions, but if you are unsure of the colors matching the motherboard exactly, this grey variant is the obvious choice to fit any motherboard theme on the market.
While we did just get some raving over the Panther RAM, we tested previous to this, and the headroom afforded to us with that kit, the Patriot Viper Elites offer some of the best results that we have seen to date when it comes to flexibility. 533MHz over what the stickers show us this kit will do is nothing to scoff at. On the flip side of the tinkering game, being able to get the timings down to 13-13-13-36 1T is just as impressive in our mind. Of course, most users will set the XMP profile and forget about them, even opting to stick with this offered us splendid results. This kit plays right into the sliding scale in all of our testing and do look damn good in our system. All in all, we have nothing to complain about when it comes to this 3200MHz 16GB kit of Patriot Viper Elite memory.
At this time, this kit is so new that even on the Patriot website, it clearly states that these are not yet available. From the kits we did find out in the wild, which happened to be a 32GB kit of 3200MHz memory, we found it listed at Fry's for $159.99 for twice the density. Using common sense, we can assume that the pricing of this kit we just tested will be more wallet-friendly than that. Compared to similarly equipped sticks to what we have tested in this review, pricing ranges from $94 to $154 for this density and speed.
So all things playing fairly, when this kit of Patriot Viper Elite hits the market, it should be right in the mix. Considering all the fun we had playing around with this kit, even if the price were to equal the 32GB kit listing, we would still have a hard time not recommending this kit for you to try for yourselves.
Chad's DDR4 Dual-Channel Test System Specifications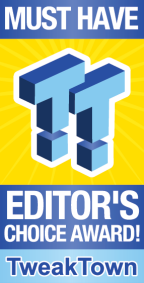 | | |
| --- | --- |
| Performance (including Overclocking) | 97% |
| Quality including Design and Build | 96% |
| General Features | 98% |
| Bundle and Packaging | 95% |
| Value for Money | 98% |
The Bottom Line: Pricing is still a bit of an unknown, but this stylish kit of Viper Elite RAM has impressed us so much that we would likely pay top of the range pricing anyways! It is rare that we get kits that are so flexible with timings, or that we get a kit that affords a 533MHz overclock.
PRICING: You can find products similar to this one for sale below.

United States: Find other tech and computer products like this over at Amazon.com

United Kingdom: Find other tech and computer products like this over at Amazon.co.uk

Australia: Find other tech and computer products like this over at Amazon.com.au

Canada: Find other tech and computer products like this over at Amazon.ca

Deutschland: Finde andere Technik- und Computerprodukte wie dieses auf Amazon.de
We openly invite the companies who provide us with review samples / who are mentioned or discussed to express their opinion. If any company representative wishes to respond, we will publish the response here. Please contact us if you wish to respond.