Synology DS216play Two-Bay Consumer NAS Review
Synology's DS216play two-bay consumer NAS is quite possibly one of the most budget-friendly diskless appliances we have tested. But is it any good?

Published Mon, Feb 1 2016 11:44 AM CST
|
Updated Tue, Nov 3 2020 6:58 PM CST
Introduction
While many storage appliances that run through the lab are focused towards prosumers and small business, there are a few that are aimed at budget-minded consumers. Synology has dedicated the "play" lineup to this cause producing full-featured appliances without the extra cost and at times a little less horsepower under the hood.
Such is the case with the appliance in house today; the DS216play is built upon a relatively new platform that I have yet to see in any other appliance. Of course, that doesn't mean this NAS is any less capable as Synology does claim this unit can handle real-time 4K transcoding and performance numbers in the realm of 107 MB/s read and 91 MB/s write.
Diving into the specifications of the DS216play, we find the brain of the operation at the top of the list, the ST Microelectronics STiH412. This SoC operates at 1.5GHz and boasts two ARM Cortex A9 cores with 1GB of DDR3 RAM.
Maximum internal capacity is listed at 16TB using 8TB HDDs while external connectivity includes both USB 2.0 and 3.0 ports along with a single gigabit Ethernet port. With this NAS solution being part of Synology's value lineup, the price certainly matches up as this two-bay DS216play appliance carries an MSRP of $249.99 with a two-year warranty.
Synology DS216play NAS Appliance
Packaging and a Closer Look
Packaging for the Synology unit is rather simple with plain brown box with a large logo on the front.
Scope of delivery for this solution includes the power adapter and Ethernet cable.
Looking at the front of the NAS, we have the power button at the lower right corner. At the top, we have a series of LEDs for both LAN and disk activity.
The back of the NAS houses the USB 2.0 and 3.0 ports along with the gigabit Ethernet port.
Test System Setup and Web Management
Tyler's NAS Test System Specifications
The Web GUI for the DS216play shares the same DSM OS as previous appliances.
Opening up the Control Panel gives access to features such as file station, backup and storage manager.
Diving deeper into the Control Panel options get further enhanced, as you can see you can create groups and users along with managing network, security and the update icon tells you when firmware needs attention.
Above, we have a look at part of the online app catalogue.
Last, we have the resource monitor that enables you to track the utilization of each component in the NAS.
Benchmarks – Single Client and Sequential Throughput
Single Client Throughput
HD Video Play - 720p HD stream from Windows Media Player, 256kB reads
2HD Video Play - 2x playback
4HD Video Play - 4x playback
HD Video Record - 720p HD stream, 256kB writes
File Copy from NAS - 4GB file copy, 64kB reads
File Copy to NAS - 64kB writes
As mentioned in the previous Asustor review, I have begun using SSDs to test NAS appliances. This allows me to see the full capability of the appliance rather than the performance of the hard drives. The DS216play in RAID 0 was able to reach 100 MB/s in file copy to NAS and peaked out in video playback at 108 MB/s.
Moving over to RAID 1, this solution peaked out at 96 MB/s in video playback while file copy reached 86 to the NAS and 74 MB/s from the NAS.
Benchmarks – Sequential Workloads
Our Sequential read/write workload is centered on 128K transfer sizes.
Sequential read results in RAID 0 topped out at 89 MB/s.
Sequential write started out at 37 MB/s then ramped up to a peak of 56 MB/s.
If we look at RAID 1, sequential results touched the same 89 MB/s read.
While write performance within RAID 1 did fall slightly, the DS216 did bring in a peak of 52 MB/s.
Benchmarks – SMB Workloads
Benchmarks – SMB Workloads RAID 0
For the SMB workloads, I have removed all the previously tested NAS appliances. This is because I didn't want appliances tested with hard drives mixed in with SMB workloads because there's too much of a difference in the results.
As you can see here with the database workload on RAID 0, the Synology device was able to hit near 2300 IOPS.
Moving over to file server, we find the DS216play steadily increase its performance through the queue depth scale. At QD1, we are just under 1000 IOPS while moving up we come to a peak of 2100 at QD8.
Looking the email server, we find similar performance with QD1 just under 1000 while moving up to a peak of 2100 IOPS at QD8.
Web Server picked up slightly as peak results came in at 1900 IOPS.
In our workstation workload, we found the Synology device to produce similar performance to the previous workloads. As you can see, we have the same 900 IOPS at QD1 and ramping up to QD8 the NAS tops out at 2100 IOPS.
Benchmarks – SMB Workloads RAID 1
Swapping over to RAID 1, we start with database performance and 800 IOPS at QD1 while peak performance is reached near 2400 IOPS at QD16.
In our last NAS review of the Asustor that solution was beaten up pretty bad by the File Server workload as you can see in the chart above. With the Synology unit, I was quite surprised to see this unit handle this without issue, actually doubling the performance.
Email server had the DS216play running right with the 6202T around 2000 IOPS.
Moving on to Web server, we start with a low of 700 IOPs at QD1 and moving towards QD16 we peak at just over 2000 IOPS.
Workstation again showed promise as the DS216play started at a respectable 800 IOPS reaching a peak of 2400 IOPS at QD16.
Final Thoughts
The DS216play is one of the most unique NAS solutions I have seen personally from Synology. It is the first I have seen that requires you to open the unit to replace or upgrade the drives but with that it does offer a clean look. Build quality seems to be on par with higher priced units, and being powered by DSM, you get the same overall experience.
The performance of the DS216play was good for a consumer NAS system. We were able to reach 90 MB/s read and 60 MB/s write in RAID 0 sequential while RAID 1 reached 90 MB/s read and 52 MB/s write; this was a bit under marketing performance of 107 MB/s read and 91 MB/s write. In single client testing, this NAS excelled in video playback testing peaking at 108 MB/s in RAID 0 and 96 MB/s in RAID 1. Workload performance was rather good as well with RAID 1 proving to be a strong point with this appliance.
DSM on this unit with the STiH412 SoC enables this unit to provide hardware accelerated transcoding with support up to 4K at 30fps with both H.264/H.265 codecs. Adding to this is the ability to stream your media via its DLNA media server via Video Station, the one downfall of which is the lack of Plex support.
Overall, the Synology DS216play is a good entry-level solution for users that just want to manage their data with the occasional use of apps such as transcoding and DLNA streaming. For users that want to stream to multiple devices or run heavier workloads, it would be worthwhile to pick up an x86 powered unit like a DS215+ or the four bay 415+.
With that said, the level of features you get with this appliance are top notch and with this unit carrying an MSRP of $249.99 with a two-year warranty, it's quite competitive in the market as well.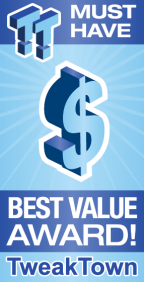 | | |
| --- | --- |
| Performance | 80% |
| Quality including Design and Build | 85% |
| General Features | 85% |
| Bundle and Packaging | 85% |
| Value for Money | 90% |
The Bottom Line: While this NAS won't impress enthusiasts, it's a worthy entry-level solution for those just wanting to get their feet wet in the NAS world.
PRICING: You can find products similar to this one for sale below.

United States: Find other tech and computer products like this over at Amazon.com

United Kingdom: Find other tech and computer products like this over at Amazon.co.uk

Australia: Find other tech and computer products like this over at Amazon.com.au

Canada: Find other tech and computer products like this over at Amazon.ca

Deutschland: Finde andere Technik- und Computerprodukte wie dieses auf Amazon.de
We openly invite the companies who provide us with review samples / who are mentioned or discussed to express their opinion. If any company representative wishes to respond, we will publish the response here. Please contact us if you wish to respond.
Related Tags