Tt eSPORTS Cronos AD Headset Review
Looking to improve on its original Cronos headset, Tt eSPORTS has improved on previous features. Are these tweaks enough to make it great?
Published Dec 6, 2015 11:50 AM CST
|
Updated Tue, Nov 3 2020 6:59 PM CST
6 minute read time
TweakTown's Rating: 84%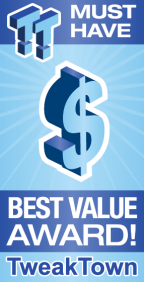 The Bottom Line
The tweaked bass in this new model makes for epic cinematics or hard-music listening, but the headset is let down by some muffled melodies. All around though, it's still fairly awesome for the price.
Introduction
Being the second CRONOS headset to come to market, Tt eSPORTS aims to improve on its original model with the CRONOS AD.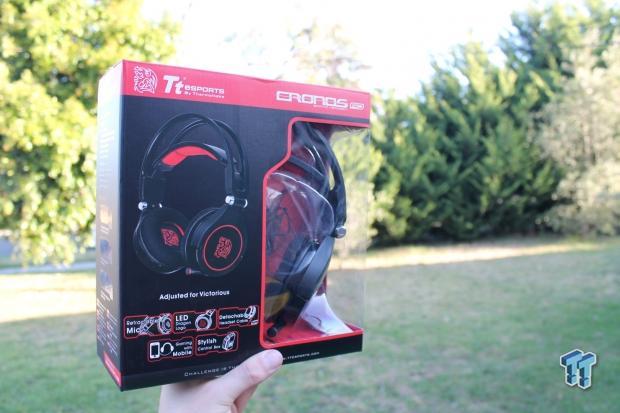 Featuring an improved headband, bass-tweaked drivers, and some other small improvements over the previous model, this review will be comparing the CRONOS AD to some of our recent reviewer stunners, such as the HyperX Cloud Core and Patriot Gaming V360. Besides the tagline stating that this headset is "adjusted for victorious," it seems that the improvements made to this product might make it a real low-to-mid-range contender. Read on to find out our thoughts.
Specifications
Featuring 40mm neodymium magnet drivers in each earcup, this product connects through a 3.5mm connection for mic and sound to your computer while also offering a USB cable intended only for LED power.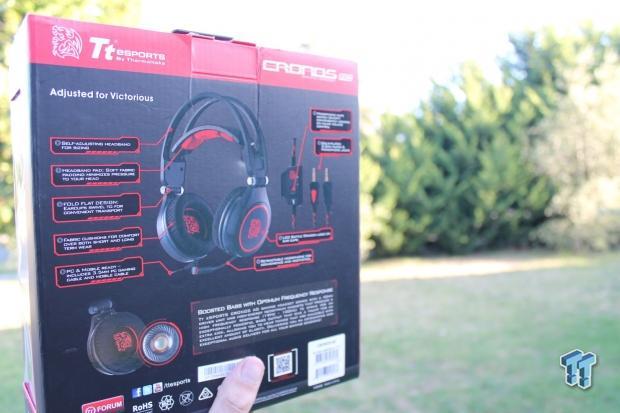 The headset as a whole offers a frequency response of 20Hz - 22Khz with an Impedance of 32 Ohms, ranking it as fairly similar to any $50-$150 option available on the market today. The microphone itself offers a retractable design and an omnidirectional pickup with an impedance of 2.2k Ohms, a frequency response of 100Hz - 10kHz and a sensitivity of -42 dB +/- 3dB.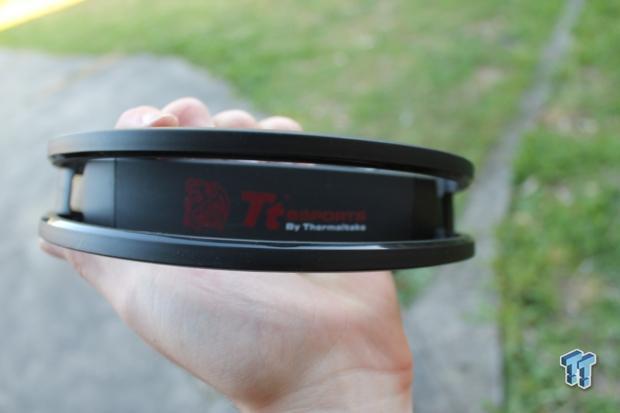 The ear cups on this model are cloth and the headset sits on top of your dome thanks to an expanding bridge style headband, something that Tt eSPORTS calls a 'self-adjusting headband'. The detachable cable also comes in a mobile 3.5mm version, offering you a single 3.5mm 3-ringed connection, allowing for microphone and sound through a single port. Last up there is the included in-line volume control unit, allowing you to mute your microphone or turn sound levels up and down.
Pricing & Availability
Available from Amazon for $59.99 with free shipping, the Cronos nestles itself in the budget range of gaming headsets. Tt eSPORTS is known for often peddling a champion lower-grade headset, seeing the previous success of its Shock headset hitting the market at around $45 on release. With the features and styling, it has packed within for $59.99, this product seems like a steal, but in the end it's all up to testing to decide.
What's in the box?
The Tt eSPORTS Cronos AD comes with an extremely disappointing series of extras this time around. Usually, I will compare other headsets to what this company has to offer, with Tt eSPORTS normally giving users stickers and a carry pouch to ensure a clean and safe transit for your pride and joy headset.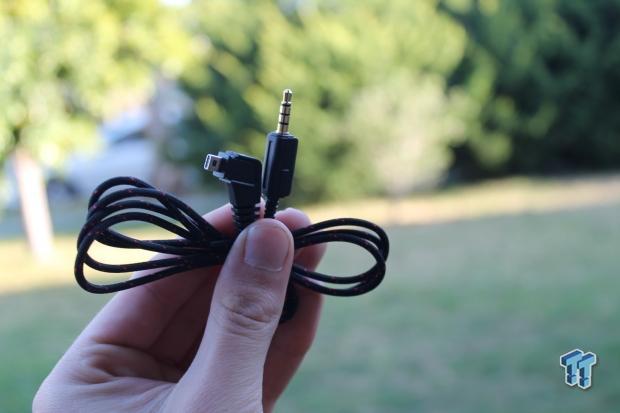 As all my reviews state, a carry pouch is a cheap and handy optional extra for any headset - allowing you to take your product travelling to LAN parties, events or friend's houses without risk of scuffs and marks. But coming without a single accessory in sight is a slap in the face, especially when the Tt eSPORTS Shock Headset (at around $45 for release in 2011) came with a cloth carry pouch as standard. This headset does come with the two cables as mentioned above, but that's it.
Let's dig deeper
Expanding on the original CRONOS design, the AD offers quite a few similarities to its older sibling. The earcups are still a scratchy cloth design, and it's still quite thin and light overall, plus it offers the familiar 40mm neodymium drivers - although these have been "bass boosted," according to the attached marketing.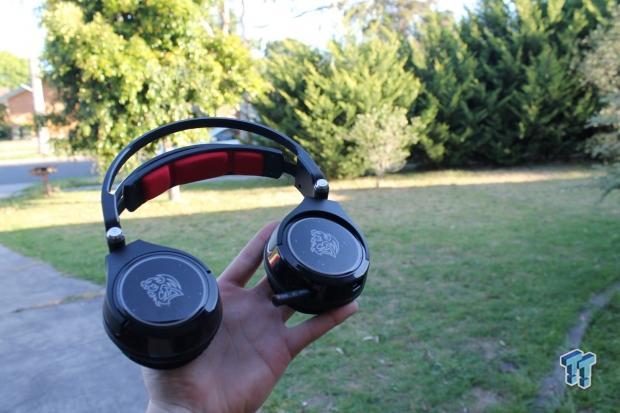 Due to the cheap retail price point of this product, Tt eSPORTS had to skimp on the design somewhere and it seems like the frame construction is that point. The frame is quite thin which means this product is very light but causes concern for long-term use. While this frame does feel a little flimsy, I must give props to Tt eSPORTS for making it at least bendy and not brittle, meaning it should survive a few falls quite well. The detachable cable is also not locked in, which is a great plus. Often you'll find yourself rolling over the cable and then having the headset rip off your head - with this design; the cable should simply disconnect from the headset rather than snap your pride and joy in half.
The optional LED backlighting looks classy and isn't too bright, which has been a major issue with some recent reviews of mine. What's awesome is that this headset is completely Plug & Play, sound, LEDs and all - if you're not feeling like LEDs, just unplug the USB lead from your computer, you're still able to use sound and microphone as per usual.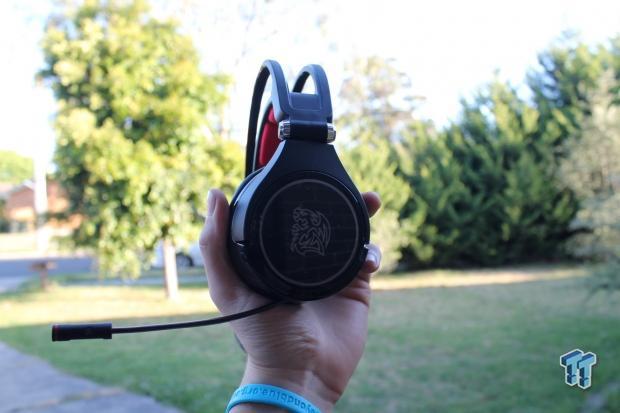 The in-line control unit looks a little cheaply made and feels it too. There were some issues for me when changing sound levels, hearing an audible crackle and partial sound cut when turning volumes up and down. I usually don't use the in-line control unit ever as I have a keyboard with macro keys, but this is a small design flaw that shouldn't be looked past. The retractable microphone is something new for Tt eSPORTS and a great inclusion, you can mould it to suit your head shape well or tuck it away neatly when you don't want to use it.
How does it compare?
Here's what often makes or breaks a headset. Almost all models on the market today will provide some resemblance of comfort, and they offer similar features within their price range constraints, but the sound can vary largely. I'm not exactly sure why that is so, but I'm not here to be Sherlock Holmes or Batman, I'm here to tell you how well (or not) things perform in the 'real-world'.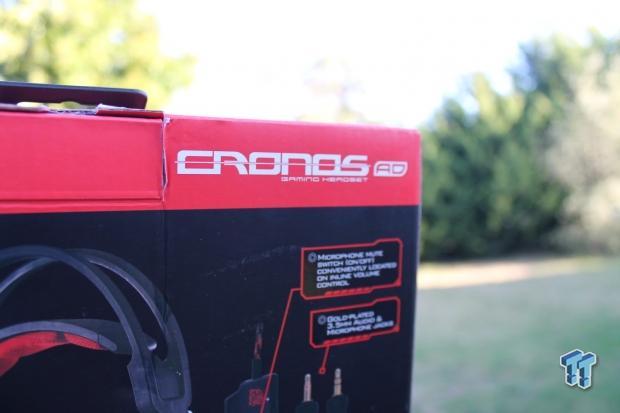 Let me kick off this section by saying that I initially didn't think this headset would be under $70. I like to open and test a headset before looking into the nitty-gritty of special features and prices, this means I can try and guess the pricing for myself and jump head first into the review without any preconceived ideas of how it 'should' sound or perform when in certain price ranges.
Loading into the recently-released Star Wars Battlefront allowed me to test out the 'bass boosted' technology in this headset quite well. There's thumping AT-AT's and AT-ST's, there's the amazing Thermal Implosion grenades, and there's your fair share of rockets exploding to give you a full bass-range test. I'll be honest and say that most 'bass boosted' speakers or headsets are usually sub-par, they'll often turn up the bass to 11/10 and forget how cheap the drivers are, ensuring horrible speaker rattling and distortion when under stress. I'm happy to report that Tt eSPORTS has gotten this one just right - it's certainly too much bass for any purist audiophile, but if you're looking at a budget headset that'll offer you a bit of extra kick, this one is so far shaping up to be a winner.
I listen to a massive range of songs on a daily basis, making a good starting base for testing out all-rounder products. As much as a headset may be marketed towards 'gaming', there's no use buying one for home if it doesn't work well in Skype and Spotify too. Twenty One Pilots' 'Ode To Sleep' reported back sound that was a little bass-heavy. The crisp melodies were drowned out by a booming backbeat and that's something to be expected for a headset of this price.
Also tested was some chilled out rap music from Nas to introduce a little punchy bass into the mix, once again mirroring the same experience as above. This punchy bass was much more welcome here, although still slightly drowning out the vocals and killing any little post-mix sounds that you're only going to hear through a dialled-in product.
In a last ditch effort to give this headset a death by bass, I loaded up Warcry by Audiofreq. This bass-filled song would be my last 'real-world' test of the Tt eSPORTS Cronos AD. I'm sounding a little like a broken record, but it performed as expected - the high pitched tones were drowned out by a heaven of reverse bass, but in the end that's what Tt has marketed this headset for, bass and bass only.
What's Hot
Bass that works: With most 'bass boosted' products being a pure marketing gimmick, Tt eSPORTS has done it right, enhancing the bass without overdoing the drivers.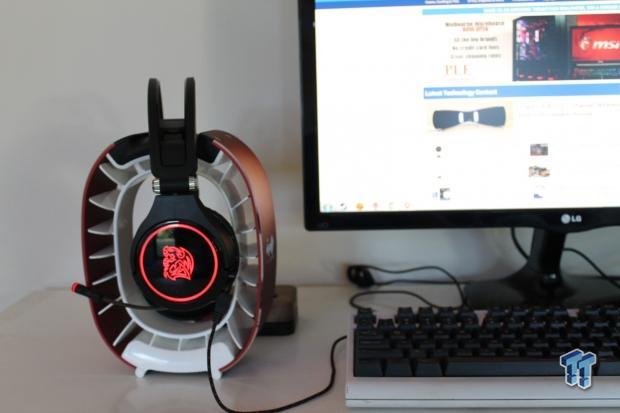 The price: The major standout with this product is the price. For these features and this premium bass, $60 is a steal.
What's Not
The feel: Although it's quite light on your head, the earcups are scratchy, and the headset feels cheap - probably because it is - you can't win every category in the end.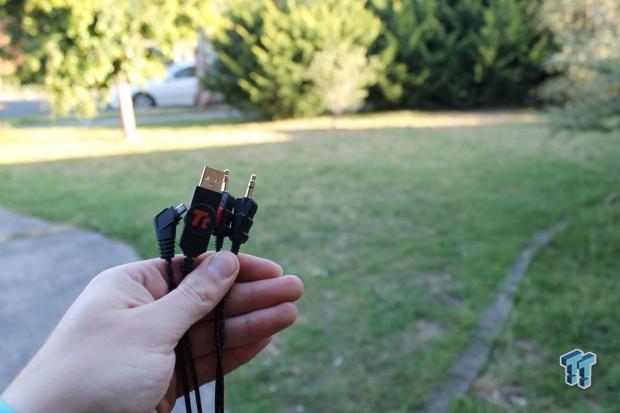 Muddy sound: Due to the enhanced bass, the clarity is quite muffled. This headset is great for some booming cinematics and hard-hitting music, but audio enthusiasts and those who listen to classical music will run, screaming in fear,
Final Thoughts
This headset is priced at $10 or more under what I would have expected. The 'bass boost' tuning works quite well, and it's extremely light on your head.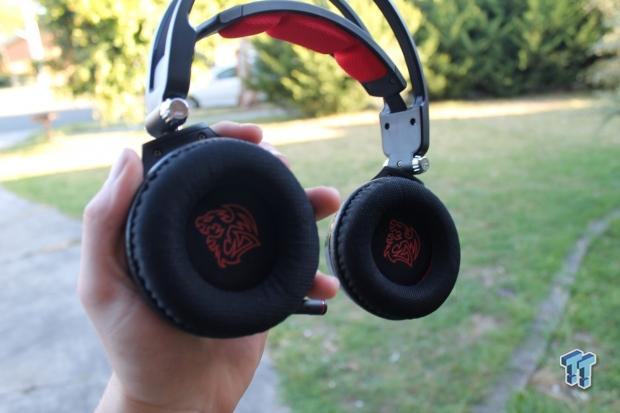 The price point becomes apparent as the headset feels a little flimsy and the earcups can be scratchy and annoying when you're moving the headset around a lot, but that's what you're having to expect when spending under $90 on any gaming audio product. For the price, Tt eSPORTS has done well. Indeed, I'd just like to see the clarity tweaked a little in the future. As all emphasis has been put into the bass here, sometimes this manufacturer has made footsteps and melodies hard to comprehend.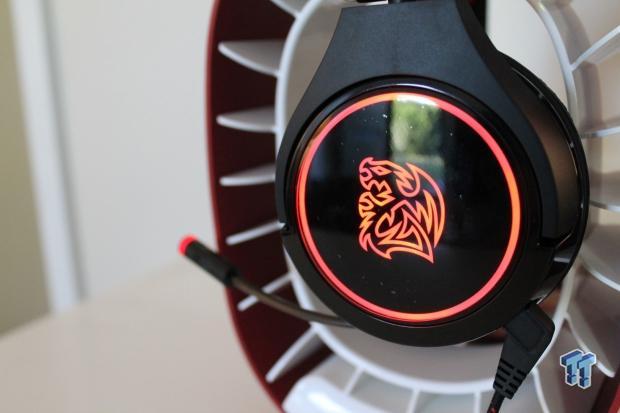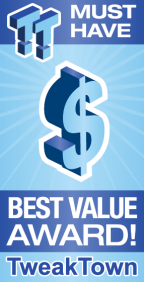 | | |
| --- | --- |
| Performance | 80% |
| Quality including Design and Build | 85% |
| General Features | 90% |
| Bundle and Packaging | 75% |
| Value for Money | 90% |
The Bottom Line: The tweaked bass in this new model makes for epic cinematics or hard-music listening, but the headset is let down by some muffled melodies. All around though, it's still fairly awesome for the price.
PRICING: You can find products similar to this one for sale below.

United States: Find other tech and computer products like this over at Amazon.com

United Kingdom: Find other tech and computer products like this over at Amazon.co.uk

Australia: Find other tech and computer products like this over at Amazon.com.au

Canada: Find other tech and computer products like this over at Amazon.ca

Deutschland: Finde andere Technik- und Computerprodukte wie dieses auf Amazon.de
We openly invite the companies who provide us with review samples / who are mentioned or discussed to express their opinion. If any company representative wishes to respond, we will publish the response here. Please contact us if you wish to respond.
Related Tags