ASUS ROG Maximus VIII Impact Mini-ITX (Intel Z170) Motherboard Review
ASUS' anticipated Republic of Gamers ROG Maximus VIII Impact Mini-ITX Intel Z170-based motherboard is finally here and here's our full review of it.
Published Tue, Nov 17 2015 12:50 PM CST
|
Updated Tue, Nov 3 2020 6:59 PM CST
Rating:

93%
Manufacturer: ASUS
Introduction, Specifications, and Pricing
For years, the mini-ITX platform has become more and more exciting. While power requirements have eased off in recent years, full-sized ATX boards still bring many advantages that most mini-ITX boards can't compete with because of their size. It might be more difficult to justify purchasing a mini-ITX X99 series motherboard, but a mini-ITX Z170 motherboard does make a lot of sense. Size is the biggest advantage and constraint of a mini-ITX motherboard, so the trick is to find the right balance.
ASUS utilizes some interesting techniques to bring full-sized ATX features to the mini-ITX arena. For starters, the motherboard has four daughterboards, and they serve her well. Going from largest to smallest; the first daughterboard carries a hefty VRM that powers the CPU and DRAM, the second provides SupremeFX Impact III audio, the third provides Wireless AC with MU-MIMO support, and the final one provides Impact Control III (POST code and OC features). This little motherboard is jam packed with features you usually find on larger full-sized ATX motherboard. Let's take a look at this deceivingly tiny beast.
Specifications
The ASUS Republic of Gamers (ROG) Maximus VIII Impact provides many high-end features. The motherboard carries both type-C and type-A USB 3.1 ports, 4x rear USB 3.0, 2x USB 3.0 through an internal header, U.2, two DIMMs, one PCI-E 16x slot, Wireless AC with MU-MIMO support, and SupremeFX Impact III Audio.
Pricing
At the time of writing, the Maximus VIII Impact is priced at $248 on Newegg, making it one of the more expensive Z170 motherboards currently on the market.
Packaging and Maximus VIII Impact Overview
Packaging and Overview
To convey the size of the motherboard box, I included my camera's cap in the picture. It's quite a tiny box. The motherboard is well protected in its mini box, and the accessories are packaged adequately.
The board comes with a healthy amount of accessories; fan extension card (and cable), 4x SATA6Gb/s cables, front panel audio extension cable, CPU installation tool, one thermistor, wireless Ac antenna, CPU installation tool, IO shield, ROG case badge, ROG stickers, cable stickers, manuals, and driver DVD.
The ASUS Maximus VIII Impact has two onboard fan headers (circled in blue) that work in PWM or DC mode, and a single thermistor input circled in green. A fan extension card is provided which adds three fan headers and three thermistor inputs. The fan extension card overcomes one of the challenges of mini-ITX motherboards; limited fan headers. Since PCB space is low, the number of chips and ports has to be balanced, but by adding many daughterboards, ASUS can get around many of the pitfalls of mini-ITX motherboards. The back of the motherboard isn't bare; instead there are multiple chips used to support different functions.
The IO panel on the Maximus VIII Impact is unique. Impact Control III provides OC features on a small PCB which can be accessed through the IO panel on the back of the case. These OC features include a POST code display as well as, BIOS flashback, ClearCMOS, power, and reset buttons. Apart from the Impact Control III panel, ASUS provides S/PDIF, HDMI, 4x USB 3.0, wireless AC antenna connectors, 1Gbit Intel NIC, Intel USB 3.1 type-A and type-C, and finally the SupremeFX Impact III audio card outputs which provide three illuminated ports (red=mic, green=out, blue=input).
Like the majority of mini-ITX motherboards, the Maximus VIII Impact has a single PCI-E 16x slot for a GPU and two DDR4 DIMMs. It also has four SATA6Gb/s ports and an internal USB 3.0 header. The memory overclocking on the Maximus VIII Impact is also supposed to be extremely strong, stronger than the majority of the motherboards on the market because of the reduced DIMM count.
The 24-pin system power connector and 8-pin CPU power connector are located side by side for easy insertion. ASUS decided to input a U.2 port that can be used with Intel's latest NVMe drives, and ASUS hopes the adoption of U.2 will become more popular because of the power and thermal restrictions that M.2 faces. There is a DIP socket for the BIOS ROM, and two jumpers provide LN2 mode and Slow-Mode functionality.
ASUS's SupremeFX Impact III audio card provides high-quality audio improvements to such a tiny motherboard. If the codec was forced onto the board, then it would be hard to add high-quality capacitors, a discrete DAC, as well as an amplifier. This audio card provides all these things and a little more. The audio card also has HD audio connector jumpers facing the power connectors.
One large pitfall of the mini-ITX motherboard is the fact that a hefty VRM cannot fit on the board, ASUS overcomes this by moving the VRM off the main board. The Impact Power card uses gold plated copper connections to supply power to the CPU and memory. The gold plating ensures the copper doesn't corrode. To ensure that the power delivered to the CPU is clean and unfazed by the off-board converter, the capacitors are located on the main PCB. The card has full heat sinks as well.
A tiny hole is present in the CPU socket for extreme overclockers to place their own thermocouple under the CPU to get more precise temperature readings.
The PCH and VRM heat sinks make excellent contact with their components.
ASUS Maximus VIII Impact Circuit Analysis
Circuit Analysis
Maximus VIII Impact in its birthday suit.
The main CPU VRM is on the same PCB as the memory VRM. The VCCSA and VCCIO are on the main board and not on the daughterboard. The CPU VRM is a true 8-phase VRM, and the DRAM is a 2-phase VRM. ASUS is using the same micro-fine allow inductors that are designed to maintain a more stable magnetic field due to smaller and more uniform granule size. The PWMs that control the CPU and DRAM VRMs are located on the back of the board.
ASUS is using their re-branded IR35201, labeled ASP14051, for the 8-phase CPU VRM. I am unsure as to what the DRAM PWM is, but I know it is a two-phase PWM and might have integrated drivers. ASUS is using IR3553 40A integrated power stages for the main CPU VRM, and these are top-notch parts with integrated MOSFETs and drivers. The memory VRM uses two CSD87588N NexFETs from TI, which can provide 25A each.
For the VCCIO and VCCSA ASUS uses a single phase VRM controlled by an APW8723A and two PowerPAK MOSFETs, and a Texas Instruments TPS51362 10A converter.
ASUS Maximus VIII Impact Circuit Analysis Continued
Maximus VIII Impact Circuit Analysis Continued
The audio card provides illumination for the audio jacks, which is quite neat and useful when plugging in cables in the dark. The metal over the PCB also can act as an EMI shield. The card is powered by a Realtek ALC1150 and uses an ESS Sabre ES9023P DAC, a TI R4580 amplifier, a sense amplifier to determine correct headphone impedance, a dedicated clock generator, a de-pop relay from NEC, and six gold series electrolytic audio capacitors from Nichicon. Together these parts produce a high-end audio solution for such a tiny motherboard.
While ASUS typically uses ASmedia USB 3.1 chipsets, on the Maximus VIII Impact they decided to go the other direction and use Intel's USB 3.1 controller, the DSL6540. Two EtronTech switches/USB power delivery chips, the EJ179V (for type-C) and EJ179S (for type-A) are used to provide extended USB 3.1 functionality.
The wireless card supports wireless AC with MU-MIMO and BT 4.0 and uses a Qualcomm Atheros QCA61x4A series audio chip. There is a single Intel 1 Gbit NIC, and the i219v is the PHY.
An IDT 6V41538NLG is the clock generator used to expand BLCK margins. The extra functionality such as OC features and special ROG features are supported by the extra ROG and TPU branded embedded controllers. A nuvoTon NCT6793D is the main SuperIO.
The chip labeled "BIOS" provide USB flashback functionality. An ASMedia ASM1442K is a level shifter that provides the HDMI on the backpanel IO.
BIOS and Software
BIOS
The Maximus VIII Impact has two BIOS modes, but the advanced mode is the default BIOS to come up. While the Maximus VIII Impact is a much smaller motherboard, it doesn't lack in any of the extreme overclocking settings. The motherboard is built and ready for liquid nitrogen extreme overclocking and competes directly with the Maximus VIII Extreme. Since the motherboard only has two DIMMs, it should be able to overclock memory well.
The large amounts of memory overclocking profiles present on the Maximus VIII Extreme are also present on the Maximus VIII Impact, and they work quite well. Fan control is extensive, and the BIOS provides fan control over the two onboard headers and the three on the extension card. There is a GUI for fan control as well as more manual insertion without a GUI. Overall the BIOS was just as good as that on the Maximus VIII Extreme.
Software
ASUS has many pieces of software for the Maximus VIII Impact. The Dual Intelligent Processors 5 provides a slew of built-in programs like TPU, EPU, and FanXpert3. There are also other programs such as GameFirst III, Keybot II, and RAMdisk. The DIP5 program contains many programs including tuning and auto overclocking.
Fan Xpert 3 is quite useful and has a nice GUI. The DIP5 software includes; TPU, Turbo App, EPU, Fan Xpert 3, DIGI+ Power Control, PC Cleaner, Ai Charger+, USB 3.1 Boost, EZ Update, System Information, Mobo Connect, USB BIOS Flashback, Wi-Fi Engine, Push Notice, and Version.
ASUS has their CPU-Z skin and MemTweakIt with ROG styling. ASUS's TurboV Core is very useful for quick in-Windows overclocking. Sonic Studio II is also a feature of the ROG series, providing useful audio effects.
Test System Setup
Steven's Motherboard Test System Specifications
The new test bench is designed to test every aspect of the motherboard and IO. I have designed it so that the motherboard sits in a case and is cooled by fans always on at a constant rate to keep the conditions similar during all tests. I have cut out part of the case behind the motherboard so I can get thermal images of the back of the PCB where the VRM heat spreads. System and CPU power measurements are now digitally logged.
I am also using a Netgear Nighthawk X4 AC2350 for our network (including wireless AC) tests. The latest M.2, SSD, and USB technologies are also being utilized to test the maximum potential of the motherboards that are tested.
The motherboard is super tiny and abides by the mini-ITX form factor.
The IO panel becomes more interesting when the system is powered on.
The Q-Code (POST Code) display is easily readable, and the audio outputs are clearly lit up.
Overclocking
Overclocking Results
CPU Overclocking
I have decided to reduce the CPU VCore to 1.4v applied (I will measure real VCore at the output capacitors), and see how high I can validate. On most boards its 5.0. I have also decided to add real voltage levels compared to what is set for all motherboards, if they don't have voltage read points I will mark where I read the voltage.
The Maximus VIII Impact is doing 5.0GHz just like the high-end motherboards, which isn't surprising at all.
I tested stability at 4.8GHz CPU, 4.1GHz Uncore, and 2666MHz on the memory with 1.4v on the VCore. I am using HandBrake to transcode a 2GB video, and it is very telling since it pulls all cores to their maximum frequency and load. Handbrake is good for a quick stability check, plus I get a log of the encoding speed and the number of errors. It is very easy for the queue not to finish all the way and just error out, it has to proceed without errors to finish.
The LLC levels are from 1-8, and I have measured the important ones manually. LLC is strong and ready for extreme and normal overclocking.
There are voltage read points located right below the audio card when it is inserted, so I also have pointed out voltage read points on the back of the motherboard if those are easier for you to access.
Memory Overclocking
Test 1: 4x4GB (16GB) Corsair Dominator Platinum 3200MHz C16
The Corsair Dominator Platinum is kit meant for X99, but it worked fine on this Z170 motherboard, granted only two DIMMs were used.
Test 2: 2x4GB (8GB) G.Skill Ripjaws V 3600MHz C17
The Ripjaws V kit doesn't work on all motherboards, but it worked perfectly on this one.
Test 3: 2x4GB (8GB) G.Skill TridentZ 3733MHz C17
The Maximus VIII Impact passed this test quite easily which isn't a surprise since ASUS totes 4133Mhz OC support.
CPU, Memory, and System Benchmarks
CINEBENCH 11.5
wPrime
AIDA64 AES and HASH
AIDA64 FPU
AIDA64 Memory
PCMark8 Home Test
3DMark: Cloud Gate
3DMark: Fire Strike
3DMark: IceStorm
ASUS's Maximus VIII Impact performs quite well, and its small size doesn't mean it can't pack the same punch as its bigger brother, the Maximus VIII Extreme. Multi-core Enhancement does seem to be enabled by default. There are no performance pitfalls.
Some motherboard reviews put a lot of weight into motherboard CPU, memory, and GPU benchmarks, but for me CPU, memory, and GPU benchmarks on motherboards should be more about finding anomalies, and I do that at standard settings (4.5G in graphs).
System IO Benchmarks
CrystalDiskMark SATA6G:
CrystalDiskMark USB 3.0:
ixChariot Network Throughput:
The Maximus VIII Impact's storage and IO performance is quite strong, in line with other top performing motherboards. There does seem to be a compatibility issue with the Wireless AC on the Impact and my router, the Netgear Nighthawk R7500, and that is why the speeds are low. If the board is paired with a router that supports MU-MIMO, I would expect much better results. Usually, 2x2 (866Mhz) wireless AC adapters score between 200-300Mbps.
Audio RMAA 5.5:
I disable all audio features, set the correct bitrates, and then test the audio with a loopback test.
Sound Judgment by Ear: Excellent, and almost same scores as the audio implementation on the Maximus VIII Extreme. There are five ratings for audio: 1. Problems, 2. Okay, 3. Acceptable, 4. Very good, 5. Excellent
Thermal Imaging and Power Consumption
System power usage is measured at the AC/DC PSU (the Corsair AX1200i) which I have connected to another system to measure the test system, and as a backup I have a wall meter to verify. The CPU power is measured through the 8-pin connector, which is hooked up to a hall effect IC, which measures current and puts out a voltage in proportion to the current. That voltage is logged by a National Instruments ADC, which logs the DC voltage level that I then convert into current.
Note on Thermal Images: In the temperature section, we use our Seek thermal imaging camera to capture the surface temperatures of major components on the board. I look at the VRM and then all other things that light up the screen. If there is something to worry about, then I will state it. Otherwise, I will just show the hotter running parts of the board for fun. Unless some component is over 80-90C, then there isn't anything to worry about.
All systems will act differently, so I will look for commonalities, such as how far from the VRM the heat spreads through the PCB and the difference in temperature between the front side and backside of the PCB. Keep in mind, the majority of the heat from the VRM goes into the PCB as it is a giant soldered on copper heat sink. A larger difference in temperature between the back and front of the PCB points towards a more effective heat sink.
Thermal Testing at Stock Speeds:
The image on the left is always at idle, and the image on the right is at load. During ALL TESTS, fans above the VRM that cool the CPU cooler's (Corsair H110i GT) radiator are turned on to high (12v).
Full frontal.
Up-close of the front of the VRM.
Up-close of the back of the VRM.
Thermal Testing at 4.5GHz Overclocked Speeds:
The image on the left is always at idle, and the image on the right is at load. During ALL TESTS, fans above the VRM that cool the CPU cooler's (Corsair H110i GT) radiator are turned on to high (12v).
Full frontal.
Up-close of the front of the VRM.
Up-close of the back of the VRM.
The VRM on the Maximus VIII Impact is quite strong. Although the VRM is still limited to a certain size PCB, the fact that ASUS was able to fit in such a strong VRM onto a mini-ITX motherboard should be applauded. The Maximus VIII Impact is meant for normal use but also extreme overclocking and I have no doubt that this VRM can facilitate both.
Anything under 60C is great, 60-80C is acceptable, and anything above 80C is a bit worrisome (if at stock).
What's Hot, What's Not & Final Thoughts
Here are key points about the ASUS Maximus VIII Impact.
What's Hot
Extreme Overclocking DNA in a mini-ITX motherboard: The Maximus VIII Impact is a mini-ITX motherboard, and most people don't associate the two with extreme overclocking. However, since the board only has two DIMMs, prior experience would indicate much higher memory overclocking margins than four DIMM motherboards. ASUS backs this with 4133MHz memory support, and my testing seems to confirm easy XMP with higher frequency DDR4 kits. Moving the VRM to a daughterboard also allows for a much higher performance VRM, and the Maximus VIII Impact's VRM rivals that of many Z170 motherboards. BIOS support for extreme overclocking is also present, and all the OC features you need are pretty much present.
Decked out IO Panel: The IO panel is unique. Since most of the OC features won't fit on the main PCB, a tiny Impact Control PCB allows for OC feature access from the IO panel. The audio outputs also light up to differentiate between the ports, and it is quite cool.
Full-Size ATX Features: While the board is mini-ITX ASUS did include many full sized ATX features such as U.2, an eight phase VRM, Intel's USB 3.0, and SupremeFX Impact III audio (almost same as Maximus VIII Extreme). Intel's USB 3.0 chipset is quite a bit larger than the ASMedia option, and it would be almost impossible to fit the audio hardware onto the main PCB and still have room for other ICs. Mini-ITX motherboards are all about trade-offs between size and functionality, and ASUS decided to break the rules and added a few daughterboards, which benefit the motherboard.
Fan Control: One aspect of mini-ITX motherboards that is usually lacking is fan control. Many times mini-ITX boards have only a couple fan headers, but with the included fan extension card, ASUS allows users to get up to five versatile headers with full UEFI and Windows fan control.
What's Not
No M.2: One might think that M.2 and mini-ITX go hand in hand, both are very small compared to their larger counterparts and perform quite well. Other manufacturers have added M.2 to the back of their mini-ITX boards, and that works just fine for the most part. ASUS left out an M.2 slot, and I think that will disappoint some, but U.2 is present, and you can still run a high-speed Intel 750 series SSD.
Price Tag: The Maximus VIII Impact isn't a cheap motherboard. At $248 at the time of writing, it is not only the most expensive mini-ITX board, but it's also more expensive than the Maximus VIII Gene and the Maximus VIII Hero.
Final Thoughts
ASUS's ROG Maximus VIII Impact totally breaks the rules of mini-ITX motherboards. It not only carries a VRM that rivals full-sized Intel Z170/X99 motherboards, but it also offers top notch audio and more OC features than many full sized boards. All this is due to ASUS taking a risk and building a unique product, which probably costs a lot more to build because of all the customized PCBs. That cost is passed down the line to the consumer, but for those who want a mini-ITX motherboard with full-sized ATX features, there is almost no other option. The one downside other than price is the fact that the board doesn't have M.2, which is kind of a mystery to me.
If you have seen "Futurama", then you know of Leah's pet, "Lord Nibbler". Nibbler is a cute and tiny dog-like alien pet who eats other animals many times larger than itself and drops pellets used to power their spaceship. The Maximus VIII Impact is like the Nibbler of motherboards, disguised by its small size; it delivers a most powerful blow.
The motherboard is built for extreme overclocking as well. The voltage read points are hidden beneath the audio card that most extreme overclockers would remove during use. The two DIMMs, memory profiles, and supported memory list point towards extreme memory overclocking capabilities. If you want to build a mini-ITX system and not be constrained by the form factor, then the Maximus VIII Impact is the right choice.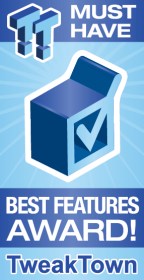 | | |
| --- | --- |
| Performance (including Overclocking) | 94% |
| Quality including Design and Build | 95% |
| General Features | 95% |
| Bundle and Packaging | 95% |
| Value for Money | 88% |
The Bottom Line: The ASUS ROG Maximus VIII Impact is quite an impressive motherboard, with extremely impressive features, packaged in a very tiny form factor.
PRICING: You can find products similar to this one for sale below.

United States: Find other tech and computer products like this over at Amazon.com

United Kingdom: Find other tech and computer products like this over at Amazon.co.uk

Australia: Find other tech and computer products like this over at Amazon.com.au

Canada: Find other tech and computer products like this over at Amazon.ca

Deutschland: Finde andere Technik- und Computerprodukte wie dieses auf Amazon.de