ASUS Maximus VIII Extreme (Intel Z170) Motherboard Review
ASUS' ROG Maximus VIII Extreme is one of the best Intel Z170-based motherboards we have reviewed so far. Come and take a close look.
Published Mon, Nov 9 2015 3:10 PM CST
|
Updated Tue, Nov 3 2020 6:59 PM CST
Rating:

95%
Manufacturer: ASUS
Introduction, Specifications, and Pricing
The crown jewel of ASUS's Intel Z170 motherboard lineup is the ROG Maximus VIII Extreme. Like other motherboard manufacturers, ASUS divides their motherboards into segments aimed at different consumers.
ASUS's Republic of Gamers (ROG) lineup usually leads the way followed by their mainstream offerings. ROG motherboards are built to target enthusiast gamers with unique features and hardcore hardware. While gaming might be in the name, the ROG line is also known for strong overclocking capabilities and unique features showcased in many ways I will cover shortly.
The Maximus Extreme is usually ASUS's pinnacle product, and customers have come to expect a lot from this particular motherboard model. The Maximus VIII Extreme comes with the latest features encompassing not only connectivity but also gaming and overclocking. The Maximus VIII Extreme does come in as one of the most expensive Z170 motherboards on the market, so let's see what it's got!
Specifications
The Maximus VIII Extreme is chalk full of the latest features. For starters, half of the eight backpanel USB ports are USB 3.1 (including one type-C port) and the rest are USB 3.0. The motherboard also has official support for Thunderbolt 3.0 through the type-C port.
For wired internet connectivity, ASUS provides Intel's latest 1Gbit NIC, and a 3x3 Wireless AC/BT4 card that can reach speeds of 1.3 Gbit. The motherboard supports 2-way SLI and 4-way CrossFireX. There is also a full-size 32Gb/s M.2 slot and a U.2 connector, so you have more interface options.
Pricing
The Maximus VIII Extreme is the most expensive Z170 motherboard, chiming in right under $500 at $499.99 on Newegg at the time of writing.
Packaging and Maximus VIII Extreme Overview
Packaging and Overview
The Maximus VIII Extreme's box is quite heavy, and packaging is solid.
The Maximus VIII Extreme comes with a lot of accessories; 3x thermistor cables, 4x SATA6Gb/s cables, SLI Bridge, CrossFireX Bridge, 3T3R Wi-Fi antenna, IO shield, CPU installation tool, Q-connector, manual, DVD, cable labels, ROG stickers, ROG case badge, and door hanger. More exciting accessories include the fan extension card (with cable) and the OC Panel II kit ( which includes OC Panel II, cable, screw pack, and case bay housing).
The ASUS Maximus VIII Extreme has seven on-board fan headers (circled in blue) which can operate in both PWM and DC mode. Each fan header on the board and the three on the extension card (port circled in green) can be configured in the UEFI or Windows. ASUS allows you to choose from a wide selection of temperature inputs to control the fans, and that includes input from any of three temperature input headers (circled in orange). The extension card also has three thermistor inputs near each header. ASUS does provide three thermistor cables, so you don't need to buy them.
The motherboard has a sleek red/black/gun metal color theme that adds to its aesthetic appeal. It looks very elegant in person; the pictures do not do the motherboard justice. There are LEDs built into the motherboard; red LEDs are located below the audio divide and RGBs are located inside the PCH heat sink. The back of the motherboard has extra heat sinks protecting the drivers for the CPU VRM, and there is a support brace added to the back of the PCH area of the PCB used to balance the motherboard if you decide not to use a case.
The IO panel features a PS/2 keyboard/mouse port, HDMI, DisplayPort, 4x USB 3.0, 1x USB 3.1 Type-C, 3x USB 3.1 Type-A (red ports), 1Gbit Intel NIC, 3T3R Wireless AC/BT4 antenna ports, clear CMOS button, BIOS Flashback button, and S/PDF with 7.1 gold plated audio outputs.
At first glance, it looks like the Maximus VIII Extreme has a PLX chip to expand PCI-E lanes, but the motherboard has an ASMedia chip under there which expands some of the IO such as extra SATA and USB that I will cover later. The Maximus VIII Extreme supports a maximum of 4-way CrossFireX at 8x/4x/4x/4x and 2-way SLI at 8x/8x. The first three full sized slots are connected to the CPU, and the last full-size slot is connected to the PCH and shares two PCI-E lanes with two SATA ports. The slots can operate in the following configurations: 16x/0x/0x/4x, 8x/0x/8x/4x, or 8x/4x/4x/4x. The two PCI-E 1x slots are from an ASMedia switch chip that is directly connected to the PCH. A MOLEX power receptacle is located at the bottom of the board and provides extra juice when running 3 and 4-way CrossFireX. You might have also noticed there seem to be voids in the PCB near the tip of each PCI-E slot where the PCB is translucent; this is for an LED to indicate suggested slot usage when using the SLI/CFX button.
Starting from the left of the SATA ports, there is a U.2 connector for the latest NVMe SSDs like Intel's 750, two SATA Express ports which can be used as four SATA6Gb/s ports, two SATA 6Gb/s ports from the PCH, and finally two SATA6Gb/s ports from an ASMedia controller. The M.2 slot and U.2 connector use the same bandwidth, so they are mutually exclusive, and if you are going to use an SATA-based M.2 drive, you will lose SATAExpress_1 SATA bandwidth. If you use the two SATA ports from the Intel PCH that are not connected with an SATA Express connector, then the last full sized PCI-E slot will run at 2x instead of 4x.
ASUS provides both vertical and horizontal USB 3.0 internal headers located right below the 24-pin PSU connector that is better in larger cases where the internal USB 3.0 cable is shorter. An extra 4-pin CPU power plug is provided for extreme overclocking sessions.
ASUS provides a ton of overclocking features, including a few novel ones. For starters there is a power and reset button followed by switches to disable the full sized PCI-E slots, jumpers to disable DIMM channels, a "Mem OK!" button for easy memory booting, a "Safe Boot" button for easy OC recovery, a "Retry" button to avoid platform BIOS inconsistency, a "Slow Mode" switch to switch between high and low frequency, an "LN2 mode" jumper, and the trusted "Q-Code" (POST code display). Voltage read points are also present along with multiple LEDs that can help troubleshooting and indicate whether or not slots are disabled or enabled. Two DIP-8 sockets hold the BIOS ROMs, and a momentary switch is used to switch between them. The SLI/CFX button is used to help figure out the best slots for SLI or CrossFireX; if you hit the button, then an LED will illuminate near each full sized PCI-E slot to let you know the best slot configuration.
The OC Panel II is used as an external/mounted remote control for the motherboard. Not only is it capable of changing everything from multipliers to voltages on-the-fly, but it also provides a lot of features not found on the motherboard. For starters it has two K-Type thermocouple ports and can be used for LN2 benching, VGA Hotwire support for VGA modding, a "Pause Switch" that literally "pauses" the OS and program you are running, and can act as an external fan controller. The OC Panel II isn't very complicated to use, but there are multiple operating modes that are clarified through the manual. In these different modes, the buttons do different things. The panel itself can also be swiveled 90 degrees to fit into the case enclosure so it can be used as a fan controller.
ASUS has made great strides towards upgrading the specifications and components in their audio section, and the little cutaway in the shield allows a glimpse of what's to come in the next section of this review. There are two tiny holes in the back of the CPU socket which can be used to route a thermocouple to measure the CPU temperature more precisely.
Removing the shields and heat sinks reveals excellent heat sink-to-component contact and high-quality craftsmanship.
ASUS Maximus VIII Extreme Circuit Analysis
Circuit Analysis
The Maximus VIII Extreme in its birthday suit.
Counting phases on the Z170 platform isn't as simple as it used to be. Four major voltage rails are present and on the Maximus VIII Extreme the CPU is fed by a 8 (VCC) + 4 (VCCGT) +1 (VCCSA) + 1 (VCCIO). Each phase consists of an integrated dual N-Channel MOSFET and is driven by an IR3535 single phase driver located on the back of the PCB. ASUS is using their new MicroFine Alloy Chokes designed with smaller, and more uniform, granules that result in more gaps, that increase permeability and result in a more stable magnetic field. The capacitors used are rated at 10K @ 95C, and many ROG fans refer to their color as "gunmetal black".
ASUS rebrands their PWMs, but I believe I can confirm that the two Digi+ PWMs on this motherboard used for the CPU VRM are in fact International Rectifier IR35201. They are using the same batch number styling as I have seen on IR35201 (look at the "C5216W" written at the bottom of the numbering). Nevertheless, the IR35201 is the top digital PWM used on Z170 motherboards designed for overclocking; it is almost like a pre-requisite for an overclocking motherboard as IR's reputation in the market is almost unrivaled. Recently, International Rectifier was acquired by Infineon, and ASUS is utilizing Infineon dual N-Channel MOSFETs. Each CPU VCore and iGPU phase gets its own Infineon OptiMOS BSC0812ND rated at 50A. Each OptiMOS has one high-side and one low-side MOSFET inside a single package and these are top notch parts, the best ASUS has used on a Z170 motherboard so far. I should also mention that there is zero phase doubling or sharing.
The tinier the MOSFET, the harder it is to identify, and since ASUS has also rebranded the memory PWM I don't know what they are using. It is safe to say that ASUS would not short change their Maximus VIII Extreme, and I would venture to guess that this two-phase memory VRM will fuel any DDR4 overclocking excursions. For extra BLCK overclocking, ASUS is utilizing an IDT6V41538NLG clock generator. For the VCCIO ASUS is utilizing a fully integrated TPS51362 10A converter. The VCCSA is powered by an Anpec single phase PWM and two PowerPAK MOSFETs.
ASUS's fan extension card has multiple circuits for fan control and temperature inputs including an NCT7802Y and a Winbond W83L6036.
ASUS had the Maximus VIII Extreme certified by Intel to support ThunderBolt 3.0. The new Thunderbolt specification requires higher quality power delivery and certification takes a long time that is possibly why we see motherboards with the technology coming to market only now. ASUS is using Intel's TB3/USB 3.1 chip previously known as Alpine Ridge. The marking L6540 is very similar to the DSL6540 found on other motherboards with Intel USB 3.1 and Thunderbolt 3.0. To support the type-C port and USB power delivery specifications, a Texas Instruments TPS65982 is utilized. I also spotted an EJ179S chip used to expand USB power delivery specifications.
ASUS Maximus VIII Extreme Circuit Analysis Continued
Maximus VIII Extreme Circuit Analysis Continued
At the heart of the audio is a Realtek ALC1150 under an EMI shield with SupremeFX written on it. ASUS's latest SupremeFX 2015 implementation is perhaps their best so far. There is an ESS SABRE ES9023P DAC, a dedicated clock generator, Nichicon Gold series audio capacitors, Texas Instruments RC4580 amplifier, a sense amplifier to detect proper impedance, and a de-pop relay from NEC (which isn't too loud). There are ten red LEDs on the backside of the motherboard that illuminate the PCB divide as well as five red LEDs that illuminate PCI-E slot arrangement. The audio section of the PCB is physically isolated from the rest of the motherboard to reduce interference.
An ASMedia ASM1187e is located underneath the middle heat sink, and it is a 1:7 PCI-E switch chip. One PCI-E 3.0 lane from the PCH is routed to the chip, and then five outputs are connected to two PCI-E 1x slots, the WIFI/BT controller, the ASM1061 (two SATA6Gb/s), and the ASM1042 (two USB 3.0 on the back panel). The ASM1042 provides two USB 3.0 on the back panel IO and the ASM1142 provides two USB 3.1 Type-A ports on the back panel IO.
The Maximus VIII Extreme uses Intel's latest Gbit NIC with the i219v PHY. For the 3x3 (3R3T) 1300Mbps (1.3Gbps) WIFI/BT4 controller ASUS utilizes the AzureWave wireless card based on the Broadcom BCM94360 that is very fast.
An ASMedia ASM1061 provides two SATA6Gb/s ports. The nuvoTon NCT6793D provides SuperIO functionality.
Two ASMedia 1480 switch PCI-E bandwidth between the U.2 and M.2 ports and six others control the CPU's PCI-E lanes to support multi-GPU configurations.
There are a lot of ROG-branded ICs scattered around the motherboard, and they provide extra fan control as well as OC features. The motherboard utilizes two 128Mbit BIOS ROMs. The IC labeled "BIOS" supports the USB Flashback features; the TPU IC most likely helps with monitoring and fan control, and the ROG chip is probably for OC features. There are also some extra clock generators possibly used to help regulate all the different clocks, and perhaps even have to do with the OC Panel functionality.
BIOS and Software
BIOS
The Maximus VIII Extreme has two BIOS modes. By default, the Advanced mode shows up first instead of the Easy Mode pictured below. The Easy Mode has all the basic settings a user might need to setup their system including drive boot order, fan control, XMP enable, and auto overclocking (EZ System Tuning).
The advanced mode has everything you would expect from a well-polished ASUS UEFI. Fan control can be setup through a GUI or traditional manual insertion. There is also a fair amount of tweaking options for hardcore overclockers, as well as profiles that can be used as a starting point. Something worth noting is the large database of memory preset/profiles you can use. In fact, I used one of these presets for my Dominator Platinum kit because XMP wasn't working. There also seems to be a speed limit on how fast you can scroll through the menu options, perhaps so that users don't miss any options. Overall I was impressed with the UEFI.
Software
ASUS provides an almost endless list of customized software including Sonic Studio II, Keybot II, GameFirst III, Lighting Control, EZ Update, and Dual Intelligent Processors 5. The DIP5 software has a lot more software inside such as TPU, EPU, and Fan Xpert 3. ASUS also has some more software that you can check out on their website.
Fan Xpert 3 is quite elaborate and includes most everything you need to setup fan control. ASUS also has a customized CPU-Z skin and Mem Tweak It for memory timings. TurboV Core is a lightweight Windows overclocking program used to get that quick CPU-Z validation.
Test System Setup
Steven's Motherboard Test System Specifications
The new test bench is designed to test every aspect of the motherboard and IO. I have designed it so that the motherboard sits in a case and is cooled by fans always on at a constant rate to keep the conditions similar for all tests. I have cut out part of the case behind the motherboard so I can get thermal images of the back of the PCB where the VRM heat spreads. System and CPU power measurements are now digitally logged.
I am also using a Netgear Nighthawk X4 AC2350 for our network (including wireless AC) tests. The latest M.2, SSD, and USB technologies are also being utilized to test the maximum potential of the motherboards that are being tested.
The motherboard looks quite good with red accessories.
Top and bottom close-ups, the TridentZ go well with this motherboard's color scheme.
The OC Panel II can either be installed in a front panel bay or stand up for overclocking.
Overclocking
Overclocking Results
CPU Overclocking
I have decided to reduce the CPU VCore to 1.4v applied (I will measure real VCore at the output capacitors), and see how high I can validate. On most boards its 5.0. I have also decided to add real voltage levels compared to what is set for all motherboards, if they don't have voltage read points I will mark where I got the readings from.
The Maximus VIII Extreme is doing 5.0GHz just like the high-end motherboards which isn't too surprising considering the low power requirements of the 6700K, but the VRM did have strong, active cooling, so keep that in mind. CPU-Z is misreading VCore in this image as the CPU-Z ini file is for the non-skin version.
I tested stability at 4.8GHz CPU, 4.1GHz Uncore, and 2666MHz on the memory with 1.4v on the VCore. I am using HandBrake to transcode a 2GB video, and it is very telling since it pulls all cores to the maximum frequency and load. Handbrake is good for a quick stability check, plus I get a log of the encoding speed and the number of errors. It is very easy for the queue not to finish all the way and just error out, and 1-3 hours of AIDA is about equal to this HandBrake test, so I am replacing it.
The LLC is quite strong, and the motherboard provides many levels. This board is ready for high current high frequency overclocks as well as normal air/water overclocking. Voltage read points are located on pads at the top right-hand corner.
Memory Overclocking
Test 1: 4x4GB (32GB) Corsair VENGEANCE LPX 2666MHz C16
The Maximus VIII Extreme passed this test with flying colors. To be clear, this is two kits of 16GB Vengeance LXP memory not meant to be run together in most situations.
Test 2: 4x4GB (16GB) Corsair Dominator Platinum 3200MHz C16
The Corsair Dominator Platinum is kit meant for X99 and XMP didn't initially work but loading the Old Single Sided Samsung 3200Mhz C15 T1 profile that is much more aggressive than XMP worked well. So if XMP doesn't work, you should look to the built-in memory OC profiles as there are many.
Test 3:2x4GB (8GB) G.Skill Ripjaws V 3600MHz C17
The Ripjaws V kit doesn't work on all motherboards. Usually, only overclocking models can even boot this kit by just enabling XMP. The Maximus VIII Extreme runs this kit at 3600MHz like it's taking a stroll in the park.
Test 4:2x4GB (8GB) G.Skill TridentZ 3733MHz C17
The Trident X kit is extreme. While some boards can run 3600Mhz, 3733Mhz is on the edge of supported XMP speeds for most board. The Maximus
CPU, Memory, and System Benchmarks
CINEBENCH 11.5
wPrime
AIDA64 AES and HASH
AIDA64 FPU
AIDA64 Memory
PCMark8 Home Test
3DMark: Cloud Gate
3DMark: Fire Strike
3DMark: IceStorm
ASUS's Maximus VIII Extreme looks like it is using multi-core enhancement because stock scores are quite a bit ahead of some other motherboards. After the frequencies and voltages are standardized scores even out and the motherboard does seem to be quite strong in certain benchmarks.
Some motherboard reviews put a lot of weight into motherboard CPU, memory, and GPU benchmarks, but for me CPU, memory, and GPU benchmarks on motherboards should be more about finding anomalies, and I do that at standard settings (4.5G in graphs).
System IO Benchmarks
CrystalDiskMark SATA6G:
CrystalDiskMark M.2:
CrystalDiskMark USB 3.0:
ixChariot Network Throughput:
The Maximus VIII Extreme's storage and IO performance is quite strong just like the rest of ASUS's lineup. The wireless AC is the fastest I have tested. My router supports speeds upwards of 1733Mbps (4x4) and the wireless AC built into the Maximus VIII Extreme is 1300Mbps (3x3) which is much faster than what most wireless AC offerings.
While I can get close to rated speeds over a wired NIC, most of the time 866Mbps wireless AC cards do under 300Mbps. At over 400Mbps, the Maximus VIII Extreme's wireless speeds are faster than the majority of wireless-AC devices I have tested.
Audio RMAA 5.5:
I disable all audio features, set the correct bitrates, and then test the audio with a loopback test.
Sound Judgment by Ear: Excellent. There are five ratings for audio: 1. Problems, 2. Okay, 3. Acceptable, 4. Very good, 5. Excellent
Thermal Imaging and Power Consumption
System power usage is measured at the AC/DC PSU (the Corsair AX1200i) which I have connected to another system to measure the test system, and as a backup I have a wall meter to verify. The CPU power is measured through the 8-pin connector, which is hooked up to a hall effect IC, which measures current and puts out a voltage in proportion to the current. That voltage is logged by a National Instruments ADC, which logs the DC voltage level that I then convert into current.
Note on Thermal Images: In the temperature section, we use our Seek thermal imaging camera to capture the surface temperatures of major components on the board. I look at the VRM and then all other things that light up the screen. If there is something to worry about, then I will state it. Otherwise, I will just show the hotter running parts of the board for fun. Unless some component is over 80-90C, then there isn't anything to worry about.
All systems will act differently, so I will look for commonalities, such as how far from the VRM the heat spreads through the PCB and the difference in temperature between the front side and backside of the PCB. Keep in mind, the majority of the heat from the VRM goes into the PCB as it is a giant soldered on copper heat sink. A larger difference in temperature between the back and front of the PCB points towards a more effective heat sink.
Thermal Testing at Stock Speeds:
The image on the left is always at idle, and the image on the right is at load. During ALL TESTS, fans above the VRM that cool the CPU cooler's (Corsair H110i GT) radiator are turned on to high (12v).
Full frontal.
Up-close of the front of the VRM.
Up-close of the back of the VRM.
Thermal Testing at 4.5GHz Overclocked Speeds:
The image on the left is always at idle, and the image on the right is at load. During ALL TESTS, fans above the VRM that cool the CPU cooler's (Corsair H110i GT) radiator are turned on to high (12v).
Full frontal.
Up-close of the front of the VRM.
Up-close of the back of the VRM.
The VRM on the Maximus VIII Extreme is built for hardcore overclocking, as such I expect it to operate at very low temperatures on air, and that is exactly what I got. The VRM is top notch, and VRM temperatures are excellent.
Anything under 60C is great, 60-80C is acceptable, and anything above 80C is a bit worrisome (if at stock).
What's Hot, What's Not & Final Thoughts
Here are key points about the ASUS Maximus VIII Extreme.
What's Hot
Overclocking and Overclocking Features: The Maximus VIII Extreme is loaded with unique overclocking features such as the "Re-Try" button and the "Pause" switch that make overclocking much simpler. The OC Panel II is one of the greatest assets of the motherboard; it's useful for both 24/7 users and extreme overclockers. External overclocking control is becoming more mainstream, and so far no one has designed anything with capabilities close to the OC Panel II.
Overclocking performance is also very strong, and the built-in CPU and memory OC profiles in the UEFI are very useful. ASUS also paid attention to tiny details such as extra support to level out the motherboard when it's placed on a flat surface, and they made holes in the socket so users can insert their thermocouples.
Thunderbolt 3.0 and four USB 3.1 ports: Most boards either have ASMedia or Intel based USB 3.1, but the Maximus VIII Extreme is one of few who has both, and the only one to have both built into the backpanel IO. There are only a couple of motherboards with Intel certified Thunderbolt 3, and this is one of them. ASUS has also made the appropriate hardware decisions in their USB 3.1 implementation so that USB power delivery is supported.
High-Quality Audio: The audio on this motherboard is of a higher caliber than most Z170 motherboards. With a dedicated ESS DAC, audio caps, sense amplifier, and relay to avoid popping it offers superior hardware compared to most Realtek ALC1150 implementations.
Extensive Fan Control: There are seven headers located on the board, but that isn't all you get. There is a fan extension card that adds three more headers, and the OC Panel II also has its own headers. There are also external temperature inputs, and ASUS provides three thermistor sensors in the package. ASUS also provides excellent fan control through the UEFI and Windows so you can make full use of the ports.
3R3T (3x3) 1.3Gbps Wireless AC: The Maximus VIII Extreme comes with a super-fast Broadcom wireless AC/BT 4.0 card. Most Wireless AC cards are 2x2 (866Mbps), and there is a noticeable difference going from a 2x2 to a 3x3 wireless adapter. You just need to make sure your router supports 1.3Gbps wireless AC speeds.
What's Not
High Price: At $500 the Maximus VIII Extreme is the most expensive Z170 motherboard. While there are a few other motherboards at that price range, they offer 3 and 4-way SLI support through a PLX bridge that some people are willing to dish out for. While the Maximus VIII Extreme might look like it has this PLX bridge because of the middle heat sinks and four slots, this isn't the case. Instead, you are paying extra for the OC Panel II and other extras the motherboard offers.
Final Thoughts
I want to take a second and discuss the value of this $500 Z170 motherboard. It's no secret that differentiation is hard to provide and even harder to communicate with the Z170 chipset. Since so many features are provided through the PCH and CPU clocks are roughly the same among boards, many users are just fine with a sub $200 motherboard. The truth is that these higher priced boards might cost a premium, but there are features that add to their cost.
The OC Panel II will probably end up costing more than $100 based upon current pricing of the original OC Panel. The motherboard also comes with a 3R3T Wireless AC card and Thunderbolt 3 which can each cost almost as much as the OC Panel II. The Maximus VIII Extreme also provides many overclocking features in the UEFI and through switches that might not be present in the rest of the ROG lineup.
The Maximus VIII Extreme is truly a unique product, and the only thing it lacks is a PLX bridge for 3 and 4-way SLI. Half of the premium features that boost its price are designed for hardcore overclocking and the other half are featured for hardcore power users. The board has the latest in internal storage, external storage, and networking technology and performs quite well in IO benchmarks. The Editor's Choice Award is a special award set aside for over the top products designed to exceed everything else on the market, and the Maximus VIII Extreme does this in many ways.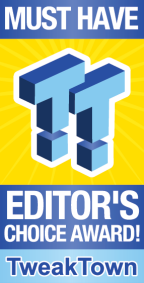 | | |
| --- | --- |
| Performance (including Overclocking) | 97% |
| Quality including Design and Build | 96% |
| General Features | 98% |
| Bundle and Packaging | 95% |
| Value for Money | 87% |
The Bottom Line: Overall the ASUS ROG Maximus VIII Extreme is a stunner. It's a motherboard fully capable of extreme overclocking, loaded with bleeding edge consumer technology, all residing on a high quality backbone.
PRICING: You can find products similar to this one for sale below.

United States: Find other tech and computer products like this over at Amazon.com

United Kingdom: Find other tech and computer products like this over at Amazon.co.uk

Australia: Find other tech and computer products like this over at Amazon.com.au

Canada: Find other tech and computer products like this over at Amazon.ca

Deutschland: Finde andere Technik- und Computerprodukte wie dieses auf Amazon.de