GeIL Super Luce DDR4-3400 16GB Quad-Channel Memory Kit Review
GeIL's Super Luce DDR4 quad-channel memory kit comes with iLuce thermal-beaming technology, but how does it actually perform? Let's check it out.

Published Aug 19, 2015 9:12 AM CDT
|
Updated Tue, Nov 3 2020 6:59 PM CST
TweakTown's Rating: 78%
The Bottom Line
Not having the SOC Champion, nor a 5960X, we found that the Super Luce just wasn't for us. While we learned a lot, and did get reasonable results, we do not advise a kit that needs this level of extremes and still did not run rated speeds.

When we first saw news of this specific memory, we got right in touch with GeIL to see if we could acquire a sample. We were aware also that this kit was validated for only one motherboard from GIGABYTE as well, but that did not slow us down one bit. Even with our ASUS based test bed, a good grasp on what it takes to get what we want out of a kit, we thought we could make this GeIL memory submit to us and reap the benefits of this kit, even if it is not validated with our RVE motherboard.
This is where things started to go a bit haywire for us though. With what we were seeing, this kit was only capable of running at speeds near 2800MHz, and you could forget about overclocking the CPU all together. After many emails to both ASUS and GeIL, neither had "advisable" answers to fix my dilemma. Searching some older posts which I recalled seeing on Facebook, I got in touch with MSIMax, who was pushing this kit much further than I was seeing. After he advised I grow a set and force a bunch of voltage into them, I too could get something comparable to the rest of our previous testing to show the GeIL Super Luce in a normal scenario.
We can say this up front, while we were able to finally overcome our stumbling blocks, unless you are considering a high-end GIGABYTE board at this time to use this kit with, we do not advise you repeat what you are about to see done here on just any motherboard out there. We took a chance and trusted proven results, but not every board or CPU is equal, and neither is the comfort levels of where users will like to push their components to. If you are running an SOC Champion motherboard, we have seen some really great results from this kit in the vastness of the internet, but if like us, you are not, pay close attention to what we are saying when it comes to picking up this set of GeIL Super Luce over something proven to work well out of the box.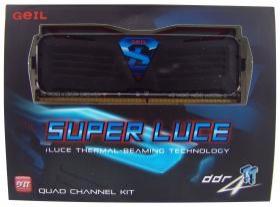 GeIL surrounds this 16GB set of DDR4-3400 in packaging that has images of blue lit Super Luce in the background, but through the cut away, you can see ours are illuminated in red, and if memory serves us, there is a white option available now too. There is also a mention of iLuce Thermal Beaming Technology, referring to the fact that the warmer the memory is, the faster the lights on top will pulse.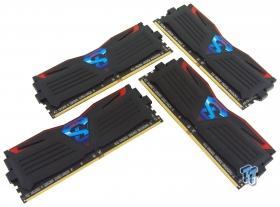 Fresh out of the packaging, the Super Luce from GeIL is attractive with the grooves in the spreaders, and the Superman like logo with SL in it for Super Luce. We also like that they opted for black PCBs in this kit, and the way the tops are designed, light can be seen from the top, but also on either side.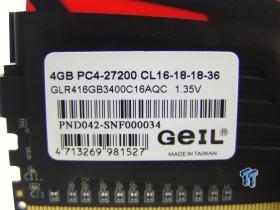 The sticker provided for the Super Luce shows that this is a 4GB stick of PC4-27200 with timings for the XMP profile set to 16-18-18-36, using 1.35 volts. We also are given the kits model number here too of GLR416GB3400C16AQC.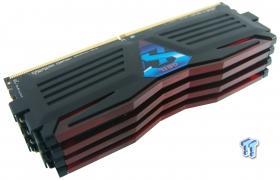 With the RAM flipped around, we get a much better sense of the design, both of the spreaders and their wings that flank the light strips. They contoured both to allow full view lighting, but also adding a bit of design finesse at the same time, instead of doing something flat and boring.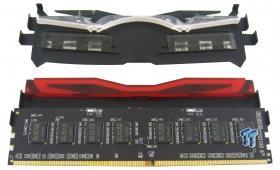 As you can see by the tap on the top half of the spreader, it is not attached all they well, but does stay in place. We also see the clear bit of plastic that takes the LED light from the top of the RAM stick, and passes it to the colored section at the top of the lower spreader.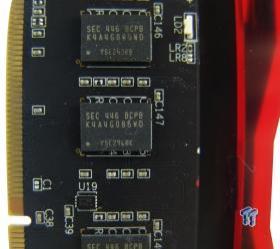 We have had some good success with Samsung ICs in the past, and seeing this prior to testing really had us thinking "we got this". The issue, however, is not due to the use of Sammy IC's, but rather the XMP profile and lack of much validation.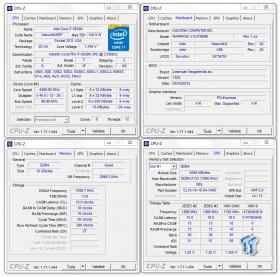 This is as far as we were willing to go for testing. The GeIL Super Luce did not make it to 3400MHz, but rather this 3200MHz we stopped at with XMP timings used for the primary set, but without use of the actual XMP profile. We should also state that to get here, we needed 1.50V to the memory, and also had to increase System Agent voltage to 1.385V to get this stable. Now we see why ASUS and GeIL had their hands tied with advice.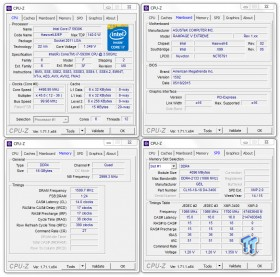 With the same voltages used as before, we could not make it to 3300MHz and definitely not to 3400MHz no matter the dividers chosen, or what BCLK we used. Actually for us, with any deviation to the BCLK, the kit would fail to post. We did, however, see that it was possible to bring the timings down, if only slightly.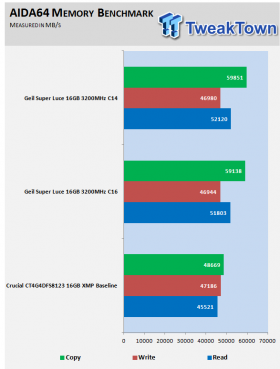 With improvements to be seen over the baseline kit, we do see that lower timings are doing better than the standard ones. The Copy and Reads are feeling the most effect here, as both of the write results are actually lower than the Crucial kit at 2133MHz.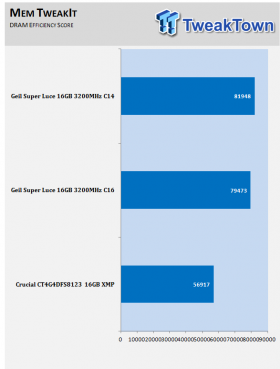 Unlike with a lot of kits, Mem TweakIt does not always bode well for certain sets. However, these GeIL Sticks show vast improvements as the speed was scaled up to 3200MHz from the baseline, and also got a decent jump from just dropping timings a touch.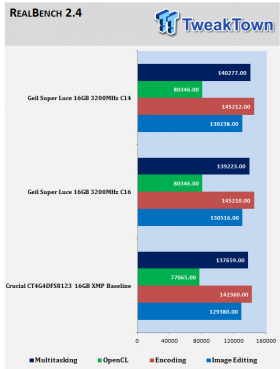 Using RealBench, we find results that aren't just that impressive really. Considering we have over 1000MHz increase in speed, and even with the lowered timings, Encoding is the only real advantage here, and don't mind the OpenGL differences, we changed video card drivers.
We are the type, that when given a challenge, try everything we have and try and try until we win, and GeIL and this 16GB kit of Super Luce challenged everything we thought we knew and were capable of achieving. After pulling out a lot of hair, and stressing waiting for help from the manufacturers, it really did take manning up a bit and doing whatever it took to come up with something we could say is an apples to apples comparison with everything else we have tested. If it were up to GeIL, we would have gotten the RAM to 2800MHz for testing, and in doing so, the fastest the CPU could go was 2.6GHz, and why would we want to do that?
Eventually, however, we did win; well maybe not won overall, but we got an honorable mention at least for this. Many thanks go out to MSIMax as without his advice, we would have had to outright fail this kit as tested on our RVE. As we mentioned earlier, for those with the GIGABYTE SOC Champion motherboard, have no fear at all, this kit will run out of the box with nothing more than applying the XMP2.0 profile. To anyone else out there with any other motherboard, you are taking a risk of everything we ran into, or even worse, who really knows.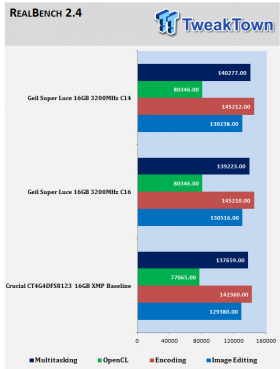 As of right now, it is hard to deny that this kit of DDR4-3400 Super Luce with its red LEDs and unique heat spreader design is very appealing to a lot of people out there, and any superhero fan is going to love the Superman reference of the Super Luce logo stickers. Then there is the iLuce portion, where when the memory is cooled, the light stays on for a while and pulses every so often. As the memory is used harder and gets warmer, the pulsing gets faster, but strangely enough, the memory in our system never went over 37 degrees, and with the fastest LED pulse setting offered at 50 degrees, you may never see it unless in a very poorly ventilated chassis. Overall though, this is a very slick set to want to buy as far as looks go.
Then of course there is the fact that we had to take things to extreme levels to get the results we did. While we know of people running 1.8 volts on air through RAM, we do not advise it, nor do we advise anyone settle to run 1.5 volts to them either. While motherboard makers and RAM makers have been seen in forums saying 1.45 volts is safe enough if well cooled, we feel that this kit should run stated speeds, timings, and do it all in the voltage specified on the sticks. For that reason, we cannot really praise this Super Luce like we have many others in the past.
The information is out there, and this DDR4 3400MHz Super Luce kit may make certain users out there feel like beasts when they unleash the full potential of the GeIL Super Luce on their SOC Champions. As to the rest of the X99 motherboard owners out there, you really have to want to take that gamble, and hope every component on your board is good to go. Pushing the sort of voltages we did was an risk, and while we made it through with our components unharmed, the brute force needed to get less performance than say the Apacer Commando's, at $250 for the Super Luce, we just do not feel it is worth the effort and risk involved just to prove a point.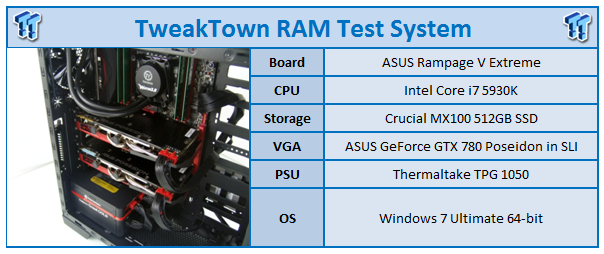 | | |
| --- | --- |
| Performance | 75% |
| Quality including Design and Build | 70% |
| General Features | 80% |
| Bundle and Packaging | 87% |
| Value for Money | 78% |
The Bottom Line: Not having the SOC Champion, nor a 5960X, we found that the Super Luce just wasn't for us. While we learned a lot, and did get reasonable results, we do not advise a kit that needs this level of extremes and still did not run rated speeds.
PRICING: You can find products similar to this one for sale below.

United States: Find other tech and computer products like this over at Amazon.com

United Kingdom: Find other tech and computer products like this over at Amazon.co.uk

Australia: Find other tech and computer products like this over at Amazon.com.au

Canada: Find other tech and computer products like this over at Amazon.ca

Deutschland: Finde andere Technik- und Computerprodukte wie dieses auf Amazon.de
We openly invite the companies who provide us with review samples / who are mentioned or discussed to express their opinion. If any company representative wishes to respond, we will publish the response here. Please contact us if you wish to respond.