SteelSeries Siberia v3 Prism RGB Gaming Headset Review
With upgraded features boasting 16.8 million color LEDs in each earcup, does the performance of the Siberia v3 Prism RGB match the upgraded looks?
Published
1 minute & 7 seconds read time
TweakTown's Rating: 87%
The Bottom Line
The sound and features are certainly enough to justify a purchase. However, those with a big head or looking for punchy bass will need to steer clear.
Introduction
Anthony reviewed the SteelSeries Siberia v3 headset just earlier this year, giving it a best value award coupled with an 86% rating.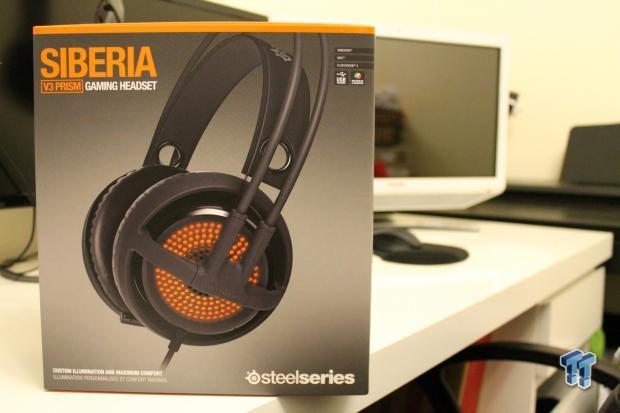 The previous v3 model was applauded for improvements over previous editions, the price was a major positive and the sound quality was decent. What did let it down was a 1-2 hour usability window (before it became uncomfortable) and it being a little small in size for those with larger heads.
Now SteelSeries is back at it again with the Siberia v3, releasing the Prism. Toting 16.8 million colors available for display in each earcup through the might of LEDs and SteelSeries software, this edition sets to improve on the looks department, whilst still keeping the sleek SteelSeries style we all know well. Are there any other improvements made and will the colors alone raise the overall score? Read on to find out.
Specifications
Providing a 2.0 sound setup through a single USB connection, the SteelSeries Siberia v3 Prism headset runs off the "SteelSeries Engine 3 software" and features customizable LEDs in each earcup, enabling users to display one of 16.8 million colors to anyone that looks.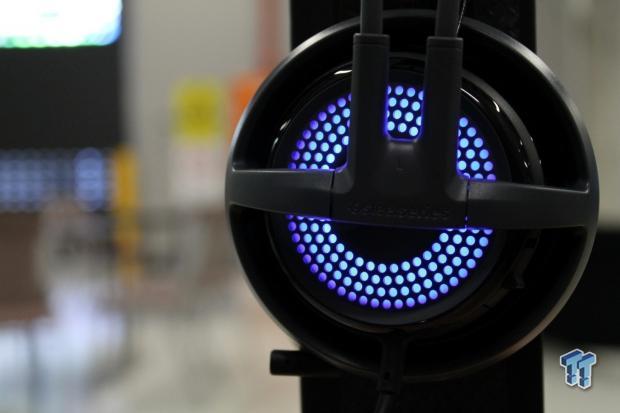 Explained on the official website as utilizing upgraded audio drivers over previous models, the v3 Prism offers a frequency of 10 - 28,000 Hz, an impedance of 35 Ohm and a SPL@1kHz of 102dB. The retractable microphone further features a unidirectional pickup, a frequency of 50 - 16,000 Hz, an impedance of <2.2KOhm and a sensitivity of -42dB. As for connection options, the USB 2.0 connection is coupled with a 1.2m non-braided cable. The features list is wrapped up by an expanding-bridge style headband (Siberia suspension system) and plush leather ear cups ensure an over-ear design.
Pricing & Availability
The Siberia v3 Prism is $107.59 including free postage costs when priced on Amazon at the time of writing, which ensures it falls into similar categories as the Astro A40 (no mixamp) and the Kingston HyperX Cloud II.
What's in the box?
An unfortunate downside of this unit is the accessories in which it comes with. Limited to a user manual and two stickers in total, I can't help but feel disappointed with the package on offer here from SteelSeries.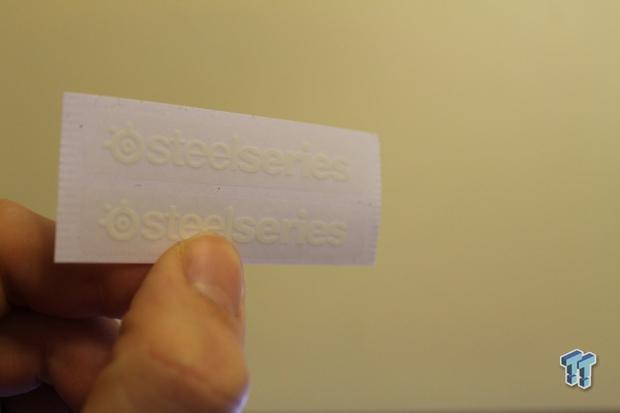 Besides the previously mentioned simple offerings, there's no carry pouch to be seen; this is something that is a relatively inexpensive and handy addition in which many companies are including these days. SteelSeries isn't short on the eSports marketing either, sponsoring almost every top gaming team globally at one stage, so you could be safe in assuming a carry pouch will be included to help you keep it safe when attending tournaments of your own. If you're looking for a driver CD, you are again out of luck. However, this is to be expected as the 70MB driver download is very easy to find.
Let's dig deeper
The headset ensures that it doesn't look cheap by utilizing a matte finish almost all over, steering away from the 'cheap shiny plastic' look and feel. Further to this, the headset feels well-constructed and sturdy, it's easy to bend around (not brittle) and this will help fit the contours of your head quite well.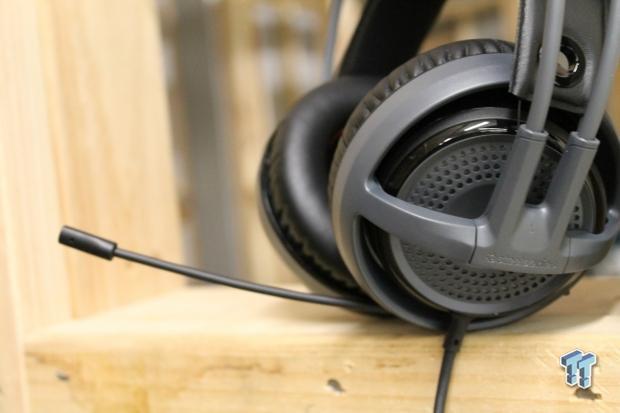 However, I came to the same issues that Anthony did with the previous model - the headset simply isn't big enough to fit comfortably on my head. At first I tried wearing it with a cap on (as some people do) but this didn't come close to being right. After taking my hat off, I needed to pull it down to my ears to ensure full coverage, but this made sure that it wasn't perfectly comfortable on my head. Sure, I got used to it after a little while, but the fact that it barely fits is a little annoying. I haven't had this issue with any other headset I have tested this year so far, which makes up around 15 models in total, so it can't be the fact that my head is simply that huge.
The leather ear cups are extremely soft and comfortable and will ensure hours of use as long as the size is just right for you. The expanding-bridge design on top also means that for anyone looking at long-term use will be kept comfortable as the headset isn't relying on clamp pressure to ensure it stays on your skull, rather sitting on top through the help of this soft head band.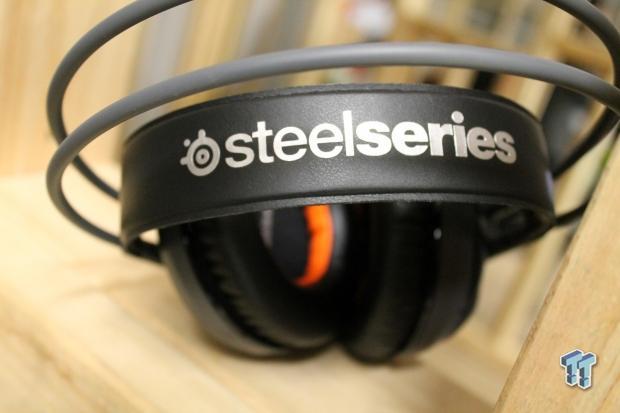 The retractable microphone sounds good and looks great too - it's good to see SteelSeries continue this minimalistic option with some other brands opting for massive boom microphones that look like spaceships protruding out of your ear lobe. There's no in-line control unit which suits SteelSeries' minimalistic approach, but I would be lying if I said that having one isn't useful. There is an included option to mute the microphone on the headset itself, but from experience, these are annoying to use unless your muscle memory already has it just right.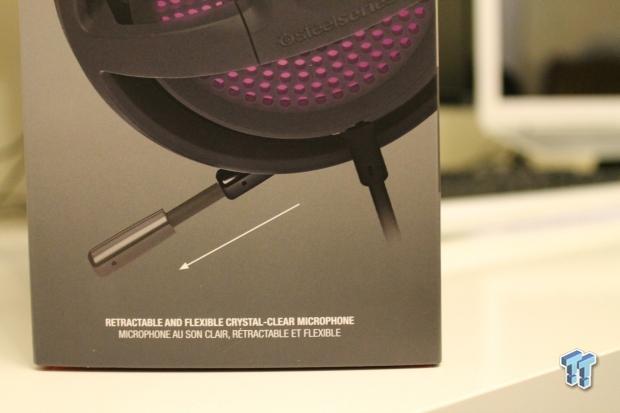 A Heroes of the Storm analysis
Currently my game of choice, Heroes of the Storm (Heroes), helps test out various different parts of your sound experience. There's some higher pitched sounds like Valla's fancy little homing arrow and deeper bass-laden sounds like Tychus when he suits up in his monolith robotic death-machine firing rockets and cannons alike.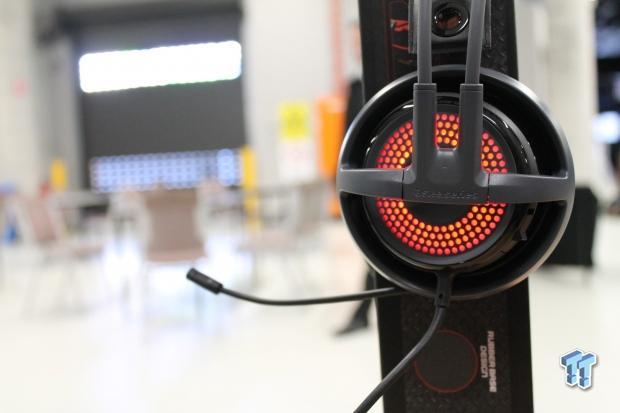 When playing Tychus and jumping into the shiny machine of death, I was excited for the skull-rattling sounds to come from firing my nuke high into the sky and watching it explode on the feeble LiLi trying to escape me. As soon as the rocket hit the ground, I instantly hit the Obama 'not bad' meme face - the performance was good, basically identical to the Astro A40, but with a little less bass.
I've often explained to people that a lack of bass isn't always a terrible thing, especially when in competitive gaming situations. If you think about headsets that rattle and rumble whenever a grenade explodes, this makes it hard to listen in to any footsteps around or people trying to sneak up on you. Now don't get me wrong, I'm not trying to make excuses for a lack of overall bass, but this headset doesn't try and be what it's not. It doesn't turn up the bass and plaster the box with "wow omg extra rock up the bass" features. The bass is there and it does alright, but is nothing impressive.
Don't stop the music
Music is a big part of any gamers' experience these days. Services ranging from iTunes to Spotify keeps us connected to the musical world 24/7 whilst browsing Reddit, playing casual games or relaxing while in matchmaking queues.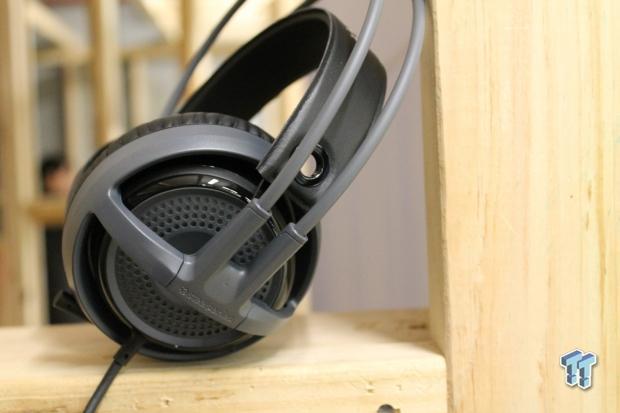 Listening in to Pink Floyd's 'Shine On You Crazy Diamond' reports back a good experience, once again mirroring similarly-priced products. The clarity is great, but if you're looking for a skull-rattling bass drop, head somewhere else.
Moving on to something a little heavier like 'Ayy Ladies' by Travis porter and Tyga accentuates the complete lack of punchy bass, but once again reaffirms the positive that not only is the clarity there, but there is no distortion whatsoever.
The drivers are only 70MB, don't require an account for operation and are extremely easy to use with great lighting features like color change, pulse and on-the-fly previews.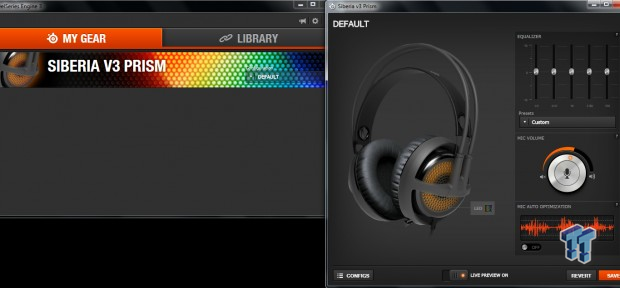 What's Hot
The sturdy-term feel: The headset feels well constructed and the ear cushions are very soft.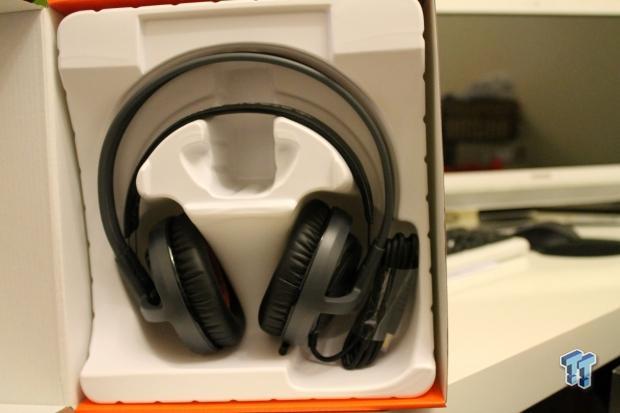 Easy to clean: Thanks to the simple plastic exterior, you can keep this baby nice, shiny and smell-free.
It looks great: Continuing the minimalistic design, SteelSeries has produced another beautiful product.
What's Not
Big heads beware: If you're got a large head, close this page right now.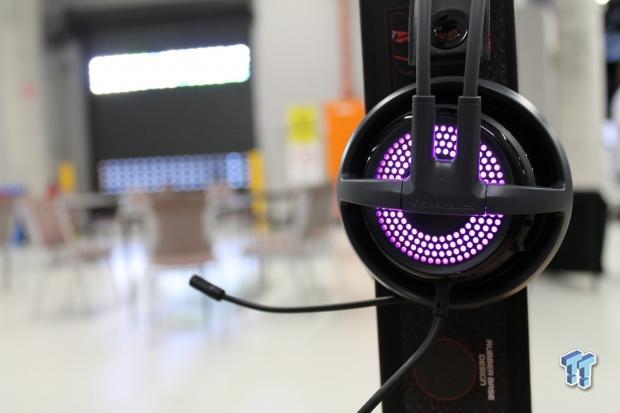 lack of punch, lack of bass: It doesn't provide any punchy bass.
Final Thoughts
Once again SteelSeries has produced a strong contender to the mainstream market. If you're looking at a headset around $100 including shipping with a few cool features, this headset is right up there with the likes of any other companies offering.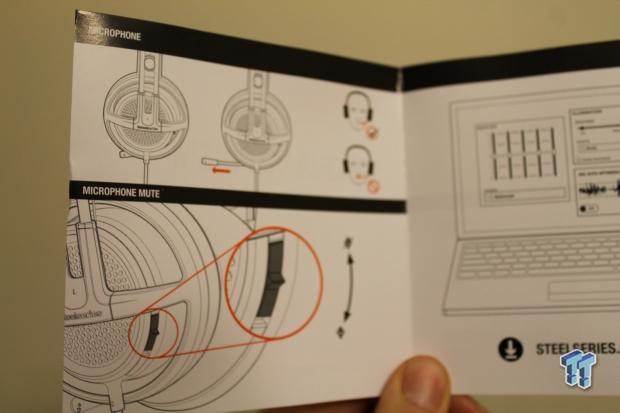 However, if you're looking for punchy bass or have a large head, we suggest checking out the Kingston HyperX Cloud II or similar products. There's a ton of awesome LED options included here and although I'm not usually one to care much about flashy features and LED options - the included pulsing, changing and 16.8 million total colors look awesome.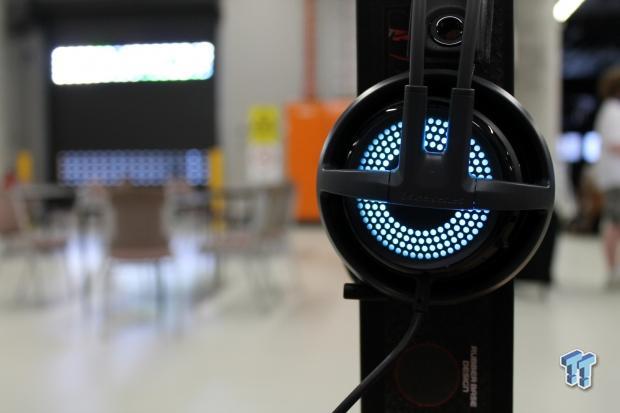 | | |
| --- | --- |
| Performance | 89% |
| Quality including Design and Build | 95% |
| General Features | 90% |
| Bundle and Packaging | 70% |
| Value for Money | 90% |
The Bottom Line: The sound and features are certainly enough to justify a purchase. However, those with a big head or looking for punchy bass will need to steer clear.
PRICING: You can find products similar to this one for sale below.

United States: Find other tech and computer products like this over at Amazon.com

United Kingdom: Find other tech and computer products like this over at Amazon.co.uk

Australia: Find other tech and computer products like this over at Amazon.com.au

Canada: Find other tech and computer products like this over at Amazon.ca

Deutschland: Finde andere Technik- und Computerprodukte wie dieses auf Amazon.de
We openly invite the companies who provide us with review samples / who are mentioned or discussed to express their opinion. If any company representative wishes to respond, we will publish the response here. Please contact us if you wish to respond.
Related Tags