TweakTown's Rating: 95%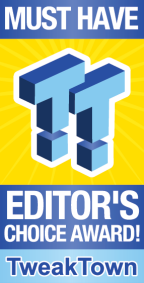 The Bottom Line
It's this easy folks: Acer has the best gaming monitor in the world right now with its NVIDIA G-Sync powered XB270HU. Simply amazing.
Introduction and Specifications, Availability & Price
Up until the last year or so, Acer wouldn't be a brand one would associate with gaming monitors. But here we are, shifting into the second half of 2015, and Acer has a few gaming monitors out there that are not only worth your attention, but worthy of a near $1000 investment. And not just that, the new XB270HU we have here today, is the best gaming monitor you can buy. Yep, I went there, in the opening paragraph of this review.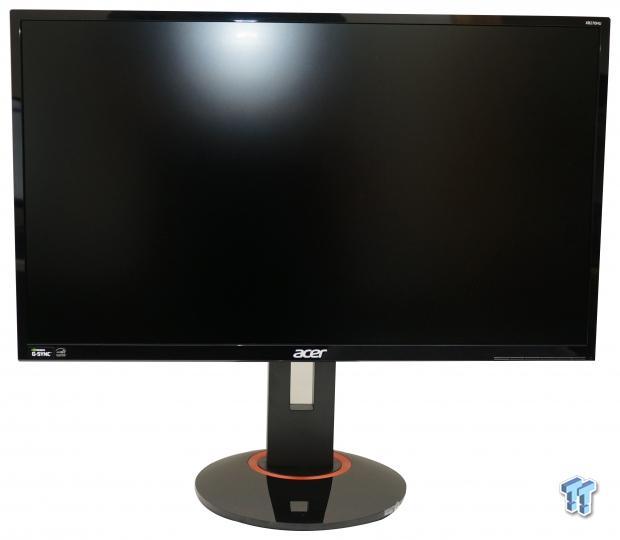 Acer's previous XB280HK is a great monitor, a 28-inch 4K monitor with a 60Hz refresh rate and running NVIDIA's G-Sync technology. However, it's only 60Hz. The size isn't perfect, as I'd like more of a 30 to 32-inch monitor with 4K, but with the 60Hz refresh rate, it will never be my new gaming display. The ROG Swift from ASUS is the one to beat right now, with a 2560x1440 panel and 144Hz refresh rate with NVIDIA's G-Sync on top. But, the ASUS ROG Swift is using a TN panel, which doesn't look anywhere near as good as an IPS panel.
This is where Acer has surprised with the XB270HU, which is essentially, the ROG Swift, with an IPS panel - and hell is it gorgeous. To recap, the Acer XB270HU is a 27-inch QHD (2560x1440) monitor with a 144Hz refresh rate and powered by NVIDIA's G-Sync technology. It's a damn beautiful display, and as I said a little earlier, it's the best gaming monitor you can buy right now.
Specifications, Availability & Price
Acer has managed to crank an IPS panel all the way up to 144Hz, and then apply NVIDIA's G-Sync technology onto it. The results are nothing short of amazing. Here's the full datasheet on the XB270HU.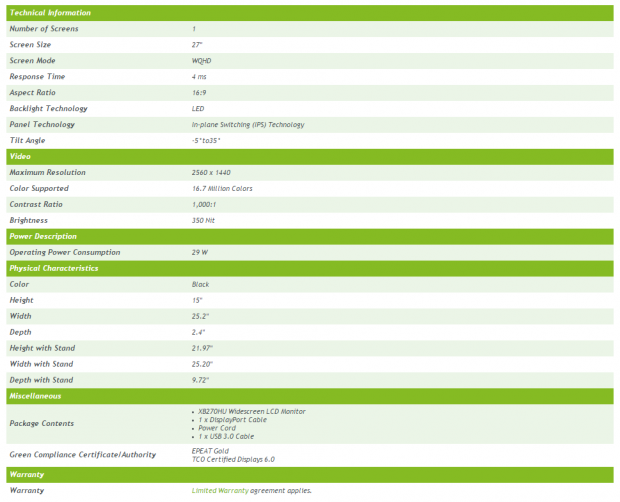 You can see we have a 27-inch QHD panel with a 4ms response time, it's LED backlit, and uses In-Plane Switching (IPS) technology. We have 1000:1 contrast ratio, and 350 Nit, with 29W of operating power consumption. In the box, you get the XB270HU itself, a DisplayPort cable, power cord, and a USB 3.0 cable.
As for price, Amazon has the Acer XB270HU listed for $799.95, which includes free shipping. This is a damn good price for the monitor, especially so since the ASUS ROG Swift PG278Q is $748.99 and features a TN panel.
Overview of the Acer XB270HU & Test System Configuration
Overview
The box that the XB270HU comes in is pretty identical to that of the XB280HK, the 4K monitor that also features NVIDIA's G-Sync technology.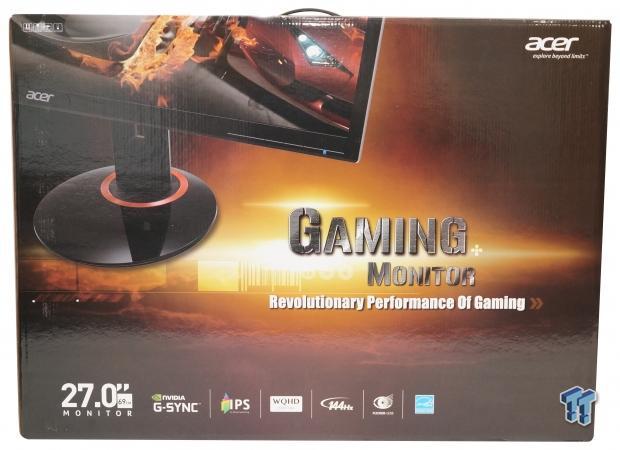 Starting with the front of the box, which doesn't do much to convince the consumer that this monitor is one of the, if not the best gaming monitor on the market right now.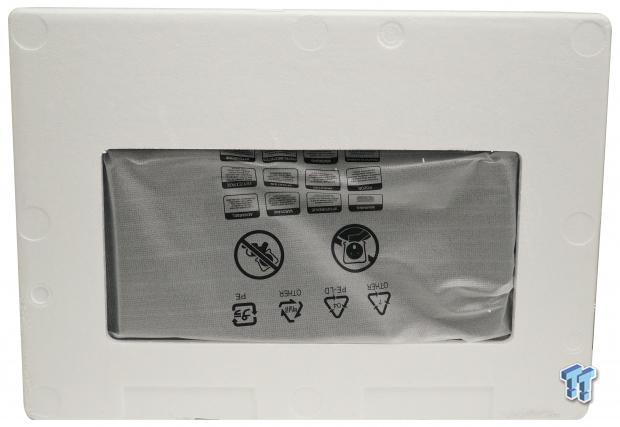 It is packed quite well, with the display itself nice and snug in some Styrofoam packaging.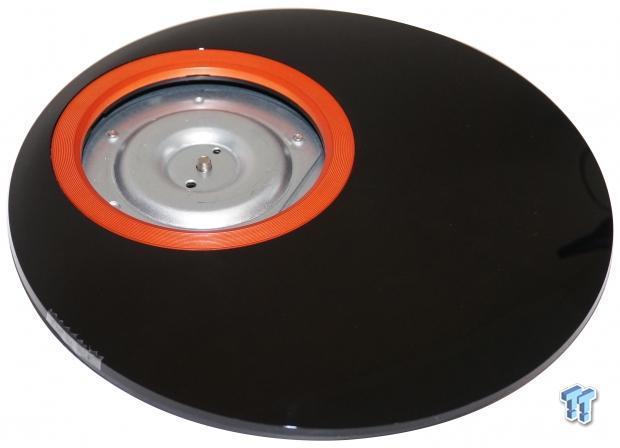 Here's the stand that the XB270HU gets clicked, and then screwed into.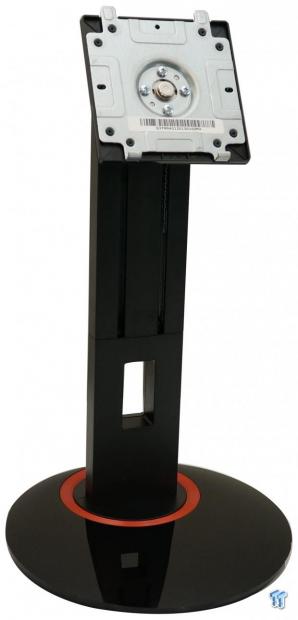 And again with the stand attached.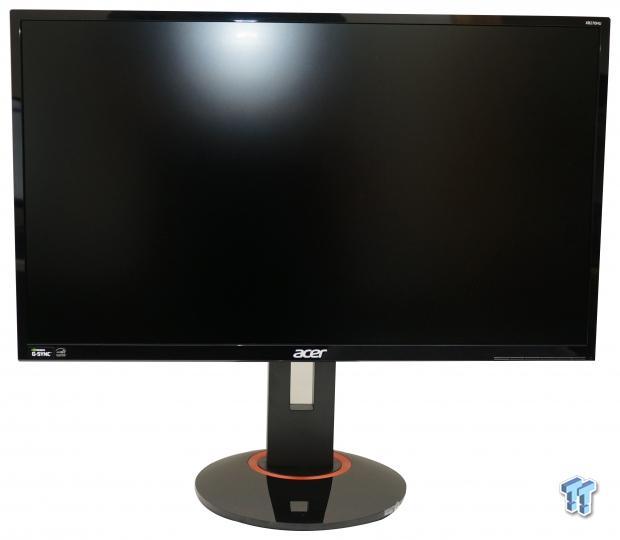 The full package: the Acer XB270HU on its stand, ready for action.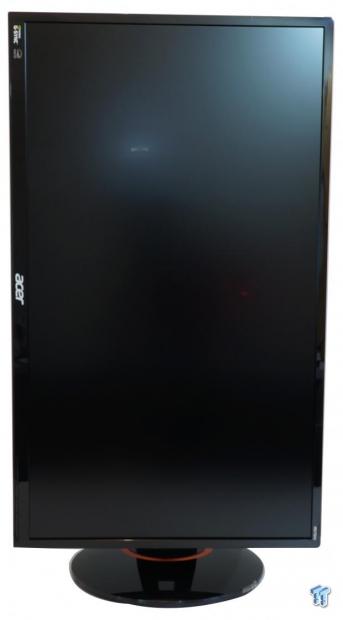 The Acer XB270HU can go into Portrait mode, which is great for triple-monitor setups and productivity.

On the back of the monitor, we have from left-to-right, the power switch and socket, the DisplayPort input, and two USB 3.0 ports with a USB 3.0 output.


A closer look at the ports.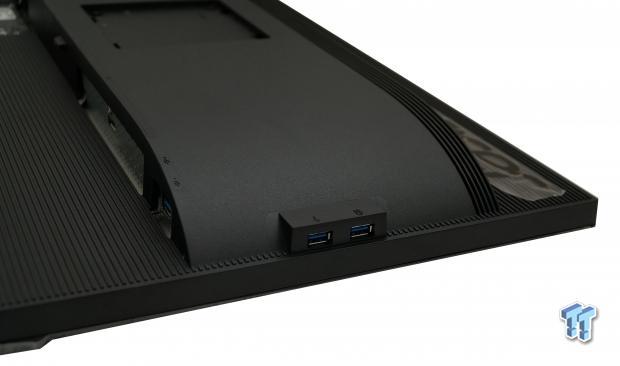 To the left of the XB270HU, we have two more USB 3.0 ports.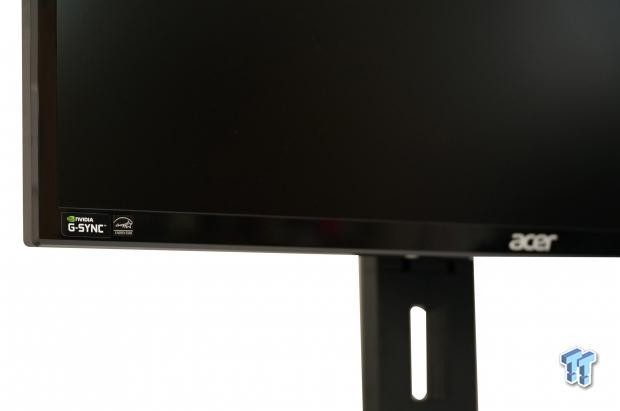 On the bottom left of the display, we have an NVIDIA G-Sync sticker that displays that the XB270HU is powered by NVIDIA's kick-ass technology.
Our Setup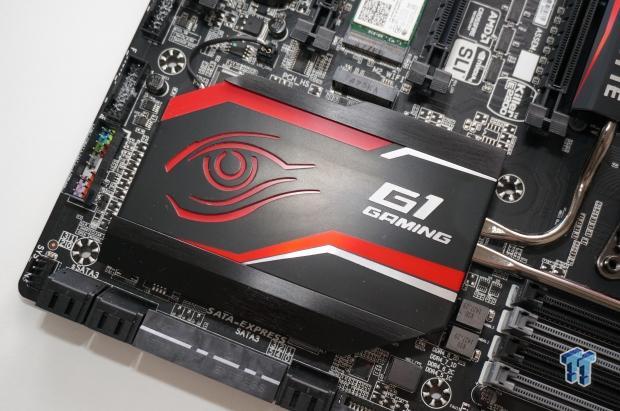 For our testing, NVIDIA provided the display chops with the ASUS ROG Swift PG278Q, but for the rest of our system, here's what I'm running right now:
CPU: Intel Core i7 4930K processor w/Corsair H110 cooler (stock clocks)
Motherboard: ASUS Rampage IV Black Edition
RAM: 32GB Corsair Vengeance Pro (2 x 16GB kits) of 2400MHz DDR3
GPU: NVIDIA GeForce GTX 980 Ti
Storage: 240GB SanDisk Extreme II and 480GB SanDisk Extreme II
Chassis: InWin X-Frame Limited Edition
PSU: Corsair AX1200i digital PSU
Software: Windows 7 Ultimate x64
Drivers: GeForce 352.86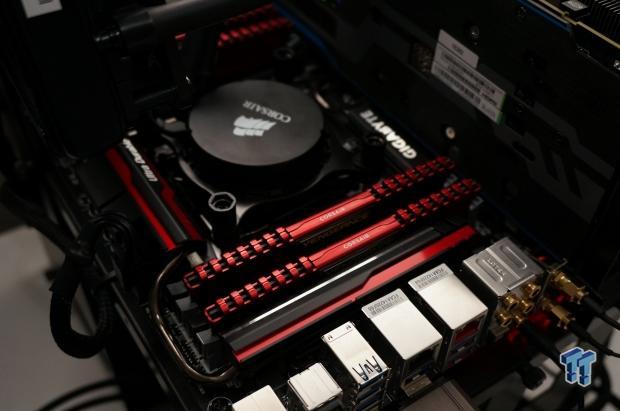 We'd like to thank all of our partners for their support, as this couldn't be possible without NVIDIA, ASUS, Corsair, SanDisk, or InWin. Without them, we wouldn't have the hardware here to test today, so I'd like to thank them all for providing us with the hardware here in my lab.
Gaming with Acer's XB270HU - The New King
Gaming On The Acer XB270HU
Until now, the ASUS ROG Swift was my gaming monitor of choice, but all that changed the moment I laid eyes on the Acer XB270HU. The Acer XB270HU is essentially the ROG Swift, but with an IPS panel. We have the perfect gaming resolution for a 27-inch panel: 2560x1440, but mixed with ULMB, 144Hz + G-Sync, and 4ms GtG - this is a serious gaming monitor.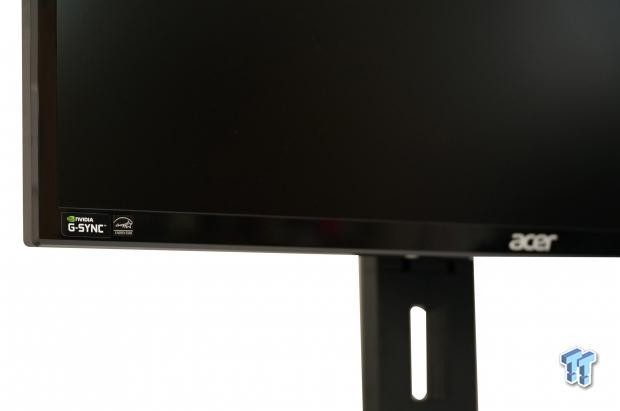 I spent around two solid weeks gaming on and off each day and night with the Acer XB270HU, with most of my time spent owning people in Battlefield 4. But, I also spent a considerable amount of time (5-6 hours a day) using it as my main display for work. I sit in front of displays each and every day, with the XB270HU being one of the most pleasant to sit in front of.
When it comes to gaming, the Acer XB270HU met and exceeded my expectations. After the first few hours, the ROG Swift was nothing but a memory. The new IPS-based Acer XB270HU is just gorgeous, from its vivid colors to its sharpness, gaming has never been better than this.
It's the fastest gaming monitor I've used with zero lag in my eyes, especially when you're getting 120-144FPS, as G-Sync kicks in and starts making the entire experience even better. I sat in the dark playing Battlefield 4 for hours upon hours, where I simply couldn't believe what was sitting in front of me. An IPS-based 2560x1440 display with a 144Hz refresh rate and NVIDIA's G-Sync technology. It's almost as if NVIDIA and Acer entered my dreams, ripped one of them out, and made it into the XB270HU.
I tested out a few other games like Grand Theft Auto V and Far Cry 4 with the same results: nothing but pure gaming bliss. There was no visible lag or blur in both GTA V or Far Cry 4, especially when you're getting between 120FPS and 144FPS.
What's Hot, What's Not & Final Thoughts
What's Hot
No Compromises: Acer has spared next to nothing with the XB270HU, providing some of the best specs you can find in a gaming monitor. Not only that, but the company has done all of this and still been capable of using an IPS panel. It's amazing.
G-Sync Continues to Impress: Once you've used a G-Sync monitor, it's hard to go back. Once you've used the Acer XB270HU, you'll never want to go back to whatever previous monitor you were using.
Acer is Now the New King of Gaming Monitors: ASUS held this title with the ROG Swift, but Acer has snapped it away from them. The XB270HU is the best gaming monitor you can buy. At $799 it's not cheap, but it's also not priced out of the question.
Best of Both Worlds: What makes the Acer XB270HU even better, is that it's no longer a "work OR play" monitor. The XB270HU is a "work AND play" monitor thanks to its IPS-based panel. I sit in front of a monitor every single day and the difference between a TN and IPS panel is noticeable. But when I have a single display that can go from work to game in a flash, that's something worth talking about.
What's Not
Steep Hardware Requirements: We said the same about our ASUS ROG Swift; in order to run the Acer XB270HU at its intended resolution and framerate, you're going to need some serious hardware. We would recommend NVIDIA GeForce GTX 980 SLI, or if you can spare it, Titan X in SLI. You won't regret it, though.
Final Thoughts
Acer has crafted the best gaming monitor that money can buy with the XB270HU. It replaces the ASUS ROG Swift as the gaming monitor that I have recommended many friends to buy, thanks to it featuring an IPS panel. This means that you can use the Acer XB270HU as both a work, and play monitor - something that I've found myself doing.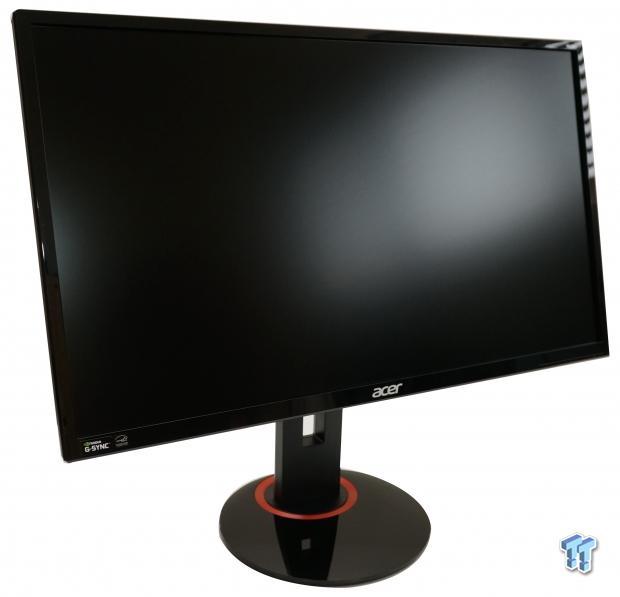 Sitting to the left of the Acer XB270HU I'm currently typing in front of is the 34-inch LG curved ultrawide monitor with a resolution of 3440x1440. As good as that is for writing content on each day, I can't see myself shifting away from 144Hz. Once you get used to 144Hz and G-Sync, it's just so hard to go back - even when it's for productivity, not just games.
Where to from here? The next logical step is 3440x1440 at 144Hz with G-Sync, or 4K at 144Hz with G-Sync. This will happen sometime next year, which has me excited to see what Acer can do next. But until then... hail to the new king, baby.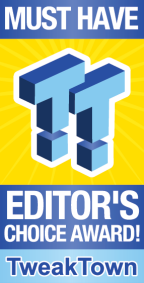 | | |
| --- | --- |
| Performance (display quality/resolution) | 100% |
| Quality (build/matte or gloss finish) | 95% |
| General Features (outputs, ports) | 95% |
| Bundle and Packaging | 95% |
| Value for Money | 90% |
The Bottom Line: It's this easy folks: Acer has the best gaming monitor in the world right now with its NVIDIA G-Sync powered XB270HU. Simply amazing.
PRICING: You can find products similar to this one for sale below.

United States: Find other tech and computer products like this over at Amazon.com

United Kingdom: Find other tech and computer products like this over at Amazon.co.uk

Australia: Find other tech and computer products like this over at Amazon.com.au

Canada: Find other tech and computer products like this over at Amazon.ca

Deutschland: Finde andere Technik- und Computerprodukte wie dieses auf Amazon.de
We openly invite the companies who provide us with review samples / who are mentioned or discussed to express their opinion. If any company representative wishes to respond, we will publish the response here. Please contact us if you wish to respond.