Introduction & Specifications, Pricing and Availability

In what seemed a matter of time, we had an idea WD was right around the corner from releasing their very own 6TB storage solution. While we did not think it would be from the WD Red lineup, it is here and I am sure others are right around the corner as well.
The new WD Red brings to market the very first 6TB purpose built for NAS storage solutions. With this, WD has also increased the bay count to a maximum of eight in a tower installation or 16 bays if you have the new WD Red Pro.
As with all WD Red solutions, the 6TB carries on the 24x7 reliability of the brand, and introduces NASware 3.0, further enhancing compatibility with NAS systems, while offering improved performance.
Specifications, Pricing and Availability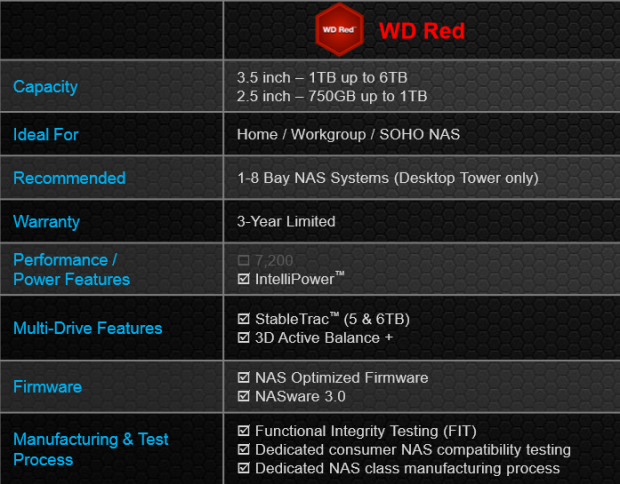 Looking at the slide above, you can see the list of features for the new 6TB Red. WD has added StableTrac to the 5TB and 6TB Red models, while keeping with the IntelliPower scheme the Red has always enjoyed. This time around, NASware has been upgraded to version 3.0, as mentioned above, while WD has a focused manufacturing and testing process for the Red lineup.
The MSRP of the WD Red in the 6TB capacity is set at $299.99. In addition to this, WD has released a 5TB capacity for $249.99; both drives carry a three-year warranty.
Drive Details
WD Red 6TB HDD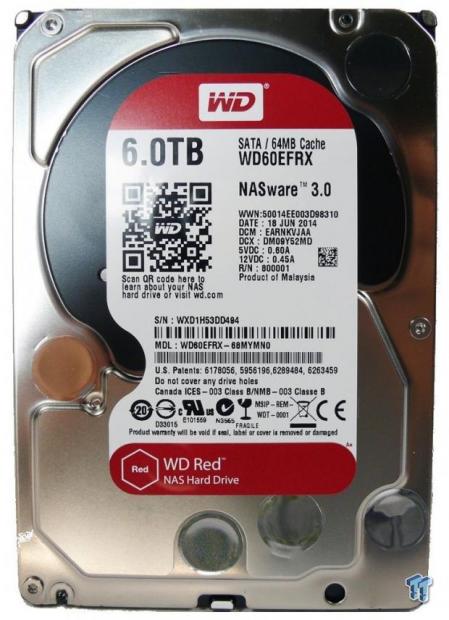 Here we have our first look at the WD Red 6TB. Capacity is listed at the top next to the model number and 64MB cache designation.

The drives SATA power and data connectors are lined up correctly, so there should be no issues with hot swap trays.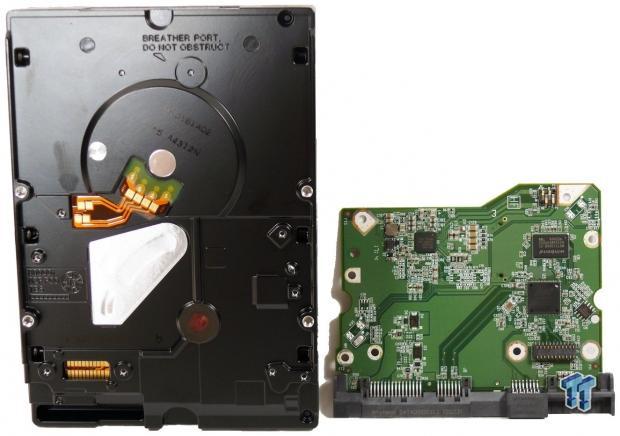 Here we look at the drive with the PCB removed. The WD Red 6TB uses a new design where part of the connections are housed under or inside the platter tray.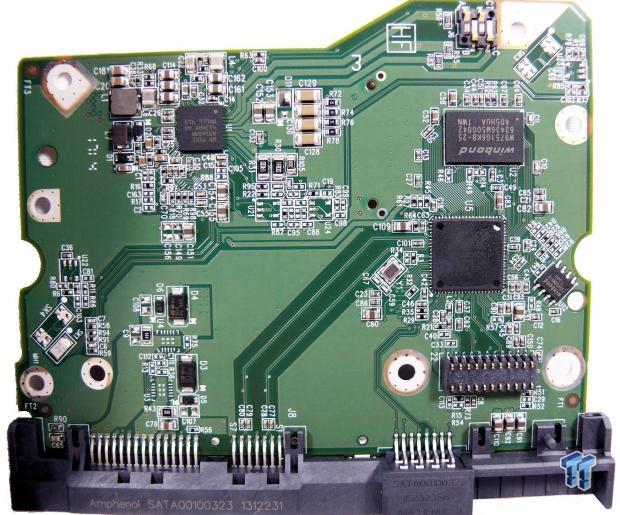 Above, we have the PCB removed from the drive where we get a look at the Marvell controller in the center, followed by 64MB of Winbond DRAM for the cache and WD Pike motor driver.
Benchmarks - Test System Setup and ATTO Benchmarks
Desktop Test System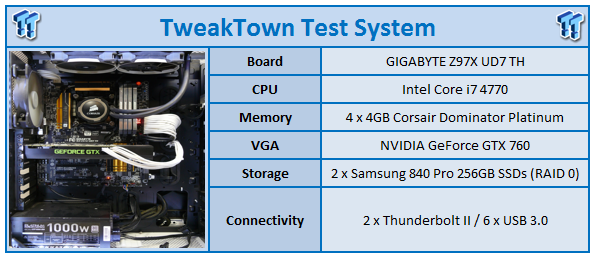 ATTO - Baseline Performance
Version and / or Patch Used: 2.34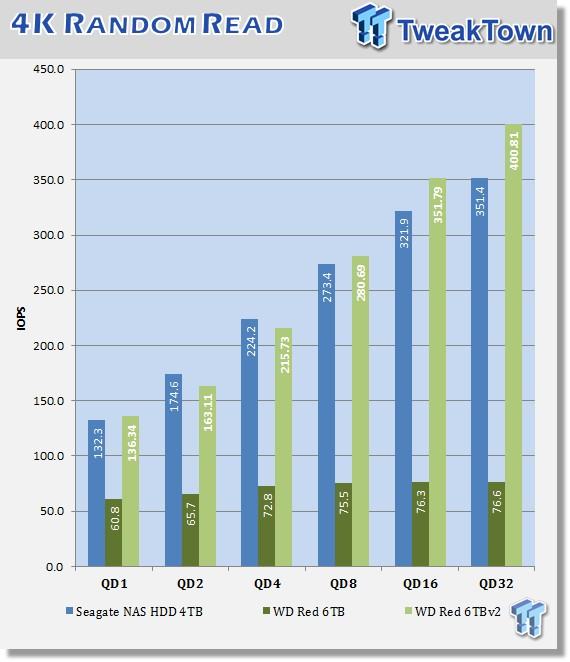 In ATTO read testing, we found the WD Red 6TB to reach 180 MB/s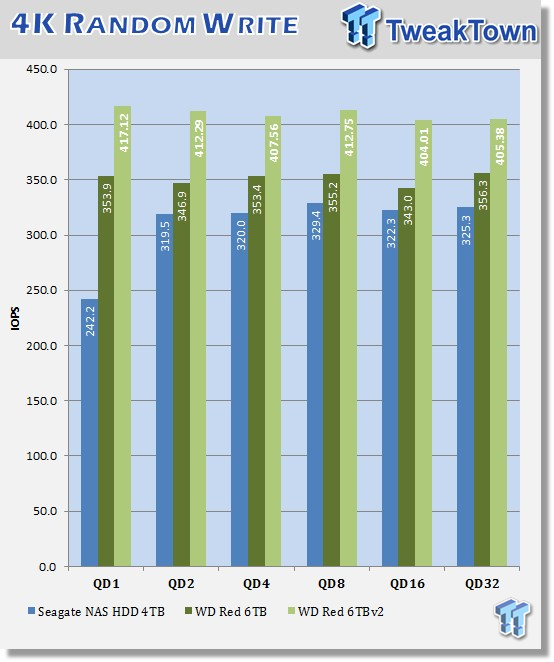 Write performance was quite similar; here we were able to touch just under the 180 MB/s mark.
Benchmarks - 4K Random Performance & Latency
IOMeter - 4K Random Performance with QD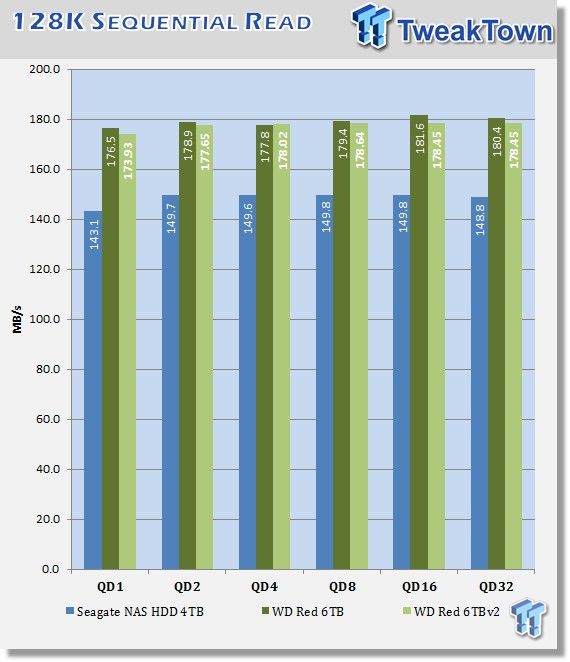 In random read, the WD Red 6TB was not very impressive. As you can see, it managed just 76 IOPS at QD32.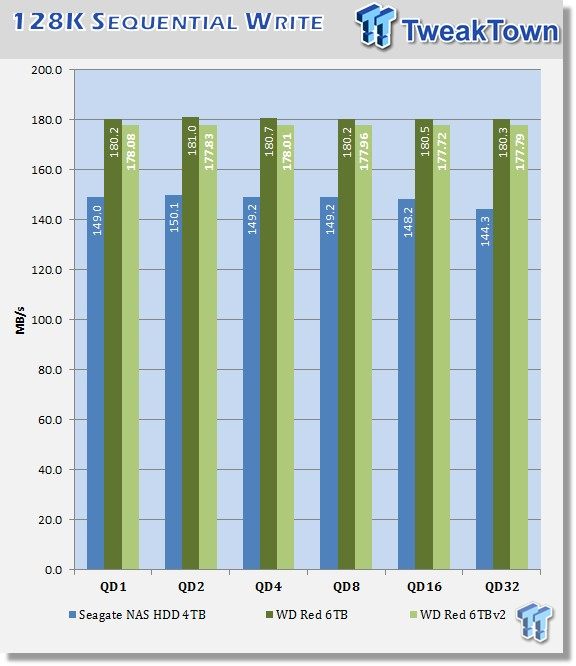 Moving to random write, we found the performance to tick up quite a bit to a chart leading 356 IOPS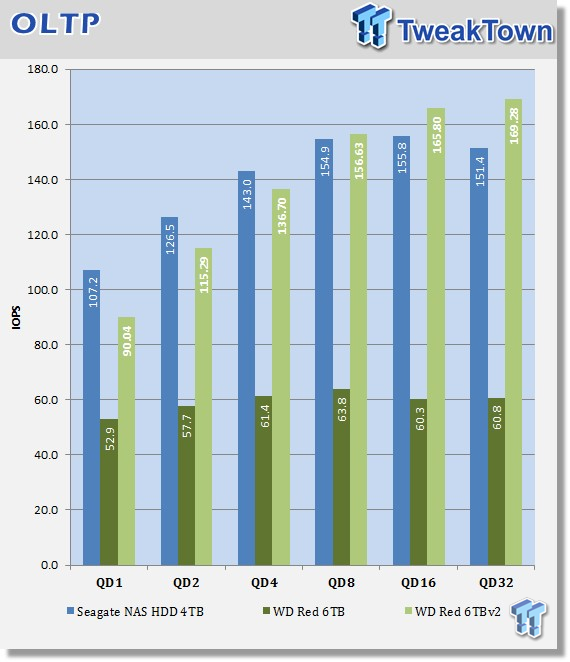 Read latency came in at 405ms at peak.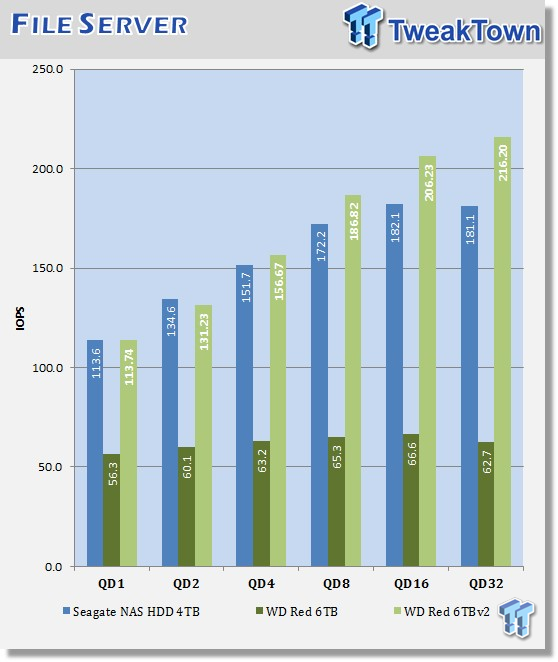 Write latency on the other hand was quite good coming in at 89ms at QD32.
Benchmarks - Sequential Performance & Latency
IOMeter - Sequential Performance with QD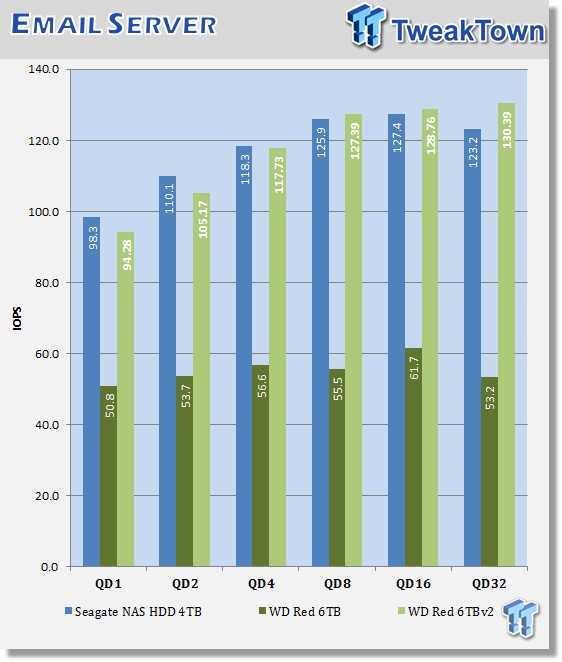 Sequential read was able to top the charts for the 6TB Red. Here we have 180 MB/s at QD32.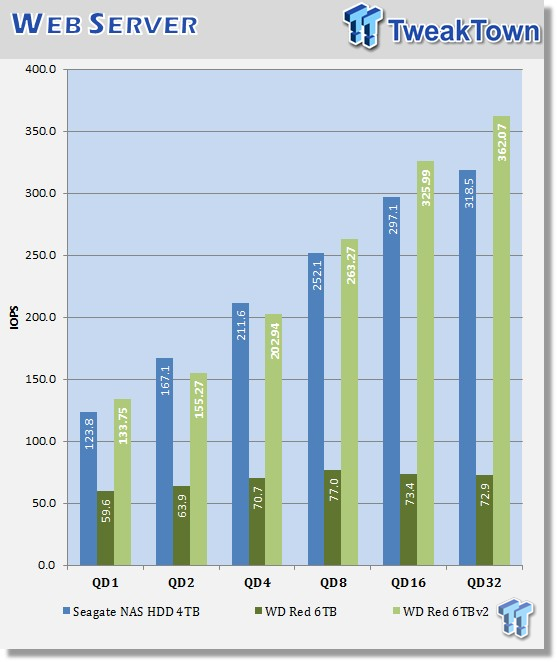 Moving over to sequential write, we again find the Red producing 180 MB/s.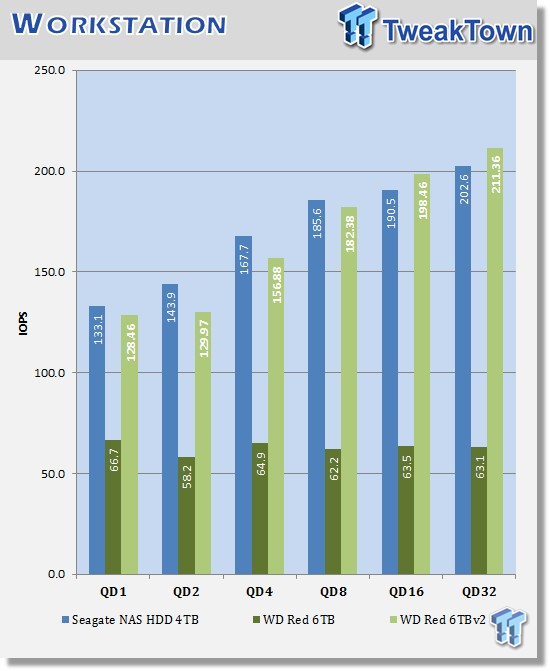 Read latency came in at 23ms at QD32.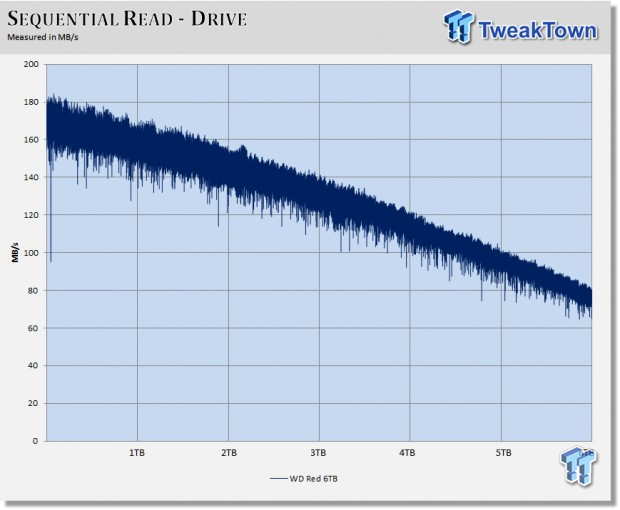 Write latency was slightly better than the 4TB Red coming in at 23ms.
Benchmarks - Workloads & Workload Latency
IOMeter - Workload Performance with QD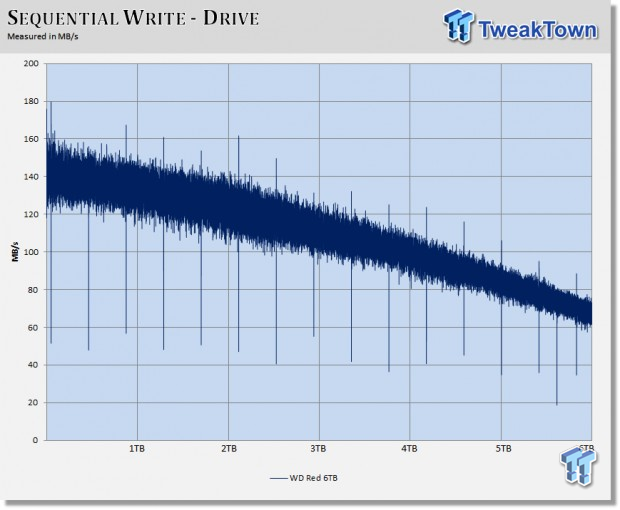 Moving on to our workloads, we found the WD Red 6TB bringing in 60 IOPS.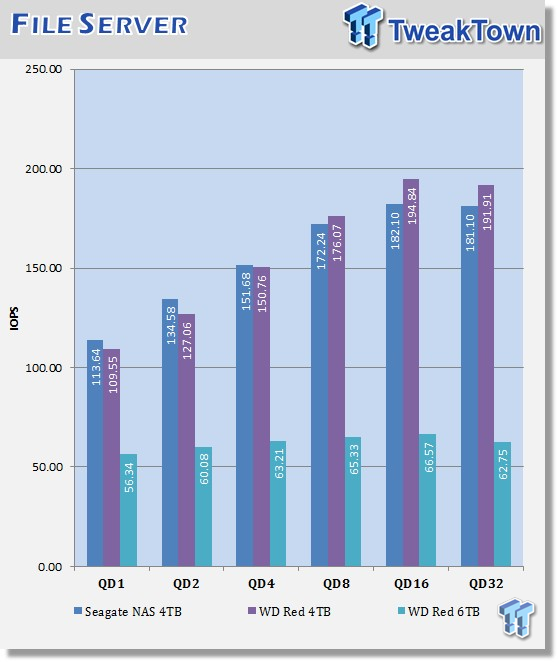 File Server proved to offer similar performance. Here we have 66 IOPS at QD16.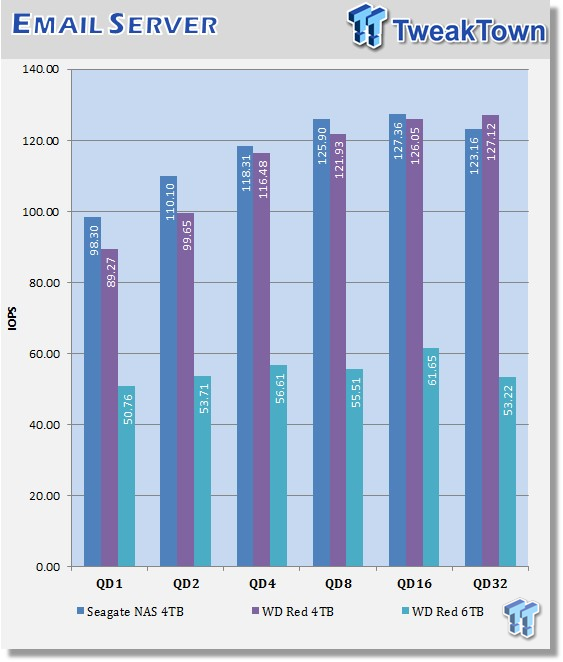 Email server furthered the experience with the 6TB Red pulling in 61 IOPS at QD16.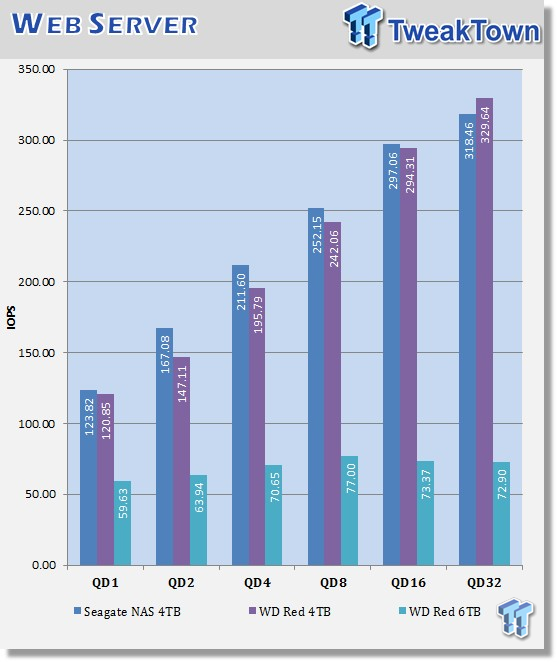 Web Server was one of the better performing tests for the 6TB Red. Here we touched 77 IOPS at QD8.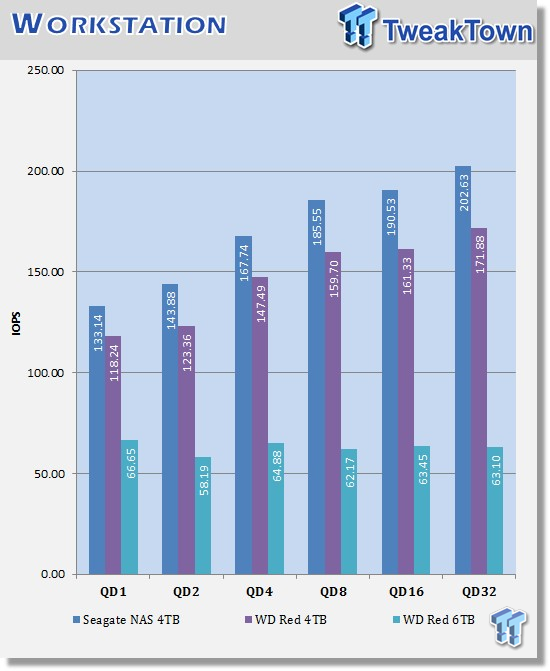 Workstation results came in at 66 IOPS at QD1 and 64 IOPS at QD4.
IOMeter - Workload Latency with QD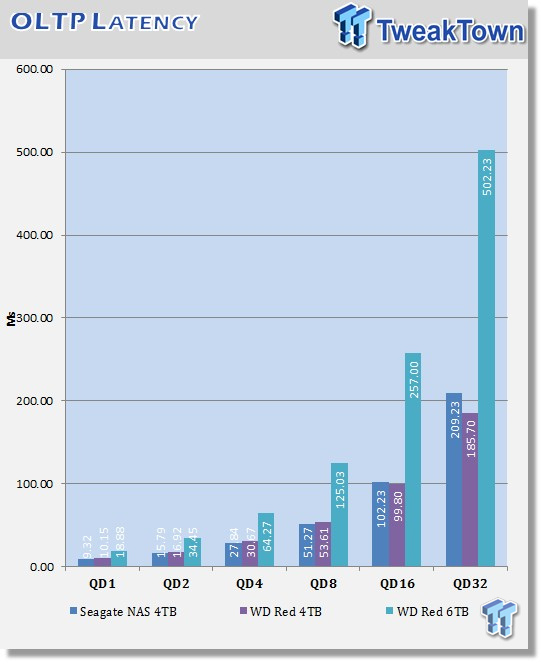 OLTP latency for the 6TB came in at 502ms at QD32.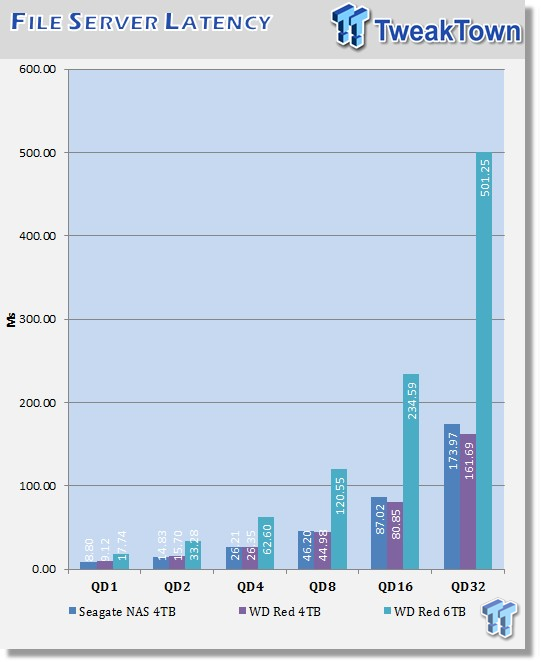 File Server latency touched 501ms at QD32.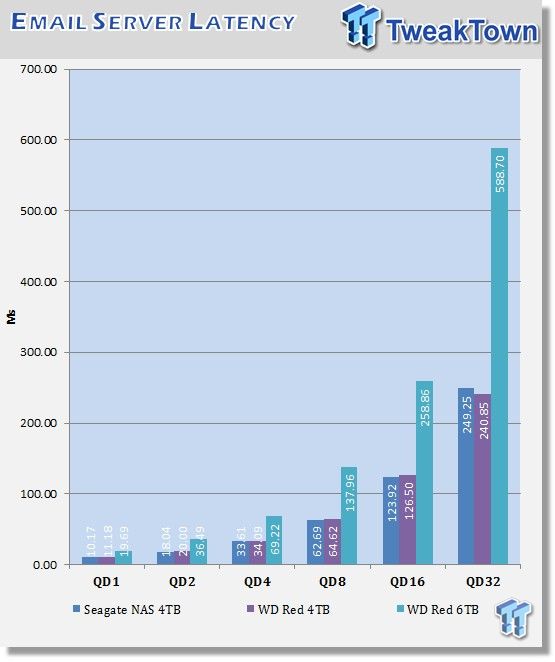 Email server was able to muster 258ms at QD16 and 588ms at QD32.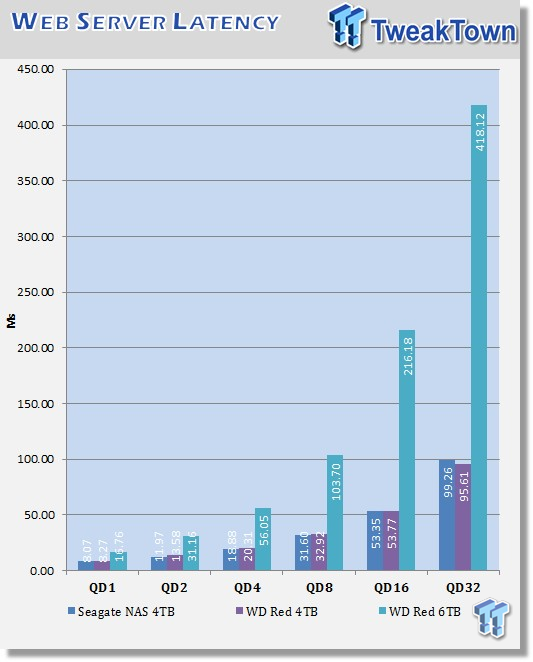 Web Server allowed the WD Red 6TB the lowest latency at QD32. Here we found the drive to touch 418ms.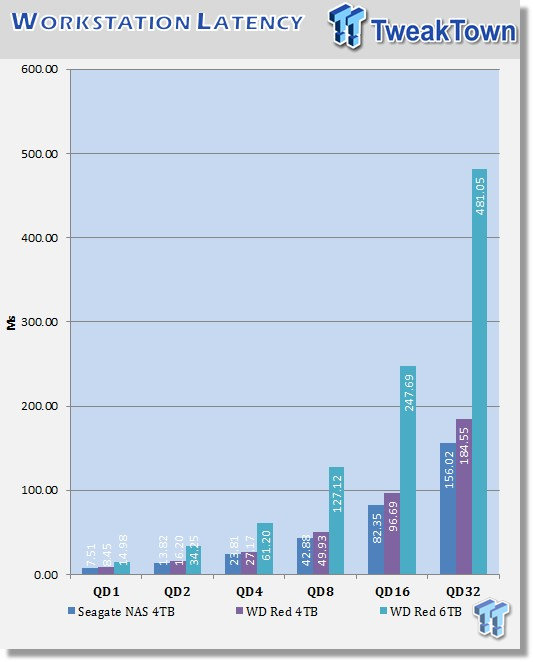 Workstation latency touched just over 481ms at QD32.
Power Consumption
Our custom power testing samples each drive for a period of three minutes, across each workload. In order to offer more granularity, we sample the power in one-second intervals.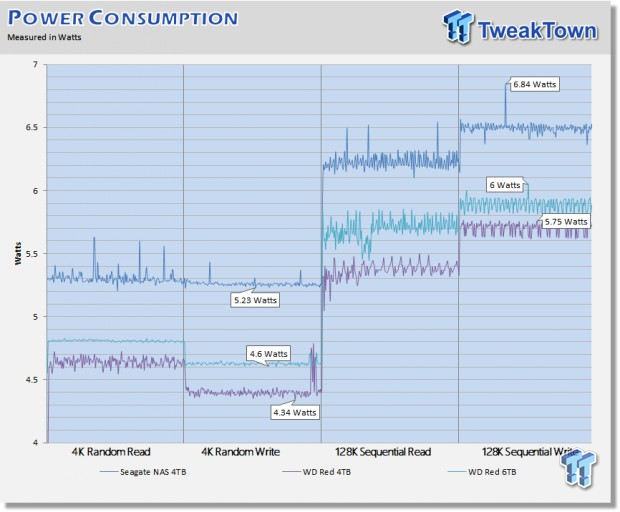 Looking at our consumer workload, we found the WD Red 6TB touching 4.6 watts at its lowest point and six watts flat at the highest point.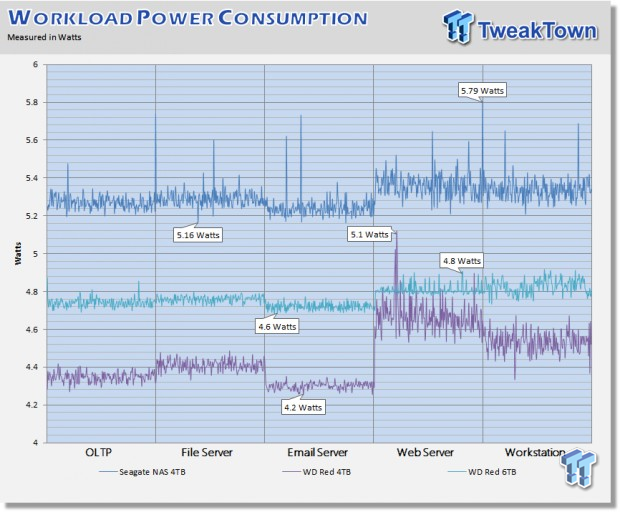 Our workload power testing allowed the WD Red 6TB to enjoy a linear path with the lowest point being 4.6 watts, while the highest was 4.8 watts.
Final Thoughts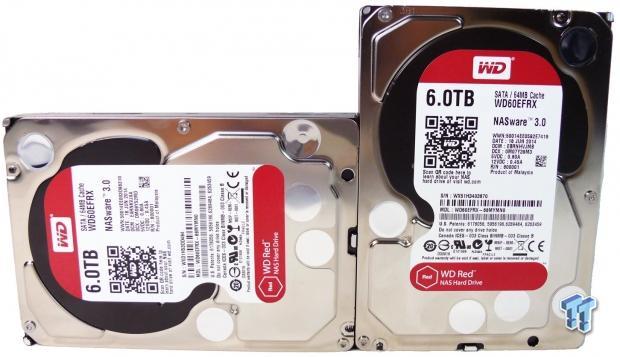 The WD Red 6TB is quite a surprising solution and if we analyze our test results, I can really see where this purpose built solution will fit in. First off, it is obvious this drive does not really care for workload testing, as it did not perform too well in any of that, nor did it perform too well with random read testing.
Where it did fare quite well is where it counts. The WD Red 6TB was the quickest in both sequential read and write by a good 30 MB/s, and at the same time had the lowest latency in both tests as well, coming in at 23ms over the 28ms turned in by the Seagate NAS 4TB and WD Red 4TB.
Another place where it counts is power. The new WD Red 6TB excelled there too coming in at 6 watts flat in our first power test or 0.25 watts over the 4TB Red and 0.84 watts less than the Seagate NAS 4TB.
If we look at the workload power consumption for the 6TB Red, things get even better. There we find the peak at 4.8 watts, 0.3 watts less than the WD Red 4TB and a full watt lower than the Seagate 4TB solution.
All in all, the WD Red 6TB is a tremendous value to the NAS market as it gives us an additional 2TB of storage capacity, while bumping your power bill by pennies on the dollar. As I stated in the introduction, MSRP for the 6TB WD Red sits at $299.99 with a three-year warranty.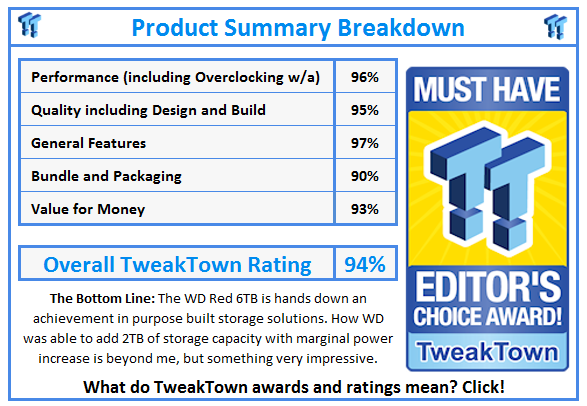 Revisited: WD Red 6TB v2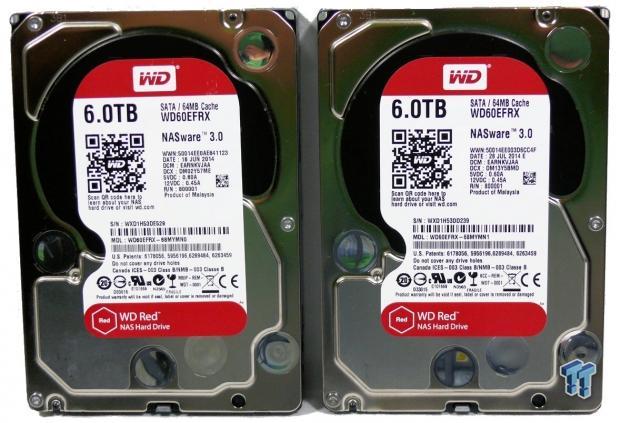 Back in July, we took a look at the WD Red 6TB NAS specific hard drive. When testing that drive we came upon some interesting results to say the least. The drive performance was on spot while doing sequential read and write but when we flipped over to random operations it seemed to fall off and as most of you seen in the charts it didn't fare to well. Now I've never been one to hold back results, I tend to just tell it like it is and at that point in time the results spoke for themselves.
Even with the less than spectacular random read/write performance the WD Red 6TB kept with the tradition of low power consumption and great sequential performance, two things that are of utmost performance when used in a NAS application, thus I overlooked the poor random performance.
Of course, those results were less than impressive to WD and after a bit of communication it seems like they have isolated the issue and have updated the firmware on the WD Red 6TB. As you can see in the image above, the original drive on the left was manufactured on the 18th of June and carries firmware version 68MYMN0 while our new drive carries a born on date of 24th of July and firmware 68MYMN1.
At this point I haven't heard what the plan of action is for early adopters to the WD Red 6TB, nor have I heard how many drives were or are affected by the first gen firmware issue, but I would assume WD would be more than happy to release a firmware update or possibly allow concerned users to RMA the affected drives for models with the new firmware. Enough of me rambling on, lets see how the drive does in this latest revision.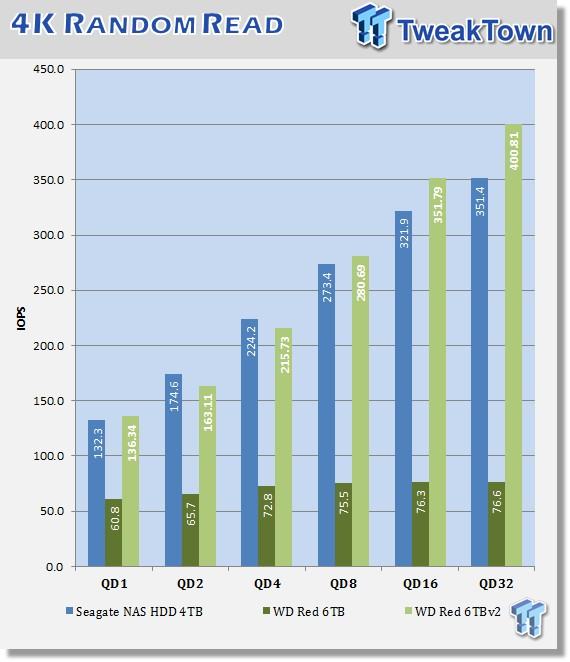 To start off our testing we set up the new WD Red 6TB in our Z97 test system. As you can see above Random Read performance has really bounced back with the MN1 firmware. We reached 400 random read IOPS at QD32 compared to the 76 IOPS of the previous drive.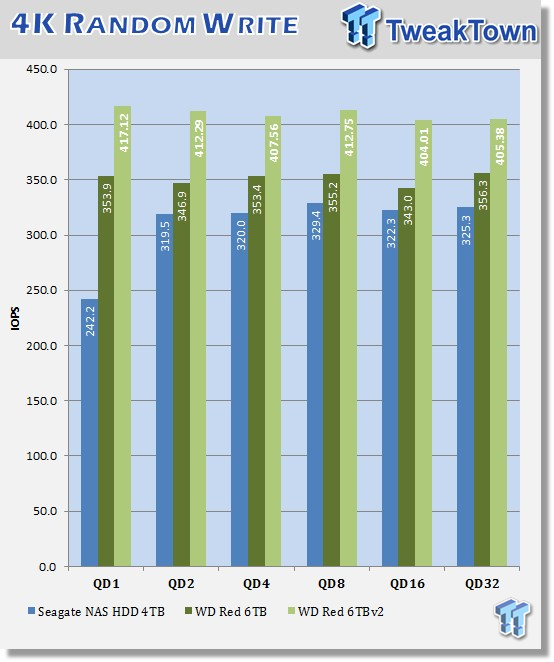 Random Write increased by a fair margin as well, here we topped at 405 IOPS at QD32.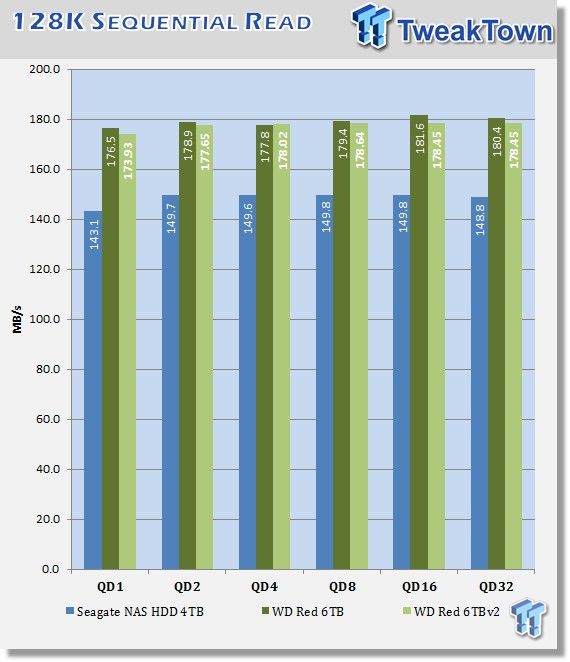 Switching gears over to sequential read, we find performance similar to the original firmware at 178 MB/s .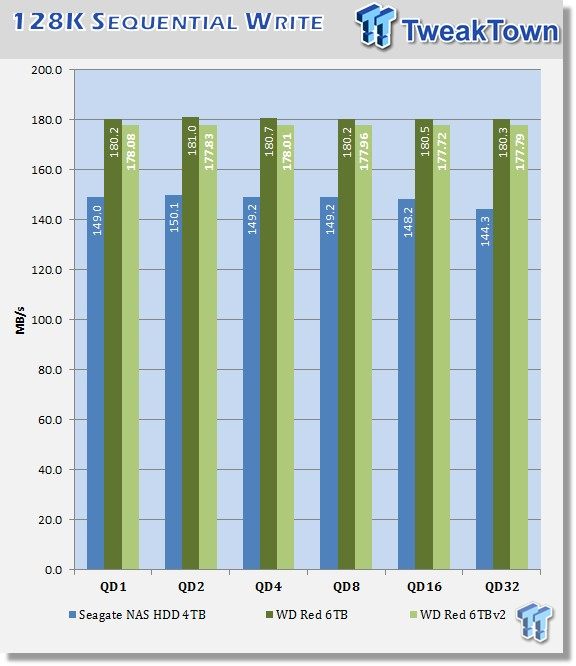 Sequential write again was quite similar, here we topped out at 177 MB/s.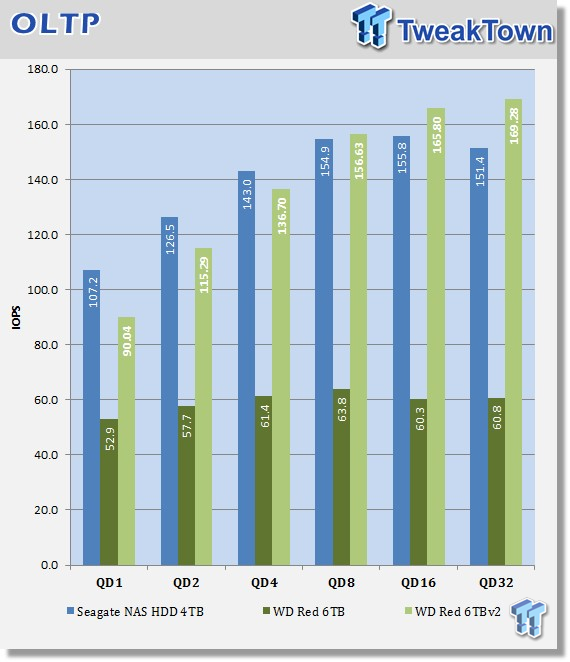 When we originally tested the WD Red 6TB mixed workload performance was lacking. With this new revision, we see a nice performance boost putting the Red 6TB at 169 IOPS at QD32.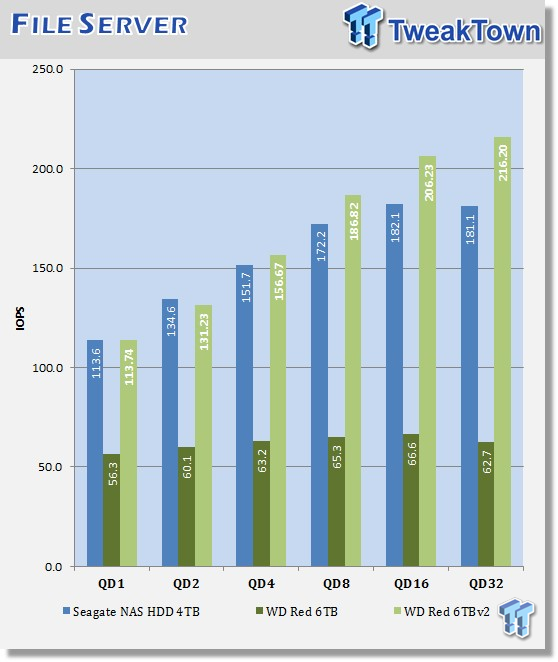 Over to file server, we again found a nice performance boost to the workload. Here the 6TB Red came in at 216 IOPS at QD32.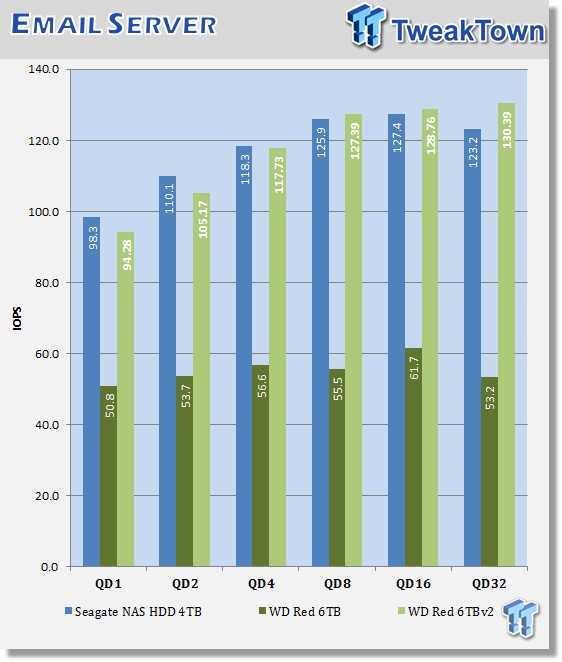 Email server benefitted from the new revision as well coming in at 130 IOPS at QD32.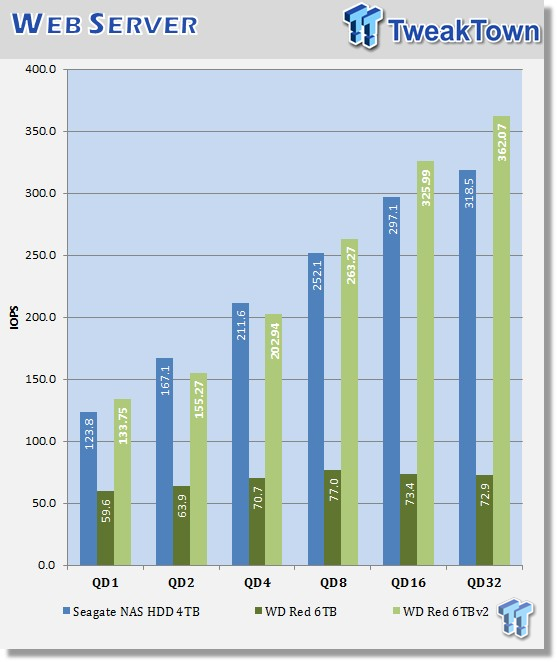 Web Server was able to take a nice boost up to 362 IOPS at QD32 from the original 72 IOPS.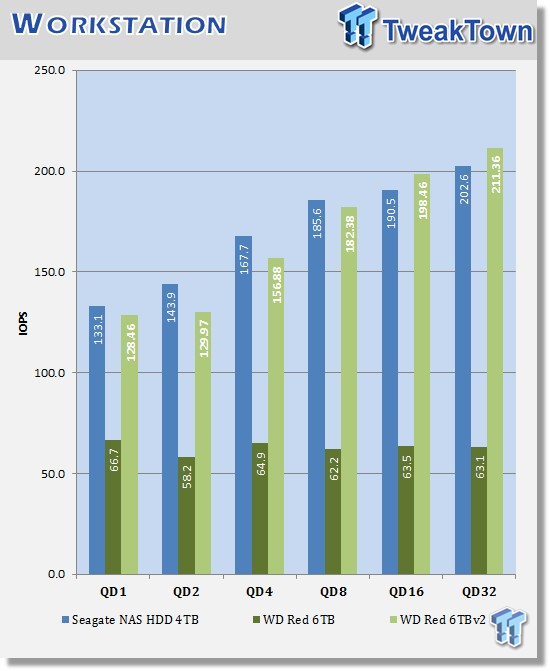 When we tested the original drive with the workstation workload, the drive came in at 63 IOPS at QD32. Now with the new revision we have 211 IOPS at QD32 a great boost in performance.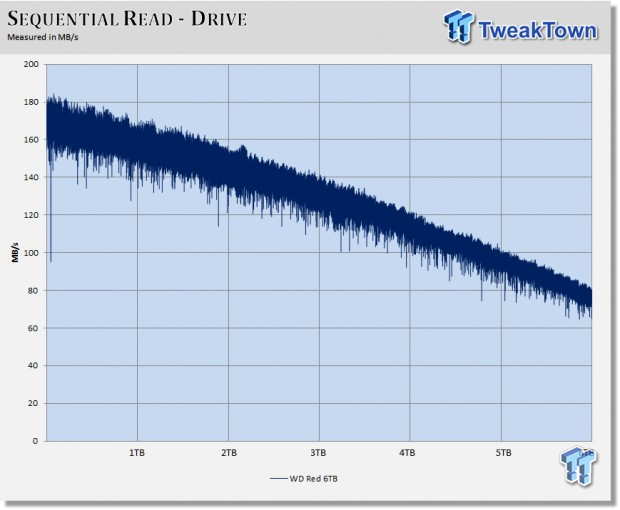 These last two images show the performance of the drive in reference to the position of the drives heads. As you can see, the drive starts out at 180 MB/s and falls off steadily to 80 MB/s at the end of the last platter.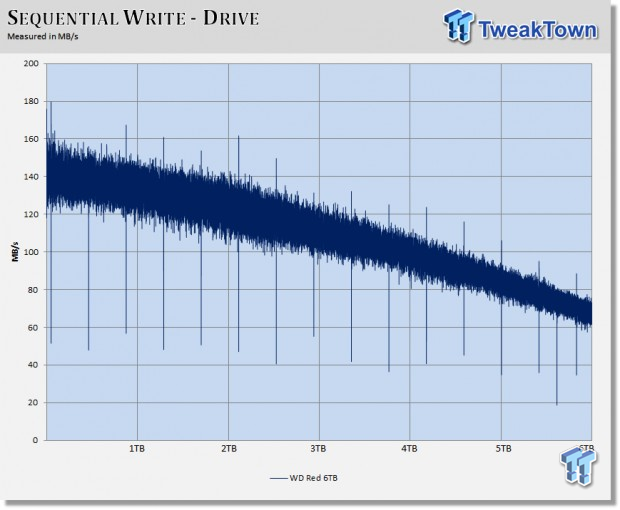 Using the same test, we look at the write performance of the drive over the LBA range. The Red starts out at 160 MB/s and steadily declines as we move further to the end stopping at 60 MB/s.
As I stated in the original review of the WD Red 6TB, the drive is a remarkable feat for purpose built storage solutions, and while it did have a few bumps to overcome in the first revision it's certainly refreshing to see WD come back so quick with a fix to the problem. As you can see the drive with its MN1 firmware has bounced back to where WD wanted it to be at launch and topped the charts we have above. To be fair, we did not include the WD Red Pro or HGST NAS drives as those operate on a much higher spindle speed but aren't really to much quicker than the 6TB.
In conclusion, I still feel even with its earlier issues the WD Red 6TB is a great drive for those wanting mass amounts of storage in their NAS appliances, something I stated even when the drive did have random read issues. For those that do more than storage operations with their NAS, you will be happy to know the performance has rebounded with this new revision of drives.