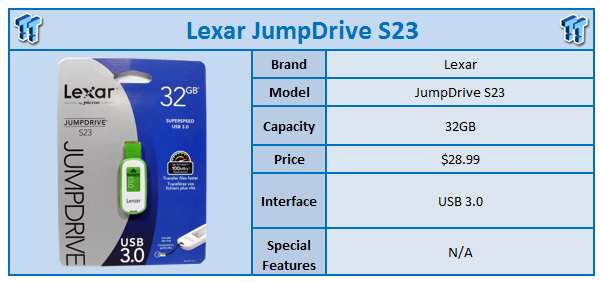 Over the past year, we have had a few Lexar flash drive come through the lab. While these drives did carry a good amount of performance, the price was always a bit on the high side. Aiming to improve on this, Lexar has sent over the S23, a solution catered to the average user wanting both performance and a low initial investment.
The S23 is one of the more colorful product lines from Lexar, with drive being available in Black, Purple, Green, Teal, and Orange and capacities ranging from 8GB to 128GB. Marketing for the 32GB model we have in-house today depicts 100 MB/s read and 55 MB/s write speeds. Compatibility extends to modern Windows operating systems and OS X.
MSRP of the Lexar JumpDrive S23 in the 32GB flavor is listed at $49.99 with a three-year warranty.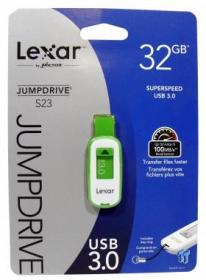 Packaging for the S23 houses the drive in the center with marketing information to the right.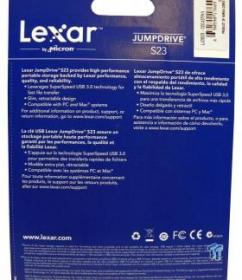 The back of the packaging highlights some of the features of the S23.
The Lexar S23 does carry a small footprint when closed up. As you can see, Lexar has included a small lanyard for you to secure the drive to your keychain.

The S23 carries a sliding design, furthering the simplicity of the drive.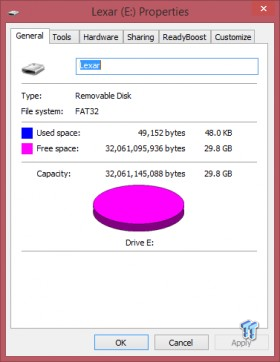 The Lexar S23 is factory formatted with the FAT32 file system, ensuring compatibility between Windows and Macintosh computers. The usable capacity after formatting is 29.8GB.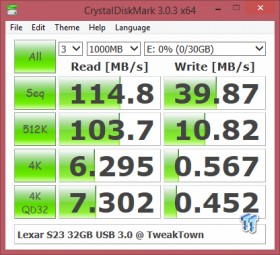 CrystalDiskMark results came in at 114 MB/s read and 38 MB/s write, allowing us to exceed marketing on the read side, but come in lower on write.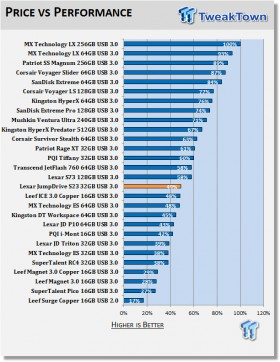 Putting things into perspective, we find the Lexar S23 right in the middle of our Price/Performance chart at 49 percent.
The Lexar S23 brings a good amount of simplicity with its sliding design. Build quality is pretty solid; the plastics fit well together while not being too tight to allow the device to function.
Performance of the S23 is ample. While it's certainly not one of the quickest drives we have tested, it does offer a good amount of performance for the modest user. In our testing, we found the drive to touch 114 MB/s read and 39 MB/s write.
The Lexar S23 in the 32GB capacity carries an MSRP of $49.99, putting this unit at just over a dollar per GB. Current market pricing can be found below.
PRICING: You can find the Lexar S23 for sale below. The prices listed are valid at the time of writing but can change at any time. Click the link to see the very latest pricing for the best deal.
United States: The Lexar S23 (Black, 32GB) retails for $19.99 at Amazon.
Canada: The Lexar S23 (Green, 32GB) for CDN$19.99 at Amazon Canada.