Star Trek: Enterprise - Season Four (2005) Blu-ray Review
"Well, that was fun. Can we do it again?"

Published
4 minute read time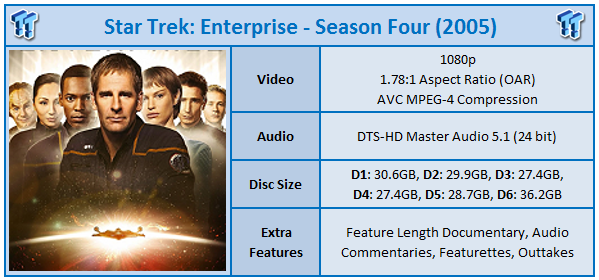 Star Trek: Enterprise - Season Four
By the time Star Trek: Enterprise limped to its fourth season, it was a dead man walking - shuffling forward, whilst it awaited the inevitable chop from the struggling UPN network.
It's a shame too, because by the third season as executives lost interest in the sci-fi series, becoming less hands-on in the process, it allowed writers increased latitude to shape the series into what it should have been in the first place, rather than a safe Next Generation style-successor. Whilst the fourth season is by far from perfect, with many pointing to the disappointing series finale These Are the Voyages... which attempted to tie-in with The Next Generation, but diminished the emotional impact by bringing it down to the level of a standard holodeck episode and unnecessarily killing off a popular main character.
Despite that blemish, season four houses many of the best episodes from the entire series, including the alternate universe In a Mirror, Darkly and Storm Front, the three part arc of Borderland, Cold Station 12 and The Augments which has Brent Spiner portray Dr. Arik Soong, grandfather of the man who created Data and the two part episode Affliction and Divergence which finally reveals how Klingons from different generations changed their appearance.
Video
Star Trek: Enterprise - Season Four is presented in the series original aspect ratio of 1.78:1, encoded with AVC MPEG-4 compression.
Due to the mandated cost cuts to production, season four of Star Trek: Enterprise became the first season to be filmed fully digital, using the same Sony HDW-F900 HD camera range that lensed Star Wars Episode II: Attack of the Clones and Collateral and later mastered to HD Cam. As a result, this season looks significantly better and I'd even argue more filmic than its predecessors which were actually shot on film.
This time around, the image is clear and crisp, with a complete absence of the speckly grain which marred previous seasons (actually video induced noise). Colours are superb, with some deep hues, especially in visual effects sequences that shine anew. Speaking of that - even these get a noticeable improvement in quality. Unlike in the first and second seasons where these were rendered out in standard definition, here they are overwhelmingly featured in full 1080p.
Of all four seasons of Star Trek Enterprise, this season is clearly heads and shoulders the best.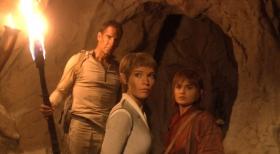 Audio
Star Trek: Enterprise - Season Four is presented in DTS HD Master Audio 5.1 at 24 bits.
Unlike The Next Generation, CBS have not taken the opportunity to expand Enterprise with a 7.1 audio mix, but this isn't a necessarily bad thing because the 5.1 mix is quite satisfactory indeed.
Dialogue is recorded and presented well and I didn't see any evidence of audio sync issues. This season is perhaps a little aggressive in terms of surround usage, with precise directionality to laser fire and appropriate ambience.
Similar to previous mixes, low frequency use is a bit hit or miss - some scenes feature noticeable feedback, yet others are curiously limited.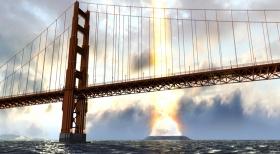 Extras
For the final season of Enterprise, Directors Roger Lay and Robert Meyer Burnett return once more with a massive quantity and quality of extra features, giving the show a much better (and appropriate) send off than the disappointing final episode could offer. Let's take a look at what's here.
The crown jewel in the set is the four part, nearly two hour Before Her Time: Decommissioning Enterprise documentary, a truly impressive and in-depth look at the trials and tribulations incurred in attempting to break new ground, with the axe hanging over their heads. Almost anyone who's anyone has at least a brief say here, and many, including show runner Manny Coto and the cast and crew give their thoughts on the disappointing finale.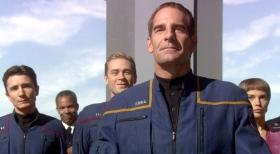 The 90 minute long In Conversation: Writing Star Trek: Enterprise reunites the key producers and writers to give their eulogy on the series, in an informative and frequently hilarious casual discussion, full of honest recollections and anecdotes. For all of the series' mirror universe episodes and 'what if's', the documentary gives a look at what would have come if the show had continued and what it was originally intended to be.
Seven episodes feature a mix of archive and newly recorded Audio Commentaries, from a range of participants, whilst four episodes also include Text Commentaries written by Trek luminaries Michael and Denise Okuda which have been bought over from the previous DVD release but have been nicely re-formatted in an impressive HD presentation.
Next up are a bunch of featurettes under the heading of 'Archival Mission Logs', which is a nice way to say 'old stuff from the DVD release'. The most substantial, Enterprise Moments: Season Four which airs the cast and crew's thoughts on the best episodes of the last season, albeit in a much more sanitized fashion than from Before Her Time. Briefer featurettes include Visual Effects Magic which unsurprisingly focuses on the increasingly impressive visual effects sequences, Links to the Legacy discusses the less subtle links to the original series included in this season, That's a Wrap! shows some brief segments from the wrap (read: cancellation) party, Enterprise Goes to the Dogs looks at the canine companion Porthos, whilst Westmore's Aliens: Creating Dr. Phlox and Beyond goes behind the scenes with long time Trek Make-Up Designer Michael Westmore in his final work with the franchise, before his subsequent retirement.
Finally, we have approximately six minutes of Deleted Scenes from four episodes and a 2 minute long Outtakes reel.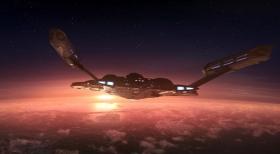 PRICING: You can find the Star Trek: Enterprise - Season Four (2003) Blu-ray for sale below. The prices listed are valid at the time of writing but can change at any time. Click the link to see the very latest pricing for the best deal.
United States: The Star Trek: Enterprise - Season Four (2003) Blu-ray retails for $74.96 at Amazon.
Canada: The Star Trek: Enterprise - Season Four (2003) Blu-ray retails for CDN$94.99 at Amazon Canada.
Australia: The Star Trek: Enterprise - Season Four (2003) Blu-ray retails for $69.99 AUD at Mighty Ape Australia.
New Zealand: The Star Trek: Enterprise - Season Four (2003) Blu-ray retails for $69.99 NZD at Mighty Ape NZ.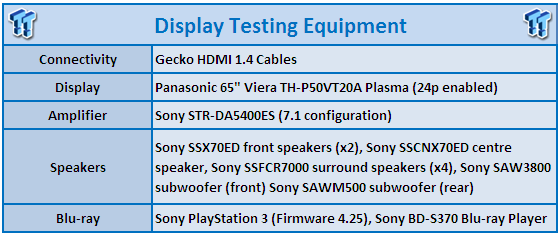 PRICING: You can find products similar to this one for sale below.

United States: Find other tech and computer products like this over at Amazon.com

United Kingdom: Find other tech and computer products like this over at Amazon.co.uk

Australia: Find other tech and computer products like this over at Amazon.com.au

Canada: Find other tech and computer products like this over at Amazon.ca

Deutschland: Finde andere Technik- und Computerprodukte wie dieses auf Amazon.de
We openly invite the companies who provide us with review samples / who are mentioned or discussed to express their opinion. If any company representative wishes to respond, we will publish the response here. Please contact us if you wish to respond.