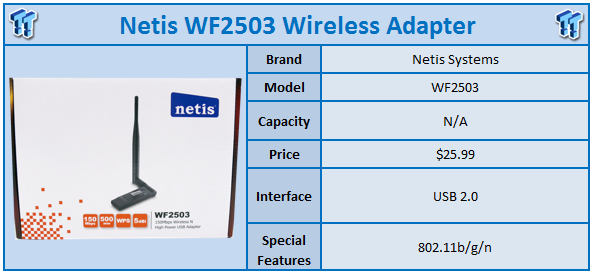 Wireless networking is one the great technologies of the past decade. It gives us the freedom to move about in our lives while staying connected to the things we love. While wireless networking has typically been implemented in notebook and mobile devices, there are those that also enjoy it with their desktop systems.
Today, we have the Netis Systems High Power 802.11n USB Adapter in-house. This adapter features a 500mW high gain design, utilizing the 2.4GHz frequency.
Compatibility of the adapter extends to Windows XP, Vista, and Windows 7 and 8, with additional support for Mac OS and Linux. Pricing for the WF2503 is set at $23.53, with a one-year warranty.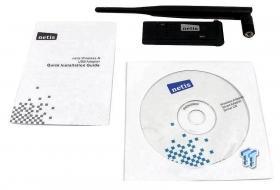 Scope of delivery for the WF2503 includes the quick installation guide, driver disc, and the adapter itself.

The adapter utilizes a USB 2.0 connection. On top there is a green LED for activity, along with a WPS button for quick wireless setup. On the other side there is the connection for the high gain antenna.
To test the capabilities of the Wireless adapter, we setup the test system twenty feet from our base station. Utilizing Ixia IXChariot, we loaded the high performance throughput script. Comparable adapters for this review are the Atheros AR9285, and the ASUS USB-AC56. All adapters connect to the same 2.4GHz network for testing.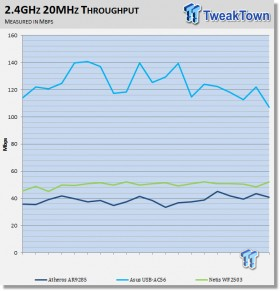 Above, you can see the Netis did quite well, pulling more throughput than our integrated solution. Additionally, the Netis was the most stable adapter in our testing thanks to the high gain antenna keeping a clean signal.
While the Netis WF2503 doesn't offer the latest and greatest in wireless technology, it does offer increased range due to the 500mW amplifier and high gain antenna. The build quality of the adapter is quite good; the plastics feel durable and the antenna fits securely with no issues.
Performance of the adapter was on par with expectations for the 2.4GHz network. In testing, we found it slightly quicker than our integrated solution in the HP Probook. Peak throughput came in at 55 Mbps from a distance of twenty feet, with plenty of range left over if you wanted to move further from your base station.
MSRP of the Netis WF2503 is set at $25.99 with a one-year warranty.
PRICING: You can find the Netis WF2503 High Power 802.11bgn USB Adapter for sale below. The prices listed are valid at the time of writing, but can change at any time. Click the link to see the very latest pricing for the best deal.
United States: The Netis WF2503 High Power 802.11bgn USB Adapter retails for $23.53 at Amazon.
Canada: The Netis WF2503 High Power 802.11bgn USB Adapter retails for $42.14 at Amazon Canada.