Google Nexus 5 Smartphone Review - The Best Android Phone Currently
For under $400, the Nexus 5 represents the best of what Google can deliver right now with Android. Anthony takes a close look at it.

Published Feb 3, 2014 8:00 AM CST
|
Updated Tue, Nov 3 2020 7:00 PM CST
10 minute read time
Introduction and Specifications, Pricing and Availability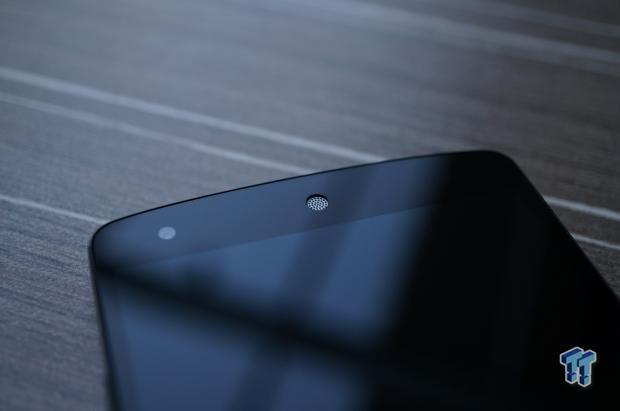 The Nexus 5 was one of my most anticipated tech releases of 2013, and rightly so; it's the best smartphone I've used. This is a big call, and I'm going to spend the rest of my review convincing you why Google and LG have struck magic, again.
Google partnered up with LG again on the Nexus 5 (just like it did on the Nexus 4), and it has improved virtually everything that was wrong with the Nexus 4. The Nexus 4 suffered from a low resolution screen, non-premium feel, and a lackluster camera, all of which have been fixed on the new Nexus 5, with the camera being better than the one on the Nexus 4, but nothing to write home about.
One of the most interesting things about the Nexus 5 is that it is pretty much LG's G2 smartphone, but slightly cut down. The 3000mAh battery from the G2 has been traded for a 2300mAh unit, which is the biggest change between the two smartphones.
That is, if you don't consider the massive price difference between the two handsets, which is an entire issue on its own, and has led LG down a path where its G2 smartphone didn't sell as well as it thought it would. Something I actually mentioned in my review of the G2.
Specifications, Pricing and Availability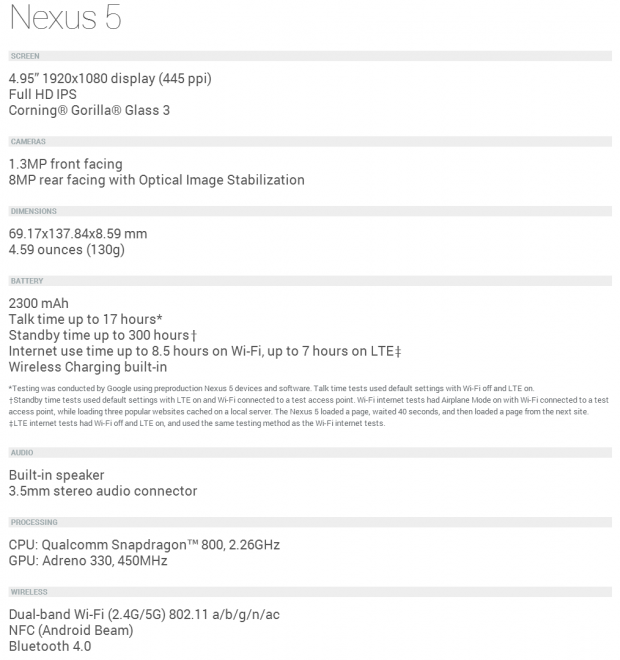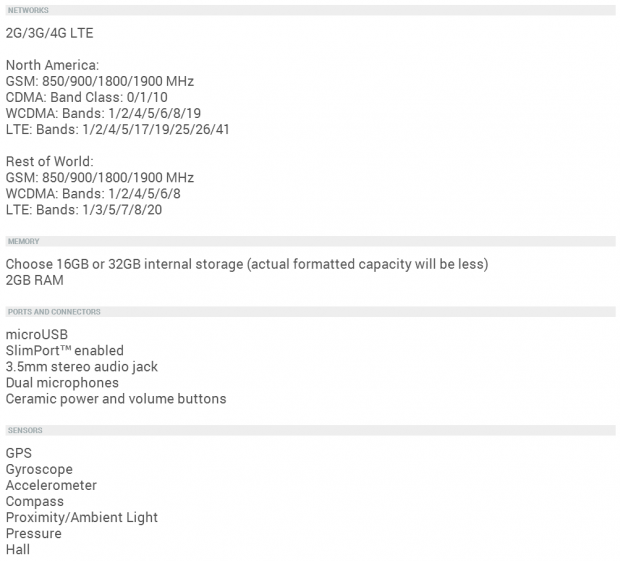 Something Google drove home in the Nexus 5 smartphone was its specs-laden goodness. We have a beautiful, crisp 4.95-inch 1920x1080-pixel display, which provides us with 445 ppi. Splashed on top of the already-impressive display, is Corning's Gorilla Glass 3 technology.
Not only is the display technology impressive, but the processor chosen is a champion, too. We have Qualcomm's Snapdragon 800 SoC, which is a quad-core part clocked in at 2.26GHz. As for the GPU, we have the Adreno 330 GPU clocked at 450MHz for the graphic side of things. 2GB of RAM fills out the more important specifications of the Nexus 5.
One of the serious disappointments of the Nexus 4 was that it was only 3G-capable; well, that's no problem for the Nexus 5, which is a full 4G-capable smartphone. We also have dual-band Wi-Fi 802.11 a/b/g/n/ac, NFC, and Bluetooth 4.0 capabilities.
We have a 1.3-megapixel front-facing camera, backed up by an 8-megapixel rear-facing camera with Optical Image Stabilization (OIS) technology baked in as well.
As for storage, we have two models: 16GB and 32GB, with no expandable storage option, which has quickly become the norm for stock Nexus devices. We have Analogix's awesome SlimPort technology baked in, ceramic power and volume buttons (which feel and look great), a 3.5mm jack for audio, and dual microphones.
You can charge the phone with its included microUSB port, or my new default way of charging, wireless charging. Google and LG providing wireless charging on the Nexus devices is something I've come to truly love, and I find it hard to live without these days.
The best part of the Nexus 5, as I said before, is its pricing: $349 for the 16GB version, and just $399 for the 32GB version. You can buy the Nexus 5 directly from the Google Play Store, which is super easy to do, and takes just a few days to have it shipped to your door.
Considering the LG G2, which is what the Nexus 5 is made from, is still $729 on Newegg, you can see why LG blames the Nexus 5 for its bad G2 numbers. What did it expect? It's selling a better phone, in my opinion, for half the price. It's not that hard to figure out, is it?
Look and Feel
Google and LG have done a very good job of making the Nexus 5 feel like a premium smartphone in all areas. Starting with the feel of the Nexus 5 itself, it feels like the perfect size in my hand; of course, all hands are different, so this varies from person to person.
I feel like the 4.95-inch screen is perfect, with the minimal bezel around the gorgeous display adding to its beauty. We have a white ceramic earpiece at the top, which stands out on the black front. The ceramic buttons on the side of the Nexus 5 feel great, and very 'premium.'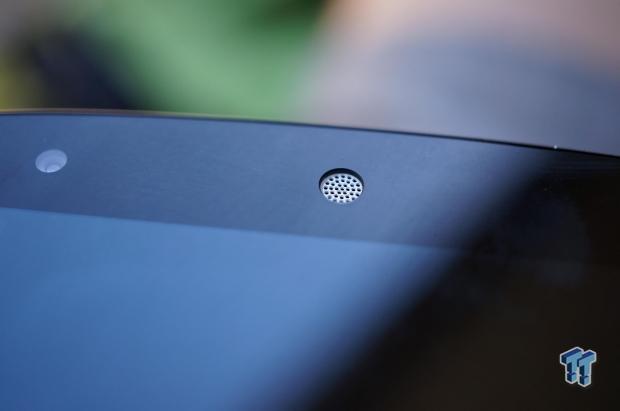 On the front of the phone, we have that earpiece I mentioned before, the 1.3-megapixel camera, and of course, the gorgeous 4.95-inch Full HD display.
Flipping the Nexus 5 over, we find some horizontal Nexus branding, the 13-megapixel rear-facing camera with LED flash, and the LG logo down the bottom. There are two models: the LG-D820 (US version) and the LG-D821 (International).
[imgbs]21[/imgsbs]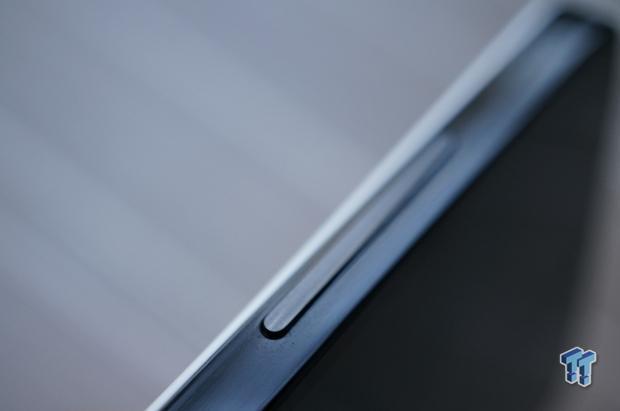 On the left of the phone, we have the ceramic volume rocker - which feels great to press.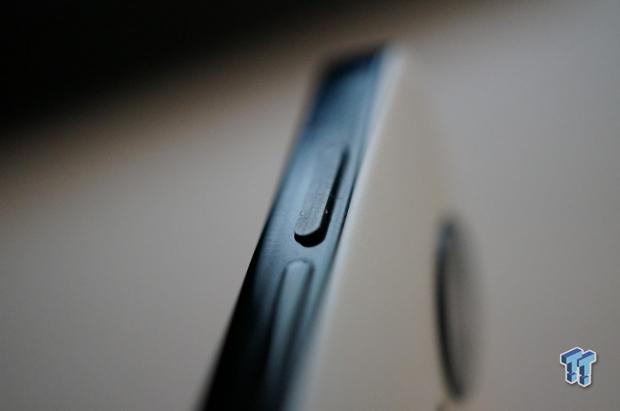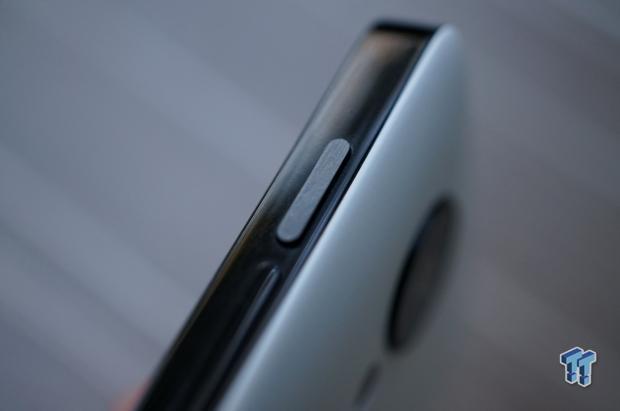 On the right side, we have the power button, and SIM card tray.
At the very top of the phone, we have the 3.5mm audio jack.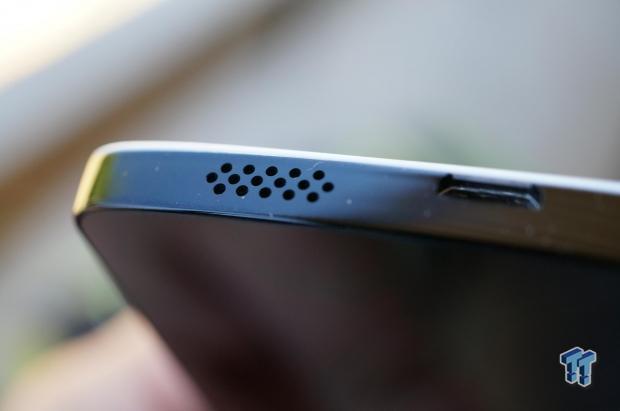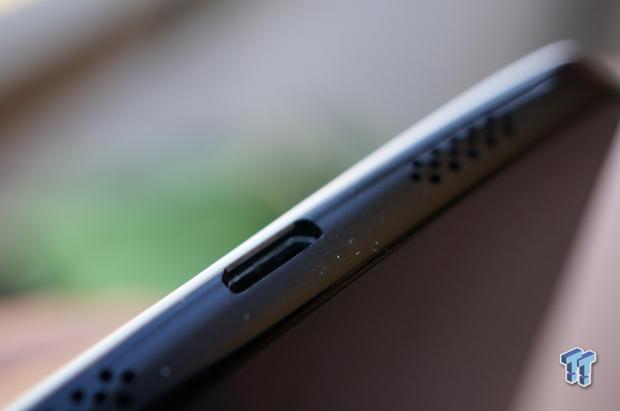 On the very bottom of the phone, there's the usual microUSB port for charging and syncing your Nexus 5. Next to the microUSB port, we have two speaker grills, but only one of them works; the other is just for looks.
Features & A Look at Android 4.4 KitKat
The Nexus 5 has multiple features that make it stand out in the very overcrowded smartphone market, so we'll touch on a few of those now.
KitKat has pushed in a bunch of changes to Android, but to the majority of users, most of them will be unfelt.
The status bar at the top of the OS is now transparent, which lets pictures and movies take up the entire 1920x1080-pixel screen. Google has used bigger icons, and tighter text, with the Roboto font still at play here. The icons do feel cleaner, sharper, and easier on the eye, but that gorgeous display sure does help. Android 4.4 KitKat also introduces some Google Glass-like voice commands, where you can just say "OK Google," and then ask it something such as: "what will the weather be tomorrow?," and voila -automated goodness.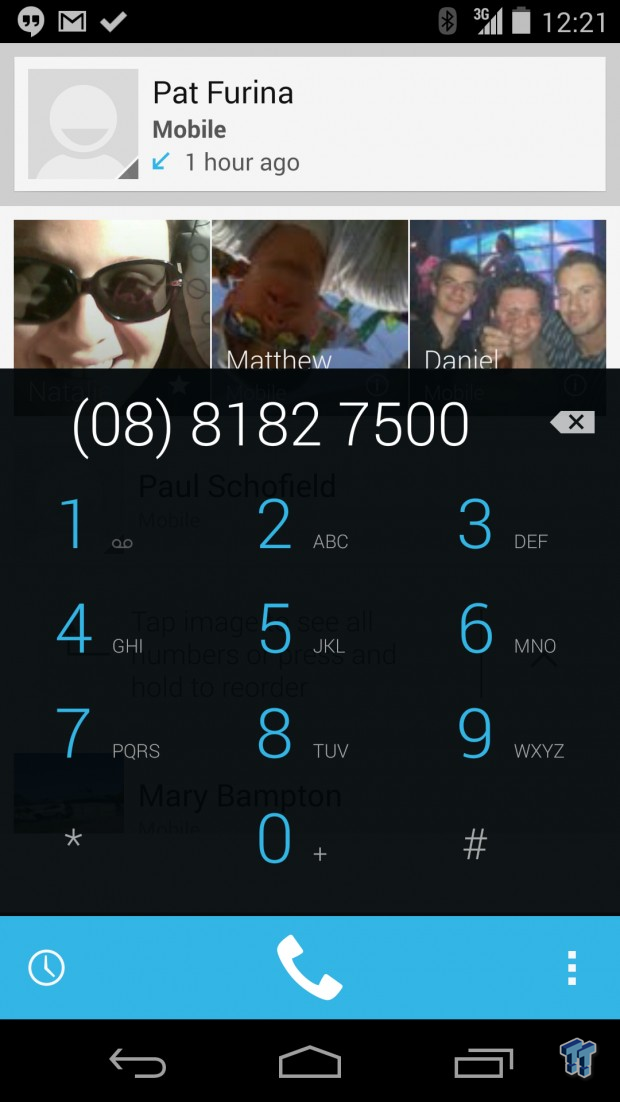 The phone dial has been revamped, which looks nice, and matches the robotic feel of the rest of the Nexus 5 experience.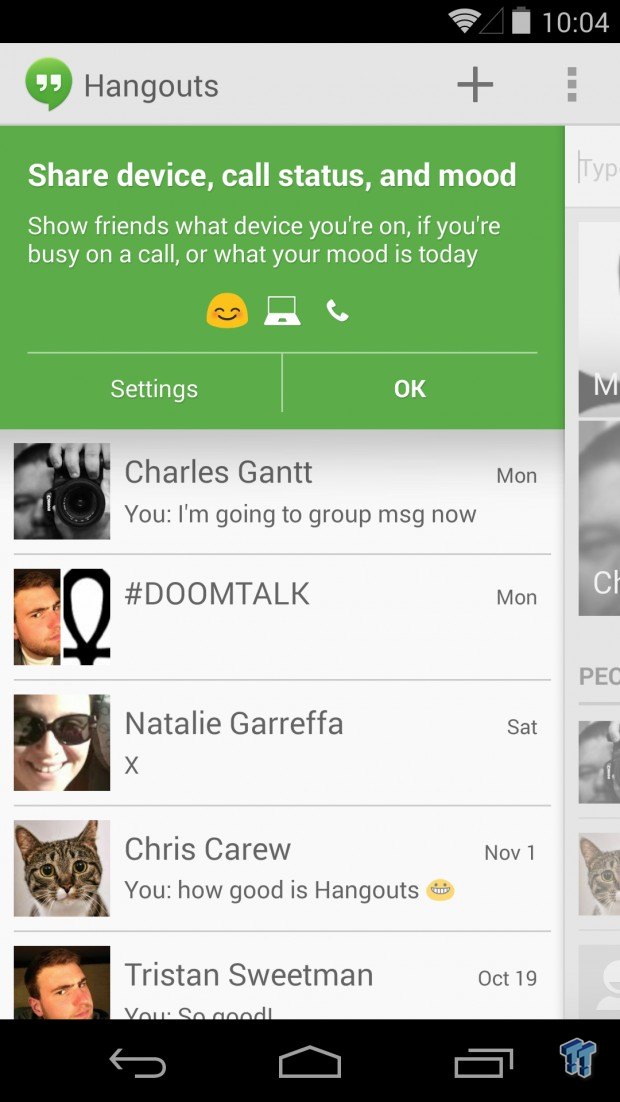 Google deployed a heavily-modified Hangouts app in KitKat, which is now your default SMS application, too. I'm quite a fan of Hangouts, as I can use it on my desktop or notebook, and shift to my mobile while my conversation continues. As for the default SMS app, it isn't the best, but Google is moving in the right direction with Hangouts.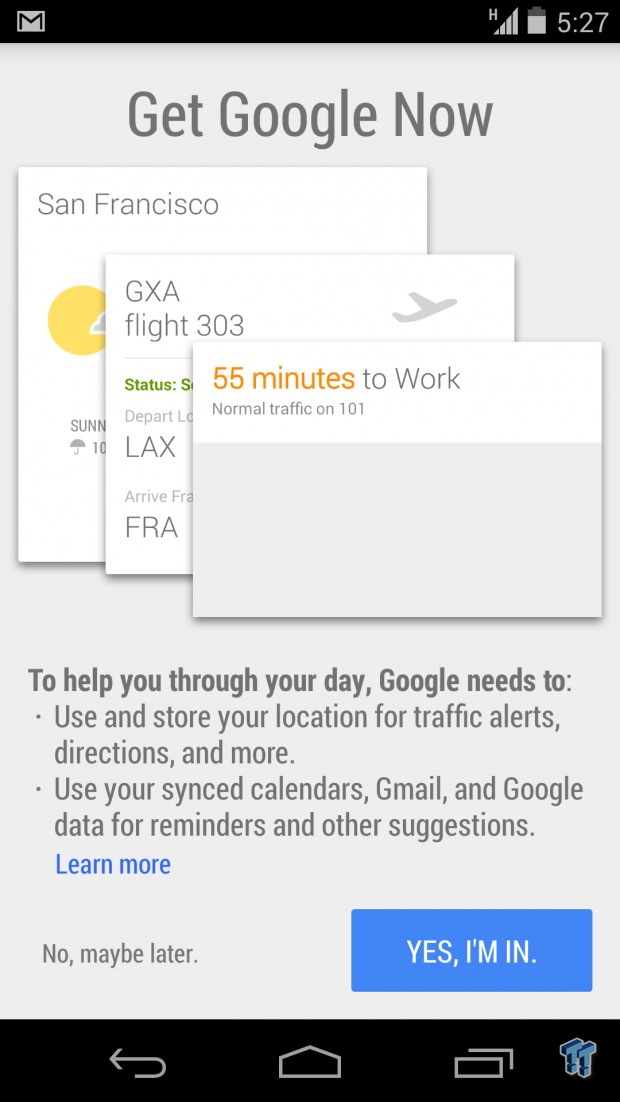 Google Now has a little more magic in KitKat, and on the Nexus 5, where it's accessed by swiping to the left from the home screen. The usual Now magic happens in there, but you can still access it by long-pressing the Home button, and swiping up.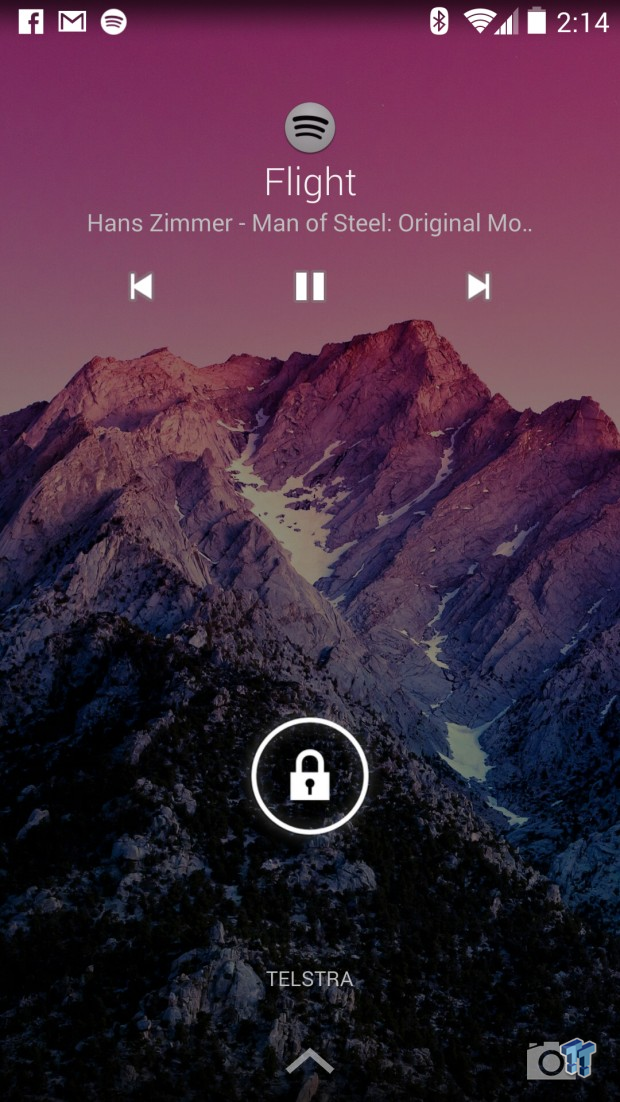 The lockscreen has received some update love, and now features much less clutter. You can also access your music-playing app of choice from the lockscreen, if it's compatible. I use Spotify, and can access the last song, pause/play, next song buttons from my lockscreen.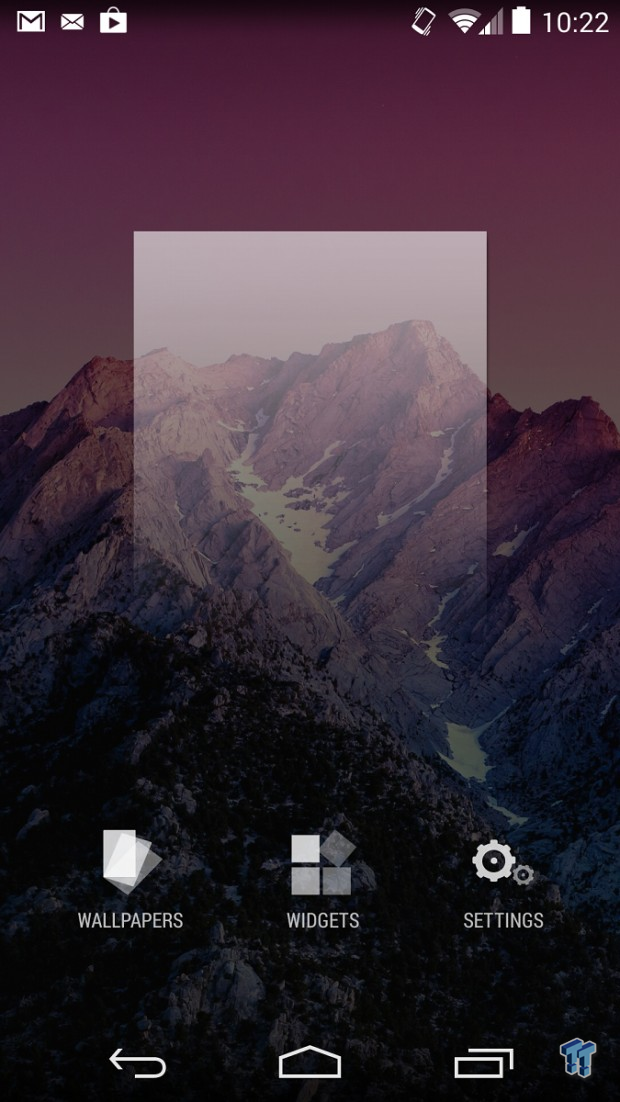 Accessing your widgets can be accomplished by long-pressing any blank space on your home screen, where you'll be greeted with the option of changing your Wallpaper, adding a Widget, or accessing Settings.
Google has pushed in the Photos app as your default app for all things pictures and videos, versus the older versions of Android, which featured the Gallery. The Gallery is still there, but not for long. Photos, once you're used to it, is so much better.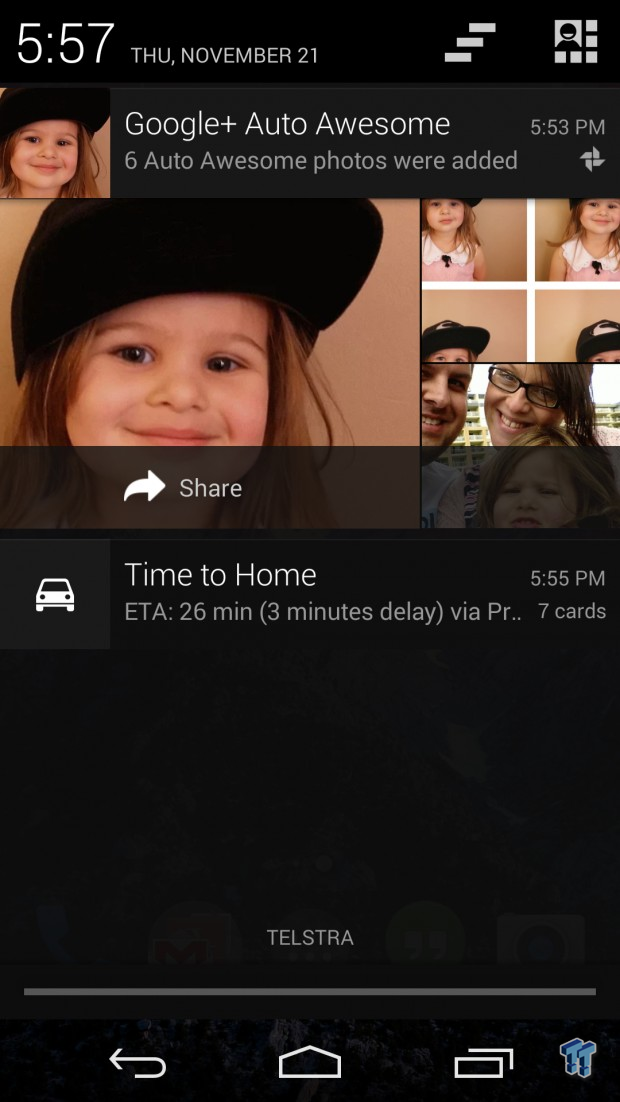 There are some cool features like "Google+ Auto Awesome," which will patch some pictures together into an "Auto Awesome." Auto Awesome will stick a few quickly-snapped photos together, or it will sprinkle some snow onto a picture near Christmas -a nice touch from Google.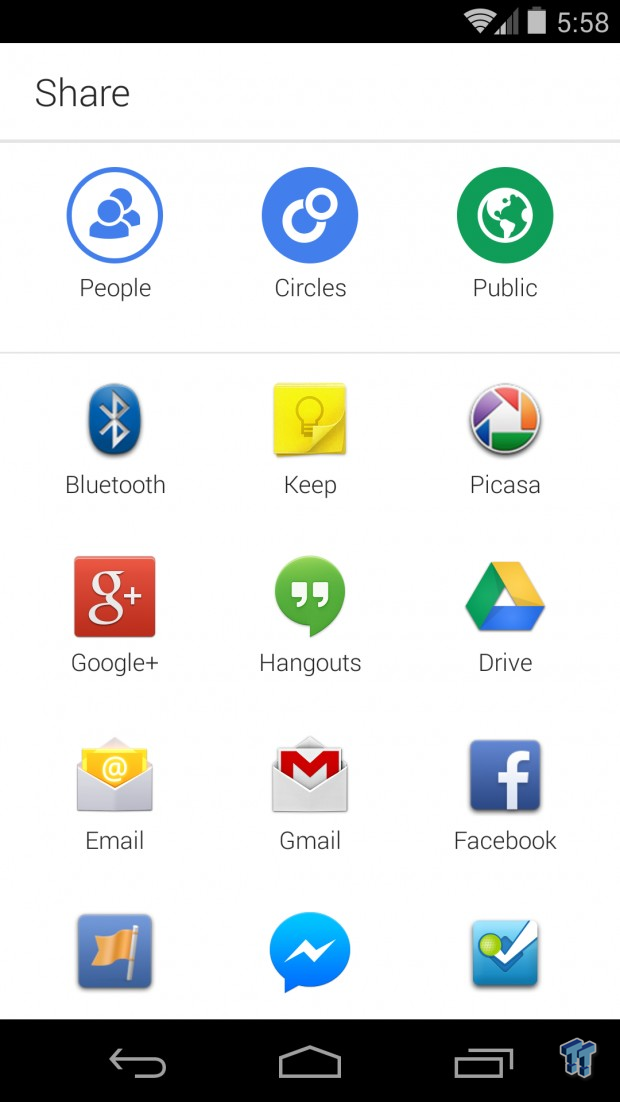 Sharing something, whatever it may be, is so much simpler on Android compared to iOS, which is something Google is really driving home in KitKat. You can quickly share it to your Google+ account, if not, you've got a bunch of other options to share it, depending on the apps you use and have installed.
The search giant baked some serious improvements into KitKat, and before it was released, they were bragging that the OS required much less RAM than previous iterations of Android. But, when there's this much hardware inside the device -a quad-core processor and 2GB of RAM- is it necessary? Not for the Nexus 5.
General Performance & Benchmarks
Ah, benchmarks, something I don't like doing on my smartphone, because at the end of the day, who is going to Google which phone is better, and buy one from that? But, we still want to see how it performs against some of the big rivals on the market.
For day-to-day testing, it was the fastest Android-powered smartphone I've used. It easily beat out the previous speed champ, the G2 (funnily enough), and every other Android smartphone that has come through these labs.
We'll start with Basemark X, and go from there.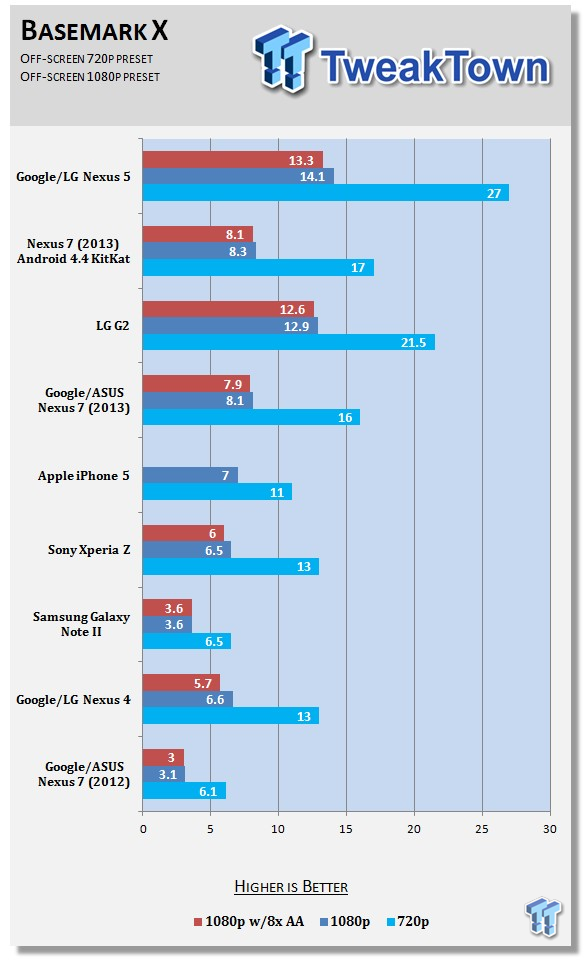 The Nexus 5 blows everything else away in Basemark X. Starting with 720p results, where we have 27FPS, compared to the next fastest device, the LG G2, with 21.5. In comparison with the original Nexus 4, which only scored 13FPS, the Nexus 5 simply kicks ass.
Moving onto 1080p and 1080p w/8x AA, we see 14.1FPS and 13.3FPS respectively. This edges out the G2, which scored 12.9 and 12.6FPS, respectively.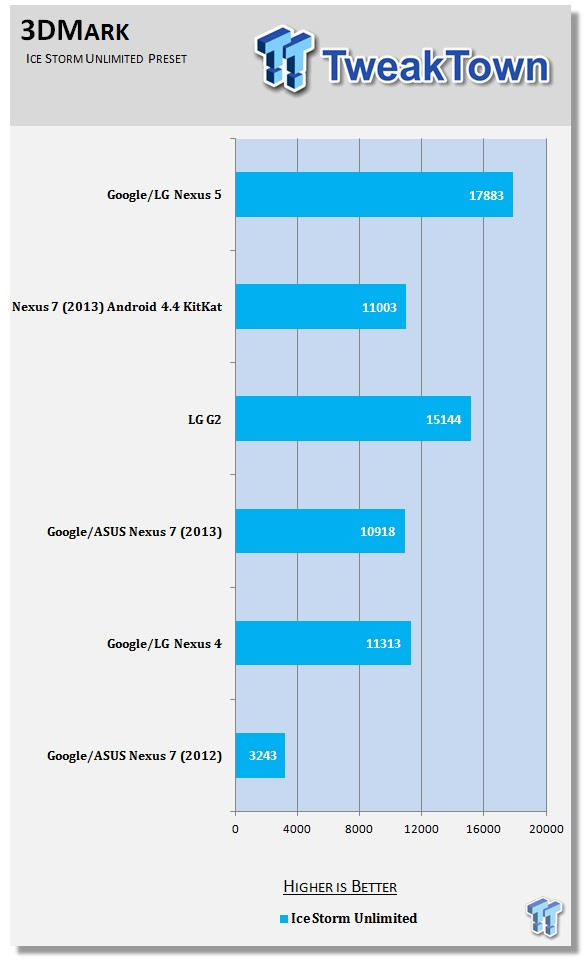 3DMark's Ice Storm Unlimited test is another testament to the cheap Nexus 5 being worth your money. We see a total score of 17,883 compared to the next fastest device (which is once again the G2), which scored 15,144. Compare this to the Nexus 4, which scored just 11,313.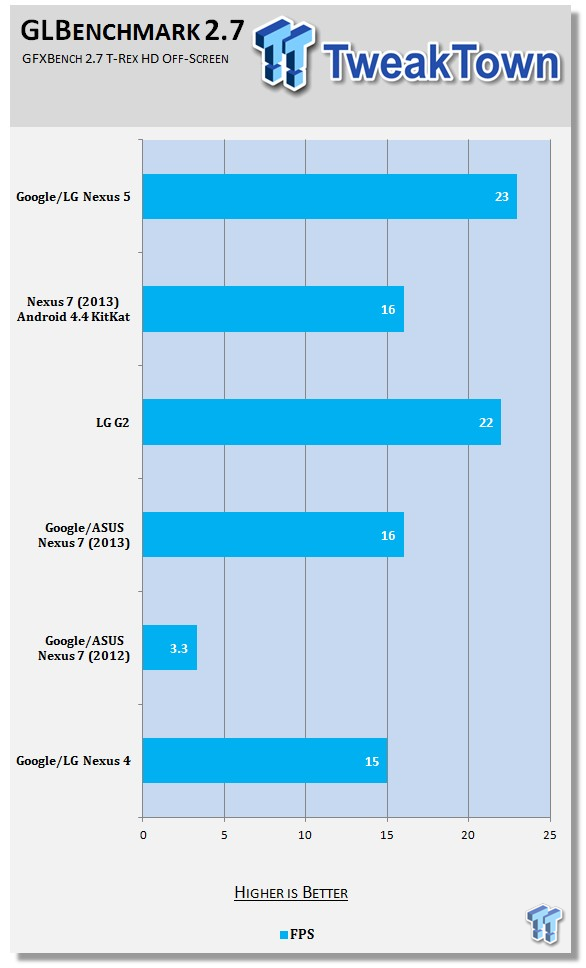 GLBenchmark 2.7's T-Rex HD Off-screen benchmark dragged the Nexus 5, kicking and screaming, back to reality. We see 23FPS total, in comparison to the G2's 22FPS and Nexus 4's 15FPS.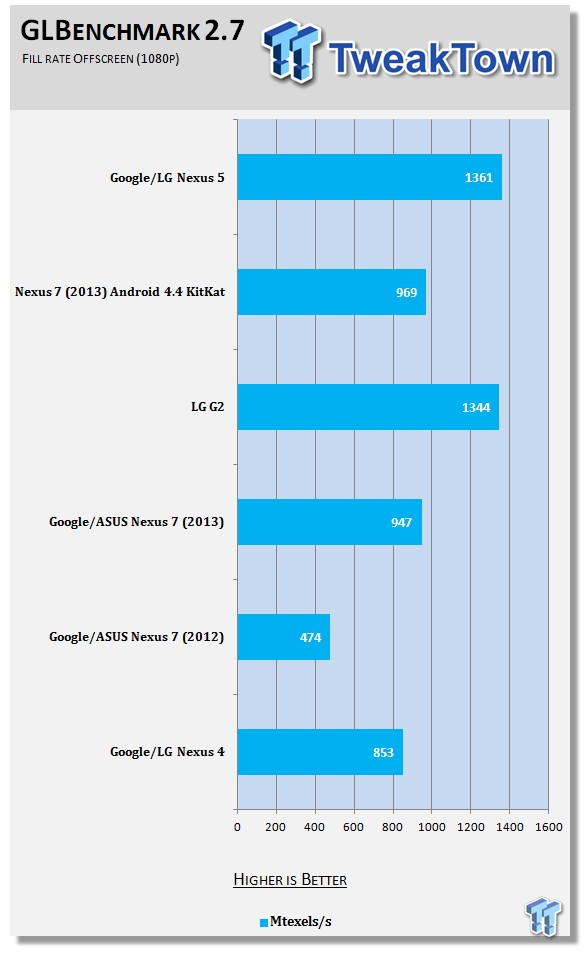 Fill Rate Off-screen wasn't much better, with 1,361 total for the Nexus 5. Comparing this against 1,344 for the G2, it is just barely faster. However, it blows away its predecessor, which scored just 853Mtexels/s.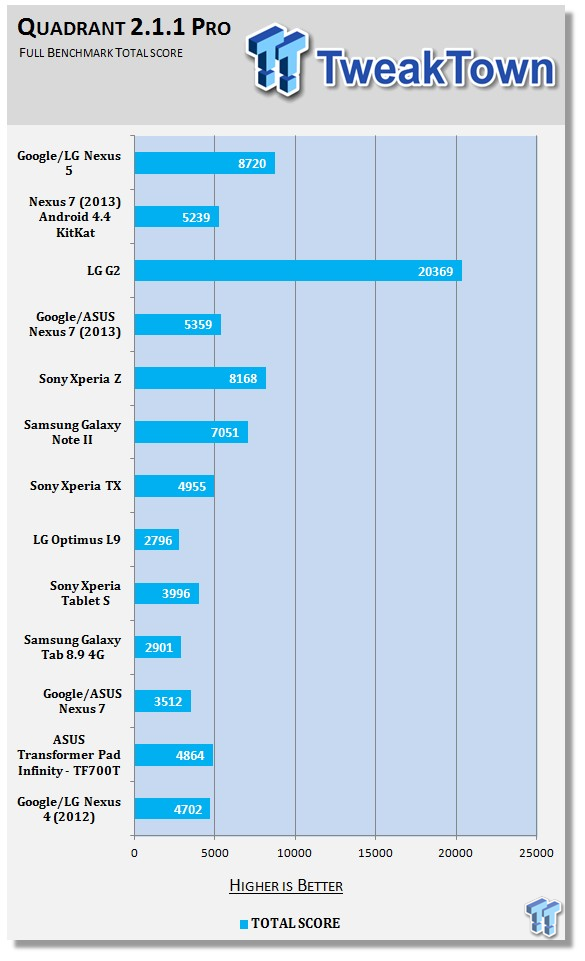 Our last test, Quadrant 2.1.1 Pro saw the Nexus 5 slain by the G2, 8,720 versus 20,369. The Nexus 4 scores just 4,702, meaning that the Nexus 5 is close to twice as fast as its predecessor under this benchmark.
Camera
Performance & Cameras Tests
I don't think Google and LG concentrated enough on the 8-megapixel rear-facing camera on the Nexus 5, and while it is a major improvement over the Nexus 4's rear-facing snapper, it's simply not good enough. I hate typing that, but it's the truth. It's a great rear-facing camera, but I really hoped for something better.
But then the other side of me thinks: Well, it is a $400 smartphone competing with the $650+ smartphones, am I asking for too much? Judge from the samples below, some of them have come out quite well.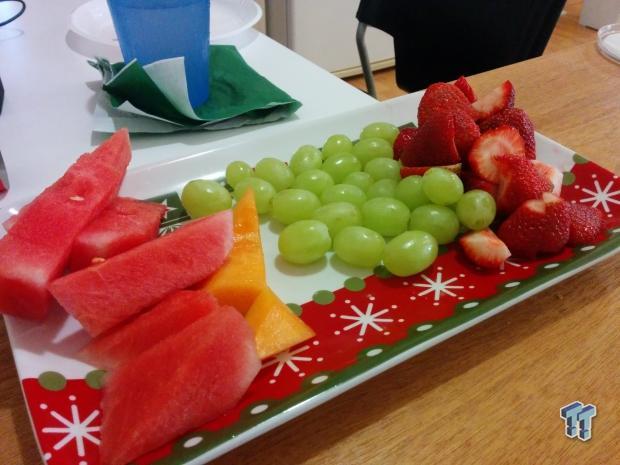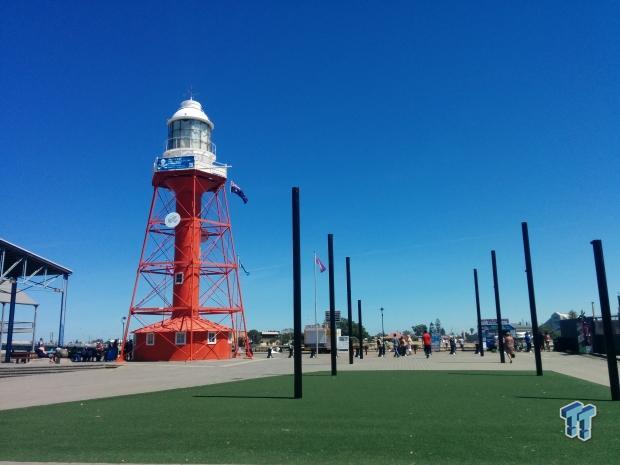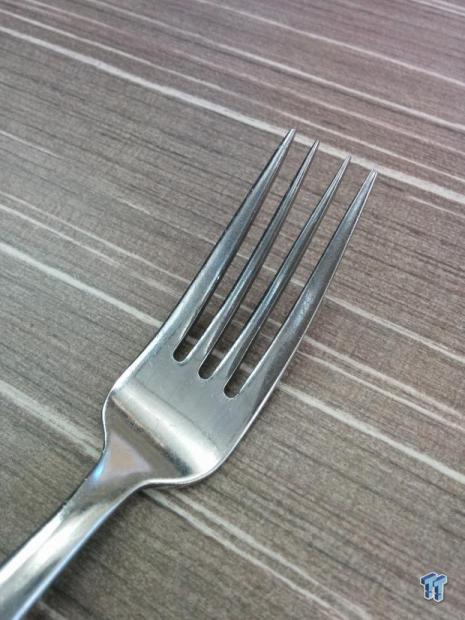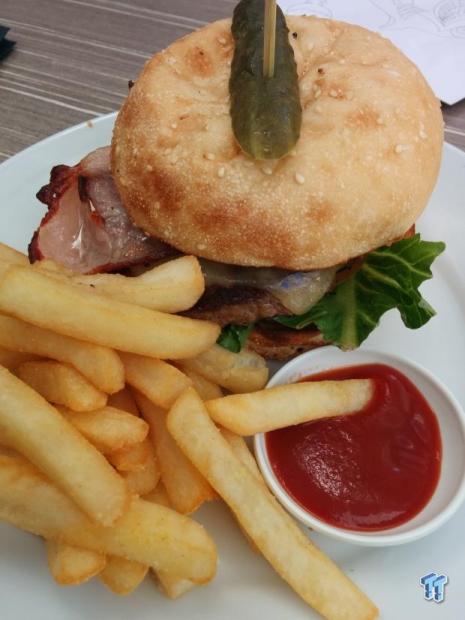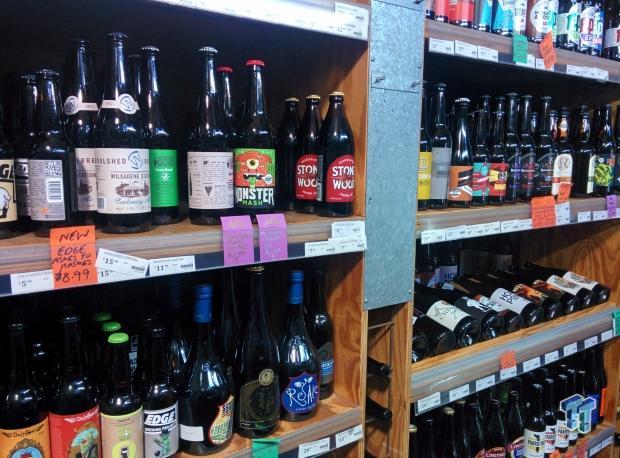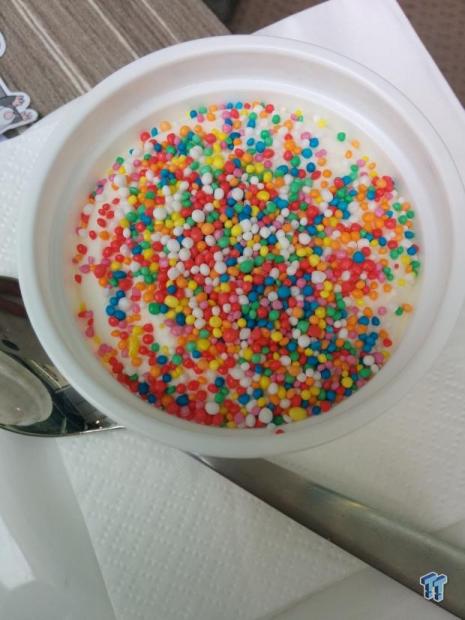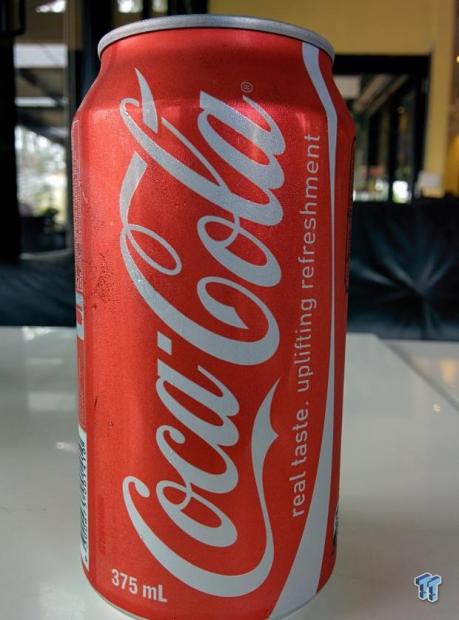 It takes great shots, but it can be slow, cumbersome to use, and at times the entire Camera app can lock up, requiring a reboot before the Camera can be accessed.
We have more examples of the Nexus 5's camera than we would for other reviews, as we've changed some of the sections of this review for the Nexus 5. We have a massive collection of photos to try and give you an idea of the quality to expect.



Above, we have some Panoramic shots to show off.
Next up, we have some 1080p videos to sample.
As you can see from the video samples, the Optical Image Stabilizer (OIS) works incredibly well here. I took some videos down at the beach, and while the sound is incredibly bad because of the wind, it gives you a great look at the image stabilization that works its magic inside of the Nexus 5.
What's Hot, What's Not & Final Thoughts
What's Hot
The stock Android experience: I cannot live without the stock Android experience anymore; it's just too damn beautiful. TouchWiz UI, Sense, and all of the others can all jump into a river and be washed away for all I care.
We are slowly seeing manufacturers offering Google Play Edition devices, with stock Android on-board, something that I pushed for when I first started reviewing smartphones for TweakTown.
I hope this spreads like wildfire, because it will provide Google the chops to better compete with the iPhone, as it will have more devices with the stock Android experience, which I believe is the closest experience you'll get to a true iPhone vs. Google fight.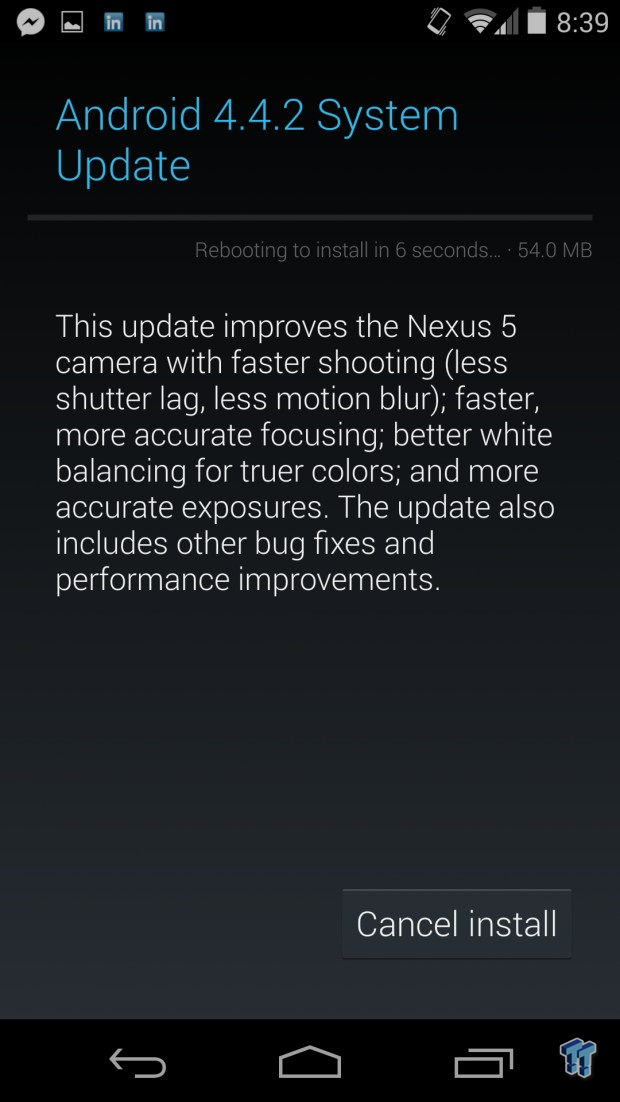 Android 4.4 KitKat: Android 4.4 "KitKat" is a culmination of the best work of Google, streamlined into a mobile OS that simply kills iOS. It's beautiful, fast, and Google Now (which I loved so much with Android 4.x) is even better on KitKat.
There are some subtle changes that make KitKat stand out, with Google Now being accessed by swiping up from the home button, or swiping all the way to the left of your home screen. I got used to swiping to the left, and it changed the way I used Google Now.
Wireless Charging: I actually reviewed the Nexus Wireless Charger and loved it. This is an essential piece of the Nexus experience, something you simply can't live without once you've tried it.
The ability to just plonk your smartphone onto a wireless charging pad and have it perform magic, is, well, magic.
SlimPort support: Analogix's uber impressive technology is something I simply cannot live without now. Being able to plug in a tiny microUSB to HDMI cable, and hook my Nexus 5 up to my TV for some Full HD glory is awesome. The fact that it's super smooth, and requires no drivers or setup, is even better.
The price: Come on, $349? There's simply no competing with that, when the closest smartphone is at least $600. Samsung, LG, Apple, and everyone else simply cannot compete with this price right now.
If Google could push the marketing on the Nexus line, it could do some serious damage to Samsung and its Galaxy line going into the future; this is something I think the search giant will do when Samsung starts pushing its Tizen OS on its devices.
What's Not
The camera still isn't perfect: The 13-megapixel camera, while adequate and an improvement from the Nexus 4, is far from perfect. I expect Google to provide a world-class camera on the next iteration of the Nexus smartphone, and nothing less.
No expandable storage: This is an area that the Nexus devices always lose out to, and with LG manufacturing the Nexus 4 and Nexus 5 smartphones, is this going to be a trend going into the future for LG? I hope not.
Final Thoughts
Google has spent countless hours on building the best smartphone on the market, in my opinion of course. At $349, you're getting one of the most powerful smartphones on the market, with some of the best out-of-the-box features, such as wireless charging, and the stock Android 4.4 KitKat OS.
There's not much that the Nexus 5 does wrong, apart from the rear-facing camera, which needs to be amped up in the next Nexus offering.
The display is gorgeous, the price is perfect, and it seems like Google has now created the perfect storm of a smartphone. It lacks in the camera department, but it more than makes up for it in every other aspect: hardware and software wise.
Right now, it's Google versus the world, and more specifically: the Nexus 5 versus the world. Unless you're a diehard Apple fan, or Galaxy/One fan, you should grab the Nexus 5. You will not be disappointed.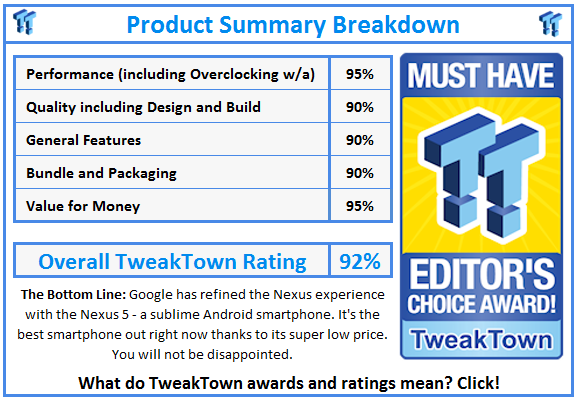 PRICING: You can find products similar to this one for sale below.

United States: Find other tech and computer products like this over at Amazon.com

United Kingdom: Find other tech and computer products like this over at Amazon.co.uk

Australia: Find other tech and computer products like this over at Amazon.com.au

Canada: Find other tech and computer products like this over at Amazon.ca

Deutschland: Finde andere Technik- und Computerprodukte wie dieses auf Amazon.de
We openly invite the companies who provide us with review samples / who are mentioned or discussed to express their opinion. If any company representative wishes to respond, we will publish the response here. Please contact us if you wish to respond.