Introduction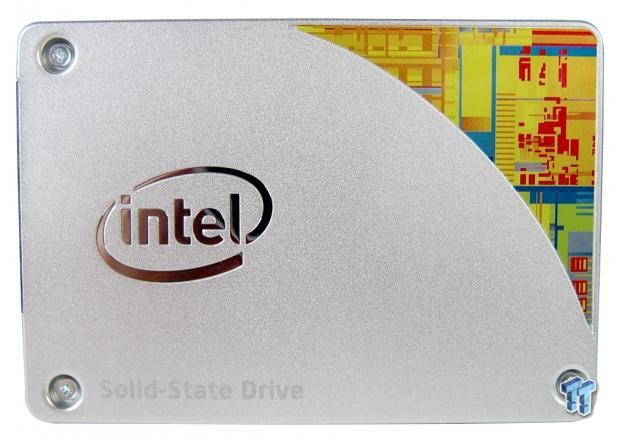 We've spent quite a bit of time with this drive over the last three months. Upon release, we purchased the drive from Newegg for $259, and then started what we assumed at the time would be a regular round of tests. We were wrong, and after writing seven TB of data to the drive, we still can't figure out why the Intel 530 240GB still performs as poorly as it does.
Initially, we assumed the performance issues revolved around the 20nm flash, but after looking at our 335 Series 240GB results with the same flash, we knew that wasn't the case. Also, we tested the drive on no less than four different motherboards; all with SATA 6Gbps.
With the flash eliminated as an issue, and our test systems configured properly, that only leaves the controller or the firmware. Surely LSI doesn't have firmware issues again... or do they?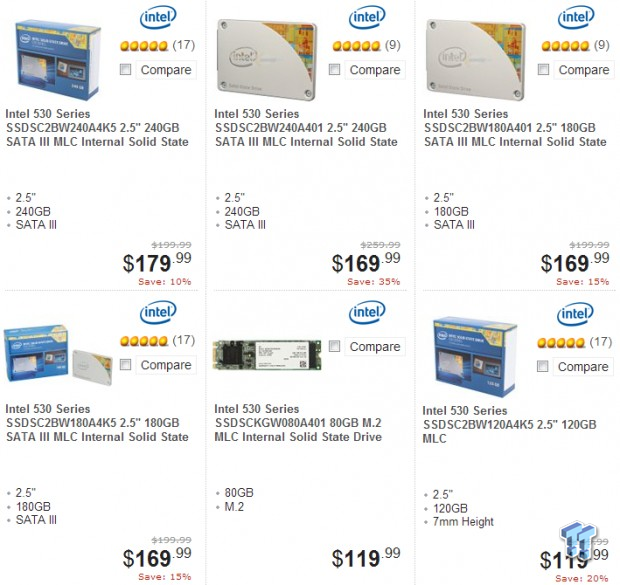 I initially started writing this review on Black Friday, and at that time, the Intel 530 Series 240GB retail was down to $179.99. The retail drive is now down to just $159.99, a price that undercuts Samsung's 840 EVO 250GB by ten dollars.
Specifications, Pricing and Availability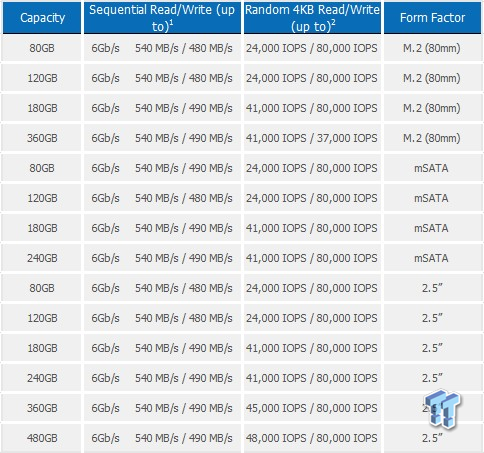 Intel released several product SKUs with the 530 Series. The series consists of three form factors, and a number of different capacity sizes. Today, we're focusing exclusively on the 2.5" 240GB model that Intel specs at 540 MB/s sequential read, 490 MB's sequential write with 4K random IOPS at 41,000 read, and 80,000 write. Surprisingly, the 240GB model is no longer the fastest LSI SandForce SF-2281 controlled drive on Intel's chart; that honor goes to the 480GB model, due to the 4K random read speed of 48,000 IOPS.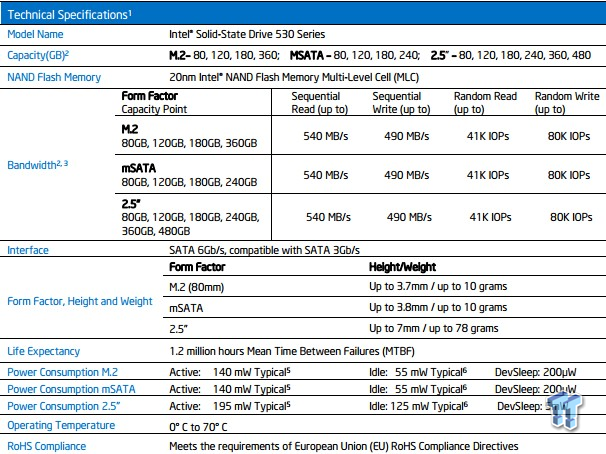 Unlike the 335 Series, the 530 Series uses a 7mm z-height that gives the drive access to several new Ultrabooks that are so thin, a 9.5mm drive will not fit. The new 530 Series also supports DEVSLP, a power savings feature also not found on the 335 Series.
As mentioned in the introduction: the Intel 530 240GB has a low price, and competes with Samsung's 840 EVO, and Crucial's M500. When we purchased the drive, it was around 100 dollars more than it is right now. Right now it's $159.99 at Newegg. Adding to the value, Intel includes a five-year warranty, SSD Toolbox software for drive and OS optimizations, and a great hardware accessory package.
Packaging and Accessories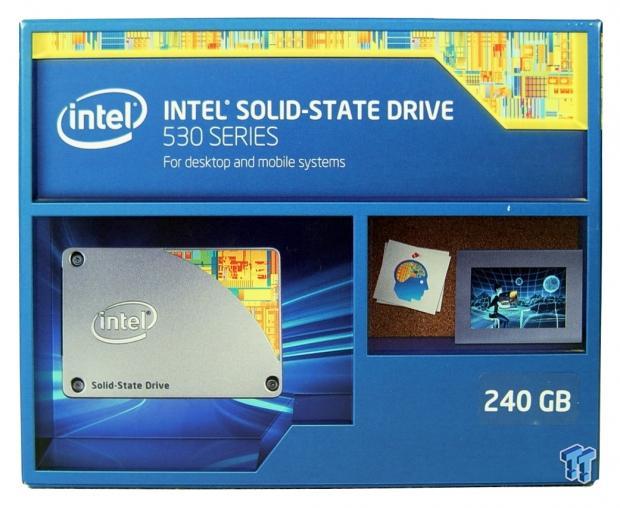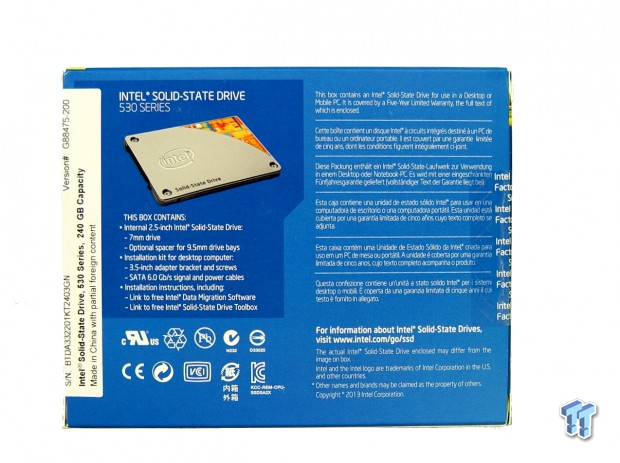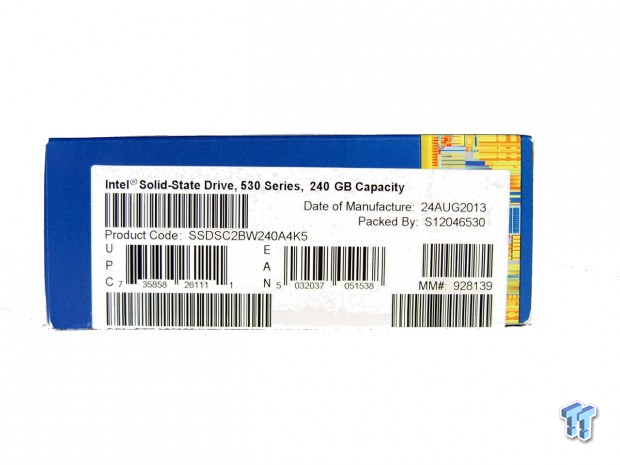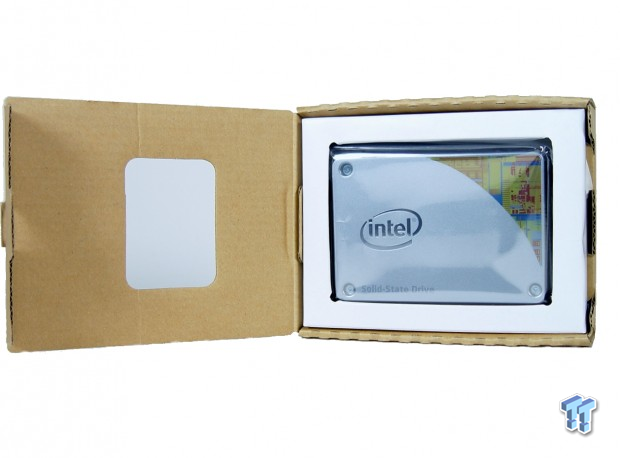 Intel's accessory kit includes SATA power and data cables, a sticker, a 7mm to 9.5mm adapter, software disk, and a 2.5" to 3.5" adapter. The 530 Series also includes screws for mounting your drive in the desktop adapter bracket. These components ship in the retail kit, but some e-tailers also sell an OEM, or bare drive model for roughly the same amount, so make sure you purchase the retail kit to get the accessory package.
Intel 530 Series 240GB SSD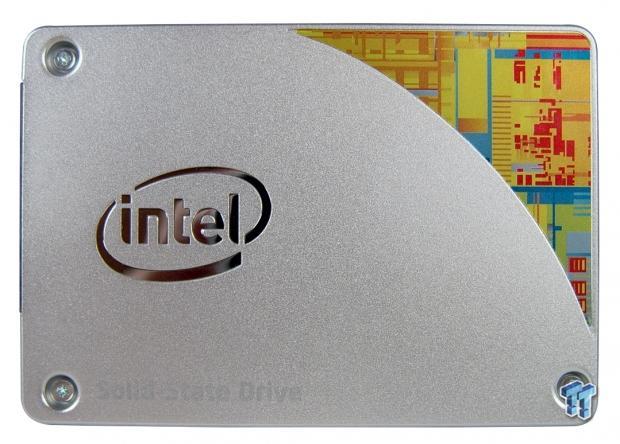 Here we get our first look at the Intel 530 Series drive. Intel has livened the appearance a bit with a colorful sticker, and polished logo on the top cover.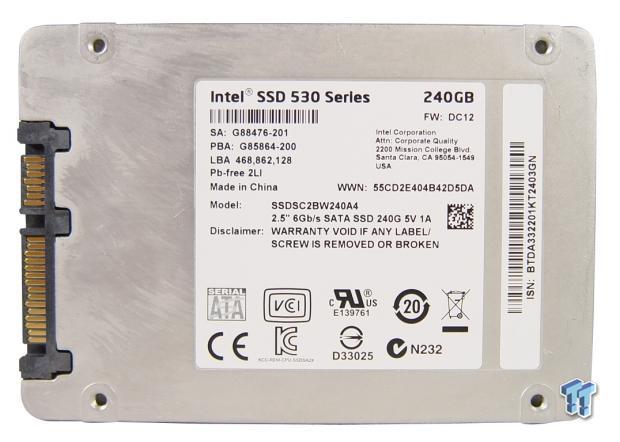 The back of the drive is still the same as other Intel consumer SSDs though.

To my knowledge, this is Intel's first retail consumer SSD in a 7mm form factor. Some of the older SSDs shipped with a 7mm case, but with an adapter bolted on. You could mod those drives to 7mm, but it required purchasing different screws.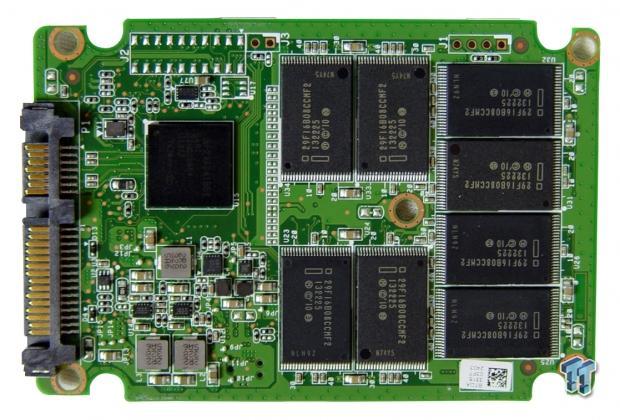 Inside, we found sixteen Intel 20nm NAND flash packages with 128GB die.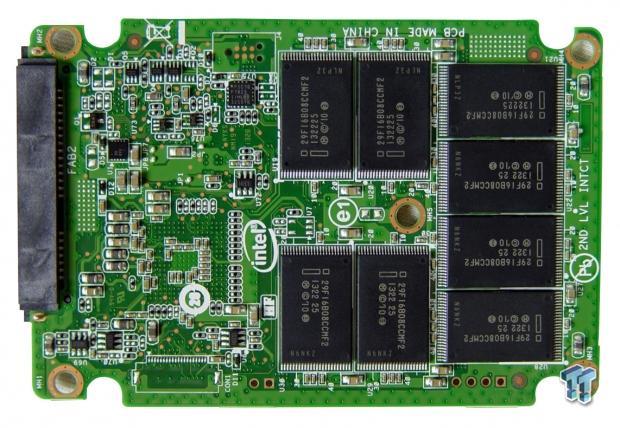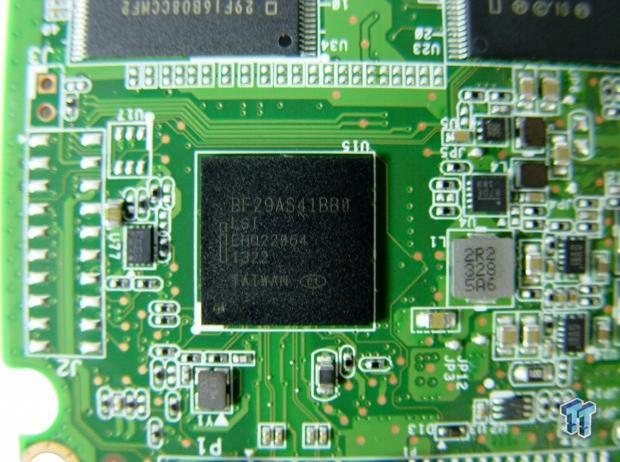 Intel used a different version of the LSI SandForce SF-2281 controller with this product. The Intel part number for this controller is BF29AS41BB0. Under the part number, we see LSI, and next to that is the Intel 'I' logo.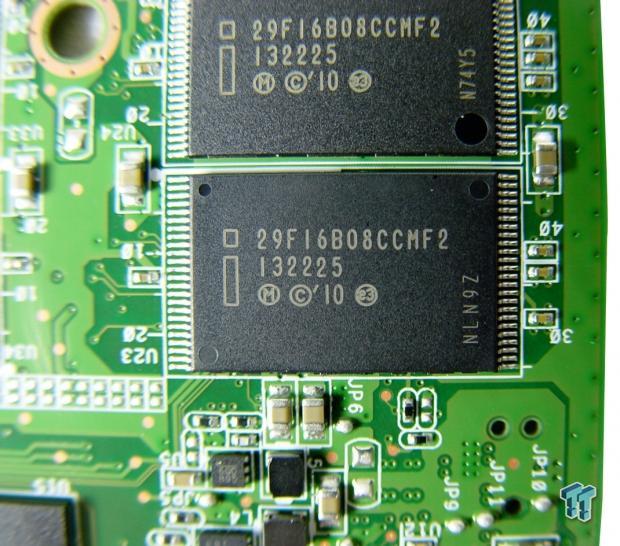 The flash is Intel 20nm TSOP packages.
Benchmarks - Test System Setup and ATTO Baseline Performance
Desktop Test System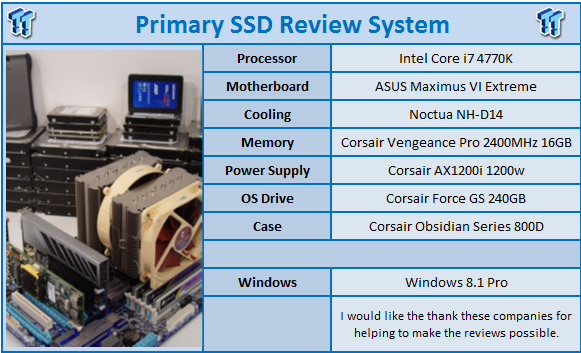 Lenovo W530 - Mobile Workstation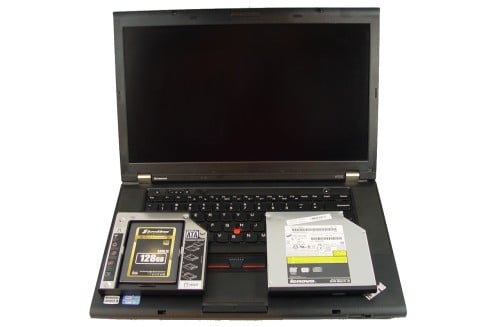 We use two systems for SSD testing. The desktop runs the majority of the tests, and the Lenovo W530 runs the notebook power tests, as well as the real-world file transfer benchmark.
ATTO Baseline Performance
Version and / or Patch Used: 2.34
ATTO is a timeless benchmark used to provide manufactures with data used market storage products.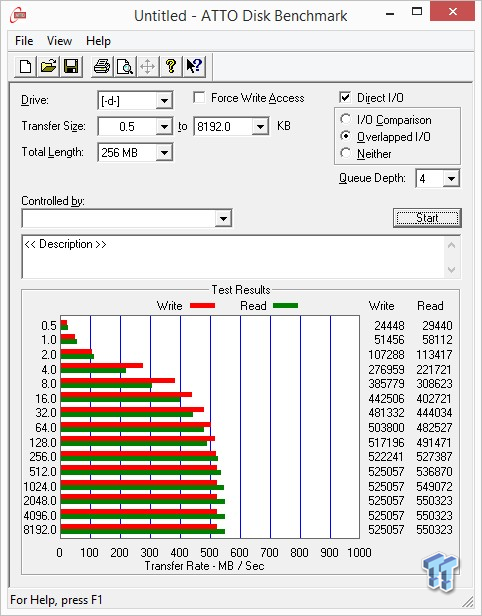 On the surface, the Intel 530 Series 240GB performs very well. In our tests, we achieve just over 550 MB/s sequential read, and 525 MB/s sequential write.
Benchmarks - Sequential Performance
HD Tune Pro
Version and / or Patch Used: 4.00
Developer Homepage: http://www.efdsoftware.com
Product Homepage: http://www.hdtune.com
HD Tune is a Hard Disk utility which has the following functions:
Benchmark: Measures the performance
Info: Shows detailed information
Health: Checks the health status by using SMART
Error Scan: Scans the surface for errors
Temperature Display
HD Tune Pro gives us accurate read, write, and access time results. For the last couple of years, it has gained popularity amongst reviewers. It is now considered a must-have application for storage device testing.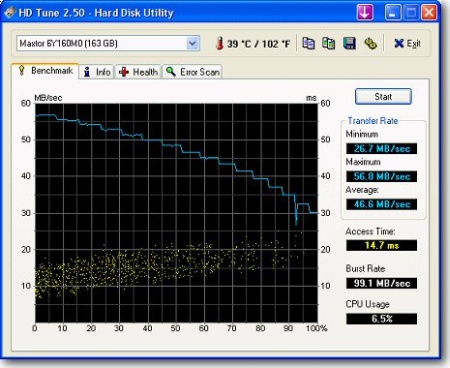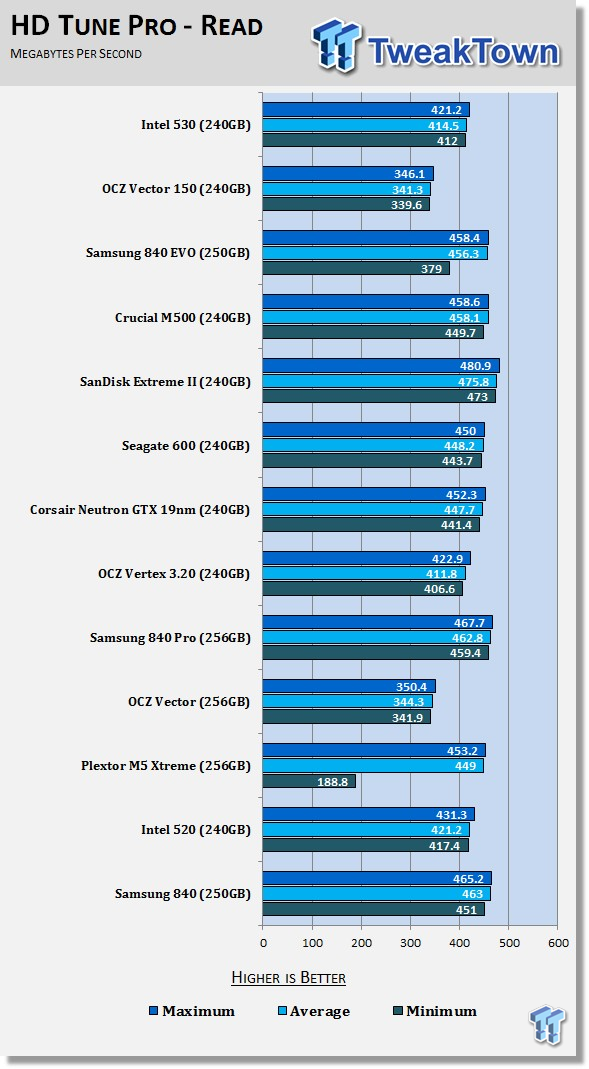 With incompressible data, the 530 Series performs well with sequential data. It's even a hair faster than the 520 Series 240GB.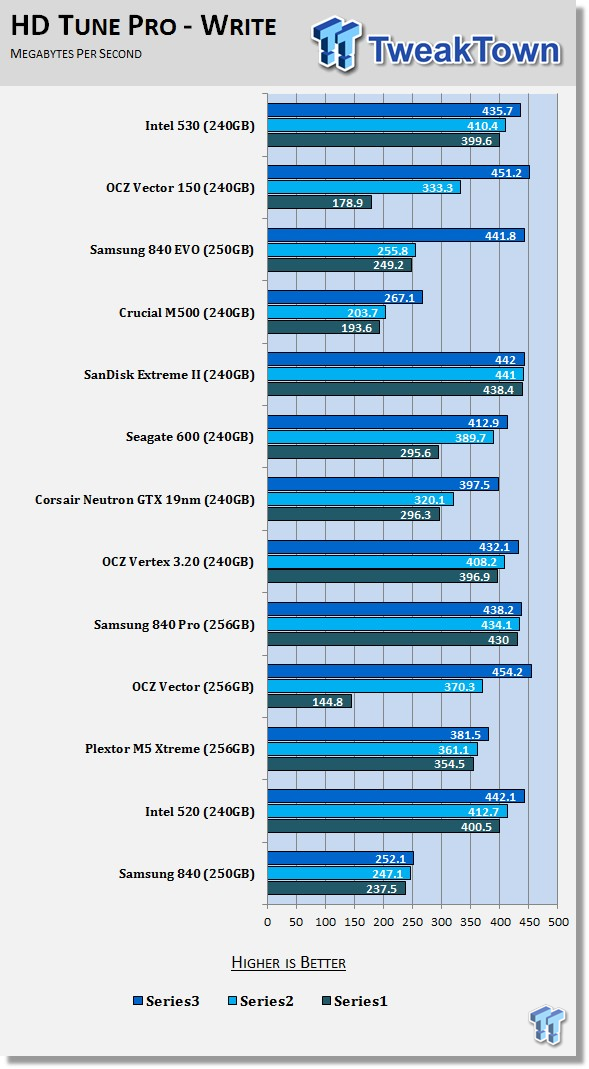 This test uses incompressible data; later in the review we'll see the sequential performance with incompressible data. Again, the 530 Series 240GB performs very well in HD Tune Pro.
HD Tach - Sequential Write Performance after Random Writes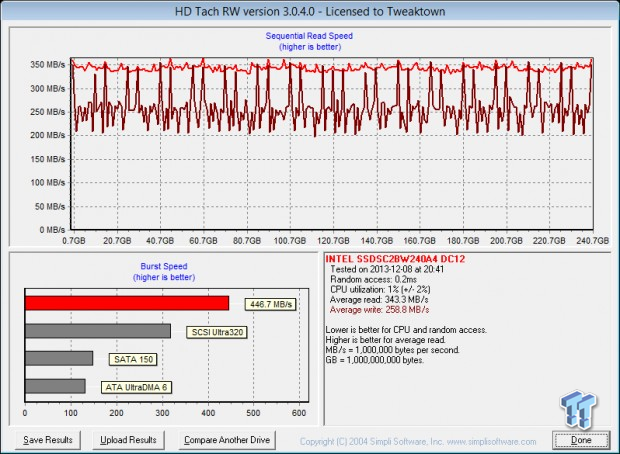 After a responsible number of random writes to the drive, we ran HD Tach to see 128KB sequential performance after random writes. In this test, we start to see the 530 wearing down to a consumer steady state.
Benchmarks - AIDA64 Random Access Time
AIDA64 Random Access Time
Version and / or Patch Used: 1.60
Developer Homepage: http://www.aida64.com
Product Homepage: http://www.aida64.com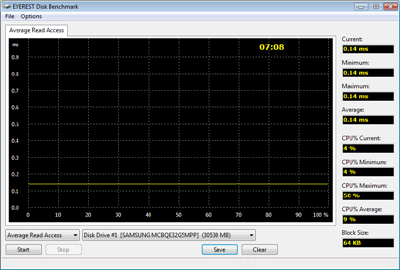 AIDA64 offers several different benchmarks for testing and optimizing your system, or network. The Random Access test is one of very few (if not the only), that will measure hard drives random access times in hundredths of milliseconds, as oppose to tens of milliseconds.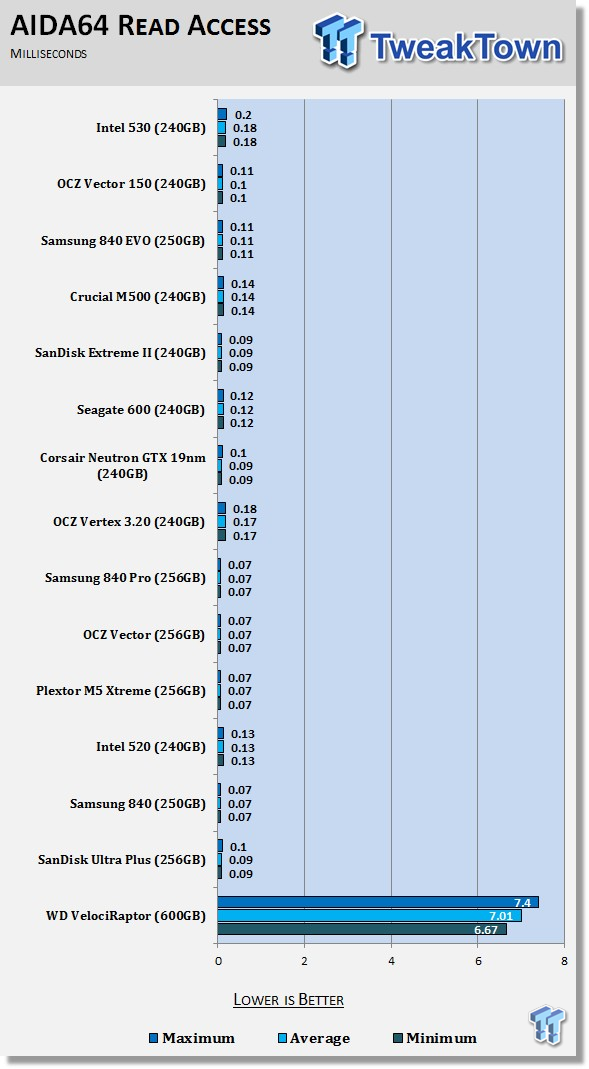 The latency test has a little more meaning in this review, because we can compare the Intel 520 with 25nm flash, with the 530 that uses 20nm flash. When reading 64KB data, the 530's latency is .05ms higher than the discontinued 520 Series of the same capacity.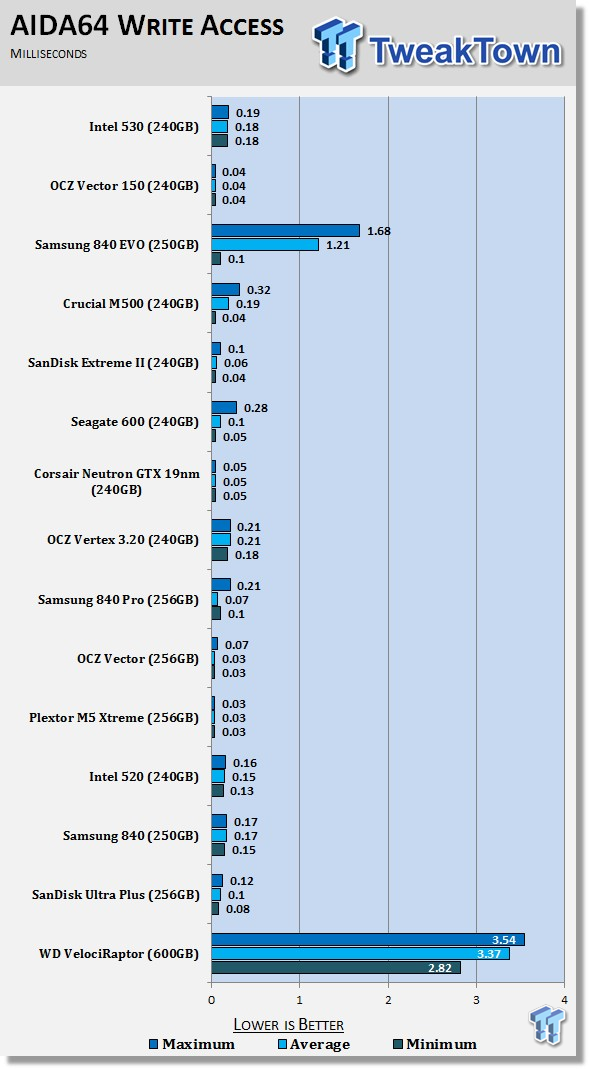 Write latency only increases .03ms with 20nm flash.
Benchmarks - Anvil Storage Utilities
Anvil Storage Utilities
Version and / or Patch Used: RC6
So what is Anvil Storage Utilities? First of all, it's a storage benchmark for SSDs and HDDs where you can check and monitor your performance. The Standard Storage Benchmark performs a series of tests, you can run a full test, or just the read or the write test, or you can run a single test (i.e. 4K DQ16).
Anvil Storage Utilities is not officially available yet, but we've been playing with the beta for several months now. The author, Anvil, has been steadily updating the software on several international forums, and is adding new features every couple of months.
The software is used several different ways, and to show different aspects for each drive. We've chosen to use this software to show the performance of a drive with two different data sets. The first is with compressible data, and the second data set is incompressible data. Several users have requested this data in our SSD reviews.
0-Fill Compressible Data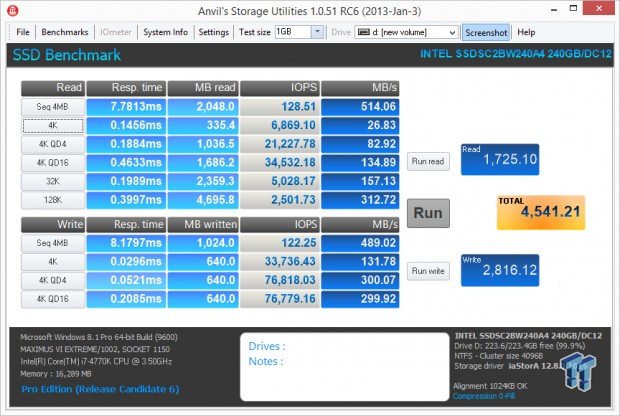 Incompressible Data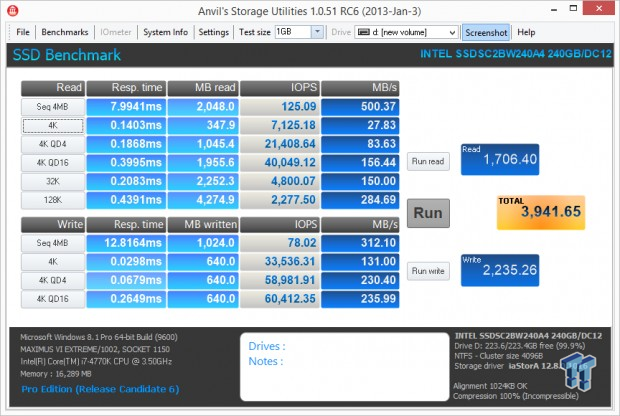 The SF-2281 controller compresses all data that it can in real-time before writing it to the flash. This makes the 530 Series write incompressible data a little slower than compressible data, since the latter shrinks the data written to the flash.
Read IOPS through Queue Depth Scale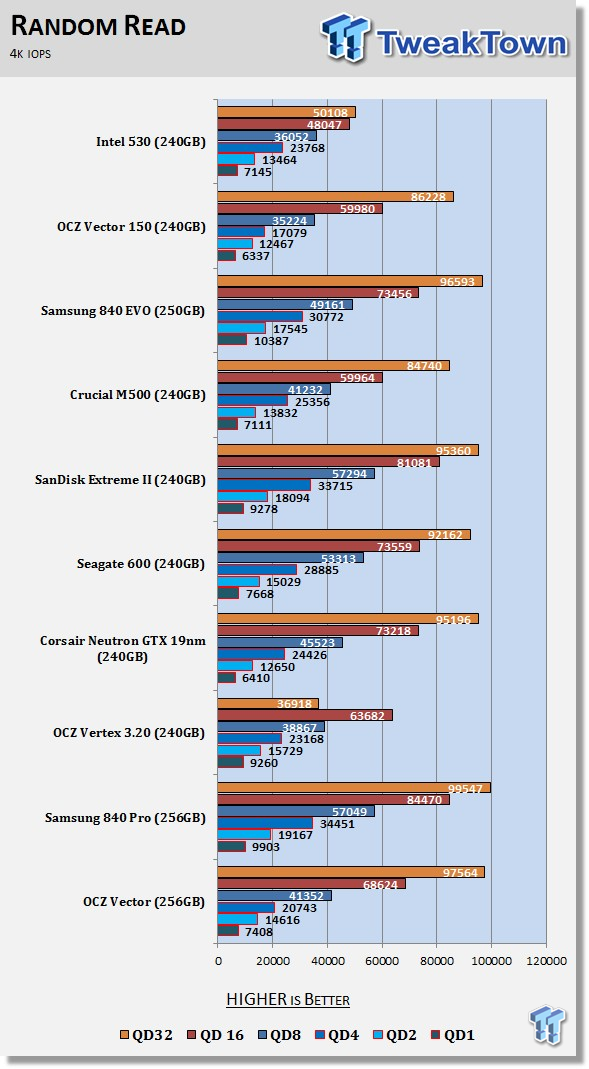 Here, we start to see the 530 lose a lot of ground to the newest SSD products on the market.
Scaling Write IOPS through Queue Scale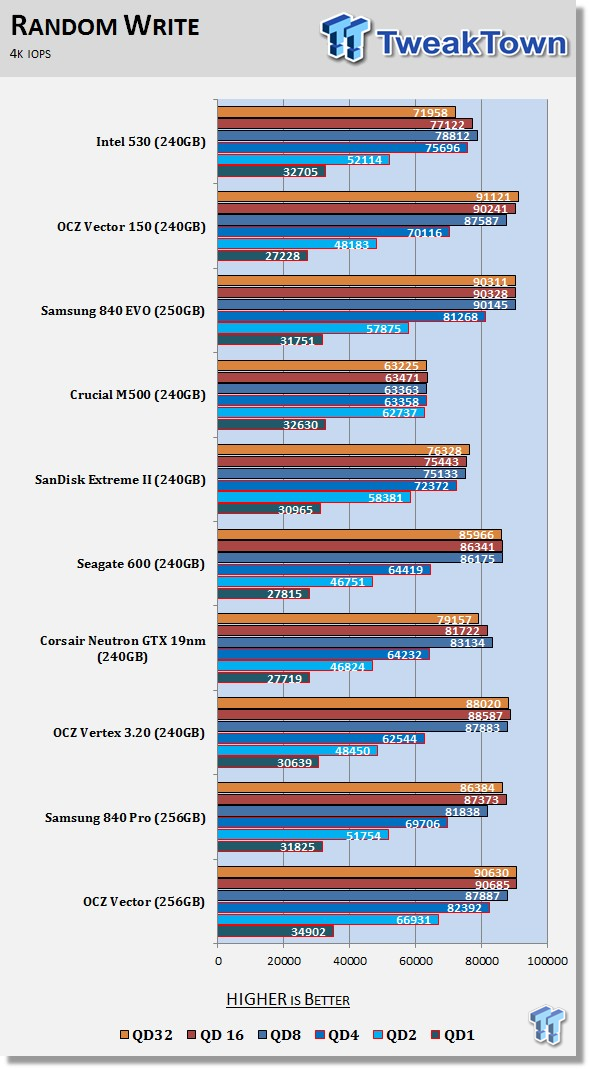 The write IOPS performance remains high, but most of the people purchasing low-cost SSDs need read performance more than high write performance.
Benchmarks - CrystalDiskMark
CrystalDiskMark
Version and / or Patch Used: 3.0 Technical Preview
Developer Homepage: http://crystalmark.info
Product Homepage: http://crystalmark.info/software/CrystalDiskMark/index-e.html
Download here: http://crystaldew.info/category/software/crystaldiskmark
CrystalDiskMark is a disk benchmark software that allows us to benchmark 4K, and 4K queue depths with accuracy.
Key Features:
* Sequential reads/writes
* Random 4KB/512KB reads/writes
* Text copy
* Change dialog design
* internationalization (i18n)
Note: Crystal Disk Mark 3.0 Technical Preview was used for these tests, since it offers the ability to measure native command queuing at 4 and 32.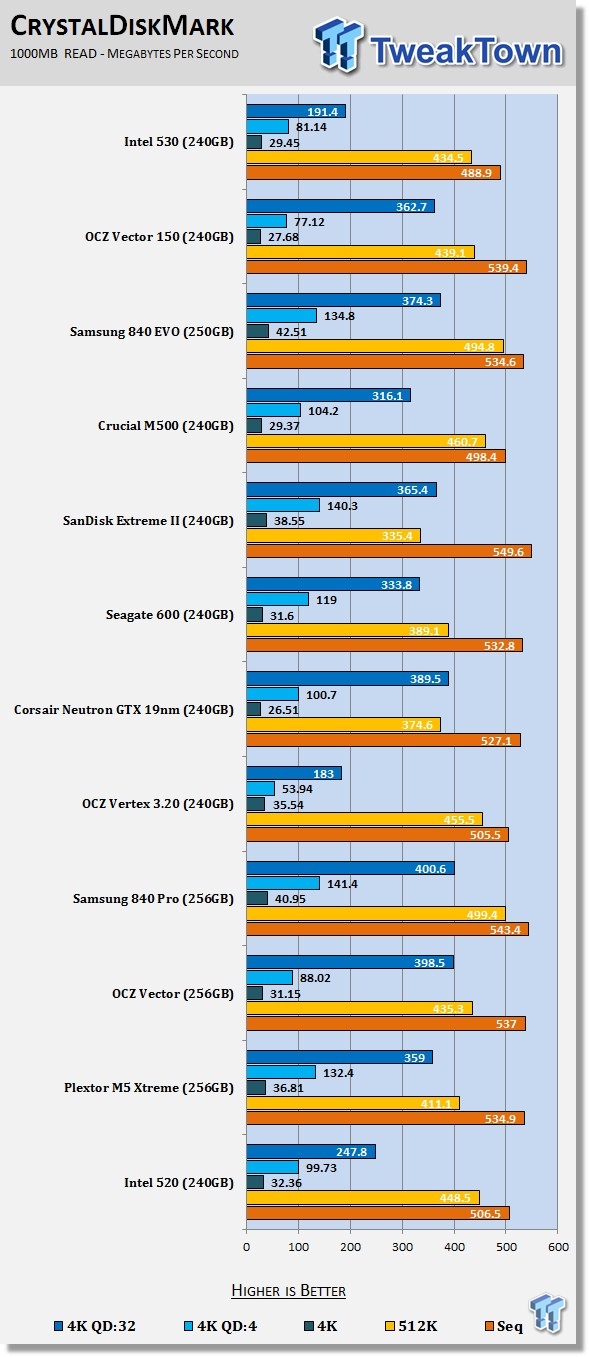 Here, we get our first look at incompressible data performance in both sequential and random tests. The compressible verses incompressible part doesn't factor in much when reading data from the drive, but less than 30 MB/s of 4K performance at QD1 certainly does.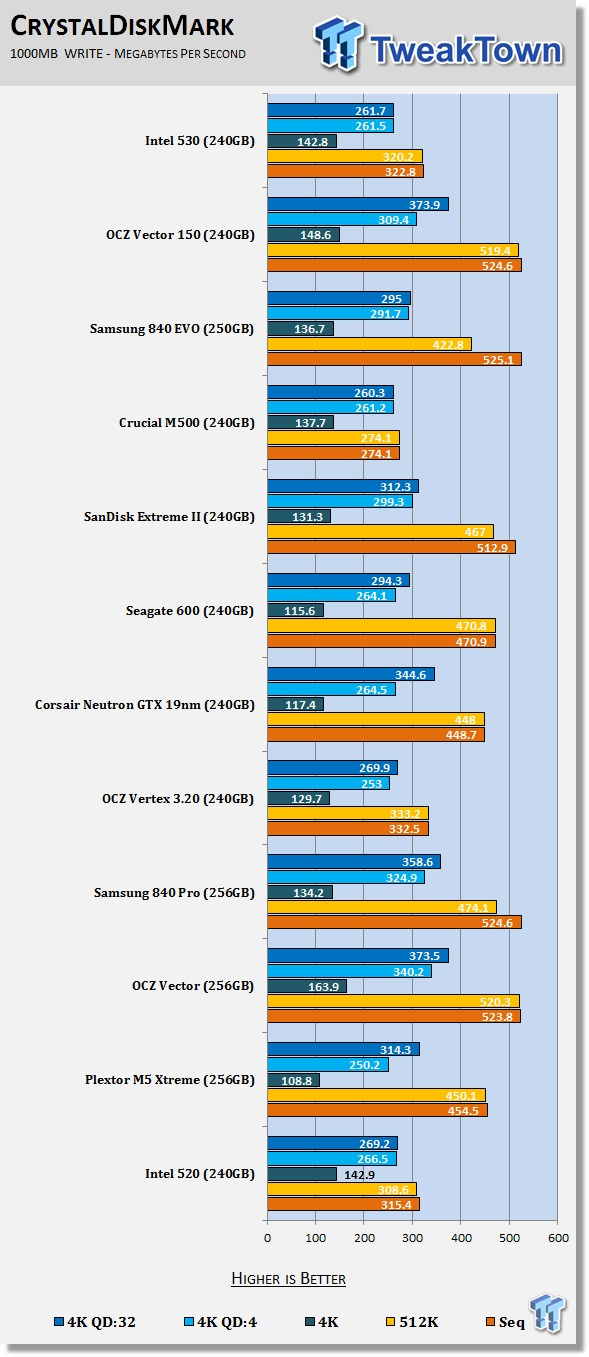 When writing data, we see the incompressible data aspect factor in. The 4K QD1 performance is actually higher than we expected to see, but higher queue depth performance and sequential performance really suffer with incompressible data.
Benchmarks - PCMark Vantage Hard Disk Tests
PCMark Vantage - Hard Disk Tests
Version and / or Patch Used: 1.0.0
Developer Homepage: http://www.futuremark.com
Product Homepage: http://www.futuremark.com/products/pcmarkvantage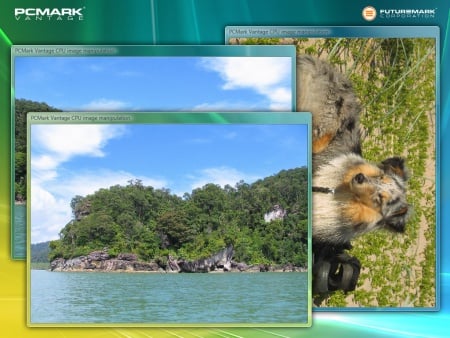 PCMark Vantage is the first objective hardware performance benchmark for PCs running 32, and 64 bit versions of Microsoft Windows Vista. PCMark Vantage is perfectly suited for benchmarking any type of Microsoft Windows Vista PC, from multimedia home entertainment systems and laptops, to dedicated workstations and high-end gaming rigs. Regardless of whether the benchmarker is an artist, or an IT Professional, PCMark Vantage shows the user where their system soars, or falls flat, and how to get the most performance possible out of their hardware. PCMark Vantage is easy enough for even the most casual enthusiast to use, yet supports in-depth, professional industry grade testing.
FutureMark has developed a good set of hard disk tests for their PCMark Vantage Suite. Windows users can count on Vantage to show them how a drive will perform in normal day to day usage scenarios. For most users, these are the tests that matter since many of the old hat ways to measure performance have become ineffective to measure true Windows performance.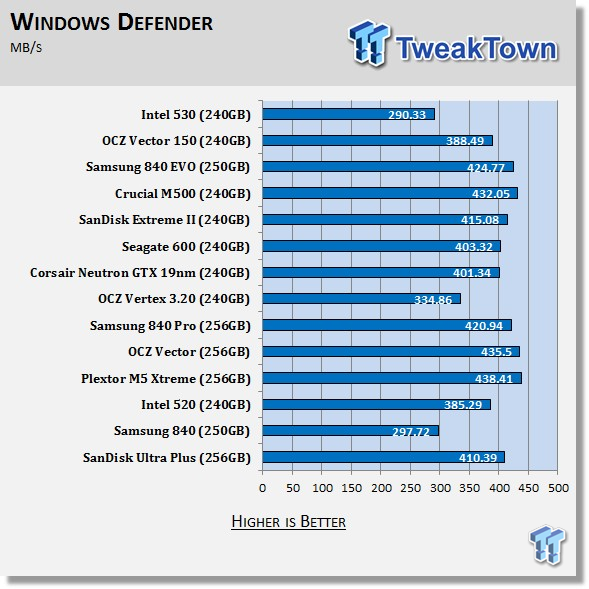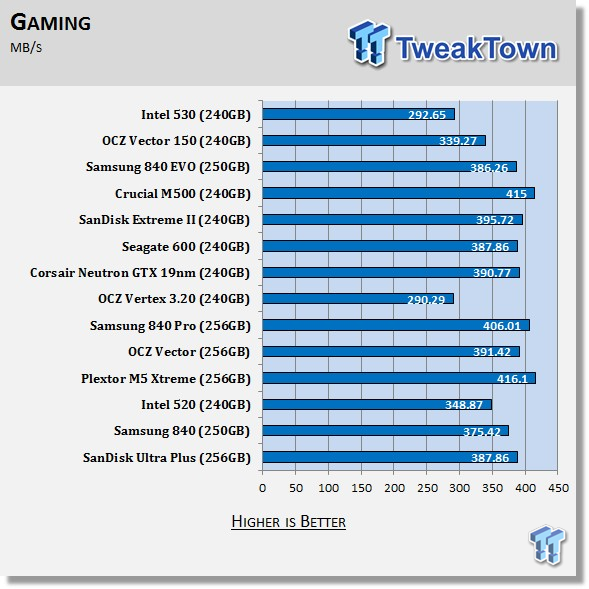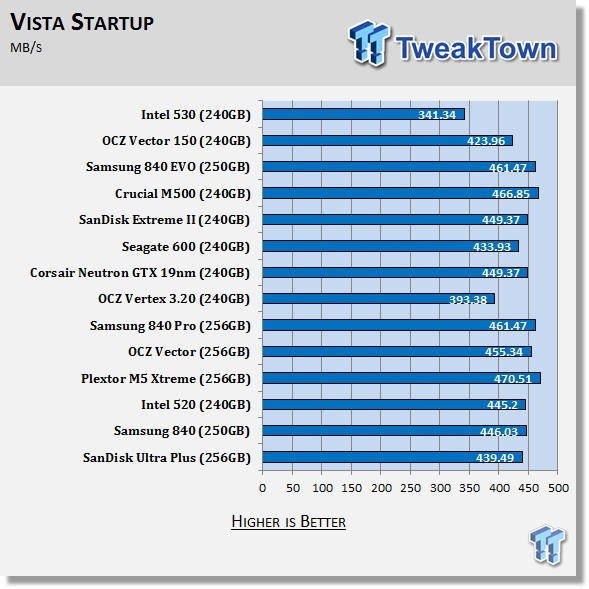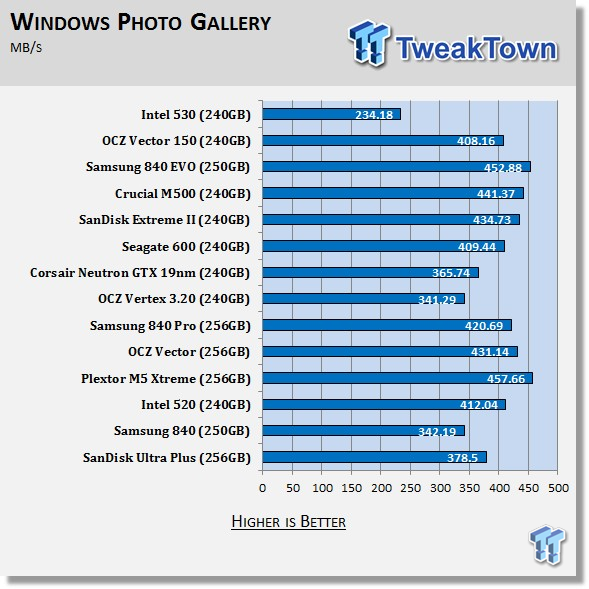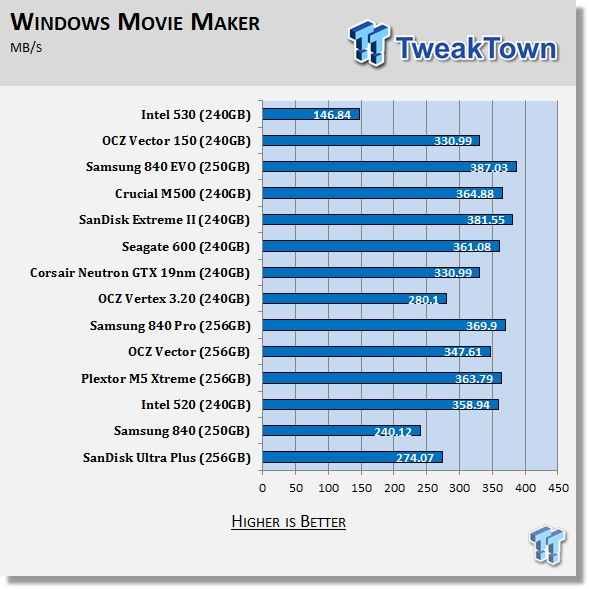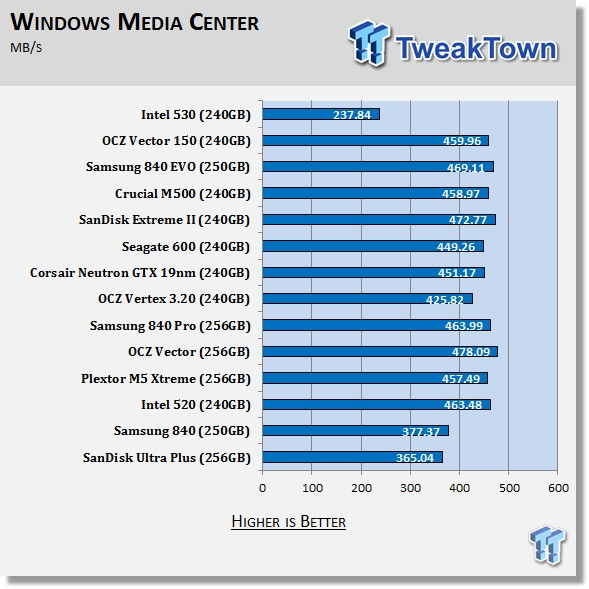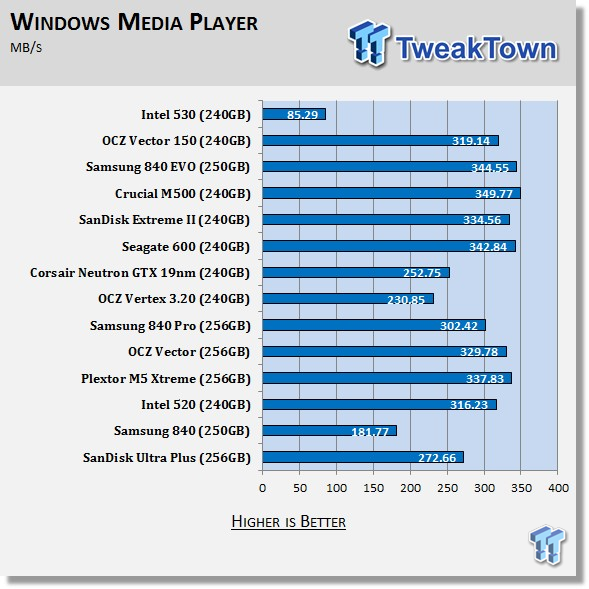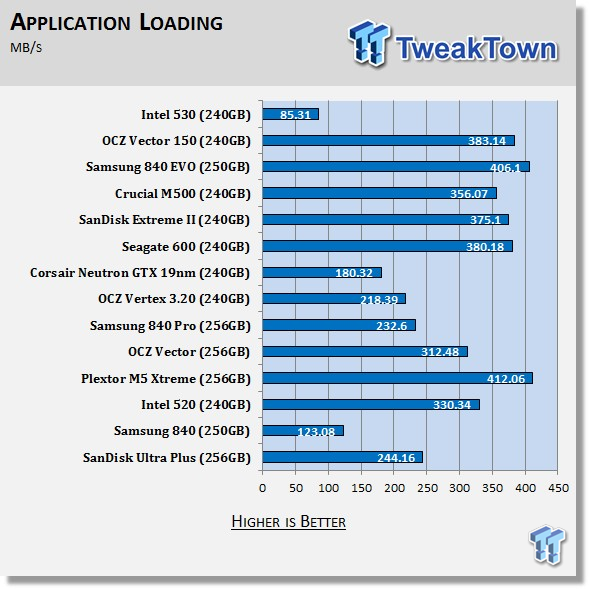 This is where we really started running into issues. Vantage tanked, and not just on one system, or even two or three for that matter.
Benchmarks - PCMark Vantage - Drives with Data Testing
For a complete breakdown on the Drives with Data Testing please read this article. You will be able to perform this test at home with the files provided in the article - full instructions are included.
- Brief Methodology
SSDs perform differently when used for a period of time, and when data is already present on the drive. The purpose of the Drives with Data testing is to show how a drive performs in these 'dirty' states. SSDs also need time to recover, either with TRIM, or onboard garbage collection methods.
Drives with Data Testing - 25%, 50%, 75% Full States and Dirty / Empty Test
Files needed for 60 (64GB), 120 (128GB), 240 (256GB)
60GB Fill - 15GB, 30GB, 45GB
120GB Fill - 30GB, 60GB, 90GB
240GB Fill - 60GB, 120GB, 160GB
Empty but Dirty - a test run just after the fill tests, and shows if a drive needs time to recover, or if performance is instantly restored.

The low performance carried over into our test with data on the drive as well.
Benchmarks - PCMark 8 Hard Disk Tests
Version and / or Patch Used: 1.0.0
Developer Homepage: http://www.futuremark.com
Product Homepage: http://www.futuremark.com/products/pcmark8
Note: PCMark 8 Storage benchmark is ideal for testing the performance of SSDs, HDDs and hybrid drives. Using traces recorded from Adobe Creative Suite, Microsoft Office and a selection of popular games, PCMark 8 Storage highlights real-world performance differences between storage devices.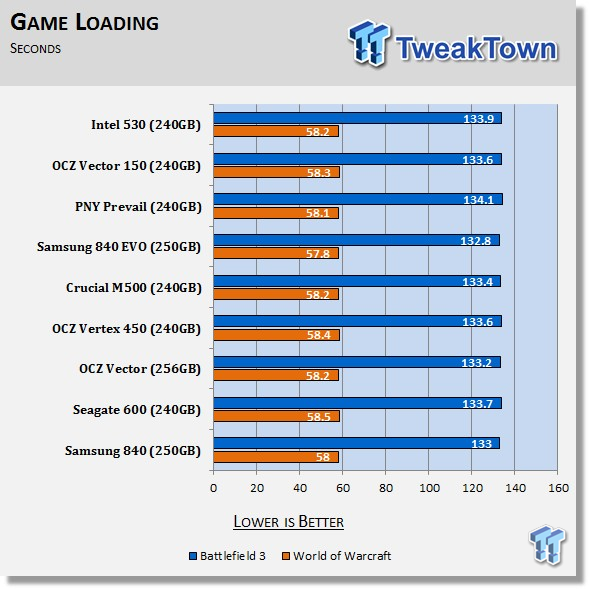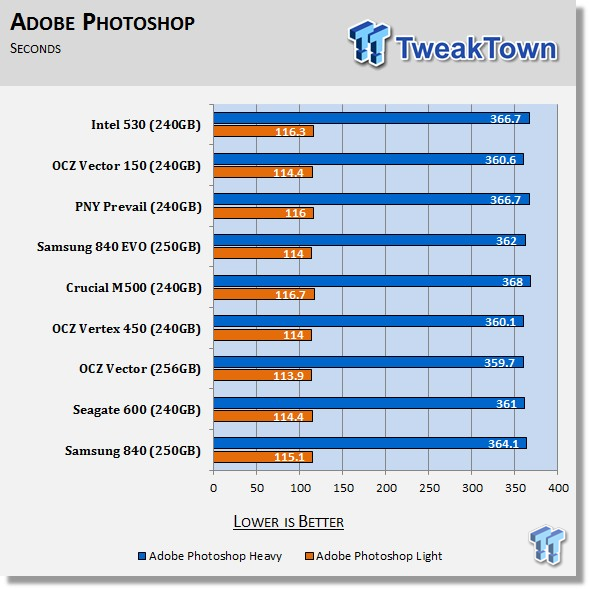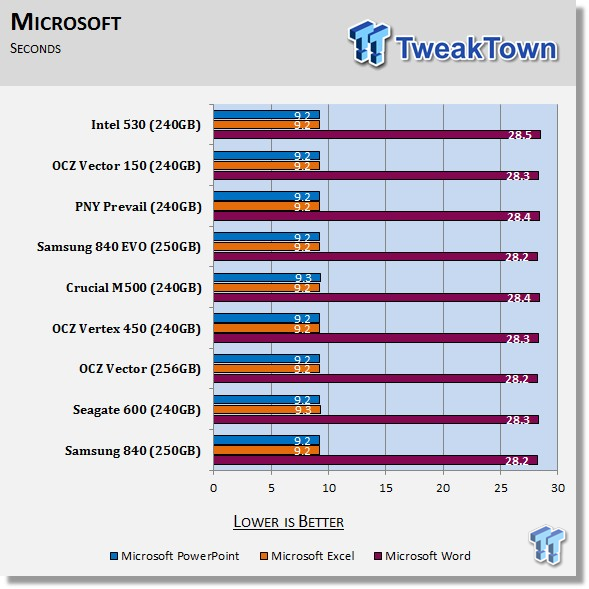 In PCMark 8 (where the results are displayed as second), the performance doesn't seem as bad as in Vantage, but you can still see hints of lower performance. This test is actually very significant because it shows that under consumer workloads, SSD performance is very close from the best drive on the chart, to the lowest performing drive on the chart.
PCMark 8 Storage Bandwidth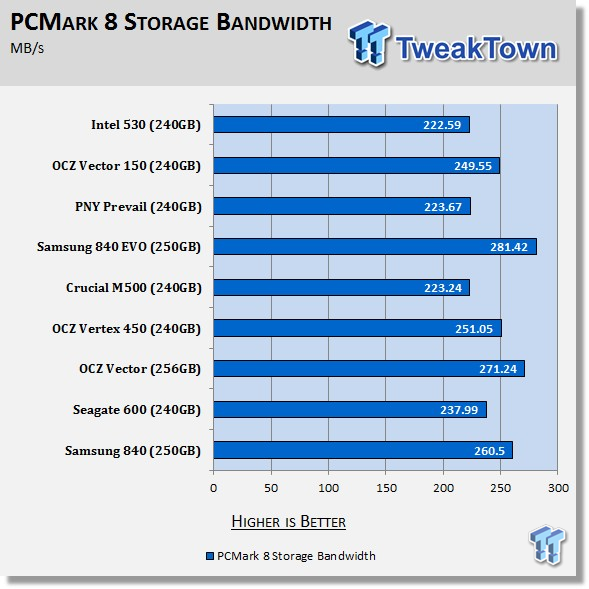 Here we see the breakdown in megabytes per second from the tests above.
Benchmarks - DiskBench
DiskBench - Directory Copy
Version and / or Patch Used: 2.6.2.0
Developer Homepage: Nodesoft
Product Homepage: DiskBench
Download here: http://www.nodesoft.com/diskbench/download
Note: In this test we use the Lenovo W530 Mobile Workstation, and a SuperSSpeed S301 SLC 128GB SSD, to move a 15GB block of data to and from the target drive. This is part of our real-world test regiment. Roughly 45GB of data resides on the target drive before the 15GB Block is transferred. The 15GB Block is the same data we built for the Data on Disk Testing, and is a mix of compressible and incompressible data.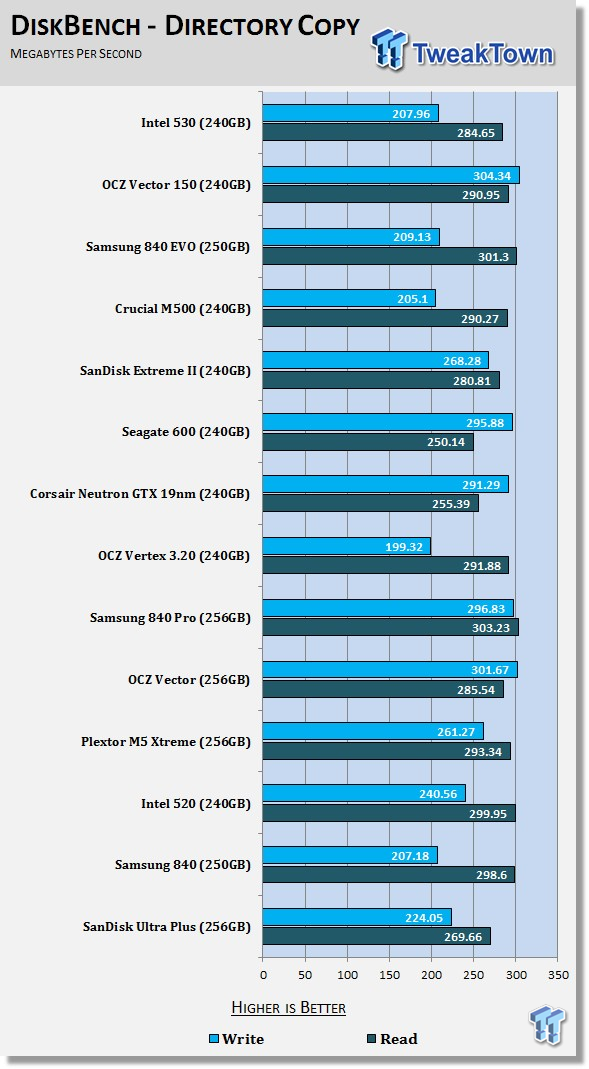 One area where you can actually see a performance difference, is when copying data, and then pasting it to the target SSD. This data is usually sequential, and the larger the SSD, the more often you will do this.
Going by cost, the 530 240GB competes with the 840 EVO, and M500. All three drives perform about the same in both the read and write file transfer tests.
Final Thoughts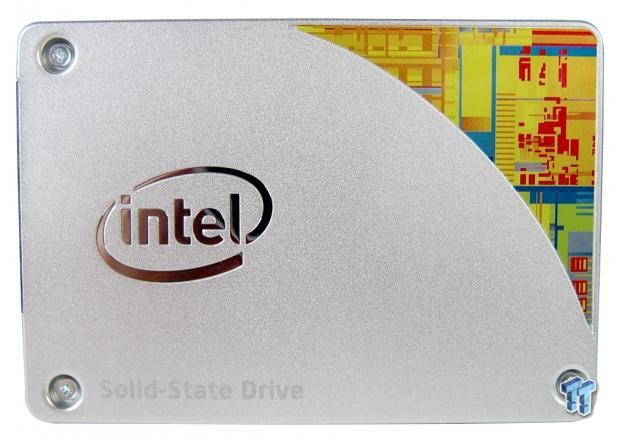 On the surface, it's pretty clear the Intel 530 Series 240GB is slower than the majority of its rivals, and equal pricing doesn't make up for the deficit. When you start peeling back the layers, the picture starts to change. Until we move past SATA III, and controller designers move beyond 8-channel controllers, most of the SSDs on the market will perform about the same in day-to-day, real-world tasks.
We observed this with PCMark 8, a test that displays the results in time, and not just megabytes per second. A tenth of a second here and a hundredth of a second there can look like a massive difference when looking at megabytes per second, but most would be hard pressed to actually feel that performance difference.
Intel's 530 Series might be slower than its two closest competitors (840 EVO and M500), but it also carries the longest warranty. Both the M500 and the EVO ship with three years of coverage, while the 530 Series has a five-year warranty. The 530 Series also has a full accessory package, as does the 840 EVO, but Crucial's M500 is naked in the accessory department.
Personally, I wouldn't use an Intel 530 Series, but I write a lot of data to my computers from other drives, and need all of the performance I can get. With that said, I would get one for my mother, wife, or another regular computer user in my life. Then again, nah...I wouldn't. I'd get them a Samsung 840 EVO, with 10GB more user available space, and RAPID Mode, but only as long as I could install the drive for them. I couldn't imagine trying to explain over the phone how to setup the software, and without RAPID, the 840 EVO has write latency issues in the capacity sizes we're talking about today.
The Intel 530 Series is a good product for some users, actually a majority of computer users, just not the ones that read tech websites.