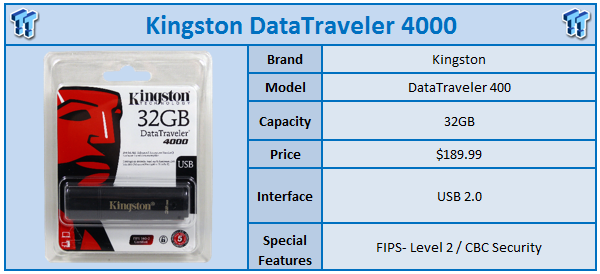 If you find yourself in a situation where you need to physically transport sensitive data, doing so through a standard flash drive may not be the most secure way to go about it. Thanks to advances in technology, you shouldn't bother hiring your very own armoured truck, but rather look into a secured USB flash drive. You will pay a definite premium for the security features, but it does give you peace of mind your data is safe.
Kingston is widely known brand in storage. From solid state drives to flash drives, they manage to keep their entire line-up fresh year after year. Today, we will be looking over the first of three encrypted flash drives we have in house, the DataTraveler 4000. The DT4000 features 256-bit AES hardware encryption and FIPS 140-2 Level 2 certification, along with an optional read only file access mode and tamper proof coating.
The DT4000 is compatible with modern Windows operating systems, along with OS X 10.6+ and Linux Kernel 2.6+. Warranty is listed at five years.

The DT4000 features a rugged black exterior housing branding and capacity information of the front of the drive.

The back of the drive houses the model identification and assembly information.

The Kingston DT4000 utilizes a capped design, which allows for the drive to be waterproof up to four feet.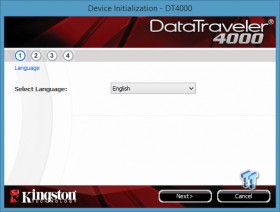 Setting up the DT4000, we first select our preferred language.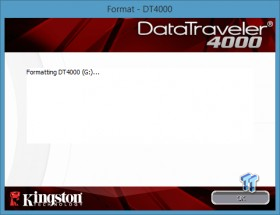 After setting up our password, the drive initialized and formatted.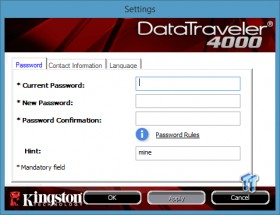 Going back into the settings. Here you can change your password, along with the password hint.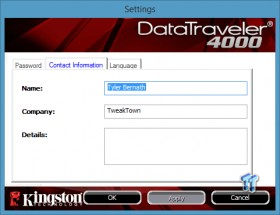 On the contact information tab, you can change owner information and details.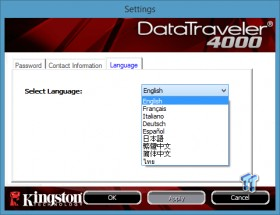 The ability to select from nine language options is available in the software.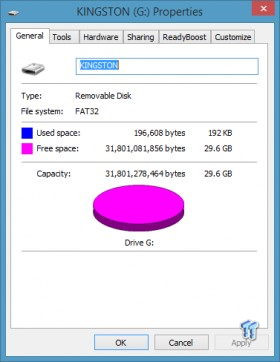 The Kingston DT4000 is factory formatted with the FAT32 file system, insuring compatibility between Windows and Macintosh computers. The usable capacity after formatting is 29.6GB.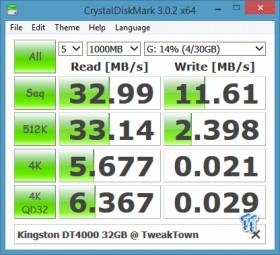 For a quick performance check, we ran through CDM with the DT4000. Here we have 32 MB/s for sequential read and 11 MB/s for write.
The Kingston DT4000 is a great option for those that need a completely secure solution. Featuring FIPS 140-2 Level 2 compliance and 256-bit hardware encryption, the 4000 offers peace of mind when physically moving sensitive data across the campus or across the country. Additionally, we have top notch build quality with a tamper proof coating and waterproof capabilities up to four feet.
Performance of the drive met our expectation for the USB 2.0 interface. Here we found 32MB/s read and 11 MB/s write. Though this may seem low for today's standard, the intense amount of security more than makes up for this in my eyes. Though if you are in the market for even more enhanced security features stay tuned as our three part series comes to completion.
Pricing for the 32GB Kingston DT4000 is set at $189.99 and can be found at many e-tailers and accordingly Kingston's online store.