Introduction & Specifications, Pricing and Availability
The first Intel NUC I reviewed was an extremely awesome device. It had some great power, and it was tiny. But, there were a few things I didn't like about it, and that's where the new NUC comes into play.
Intel sent me the NUC Kit D54250WYK unit, which is a very powerful little machine. We'll start off with the specs of the NUC itself, and what we've installed into it for our testing.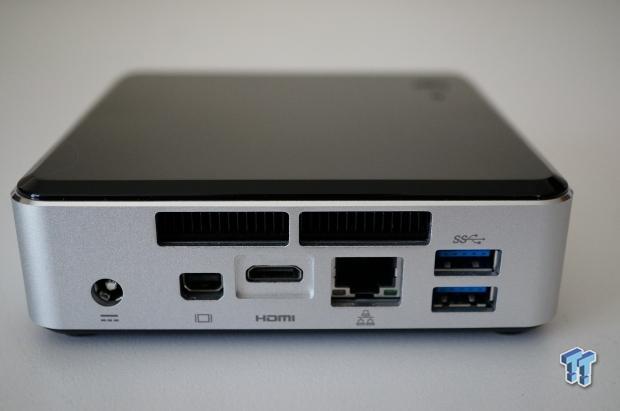 First, we'll take a look around the NUC itself. We've started with the back of the NUC, where most of the connectivity is located. From left to right, we have power, mini DisplayPort, micro HDMI, Gigabit Ethernet and two USB 3.0 ports.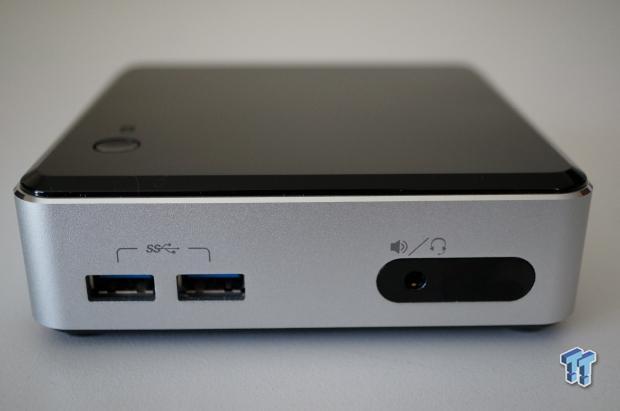 On the front, we have two USB 3.0 ports and the 3.5mm audio jack.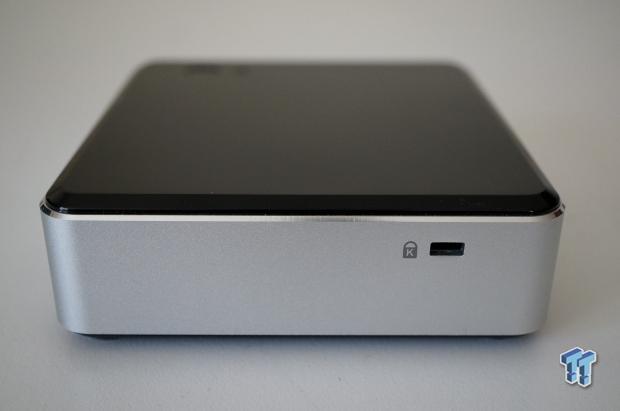 On the side, we have a Kensington lock, if you wanted to keep it secure.
We have Intel's Core i5-4250U, which is mixed with Intel HD Graphics 5000. This is not too bad at all, considering the total power consumption of the NUC - hint, it's not much at all. Inside the NUC, we have two SO-DIMM slots for a total of 16GB of DDR3 RAM, a full-length PCIe mini slot, and one half-length PCIe mini slot.
These two slots can be used for a Wi-Fi module, and mSATA SSD. I didn't end up using the Wi-Fi module, because it has Gigabit Ethernet, which I prefer, always. The mSATA drive we used was Intel SSD 520 Series, the same 180GB, SATA 6Gbps drive we used in our original NUC review.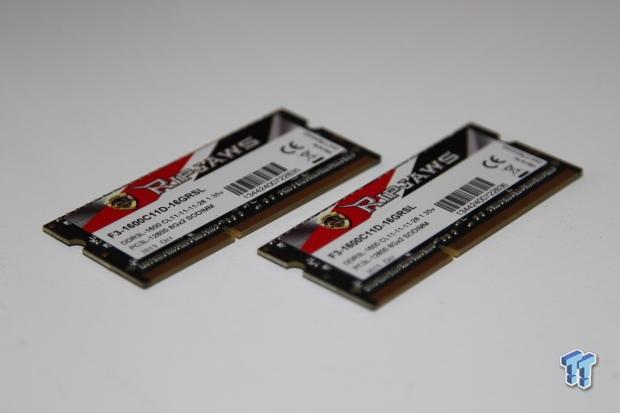 The RAM was provided by G.SKILL, who were kind enough to provide their high-end 16GB kit of RipJaws, 1600MHz, 1.35V DDR3 RAM. It looks great, and works in the NUC like a charm.
Filling out the rest of the specs on the NUC, we have 4 x USB 3.0 ports, a mini DisplayPort port, Gigabit Ethernet, and a microHDMI port. Connectivity is something that is not an issue on this model, which is one of the main areas of improvement over the previous generation NUC kits.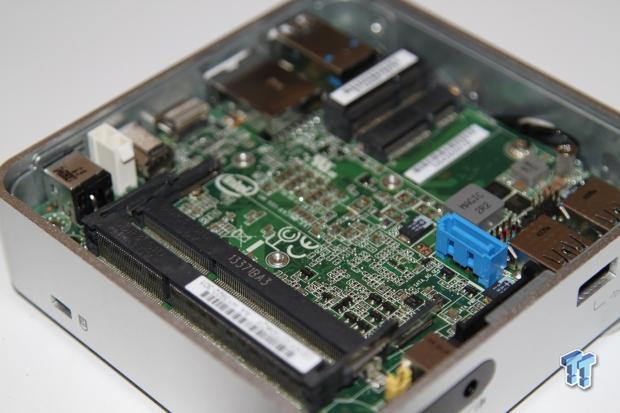 Taking a look inside the NUC, you can see all of its glorious innards, above.
There's even some VESA mounting holes on the NUC, which is a great way of using the NUC in the enterprise/work environment. You could just screw the entire computer onto the back of the monitor, keeping just the monitor, mouse and keyboard on the desk. Impressive stuff!
Moving onto price, with the Intel NUC Kit D54250WYK selling for $399.99 on Amazon. This is not too bad at all considering what you get for that price, and the size of the unit itself. With the RAM and SSD, you're bumping it up to the $600-$700 price point, which is still not too expensive at all.
General Use, Connectivity and Performance
General Use and Connectivity
I sit at my desktop pretty much all day writing news, reviews, articles, and general work for TweakTown. I usually use whatever PC I'm working on, but I thought I'd completely replace my work machine with the Intel NUC unit, and folks, I'm never going back.
The NUC has become my new machine, as it is way more than fast enough to do everything I want. With a fast Core i5 processor, 16GB of DDR3 RAM and a slick mSATA SSD, I have no problems in the speed department. Connectivity-wise, I have GbE to my GbE router, miniDP out to my ASUS PB278Q 2560x1440 panel, and 4 x USB 3.0 ports to keep me happy.
I run my full desktop experience from the NUC, and it is absolutely no different to my "proper" Core i7 4770K machine. The reason? So much hardware, that everyday jobs just don't push it. All of my work takes place within Google Chrome and Microsoft Word - both of which don't require too much grunt. I easily played 1080p video back, streamed 1080p content from YouTube, compressed video with Handbrake while writing some news, all without the NUC breaking a sweat.
Performance
Performance on the NUC is nothing short of stellar. Sure, it won't break any new ground on benchmarks, but you don't need it to. The examples I used above for which I use it, most likely apply to you, too. If you don't need something that is going to break performance records, the NUC is something you should be looking into.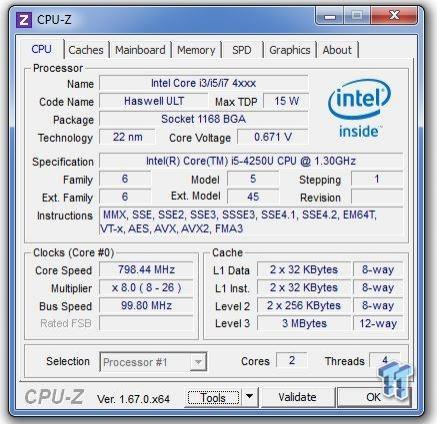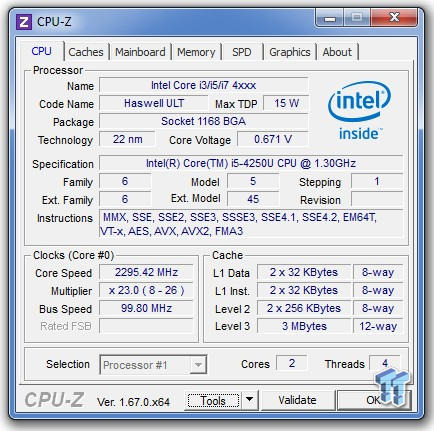 Idle power consumption sits at around 11W or so, down from the ~14W of the original NUC we reviewed. While load consumption is up to 30W, up from the ~26W on the original NUC. These numbers are just impressive, considering what is inside of this new NUC unit.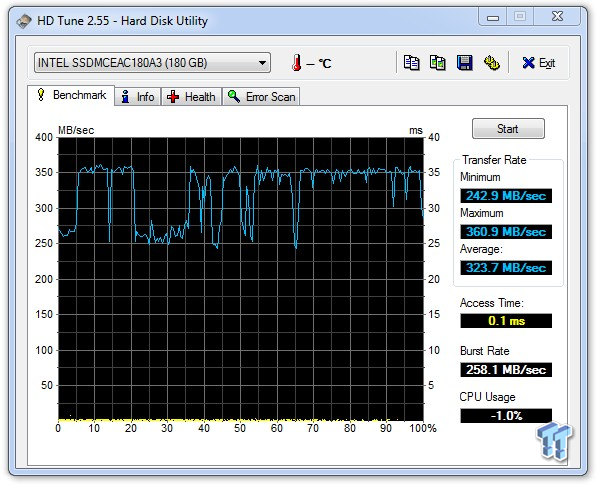 I benchmarked the Intel SSD using HD Tune, where I saw a result of an average of 323.7 MB/sec - which is absolutely amazing. Sure, there are SSDs on the market that are pushing 500 MB/sec in the consumer space, but this is an mSATA SSD, not a full 2.5-inch SSD.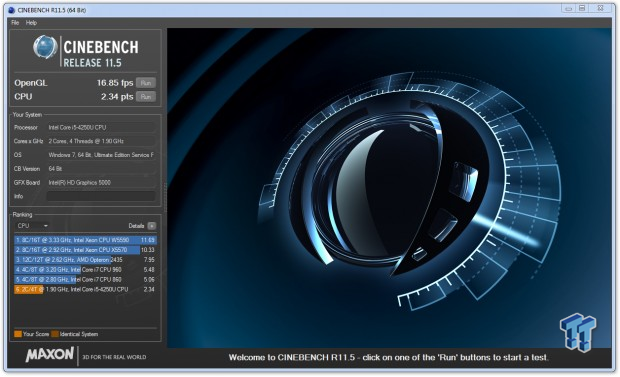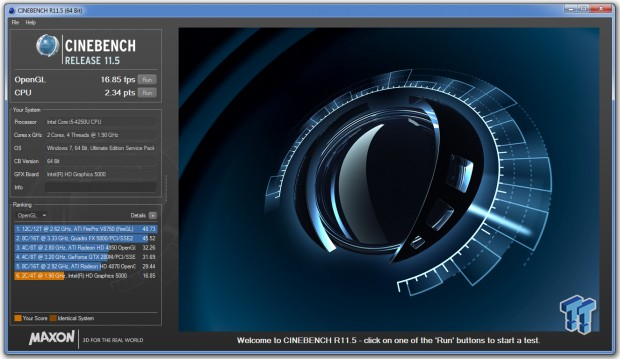 I thought I'd test out Cinebench to see how things performed on the NUC. Nothing special at all, but it gives you an idea of what type of performance to expect from the CPU.
Final Thoughts
Intel's NUC has become my new everyday machine, it's as simple as that *mic drop*. But seriously, it has. The Core i5 processor, with 16GB of RAM, an mSATA SSD and a plethora of connectivity options, you can't go past the new NUC.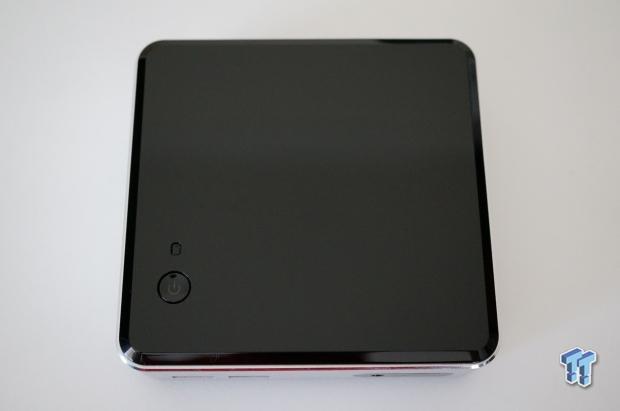 If you took away a few things, the picture gets worse - if Intel didn't provide GbE, and only Wi-Fi, like it did with the older NUC units - that would be a game changing decision. Two USB 2.0 ports and two USB 3.0 ports would've been an argument, too, which is something I thought Intel would do - but, they didn't - and we have four USB 3.0 ports.
I can really see the Intel NUC in this form, and going into the future, being used in the enterprise sector, and offices. It is the perfect size, and it could really shake things up if it were bought in bulk by a government, or education department to roll out into schools.
All we need now is external graphics to catch on, and we could be onto a true desktop killer, or replacement, depending on the way you want to look at it.
I'm in love with the NUC, it has transformed how I do look at the desktop. If you're looking for a new, small, lower power consuming and affordable desktop machine, you should definitely take a look at the NUC.