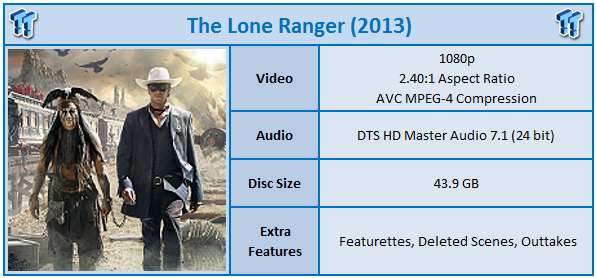 Oh, Johnny Depp. Once the darling of indie theatre, the actor (depending on your view), either sold out, or achieved huge success off the back of the Disney corporation. To be sure, he's an immensely talented actor; but by constantly returning to his Jack Sparrow shtick, he's runs the danger of losing the audiences interest. Somewhere along the line Johnny Depp ceased being a serious actor who imbued each and every role with a chameleon-like portrayal and instead became a caricature of himself, with a "property of Disney" logo stamped on his ass.
The year is 1869 and the Transcontinental Railroad is being progressively constructed throughout the West. Feared outlaw Butch Cavendish is being transported to face justice for his various crimes by order of Texas Ranger Dan Reid (James Badge Dale), whilst Tonto (Johnny Depp), a renegade Comanche, joins along for the journey. Dan's lawyer brother John (Armie Hammer) a fellow passenger is also returning to Texas after time abroad, but the train is soon hijacked by members of Canvendish's gang and derailed in spectacular fashion. Whilst Cavendish is recaptured and John is deputized for his heroism, the hunt for the Cavendish gang is complicated when the rangers are massacred and Tonto reveals that a powerful mole is operating the upper echelons of power in Texas.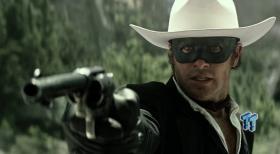 Despite a high pedigree of stars, director and producer, and based on a character that is intrinsically part of American culture, The Lone Ranger his theatres earlier this year with a thud. Factoring in ancillary costs such as advertising, it's clear that Disney has posted a sizeable loss with the picture, while not quite as diabolical as inflicted by 2012's John Carter, is still a regrettable situation for the company. Having sat through the film twice, I can certainly indicate a few problem areas.
For one, the script is painfully paint by numbers - there are literally no surprises throughout the films 150 lumbering minutes. And there is so much padding - whole subplots and characters, including the extended cameo of Helena Bonham Carter as a Wild West hooker, are utterly redundant to the core narrative and totally superfluous.
On second viewing, the disjoined and confusing narrative structure proves even more so, alternating schizophrenically between past and present (well both are in the past to be exact) all of which interrupt the flow significantly. I struggle to understand why a deviation from a more traditional narrative was ever thought to be a wise move.
Still, I don't want to give the impression that The Lone Ranger is a total train wreck - there is a lot of fun to be had and thankfully it doesn't take itself too seriously. The cinematography is gorgeous, with beautiful photography which highlights the natural beauty of the American west. Still, it has to be pointed out that somewhere in the film is a much stronger film, which could have revealed itself with a more judicious editing process and a clearer concept.
Video
The Lone Ranger is presented in the aspect ratio of 2.40:1, encoded with AVC MPEG-4 compression.
While Gore Verbiski has shunned the use of 3D or IMAX in lensing The Lone Ranger, which arguably may have enhanced the film, he certainly has no such hesitance in the judicious use of CG to enhance Bojan Bazelli's aforementioned and sublime cinematography. Albeit color corrected and timed to perfection, the resulting image is quite superb and add to a wholly demo worthy image. While it's certainly no surprise that The Lone Ranger looks a million bucks (well 250 to be exact), there is no doubt it is treated especially well in its Blu-ray debut.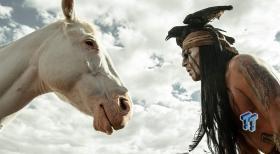 Color balance is superb as afforded by advances in modern color correction techniques. The image is incredibly vibrant and sharp. Pause on almost every frame to see an incredibly high level of fine detail, along with a depth of field that depict lacking stereoscopic 3D, is very three dimensional indeed. With a generous and loose compression scheme, I noticed no encoding issues.
Audio
The Lone Ranger is presented in DTS-HD Master Audio 7.1, at 24 bits.
On paper, The Lone Ranger would seem to be a prime candidate for a demo worthy audio track, and that's exactly what we get. Whether it is the silence of the great west, or the cacophony of sound from a crashing train, the superb and technically proficient audio track is up to the task.
I didn't detect any issues with audio sync or intelligibility, even if it was clear that there had been some ADR work performed. The 7.1 mix is very finely assembled, with a good balance between the front, mid and rear surrounds. In short, owners of a full eight channel audio system are in for a treat.
Subwoofer usage is incredibly high and rather than simply rumble omnivorously, even creates distinct sounds of its own.
The score by Hans Zimmer is a little derivative of his other works, which seems to happen more and more these days, but it was a nice touch that the William Tell overture (which has become synonymous with The Lone Ranger is used at the height of action and not overused.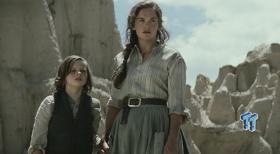 Extras
Disappointingly, but unsurprisingly, Disney has launched the Blu-ray debut of The Lone Ranger with a scant extra features package, which while it represents a glimpse behind the scenes of production, it's all very sanitized and quite brief. Still, let's take a look.
First up is the Armie's Western Road Trip (14 mins) featurette which takes the viewer on a tour of the wild frontiers that served as the impressive backdrop. It seems that the North American community really got behind the making of the film and bent over backwards to accommodate the production.
Move fanatics will be familiar with actor boot camps for other features, but Lone Ranger breaks new ground with Cowboy camp. It's all revealed in the Becoming a Cowboy featurette (8 mins).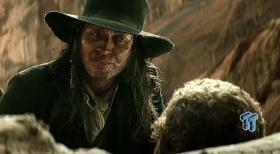 Ever wondered how the film cost a reported quarter of a billion dollars? Well after watching Riding the Rails of The Lone Ranger (10 minutes), you'll understand why. Hint: Producer Jerry Bruckheimer doesn't do anything on a small scale.
Finally we have a brief Deleted Scene in animatic form, and a Outtake reel which is unfortunately quite sanitized, but still worth a chuckle.