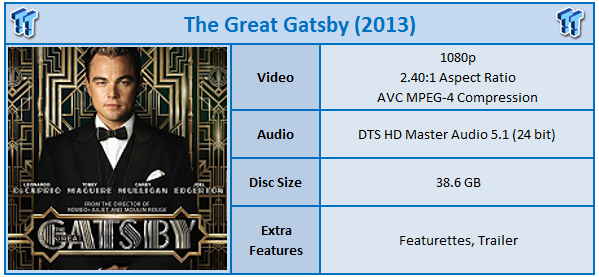 Nothing polarizes the world's critics more than the release of a Baz Luhrman film, and despite the general consensus of the well-intentioned, but nonetheless disappointing Australia, it seems that you either get them or you don't. With The Great Gatsby, Luhrman finally has a project that plays to the best of his strengths and signature touches; a perfect confluence of music, spectacular production design and for the first time, 3D technology, which genuinely enhances the proceedings.
As a treatment for his general malaise and depression, Nick Carraway (Tobey Maguire) recounts the story of his brief time spent with his reclusive and curious next door neighbor Gatsby (Leonardo DiCaprio), describing him as "the most hopeful man I had ever met". Despite his proximity to the Gatsby mansion, the epicenter of New York's social life with the hundreds that flock to his home, Carraway is initially oblivious to who he really is, or what he does to fund it. When Gatsby calls on Nick for a favor of extending the invitation to his cousin Daisy (Carey Mulligan) to one of the shindigs, an unstoppable chain of events is set in motion that juxtaposes Gatsby's unrelenting desires, with events that are entirely out of his control.
While many critics have expressed their disdain at the film, I've no doubt that it's Luhrman's strongest picture to date. Whatever criticisms leveled at his previous projects, most notably glitzy extravagance and technical brilliance at the cost of coherence, don't necessarily apply here - the excesses belong to the larger than life Gatsby's, not to the director. Whilst Luhrman normally has a penchant for slightly over-long cuts, in this respect Gatsby is nearly perfectly balanced.
With expectations in check, I thoroughly enjoyed The Great Gatsby, a visually stunning tour de force with solid performances from a well developed adaptation of an American classic.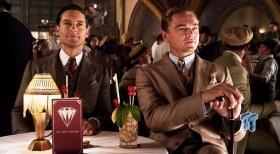 Video
The Great Gatsby is presented in the aspect ratio of 2.40:1, encoded with AVC MPEG-4 compression.
In typical Luhrman fashion, The Great Gatsby features a sumptuous, beautiful presentation and the 2K encode here mostly reflects the theatrical presentation. I say 'mostly' because for everything the transfer does right - and there is a lot - I noticed too many instances of compression artifacts (admittedly under heavy load) and color banding. The bitrate during these scenes were what I would consider to be generous within the BD specification, so I can only assume that something else behind the scenes is to blame (number of encoding passes, perhaps?).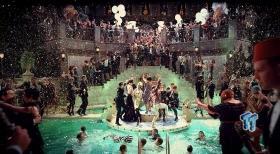 Despite this, Gatsby features a very good encode, which scrubs up well on native 1080p displays, and can attest to the quality of upscaling on next-gen 4K displays. Filmed digitally, Gatsby does not suffer from any film artifacts or other analog nasties. As with most films nowadays, Gatsby has gone under significant digital manipulation, including in this case extensive use of blue and greens screens, and most other comments regarding the harsh saturation can be narrowed to intention rather than flaw.
On balance, Gatsby features a pleasing and even striking encode, just let down my a few niggling issues, that may or may not be noticeable on smaller displays.
Audio
The Great Gatsby is presented in DTS-HD Master Audio 5.1, at 24 bits.
Whilst I was a little taken aback that Warner didn't pay for a 7.1 mix for Gatsby, no matter; it sounds fabulous and swinging and all the adjectives that come to mind for a vintage set piece.
Dialogue intelligibility is spot and poses no issues, and the front channels are supplemented well by aggressive surrounds, which nary cease their bombast. The low frequency channel contributes ample power and bottom end to round out an impressively balanced mix.
Acting as music supervisor, alleged musician Jay-Z has imbued the film with an anachronistic, yet still enjoyable contemporary soundtrack, featuring heavy use of the hauntingly beautiful single 'Young and Beautiful' by Lana Del Rey. These tracks are joined by a traditional score provided by Craig Armstrong.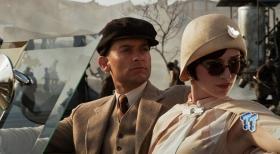 Extras
Baz Luhrman has a good track record for producing lavish special edition packages for prior work, but sadly The Great Gatsby does not qualify for this treatment. I dare say that down the track there will be a re-release. Still, let's take a look at what is here.
Micro featurettes are the order of the day here, which generally take a look at specific fragments of production. First up is The Greatness of Gatsby, which discusses the adaptation of the 20th century literary classic, The Swinging Sounds of Gatsby looks at the aforementioned contemporary style score, which I understand was a late addition to production. Within and Without by Tobey Maguire is made up of behind the scenes footage filmed by the star, while Gatsby Revealed focuses in on the behind the scenes effort involved with bringing a number of key sequences to life.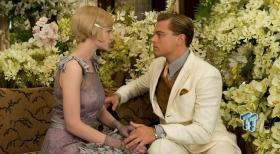 Razzle Dazzle: The Costumes of the 20's reveals the slight dramatization of time past, but reveals in the opulence of Luhrman's excesses.The Jazz Age is somewhat more accurate to the past, looking at the real life past, and the evils of GASP! ...Jazz. Quaint. The final featurette Fitzgerald's Visual Opulence is a brief look at filming, especially in a 3D context.
Finally, we have a number of Deleted Scenes and finish up the package with a Theatrical Trailer, however curiously not for this 2013 adaptation, but the original 1926 version.