Iron Man 3 (2013) Blu-ray Review
"Some people call me a terrorist. I consider myself a teacher. America. Ready for another lesson?"

Published
|
Updated Tue, Nov 3 2020 7:00 PM CST
5 minute read time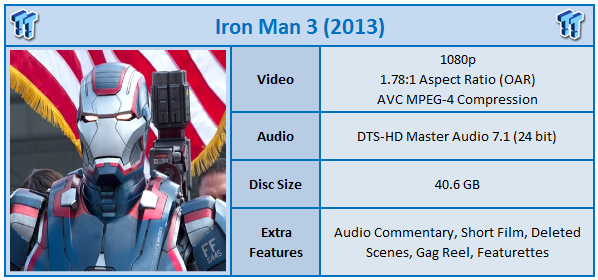 One year after Marvel and Disney took their greatest gamble yet, putting their biggest franchise stars Captain America, Iron Man, The Hulk and Thor together in The Avengers, now transition their franchises back to standalone features. Iron Man 3 just like the original Iron Man kicks things off with the next venture dubbed 'dubbed phase II'.
Following on from the events of The Avengers, the fearless Tony Stark (Robert Downey Jr.) is suffering flashbacks to the events in New York and unable to sleep. Mindful of protecting his partner and Stark Industries CEO Pepper Potts (Gwyneth Paltrow), Stark has been working around the clock, utilizing his talents to construct multiple experimental Iron Man armors. His fears are soon realized when an explosive terrorist calling himself the 'Mandarin' surfaces, adept at hijacking airwaves to broadcast his pirate signal and detonating bombs across the city.
When one attack injures Stark's personal bodyguard Happy Hogan (Jon Favreau), Stark issues an ill-advised threat, which results in the destruction of his home and lab. Now he'll have to go up against an adversary, who behind the smoke and mirrors may prove his toughest adversary yet.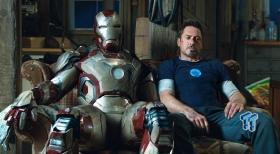 Iron Man 3 marks the departure of director and writer Jon Favreau who launched the entire Marvel cinematic stable in 2008. In some ways, the Iron Man franchise is now in uncharted territory, but under the watch of director and co-writer Shane Black, who directed Downer Jr. in 2005's Kiss Kiss Bang Bang, it would seem that Marvel's hero is in safe hands indeed.
Of course Iron Man 3 isn't perfect, but to be far, neither were either of the first two entries. Plotting seems somewhat lopsided, with the most exciting sequences placed at the front end of the film, joined by some poor connecting tissue. Far from fan service, the film nevertheless provides fans with all the beats they have come to expect, along with generous doses of action and some great sequences, including the Mandarin attack on Stark's Malibu mansion.
With three main villains, the film is a bit top heavy in the threat department, stretching the sense of urgency a little thin. Arguably the most imposing villain, Eric Savin (James Badge Dale) is given the least screen time and should be a thrilling and threatening force, but I don't feel this was properly conveyed. Ben Kingsley plays a great villain with a twist of his own, although some fans may be disappointed that it deviates significantly from the comics and perhaps could have been better utilized in a more accurate depiction in a future entry - if indeed that is Marvel's intention.
At this point, fans have a good grasp of Downey Jr's portrayal of Stark and he's certainly in fine form here. With significant stretches of armor-less Stark, Iron Man 3 allows the character to evolve a little more than previous entries, padding the character with slightly more depth than the fast quips and self-assured one liners have previously allowed. Gwyneth Paltrow isn't given much to do this time around, featuring much less screen time than Iron Man 2, although she's finally given an overdue hero moment of her own.
Overall, Marvel and Disney have done a great job in transitioning Iron Man back to a standalone adventure and rather than simply climaxing with The Avengers. I'm now even more excited for where an increasingly confident Marvel will take their crisscrossing characters next.
Video
Iron Man 3 is presented in the original aspect ratio of 2.39:1, encoded with AVC MPEG-4 compression. Note that the cover erroneously lists a 1.78:1 aspect ratio.
Finished in a 4K digital intermediate, it's no surprise that this 2K down convert is no slouch - in fact, it's one of the finest transfers to grace a Blu-ray this year.
Despite a change in cinematographers, with John Toll replacing Matthew Libatique, Iron Man 3 features solid visual continuity with its predecessors. As such, bright and bold colors are the order of the day, although much of the films climax is played out in darkness. Throughout this, there was no problem with black crush or shadow detail, which brim with fine textures.
Filmed predominantly with the digital Arri Alexa camera system, the digital transfer has never touched celluloid, making the issue of film to video artifacts a moot point, as well as video artifacts due to a consistently high bitrate and careful encoding. Overall, there's little that I can point to as being problematic, indeed there is much to be pleased about.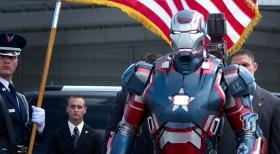 Audio
Iron Man 3 is presented in DTS HD Master Audio 7.1 at 24 bits.
Iron Man 3 hits Blu-ray with the same level of bombast that I can recall from the theatrical showing this year, which I've no doubt will be a prime example of demo-worthy audio in times to come. Standout sequences include the helicopter attack on the Stark mansion and the climactic waterfront fight out, which brim with exceptional surround directionality, along with strong resonating bass performance. But even when the pace takes a breather, a 360 degree sound field is always in play.
For such a large budgeted picture, the original sound design hasn't had much in the way of shortcuts, so the lack of audio sync issues or dialogue intelligibility is a positive. The Blu-ray encode doesn't introduce any nasties into the process.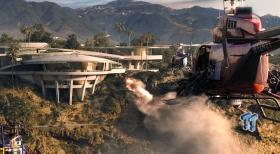 Extras
I can smell a re-release in the wings! Similar to the light collection assembled for what has become the third highest grossing motion picture of all time, The Avengers, Marvel and Disney have released a rather disappointingly light collection of supplements, which whilst are flashy and appealingly created, do little to delve into the films production on any level. Regardless, let's take a look at what is here.
First up is the Audio Commentary by director Shane Black and writer Drew Pearce, the former of which offers numerous trivia tidbits throughout, whilst the latter provides the comic riffs. The camaraderie and short hand between the two is readily apparent.
The Marvel One-Shot short films have fast become fan favorites, and the latest; Agent Carter, will be no different. Set one year after the events of Captain America: The First Avenger, actress Hayley Atwell reprises her role as Agent Carter, who finds herself an active participant in the 1940's pre-cursor to S.H.I.E.L.D, which I understand will dovetail nicely with the forthcoming Captain America sequel The Winter Soldier. Props to Disney for finishing the short in theatrical quality 1080p and 5.1 sound.
Next is the 10 minute long Iron Man 3 Unmasked Featurette which breathlessly provides brief behind the scenes snippets alongside interview segments for most of the key sequences throughout. It's certainly flashy and well-edited, but I yearned for a much more detailed piece, which we simply don't get. The Deconstructing the Scene: Attack on Air Force One Featurette utilizes animatic footage and background plates, coupled with on-set footage to illustrate the creation of the thrilling set piece.
Next up are a number of short Deleted Scenes which were probably wisely excised, along with a four minute long, and crushingly un-funny Gag Reel.
Of course, it wouldn't be a Marvel Blu-ray without some form of advertisement for the next feature film release and they haven't passed up the opportunity. The Exclusive Look Behind the Scenes of Thor: The Dark World Featurette is slightly misleading, consisting of little more than select scenes from the already released trailer, along with talking head footage of how great it will be. Still, I'm excited - so I guess, 'mission accomplished'.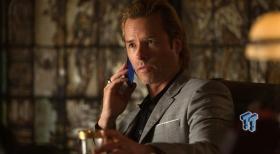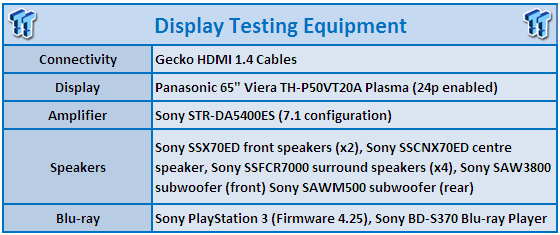 PRICING: You can find products similar to this one for sale below.

United States: Find other tech and computer products like this over at Amazon.com

United Kingdom: Find other tech and computer products like this over at Amazon.co.uk

Australia: Find other tech and computer products like this over at Amazon.com.au

Canada: Find other tech and computer products like this over at Amazon.ca

Deutschland: Finde andere Technik- und Computerprodukte wie dieses auf Amazon.de
We openly invite the companies who provide us with review samples / who are mentioned or discussed to express their opinion. If any company representative wishes to respond, we will publish the response here. Please contact us if you wish to respond.