Introduction and Specifications, Pricing and Availability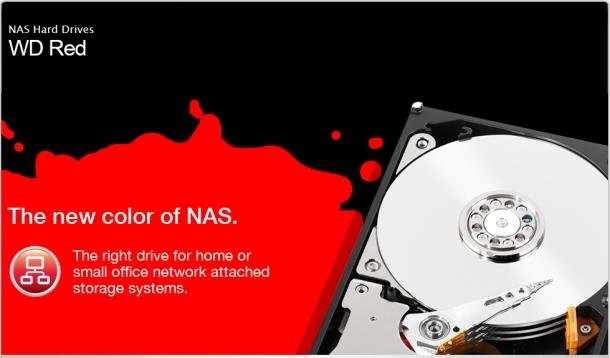 Before July 2012, choosing the correct drive for your NAS left you with limited options. On one hand, you had the WD Green, which carried a lot of power saving features, but lacked high-end performance. Then there was the WD Black, a drive that offered tremendous performance with the side effect of increased heat and power consumption. Additionally, on the other side there was the Seagate Barracuda that found its way into many NAS systems as well, but in the hot summer month of July 2012, Western Digital changed the landscape of high capacity, performance NAS storage solutions and carved a path for an entire industry.
Today, along with increasing the capacity of their WD Red 3.5" drives to 4TB, Western Digital announced two new SKUs for their 2.5" drive lineup. These new drives include the WD7500BFCX (750GB) and the drive we have in house today the WD10JFCX (1TB) both of which are the foundation of the new 2.5" WD Red lineup.
With this new generation of drives, Western Digital has brought in a new level of reliability to the 2.5" form factor with a 35% increase in MTBF over existing solutions. WD has also equipped these drives with its latest version of IntelliPower, enabling increased power savings and decreased thermal output and noise.
Furthermore, with the launch of these new drives, Western Digital sees the second generation NASware firmware come to life. The new NASware 2.0 offers increased storage performance by addressing concerns in key areas like compatibility, integration and upgradeability.
Specifications, Pricing and Availability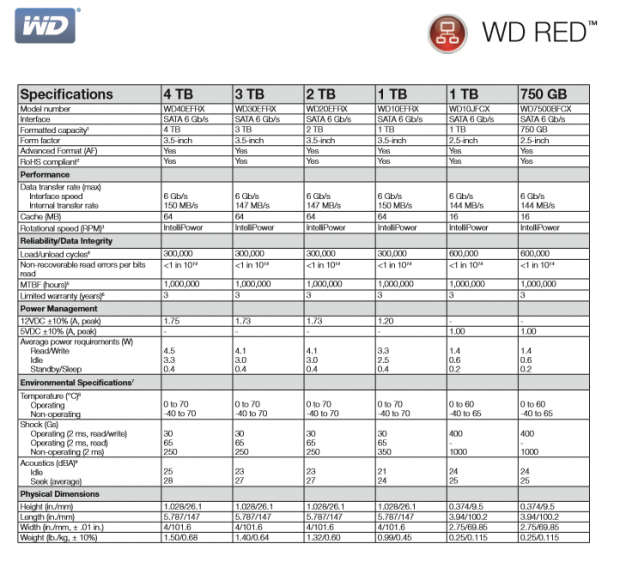 Specifications for the WD10JFCX has WD utilizing the SATA 6Gb/s interface, with 16MB of cache complimenting the drive. Load/Unload cycles have been set at 600,000, followed by a one million hour MTBF. Average power requirements are listed at 1.4 watts for read/write operations, 0.6 watts for idle and 0.2 watts in standby.
Environmental specifications allow for a 0 to 60 Celsius operating temperature extending that even further to -40 to 65 Celsius in a non-operating condition. Shock tolerance extends as far as 400Gs during operation and 1000Gs non-operational, while acoustics allow for just 25dBA of operational noise.
The new 2.5" WD Red comes in the 9.5mm z-height and two capacities; 750GB and 1TB. Pricing of the 750GB model is a set at $79.99, with the 1TB drive model coming in at $99.99. Both drives carry a full three-year warranty from Western Digital.
WD Red 1TB 2.5" NAS HDD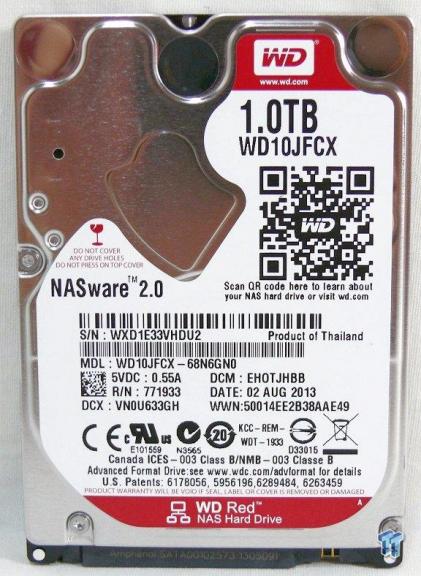 Our review sample of the new WD Red was delivered in bare drive form. The first thing we noticed was, of course, the Red labelling. At the top you will find the capacity listed, ours being 1TB.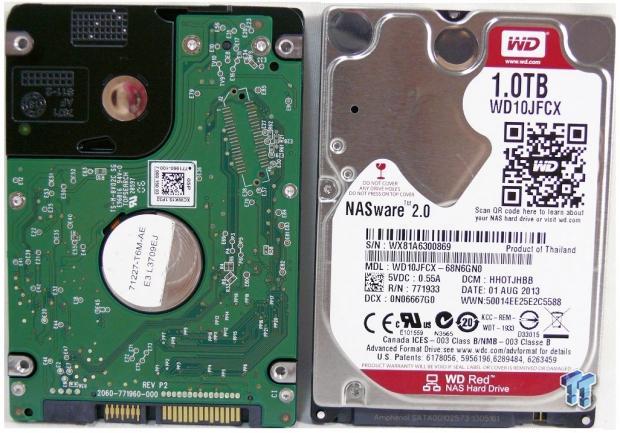 The backside of the drive houses a green PCB with several Torx screws holding it in place.

The SATA power and data connections are placed in position for wide compatibility.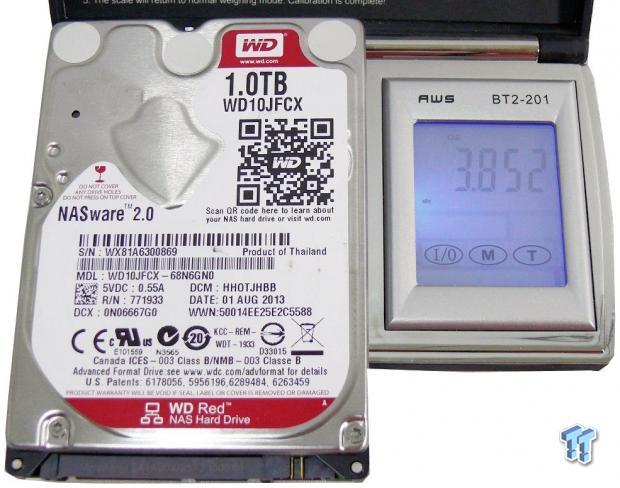 With our scale, we can see that the WD Red weighed in at 3.85 ounces.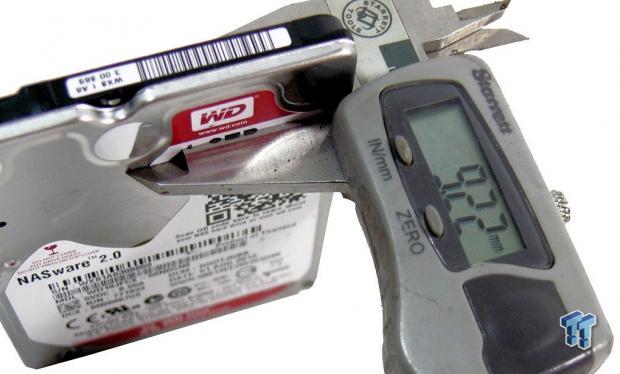 Measuring the drives thickness, the Red came in at 9.22mm.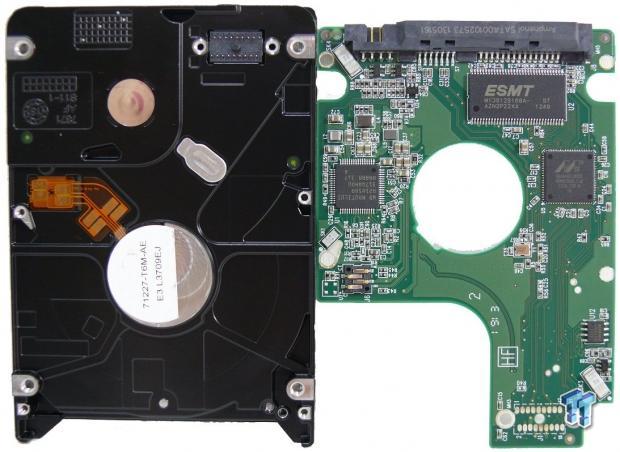 Here we have the PCB removed from the drive. At the top, we have the connection for the head, with a set of four pin for the spindle. Over to the PCB, you will find the Marvell 88i9446 controller with the WD Nautilus to the left, and at the top the ESMT 16MB cache.
Benchmarks - Test System Setup and ATTO Baseline Performance
Desktop Test System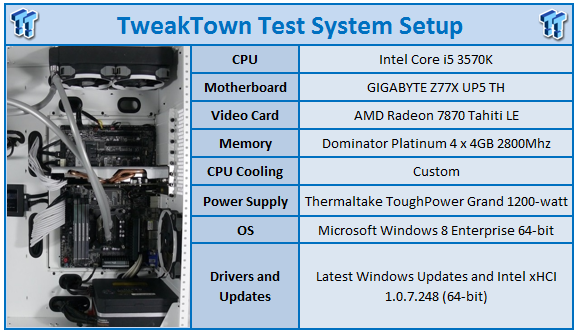 ATTO Baseline Performance
Version and / or Patch Used: 2.34
Many disk manufacturers, to determine the read and write speeds that will be presented to customers, use ATTO.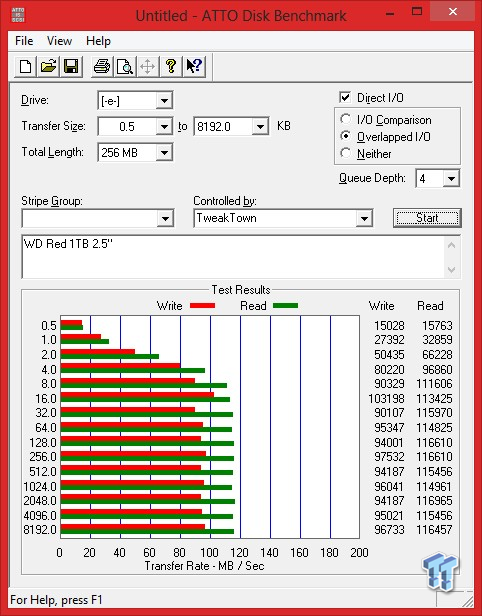 In ATTO, the WD Red did quite well. Here we found the drive touching 116 MB/s read and 96 MB/s write.
Benchmarks - Sequential Performance
HD Tune Pro
Version and / or Patch Used: 4.00
Developer Homepage: http://www.efdsoftware.com
Product Homepage: http://www.hdtune.com
HD Tune is a Hard Disk utility which has the following functions:
Benchmark: measures the performance
Info: shows detailed information
Health: checks the health status by using SMART
Error Scan: scans the surface for errors
Temperature display
HD Tune Pro gives us accurate read, write and access time results and for the last couple of years has gained popularity amongst reviewers. It is now considered a must have application for storage device testing.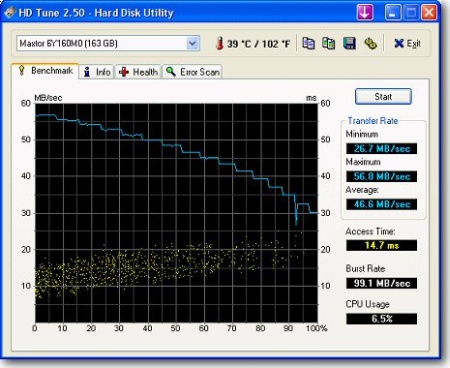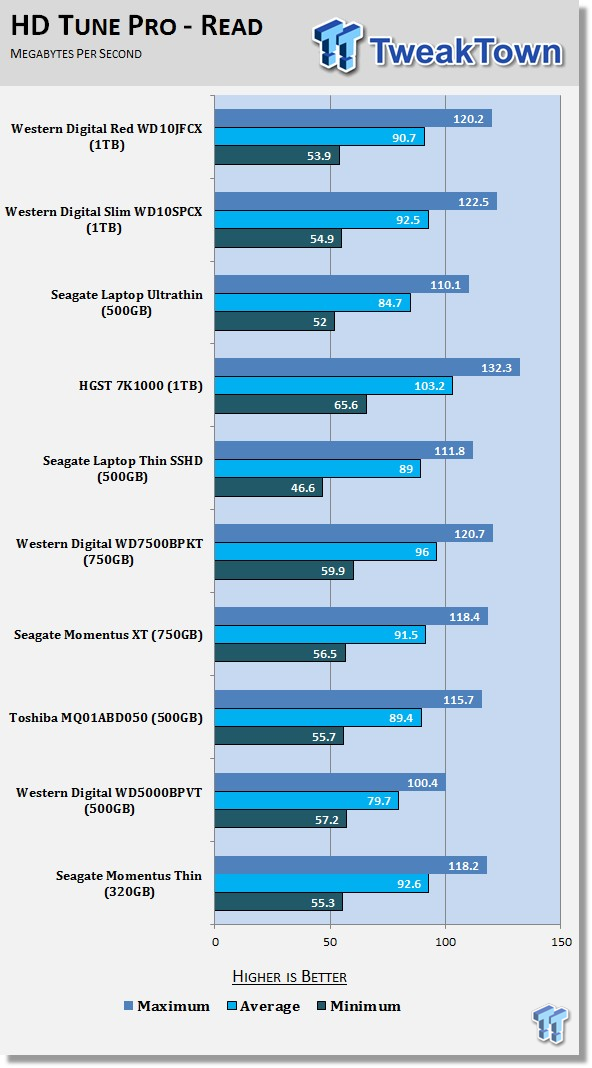 Sequential read performance of the Red was top notch coming in at 120 MB/s peak with an average of 90 MB/s.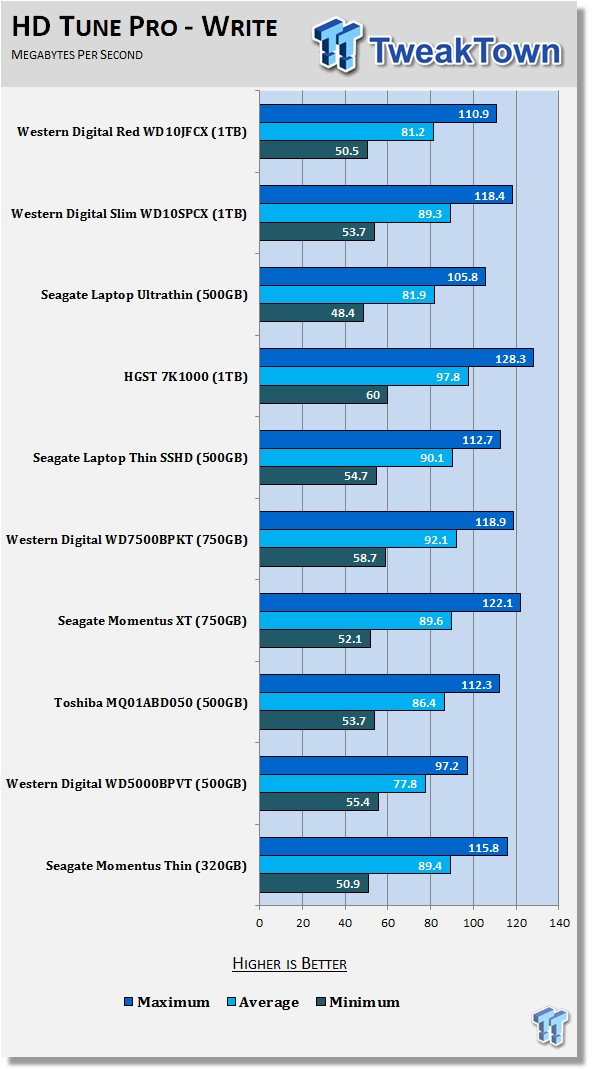 Sequential write performance landed the Red at a peak of 110 MB/s. This puts the drive in the upper half of all comparable drives.
Benchmarks - Anvil Storage Utilities
Anvil Storage Utilities
Version and / or Patch Used: RC6
So what is Anvil Storage Utilities? First of all, it's a storage benchmark for SSDs and HDDs where you can check and monitor your performance. The Standard Storage Benchmark performs a series of tests, you can run a full test or just the read or the write test or you can run a single test, i.e. 4K DQ16.
Anvil Storage Utilities is not officially available yet but we've been playing with the beta for several months now. The author, Anvil on several international forums has been updating the software steadily and is adding new features every couple of months.
The software is used several different ways and to show different aspects for each drive. We've chosen to use this software to show the performance of a drive with two different data sets. The first is with compressible data and the second data set is incompressible data. Several users have requested this data in our SSD reviews.
Incompressible Data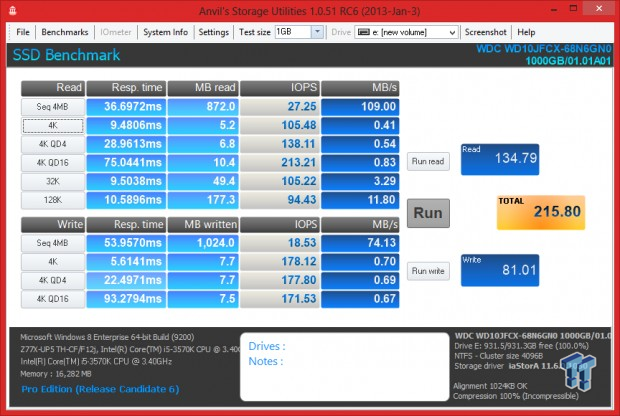 0-Fill Compressible Data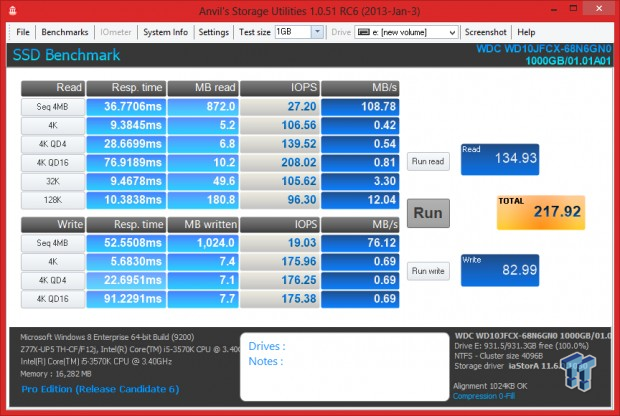 Read IOPS through Queue Depth Scale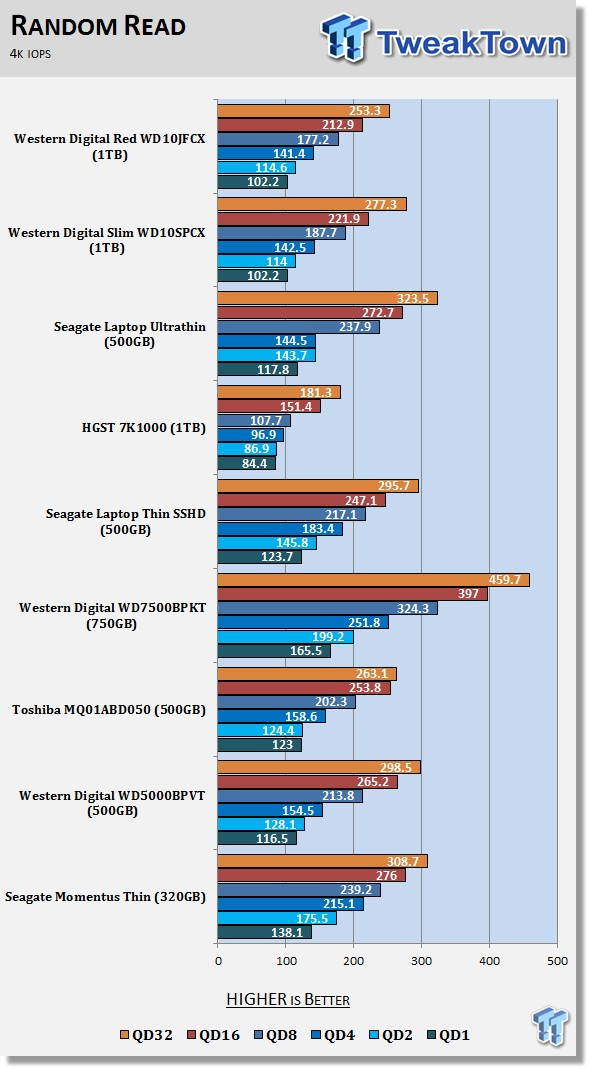 4K random read left us with a drive capable of 253 IOPS at QD32, again towards the upper part of our charts.
Write IOPS through Queue Depth Scale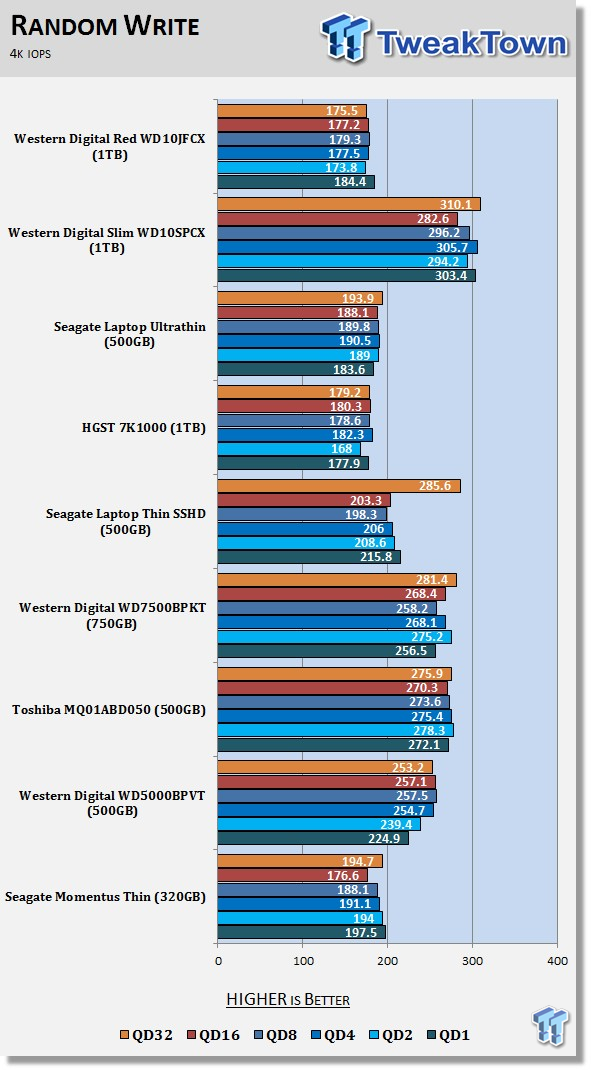 4K random write put the WD Red neck and neck with the HGST 7K1000 and Laptop Ultra-Thin from Seagate.
Benchmarks - PCMark 8 Hard Disk Tests
PCMark 8 - Hard Disk Tests
Version and / or Patch Used: 1.0.0
Developer Homepage: http://www.futuremark.com
Product Homepage: http://www.futuremark.com/benchmarks/pcmark8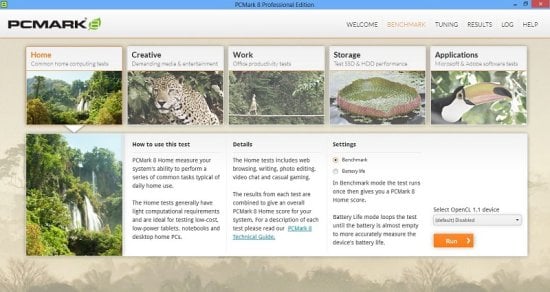 PCMark 8 is the latest version in our popular series of PC benchmarking tools. Improving on previous releases, PCMark 8 includes battery life measurement tools and new tests using popular applications from Adobe and Microsoft. Whether you are looking for long battery life, or maximum power, PCMark 8 helps you find the devices that offer the perfect combination of efficiency and performance for your needs.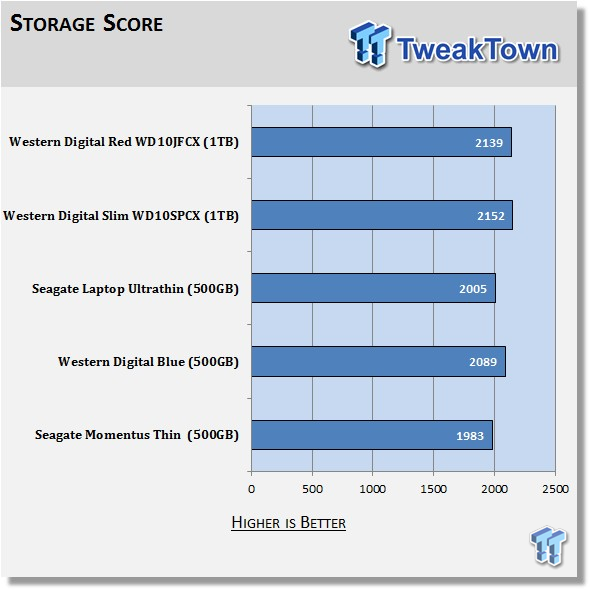 Overall storage score for the WD Red was 2139, just behind the latest Blue drive from WD.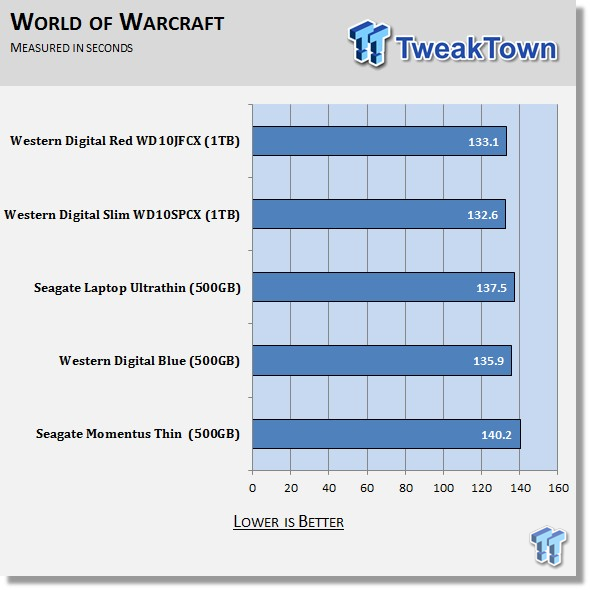 In WoW, the Red was able to score 133.1 second, again just behind the WD Blue.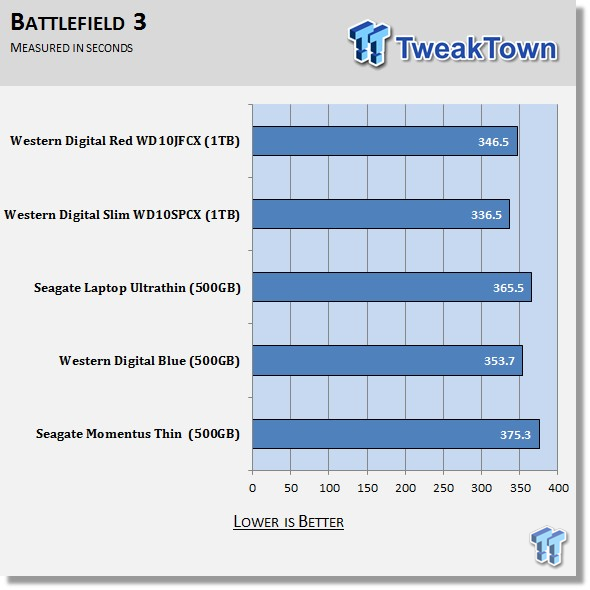 Battlefield 3 landed the Red at 346.5 seconds.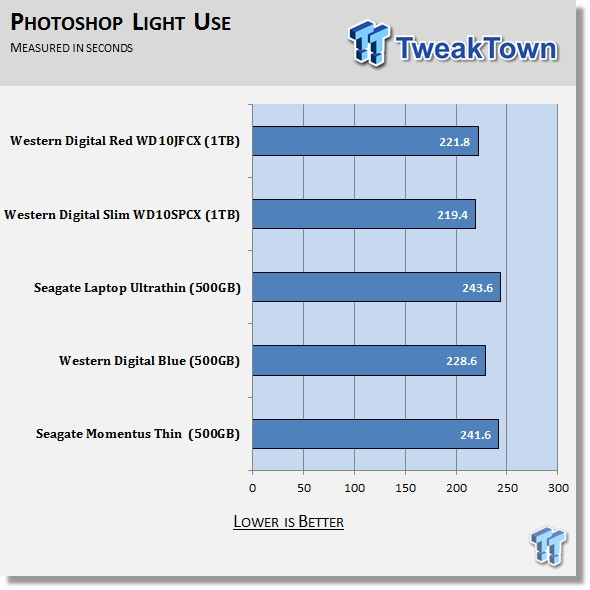 Utilizing Photoshop under light use, the Red came in at 221.8 seconds.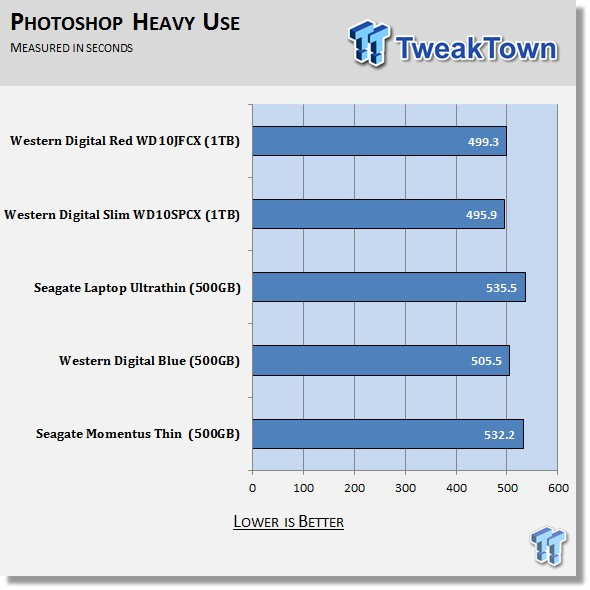 A heavy use scenario allows the Red to obtain a score of 499.3 seconds.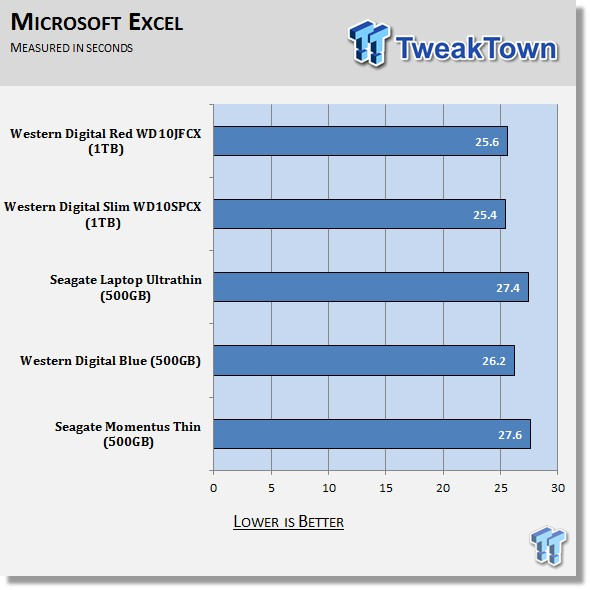 The Excel application trace landed our drive just shy of the 25.4-second mark set by the latest WD Blue.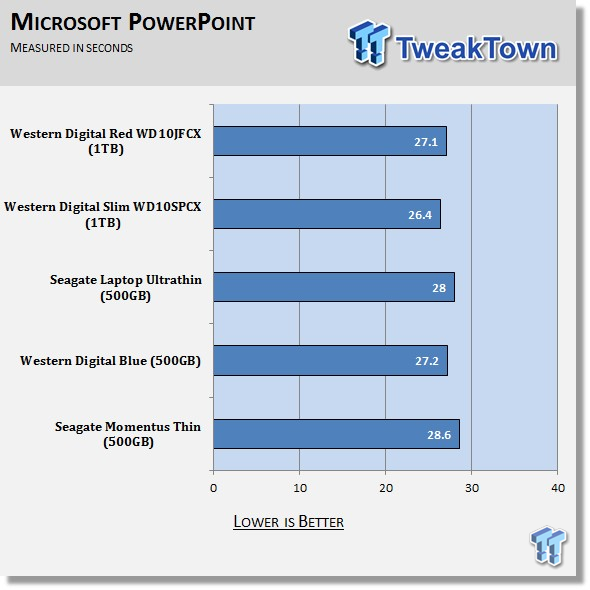 The PowerPoint workload allowed our drive to score slightly better than both Seagate drives in our charts at 27.1 seconds.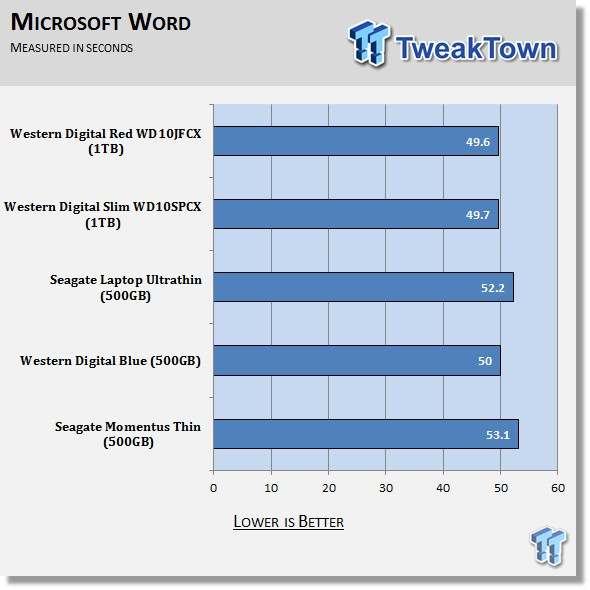 Lastly, the Microsoft Word application trace allowed our WD Red to take the lead for the first time, rendering a score of 49.6 seconds.
Benchmarks - BootRacer and Resume from S4 Hibernation
BootRacer - System Boot Time
Version and / or Patch Used: 4.0
Developer Homepage: Greatis
Product Homepage: BootRacer
Download here: http://www.greatis.com/bootracer/download.htm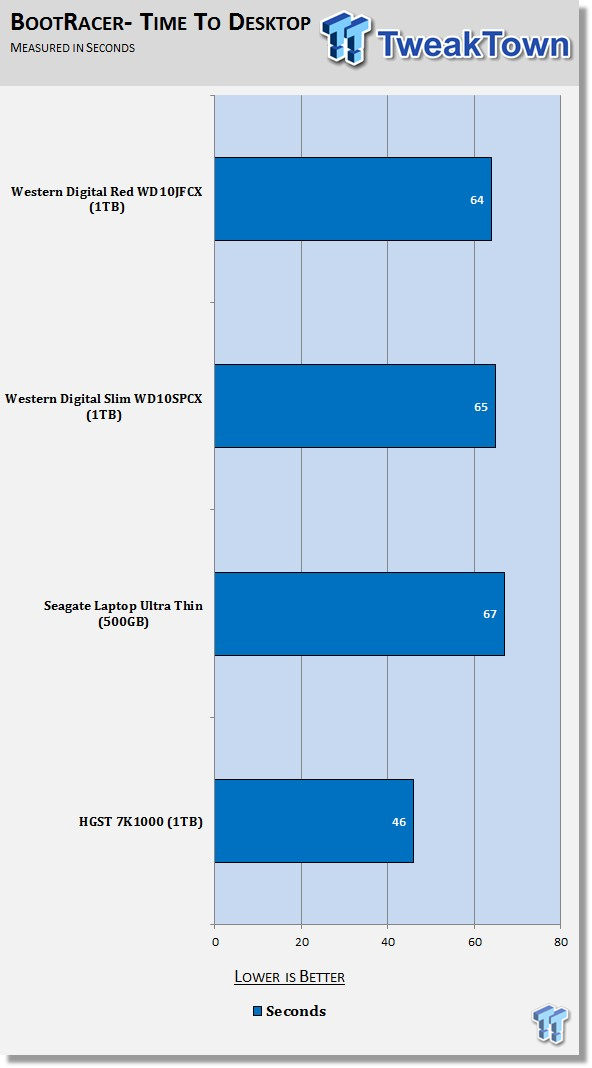 Time to desktop came in at 64 seconds or slightly quicker than its Blue counterpart.
Resume from S4 Hibernation
Hibernation or S4 is part of the Advanced Configuration and Power Interface specification. In our custom "Resume from S4" testing, we allow the drive to enter hibernation for a period of ten minutes; from there we use our trusted stopwatch and time how long it takes the drive to resume to a working desktop environment.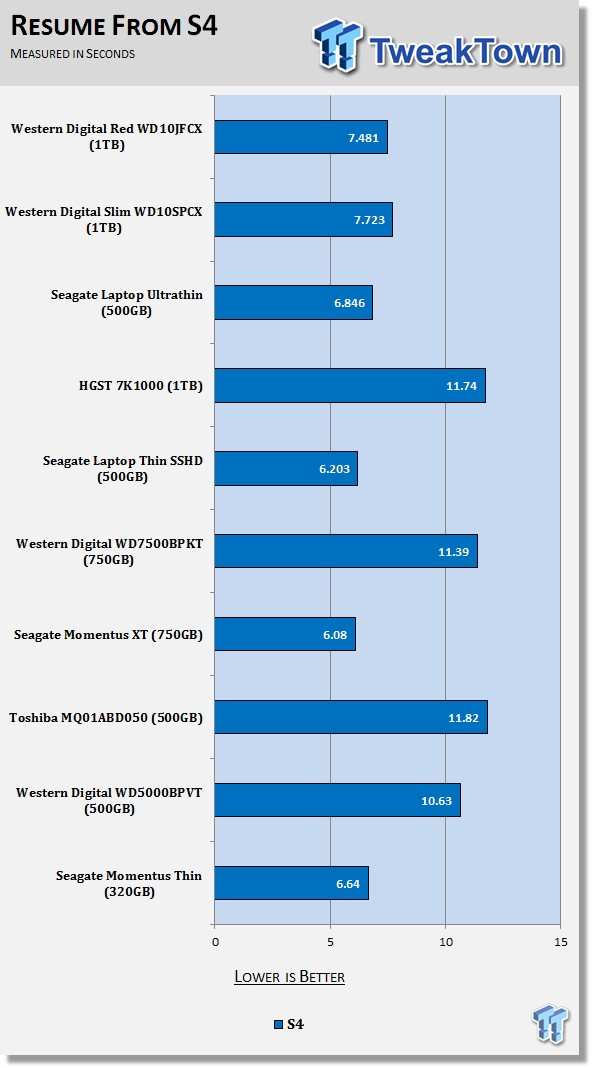 In our resumption testing, the WD Red did quite well with a time of 7.4 seconds, a slight bit faster than the SPCX and much quicker than the HGST 7K1000.
Benchmarks - IOMeter Latency and Workloads
Version and / or Patch Used: 7.27.2006
Developer Homepage: IOMeter
Product Homepage: IOMeter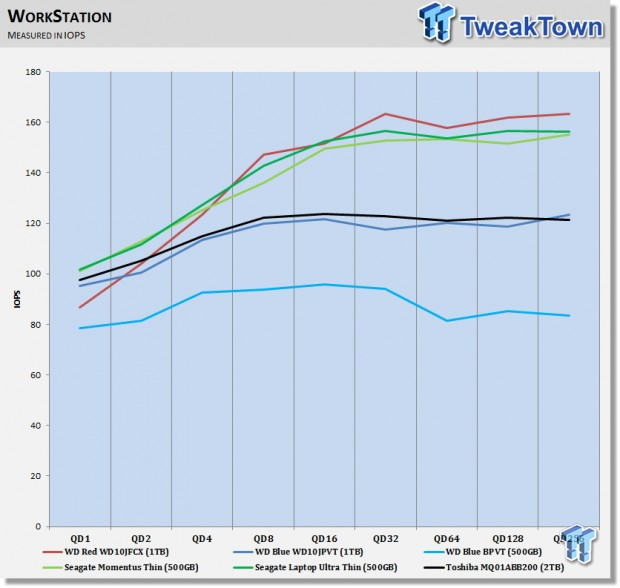 The first test we will run through is our Workstation scenario, with an 80/20 read/write distribution utilizing 8K transfers. Here you can see the WD Red did quite well, coming to rest at a very comfortable 160 IOPS at QD256.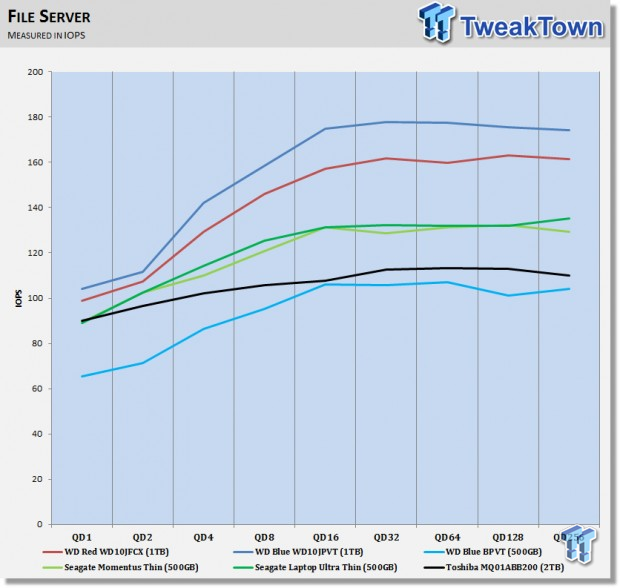 The second test focuses again on an 80/20 distribution, but instead a mixed workload between 512-byte and 64KB. Here to my surprise the WD Blue jumped to the top of our chart, with our newly received Red close behind. Here the Red topped out just north of 160 IOPS.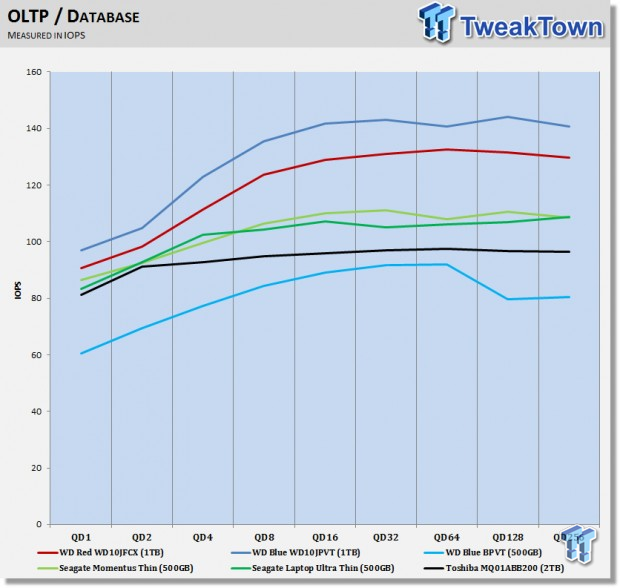 Next up we have the OLTP/Database workload, covering a 67/33 read to write ratio centered on 8K transfers. Here again, we find the WD Red performing quite well, coming in above all comparable drives, minus the surprisingly quick WD Blue.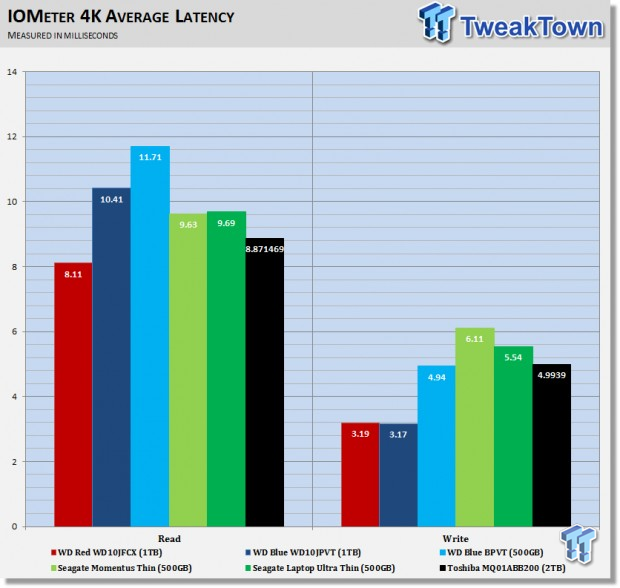 Above, we have our average latency from IOMeter. This is centered on 4K transfers and is the average from a run of three. Here we see the WD Red ready to work, coming in at 3.19ms in our write latency testing and refusing to hold back in the read portion as well at 8.11ms.
Final Thoughts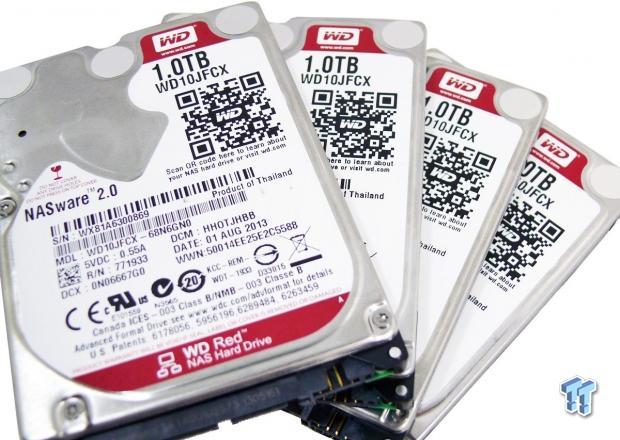 The new Western Digital Red in the 2.5" form factor is an extension of hard work and dedication that WD has put into developing solutions to fit their customer's needs. First introduced just over a year ago, the WD Red set a path, bringing enterprise reliability and performance to the standard consumer.
Western Digital has worked hard to bring the best in compatibility to the end-user by working with a number of companies including QNAP, Thecus, Synology and Drobo to name a few, and with the introduction of NASware 2.0, we have just that.
In the few short months that I have been here at TweakTown as Consumer Storage Editor, I have had my fair share of emails and private messages on the forums asking, "What drives do I buy for my NAS?", and more often than not I recommend WD Red's depending on the environment.
Performance of the WD Red was on par with expectations staying right with its Blue counterpart throughout testing and in some cases surpassing the Blue as we saw in our workstation load, but the Red offers more than just a slice of performance. Features like TLER (Time Limited Error Recovery Control), increased vibration tolerance and a higher MTBF (one million hours), coupled with a comforting three year warranty allows the WD Red to excel in the small form factor 2.5" hard drive market.