Jurassic Park 3D (2013) Blu-ray Review
"Life finds a way."

Published Sun, Jun 23 2013 2:13 AM CDT
|
Updated Tue, Nov 3 2020 7:00 PM CST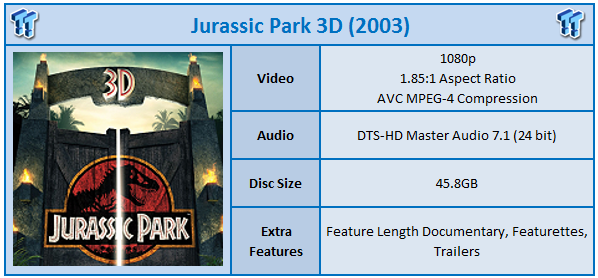 I remember fondly attending an invitation only premiere of Jurassic Park in September of 1993, my first screening junket. I was seven years old, but my mum was edgily apprehensive about my attendance, no doubt fearing I would end up a serial killer, or otherwise mentally affected. I was never really a dinosaur kid, but my developing brain told me it was a great film and everyone around me seemed to agree; soon taking out the number one spot on Hollywood's highest grossing motion pictures. 20 years later, Jurassic Park returned to its rightful domain - the big screen, in a remastered 3D conversion by the talented folks at StereoD, the same studio that painstakingly converted James Cameron's Titanic to great effect in 2012.
Eccentric Billionaire John Hammond (Richard Attenborough) has devised a way to genetically clone dinosaurs, bankrolling a prehistoric preserve on a remote Costa Rican island. Hammond invites a select group consisting of paleontologists Alan Grant (Sam Neill) and Ellie Sadler (Laura Dern), mathematician Ian Malcolm (Jeff Goldblum), lawyer Donald Genarro (Martin Ferrero) and his young niece and nephew to preview the unfinished park for their seal of approval. But the resurrection of creatures 65 million years past turns to terror when the parks security system is sabotaged, leaving the visitors to fend for their lives against the inhabitants savagely uprooted from their own timeline.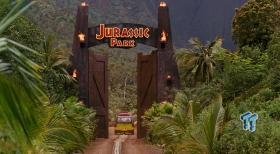 With Jurassic Park, Spielberg successfully brought photo-realistic digital characters to the screen for the first time and it's ironic that in a time where audiences have become jaded by the endless possibilities that digital filmmaking allows, Jurassic Park returns as a breath of fresh air, a return to a less complex time.
Despite the huge leaps and bounds in digital technology over the intervening two decades, Jurassic Park still has it. One can see the seams if studied carefully, but for a film of such vintage that was on the bleeding edge of technology, that it holds up so well, is testament to the impressive work of Industrial Light and Magic working in tandem with Stan Winston studios, trail blazers who changed the face of the industry forever.
Video
Jurassic Park 3D is presented in the original aspect ratio of 1.85:1, encoded with MVC MPEG-4 compression.
Fans with rightfully high expectations were left a little disappointed by the transfer for the previous Blu-ray release in 2011, what was essentially an off-the-shelf 2K scan created for HDTV broadcasts. For the 3D version, Universal have gone back to the 35mm negative and generated a new 4K scan. What could possibly go wrong? Well, a little bit.
Spielberg personally supervised the new transfer, which includes new color timing that accentuates a golden hue where the film has traditionally had a blue cast. The new transfer is also much smoother, with video noise and grain a thing of the past. Sadly, Universal have gone a step too far with the noise reduction, making the film look a little too waxy and dissolving some finer details.
Sadly, there is no option to view the new transfer in 2D at all. You can opt to watch the film in 2D with the previous Blu-ray included in the pack, but it's still a stale mate. View the film with with improved color timing and a more pleasant, updated visual palate in 3D, or with less noise reduction, but more artificial sharpening from outdated elements in 2D. In a frustrating and unexpected chain of events, an ideal version of Jurassic Park on home video is still conspicuous by its absence.
In regards to the 3D experience, the conversion loses some of its effect on the small screen, but it's still a fun alternate way to view the classic. Sequences such as the Raptors in the kitchen, along with other climactic beats like the T-Rex Jeep attack and vent shaft escape take on an even more thrilling element. The artisans at StereoD have made 3D a cohesive and natural progression of the adventure at the heart of Jurassic Park.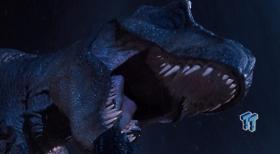 Audio
Jurassic Park 3D is presented in DTS HD Master Audio 7.1 at 24 bits.
Jurassic Park has long been a darling of home theatre aficionadas, the poster child that introduced the DTS system to theatres and single handedly moved millions in hi-fi equipment with the laserdisc and DVD iterations.
In modern terms however, the film was sounding a little long in the tooth (pun intended), which encouraged sound designer Gary Rydstrom to prepare a new and updated 7.1 audio mix to nip and tuck a few issues and create an even more impressive surround experience. This is not to be confused with the 7.1 mix created for the initial Blu-ray release, which was not without its critics and assembled without the input of Rydstrom.
In short, this is simply the best that the film has ever sounded. Dialogue is clear and audible. The front sound stage supports its fair share of the effects, be it the subtleties of the Costa Rica jungle or the ferocious snare of the T-Rex. Low frequency effects have been slightly boosted, providing more nuanced feedback and tighter performance to the numerous sequences that call for it.
John William's classic score fares well, a great presentation for one of the most memorable fanfares in cinema history.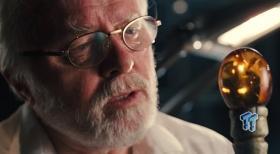 Extras
For the 3D release, Universal have rustled up one new additional feature, which accounts for very little in the scheme of things, however they have also included the previously released 2D Blu-ray release, which houses the rest of the additional features.
The World Of Jurassic Park 3D is a nine minute featurette which features new interviews with Steven Spielberg who attempt (rather unnecessarily) to justify the 3D conversion, including some brief tech talk from the whiz kids at StereoD.
Then we have the three part Return to Jurassic Park documentary, which accounts for an hour of footage. Principal actors Sam Neill, Laura Dern and Jeff Goldblum contribute newly recorded (circa 2011) interviews, along with Steven Spielberg. With the retrospectively of two decades, the legacy of the film can truly be appreciated and much of the documentary deals with the films once pioneering CG effects.
Under the heading of Archival Featurettes can be found The Making of Jurassic Park which originally featured on the laserdisc release in 1994 and still has a lot of intrinsic worth as a nice vintage look at the film. Hosted by James Earl Jones - although having no other relationship with the film, this runs at nearly 50 minutes. The Original Feature on the Making of the film is a fluffy EPK short and somewhat pointless at just 5 minutes. Steven Spielberg Directs Jurassic Park is another short piece featuring numerous shots of Spielberg gesticulating furiously on set with some commentary on his no-nonsense shooting methods.
Early Pre-Production Meetings consists of rough camcorder footage of Spielberg chairing a conference discussing the possible creation of the films effects with key personnel. The video quality is basic and the sound worse, but it's a fascinating fly on the wall reveal. Location Scouting at under two minutes doesn't reveal much, but looks at the filming locations, in particular the Kauai set. The next two featurettes give a hint at the abandoned efforts to animate the dinosaurs with go-motion animation - Raptors in the Kitchen and T-Rex Attacks. Despite ultimately utilizing CG, Spielberg turned to Phil Tippet to create video animatics of key sequences. Watch out for the wisely excised Velociraptor tongue flicks. The aptly named ILM and Jurassic Park: Before and After Visual Effects looks at the original background plates before the CG dinosaurs were dropped in. Foley Artists takes a look at the oft ignored but critical production unit that makes all the cool sounds we take for granted.
Finally, we have two promotional pieces; the original Theatrical Trailer and Telltale's Jurassic Park: Making the Game.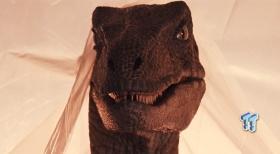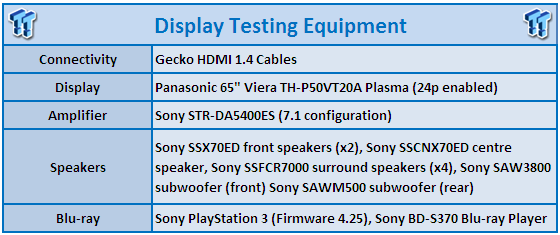 PRICING: You can find products similar to this one for sale below.

United States: Find other tech and computer products like this over at Amazon.com

United Kingdom: Find other tech and computer products like this over at Amazon.co.uk

Australia: Find other tech and computer products like this over at Amazon.com.au

Canada: Find other tech and computer products like this over at Amazon.ca

Deutschland: Finde andere Technik- und Computerprodukte wie dieses auf Amazon.de
We openly invite the companies who provide us with review samples / who are mentioned or discussed to express their opinion. If any company representative wishes to respond, we will publish the response here. Please contact us if you wish to respond.
Related Tags