Introduction
With the constant SSD assault not wavering for a split second, HDD manufacturers such as Seagate have had to change up their game plan a slight bit, in order to compete in the ever shrinking platter based consumer market. However, the SSD isn't the only reason we see 2.5" drives becoming increasingly thinner.
In October of 2011, Intel released the first specifications for its Ultrabook code named Huron River. This specification mandated that the minimum battery life would be five hours and the drive must be able to resume from hibernation (S4) within seven seconds. The one thing that was left out was the minimum transfer rates for the internal storage. Chief River, or Ultrabook revision 2, which would be released in June of 2012, updated the specifications to include a minimum of 80MB/s transfer speed, effectively removing the HDD from competition, while retaining the same five hour battery life and seven second resume from S4 hibernation.
Due out later this year, Shark Bay or Gen3 Ultrabook, is aimed to set the bar a bit higher in terms of disk I/O per watt performance. While no information has been released to the public, allegedly this new spec will require nine hours of battery life, while carrying over the same 80MB/s minimum transfer and seven second resume from S4. Now it's quite obvious all of these specs really have HDD makers churning butter, but not all is lost, and no, the HDD is not dead.
Earlier this year Seagate chose to make a massive and rather bold move and discontinue its 7200RPM 2.5" lineup. In favor of this old standard, we find them being replaced by the all new Laptop SSHD and Laptop Thin SSHD. These 5400RPM drives are available in two capacities and what we call Z-Heights or thicknesses. The first of which is the Laptop SSHD which will carry a 1TB capacity with a 9.5mm Z-Height, and the second and the drive we will be looking over today is the 500GB capacity Laptop Thin SSHD which carries a 7mm Z-Height.
Specifications, Pricing and Availability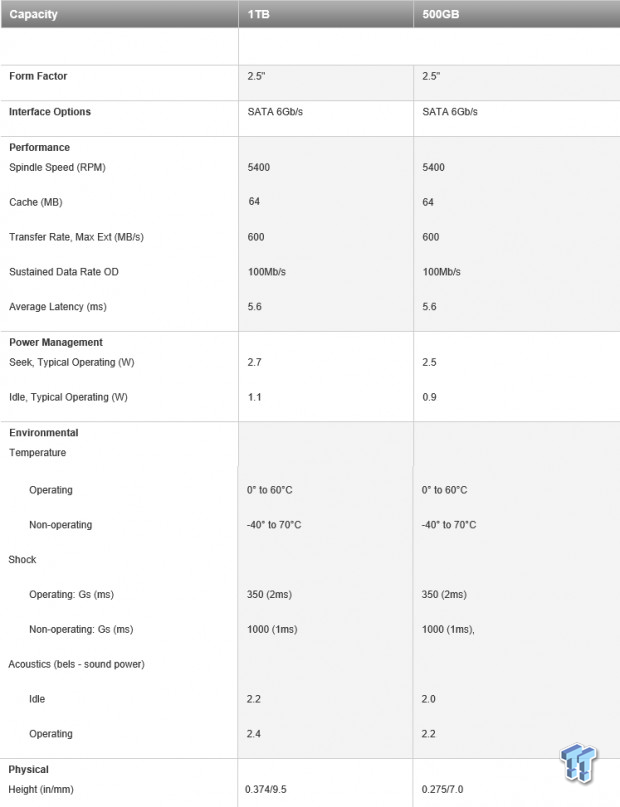 As we touched on in the intro, Seagate has launched the Laptop SSHD and Laptop Thin SSHD in two capacities. The Laptop Thin SSHD coming in the 500GB capacity closely followed by the Laptop SSHD at 1TB. Each of these drives use a 5400RPM spindle speed and come with a very nice 64MB cache and the SATA 6Gb/s interface.
The sustained data rate on each of these models on paper, exceed Ultrabook revision 2 specifications and sits at 100MB/s and we find the average latency at 5.6ms.
Power consumption, another big player in getting your notebook blessed by Intel and thus upgraded to Ultrabook status, shows the Laptop Thin SSHD averaging 2.5W during seek and 0.9W idle and the Laptop SSHD at 2.7W seek and 1.1W idle.
Newegg currently has the ST500LM000 (Laptop Thin 500GB SSHD) listed and in stock at $99.99. The larger 1TB ST1000LM014 (Laptop 1TB SSHD) is currently on sale for a very competitive $119.99.
Each of these units come as a bare drive, and are covered under Seagate's three year warranty.
Seagate Laptop Thin SSHD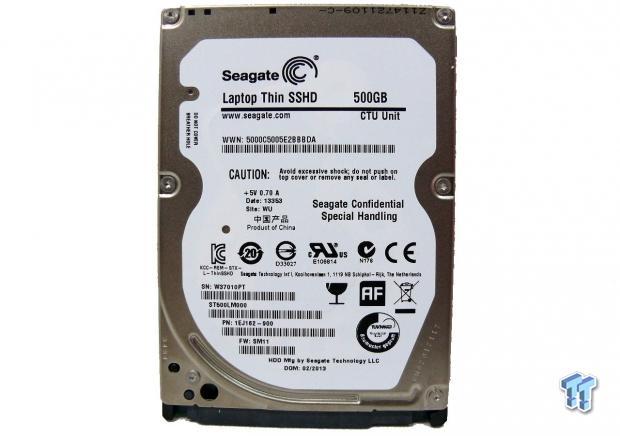 The Laptop Thin SSHD shipped to us in its bare drive form. At the top we find the capacity listed at 500GB, a little lower on the drive there is the Advanced Format logo denoting the drive's capability of said feature.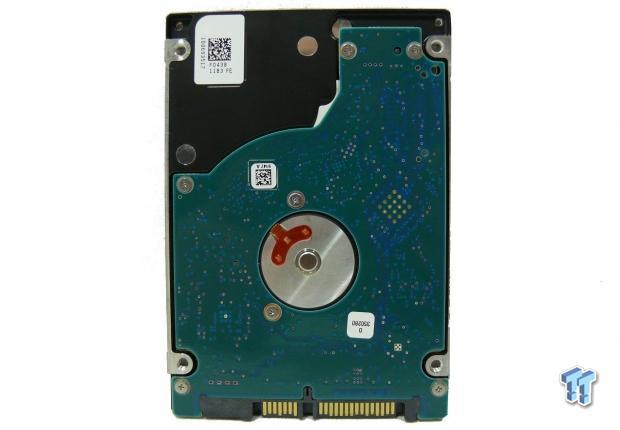 The back of the drive houses a blue PCB with the SATA and power connections at the bottom. Worth noting here is the use of standard Philips screws instead of tamper proof torx.

The drives power and data connections are correctly placed, insuring wide compatibility.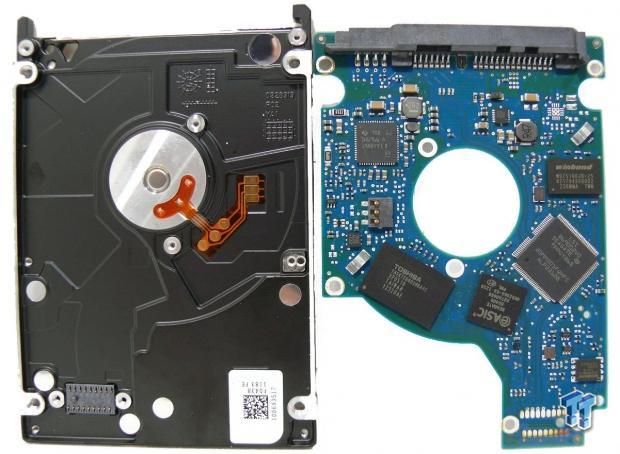 Disassembling the drive we find an LSI controller for the platter portion of the drive with the eASIC for NAND management. For caching Seagate has employed a single Winbond 64MB DDR2 DRAM chip.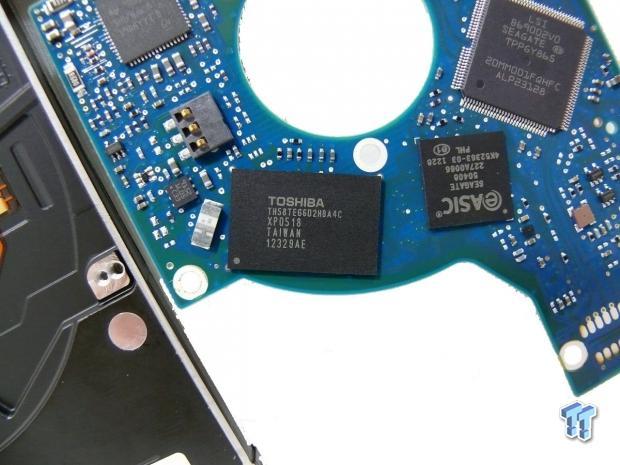 The NAND flash component found in our sample was the Toshiba TH58TEG6D2HBA4C, or in technical terms 8GB 24nm 8K MLC Toggle.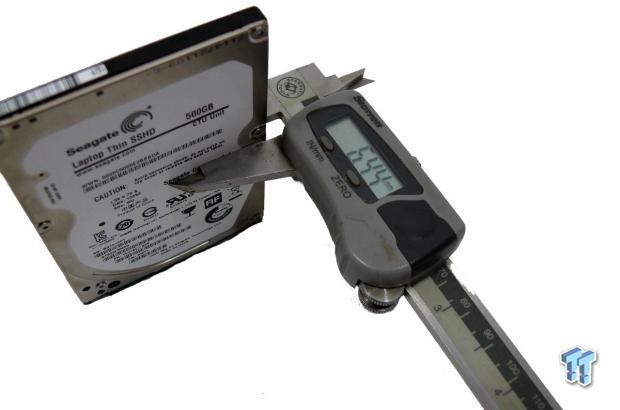 To check the Z-Height of the drive, I setup my Starrett 799. At the drives thickest point it measured in at 6.44mm.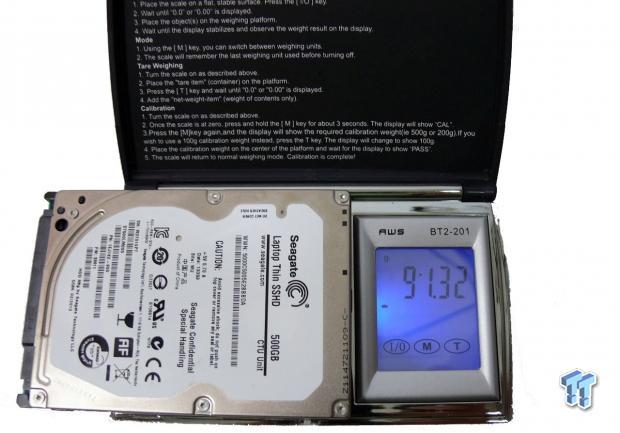 Putting the drive on our AWS BT-201 scale we find the drive weighing in just over 91 grams.
Benchmarks - Test System Setup and ATTO Baseline Performance
Desktop Test System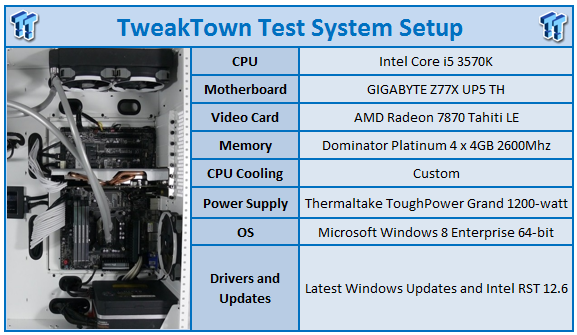 ATTO Baseline Performance
Version and / or Patch Used: 2.34
ATTO is used by many disk manufacturers to determine the read and write speeds that will be presented to customers.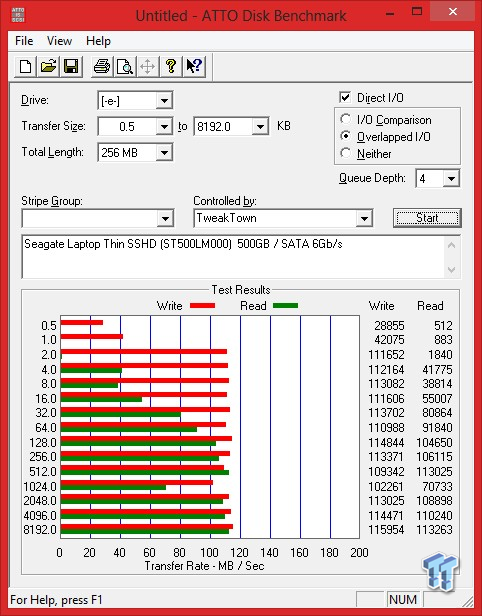 In ATTO we achieved a peak of 115MB/s read and 113MB/s write, both of which exceed the suspected 80MB/s of the upcoming Intel Shark Bay Ultrabook spec.
Benchmarks - Sequential Performance
HD Tune Pro
Version and / or Patch Used: 4.00
Developer Homepage: http://www.efdsoftware.com
Product Homepage: http://www.hdtune.com
HD Tune is a Hard Disk utility which has the following functions:
Benchmark: measures the performance
Info: shows detailed information
Health: checks the health status by using SMART
Error Scan: scans the surface for errors
Temperature display
HD Tune Pro gives us accurate read, write and access time results and for the last couple of years has gained popularity amongst reviewers. It is now considered a must have application for storage device testing.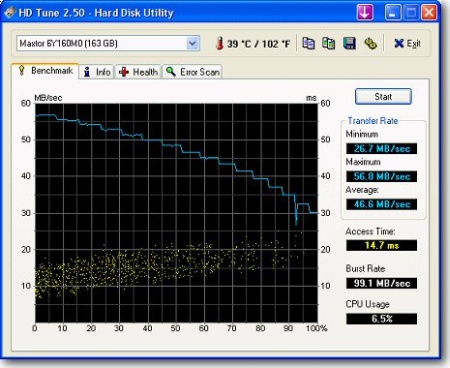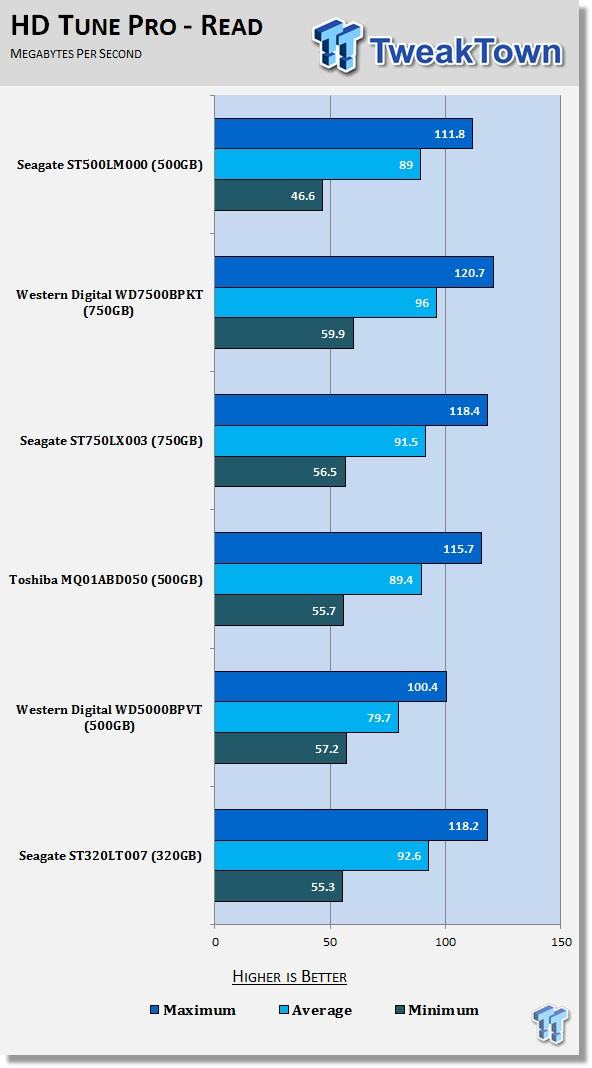 Presenting the drive with a sequential workload across the capacity of the drive, we see the Laptop Thin SSHD peak at 111.8MB/s and gradually slow to a final resting place at 46.6MB/s, with average read at 89MB/s.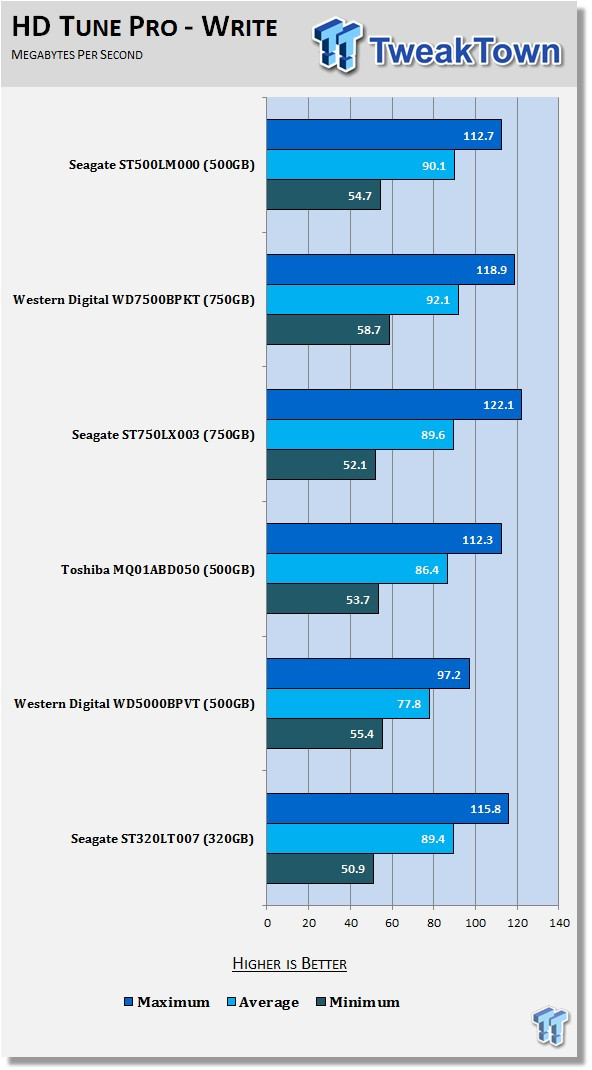 HD Tune write testing showed the SSHD comparable to previous Hybrid drives from Seagate. When everything was said and done, we ended up with 112MB/s at its peak and a 54MB/s average.
Benchmarks - AIDA64 Random Access Time
AIDA64 Random Access Time
Version and / or Patch Used: 1.60
Developer Homepage: http://www.aida64.com
Product Homepage: http://www.aida64.com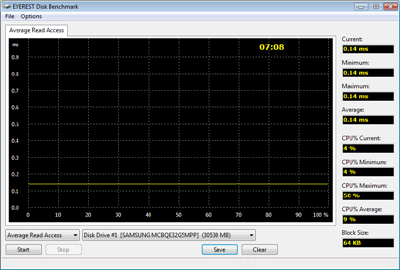 AIDA64 offers several different benchmarks for testing and optimizing your system or network. The Random Access test is one of very few if not only that will measure hard drives random access times in hundredths of milliseconds as oppose to tens of milliseconds.
Drives with only one or two tests displayed in the write test mean that they have failed the test and their Maximum and possibly their Average Scores were very high after the cache fills. This usually happens only with controllers manufactured by JMicron.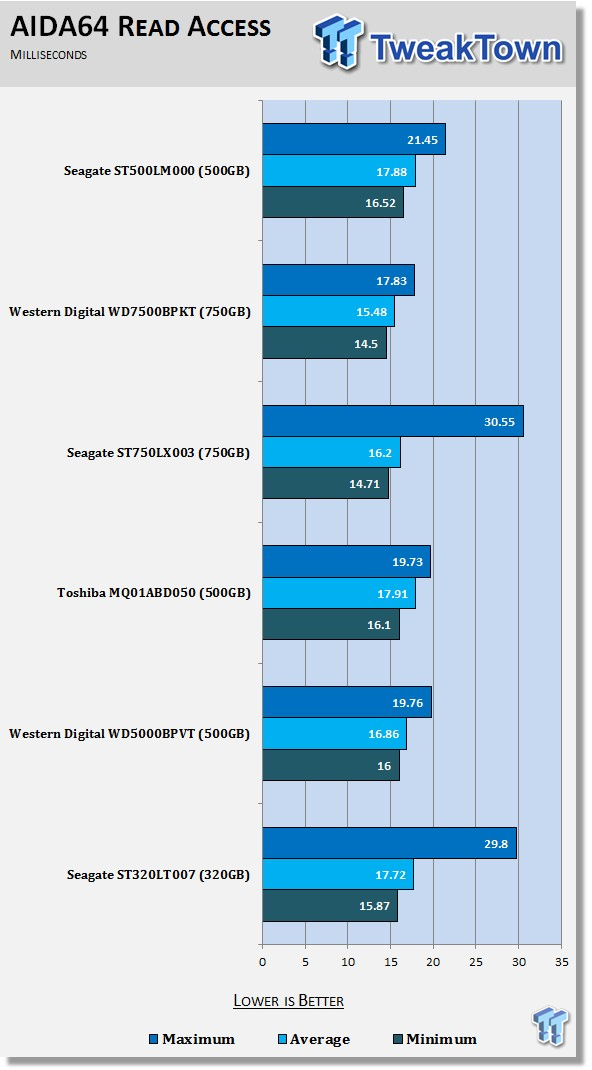 Keeping up with the rest of the drives on our chart, we found the Seagate SSHD showing numbers similar to what we found with its Momentus XT counterparts. At the lowest point, the drive had a read access time of 16.52ms, with the highest being a 21.45ms spike.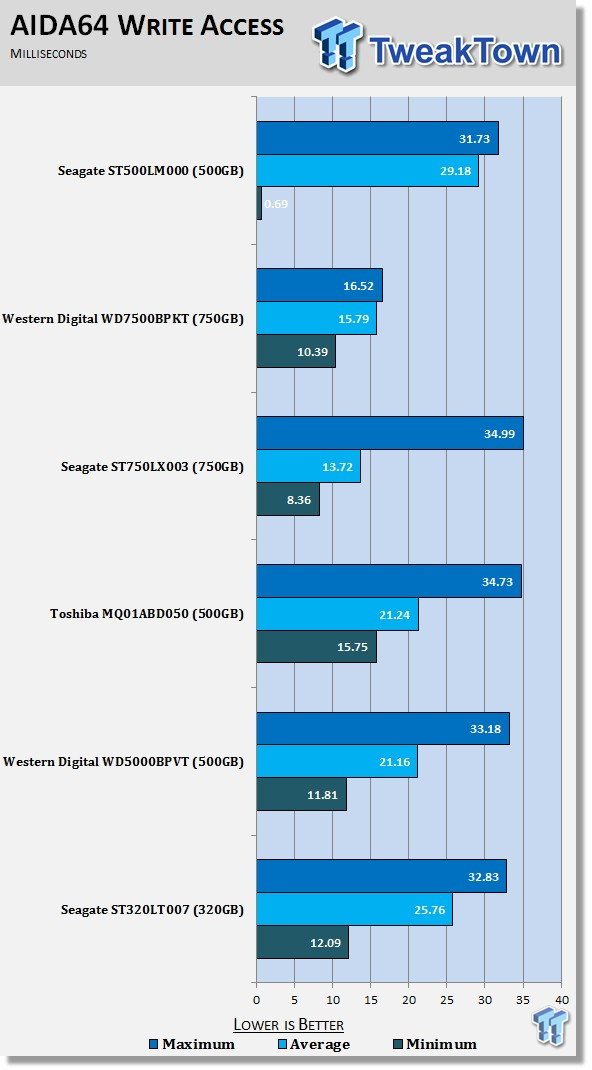 Flipping over to write access testing, we found the Seagate taking names with its very quick 0.69ms time. However, that did not last long and the drive soon gave us a reminder of its internal platter based medium. Average write access landed at 29.18ms followed closely by its maximum of 31.73ms.
Benchmarks - Anvil Storage Utilities
Anvil Storage Utilities
Version and / or Patch Used: RC6
So what is Anvil Storage Utilities? First of all, it's a storage benchmark for SSD's and HDD's where you can check and monitor your performance. The Standard Storage Benchmark performs a series of tests, you can run a full test or just the read or the write test or you can run a single test, i.e. 4K DQ16.
Anvil Storage Utilities is not officially available yet but we've been playing with the beta for several months now. The author, Anvil on several international forums has been updating the software steadily and is adding new features every couple of months.
The software is used several different ways and to show different aspects for each drive. We've chosen to use this software to show the performance of a drive with two different data sets. The first is with compressible data and the second data set is incompressible data. Several users have requested this data in our SSD reviews.
0-Fill Compressible Data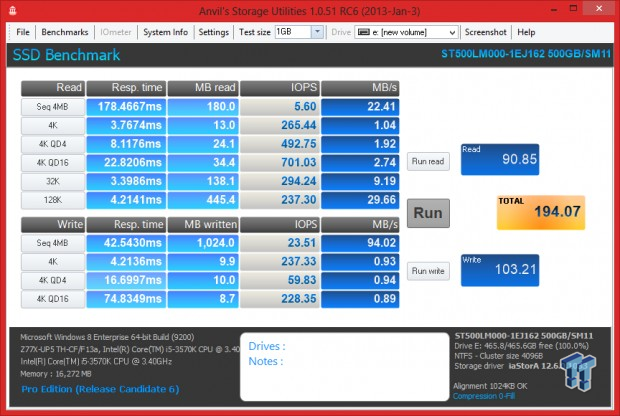 Incompressible Data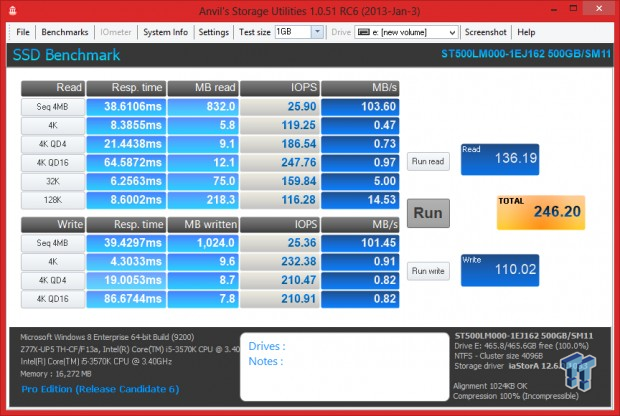 Read IOPS through Queue Depth Scale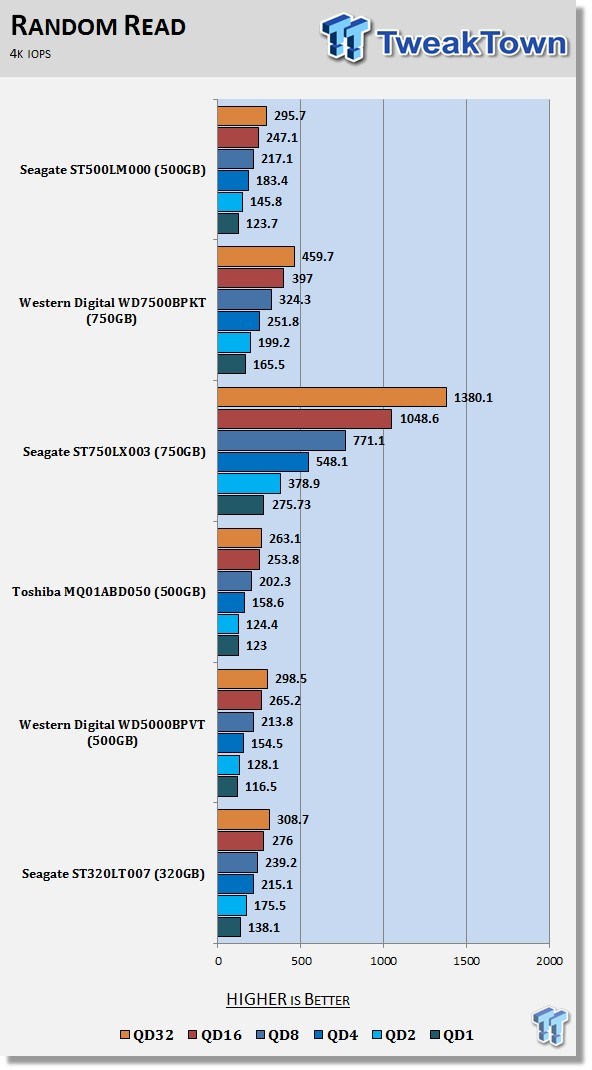 Glancing over our 4K random read we find the Seagate SSHD once again huddled up with its other platter based friends. Running through the Queue depth scale we find the peak IOPS reached at 295.7.
Scaling Write IOPS through Queue Scale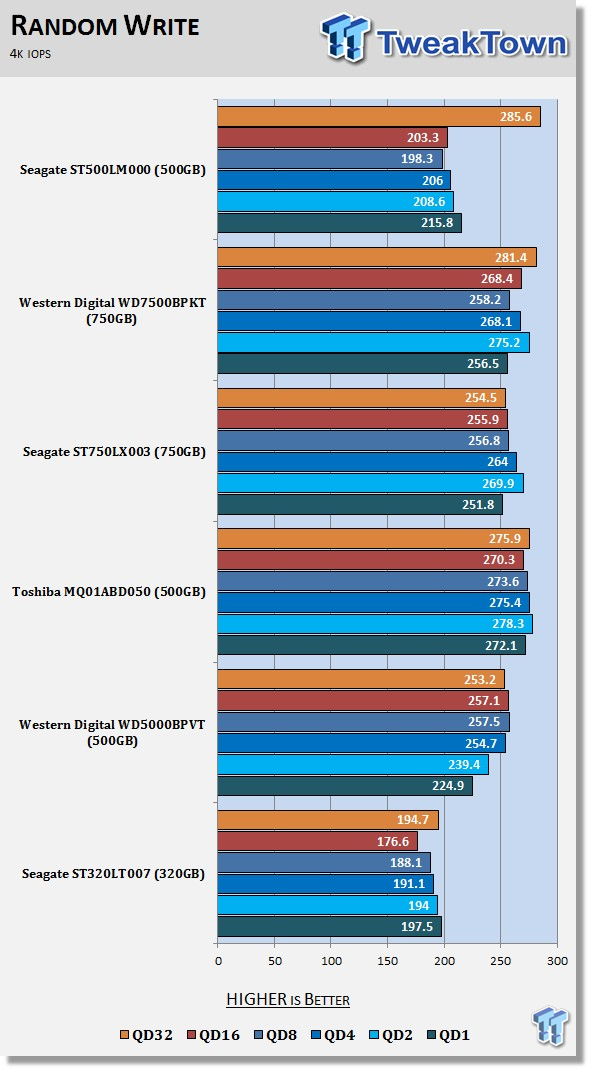 The Laptop Thin SSHD performed quite well in the 4K random write testing where we saw it start to pull away at QD32.
Benchmarks - PCMark Vantage Hard Disk Tests
PCMark Vantage - Hard Disk Tests
Version and / or Patch Used: 1.0.0
Developer Homepage: http://www.futuremark.com
Product Homepage: http://www.futuremark.com/benchmarks/pcmark-vantage/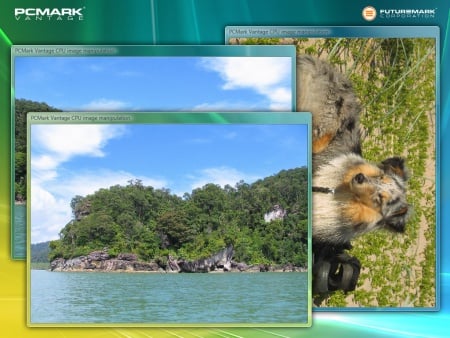 PCMark Vantage is the first objective hardware performance benchmark for PCs running 32 and 64 bit versions of Microsoft Windows Vista. PCMark Vantage is perfectly suited for benchmarking any type of Microsoft Windows Vista PC from multimedia home entertainment systems and laptops to dedicated workstations and high-end gaming rigs. Regardless of whether the benchmarker is an artist or an IT Professional, PCMark Vantage shows the user where their system soars or falls flat, and how to get the most performance possible out of their hardware. PCMark Vantage is easy enough for even the most casual enthusiast to use yet supports in-depth, professional industry grade testing.
Futuremark has developed a good set of hard disk tests for their PCMark Vantage Suite. Windows users can count on Vantage to show them how a drive will perform in normal day to day usage scenarios. For most users these are the tests that matter since many of the old hat ways to measure performance have become ineffective to measure true Windows performance.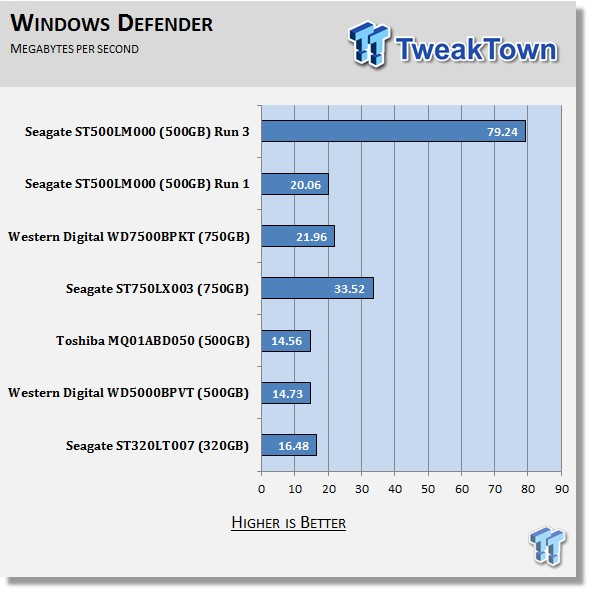 Ok, so enough synthetics already, right? Now we get to where the Seagate Laptop Thin SSHD really excels, the real-world. Above we find the data from a set of three runs I did with the SSHD to really show what it's capable of when the drives caching algorithms are allowed to open up and start doing work.
Between runs 1 and 3, we found the drive almost quadruple its performance going from a measly 20.06MB/s to a very nice 79.24MB/s.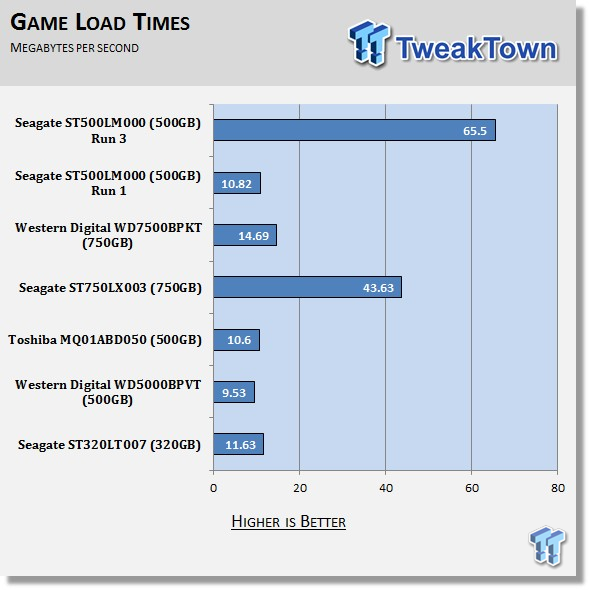 As we find above game load times get a boost six times over going from 10.8MB/s to 65.5MB/s.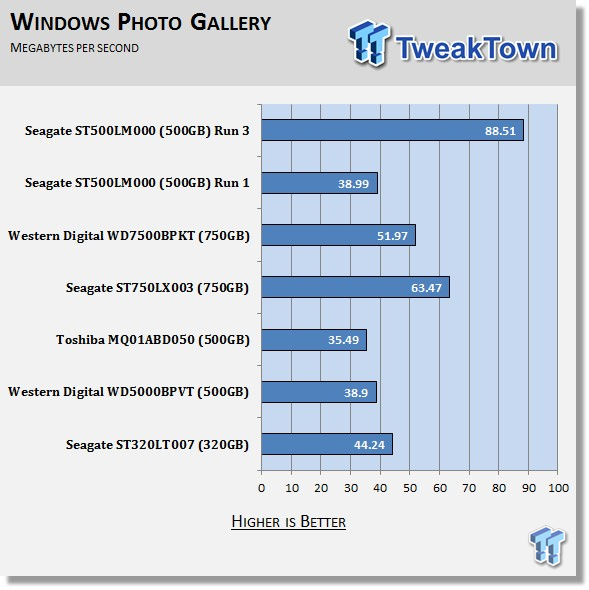 Windows Photo Gallery netted twice the performance from run 1 to run 3.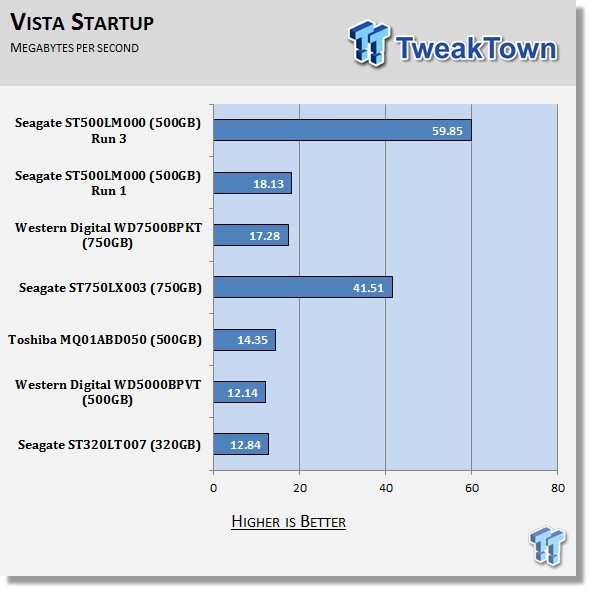 With the SSHD really starting to crank out the speed we find Vista startup go from 18MB/s to 59MB/s.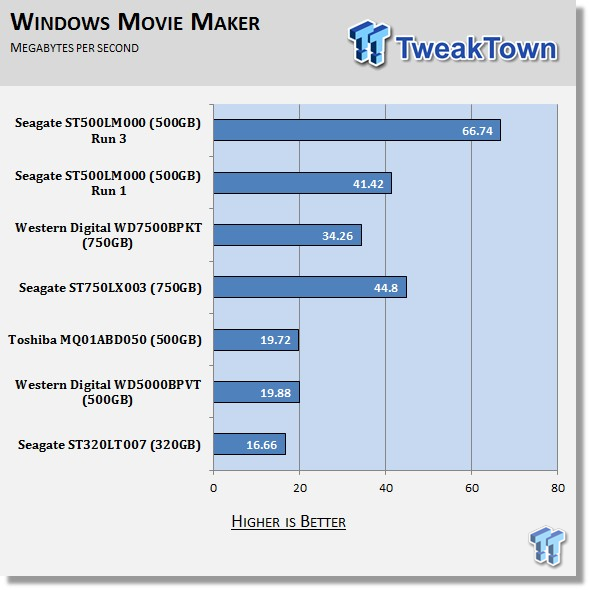 We find the Seagate Laptop Thin SSHD on top of the Movie Maker chart as well, with a 25MB/s boost when comparing run 1 to run 3.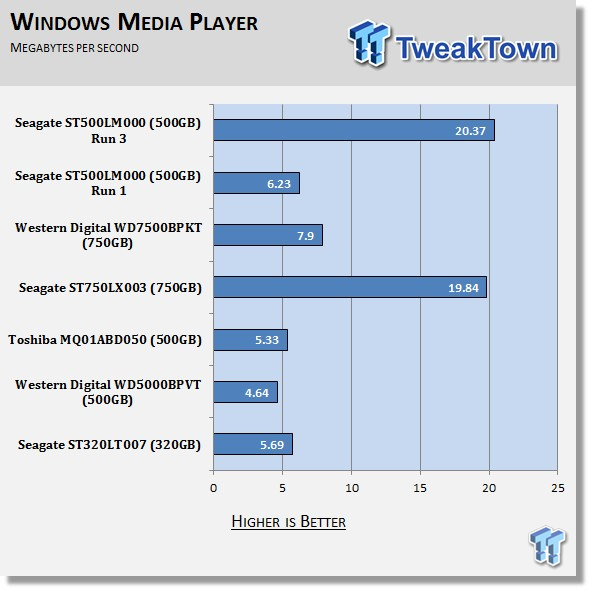 Media Player sees the ST500LM000 getting some friendly competition from its 750GB Momentus XT brother.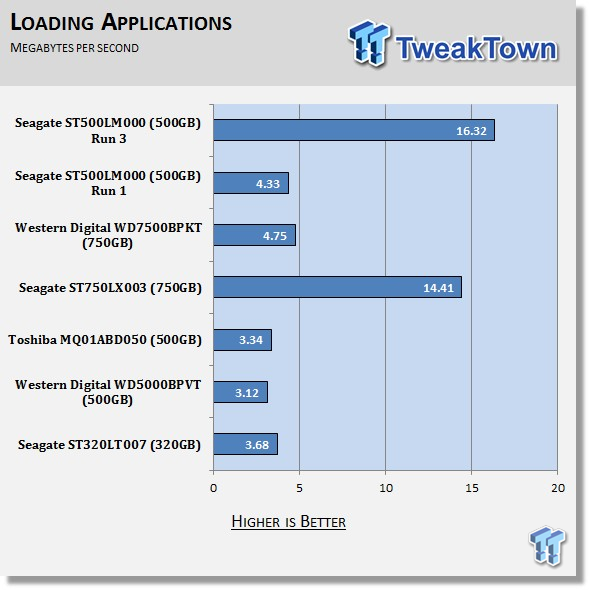 We all load applications, right? Above we find the SSHD towering above the competition with all its pinning algorithms in full swing.
Benchmarks - BootRacer
BootRacer - System Boot Time
Version and / or Patch Used: 4.0
Developer Homepage: Greatis
Product Homepage: BootRacer
Download here: http://www.greatis.com/bootracer/download.htm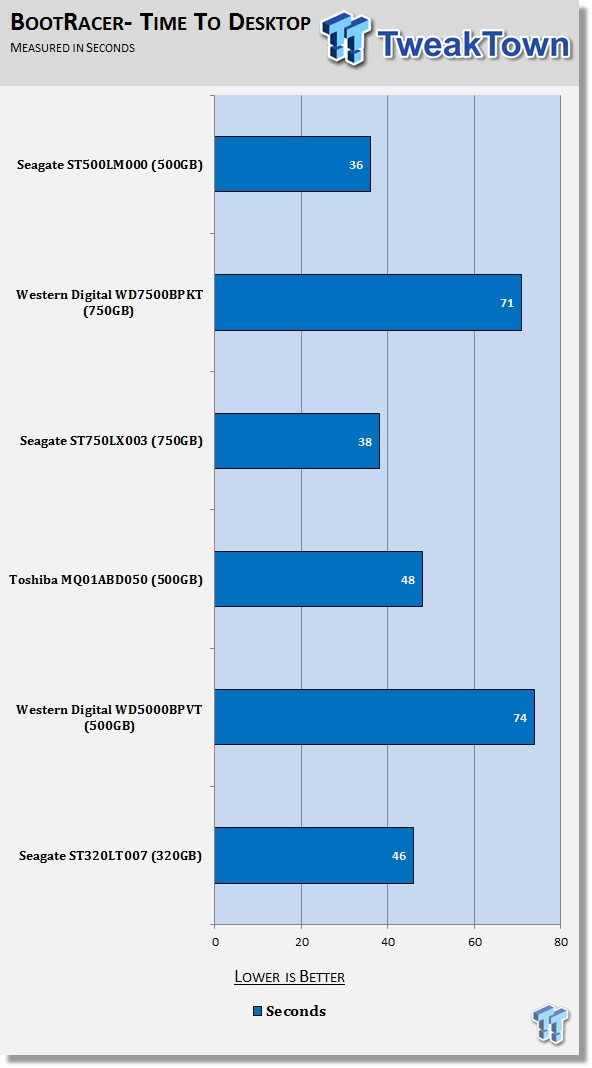 Rather impressive, the Seagate continued to rock when we introduced a full install of Windows 8 x64 onto the drive, subsequently installing BootRacer and giving it a go.
Above we find the Seagate ST500LM000 or SSHD out front again. As a matter of fact, the only drives giving any competition are the previous Momentus XT drives.
Benchmarks - Resume from S4 Hibernation
Resume from S4 Hibernation
Hibernation or S4 is part of the Advanced Configuration and Power Interface specification. In our custom "Resume from S4" testing, we allow the drive to enter hibernation for a period of ten minutes, from there we use our trusted stopwatch and time how long it take for the drive to resume to working desktop environment.
To meet Gen. 2 Ultrabook Certifications a drive must resume within seven seconds.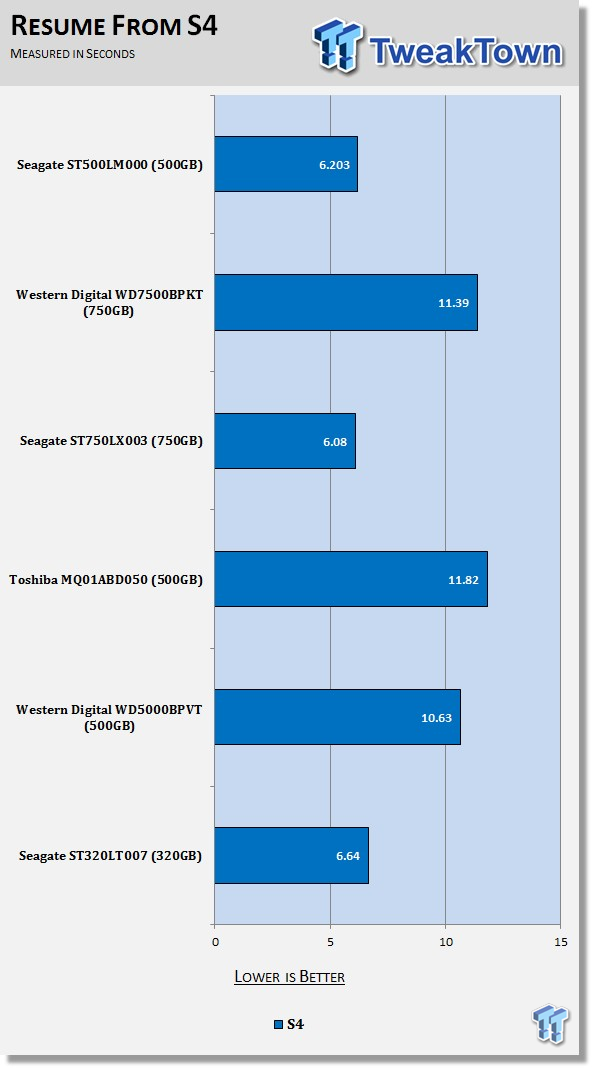 So, who is getting certified for Ultrabook today? Looking over our chart, we see all three Seagate Hybrid drives (including the new Laptop Thin 500GB SSHD) all were under the seven second cut-off time.
Final Thoughts
I must admit for the longest time I was a holdout when it came to solid state drives. While all of my friends and even co-workers were building super PCs with SSD's, I was chugging along on my dual 7200.11 RAID 0 setup thinking those SSD's couldn't be that much faster. Now that I've converted all of my personal computers over to solid state, the one thing I really miss is the capacity I had previously.
As we saw in the review, synthetics don't paint the full picture for the Laptop Thin, as the drives caching algorithms aren't set to boost performance in any one benchmark, but rather in a daily use scenario. With my time I have had with the Laptop Thin drive, I have honestly enjoyed the experience. I do all of my normal activities without a noticeable decrease in performance and if my chassis wasn't built with a window, I would never know the difference between this and the SSD I normally use in practical terms.
Any day now we should hear on the release of the new Ultrabook spec, something I have been waiting for since the release of the last spec back in June of 2012. With this will come tighter restrictions on power consumption, Z-Height and even minimum drive speed. In all honesty, I think the Laptop Thin is ready for the challenge, and while I wasn't able to test the power consumption today, the test equipment is on the way, and we will touch base again and let you know how it came out.
With Seagate launching the Laptop Thin and Laptop SSHDs we can go back to the days of high capacity low-cost drives, with the added benefit of a bit of NAND to speed things up. As we seen in our PCMark testing, there are massive gains to be made using this Hybrid technology and it's certainly a welcomed addition.
So, saying it once again, the hard drive isn't dead, Seagate just reinvented it with the Laptop Thin SSHD.