Sapphire Radeon HD 7750 1GB Low Profile Video Card Review
We have a quick look at a low profile version of the Radeon HD 7750 from Sapphire, which is suited to smaller systems such as those using Mini-ITX motherboards and cases.
Published Thu, Mar 28 2013 6:31 PM CDT
|
Updated Tue, Nov 3 2020 7:00 PM CST

In the past when it came to building a mITX based system the general rule of thumb was that you needed to have a low profile video card to go with it. The general thought process behind building a mITX system was that it was going to be as small as possible. With companies like BitFenix, Silverstone and Lian-Li choosing to focus on mITX more over the last year, this mentality has changed.
At the same time it's fair to say that mITX systems aren't as small as they used to be. They are capable of being significantly faster, though, due to overclocking becoming a clear option thanks to motherboard companies and higher end video cards being more then possible to be installed in such systems thanks to case companies.
Saying all that, if you're interested in building a mITX system that is truly going to be small and you want to get off the on-board video options, a low profile video card could still be what you're after. Today we're taking a quick look at an offering from Sapphire.
We already have a good idea on what's going on with the HD 7750 performance in general so we'll be taking a quicker look over the model today and just cover some of the main features. The overall layout is similar, albeit cut down. We'll start by checking out the box Sapphire is offering us before we move inside and take a look at the package.
Once we've done that we'll move onto the card itself to see just exactly what's on offer before looking at the specifications. We'll then take a quick look at the performance of the video card including the heat, noise and power levels before we finally wrap everything up.
Starting off with the box you can see a fairly typical box setup from Sapphire. We've got a picture on the front and some of the main information including the model along with the amount of memory that's offered on the card. Towards the bottom right corner you can also see mention that we're dealing with a low profile video card.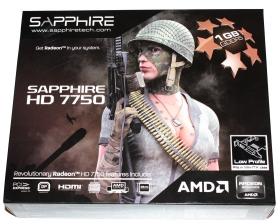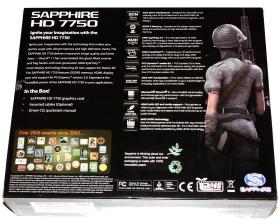 Turning over to the back of the box you can see we've got a bit of a blurb, a little mention on what's included in the box and some of the main AMD specific features on the right hand side of the box covered in detail.
Looking inside the package it's a bit better than we expected in all honestly. I figured we'd see a manual and driver CD along with a low profile bracket and DVI to VGA connector. While we don't have a manual or driver CD included in our particular package, you can be sure you'll get one if you buy this product.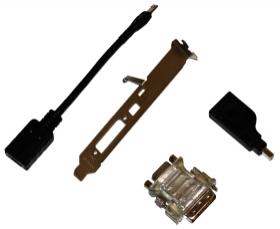 Also instead of a low profile bracket, you can see we've got a full height one which means the video card has the low profile bracket already installed on it. The two surprises, though, come in the form of the mini HDMI to HDMI connector and mini DisplayPort to DisplayPort connectors that are included in the bundle.
Moving away from the box and onto the card you can see there's not a whole lot that is seen. Not only are we dealing with a low profile card, but also a single slot type, which makes for little to look at. You can see a fairly basic heatsink covers majority of the card. You can see we've got no extra power connector or CrossFire bridge on offer which really makes for a pretty plain looking card.

When it comes to the connectivity side of things we again find ourselves a little surprised with what's on offer. Normally we'd expect something along the lines of a Dual-Link DVI port like we have here and possibly a VGA one. Instead, though, you can see we've got both a mini DisplayPort and mini HDMI port here. For a low profile card, this is a very good connectivity setup.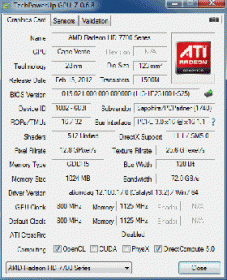 As you'd expect, when it comes to looking at the specification side of things the card carries with it just the reference clock speeds. That means the core comes in at 800MHz while the 1GB of GDDR5 carries with it a 4500MHz QDR clock. The fact that we're dealing with a bare minimum type of cooler here is the main reason we're going to get just reference clock speeds. Since we ultimately know just how a reference clocked HD 7750 is going to perform, we'll instead just cover some of the main results here today.
Firing up 3DMark 11 and doing a standard Performance run we end up with a score of P3251. To give you an idea of how this compares, a HD 7770 overclocked comes in at P4512 and a HD 7850 carries a score of P7164. It's by no means a fantastic number; it is a number you'd expect, though, given the nature of the card.
Moving away from 3DMark 11 and having a look at something like Far Cry 2 we can get a better idea of what's going on with performance in the real world. At 1680 x 1050 we've got a minimum of 42 FPS and an average of 73 FPS, which is fantastic. Moving to 1920 x 1200 we also manage some strong performance with a 34 FPS minimum and a 63 FPS average.
Under something older like Far Cry 2 you can see that we manage to get some strong playable numbers out of the HD 7750. If we start to move into anything newer, though, then numbers don't look as impressive. F1 2012 sees a 45 FPS average at 1680 x 1050, Dirt Showdown gives us 38 FPS and Sniper Elite V2 offers us just a 30 FPS average.
Checking out some of the other numbers we've got a core temperature of 37c at idle with it climbing to only 50c at load. While the cooler might not be very big, we're not dealing with the most intensive of GPUs. Along with that our power draw numbers sit at 121w at idle and 238w at load. As for noise levels, we find at idle the fan actually turns itself off. At load we're seeing 60.1dB, which isn't exactly quiet, but due to the fact we're dealing with a smaller fan, we expected it to be a little louder than bigger cards that opt for a larger fan that is able to spin at lower speeds.
As mITX cases have got slightly larger over the last year the need for these smaller cards are indeed not quite as relevant as they once were. Like we mentioned, though, if you're after a truly small mITX system and want to move away from onboard graphics, then this is going to be a good option for you.
Of course if you're looking at doing any real gaming you're going to have a problem, even if you're talking about gaming at 1680 x 1050. Lower graphics card settings might be an option, but then of course you're not going end up with a game that looks very good.
The Sapphire HD 7750 Low Profile has a clear place in the market and at $109.99 you're not really paying a premium for it over other options. Combined with a $10 rebate that's being offered at the moment, $99.99 is a strong price point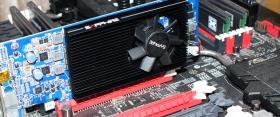 Low profile cards in general aren't widely available and ones that offer any kind of performance are even harder to get a hold of. The Sapphire HD 7750 Low Profile option is a card that is extremely specific. If you don't need a Low Profile card you can pick up something that is either overclocked or passively cooled for a similar price point. If you're after a low profile card, though, this offering from Sapphire is clearly something that you should be looking at.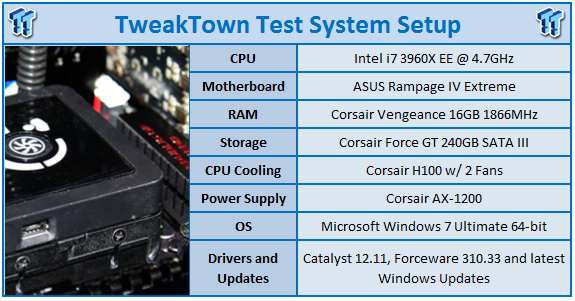 PRICING: You can find products similar to this one for sale below.

United States: Find other tech and computer products like this over at Amazon.com

United Kingdom: Find other tech and computer products like this over at Amazon.co.uk

Australia: Find other tech and computer products like this over at Amazon.com.au

Canada: Find other tech and computer products like this over at Amazon.ca

Deutschland: Finde andere Technik- und Computerprodukte wie dieses auf Amazon.de