Antec are no newbies when it comes to making great PC products of all sorts, earning a right full amount of respect from gamers and industry experts along the way. However, in an increasingly varied and challenging market, many of these once specialist company's like Antec have been branching out into other products in order to expand. This in many ways is a very good thing because company's like Corsair have done really well by doing this and have actually channeled a refreshing vibe along the way. How will Antec go?
Today we have a total of three portable music solutions from Antec Mobile products or A.M.P, two ear phone solutions and a wireless Bluetooth receiver for mobile products. For the ease of everyone we have combined these three products into one review as each is quite similar in function, but a little different in user needs, so we will let you decide at the end which best suits your needs.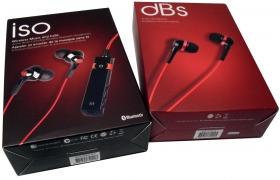 First in the lineup is the A.M.P dBs earphone product which is simply that, a simple set of high quality ear phones for use with mobile products. They feature a simple yet attractive design that is visually appealing and sturdy in construction. Next up is the A.M.P ISO earphone product which is a Bluetooth based wireless solution again for mobile products. They feature a set of active noise canceling wireless earphones connected to a small control unit that charges via USB. Lastly today we have the A.M.P Gain which is a wireless Bluetooth receiver that can handle music and calls without the issue of wires being involved.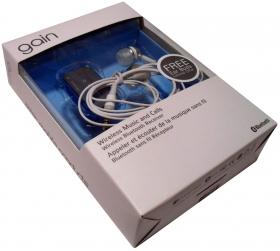 We have three interesting portable audio solutions here which are quite similar in some ways, but adequately different in other ways to allow the user to choose for themselves the best option. In terms of construction all three are built from high quality materials and have being built to a high standard feeling weighty without being heavy and awkward. The appearance of both earphone solutions is attractive without being over the top; the choice of color in of our review samples was quite pleasing to the eye without being too much, as can be the case sometimes.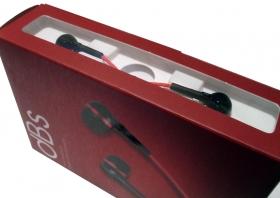 Comfort wise both earphones are well designed enough to feel good to wear and also come with the option being able change the size of the rubber pads on the end to suit different types of ear, which we thought was a nice touch. Additional we thought the braided cable of the dBs to be a nice touch; in fact we have not seen earphones with this feature before.
All three of these products are intended to work with portable music devices so that covers a pretty large spectrum of different products, but just make sure that whatever you are using has Bluetooth built in if you're going to go for one of the wireless solutions of these three options. From a technical perspective we all have a pretty good idea of what Bluetooth is by now and how it works, but as always make sure that you are well familiar with the concept of pairing in order to make Bluetooth products work happily. The process is not overly hard, and we didn't see any issues during testing.
Digging a little deeper and both sets of earphones here are full range meaning that the drivers inside get a full range signal to playback. They both also feature noise suppression technology which has being doing the rounds for a while now, but not really in the lower end market as much and the higher end market. We are more grateful to have this feature as part of these earphones that we are not going to be critical of how well it works, because it's really a bonus, unless you're spending over a few hundred dollars on high grade earphones or headphones.
Lastly here, the little A.M.P Gain receiver is an all-in-one mini wireless hub for portable audio products and smartphones. It's really a simple and well thought out idea, and as always, it's the simple ideas that can end up being great ones. In terms of setup, as mentioned earlier, the Gain and ISO will require Bluetooth pairing, but the dBs simply connects like a standard set of headphones using the mini jack on your device.
A.M.P dBs: These are a well built and thought out set of earphones that handle music really well for the most part, but perhaps sound a little muddy down the low-end at times. Overall though it's a strong product and the nylon cable is a nice touch. The dBs are a slimmed down more simple version of the ISO solution from A.M.P not to say though that they are lacking in any way when it comes to build quality. At first we noticed the lovely red nylon cable that instantly pleased, but also because it seemed strong and durable.
The fit inside the ear was fine for us with the option also of fine tuning the fit using the supplied different sized rubbers, but this will depend on your ears of course. Sound quality was quite strong with a slight boost towards the low-end which sounded a little muddy during some bass heavy music. The mid-range was quite open and clean and the high-end when examined seemed quite up to the task, too. Overall during our testing we found the dBs to be quite a capable little pair of earphones.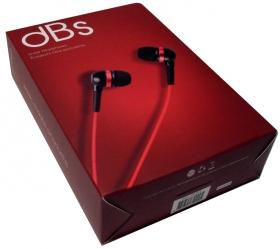 A.M.P Gain: This is a handy and quite powerful little device for connection to your mobile products. Its size and the fact that it connects to virtually any set of headphones are the main selling points, but more so than anything the Gain is just a cool little device to have hanging around for when it's needed to add wireless audio to most devices with Bluetooth connectivity. The Gain unit is an interestingly named and quite useful little device to have.
In all honesty we could not come up with a much better name, but also to be honest, we had to examine the package quite intimately to see exactly what it was before opening it up. Given this is a handy little mini Bluetooth receiver with quite a few uses, its needs to be a little clearer in terms of how its marketed, we think. In terms of how it went during testing, we found no issues with pairing the unit and then connecting a set of earphones for wireless joy. The look and finish is quite nice and compact is the word here, and it looks a little nifty, but maybe easy to lose depending on your lifestyle.
A.M.P ISO: A feature packed and well-built product that sounds really good and brings a new light to the realm of headphones for mobile devices. The fit and finish is top notch. The ISO is a wireless earphone system that uses USB to charge from a PC and then can be disconnected and used with a compatible portable device. Once charged up the system is ready to go and a simple Bluetooth pairing is all that is needed to get things up and rolling.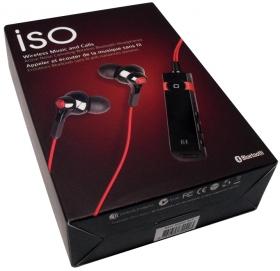 These are also active noise canceling headphones which as we said above is a bonus for the price point that Antec is attacking. We found the noise canceling aspect to function quite well, but results are always going to vary depending on different usage scenarios. The level of sound quality overall was quite good with a good seal in the ear allowing for decent low-end reproduction and a decent mid-range, too. The high-end was only just good enough, but still up to the task during our testing.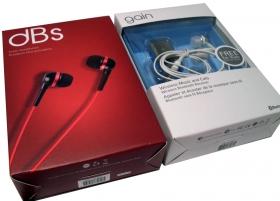 All three A.M.P products are top notch solutions that are designed well and are thought out well with high quality fit and finish across the board. In terms of performance we really did not have to many issues aside from the overly keen bass at times with the dBs, but really aside from that all three did exactly what they needed to do, and quite well.
With owe so many options out there when looking for earphones it's really difficult not only to make strong recommendations, but also for the consumer tasked with actually going out and picking just one of these. However, that being said, if you're after comfortable, well-built and decent sounding earphones, then A.M.P can deliver that and at a reasonable price. Are they the absolute best out there right now for the money? We cannot honestly answer that one as there is just too much to cover, but they do a fine job in our opinion.