Introduction and Specifications, Pricing and Availability

When I first slid into the shoes of the smart devices editor position for TweakTown, I had no industry contacts. This makes it quite hard to acquire samples, so I quickly blasted off e-mails to everyone I could trying to secure samples. One of the hands-down best companies to respond was LG. They responded within the hour, and the next hour I had organized an LG Optimus L5 smartphone sample for review.
LG's Optimus L-Style series of smartphones are for the Australian market, with four models in the range - the Optimus L7, L5, L3 and L2. These phones are not here to compete with the iPhones and Galaxy smartphones on the market, they're aiming toward a different section of users, but I think LG are pushing for style and marketing, with the face of the L-Style phones none other than former Miss Australia, Erin McNaught.
LG's Optimus 5 is exclusive to Boost Mobile and Optus, so this is something that goes against them - and is purely a personal opinion of mine. Telstra is the far superior network here in Australia, but LG obviously want to keep the price low and maybe they've worked out a great deal with Optus. The Optimus L3 is sold through Telstra exclusively, though, for just $99.
LG have launched the Optimus L-Style phones in Australia, but in a world of $50 per month iPhones, can the Optimus L5 stand up and compete?
I'm based in Australia, and like most of the world, if people aren't buying an iPhone, they're buying the latest Galaxy-branded smartphone from Samsung. LG isn't really a huge player in the market here in Australia, but they do have their corner of the market. The mid-range market is never really pushed in the tech world, as we're always reporting on the latest and greatest, which has the best screen, processor, or OS. But it leaves great mid-range phones like the Optimus L5 hanging out to dry. Let's get into the review, shall we?
Specifications, Pricing and Availability
LG don't want to break any records here with specifications, but they are hitting a very nice price on the Optimus L5. I looked around and they are around $200 outright, which isn't too bad at all. But then we have the Google/LG Nexus 4, and even in Australia for the 8GB version, we're looking at $299. This makes the Optimus L5 hard to sell when there's very fierce competition scratching at the door.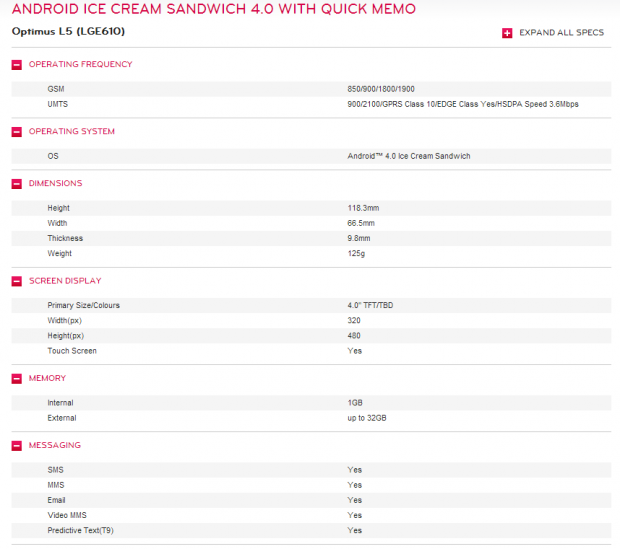 LG's Optimus L5 sports a 4-inch, 480x320-pixel display (giving us 144ppi), 1GB of internal memory and has expandable storage of up to 32GB. A 5-megapixel rear-facing camera is provided with LED flash and 4x digital zoom. Processor wise, we're only talking about an 800MHz processor, which is nothing to write back home about.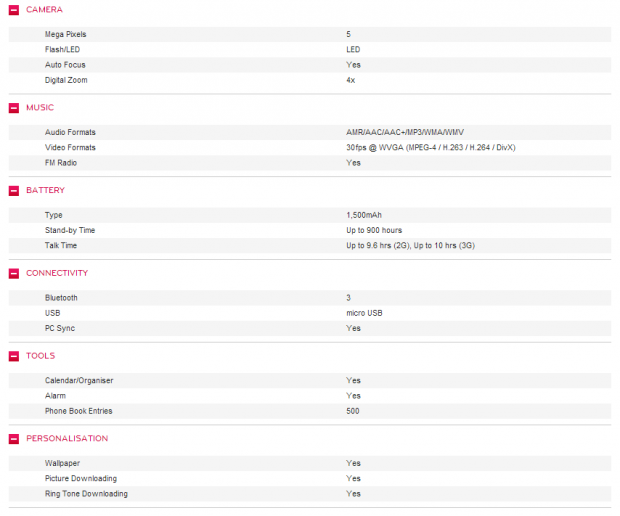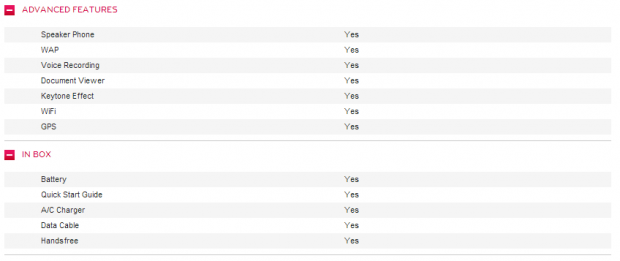 LG don't list the official, detailed specs of the Optimus L5 phone, as you can see in the above shots from its website. But cranking along inside the device we find a Qualcomm Snapdragon MSM7225A, 800MHz single-core Cortex-A5 processor, backed up by an Adreno 200 GPU. As I said, this isn't here to compete with the faster smartphones on the market, so we can forgive its relatively weak specs for this reason.
Availability is fine, with most Optus stores stocking the Optimus L5. For just $199 on pre-paid, it is a good cheap phone. Below is a shot of what's included in the box for the Optimus L5. We have a Travel Adapter, Earphones, USB cable, a setup guide for setting a Google account up, the Quick start guide and the battery for the Optimus L5.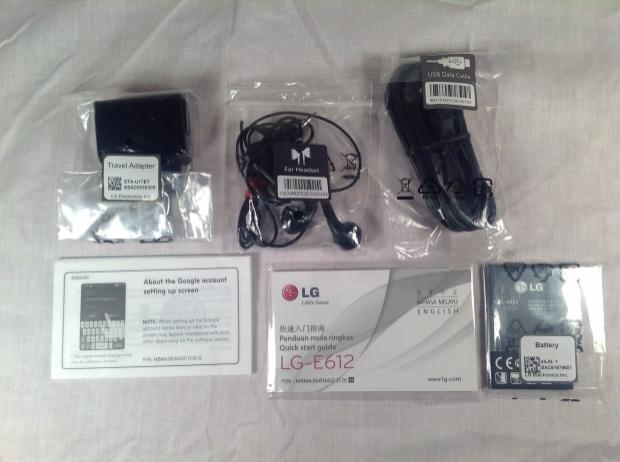 Look and Feel
The Optimus L5, being a mid-ranged smartphone, feels good in the hand. The phone can easily be used and operated with just a single hand - which is great. The bigger phones get these days, the harder they are to use with a single hand.
For a cheap phone, it's not going to break any records on how thin it is, but measuring less than 10mm thick, it's still a thin-ish phone. The back of the phone is covered in LG's "snake skin" pattern, which is quite nice and doesn't allow the phone to accidentally slip out of your hands.
The overall design of the phone is actually quite stylish, considering it's a $199 phone. The metal siding and rim around the rear-facing camera are a faux metal look, and it definitely increases the visual appeal of the phone, bringing it out of the 'it looks cheap', to 'it may be cheap, but it looks stylish doing so'.

Up the top of the phone we find the power/lock button as well as the 3.5mm jack. On the left of the phone we have the volume rocker.

On the bottom of the phone we have the microUSB port.

On the front of the phone, at the bottom, we have the home button.
On the rear of the phone, we have its stylish look and 5-megapixel rear-facing camera with LED flash, as well as LG's logo.
That display - ugh. I've been reviewing high-end smartphones, and this is the first low- to mid-range phone I've reviewed. The display on this is very... bad. Sporting just 320x480 pixels on a 4-inch display leads to images on-screen looking quite bad.
The display is bright enough for outside use, which is at least one benefit, but viewing angles are the opposite of that - terrible. The images on screen just look awful at times, but this is one of the ways LG got to the $199 price tag, dropping down the quality of the display.
For the type of person buying this - someone looking for a cheap phone - this won't bother them. But if they've ever used a decent smartphone, with a half-decent resolution on a 4-inch screen (or above), it is going to be a huge reality check. I'm coming from a world of third-gen iPads, iPhone 5, Galaxy S II and S III, and this display sickens me. But, it's $199 - so you have to cut it some slack, I guess.
Features
Considering the LG Optimus L5 is just $199 it comes with Android 4.0 Ice Cream Sandwich, which is definitely not a bad side to this otherwise cheap phone. Delving deeper into this situation, competitors phones haven't even caught up to Android 4.0, which makes the Optimus L5 stand out even further as a cheap phone alternative. $199 and ships with Ice Cream Sandwich - this is the marketing slogan LG should use.
LG have also baked in some of its own sugar and spice, including things like QuickMemo, which is placed in the notification bar. QuickMemo lets you quickly draw something on the screen, kind of like S Note on the Galaxy Note range of Samsung's smartphones.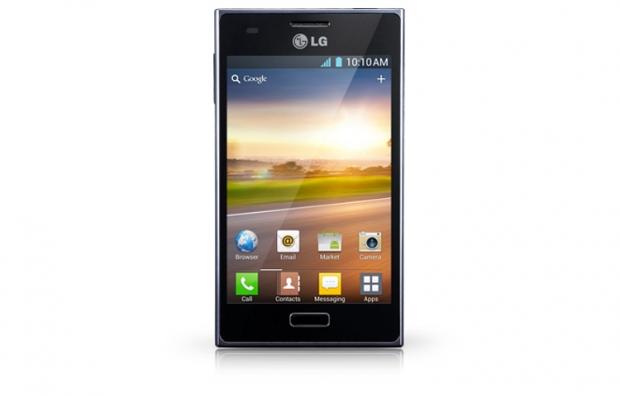 LG have used its Optimus UX interface, splashed on top of the stock ICS look. There's not much else LG have done, but I personally don't like the overlay of the Optimus UX look. Stock Android would've been nice. There are little things that make it better, such as the above-mentioned QuickMemo, as well as the keyboard which adds a comma into the default layout, as well as the key enlargement sporting more space between each key. This helps with one-handed use, big time.
Spec-wise, we covered it in the specs above, but we do have Wi-Fi, Bluetooth, A-GPS, FM, DLNA and NFC radios. Not too bad for $199, but somewhat of a standard feature set these days, too.
There's not much that the LG Optimus L5 can really do that sets it apart from the competition - and we're really only talking about a low- to mid-range phone, remember. But, for those who want something cheap - the feature set is definitely good enough.
Performance
The LG Optimus L5 comes with a single-core processor clocked at 800MHz, and for $199 that it just OK in my books. These days, a dual-core processor is not going to cost that much more for LG to opt for, but that's out of my control.
The performance on the phone again, coming from higher-end smartphones, feels oh-so-slow. Sliding from left to right on the home screen feels fine, but going into applications such as Facebook or Gmail can take a little while to actually load up and begin displaying content.
I noticed that connecting to a call and waiting for the dial tone, actually took a little longer than I'm used to. Not that this is a huge downside, but it is something worth noting. I don't normally notice this because it feels at "average" length on other phones, but this felt like it was definitely slower than other smartphones.
Downloading applications from the Google Play store felt fine, until they were downloaded and begun installing. Installing them took longer than usual which would be from its internal hardware, but if you even tried to download another application and have it ready to install, things began to reach snail pace. Again, Optimus L5 is just $199.
The included 5-megapixel rear-facing shooter is not too bad, but because of the internal hardware being slow, it can take a while for a picture to not only snap, but focus and capture. We've taken some shots with the Optimus L5's camera - and for a $199 phone, they don't actually look too bad at all.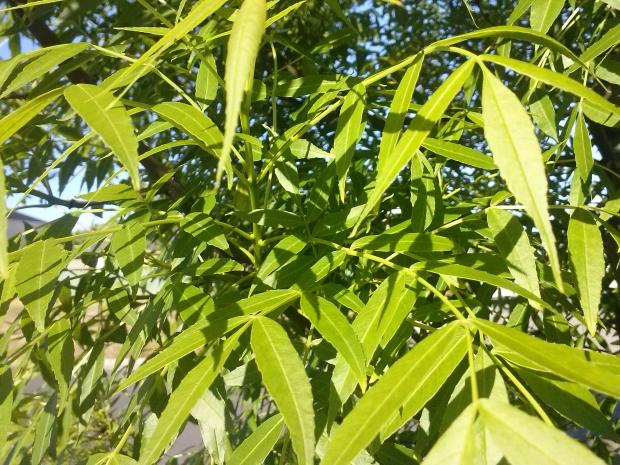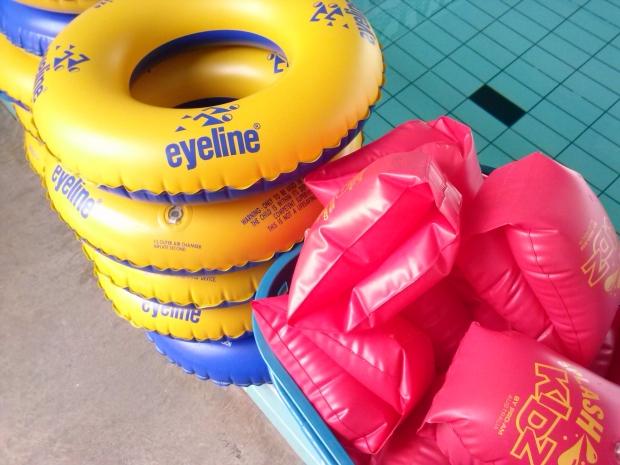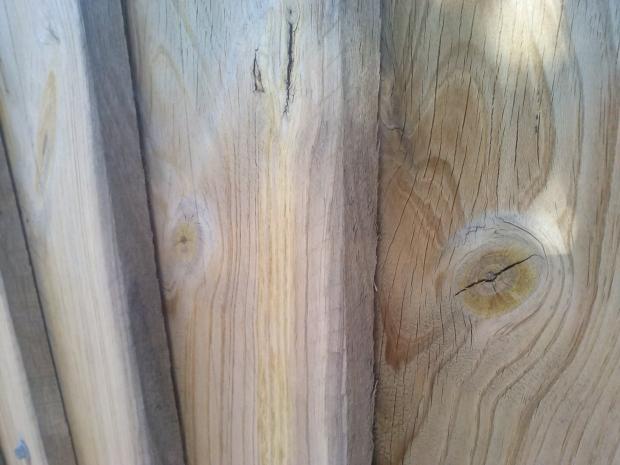 And we have a special one here, my amazing niece making a face - she didn't think I was serious when I said I'd put this in my review on TweakTown, but I'm known as her Troll Uncle. Ha!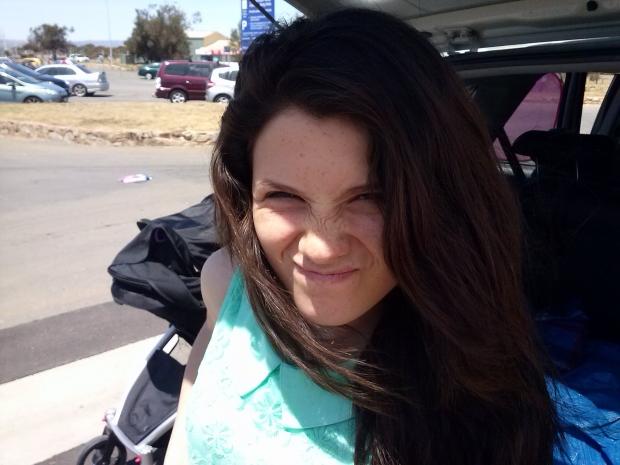 Below we have some video samples.
Final Thoughts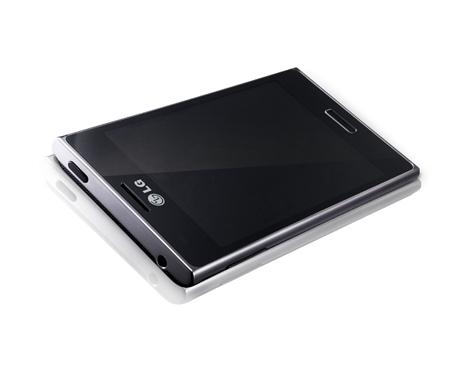 This is going to be the hardest "Final Thoughts" I've ever had to write. On one hand, I really want to say that the LG Optimus L5 is not the phone for you, but on the other hand, it does offer a great package for those wanting to get a phone for under $200.
It has Ice Cream Sandwich going for it, its style going for it, but that's about it. Its single-core processor is a huge letdown, and its very low-res 4-inch screen is just abysmal. But then I find it hard to not recommend it for just $199.
If I had reviewed this phone on release, it would've not only scored more, but I would've really recommended it in my Final Thoughts. But, at the time of writing this review, the also LG-made Nexus 4 came out recently. For $399 AUD, you get Google's flagship phone with a 1280x768 display, quad-core processor, Android 4.2 Jelly Bean and much, much more. $199 to $399 is double the price, but it comes with what feels like 10 times the power and quality.
This doesn't make the Optimus L5 a bad phone; it is just faced with increasingly cheaper competition. This is where I feel the Optimus L5 loses out. If it had come with a higher-res display, and slightly better dual-core processor, it would've been a much better phone to recommend.
The camera quality is not too bad, with LG providing a 5-megapixel camera, so if you're after something you can snap pictures with, and having a $199 entry point, you'll be in luck with this smartphone.