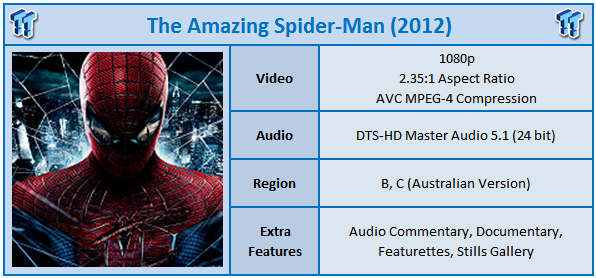 Under the directorial watch of Sam Raimi, a man many deemed unsuitable to bring the classic Marvel property to screens in 2002's Spider-Man, the franchise flourished and hit its peak with the 2004 sequel Spider-Man 2 before quickly diminishing with the third entry, three years later. The latest entry in the franchise; The Amazing Spider-Man is a full reboot of the franchise, jettisoning the established origin story from the first trilogy, in the same manner as Batman Begins before it.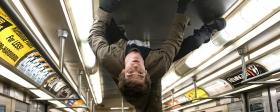 Peter Parker (Andrew Garfield) is a nerdy, albeit ordinary teenage boy, battling the mundane everyday issues, such as school and bullies. His fascination with science and the object of his affection, Gwen Stacy (Emma Stone) leads him to the headquarters of the conglomerate OsCorp, where he meets Dr. Curt Connors (Rhys Ifans), whose work with genetic manipulator tests involving splicing of reptile DNA in order to re-grow severed limbs, in the hope he can restore his own arm. Parker can't resist investigating OsCorp experiments, which leads him to being bitten by a genetically modified spider, transforms him into a super being. But when circumstances call on Dr. Connors to prematurely begin human testing on the regenerative serum, he doesn't fare as well - transforming into a crazed lizard, with a plot to infect the inhabitants of New York City.
I really enjoyed the new origin story, which plays up the mystery of Parkers parents' disappearance which will inevitably be returned to in forthcoming sequels and I think that enough elements are put in place to give the series another few films. But the film is far from perfect. When Parker puts on the suit, it gives him an air of invincibility which fails to reflect his vulnerability, even when he is felled at the films finale. This results in action scenes which feel a bit flat and lack real excitement, implying there is nothing really at stake.Some of the plotting was also somewhat ham fisted - I find it hard to believe that New York's finest would be so focused on arresting Spider-Man, when a 10 foot tall Lizard is wreaking havoc on the city. However, on balance, I really enjoyed The Amazing Spider-Man - flaws and all, and I very much look forward to where the series will be taken to next.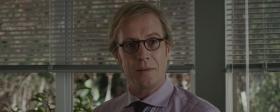 Video
The Amazing Spider-Man is presented in the original aspect ratio of 2.35:1, encoded with AVC MPEG-4 compression.
Similar to Sony's other big 2012 hit Men In Black III, for a film of such recent vintage, we all expect great things, and for the most part, that's what we get. The image is razor sharp, with a wealth of visual detail - no surprise, having been lensed entirely in the digital domain, on Red EPIC 5K cameras.
As such, there's a complete absence of film artifacts and film to video artifacts, and no need for any intrusive digital noise reduction.
For a comic book movie, even one which wishes to portray itself as realistic, I'm surprised by some of the production design choices. First up, colors are extremely muted. The bright and bold signature red Spider-Man costume from the previous entries has now been replaced by what looks like a dull maroon. It's certainly no fault of the transfer, but the film is extremely dark. I imagine that some viewing on earlier generation LCD's with naturally duller tones might even struggle with the image here. It's like watching the film through polarized glasses. Despite its darkness, there's a lot of detail to be found, which aren't lost to black crush.
Overall, The Amazing Spider-Man looks pretty good and an accurate representation of the theatre experience...even if it means that some might have to engage the dreaded 'dynamic mode'.
Audio
The Amazing Spider-Man is presented in DTS-HD Master Audio 5.1, at 24 bits.
As you would probably imagine, sound designers have moved completely to the right of conservatism here, giving the film an incredibly aggressive and dynamic mix which translates well to the home theatre.
The film is quite a roller coaster of sound design, with a significant surround presence and a deep and resounding LFE presence.
James Horner steps in to composing duties, usurping Danny Elfman. Unfortunately whilst Horner has done some amazing work in the past, his score for The Amazing Spider-Man can't hold a candle to the work of Elfman, or even his better works (of which many themes are self-plagiarized here).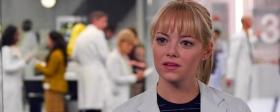 Extras
Blu-ray producer and documentarian Charles de Lauzirika was a constant on-set presence throughout filming, and his work makes up the impressive bulk of extras to be found on the second disc of the set.
First up is an Audio Commentary featuring Director Mark Webb and producers Avi Arad and Matt Tolmach. I didn't know much about Webb other than his music video career, but it seems he has a very good handle on the Spider-Man character. Arad, who also acted as producer on the previous entries, chimes in quite frequently offering justification for the quick reboot. It's an interesting track, with a little insight as to where the franchise will go in the future.
The main extra feature however, is the nearly two hour long Rites of Passage: The Amazing Spider-Man Reborn documentary, which over seven parts (with a handy 'play all' function, reveals a multitude of honest and frank behind the scenes footage and interviews , which completely pulls the hood back. Of particular interest was the choices made in the editing room which re-shaped the production late in the game, and filming in the 3D world.
Next up are some 17 minutes of Deleted Scenes to choose from. The film featured a somewhat problematic editing process, and much was dropped, including a lot of content which dealt with the mystery of Peter Parker's parents. We can view some of them in this section.
The Pre-Visualization and Image Progression Reels shed some light on the extensive use of visual effects in the production. I particularly enjoyed the look at the creation of the lizard, whose design I generally disliked, but makes for an interesting watch nonetheless. The Stunt Rehearsals footage shows just how much was performed on screen, compared to the significant use of CG stunts in the previous films - a pleasing trend to reality.
Finally, we have an Production Art Gallery which, whilst some fans may find holds some value, I simply had no desire in pressing 'next' 1000 times.