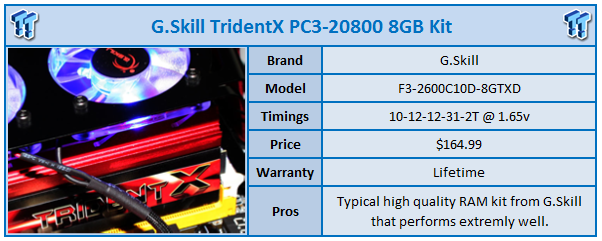 G.Skill's Trident series isn't a new series to us and is something we've looked at a couple of times already. The first kit we looked at was a PC3-19200 8GB kit that did a good job of impressing us with its default 2400MHz DDR clock and price tag that came in at under $100.
The other kit we looked at also did a good job of impressing us, but due to its higher speed, it carried with it a higher price tag, and slightly more relaxed timings. The PC3-21300 8GB kit ultimately performed very well and was a good option for people wanting a higher speed kit.
Today, though, we're looking at a PC3-20800 kit which as the name suggests falls between the two kits we've already looked at as discussed above. With not much else to say we can take a closer look at the kit we've got on hand today to see just exactly what we're dealing with from G.Skill.
Looking below you can see that straight away we don't have anything too different to what we've seen before with the TridentX design being present again. One of the big features that the TridentX series offers is that you're able to remove the top part of the heatsink in the situation you have a CPU cooler that is large and hangs over the RAM area of your motherboard. It's not a bad idea at all, and we like it.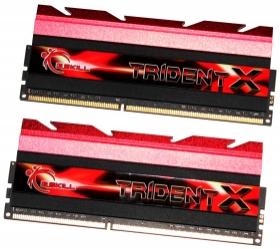 The black and red theme looks good, but what makes this G.Skill RAM stand out when compared to a lot of other company's high performance kits is the decision for them to go with black PCB - most ignore it. G.Skill tends to do apply a black PCB on a lot of its kits including some of the cheaper ones, which is something we've always loved about the company - nice attention to detail.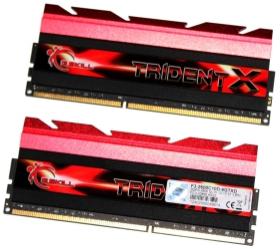 When it comes down to breaking down the two sides we can see there's not a whole lot of difference between either side with each having the same G.Skill logo along with the TridentX logo. The only difference is that one side has a sticker that gives us some of the main information in regards to the kit.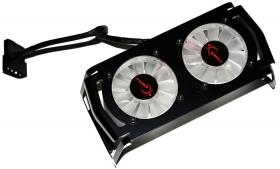 Before we look at the sticker that's present on the kit the last thing we've got to cover is the included fan. This is something we see on G.Skill's higher end kits. With the blue LEDs built-in it really does stand out in your case which is again something we love. We're never 100% sure if we really need it, but the inclusion is always nice.
Moving back to the kit itself and honing in on the sticker that's present on one side we get a good idea of what we're dealing with. Just based off the model name alone across the top you can see we're dealing with a 2600MHz DDR 8GB kit with a C10 setup. Moving below, though, we're able to get into a bit more detail when it comes to all that information.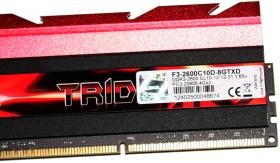 Again you can see we're dealing with a DDR3-2600 kit that comes in with a CL10-12-12-31 setup that requires 1.65v to get up and running, which is fairly standard for these high performance kits. That speed translates into PC3-20800 and next to that you can see this 8GB kit comes in the form of two 4GB modules.
Out of the box this isn't the fastest kit we've had running so we knew that getting the default speed wasn't going to be an issue on our test system. So we fired up our system and went into the XMP section of the profile and loaded the first profile to get the default settings up and running. We rebooted the system and with no surprise our machine booted and got into Windows. We fired up AIDA64 and checked the CPUID to make sure everything was right and as you can see below everything looked perfect.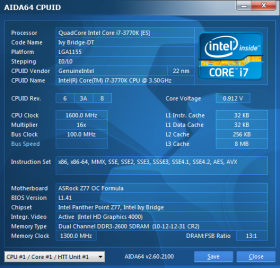 With everything looking good it was time to fire up AIDA64 and check out performance. We ended up with Read / Write numbers of 23,054 MB/s / 20,878 MB/s, Copy speed of 23,654 MB/s and latency of 32.0ns.
Looking above the numbers we're seeing are very typical for a CL10 2600MHz DDR3 kit. As always, though, we're more interested in the overclocking side of things as we try to find out just what the kit is capable of doing. So with that said it's time to get into the BIOS again and start to mess around with the BCLK and memory dividers to find out just what kind of speed we're able to reach.
Considering we're at the 2600MHz DDR divider we pushed ourselves to the 2666MHz DDR one which we figured wouldn't be an issue. Straight away we booted up. We headed back into the BIOS and pushed to the next memory divider which is 2800MHz DDR which we thought might be a little tougher. Again we booted with no issue and got into Windows.
Finally we moved to the 2933MHz DDR divider which we really didn't think would work, but to our surprise our machine booted up. Unfortunately as we made our way into Windows the system froze up. What we knew, though, was that we should get something around the 2900MHz DDR mark so we moved back to the 2800MHz DDR divider and started adjusting the BCLK.
In the end as you can see below we ended up with a 103 BCLK alongside the 2600MHz DDR divider. What that ended up resulting in is a 2883MHz DDR memory clock with an 11-13-13-33-2T setup, which is slightly more relaxed than what the kit comes rated for at its stock speeds.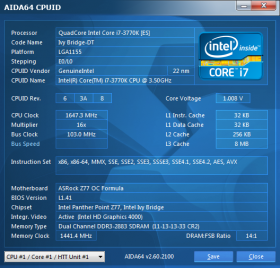 With everything looking good it was time to fire up AIDA64 and check out performance. We ended up with Read / Write numbers of 24,213 MB/s / 21,652 MB/s, Copy speed of 25,510 MB/s and latency of 30.5ns.
Across the board you can see improvements in all our numbers along with an overall reduced latency which is exactly what we want to see when it comes to the overclocking side of things. As always, though, there's one more thing that we need to do here and that is overclock our CPU to see just what kind of performance we can get out of memory kit here today with all things considered.
Heading back into the BIOS it's time to push our CPU multiplier up so we sit around the 4.7GHz mark. Normally we'd simply just move to a 47x multiplier, but because we've adjusted the BCLK here today to get as much performance possible out of the memory, we need to use a slightly different multiplier.
Since we know our CPU is good for 4.7GHz that is what we're going to aim for when it comes to our final clock speed. Back in the BIOS and messing around a little bit you can see exactly what we ended up with. Our multiplier is pushed to 45x which brings our CPU in at 4632.5MHz. Due to a little bit of fluctuation at times you can see our BCLK comes in at 102.9 in this instance which moved the memory to 2882MHz DDR. Overall, though, this is really no change to what we saw above in terms of performance.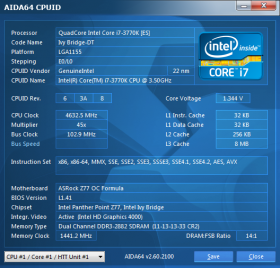 We ended up with Read / Write numbers of 26,011 MB/s / 24,673 MB/s, Copy speed of 26,883 MB/s and latency of 29.2ns.
Overall we've got some great numbers here and if you compare them to the default numbers we saw earlier, you can see some really nice improvements across the board. Even when the RAM is clocked at the same speed, you can see thanks to the boost in CPU speed, we get a really nice boost in performance across the board, and it comes in under that 30ns mark when it comes to latency.
The TridentX kit on a whole doesn't bring anything we haven't seen before when it comes to the overall quality. G.Skill know how to make great RAM and the kit we've got here today is no different as it has the ability to almost reach 2900MHz DDR.
G.Skill just makes quality RAM and there's no denying that if you're after something fast, this is exactly the kind of RAM you want to look at buying. As always, we've got to make a note that the kit you receive might not be able to do the same speed as us. A lot of that has to do with the CPU side of things. Out of the three 3770K CPUs we have only one has the ability to reach over 2900MHz DDR. The other hits the mid 2700MHz DDR mark and the other had issues at around 2600MHz DDR.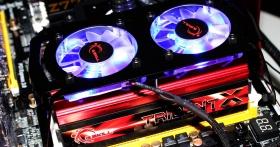 If you're fortunate enough to have a CPU with a strong Internal Memory Controller, though, this is the kind of RAM you're going to be able to really take advantage of. On the pricing side of things this isn't a cheap 8GB kit as we get into that 2600MHz DDR territory which is made even worse by the CL10 timings that are present out of the box.
At $164.99, though, it's not a hard price to justify due to the overall quality of the kit we're dealing with and the potential OC that you could achieve. G.Skill as usual doesn't disappoint and if you're looking for quality memory and you're willing to pay a bit more than usual, this is a kit that you should be looking at seriously.