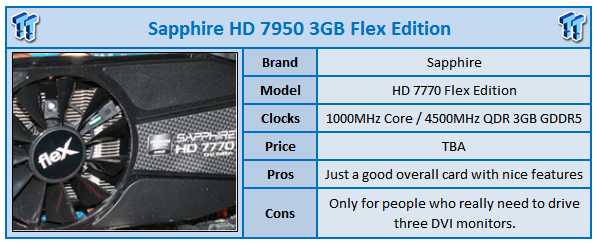 The Flex Edition series of video cards from Sapphire was a series that I wasn't sure would ever take off. To be honest, from a sales point of view, I have no idea how they've done, but they're obviously doing okay for Sapphire, as they continue to release more and more models under the Flex Edition name.
If you don't know what exactly the Flex Edition series of cards brings to the table, let us take a minute to share with you exactly what they offer. While most of us know about Eyefinity by now - the ability to run three monitors off a single video card, as what is essentially one big monitor. The biggest downfall to the technology was that it required at least one monitor to be connected via DisplayPort.
What the Flex Edition brought to the table was the ability to run three monitors in Eyefinity, but with DVI as the requirement. It's an option appreciated by a lot of users, especially those who own older monitors or simply don't want to spend the money that is associated with DP based monitors; a connectivity that continues to be far from mainstream at this stage.
Due to the fact that we've already looked at so many HD 7770 cards already, instead of going through the typical benchmark line up, we'll instead just focus on the features. We did run a few tests to give you a basic idea of performance.
Starting off with the box we haven't got anything too unusual. What I do like is that Sapphire gives us a bit of a rundown on what exactly the Flex Edition series is. Along with that, though, you can see the other normal highlights on the box including the model and some of the main features.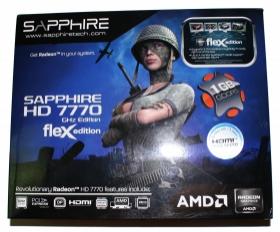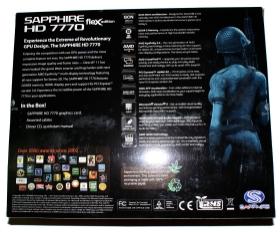 Turning over we get a little bit of a blurb, a list of what's included in the box and a rundown on some of the main features along with what exactly they bring to the table.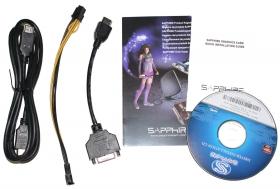 Moving inside the package you can see we haven't got a lot going on, but it's enough to get up and running. Starting from the left we've got a HDMI cable which is something Sapphire include quite often. Moving across we've got a Molex to 6-pin PCIe power connector, HDMI to Single-Link DVI VGA connector, Sapphire Select Club membership, Quick Installation Guide and finally a driver CD.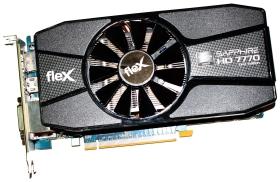 As we move away from the package we can start to look at the video card and you can see we've got a fairly basic looking design, but there are still some nice features. There is a massive heatsink behind the large fan that sits in the middle along with two copper heatpipes.


Towards the back we've got a single 6-pin PCIe power connector to get it up and running while closer to the front you can see we've got a CrossFire connector, which gives the ability to run two of these video cards together.

Getting into the I/O side of things we've got a Dual-Link DVI connector in the bottom right corner along with a Single Link DVI connector above that, along with a HDMI and DisplayPort connector.
Normally we would see a Radeon HD 7770 with two Dual-Link DVI connectors, but this is how Sapphire give us the ability to run three DVI monitors off a single video card. The third DVI connection comes from the HDMI to DVI convertor that is included in the bundle. Your other option is two DVI monitors and a HDMI monitor, and you can also of course use the DisplayPort as well if you wanted to go that route. And to be precise, if you've got a DisplayPort monitor, you can actually run four monitors.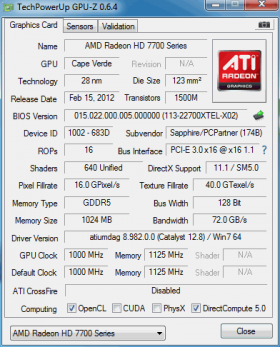 Having a look at the clock speeds you can see above that Sapphire has chosen to leave
the clocks alone which doesn't come as a huge surprise considering the market that this product is targeted towards. That means that on the core we've got a 1GHz clock and the 1GB of GDDR5 comes in at 4500MHz QDR.
Firing up 3DMark 11 and looking at performance we don't have any surprise with the numbers with a P3618 score and X1119 score. With the reference clock speeds this is exactly the kind of performance we'd expect to get out of our HD 7770 Flex Edition 1GB.
Moving away from the performance numbers and looking at the sound temperature and power draw numbers, we've got some good looking numbers, as we expected we would see. While power draw sits a little high at 178w when idle and 328w under load, we're not too worried as this has always been a bit of a constant from the AMD Radeon HD 7700 series.
Heat numbers are extremely strong with 30c at idle and 54c at load. Noise levels are also excellent with a 58.1dB level at idle and an only slightly raised 58.5dB at load. Overall the numbers don't come at a huge surprise as we've got that nice big fan and massive heatsink setup on this mid-range model.
When it comes to the Flex Edition series, the HD 7770 is a good option, as it's not going to carry the price tag that the higher end HD 7800 and HD 7900 series cards. If you're not looking for a performance based video card and one that is able to drive three DVI monitors, this is a great option and while we don't have the price yet, we know that while it will be more expensive than the standard HD 7770, it will be cheaper than those other Flex Edition models we just mentioned.
Sapphire's Flex Edition series of video cards is one that you're either going pay attention to or just completely ignore. If you're not going to go down the path of multi-monitors or you have a DisplayPort monitor, you're better off buying a standard HD 7770. On the other hand, if you have a set of DVI monitors already, and you're not looking for a performance based video card, then this video card is a great option to consider.