Cougar GX800 800-watt 80 PLUS Gold Power Supply Review
We take our first look at a Cougar power supply and find out they've got what it takes to compete with the leaders in the power supply market.
Published Sep 14, 2012 1:22 AM CDT
|
Updated Tue, Nov 3 2020 7:01 PM CST
7 minute read time
Introduction, Specifications, Availability and Pricing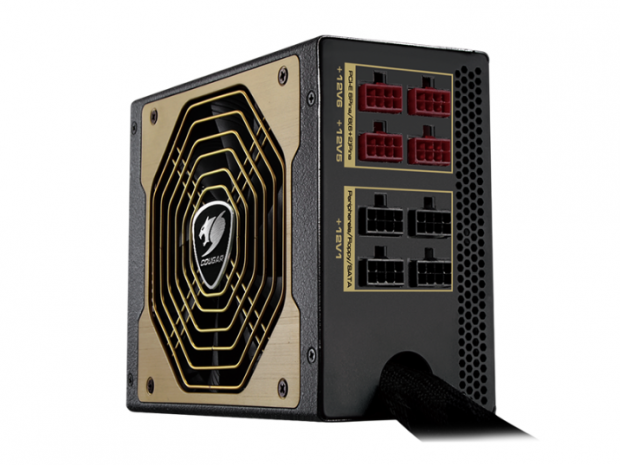 Today we are taking a look at a power supply from a manufacturer that I'm sure very few of you have heard of, let alone have any experience with.
Cougar is a newcomer to the PC industry and was founded in 2007. The company was founded by a group of people in Germany who felt there was a serious stalemate in design and quality within the PC market, especially within the case and power supply segments. They seek to change this by bringing innovative, high-performance and high-quality components to the PC gaming market.
The GX series of power supplies are on their second version and have some very promising aspects. Cougar claims the GX V2 power supplies are up to 93% efficient with less than 3% voltage regulation with low ripple. On top of that, they also use their own Vortex fan which they claim improves airflow at low RPMs, thus helping the unit stay quieter.
We can talk about the features all day long, but let's just dive into this thing and take a look at them as we go.
Specifications, Availability and Pricing
DC is exactly what you would expect out of an 800W power supply. Each of the minor rails are rated for 25A and a combined maximum output of 150W. 12V power is provided via four 12V rails. 12V1 and 12V2 are rated for 22A while 12V3 and 12V4 are rated for 24A. Total combined output of the 12V rails is 792W or 66A. The 5VSB rail is rated for 3.5A or 17.5W.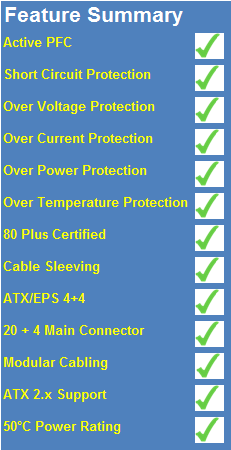 Something that surprised us the most from the start is the fully packed feature list. You don't normally see companies who are new to the industry go all out with features galore, but it seems that Cougar understands what gamers and enthusiasts want. All the protections are present including the over temperature protection. The unit features both native and modular cabling, all of which are fully sleeved. All modular cables are of the flat ribbon type. The Cougar GX V2 power supplies are rated for 80Plus Gold and 100% continuous output at 50C.
Newegg is currently the exclusive distributor of Cougar products in the United States. Unfortunately the GX800 is the only power supply that Newegg doesn't currently list and Cougar was unable to give us an MSRP on the unit at the time of publishing. Newegg does list the 700W for $140 and the GX1050 for $180 so it is very safe to assume that the GX800 will fall between there.
Since Cougar also offers a 900W unit, it would make even more sense since that you would find the unit somewhere between $150 to $155 based on our math. Cougar backs all GX V2 power supplies with a five year warranty.
Packaging
Cougar has one of the most interesting box designs that I have seen in a while as the packaging actually mirrors the look of the power supply. On the front we find wattage, warranty and efficiency information.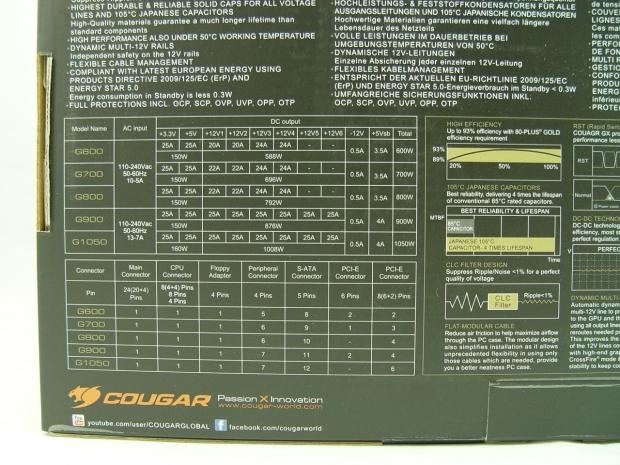 Moving towards the back, we get bombarded with information. It isn't so bad when you realize that the top half of it is the same thing in multiple languages. Here we see an excellent I/O specification chart as well as a decent list of connectors available on each model.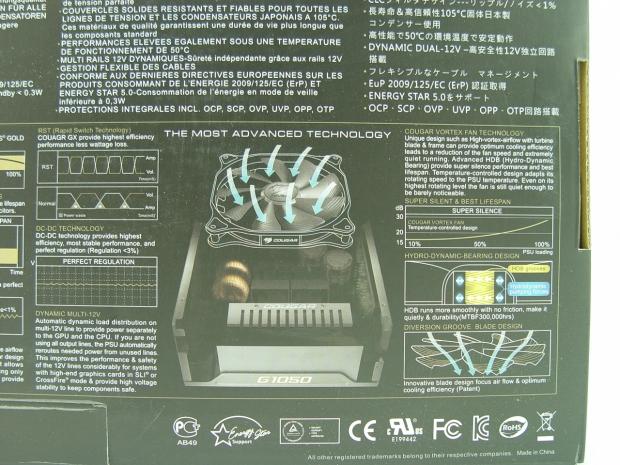 Also on the back is some information pertaining towards the use of their Vortex fan as well as some more on the DC output quality and voltage regulation.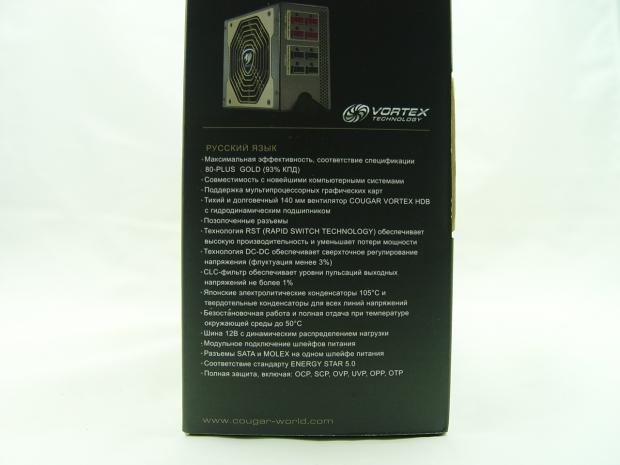 Both sides of the box just reiterate the information on the back just in another language.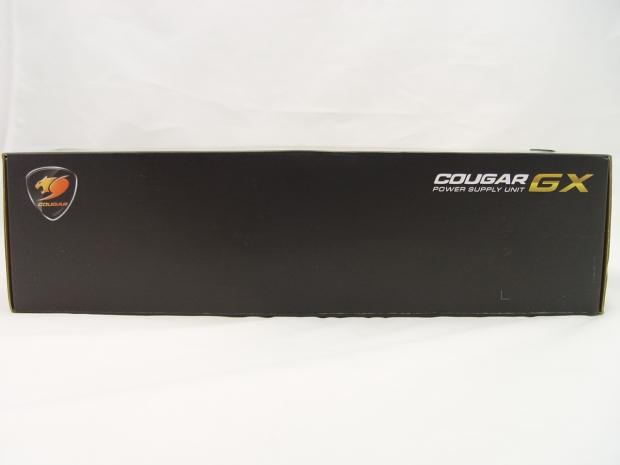 Top and bottom are blank. It would be nice to see some of the information on the back spread out so it wasn't so overwhelming.
Inside the Box
Opening the box we find things seem to be well packed.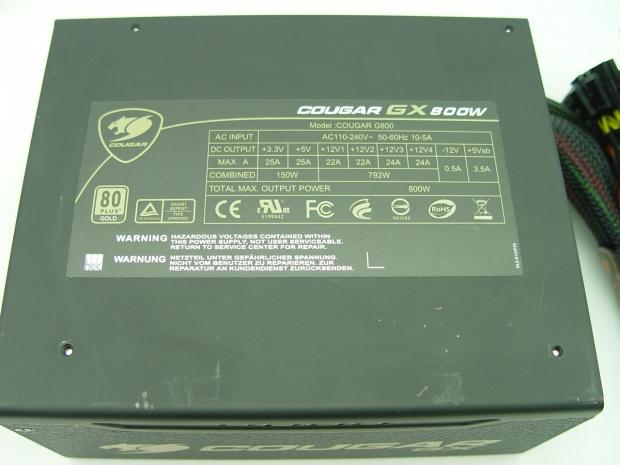 The top features the I/O specification. We thought that the unit was scratched during shipping, but we later found that the unit had multiple warranty stickers on it and had been in someone else's hands before ours.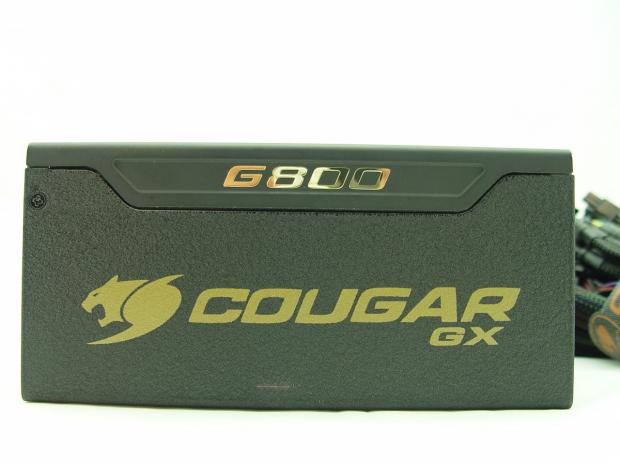 The side view gives a good shot of the finish on the power supply. The two different textures between the top and the bottom pieces of the PSU enclosure add to the aesthetics of the power supply.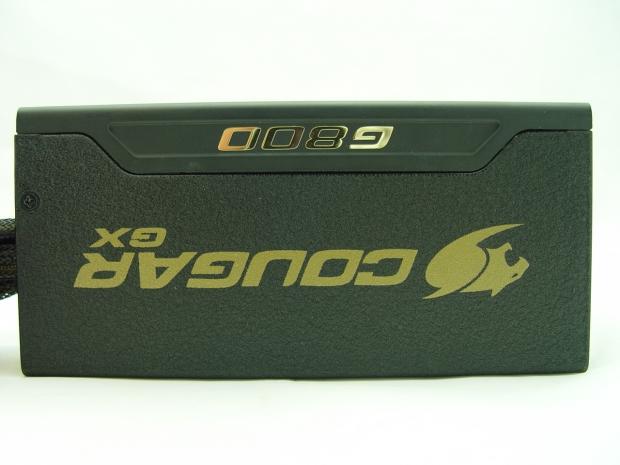 The other side features inverted text in case the power supply is installed in the bottom of the case.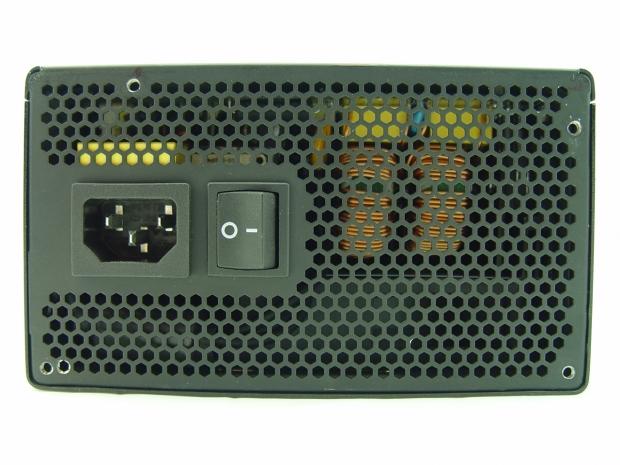 The back is standard with the honeycomb venting as well as the AC input and on/off rocker switch.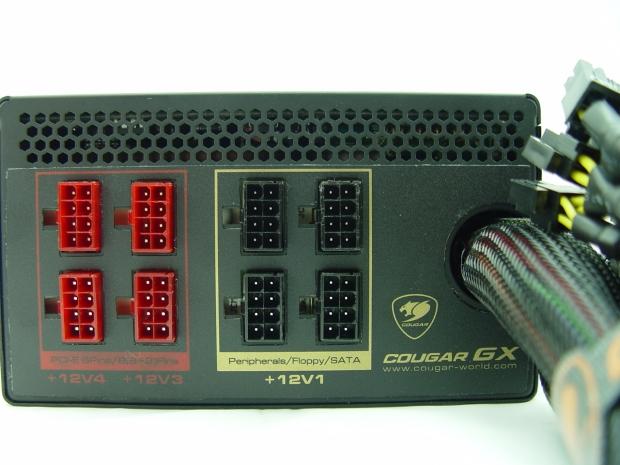 Something we don't normally see on the front of a power supply is more venting. The modular connectors are labeled very well.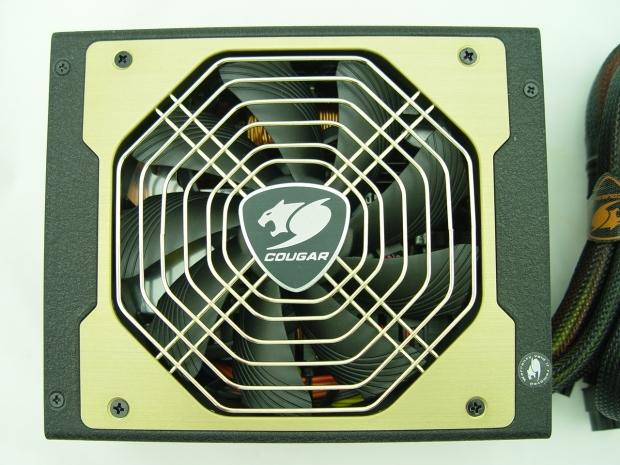 The bottom gives us a great shot at the 140mm fan that cools the power supply, but doesn't do it justice as to how great this power supply looks. It really feels like a piece of art in your hands.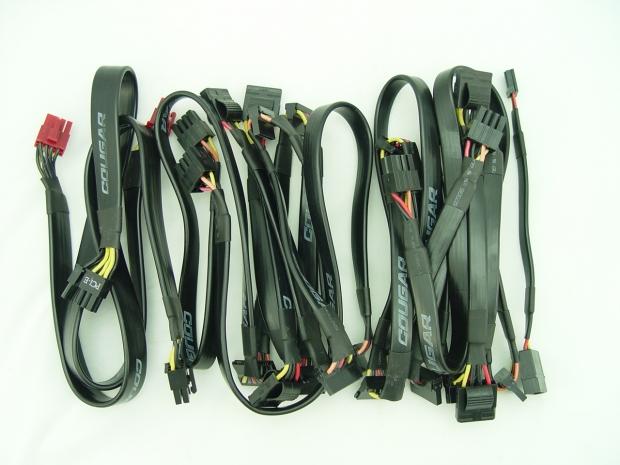 All modular cables are sleeved and flat which should provide for easier routing and increased airflow within the case.
Also included with the power supply is the user manual, mounting screws, case badge and AC input cord.
Cabling Arrangement and A Look Inside
Cabling Arrangement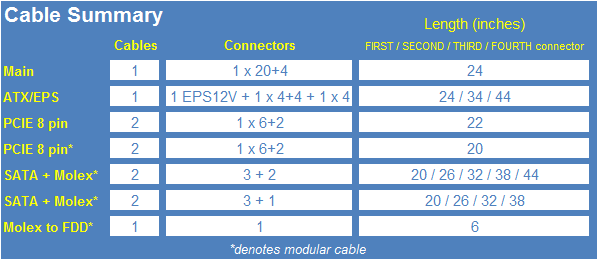 Cougar includes a strong list of cables and connectors with the GX800, but they could be better. All four peripheral cables feature both SATA and Molex connectors on them, meaning you can't have strictly SATA connectors in your case. It gets even more confusing with the ATX/EPS12V cable that sits on multiple rails with each connector. Aside from that, the unit offers up 12 SATA connectors and six Molex connectors with four PCI-E cables to feed your video cards.

Rail distribution looks very complicated, but it isn't as bad as it looks once you take the time to understand the ATX/EPS12V cable. Removing it from the equation we find that 12V1 takes care of the Main and all of the peripheral connectors. 12V3 and 12V4 each take care of three of the PCI-E connectors. Looking at the ATX/EPS12V cable, it starts off with an EPS12V connector that is fed off of 12V2 and 12V3. This splits off to an ATX 4+4 connector that is fed only off of 12V2. Finally, this splits off to an ATX 4 pin connector that is fed off of 12V2 as well.
This is a great design as it gives you some additional flexibility in balancing the rails should you need it. Unfortunately it isn't documented anywhere that we could find and we were only able to find all of this out by cracking open the power supply of which most consumers wouldn't be willing to do or probably shouldn't do.
A Look Inside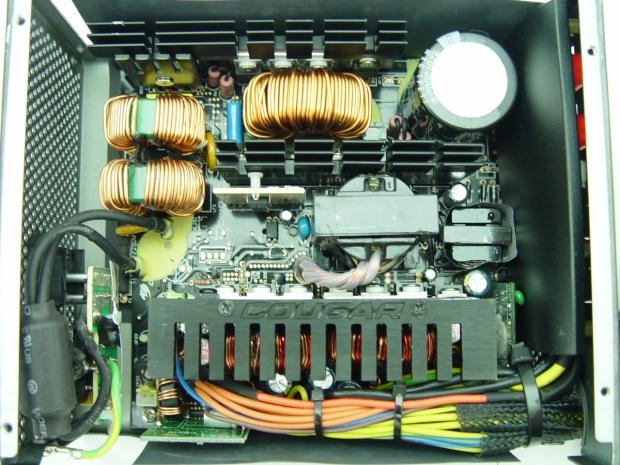 Taking the top off, we find several heatsinks that provide passive cooling for the unit. The branded heatsink is a nice touch on something that very few will ever even see.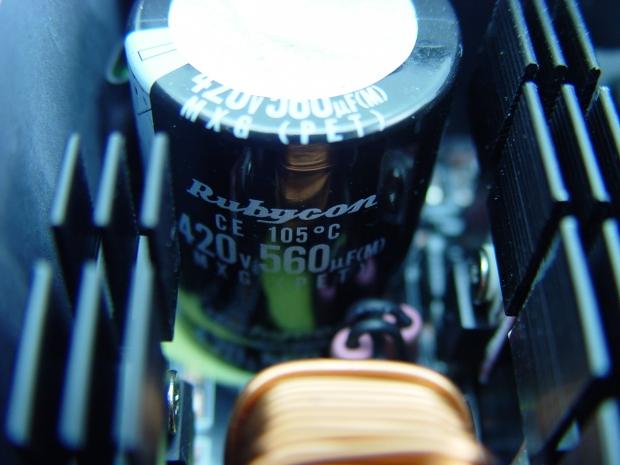 A single Rubycon capacitor covers the primary side of the Cougar GX800 power supply.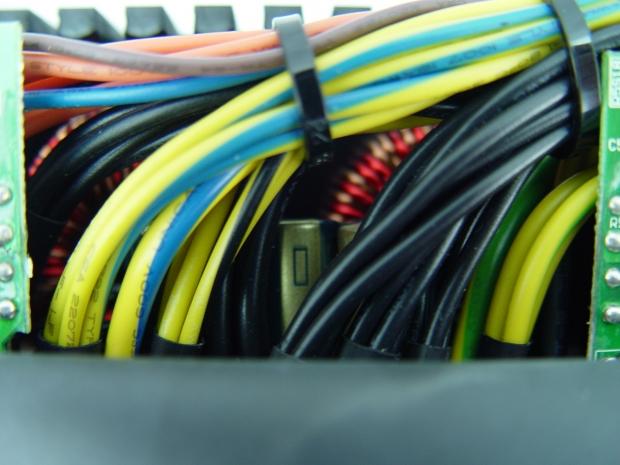 Teapo capacitors can be found on the secondary side of the PSU. With the quality that Cougar has throughout the rest of the power supply, it was rather surprising to see these when looking inside.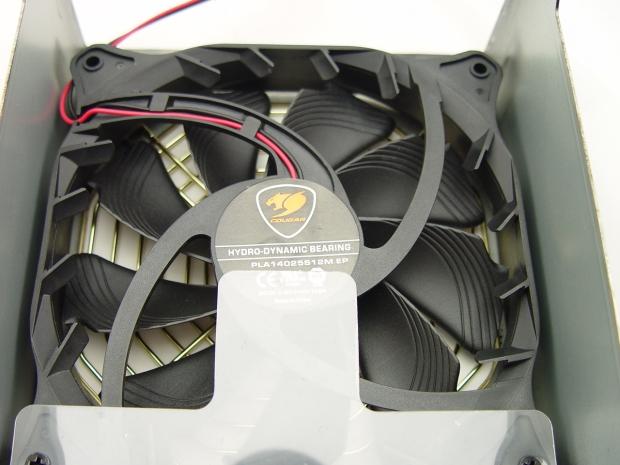 Cougar uses their own 140mm Vortex fan, model PLA14025S12M, to cool the GX800. The Vortex fan features several things that help cool the power supply. The grooved blades help focus air flow and provide optimum cooling efficiency and the turbine blades on the back help provide optimum airflow, air pressure and extremely silent performance.
Test Results and Final Thoughts
Test Results
Our load tests utilize a couple of FAST ATE active load testers and a variety of other equipment such as an oscilloscope, power conditioner, temperature probe and a power consumption meter. You can read more about our standard testing approach here.
The tests performed are based around six conceivable setups that are out there and progressively load down the PSU up to the power supply's limits or 1000W, whichever comes first. Since our test equipment's limits are greater than that of the Cougar GX800 800W power supply, we can test it to the maximum.

The above tests represent typical loads that we have measured from various systems and are meant to give a rough idea of where your computer might fall in line with our tests. Please keep in mind that each system is different and actual loads can vary greatly even with similar hardware.

Let's start by taking a look at the voltages to see how well this unit did during testing. Starting with the 12V rails, we see 2% regulation from start to finish on all rails. 12V1 showed the largest drop of .27V from start to finish and 12V3 showed the smallest drop of .19V from start to finish. The 5V rail managed to stay within 2% of specification with a total drop of .12V from start to finish. Moving towards the 3.3V rail, we see that regulation crept up to 3% with a total voltage drop of .08V.
DC Output quality for the Cougar GX800 was just what we expected and well within specification. During Test 1, we saw 14mV of noise on our scope. When we increased the loads in Test 3, the ripple climbed to 29mV at a little over half load. Under full load, the GX800 showed us a maximum of 39mV of noise.
The Cougar GX800 800W is rated for 80 PLUS Gold efficiency. This means that the power supply must perform at 87%/90%/87% efficiency at 20%/50%/100% loads respectively. As you can see, the GX800 800W passed on our bench wasn't close to failing at any point.
Final Thoughts
Cougar comes out of the gate swinging hard with the GX800. They have more things going right with its power supplies in the first few years of their business than some have after being in the industry for over 20 years. This is no small task and something that takes clear vision and strong determination to make happen, especially considering how easy it is to bring a subpar unit to the market.
Specifications and build quality help get this unit going right from the start. The features alone give it a leg up on a majority of the competition. One of the hardest features to come by is being rated for 100% continuous output at 50C and Cougar knows it is important. We don't often see new manufacturers offer warranties of longer lengths either, but Cougar doesn't hesitate to back their product with a five year warranty. About the only thing that we can really complain about is the subpar capacitors on the secondary side of the power supply.
Even that doesn't hold this unit back very much as the ripple seen on the 12V rails is quite good. On top of that, the unit boasts great voltage regulation and efficiency numbers that others still struggle to reach. Let's not forget just how darn good the GX800 looks. If the price comes in where we think it will, it sweetens the deal even more as it makes the unit quite competitively priced.
Cougar is definitely a company that you are going to want to keep your eye on, whether you are in the market for a new power supply or not. If you are, the GX800 is definitely a unit that you want to consider if it has enough power to suit your computing needs. If only we could find the GX800 for sale with a price attached to it, we are sure that it would be worth a value award. Unfortunately, we can't find it so we can't give it the award, but keep in mind it goes mighty close to also getting a feature's award.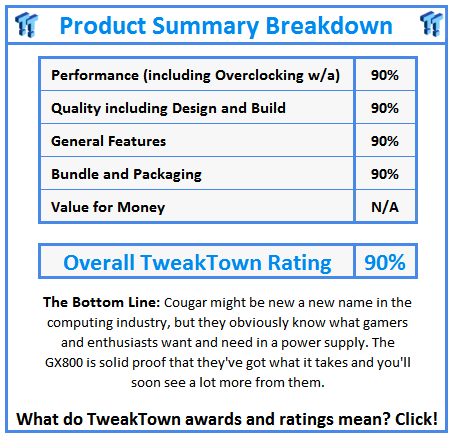 PRICING: You can find products similar to this one for sale below.

United States: Find other tech and computer products like this over at Amazon.com

United Kingdom: Find other tech and computer products like this over at Amazon.co.uk

Australia: Find other tech and computer products like this over at Amazon.com.au

Canada: Find other tech and computer products like this over at Amazon.ca

Deutschland: Finde andere Technik- und Computerprodukte wie dieses auf Amazon.de
We openly invite the companies who provide us with review samples / who are mentioned or discussed to express their opinion. If any company representative wishes to respond, we will publish the response here. Please contact us if you wish to respond.