Introduction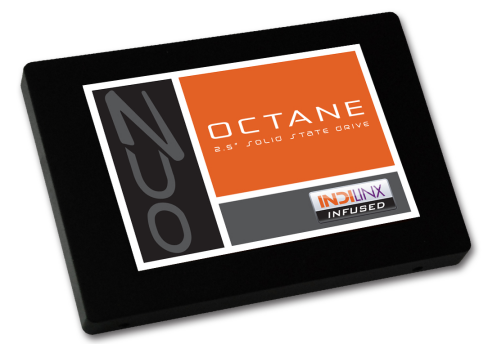 Back in November we had our first run in with the Indilinx Everest controlled Octane from OCZ Technology. While the members of the media (and our personal notebooks) were pleased to receive the massive capacity 512GB model, most end-users longed for performance metrics from the more affordable capacity sizes. OCZ's own specification sheet shows a 120MB/s difference between the write speed of the first unit we tested and the most affordable 128GB unit that we are looking at today.
It's no secret that larger capacity SSDs are faster than the smaller capacity drives. The way data travels can be similar to a highway system, the more lanes a highway has the more cars you can push through at the same time. If SSDs only read and wrote on a one lane highway then we would be limited to less than 200MB/s on the highest rated flash available today. By opening up several lanes drives are able to reach very high speeds and do so without the limits of moving parts.
On the surface the Octane is not a huge performer. OCZ has placed the drive under the Agility 3 yet the Octane costs more than the Vertex 3. You may wonder why the media has taken such an interest in Octane and I can answer that quickly. At CES this year OCZ demoed the Everest 2, the successor to the controller used in Octane, which is a potential candidate for OCZ's flagship Vertex 4 that should hit be sampling in time for Computex in June. Any time spent decoding the mysteries, finding the strengths and weaknesses of Indilinx's new SATA III architecture is essentially a dive into the technology OCZ plans to use in the second half of the year.

OCZ has already taken steps to improve the performance of the Indilinx Everest. A new firmware increased random write speeds. The performance firmware release nearly doubles random writes for all capacity sizes.
Specifications, Pricing and Availability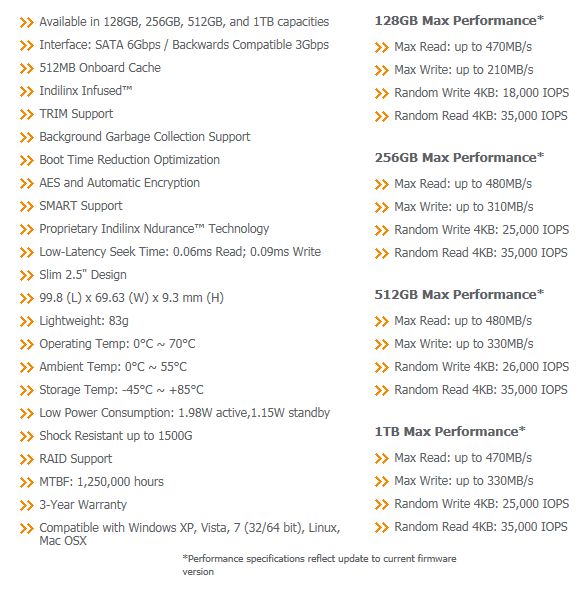 The 128GB model is the baby of the Octane family. This is more than just a statement on the capacity; it is also the slowest drive from the group. On paper the Octane 128GB has a max read of 470MB/s and the write speed is just 210MB/s, far lower than OCZ's SandForce based drives. You should already know that on paper performance doesn't always relate to real-world performance and we'll toss a zinger your way in the review that proves that point today.
After the OCZ acquisition some new Indilinx buzz words hit the marketing sheets. Indilinx Infused, it sounds a bit like SandForce Driven and Ndurance, a play on Durawrite maybe, but we don't get caught up with these buzzwords unless the technology they are based on blows our socks off. Octane's architecture uses a traditional design that is similar to most of the consumer SSDs use aside from Team SandForce models. The Octane has a controller, flash and a cache buffer that sits in-between. Just like the larger Octane, the 128GB uses two DDR3 chips for cache. We never nailed down the capacity of the cache in the 128GB model, the 512GB uses 512MB and the product family specification sheet says up to 512MB. It wasn't pressing enough for us to hold the review for clarification since the answer doesn't change the final results.
One thing I've found by actually using the 512GB drive is that it feels much faster than the benchmarks show. OCZ worked to reduce the access times and even though other products on the market show the same access time numbers in benchmarks, the Octane feels faster.
All of this is moot though because the only way for OCZ to make the Octane in its current attractive is to price it lower than the Vertex 3. In our first run with the Octane I stated this drive could be one of the first good SSDs to reach $1 per GB before it hits end of life. That hasn't happened, not even close. At the time of writing the 128GB Octane is on sale at Newegg for 179.99 USD, after a $20 mail-in-rebate. Of the three sizes listed only three Newegg reviews are listed, so I don't think this drive is exactly flying off the shelves, with the 120GB Vertex 3 now selling for 169 USD after a MIR it's easy to see why Octane isn't that attractive at this time.
The Packaging and OCZ Octane 128GB SSD
The Packaging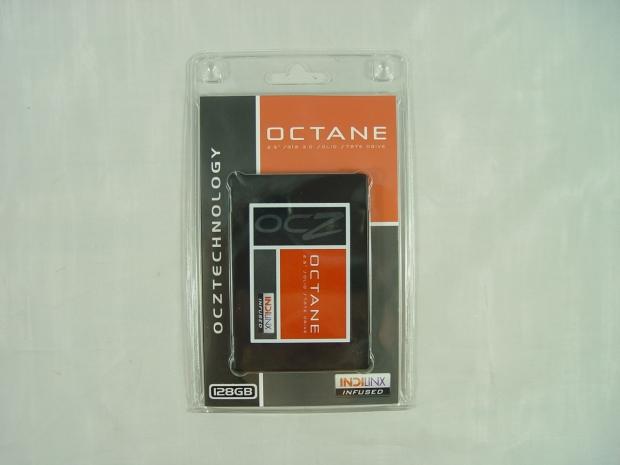 OCZ moved to the new blister pack for their drives that ship without desktop adapter brackets. The new design is fine and should help to lower prices. This way you get a good view of the drive inside and OCZ clearly puts the capacity size where it can be seen.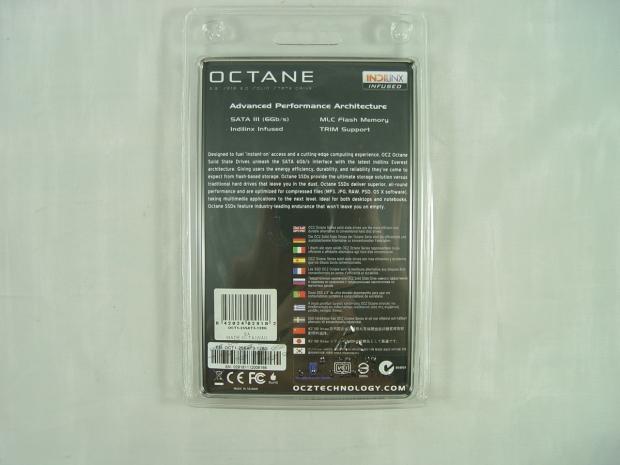 On the back of the package OCZ lists some general information about the Octane series.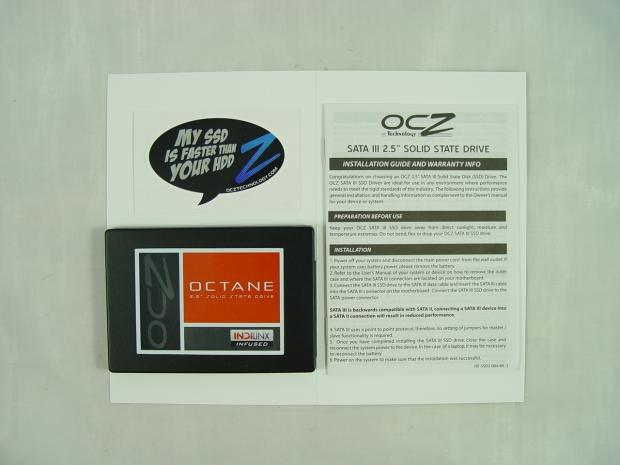 The accessory package is a bit sparse, but you do still get the SSD sticker and a paper manual. No desktop adapter bracket is included.
The OCZ Octane 128GB SSD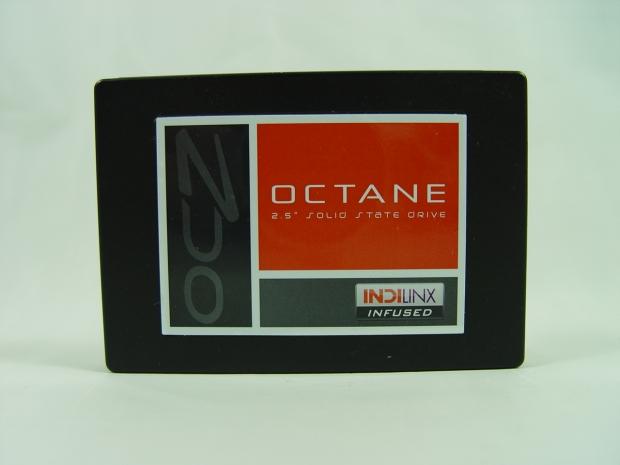 Here we get our first look at the 128GB version of the Octane. The front of the drive is like the other capacity sizes in the family. The drive uses the newest version of the plastic case which now conforms to the 2.5" drive spec and is 9mm high. This drive fits fine in notebooks.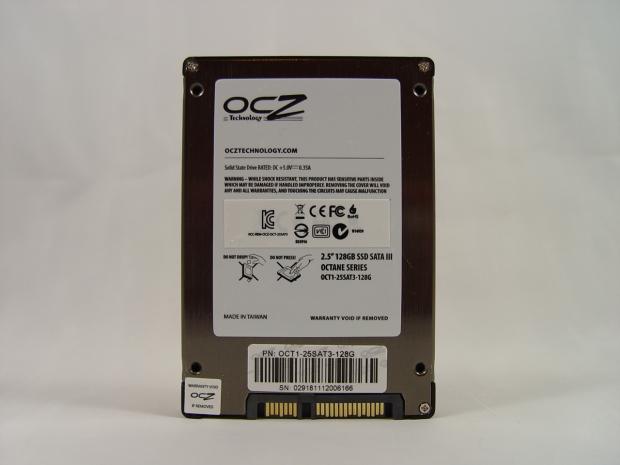 On the back is where you'll find the capacity size, model and serial numbers. The back half of the case is aluminum as are the sides where the mounting points are located.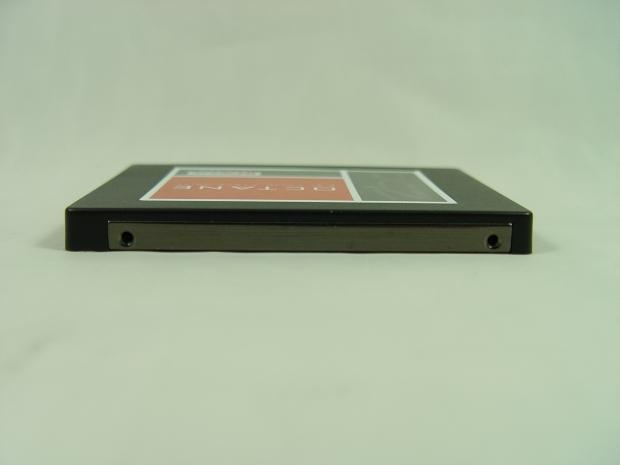 All of the mounting points are located where they need to be, so you won't have an issue when mounting this drive in your notebook or in a desktop adapter bracket (not included with purchase).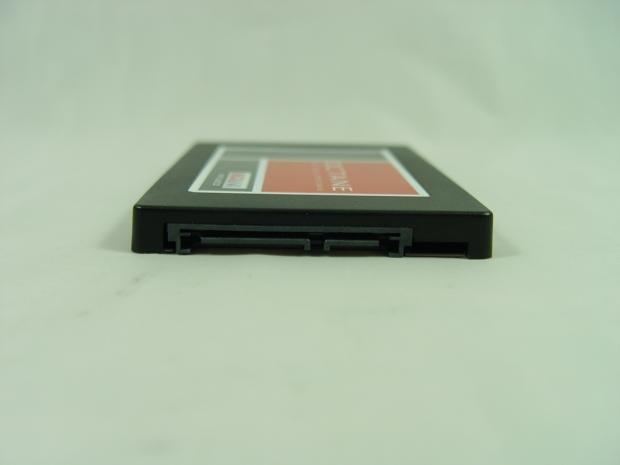 The SATA power and data ports are offset and in the standard position.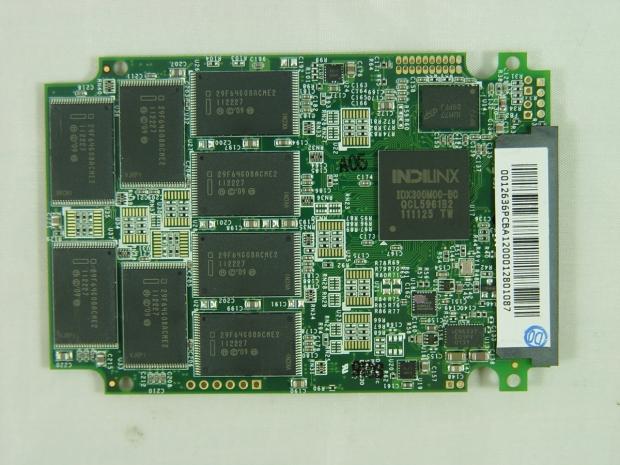 The 128GB Octane uses eight IMFT 25nm flash chips and two DDR3 chips for cache. Half of the chips are on each side, but this view also shows us the Indilinx Everest controller.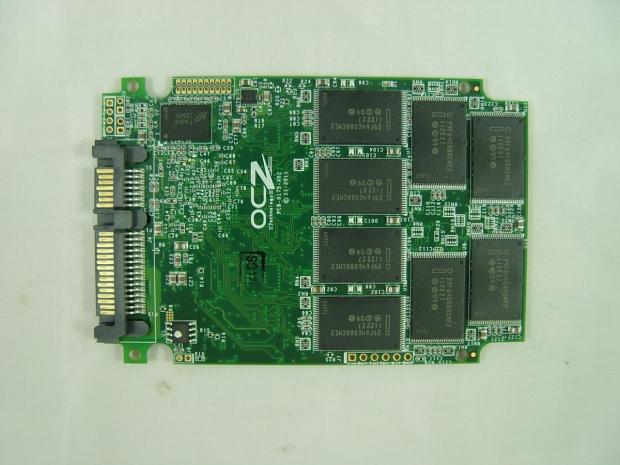 All things considered, the Octane is an SSD and most of them look the same these days. The 512GB model used TI switching chips, but the 128GB model didn't need them.
Benchmarks - Test System Setup and ATTO Baseline Performance
We would like to thank the following companies for supplying and supporting us with our test system hardware and equipment: AVADirect, GIGABYTE, Cooler Master, LSI, Corsair and Phanteks.
You can read more about TweakTown's Storage Product Testing Workstation and the procedures followed to test products in this article.
The new 2012 TweakTown Storage Test system is in full effect after a short validation period. I was very surprised at how quickly the system passed our tests for stability, performance and reliability. AVADirect came through again and supplied us with Intel's flagship processor, a true beast of engineering.
On the motherboard side GIGABYTE supplied us with two boards to get the system up and running. Our main requirement for 2012 was the need for four full length PCIe slots. We are now testing NAS servers with 10GbE Ethernet that is capable of delivering up to 800-1000MB/s of bandwidth. To reach those speeds on the client side we also require a RAID controller, the LSI 9265-8i is the best in class product for this purpose.
Reaching 1000MB/s for the OS is easier than it used to be with solid state drives. Running SSDs in RAID and keeping the performance high is another story all together. For this we chose to run eight Corsair Performance 3 drives. The Performance 3 Series use a very aggressive background garbage collection algorithm so performance stays constant even after an abusive cycle of tests.
For the first time in six years I'm not running a Noctua CPU cooler. The Phanteks orange CPU cooler matches the orange on the motherboard and I wanted to see what other companies have to offer. I'm not disappointed in the cooler or its performance, but I did need to modify the cooler to fit the taller Corsair Vengeance memory.
ATTO Baseline Performance
Version and / or Patch Used: 2.34
ATTO is used by many disk manufacturers to determine the read and write speeds that will be presented to customers.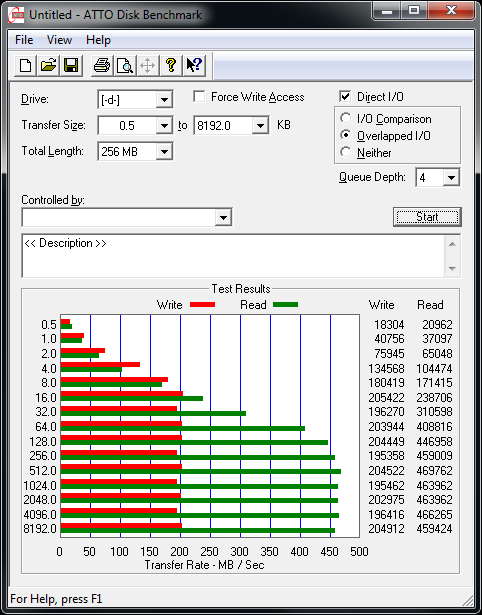 Using ATTO we achieved a marketing speed of nearly 470MB/s read and 205MB/s write. That is a fairly wide gap between read and write performance, but common on this type of architecture in smaller capacity drives. Peak performance is hardly the best way to judge performance as you will see in the fill testing today.
Benchmarks - HD Tune Pro
HD Tune Pro
Version and / or Patch Used: 4.00
Developer Homepage: http://www.efdsoftware.com
Product Homepage: http://www.hdtune.com
HD Tune is a Hard Disk utility which has the following functions:
Benchmark: measures the performance
Info: shows detailed information
Health: checks the health status by using SMART
Error Scan: scans the surface for errors
Temperature display
HD Tune Pro gives us accurate read, write and access time results and for the last couple of years has been gaining popularity amongst reviewers. It is now considered a must have application for storage device testing.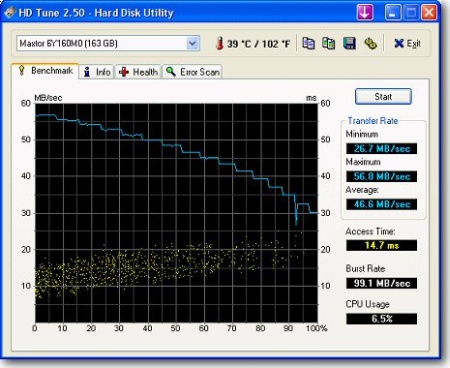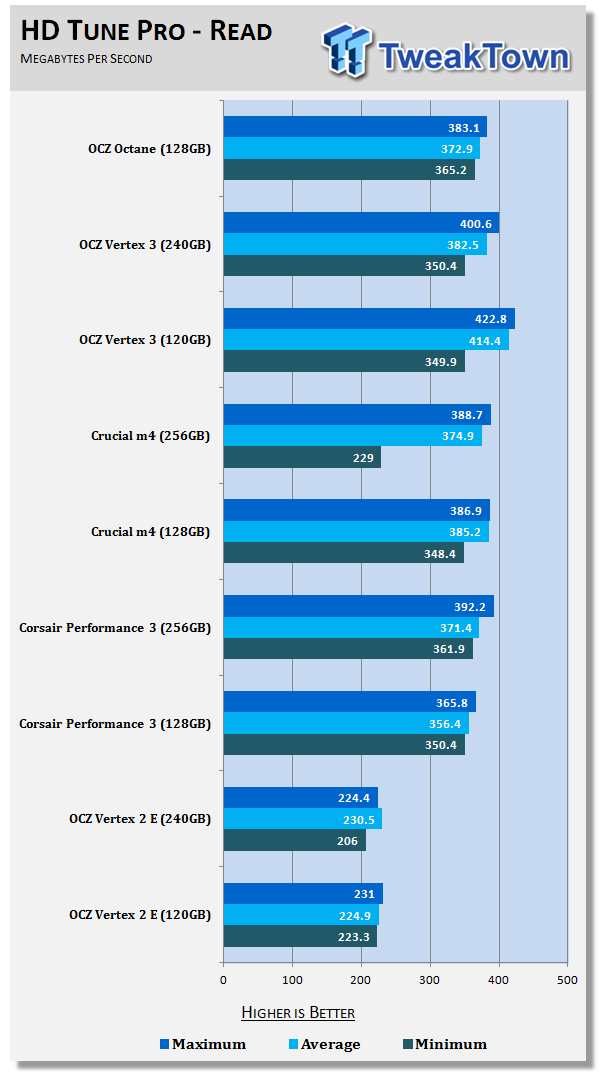 I don't think read speed will be an issue for any users looking at the Octane for their operating system drive. The Octane performs very well when reading data back as well can see here in this benchmark designed to test across the flash performance.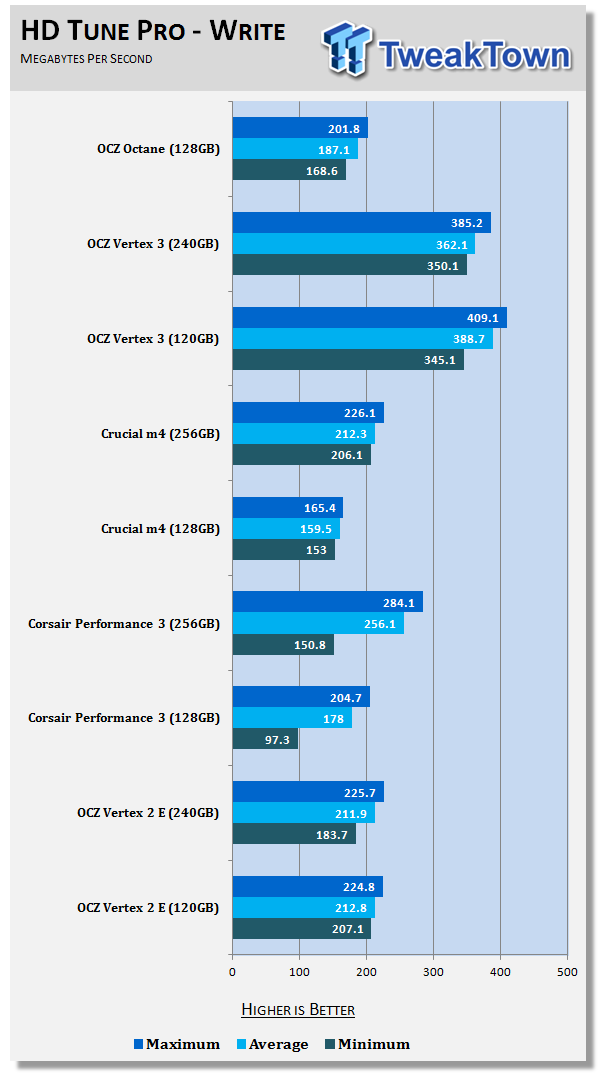 The write speed is solid across the drive with an average write speed of close to 190MB/s. Most users read more data back than they do write data after all of their programs are installed and the system is setup to their liking. The main issue is that the Octane lags behind several other lower cost drives that are on the market today.
Benchmarks - AIDA64 Random Access Time
AIDA64 Random Access Time
Version and / or Patch Used: 1.60
Developer Homepage: http://www.aida64.com
Product Homepage: http://www.aida64.com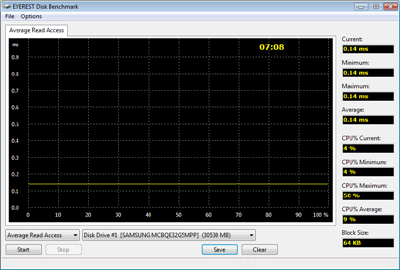 AIDA64 offers several different benchmarks for testing and optimizing your system or network. The Random Access test is one of very few if not only that will measure hard drives random access times in hundredths of milliseconds as oppose to tens of milliseconds.
Drives with only one or two tests displayed in the write test mean that they have failed the test and their Maximum and possibly their Average Scores were very high after the cached fills. This usually happens only with controllers manufactured by JMicron and Toshiba.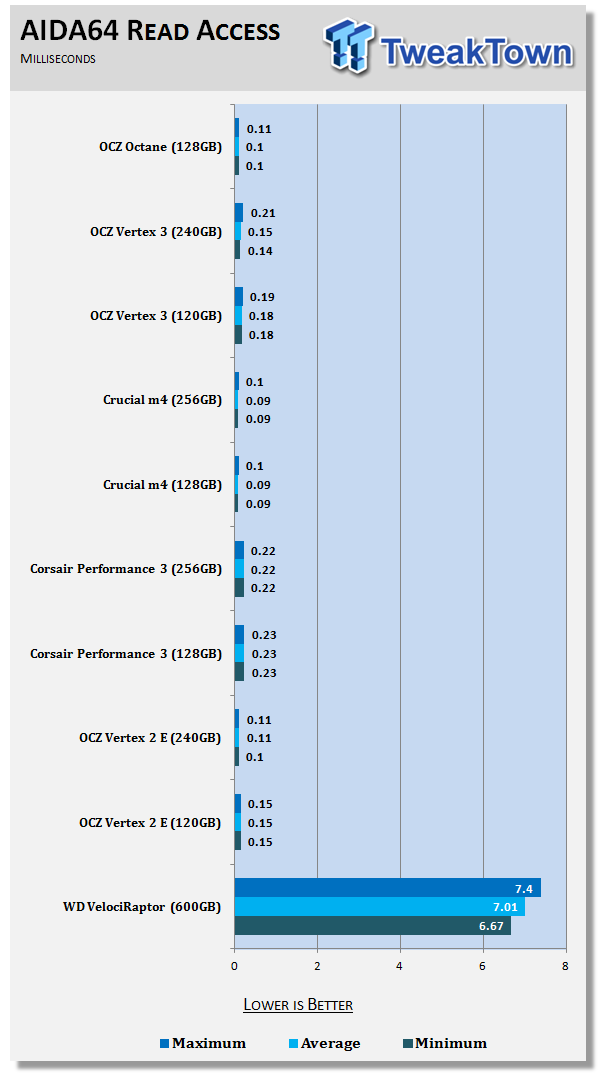 The 128GB Octane has impressive read access times. The cache seems to give the drive an extra performance boost in the way the drive feels, this isn't shown on the benchmarks, though.
This benchmark tests a 64kb block size. For the last couple of months we've been looking at ways of testing other block sizes and are down to two options. Look for some updates in the next month when we roll out the new disk testing procedures. Octane is faster than most drives in some of the other block sizes and that is why it feels faster in real-world use.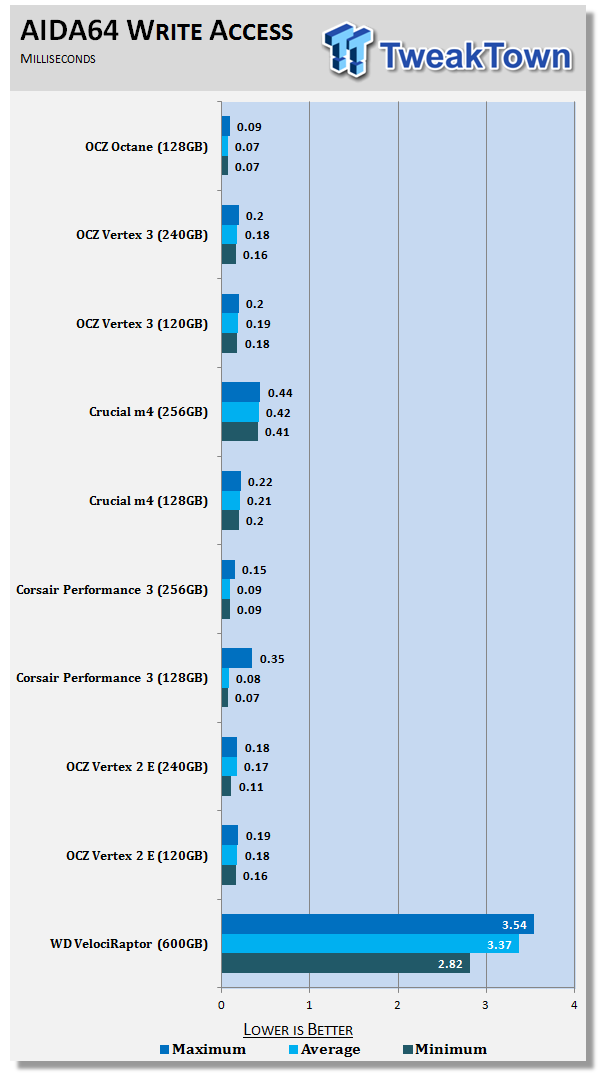 The write access times are also very low. Here we see the Octane delivering write access times that are half of what the Vertex 3 produces.
Benchmarks - CrystalDiskMark
CrystalDiskMark
Version and / or Patch Used: 3.0 Technical Preview
Developer Homepage: http://crystalmark.info
Product Homepage: http://crystalmark.info/software/CrystalDiskMark/index-e.html
Download here: http://crystaldew.info/category/software/crystaldiskmark
CrystalDiskMark is a disk benchmark software that allows us to benchmark 4K and 4K queue depths with accuracy.
Key Features:-
* Sequential reads/writes
* Random 4KB/512KB reads/writes
* Text copy
* Change dialog design
* internationalization (i18n)
Note: Crystal Disk Mark 3.0 Technical Preview was used for these tests since it offers the ability to measure native command queuing at 4 and 32.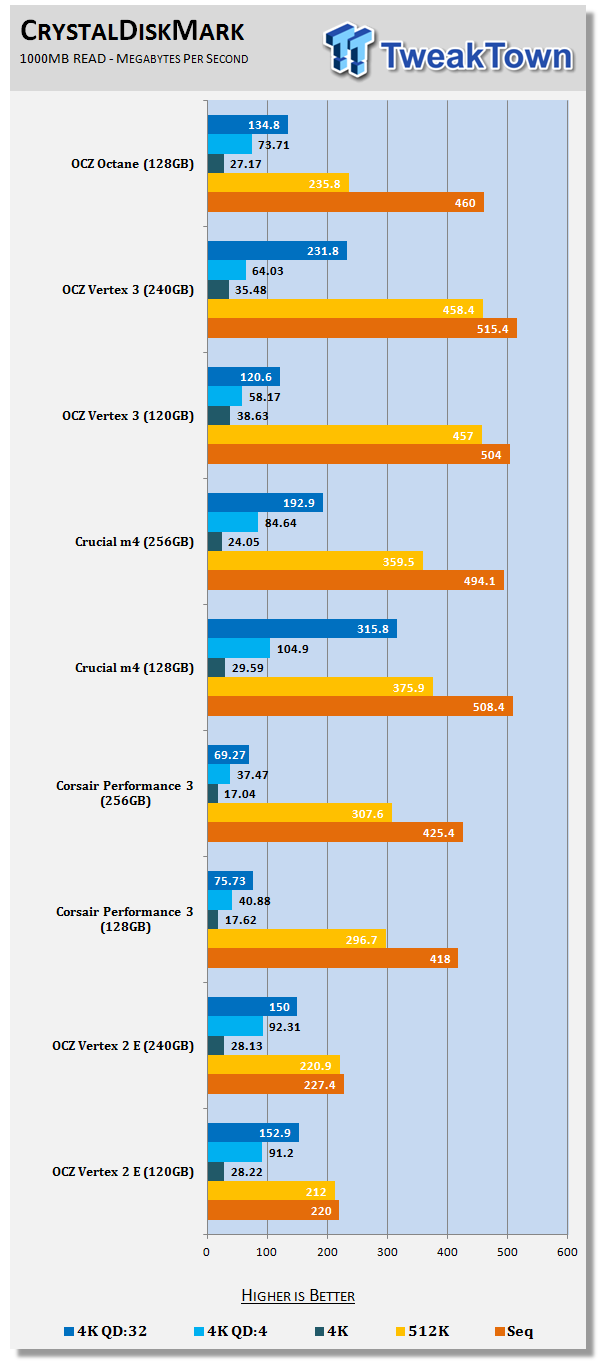 Here we are looking at 4K and NCQ performance. OCZ states in the Octane literature that the drive was optimized for 1-3 queue depth, but we only test with 1, 4 and 32 depths. When compared to the Vertex 3 120GB we see the Octane is a little slower at 4K, but ramps really well when the commands are stacked.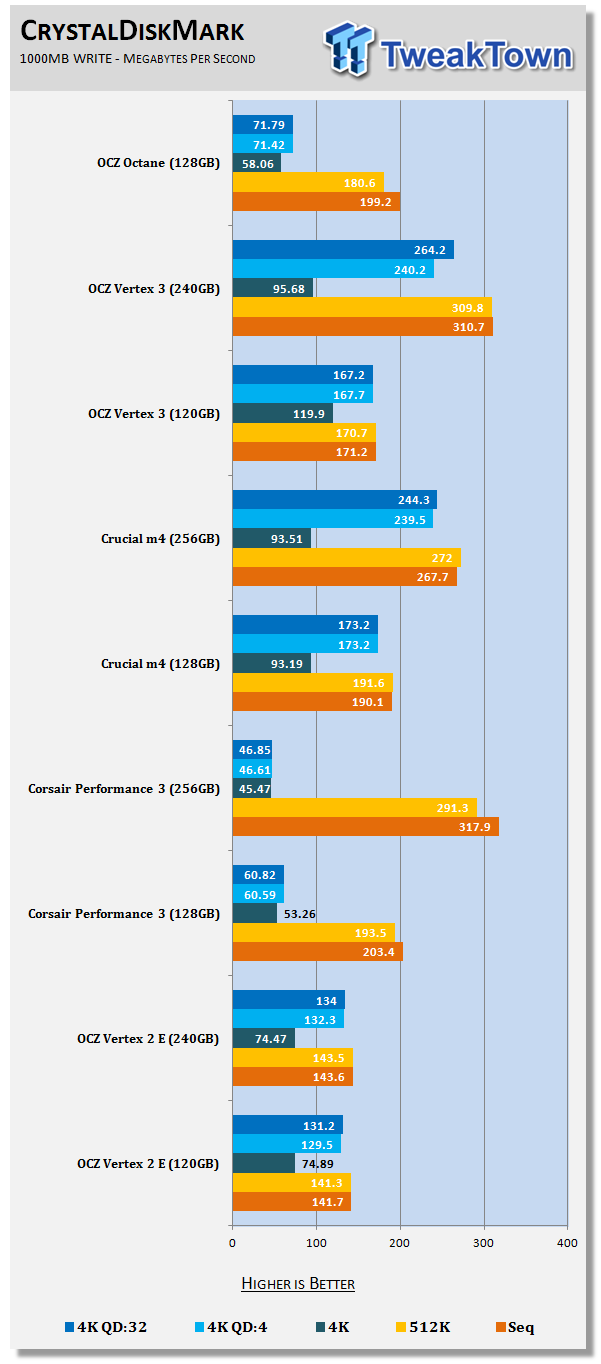 Like many of the smaller drives, the Octane hits a wall when writing data at depth. That wall seems to be right around 72MB/s which is around 100MB/s slower than the 120GB Team SandForce drives.
Benchmarks - PCMark Vantage Hard Disk Tests
PCMark Vantage - Hard Disk Tests
Version and / or Patch Used: 1.0.0
Developer Homepage: http://www.futuremark.com
Product Homepage: http://www.futuremark.com/benchmarks/pcmark-vantage/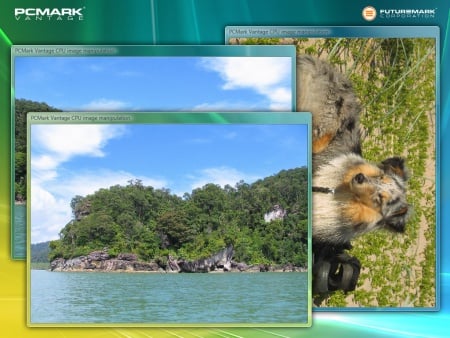 PCMark Vantage is the first objective hardware performance benchmark for PCs running 32 and 64 bit versions of Microsoft Windows Vista. PCMark Vantage is perfectly suited for benchmarking any type of Microsoft Windows Vista PC from multimedia home entertainment systems and laptops to dedicated workstations and high-end gaming rigs. Regardless of whether the benchmarker is an artist or an IT Professional, PCMark Vantage shows the user where their system soars or falls flat, and how to get the most performance possible out of their hardware. PCMark Vantage is easy enough for even the most casual enthusiast to use yet supports in-depth, professional industry grade testing.
FutureMark has developed a good set of hard disk tests for their PCMark Vantage Suite. Windows users can count on Vantage to show them how a drive will perform in normal day to day usage scenarios. For most users these are the tests that matter since many of the old hat ways to measure performance have become ineffective to measure true Windows performance.

HDD1 - Windows Defender
HDD2 - Gaming
HDD3 - Windows Photo Gallery
HDD4 - Vista Startup
HDD5 - Windows Movie Maker
HDD6 - Windows Media Center
HDD7 - Windows Media Player
HDD8 - Application Loading
The industry standard test for measuring real-world performance puts the OCZ Octane very close to the Vertex 3 120GB, but this test is a bit less real-world for our liking these days.
PCMark Vantage - Drives with Data Testing
For a complete breakdown on the Drives with Data Testing please read this article. You will be able to perform this test at home with the files provided in the article - full instructions are included.
- Brief Methodology
SSDs perform differently when used for a period of time and when data is already present on the drive. The purpose of the Drives with Data testing is to show how a drive performs in these 'dirty' states. SSDs also need time to recover, either with TRIM or onboard garbage collection methods.
Drives with Data Testing - 25%, 50%, 75% Full States and Dirty / Empty Test
Files needed for 60 (64GB), 120 (128GB), 240 (256GB)
60GB Fill - 15GB, 30GB, 45GB
120GB Fill - 30GB, 60GB, 90GB
240GB Fill - 60GB, 120GB, 160GB
Empty but Dirty - a test run just after the fill tests and shows if a drive needs time to recover or if performance is instantly restored.

HDD1 - Windows Defender
HDD2 - Gaming
HDD3 - Windows Photo Gallery
HDD4 - Vista Startup
HDD5 - Windows Movie Maker
HDD6 - Windows Media Center
HDD7 - Windows Media Player
HDD8 - Application Loading
We prefer a more realistic approach, one that takes measurements from drives with data present. How much data is on the drive, or more to the point, how much of a full to empty ratio plays a very large role in how a drive performs. My standard measurement is 50/50, but other ratios are also on display in this chart.
When we started out I mentioned the Agility 3, a SandForce controlled drive paired with asynchronous flash. When 50% full the OCZ Octane is actually faster than the Agility 3 even though Octane is placed lower on OCZ's product line up.
Benchmarks - AS SSD
AS SSD Benchmark
Version and / or Patch Used: 1.2.3577.40358
Developer Homepage: Alex Intelligent Software
Product Homepage: Alex Intelligent Software
Download here: http://www.alex-is.de/PHP/fusion/downloads.php?cat_id=4&download_id=9
AS determines the performance of Solid State Drives (SSD). The tool contains four synthetic as well as three practice tests. The synthetic tests are to determine the sequential and random read and write performance of the SSD. These tests are carried out without the use of the operating system caches.
In all synthetic tests the test file size is 1GB. AS can also determine the access time of the SSD, the access of which the drive is determined to read through the entire capacity of the SSD (Full Stroke). The write access test is only to be met with a 1 GB big test file. At the end of the tests three values for the read and write as well as the overall performance will be issued. In addition to the calculated values which are shown in MB/s, they are also represented in IO per seconds (IOPS).
Note: AS SSD is a great benchmark for many tests, but since Crystal Disk Mark covers a broader range of 4K tests and HD Tune Pro covering sequential speeds, we will only use the Copy Benchmark from AS SSD.
- Copy Benchmark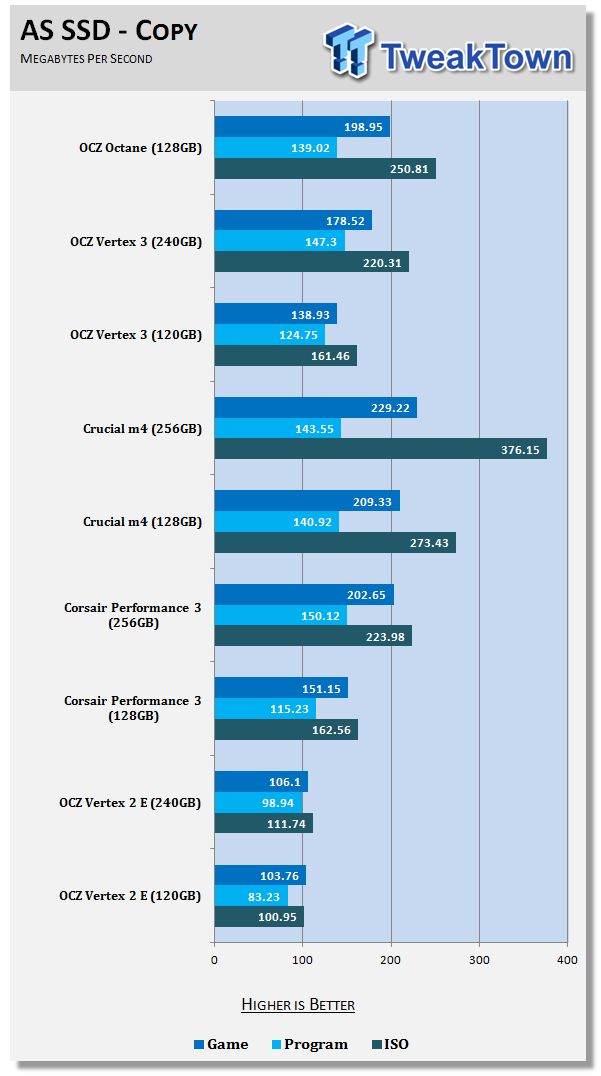 When it comes to file transfer performance the Octane manages to outperform the SandForce 120GB drives by a pretty large margin.
Benchmarks - Passmark
Passmark Advanced Multi-User Tests
Version and / or Patch Used: 6.1
Developer Homepage: http://www.passmark.com
Test Homepage: http://www.passmark.com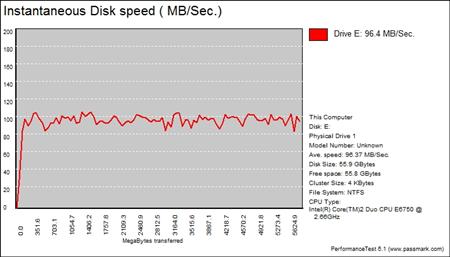 Many users complain that I/O Meter is too complicated of a benchmark to replicate results so my quest to find an alternative was started. Passmark has added several multi-user tests that measure a hard drives ability to operate in a multi-user environment.

The tests use different settings to mimic basic multi-user operations as they would play out on your server. Variances is read / write percentage as well as random / sequential reads are common in certain applications, Web Servers read nearly 100% of the time while Database Servers write a small amount of data.
The Workstation test is the only single user environment and will be similar to how you use your system at home.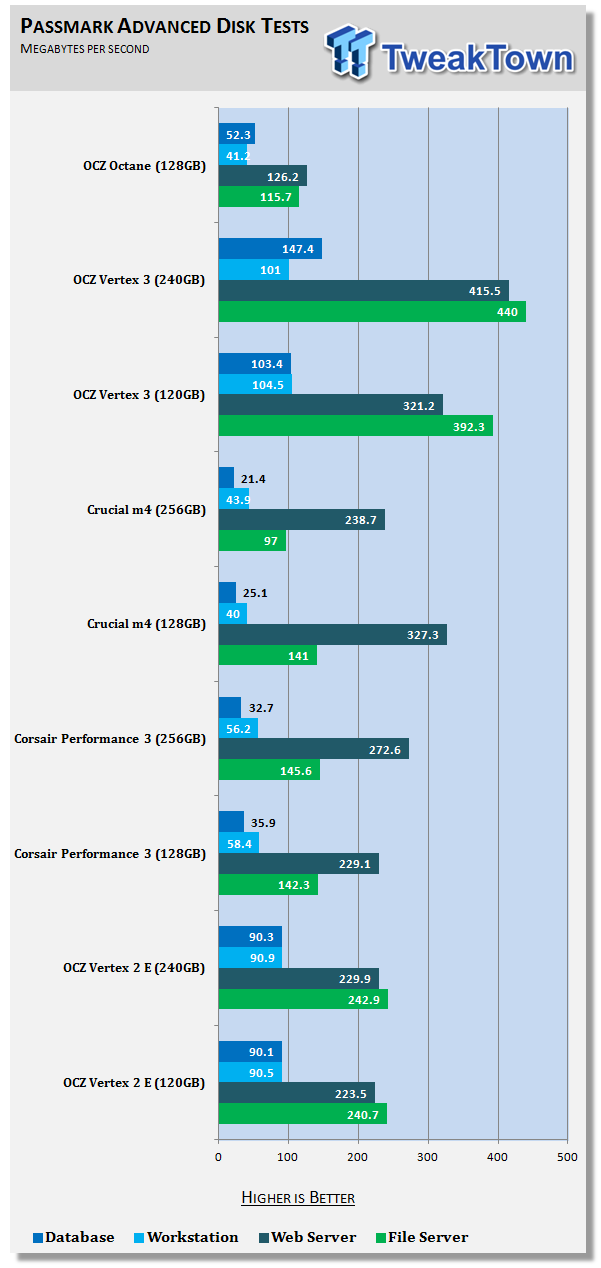 Octane isn't designed for enterprise tasks, but we still run these tests for those looking for a low cost light use server drive.
Final Thoughts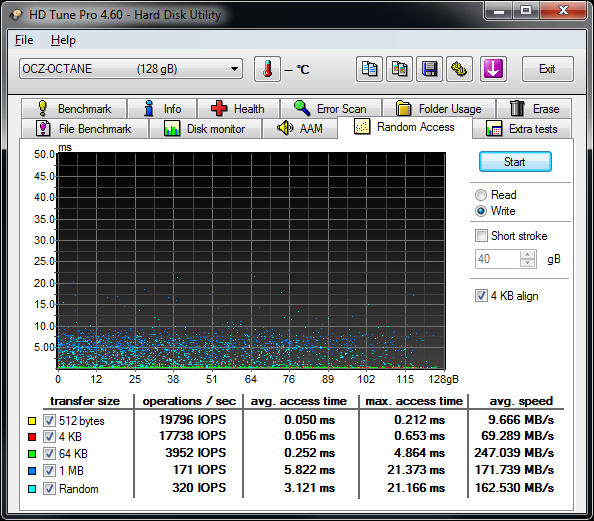 OCZ Technology's Octane 128GB is a solid state drive with all of the benefits of solid state drive technologies that make them the absolute best upgrade for a computer today. For most users any of the tier 1, 2, 3 or 4 drives will be enough to satisfy their web browsing, light gaming and FaceTwitSpace posting needs.
Access times are the key to a better user experience and it is one area that platter drives have little hope overcoming anytime soon on their own. If you take into account MaxIOPS type products with SF-2281 controllers and Toshiba Toggle mode flash and use it as the starting point for consumer 2.5" drives, calling those tier 1 then the OCZ Octane is a solid tier 4 product that is able to outperform tier 3 products with SF-2281 controllers paired with IMFT 25nm asynchronous flash. I'm talking about real-world tests in real-world environments. I would use an Octane before I'd use an Agility 3 in my personal system since I keep my notebook drives fairly full with daily use programs, some instant access music and other tidbits.
The only real issue with the OCZ Octane and every other non-SandForce controlled drive on the market is the OCZ Vertex 3 and other 2281/sync flash drives. OCZ is the main culprit with the 120GB Vertex 3 selling for as low as $150 new in the box all over the web. The Vertex 3 is balls out fast, but is priced like a budget drive. Go figure! Every other non-SandForce drive used DRAM cache and it adds to the overall cost. Until someone makes a breakthrough to either get cost down or makes a significant architecture performance improvement, the lower cost 2281/sync option is still the king and why would anyone be tempted to buy anything different?
Still, Indilinx Everest is the processor to Everest II and we're keeping a close eye on this drive to gain some insight into OCZ's next-generation flagship offering. On its own the OCZ Octane doesn't impress us with its performance or its value other than the way it feels as an OS drive.
I do have to applaud OCZ for their transparency when it comes to Octane. Usually companies try to tuck products without an outstanding feature away from the media. I've heard other companies say they wouldn't sample a product knowing it was going to get a poor score. Octane isn't a bad product, it's just a little late to market for the performance it has. If Indilinx released this drive back with Crucial released the C300 SATA III or the SandForce SF-1200 drives like the Vertex 2, it would have been a really good performance offering. Indilinx was going through a difficult time, trying to get Jet Steam up to speed and they lost a lot of time, a whole generation actually. OCZ is now at the reigns and we expect to see some good things coming from the new OCZ / Indilinx controllers, just not this one.