Jurassic Park (1993) Blu-ray Movie Review
"Welcome to Jurassic Park!"

Published Sat, Nov 12 2011 5:17 AM CST
|
Updated Tue, Nov 3 2020 7:01 PM CST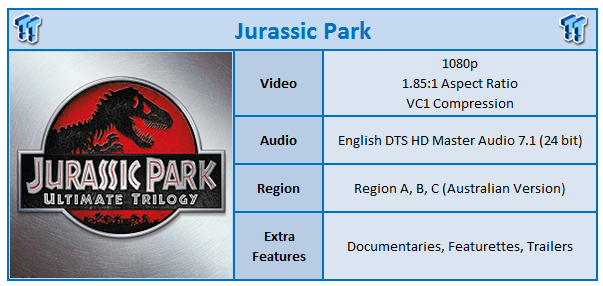 I remember fondly going to the premiere screening of Jurassic Park in September of 1993. I was seven years old and my mum was apprehensive about taking me, no doubt fearing that my brush with dinosaurs at such a tender age would ensure I ended up a serial killer. I wasn't really obsessed with dinosaurs at that age, but I was fascinated and I remember distinctly wanting to go. But I wasn't as in love with film as I would be in a few years time. I don't recall being scared at all. In fact, I thought it a little tame. But my little 7 year old brain told me it was a good film, and everyone around me agreed.
Wealthy Billionaire John Hammond (David Attenborough) has devised a way to genetically clone dinosaurs from 65 million years ago and used his finances to create a giant zoo. The park is almost finished and has been kept secret from the world (in real life it would have leaked on Twitter), and Hammond is seeking the opinions of Paleontologists Alan Grant (Sam Neill) and Ellie Sadler (Laura Dern), mathematician Ian Malcolm (Jeff Goldblum), the token Lawyer and his young niece and nephew. But when the park is sabotaged, the visitors are left to fend for their lives and attempt an escape.
Steven Spielberg directed the film with such style and panache and not only successfully brought near photo-realistic dinosaurs (not that any such photos exist of course) to the screen for the first time, but we were encouraged to believe these were real, living, breathing creatures. Part of the success of Jurassic Park was building the film around a tangible and believable world and introducing breathtaking effects which allowed the audience to truly accept and believe the world they were seeing. It's truly one of the few classics from the last two decades of film.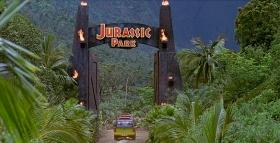 Video
Jurassic Park is presented in the aspect ratio of 1.85:1 (its original aspect ratio), encoded with VC-1 compression.
Steven Spielberg's Blu-ray releases to date have been very good remasters, including Close Encounters of the Third Kind, War of the Worlds and Minority Report which have seen significant effort to look as good as possible. But then there's Universal studios. Despite the effort that goes into the extra features and consistent presentation of lossless audio tracks, they frequently drop the ball with video transfers. 'Drop the ball' is probably a poor phrase - 'cheapen out' is probably more accurate.
So how does the first, and one of Universals crown jewels fair? Well, it's a mixed bag. Some shots look significantly better than the DVD counterpart and others look very similar. Much of the film is shot in low light, and some of these scenes show a heavy swathe of film grain and noise. I guess we should be grateful that it wasn't DNR'd to death, but under the careful hand of film restorers such as Lowry, this could have looked significantly better.
The transfer is reasonably sharp and detailed and I'm confident that it captures most of what the camera captured. CG visual effects shots look a little blurry and ill defined, but this is likely due to the computer rendering limits of 1993. Allegedly, these were only output at 1k, which is slightly less than 1080p. Visually, this rings true.
It's pretty clear that for the most part, Jurassic Park features an off-the-shelf video transfer. It looks almost identical to previous HDTV airings. It's not terrible, but like the movie blew my mind all those years ago, I wanted the renewed picture quality to do the same now. And on that basis, I was disappointed.
[img]2[/img]
Audio
The main audio track is encoded with DTS HD Master Audio 7.1 at 24 bits.
Now this is more like it! In 1993, Jurassic Park featured the world's first 5.1 DTS audio release and that classic mix has been extrapolated into a 7.1 transfer which did blow my mind.
Long time DVD fans will recall the controversy of the films initial DTS DVD release in October 2000, which featured an anemic mix with wimpy bass response. Universal held that it wasn't faulty, but the Dolby Digital standard DVD featured plenty of bass.
It seems that audio mixers have tinkered with the original audio track by adding extra sounds for ambience purposes (birds chirping etc.) that weren't there before. This may annoy some film purists, although I didn't mind too much.
I'm sure 99% of people will never notice. It would have been nice to retain the original 5.1 mix, but this has not occurred.
Surround channel usage is very aggressive; you actually feel like you are smack bang in the middle of an island, and it is very impressive. Bass activity is also very deep. The growls and footsteps of the T-Rex attack really come to life if you have a good subwoofer setup.
John Williams' score is as triumphant as ever. This really is an amazing soundtrack and one of my personal favourites. The 7.1 re-mix has been kind to it, with a fuller soundstage constructed which certainly wraps up the viewer like a nice blanket.
Overall, an extremely pleasing upgrade to the old DVD.
[img]3[/img]
Extras
Despite flaws in other areas, Universal should be congratulated for including pretty much all the extra features produced for the film over its laserdisc and DVD releases, as well as a new two and a half hour documentary spread across all three movies. Let's jump in.
New to this Blu-ray is the feature length Return to Jurassic Park documentary, of which an hour features on this disc. The principal actors Sam Neill, Laura Dern and Jeff Goldblum return in brand new interviews, along with Steven Spielberg. With the space of two decades the legacy of the film can truly be appreciated, and much of the documentary deals with the films pioneering computer generated effects.
Next up, under the heading of Archival Featurettes can be found The Making of Jurassic Park originally featured on the laserdisc release in 1994 and still holds up as a nice vintage look at the film. It's hosted by James Earl Jones - although he had nothing to do with the film at all. This runs at nearly 50 minutes. The Original feature on the making of the film is a fluffy EPK short, and pretty pointless at roughly 5 minutes. Steven Spielberg Directs Jurassic Park is another short piece which has many shots of Spielberg gesticulating has hands frequently, with some commentary on his fast shooting methods.
The next few featurettes are not new, but will be to many Australians, as they were only available on the limited edition 4 disc DVD set some years ago. Early pre-production meetings is some rough handycam footage of a Spielberg led table conference discussing how they would achieve some of the effects of the film. The video quality is very basic and the sound is awful, but it's a nice fly on the wall look. Location Scouting at under two minutes doesn't reveal much, but looks at the filming locations; in particular the Hawaii set.
The next two featurettes give a hint at the abandoned efforts to animated the dinosaurs with go-motion animation - Raptors in the Kitchen and T-Rex Attacks. Despite deciding to utitilise CG, Spielberg turned to Phil Tippet to create short animatics of how he saw the two sequences before filming began. Look out for the hokey Velociraptor tongue movements.
The aptly named ILM and Jurassic Park: Before and After Visual Effects looks at the original background plates before the CG dinosaurs were added in. Foley Artists takes a look at the oft ignored, but critical production unit that makes all the cool sounds we take for granted.
Finally, we have two promotional pieces; the original Theatrical Trailer and Jurassic Park: Making the Game which looks at the new game by Tell Tale games. I'm excited.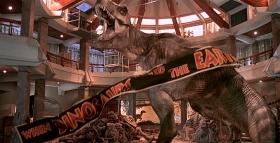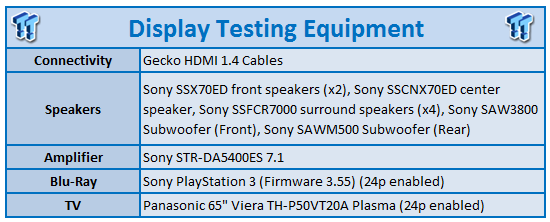 PRICING: You can find products similar to this one for sale below.

United States: Find other tech and computer products like this over at Amazon.com

United Kingdom: Find other tech and computer products like this over at Amazon.co.uk

Australia: Find other tech and computer products like this over at Amazon.com.au

Canada: Find other tech and computer products like this over at Amazon.ca

Deutschland: Finde andere Technik- und Computerprodukte wie dieses auf Amazon.de
We openly invite the companies who provide us with review samples / who are mentioned or discussed to express their opinion. If any company representative wishes to respond, we will publish the response here. Please contact us if you wish to respond.