Patriot Pyro 120GB SandForce SF-2281 Solid State Drive Review
Patriot launches a budget SandForce SF-2281 controlled SSD. Is the Pyro enough to start your fire or does it just crash and burn?
Published Wed, Aug 3 2011 7:00 PM CDT
|
Updated Tue, Nov 3 2020 7:01 PM CST
Introduction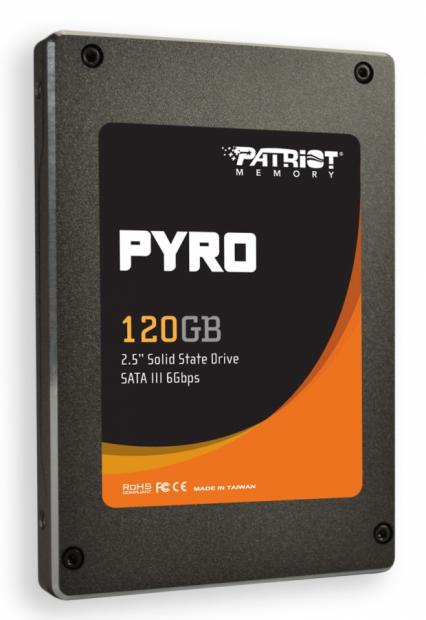 We've already seen Patriot's low cost SSD offering for 2011, the Torqx 2 using a new Phison controller. Then we saw the 2011 flagship Wildfire that pairs a SandForce SF-2281 controller with synchronous IMFT flash, the current go-to combination for the best performance available. Today we are looking at the product that has been shoehorned between the Torqx 2 and Wildfire, the Pyro.
The Patriot Pyro uses the same SandForce controller as the Wildfire, a SF-2281, but pairs it with asynchronous IMFT flash. This combination produces a good cost friendly product out of the gate, but in the past we've observed long term performance issues that arise as the drives fill with data. SandForce is aware of the performance issues and the fact that we really don't like some of the performance we've seen from drives filled at 50% capacity, and they've been working on the firmware to increase performance. Our 120GB Pyro sample shipped to us with the latest firmware and we'll keep an eye on the Fill Rate Performance in this article and see what's been done and how the Pyro performs.
SandForce has actually been working on the firmware for all of their products and we're seeing some nice performance increases with almost every new release. At the same time, partners like Patriot have been working on their pricing. This is good news for the consumer and we are now seeing SandForce based SSDs at prices that are not only easy to swallow, but to be honest, they are damn near unbelievable.
Let's tackle pricing, availability and the current Patriot SSD lineup on the specifications page.
Specifications, Pricing and Availability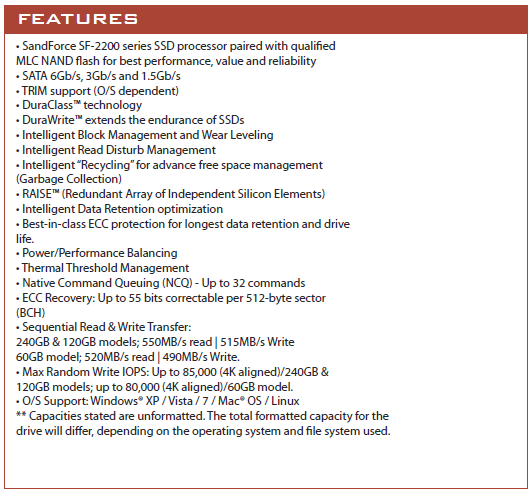 Patriot is offering the Pyro in three capacity sizes; 60GB, 120GB and 240GB. The two largest capacity sizes are capable of delivering 550MB/s read and 515MB/s write speeds, while the 60GB is limited to 520MB/s read and 490MB/s write. The 4K random write IOPS is also staggered between the capacity sizes; 85,000 for the two large drives and 80,000 for the 60GB.
The Pyro uses the SandForce SF-2281 controller, the fastest on the market at this time, so you get all of the propriety SF technology like DuraWrite and DuraClass as well as TRIM support for operating systems that support it.
Then we have the current Patriot SSD line up and how it all breaks down by price; this is at the time of writing. The entry level product is the Torqx 2 and in the 128GB capacity size costs 199.99 at Newegg. The flagship Wildfire at Newegg costs 299.99 USD for the 120GB model. That leaves a pretty big gap open for the 120GB Pyro, but instead of placing the Pyro right in the middle, Patriot has positioned it at 209.99, on the low side. This is going to work out very well for consumers, but at the same time cause some confusion since the Torqx 2 is priced so close to the Pyro. The Pyro is the superior product.
The Packaging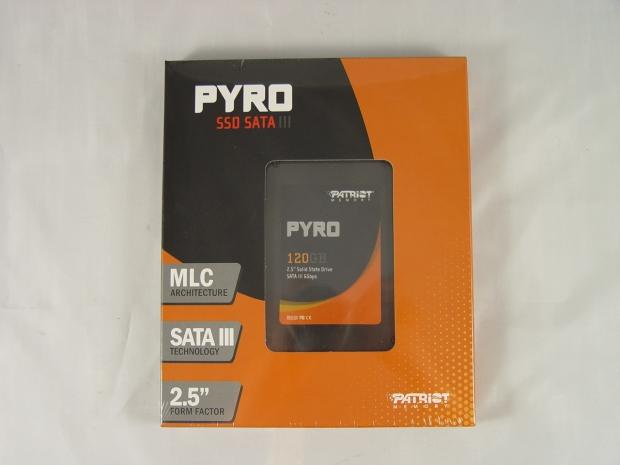 Patriot has done a good job with the front of the retail packaging for the Pyro. The front shows the drive and the drive shows the capacity. We also see a lot of the buzzwords end users are looking for like SATA III, but there is no indication of what controller the Pyro is using. With SandForce gaining a reputation for making the fastest on the market, you'd think Patriot would put a big SandForce Driven logo on there.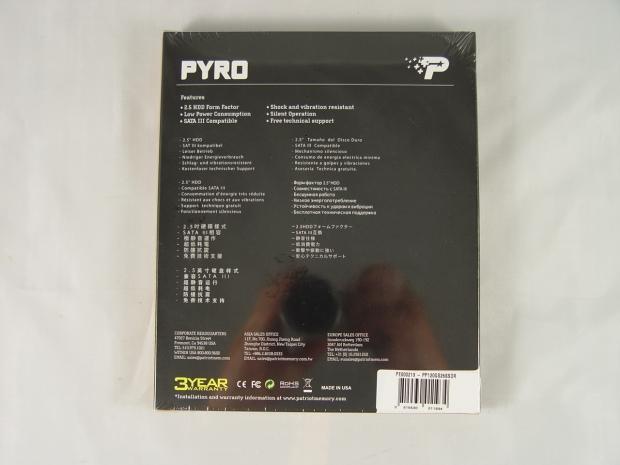 The back of the retail package is also void of the Driven logo and any performance information.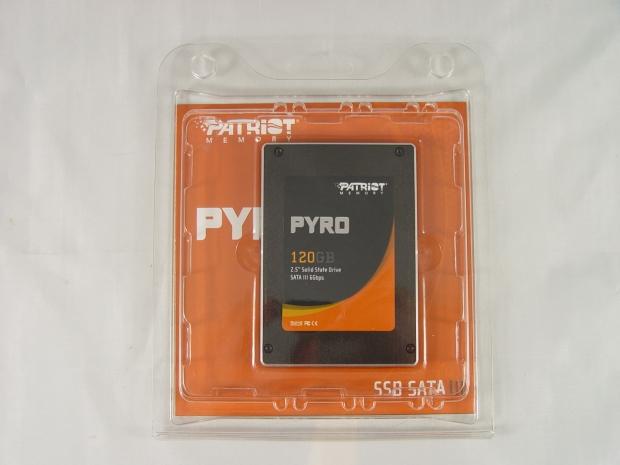 The inner packaging does a good job protecting the drive, but Patriot doesn't include a desktop adapter bracket with their 'value class' products. This is going to be an issue with desktop users and cause them additional cost in the long run.
The Patriot Pyro 120GB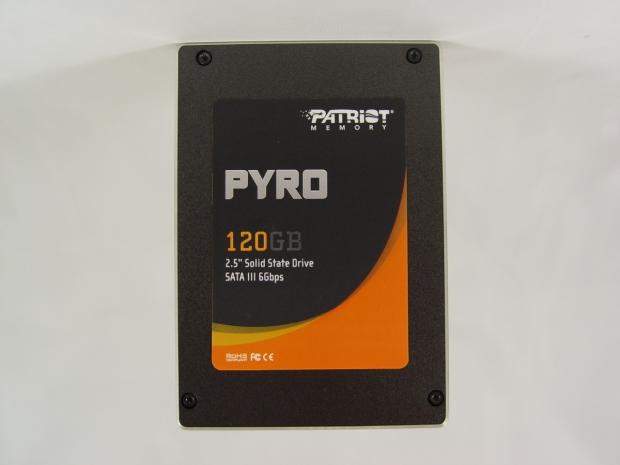 Here we get our first look at the Pyro. The front cover shows the capacity size and tells us this is a SATA III drive.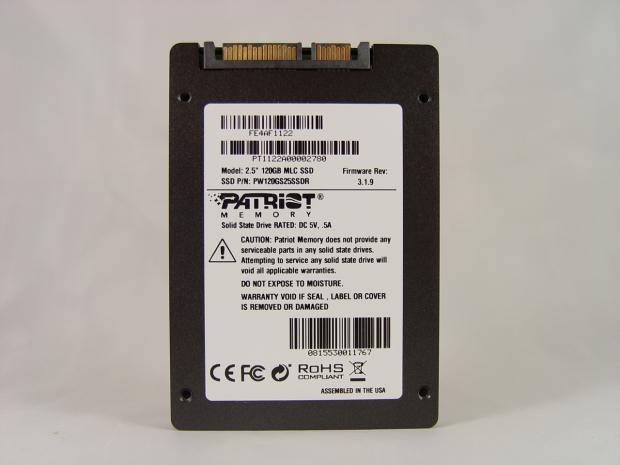 The label on the back shows the capacity size, model and serial number as well as the firmware that shipped on the drive. Here we also see the four mounting locations for installing the drive in a drive sled or adapter bracket.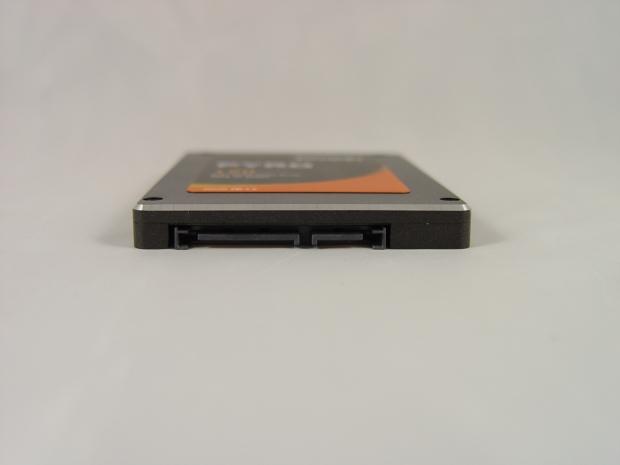 The SATA power and data connectors are located where they should be, so you won't have any compatibility issues with notebooks.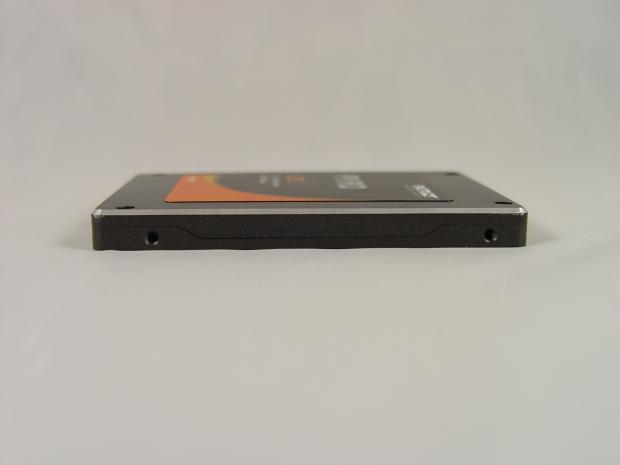 The side mounting locations are also where they should be. I really like the beveled edge on the drive as well.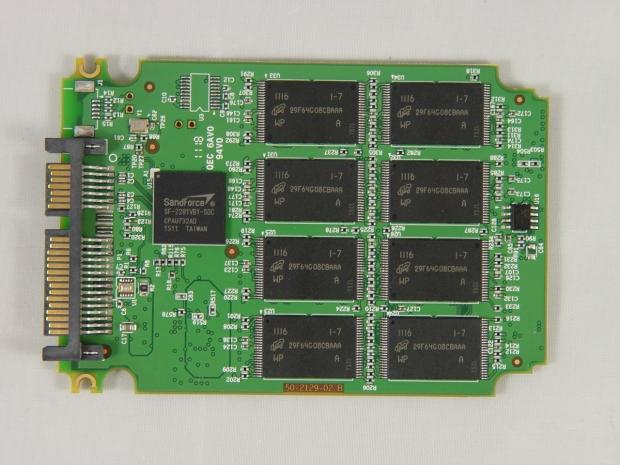 Here we see the inner workings of the Patriot Pyro. The drive uses a single SF-2281 controller and Micron flavored IMFT 25nm asynchronous flash.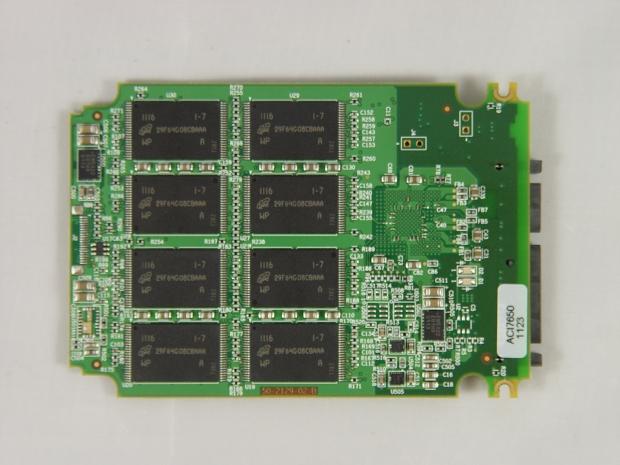 There are sixteen flash chips in all, eight on each side.
Test System Setup and ATTO Baseline Performance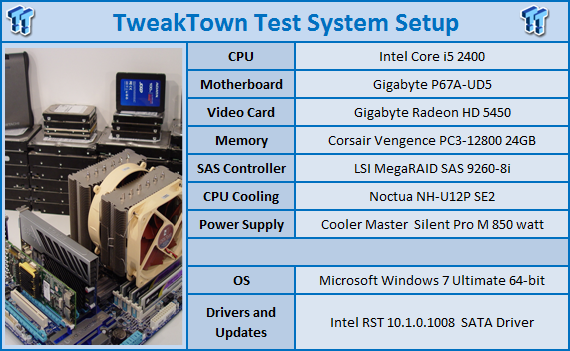 We would like to thank the following companies for supplying and supporting us with our test system hardware and equipment: AVADirect, GIGABYTE, Cooler Master, LSI, Corsair and Noctua.
You can read more about TweakTown's Storage Product Testing Workstation and the procedures followed to test products in this article.
In order to get the most out of the Patriot Pyro, you'll need a motherboard with native SATA III capabilities. At this time your best performance will come from the Intel P67 and Z68 Series of products.
ATTO Baseline Performance
Version and / or Patch Used: 2.34
ATTO is used by many disk manufacturers to determine the read and write speeds that will be presented to customers.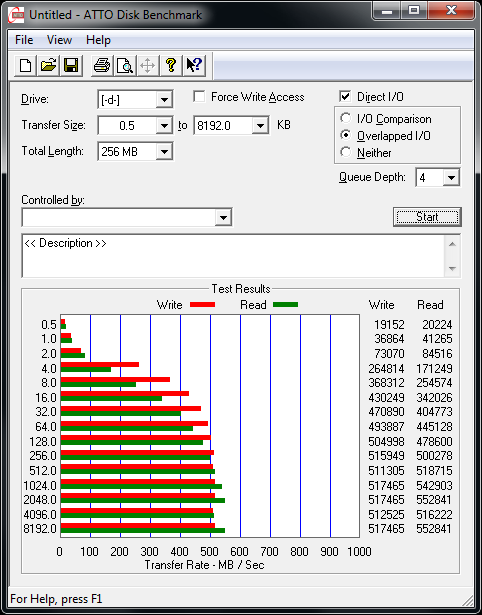 Patriot's performance claims are spot on. In ATTO we saw 552MB/s read and 517MB/s write. This is spot on with what we've seen from other drives using this same controller / flash combination.
Benchmarks - HD Tune Pro
HD Tune Pro
Version and / or Patch Used: 4.00
Developer Homepage: http://www.efdsoftware.com
Product Homepage: http://www.hdtune.com
HD Tune is a Hard Disk utility which has the following functions:
Benchmark: measures the performance
Info: shows detailed information
Health: checks the health status by using SMART
Error Scan: scans the surface for errors
Temperature display
HD Tune Pro gives us accurate read, write and access time results and for the last couple of years has been gaining popularity amongst reviewers. It is now considered a must have application for storage device testing.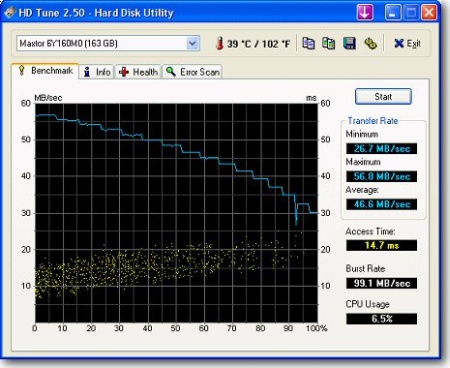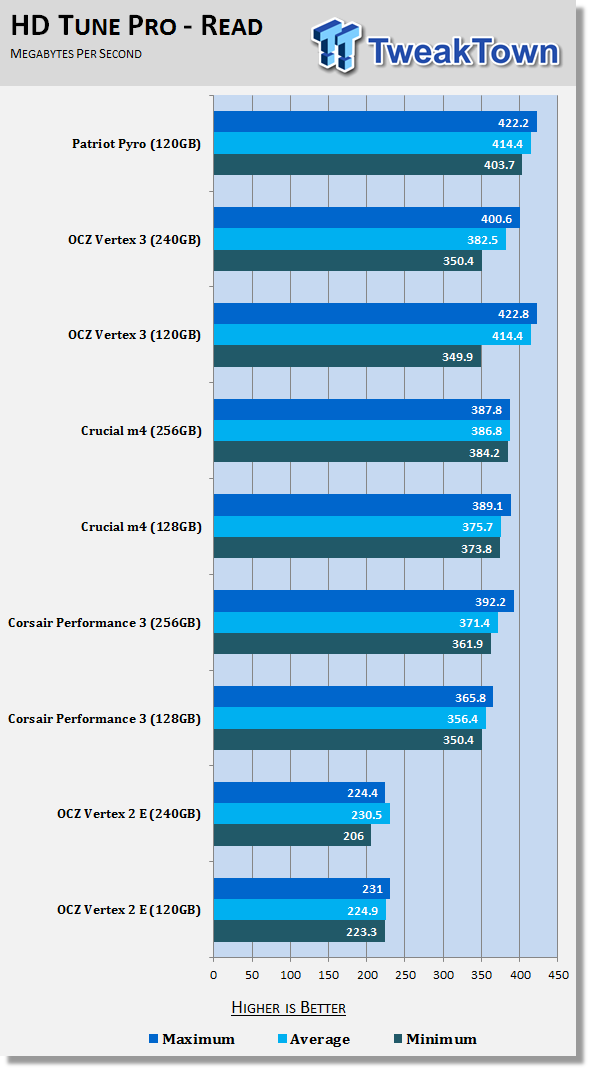 In the introduction I spoke about SandForce's progress with the firmware and here we get a glimpse of that. The Patriot Pyro 120GB with asynchronous flash matches the baseline Vertex 3 120GB we tested at the start of the SF-2281 era. The minimum speed is actually faster now even though the Vertex 3 should be faster.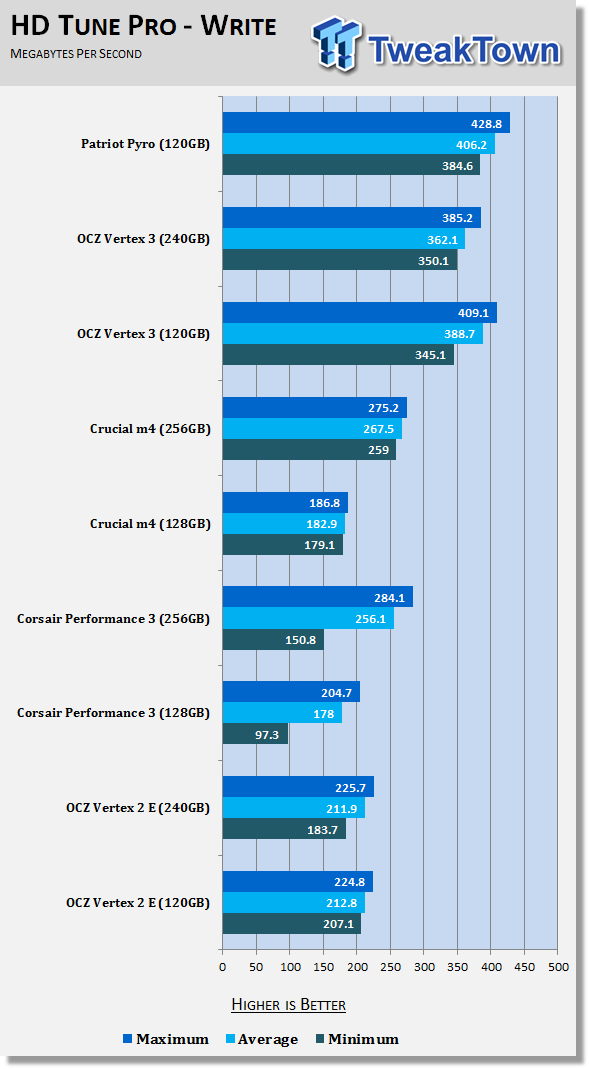 Here we see the Pyro 120GB outperforming every other drive on the chart while writing across the drive.
Benchmarks - AIDA64 Random Access Time
AIDA64 Random Access Time
Version and / or Patch Used: 1.60
Developer Homepage: http://www.aida64.com
Product Homepage: http://www.aida64.com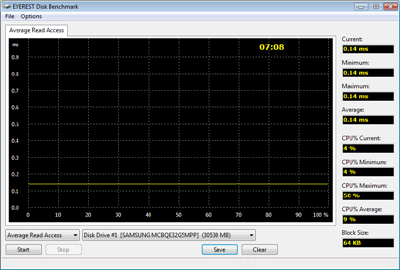 AIDA64 offers several different benchmarks for testing and optimizing your system or network. The Random Access test is one of very few if not only that will measure hard drives random access times in hundredths of milliseconds as oppose to tens of milliseconds.
Drives with only one or two tests displayed in the write test mean that they have failed the test and their Maximum and possibly their Average Scores were very high after the cached fills. This usually happens only with controllers manufactured by JMicron and Toshiba.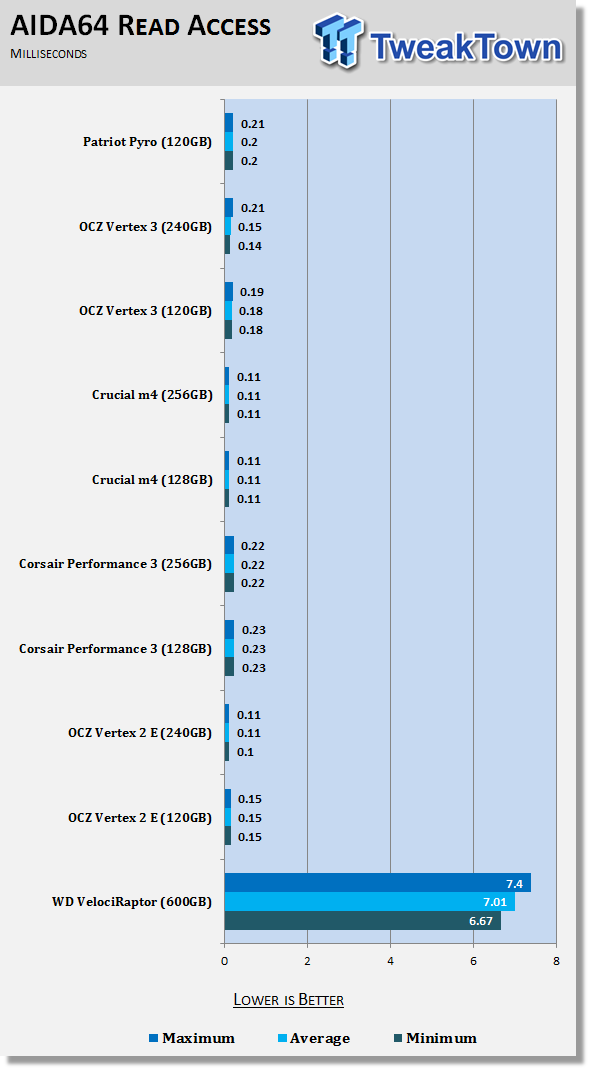 As you know, I'm having some personal issues with this new breed of SandForce drive with asynchronous flash. I'm starting to come around, though, and this set of tests is a big reason why (along with the price). Here we see that the asynchronous flash Patriot Pyro offers the same low access time as the synchronous flash drives. If you are a user looking for a low cost drive that is able to access data instantly, the Pyro is a better option than drives using JMicron, Toshiba or Phison controllers. The Pyro costs about the same as those other drives and offers better access time performance.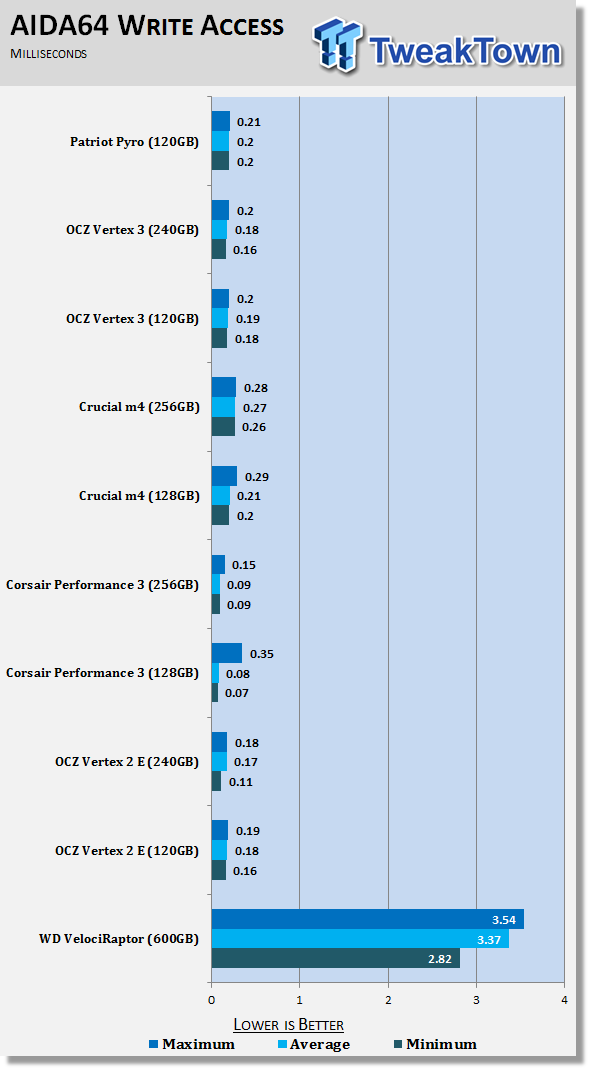 The write access times match the read access with the average being two microseconds.
Benchmarks - CrystalDiskMark
CrystalDiskMark
Version and / or Patch Used: 3.0 Technical Preview
Developer Homepage: http://crystalmark.info
Product Homepage: http://crystalmark.info/software/CrystalDiskMark/index-e.html
Download here: http://crystaldew.info/category/software/crystaldiskmark
CrystalDiskMark is a disk benchmark software that allows us to benchmark 4K and 4K queue depths with accuracy.
Key Features:-
* Sequential reads/writes
* Random 4KB/512KB reads/writes
* Text copy
* Change dialog design
* internationalization (i18n)
Note: Crystal Disk Mark 3.0 Technical Preview was used for these tests since it offers the ability to measure native command queuing at 4 and 32.
Normally we use CDM to measure 4k performance and scaling with NCQ, but since CDM uses incompressible data it shows us another issue with the asynchronous flash drives, poor incompressible data performance. Here we see that the async Pyro reads this type of data at about half the rate of the Vertex 3 with synchronous flash.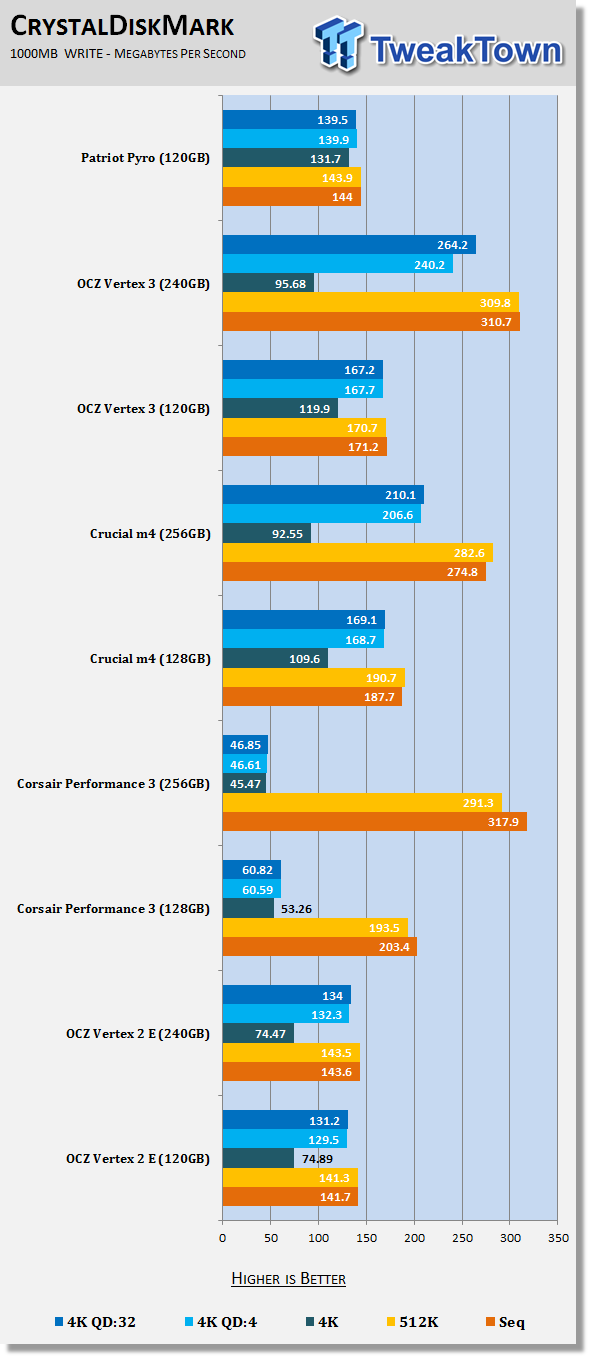 The same is true when writing incompressible data to the drive. The Pyro hits a brick wall right around 140MB/s when writing data and it doesn't matter how many commands you write the data with, the wall is there and there is no getting past it.
Benchmarks - PCMark Vantage Hard Disk Tests
PCMark Vantage - Hard Disk Tests
Version and / or Patch Used: 1.0.0
Developer Homepage: http://www.futuremark.com
Product Homepage: http://www.futuremark.com/benchmarks/pcmark-vantage/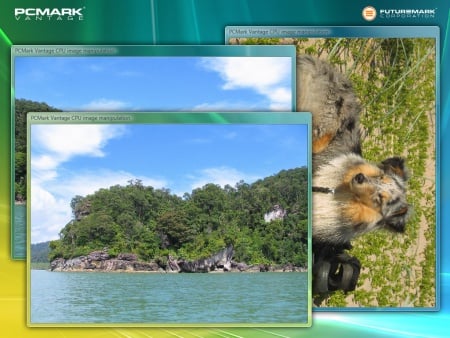 PCMark Vantage is the first objective hardware performance benchmark for PCs running 32 and 64 bit versions of Microsoft Windows Vista. PCMark Vantage is perfectly suited for benchmarking any type of Microsoft Windows Vista PC from multimedia home entertainment systems and laptops to dedicated workstations and high-end gaming rigs. Regardless of whether the benchmarker is an artist or an IT Professional, PCMark Vantage shows the user where their system soars or falls flat, and how to get the most performance possible out of their hardware. PCMark Vantage is easy enough for even the most casual enthusiast to use yet supports in-depth, professional industry grade testing.
FutureMark has developed a good set of hard disk tests for their PCMark Vantage Suite. Windows users can count on Vantage to show them how a drive will perform in normal day to day usage scenarios. For most users these are the tests that matter since many of the old hat ways to measure performance have become ineffective to measure true Windows performance.

HDD1 - Windows Defender
HDD2 - Gaming
HDD3 - Windows Photo Gallery
HDD4 - Vista Startup
HDD5 - Windows Movie Maker
HDD6 - Windows Media Center
HDD7 - Windows Media Player
HDD8 - Application Loading
The Patriot Pyro has excellent new state performance despite being handicapped when dealing with incompressible data. This goes back to the voodoo and late night fire side chants by SandForce's Firmware team. Now, let's see what happens when we add some real world dust to the mix.
PCMark Vantage - Drives with Data Testing
For a complete breakdown on the Drives with Data Testing please read this article. You will be able to perform this test at home with the files provided in the article, full instructions are included.
Brief Methodology
SSDs perform differently when used for a period of time and when data is already present on the drive. The purpose of the Drives with Data testing is to show how a drive performs in these 'dirty' states. SSDs also need time to recover, either with TRIM or onboard garbage collection methods.
Drives with Data Testing - 25%, 50%, 75% Full States and Dirty / Empty Test
Files needed for 60 (64GB), 120 (128GB), 240 (256GB)
60GB Fill - 15GB, 30GB, 45GB
120GB Fill - 30GB, 60GB, 90GB
240GB Fill - 60GB, 120GB, 160GB
Empty but Dirty - a test run just after the fill tests and shows if a drive needs time to recover or if performance is instantly restored.

HDD1 - Windows Defender
HDD2 - Gaming
HDD3 - Windows Photo Gallery
HDD4 - Vista Startup
HDD5 - Windows Movie Maker
HDD6 - Windows Media Center
HDD7 - Windows Media Player
HDD8 - Application Loading
You'll notice that I've added the OCZ Technology Agility 3 numbers from when I tested it. The Patriot Pyro with the latest firmware update manages to outperform the Agility 3 in all tests, but as you can see, the async flash Pyro is still easily outperformed by the Vertex 3. This same thing carries over to the Wildfire as well since the Vertex 3 and Wildfire share the same configuration. We'll talk more about this on the final page.
Benchmarks - AS SSD
AS SSD Benchmark
Version and / or Patch Used: 1.2.3577.40358
Developer Homepage: Alex Intelligent Software
Product Homepage: Alex Intelligent Software
Download here: http://www.alex-is.de/PHP/fusion/downloads.php?cat_id=4&download_id=9
AS determines the performance of Solid State Drives (SSD). The tool contains four synthetic as well as three practice tests. The synthetic tests are to determine the sequential and random read and write performance of the SSD. These tests are carried out without the use of the operating system caches.
In all synthetic tests the test file size is 1GB. AS can also determine the access time of the SSD, the access of which the drive is determined to read through the entire capacity of the SSD (Full Stroke). The write access test is only to be met with a 1 GB big test file. At the end of the tests three values for the read and write as well as the overall performance will be issued. In addition to the calculated values which are shown in MB/s, they are also represented in IO per seconds (IOPS).
Note: AS SSD is a great benchmark for many tests, but since Crystal Disk Mark covers a broader range of 4K tests and HD Tune Pro covering sequential speeds, we will only use the Copy Benchmark from AS SSD.
- Copy Benchmark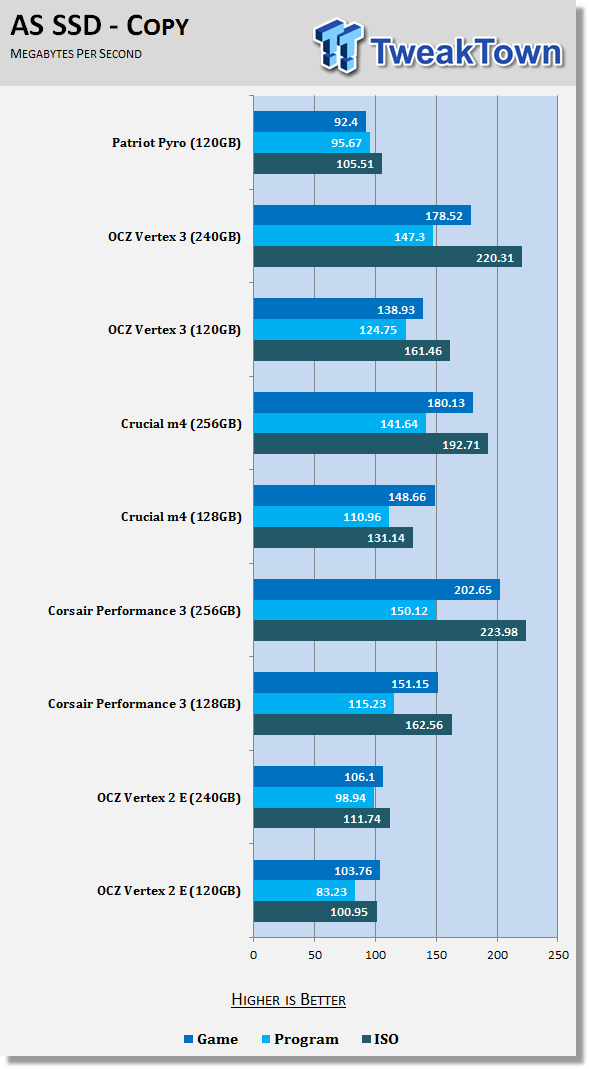 AS SSD's Copy Benchmark uses incompressible data as well, here we see that the Pyro takes it on the chin by every other drive on the chart including last year's SandForce flagship, the Vertex 2.
Benchmarks - Passmark
Passmark Advanced Multi-User Tests
Version and / or Patch Used: 6.1
Developer Homepage: http://www.passmark.com
Test Homepage: http://www.passmark.com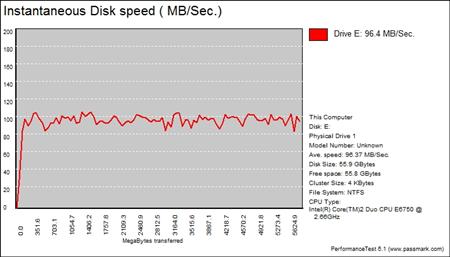 Many users complain that I/O Meter is too complicated of a benchmark to replicate results so my quest to find an alternative was started. Passmark has added several multi-user tests that measure a hard drives ability to operate in a multi-user environment.

The tests use different settings to mimic basic multi-user operations as they would play out on your server. Variances is read / write percentage as well as random / sequential reads are common in certain applications, Web Servers read nearly 100% of the time while Database Servers write a small amount of data.
The Workstation test is the only single user environment and will be similar to how you use your system at home.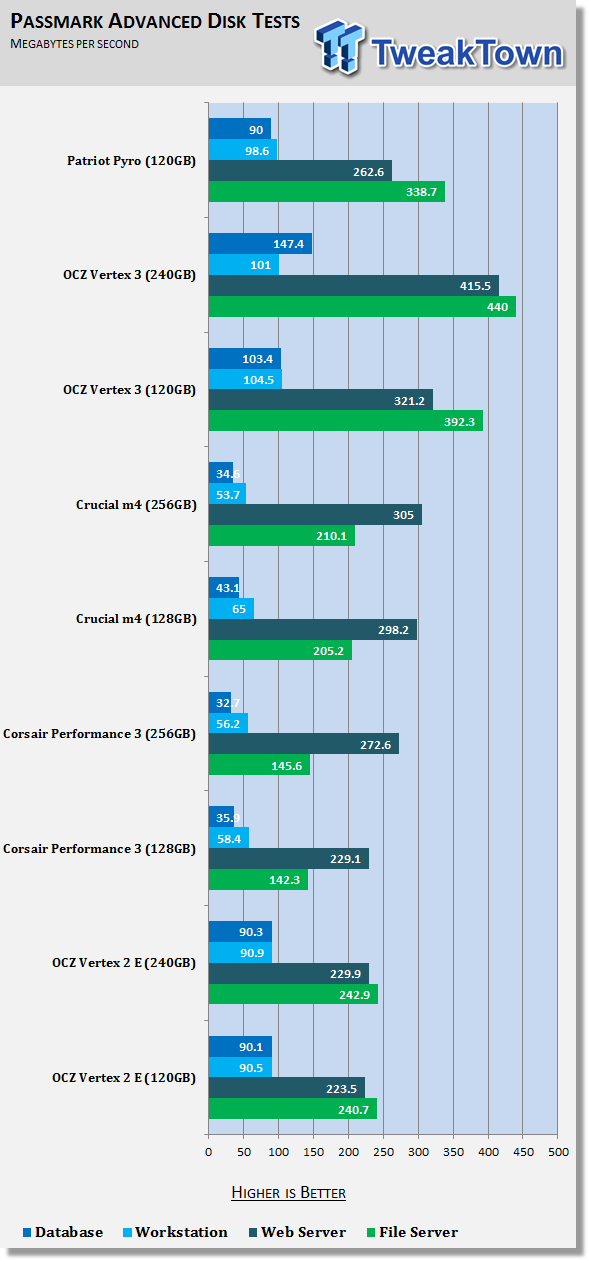 SandForce's enterprise drives use Toshiba Toggle flash which is quite a bit different than the IMFT async flash found on the Patriot Pyro. It's still fun to run these tests that show enterprise task performance.
Final Thoughts
No matter how you slice it, SSDs are all about performance and price. The performance is the part you want and SSDs deliver it in abundance. The price is the part you don't want and SSDs also deliver in this area too. Last year SandForce and the Team SandForce partners went after the high end where performance and price are both high; the no compromise market. This year SandForce is also dominating this area, but also competing in the mainstream market. It took me a little while to get my head around this whole mainstream market thing, but a big portion of that revolved around the pricing at the time for the new asynchronous flash drives. Now we see these drives selling for less than 200 USD for 120GB and the value is shining through.
With an MSRP of just over 200 USD, the Patriot Pyro should soon be below the 200 Dollar price point at Newegg in no time at all. Patriot is known for aggressive pricing and that 200 Dollar point has a stigma about it in the same bang for the buck group of buyers as the Pyro is targeting. We are already seeing some thick competition in this price group. Hell, even Patriot has two products there right now. I'm still not sure what Patriot has planned for the Torqx 2, but the Pyro is a faster product and what you should buy when the price points are as close as they are now.
That leads us to the Patriot Pyro's performance. The Pyro offers users a big bite of SATA III performance, but as the drive fills with data, the taste fades away. Once you get the drive half full the aftertaste is what you have to worry about. In forums I read all the time about end users asking why their SSD is now so slow and how they can get the performance back that they once had. There are two sides to this coin. The first is that the drive has slowed down in some tasks, many of which are those used to measure performance like benchmarks and when transferring files around.
The other side of the coin is that these same users have forgotten what a traditional spinner actually feels like. You know the hour glass, long boot up times and that sort of stuff. Just because the Pyro slows down when running benchmarks and file transfers, it still offers the same .2 millisecond access times, so the hour glass is gone and everything still opens as soon as you double click on it.
As long as you can live with not having the best of the best then the Patriot Pyro sits in a good position as long as Patriot can lead the price war. Since the Pyro doesn't ship with a desktop adapter bracket like the Agility 3, it will need to beat the price of the Corsair Force 3 that does ship with an adapter bracket.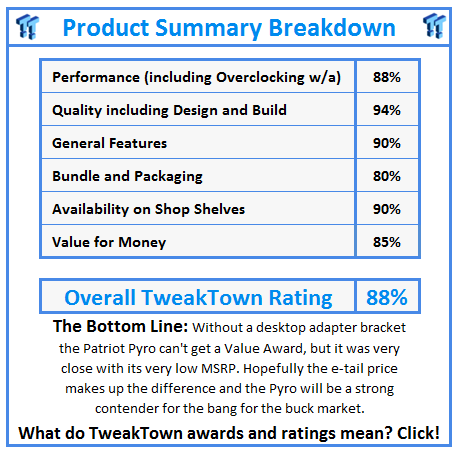 PRICING: You can find products similar to this one for sale below.

United States: Find other tech and computer products like this over at Amazon.com

United Kingdom: Find other tech and computer products like this over at Amazon.co.uk

Australia: Find other tech and computer products like this over at Amazon.com.au

Canada: Find other tech and computer products like this over at Amazon.ca

Deutschland: Finde andere Technik- und Computerprodukte wie dieses auf Amazon.de
We openly invite the companies who provide us with review samples / who are mentioned or discussed to express their opinion. If any company representative wishes to respond, we will publish the response here. Please contact us if you wish to respond.
Related Tags