Introduction and Package
Introduction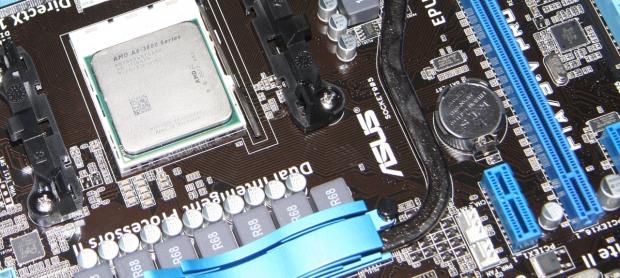 I'm quite a fan of the Fusion platform; I've built myself a really nice little HTPC for my room based around the AMD Brazos platform using the wonderful ASUS E35M1-I Deluxe Motherboard. Today we see the next level of Fusion, introduced to us in the form of the Llano platform and the Lynx APU. The Llano platform is what AMD hope will become the mainstream platform to use; based on what we saw from the Brazos platform we have to say that there's a good chance they're heading in the right direction.
As good as Brazos was, it wasn't the most powerful platform; it has its uses in the form of Netbooks and low end Laptops from a portability point of view and from the desktop side of things it's a great platform for the home theater segment. If you wanted something to use every day for work, though, you'd probably find yourself not having quite enough power on tap.
That's where the Llano platform steps in; this follows a much more traditional method when it comes to the platform side of things. While the Brazos platform for desktops had the APU embedded into the board already, the Llano platform consists of that typical motherboard and CPU which is now APU, or Accelerated Processing Unit.
Today the Llano platform launches with two motherboard chipset series - the A75 and cheaper A55 options and two APU series - the A8 and A6. We're going to cover both and today we'll be starting off by looking at what the A75 and A55 offers us.
Once we've done that, we'll move into the APU side of things which is of course where the guts of the Llano platform is, because the APU can do so much more than traditional CPUs that we've come to know and love.
Once we've kind of looked at the new A-Series APU line-up, in a while we'll get a bit more specific with the A8-3850 we have on hand today before we get into the really fun stuff and start overclocking it on our ASUS F1A75-V Pro Motherboard.
Once that's done, it's into the benchmarking side of things and while today most of our focus will be on how the APU handles those more traditional CPU tasks when a standalone video card is installed, we will of course offer a look at what the onboard GPU capabilities of it are. Saying that, we intend to dive much deeper into the potential of the A-Series APU and its graphics performance in a separate article.
Of course, before we get into the benchmarking side of things we will be covering the overclocking potential to see just what exactly the new APU is capable of when we unleash the fury. First, though, let's dive into the A55 and A75 chipsets to see just how they differ and what exactly they bring to the table from a features point of view.
The A55 and A75 Chipsets
As we mentioned in our introduction, the Llano platform at launch will consist of two chipsets from AMD - the A55 and A75. Before we move onto the Lynx APU itself, let's first take a closer look at exactly what's on offer from these two chipsets. To say that both chipsets are similar would be an understatement; they're near identical except for three features.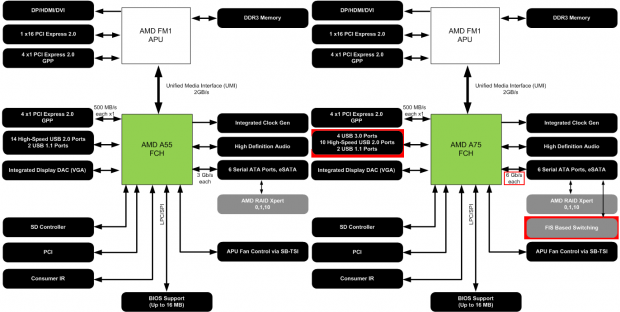 The first is FIS Based Switching in regards to eSATA. What's FIS Based Switching? Well, Wikipedia will tell you this - "FIS-based switching is similar to a USB hub. In this method of switching the host controller can issue commands to send and receive data from any drive at any time. A balancing algorithm ensures a fair allocation of available bandwidth to each drive. FIS-based switching allows the aggregated saturation of the host link and does not interfere with NCQ".
Translated to plain English for people, it essentially means that you're able to multiply eSATA connectivity off the single eSATA port. Think of a USB hub, but instead of a single USB port going out to four more USB ports, you have a single eSATA port that goes off too four more eSATA ports, or whatever number you have off your hub, or as it's known as here, port multiplier.
The chances are it's not going to be something that bothers you all that much. Unless you're a big eSATA user and find yourself wishing you had even more eSATA ports, it's probably not going to bother you. None the less, it's one of the main differences between the two chipsets.

Staying on the topic of hard drives, one of the big differences between the two platforms is the SATA speed. While both offer six SATA ports natively, the A55 is only 3 GB/s or SATA II, while the A75 is 6 GB/s or SATA III. As we see more and more hard drives offer SATA III, it's a big difference and the chances are it's going to be what sways you the most when it comes to choosing one chipset over the other.

Finally, we come to the USB ports. Again, like the SATA ports, we see that both chipsets offer us a total of 16 USB ports natively. The difference again comes down to speeds, though. While the A55 offers us two USB 1.1 ports and 14 USB 2.0 ports, the A75 offers us the same two USB 1.1 ports, but only 10 USB 2.0 ports with the other four ports being natively supported USB 3.0 ones.
Native USB 3.0 support on the AMD A75 chipset is something that's really cool, but it's worth knowing that we will probably see A55 boards with USB 3.0 connectivity via the well-known USB 3.0 controllers like ASMedia and NEC. For this reason we probably won't see the native support sway someone to one chipset over another.
Personally, I'd pick up native support over support via a separate controller any day of the week, but more than likely what will sway people is the cost associated with either chipset or the addition of native SATA III ports. Like the USB 3.0 situation, though, we could see an A55 board offer us both USB 3.0 and SATA III; it would be via a separate controller, though. Native is always going to be your primary option for the simple reason being it's normally faster as it's not going through anything else path wise.
None the less, those are the three main differences between chipsets and they will be what sway you to choosing one chipset over the other outside of the normal price argument.
The A55 and A75 Chipsets Continued
Outside of those three differences on the last page, there are of course a lot of features that are shared between both chipsets. Using the same image as we did on the last page, you can see exactly what the A55 and A75 chip is able to offer us.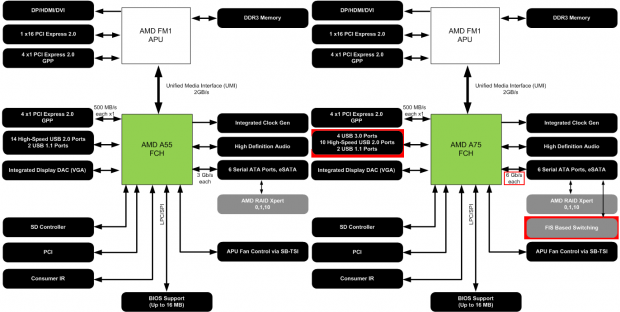 Four x1 PCI-E ports, Integrated VGA, SD Controller, PCI, Consumer IR, BIOS, APU Fan Control, High Definition Audio and Integrated Clock Gen. The thing is, though, this is less than what you would expect your normal motherboard chipset to offer.
That's how the whole APU or Accelerated Processing Unit comes into it all. Stuff like your memory slots, other connectivity, x16 PCI-E; these are all things that we're used to seeing our typical motherboard chipset take care of. Instead, this is taken care of by the APU in this instance. So what's all that mean? Well, let's get into exactly what's going on with the APU over on the next page while taking the time to also cover the models we'll be seeing at launch.
The APU - What it's about
The APU is the heart of the Fusion platform and you can see on the last two pages in the Fusion Hub Controller images what it does. Now we'll split the image up a bit, though, and look closer at what exactly is going on with the APU itself. Before we do that, let's first take a closer look at what the APU is capable of.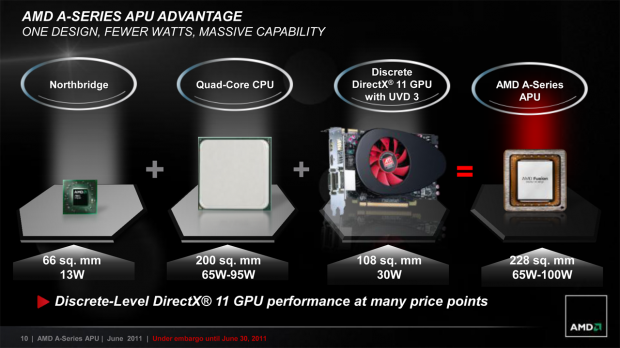 Out of the 69 page Lynx presentation, there's probably not a page more important than the above. In just a few words and images, it tells us exactly what the A Series APU does. Inside our APU, AMD combine what your typical Northbridge, Quad-Core CPU and mid-range DX11 capable video card would do all in a single low power package.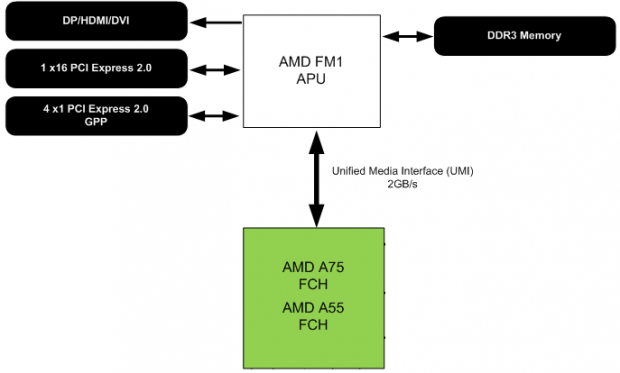 Looking above, you can see that the APU connects to our A55 or A75 chipset via a Unified Media Interface capable of offering 2 GB/s of data transfer. Like our Northbridge, CPU and Video Card would offer, you can see the APU is able to offer us DisplayPort, HDMI and DVI connectivity, DDR3 Memory support and PCI-E connectivity.
You can see in the below image how the APU itself is setup. On the top right hand side of our chip we have our x86 cores. For the current crop of Desktop APUs, that is a total of four. Next to that we have our memory controller which offers us dual channel DDR support at speeds of up to 1866MHz DDR.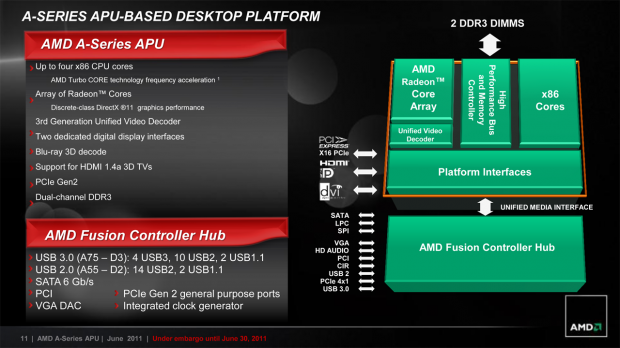 On the left side you can see we have our "Radeon" core which is of course the graphics card and below that is the Unified Video Decoder or UVD, a feature we've seen available from AMD for quite a while. Finally, across the bottom we have our platform interfaces.
APU Models and our A8-3850
At launch we should see four A-Series desktop APUs launch; within that we've got two Radeon based GPU solutions on offer with the A8-3850 and A8-3800 both offering HD 6550 level graphics, and the A6-3650 and A6-3600 both offering HD 6530 level graphics. As far as features go, both models offer us DirectX 11 support and UVD support which you saw back on the previous page.
It's these two features that make AMD stand out from other companies who have integrated platforms. With what AMD are offering here, we should be able to do so much more than just cruise the internet and write emails, hence the appeal to the Llano platform over both the Brazos one and the competitions low powered systems.
When it comes to similarities between all the models, we can see they all are in the new FM1 package, carry four cores, support 1866MHz DDR of DDR3 in Dual Channel form and offer us 4MB of L1 Cache. This compares to the Brazos platform E-350 which was only dual core and offered us HD 6310 level graphics.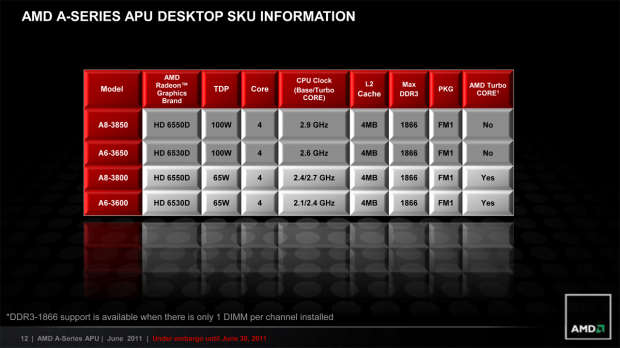 Out of the four models, we've also got two different power ratings; the models ending in 00 are only 65w TDP while the ones ending in 50 are 100w TDP. This isn't related to the GPU power on offer as both the A8-3800 which offers the HD 6550 and A6-3600 which offers the HD 6530 both offer us 65w TDP. Instead it's in relation to the clock speed and the integration of AMD Turbo Core.
Clocks range from 2.1GHz to 2.9GHz. What will most likely be the deciding factor in which APU you buy, though, will be the kind of GPU power you're after. Once you've decided what you want there, then the decision comes to if you want the lower powered, lower clocked "00" model or the higher clocked, more power hungry "50" model.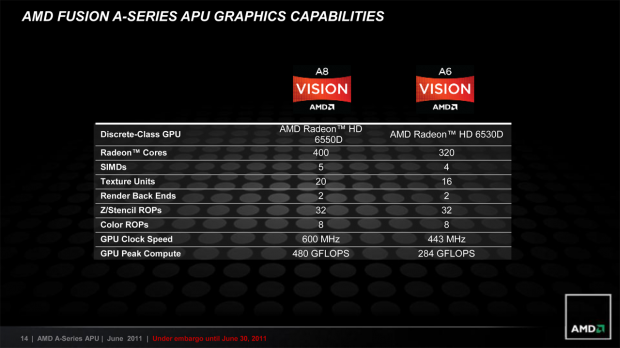 Looking above, you can see the graphics that is embedded into each individual A-Series APU. The A8 as we mentioned carries the HD 6550D; that offers 400 Cores, 20 Texture Units, 480 GFLOPS of GPU Peak Compute and a clock speed of 600MHz. The A6 on the other hand offers the HD 6530D and carries 320 Cores, 16 Texture Units, 284 GFLOPS of GPU Peak Compute and a stock clock speed of 443MHz.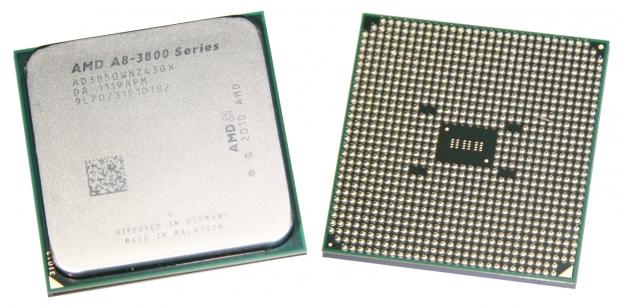 As for the model we're dealing with, AMD has sent us the A8-3850 APU. This is currently the top A-Series APU model coming in at 2.9GHz and utilizing the HD 6550D for Graphics. The overall physical design of the CPU doesn't really bring anything new to the table with the same Pin Grid Array (PGA) being used over the Land Grid Array (LGA) that Intel use. As for the number of pins, the new FM1 socket has a total of 937; this is a whole one pin less than the Phenom II which carries 938.
Test System Setup and Overclocking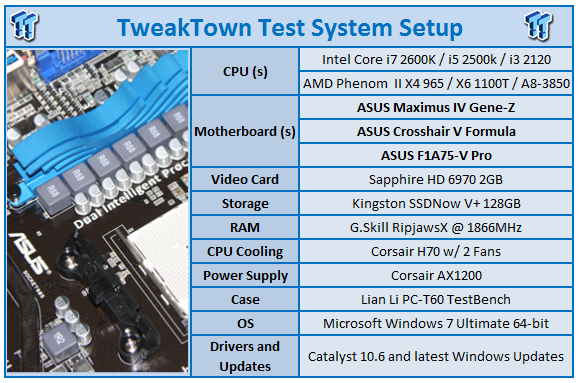 We would like to thank the following companies for supplying and supporting us with our test system hardware and equipment: Intel, ASRock, Kingston, Mittoni, Sapphire and Corsair.
Today a lot of our focus will be put on the system when we've got a standalone video card in the picture, in this case the Radeon HD 6970. With a large focus with what's going on with the "CPU" tasks and how it handles stuff in synthetic benchmarks like HyperPI and AIDA64, to how it goes in real world environments like MediaEspresso and Aliens vs. Predator.
We'll be covering our A8-3850 in both stock form and overclocked which we'll discuss in just a second, but for good measure we've included the Phenom II X4 965 and Phenom II X6 from AMD to see how the new APU goes today while also including an i3 2120, i5 2500k and i7 2600k.
The multiple CPU types mean we've got a couple of different motherboards on hand. For our Intel processors we're using the new Maximus IV Gene-Z which is based on the Z68 chipset and we're yet to review. Keep your eyes peeled for that review in the next few weeks. For our Phenom based CPUs, we're using the ASUS Crosshair V Formula based on the 990FX chipset. As for the A8-3850, that's going into our ASUS F1A75-V Pro based on the A75 chipset which we have detailed a few pages back.
Looking below, you can see our CPU-Z screenshot. On the left we've got CPU-Z with our CPU running at stock. You can see we've got a stock speed of 2.9GHz; that's achieved with a 29x multiplier and a 100MHz bus speed. The default voltage on our APU is 1.4v and you can see that its code name is Llano, Socket FM1 and Radeon HD Graphics is in the specifications.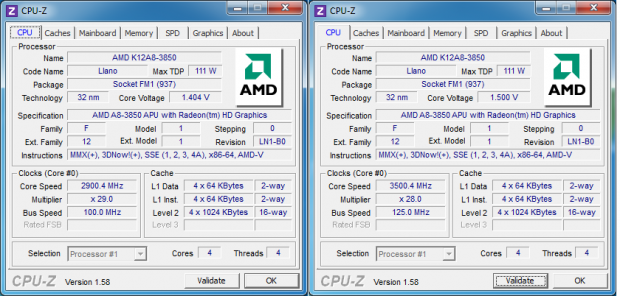 On the right hand side you can see our overclock. What we ended up doing was dropping the multiplier down to 28x and increasing the bus speed to 125MHz. This resulted in our A8-3850 running at 3.5GHz at 1.5v. We didn't want to go too crazy with voltage and because we're dealing with some new kind of architecture, we didn't want to mess around too much with them either. We figured a 600MHz clock is a nice increase, though, bringing us into the 3GHz+ range. We did get around the 3.6GHz mark at 1.5v, but CINEBENCH actually didn't want to play nice so we pulled it back just a little.
Well, that just about covers everything related to the testing side of things. So with all that said, let's not delay any longer and see just what the A8-3850 can do for us in our lineup of benchmarks today.
Let's get started!
PCMark 7 and HyperPi
PCMark 7
Version and / or Patch Used: 1.04
Developer Homepage: http://www.pcmark.com
Product Homepage: http://www.pcmark.com
PCMark 7 includes a range of tests that give different views of your system's performance. In the Advanced Edition you can choose which tests to run. The common use and hardware component tests are unavailable in the Basic Edition.
Overall system performance is measured by the PCMark test. This is the only test that returns an official PCMark score. The Lightweight test measures the system capabilities of entry-level systems and mobility platforms unable to run the PCMark test, but it does not generate a PCMark score. Common use performance is measured by the scenario tests - Entertainment, Creativity and Production - each of which results in a scenario score. Hardware component performance is measured by the hardware tests - Computation and Storage - each of which results in a hardware score.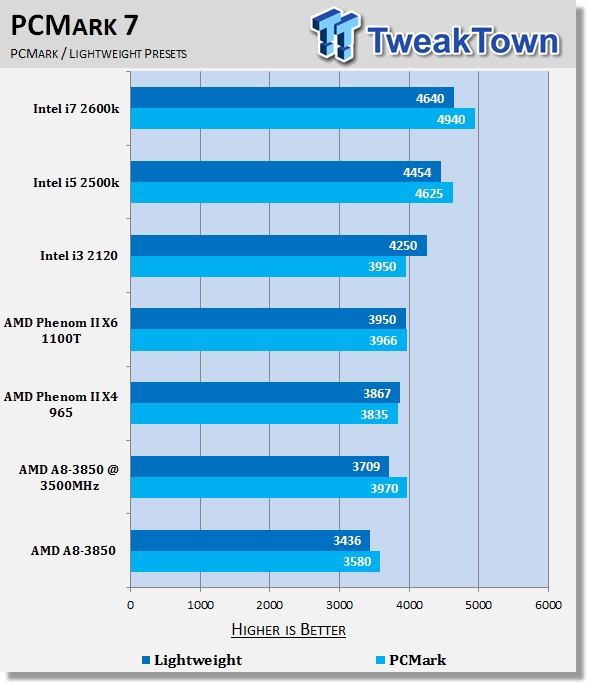 Under PCMark 7 we can see that the A8-3850 sits towards the bottom which doesn't come as too much of a surprise. What is a surprise, though, is just how close it is when compared to the other AMD models. We can see that the PCMark 7 score is higher than the other AMD offerings and i3 2120 when overclocked.
HyperPi 0.99
Version and / or Patch Used: 0.99
Developer Homepage: www.virgilioborges.com.br
Product Homepage: www.virgilioborges.com.br
HyperPi is a front end for SuperPi that allows for multiple concurrent instances of SuperPi to be run on each core recognized by the system. It is very dependent on CPU to memory to HDD speed. The faster these components, the faster it is able to figure out the number Pi to the selected length.
For our testing we use the 32M run. This means that each of the four physical and four logical cores for the i7 and the four physical cores of the i5 is trying to calculate the number Pi out to 32 million decimal places. Each "run" is a comparative to ensure accuracy and any stability or performance issues in the loop mentioned above will cause errors in calculation.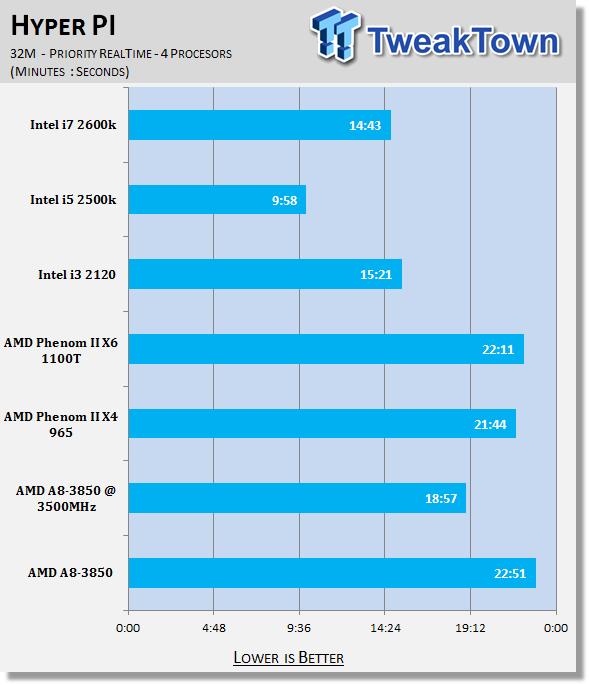 AMD isn't the strongest competitor when it comes to Hyper Pi and you can see it sits at the back of the pack here. You can see strong performance when overclocked, though, which is a good thing. Note that the 2500k / 2600k speeds are correct; it has to do with hyper threading which causes the 2600k to slide back.
AIDA64
Version and / or Patch Used: 1.00.1035BETA
Developer Homepage: http://www.aida64.com
Product Homepage: http://www.aida64.com
Replacing Everest in our labs is AIDA64. This new testing suite is from the core development team from Lavalys and continues that tradition. The guys have thrown in better support for multithreaded CPUs as well as full 64 bit support. We use this to test memory and HDDs for now, but may find ourselves opening this up to other areas of the motherboard.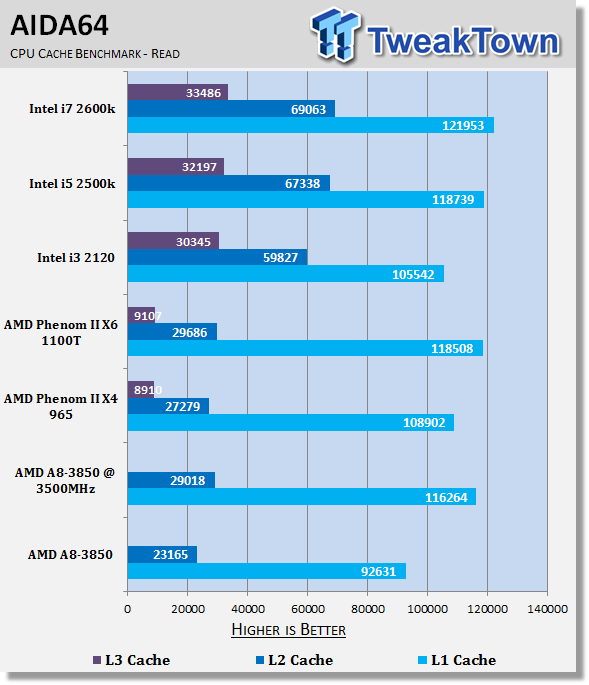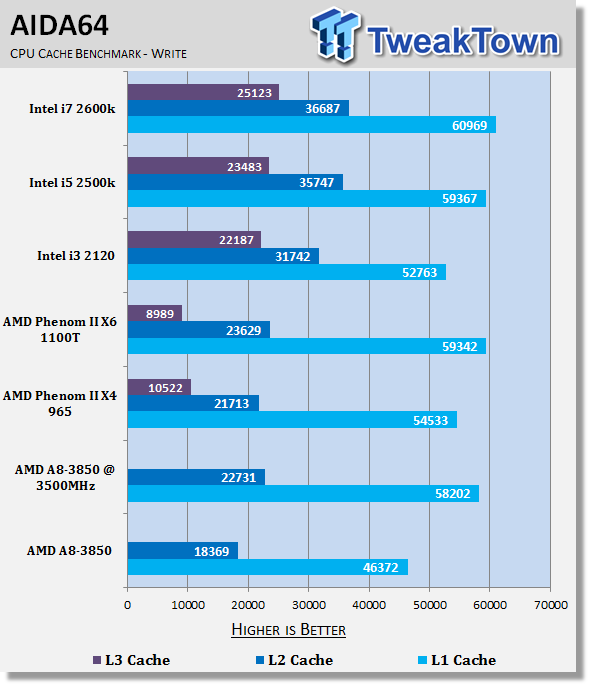 Having a look at the CPU performance, we can again see that performance from the A8-3850 is a little behind the Phenom II offerings. When we clock it up to 3.6GHz, though, we can see performance rivals the X4 965 and comes within throwing distance of the X6.
Compared to the i3 2120, we can see that performance on the A8 is actually a little better when overclocked at the L1 Cache level. While we of course understand that the i3 2120 can be overclocked, being a non k series CPU means that overclocking is extremely limited, making any gains very minor.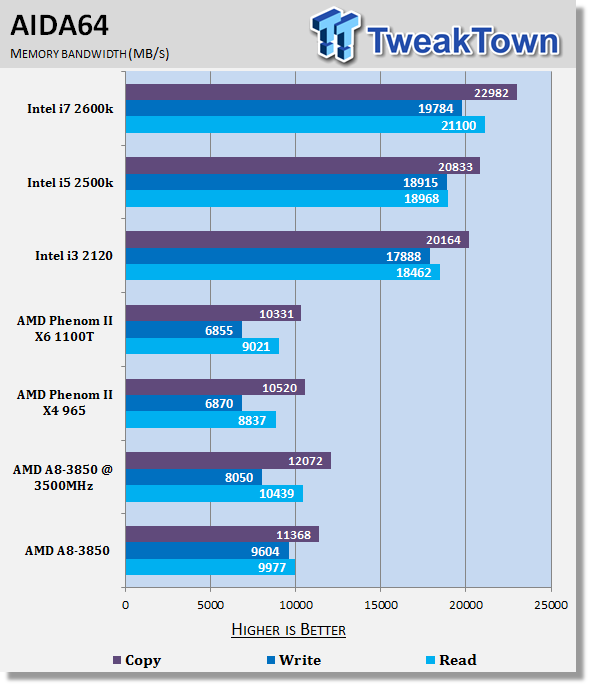 Intel have done a fantastic job with memory performance over the last few years, but even more so in the Sandy Bridge platform. Comparing the A8-3850 to the Phenom II CPUs, though, we see because we've got 1866MHz DDR support verse 1600MHz DDR on our Phenom II chips, that results in some added memory performance which is of course appreciated.
PassMark PerformanceTest
Version and / or Patch Used: 7.0.1021
Developer Homepage: http://www.passmark.com/products/pt.htm
Product Homepage: http://www.passmark.com/products/pt.htm
Fast, easy to use, PC speed testing and benchmarking. PassMark PerformanceTest allows you to objectively benchmark a PC using a variety of different speed tests and compare the results to other computers. Twenty-eight standard benchmark tests are available in six test suites plus there are seven advanced testing windows for custom benchmarking.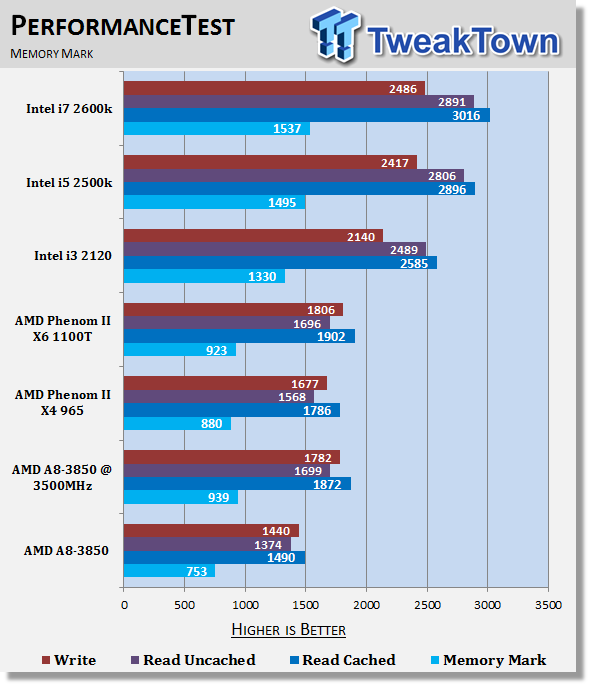 We can again see that memory performance favors the Intel platform. Looking at our AMD chips, the A8-3850 lags a little at stock compared to the other chips. It does manage to pull ahead when overclocked.
PassMark was having some issues with the CPU test on the Intel platform, so we have removed the results for them here; instead we've got our AMD ones. You can see A8-3850 performance is pretty strong with it at stock performing better than the X4 in certain areas. Overclocked, we manage to see a nice boost and it helps out perform the X4 which is running at stock speeds.
CINEBENCH, Adobe Lightroom and MediaEspresso
CINEBENCH R11.5
Version and / or Patch Used: R11.5
Developer Homepage: http://www.maxon.net/
Product Homepage: http://www.maxon.net/downloads/cinebench/cinebench-115.html
CINEBENCH is a real-world cross platform test suite that evaluates your computer's performance capabilities. CINEBENCH is based on MAXON's award-winning animation software CINEMA 4D, which is used extensively by studios and production houses worldwide for 3D content creation. MAXON software has been used in blockbuster movies such as Spider-Man, Star Wars, The Chronicles of Narnia and many more.
CINEBENCH is the perfect tool to compare CPU and graphics performance across various systems and platforms (Windows and Mac OS X). And best of all: It's completely free.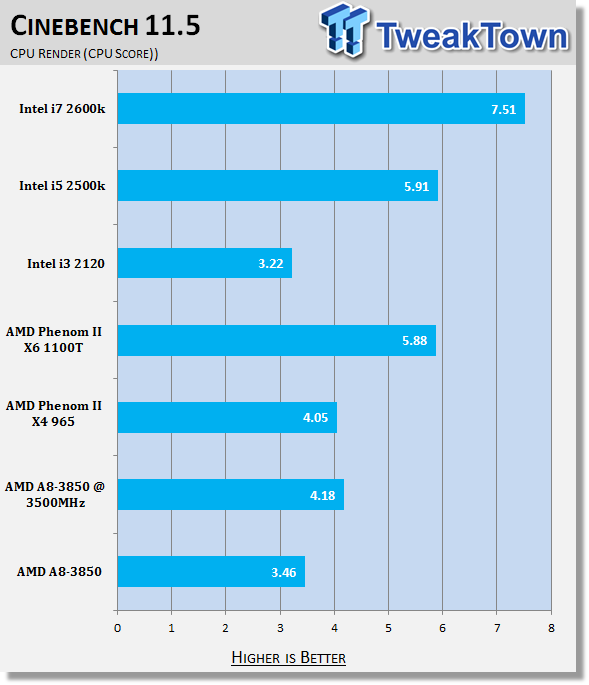 Getting into some real world benchmarks, we can see that the A8-3850 at stock of course lags behind the "k" offering CPUs. Compared to the i3 2120, though, the CPU that would be considered the main competition for this, finds the A8 offering come out ahead. With greater OC potential on offer from the A8-3850, we see that performance is able to jump even further ahead of the i3 2120.
Adobe Lightroom
Version and / or Patch Used: v3.4
Developer Homepage: http://www.adobe.com/
Product Homepage: http://www.adobe.com/products/photoshoplightroom/
Adobe Photoshop Lightroom 3 software helps you bring out the best in your photographs, whether you're perfecting one image, searching for ten, processing hundreds, or organizing thousands.
Create incredible images that move your audience. Experiment fearlessly with state-of-the-art nondestructive editing tools. Easily manage all your images. And showcase your work in elegant print layouts, slide shows, and web galleries, as well as on popular photo-sharing sites. All from within one fast, intuitive application.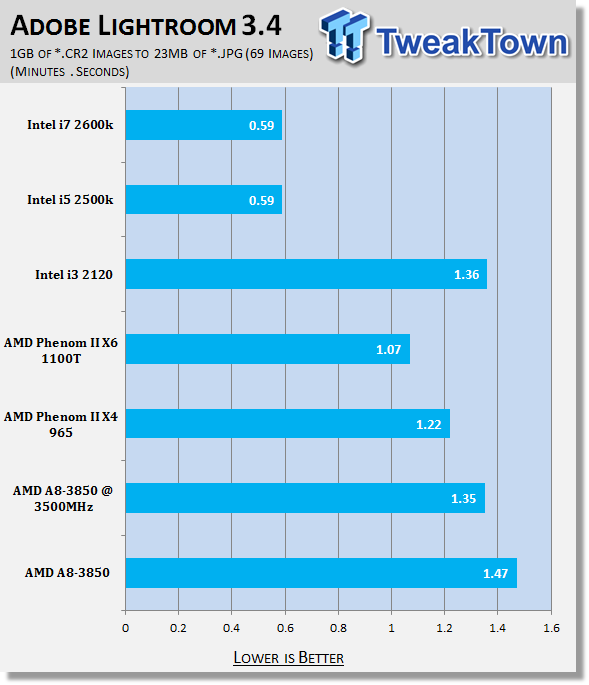 Looking at Lightroom and the times of converting 1GB of *.CR2 images down to 23MB of JPEGs, we see that at stock the A8-3850 and i3 2120 aren't that far apart from each other. Overclocked, we can see that not only does the gap close, but the A8-3850 manages to sneak a second ahead of the i3 2120.
MediaEspresso
Version and / or Patch Used: v6.5
Developer Homepage: http://www.cyberlink.com/
Product Homepage: http://www.cyberlink.com/products/mediaespresso/overview_en_AU.html?fileName=overview&r=1
MediaEspresso is a blazingly fast media universal converter that can transcode your videos, photos and music files and out put them to a huge range of portable devices including mobile phones, portable media players and even game consoles. With technologies like Smart Detect, Direct Sync and CyberLink's TrueTheater™ video enhancements, you can not only forget about complicated format, resolution and output settings, but your converted file will come out the other side looking better than when it went in!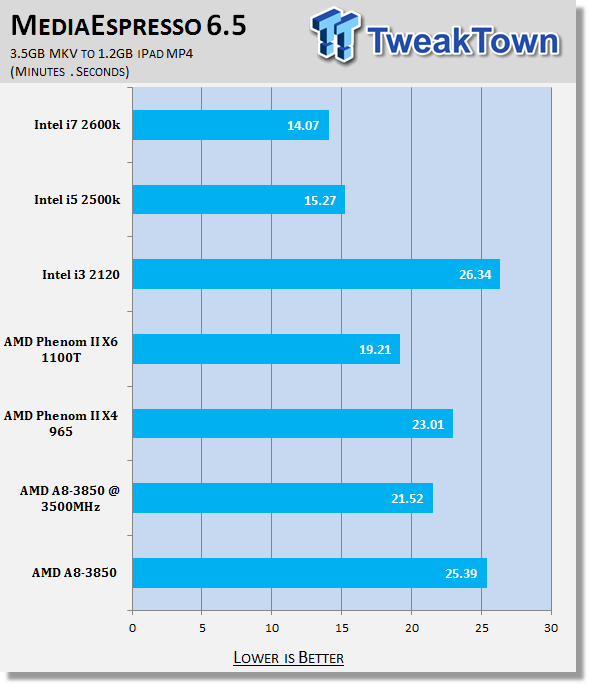 Looking at MediaEspresso, you can see the conversion of our movie takes just over 25 minutes. At stock this is faster than the i3 2120. Thanks to the strong OC potential, we manage to shave four minutes off that time bringing us in under 22 minutes which makes it lead even further ahead of the i3 2120 and makes it slightly faster than the X4 965.
3DMark 11 and Aliens vs. Predator
3DMark 11
Version and / or Patch Used: 1.0
Developer Homepage: http://www.futuremark.com
Product Homepage: http://www.3dmark.com/3dmark11/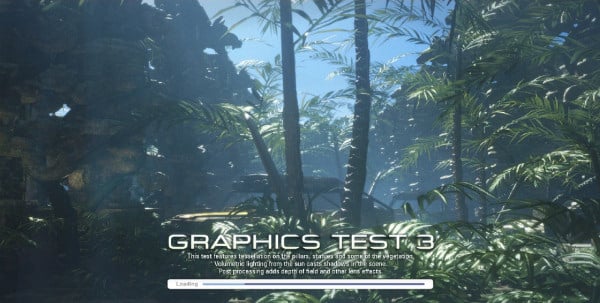 3DMark 11 is the latest version of the world's most popular benchmark. Designed to measure your PC's gaming performance 3DMark 11 makes extensive use of all the new features in DirectX 11 including tessellation, compute shaders and multi-threading. Trusted by gamers worldwide to give accurate and unbiased results, 3DMark 11 is the best way to consistently and reliably test DirectX 11 under game-like loads.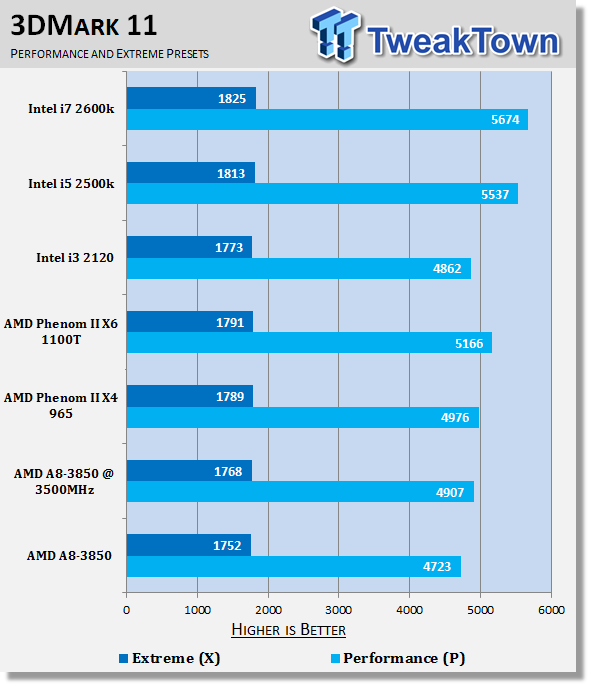 I know for the most part that you might feel that 3DMark 11 is a bit of a wasted kind of benchmark, but the results here are very interesting and show us how CPU speed comes in to play and can be a limiting factor on a card like the HD 6970 in single form.
Normally in our motherboard reviews with our 2600k we'd see no difference in performance, even when moving up to 5GHz. Here you can see almost 1,000 marks separating the A8-3850 and 2600k, though.
In the performance Preset we can see that we're hitting a bit of a CPU limitation. The same is seen in the higher resolution X preset, but not as clear. Compared to the i3 2120, performance is very similar; overclocking again helps the A8-3850 take the lead.
Aliens vs. Predator
Version and / or Patch Used: Standalone Benchmark
Timedemo or Level Used: Built in Benchmark
Developer Homepage: http://www.rebellion.co.uk/
Product Homepage: http://www.sega.com/games/aliens-vs-predator/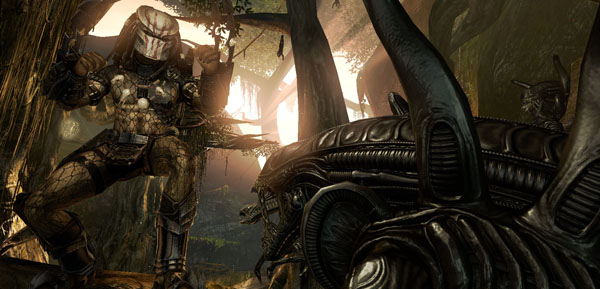 Aliens vs. Predator is a science fiction first-person shooter video game, developed by Rebellion Developments, the team behind the 1999 original PC game, and published by Sega for Microsoft Windows, the PlayStation 3 and the Xbox 360. The game is based on the Alien vs. Predator franchise, a combination of the characters and creatures of the Alien franchise and the Predator franchise. There are three campaigns in the game, one for each race/faction (the Predators, the Aliens and the Colonial Marines), that, while separate in terms of individual plot and gameplay, form one overarching storyline.
Following the storyline of the campaign modes comes the multiplayer aspect of the game. In this Multiplayer section of the game, players face off in various different gametypes in various different ways.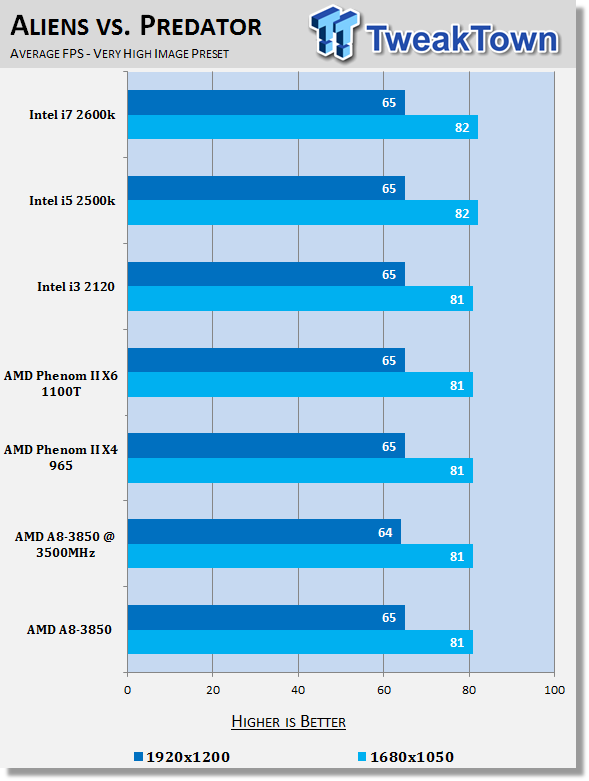 Aliens vs. Predator paints a different picture to what we saw in 3DMark 11. Here you can see that between all the platforms performance is identical. This is great news for AMD as what it tells us is that in a situation where the pressure is being placed on the video card and the CPU isn't coming in to play, the A8-3850 can keep up with the big boys.
Power
Power Draw Tests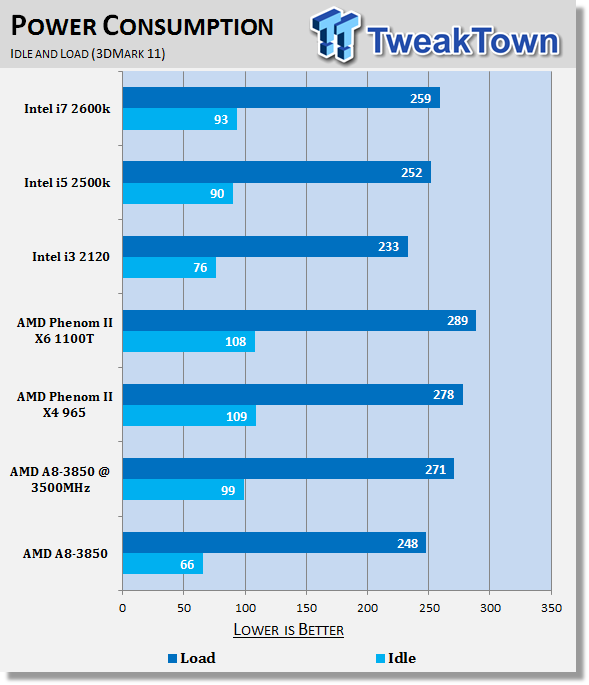 At load it comes as no surprise that we see all the platforms draw similar power levels, it just differs slightly because of the CPU being used. Idle, though, we can see the power of the A8-3850. Even with a high end card like the HD 6970 installed, we're getting only 66 watt of load which is fantastic.
Overclocking of course sees that jump up by a fair bit, 50% at idle in this case, but the 66 watt at idle is fantastic. Thanks to the combination of great power management on the platform combined with the power management on the AMD video card, we've just got an extremely low power system at idle. These kinds of numbers make you feel comfortable leaving the system on at all times.
Final Thoughts
Compared to the high end Sandy Bridge processors, the A8-3850, as you would expect, performs below them. Compared to the i3 2120 which is that more mainstream processor for that mid-range market, performance is very interesting. You can go through the synthetic benchmarks and you will see the i3 2120 really just jump out ahead of the A8-3850.
Move away from the synthetic benchmark, though, and get into real world situations and the picture becomes quite different. Aliens vs. Predator sees the HD 6970 perform just as well on the A8-3850 as it does on any other platform. Media Espresso also sees the conversion time on our A8-3850 come in faster than the i3 2120 and CINEBENCH also sees the A8-3850 come out ahead.
When you start to move into the real world benchmarks you can see at times these massive synthetic scores mean very little. You can look at AIDA64 and say there's so much more performance on offer from the i3 2120 over the A8-3850, especially at the L2 Cache level. You then fire up something like Media Espresso, though, and you see that those massive numbers translate into the i3 2120 coming in a minute behind the A8-3850.
Something else that's so important to remember in regards to the i3 2120 is that while the "Sandy Bridge" platform has a wonderful name when it comes to overclocking, those results of 5.2GHz+, are only capable from a more expensive "k" series CPU. When we looked at the i3 2100, because we only have BCLK to play with, we got from 3.1GHz to 3.185GHz. On the other hand, we managed to get to 3.5GHz easily on our A8-3850 and at 1.5v we even had 3.6GHz working on most benchmarks, but not all. Companies have showed us the A8-3850 running at 1.55v with air cooling, though, which means we've probably got a bit more headroom on top of the numbers we've got here.
From a CPU side of things, the A8-3850 does perform extremely well. In the synthetic world we see it perform strong against the likes of the Phenom II X4 and when we get into real world performance where we concentrate on the CPU side of things, we can see that again performance is also very strong. The CPU performance side of things is what we would say is only one side of the three that AMD offer with the Llano platform and Fusion on a whole.
The other big thing in regards to Llano and the Fusion platform is the integrated graphics. While we've spoken about it today in what it offers, the features and other things like that, we haven't gone in to real detail on what it actually does for performance. This is simply because we wanted to offer more than just a benchmark or two; instead we want to run the graphics through a number of our benchmarks and look at it in both stock and overclocked form.
Due to that, we haven't scored the APU today because really, we're not so much just reviewing the A8-3850, but we're reviewing the platform on a whole and such an important part of that platform is the video performance. This is an area AMD expect to be extremely strong in when compared to its competition Intel and going off the specifications we would tend to believe them. There's only one way to find out for sure, though, and that's to benchmark it.
AMD really seem to have their fingers on the pulse of the mass market, though; they look to have developed an exceptional platform that sets a new segment, because it's leaps and bounds ahead of the competition. Atom from Intel is great, but it's a bit long in the tooth these days and is really beginning to age. The i3 2120 is a fantastic processor for the money and stock for stock it looks great. With such limited overclocking potential on the non "k" series Sandy Bridge CPUs, though, the stock performance you get is pretty much all you're going to get.
We are also seeing companies like GIGABYTE and MSI do fantastic things when it comes to the overclocking side of things and getting some excellent performance. The Llano platform should be at a very reasonable price level to get into and you can see people having some real fun with it. Once they've got past that, though, they've still got an extremely capable platform that's capable of doing so much, including play Aliens vs. Predator if you want to throw a HD 6970 into the board.
Unlike the Brazos platform, this is something that's a lot more reasonable because it's not so heavily CPU limited like that platform is. To give you an idea, our HD 6970 in the Brazos system scored P1811, here we scored P4723. That gives you an idea of just how much extra performance is on offer here and shows that the platform while aimed at the mid-range market, can still handle a high end video card and give us extremely strong video performance.
It's clear that AMD have a very good product on their hands; the main question we need to ask is, how well will it go in the market? Having a good product is only part of selling a product. What's really going to matter is the marketing side of things and how they and their partners promote it. The good news is that half the job seems to be done already with them having a great product.
For now, though, that seems to be enough. We will wrap up our Final Final Thoughts in the coming day or days as we bring you a closer look at what exactly the GPU side of things is capable of doing.