Apacer TurboII Series-AS602 120GB Solid State Drive Review
Apacer delivers one of the best SandForce SF-1200 packages we've seen to date, but does its performance compete with the competition?
Published Thu, Mar 3 2011 12:30 AM CST
|
Updated Tue, Nov 3 2020 7:02 PM CST
Rating:

90%
Manufacturer: Apacer
Introduction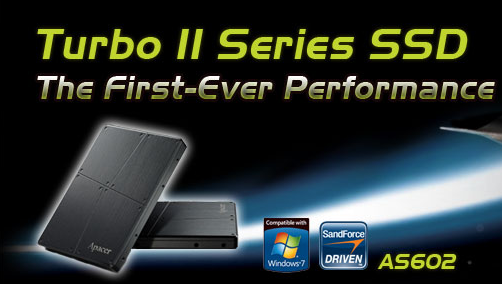 Apacer is known for their industrial products in the US, but in Australia and the rest of the APAC region their consumer product line competes with many of the big names that compete globally. Apacer offers many product types, from USB hubs to media players and flash products. Their latest offering is what is putting Apacer in the TweakTown spotlight today; an ultra fast SandForce based SSD that rivals those coming from the US.
The Apacer TurboII-Series AS602 ships with one of the best accessory packages we've seen to date, and the drive itself has the best aluminum case we've seen since the Patriot Inferno. There are two distinct packages for the AS602; a desktop upgrade kit that includes 2.5" to 3.5" drive rails and a notebook upgrade kit that includes a USB to SATA cable that makes cloning your existing drive with Acronis (included) easier. Both packages also include a rubber drive surround that adds extra drive protection and keeps your drive from being scratched.
The SandForce SF-1200 consumer SSD controller is the best SATA 3G controller on the market and provides outstanding performance with 285MB/s read and 275MB/s write speeds. Before we get too far along, let's take a look at the specifications.
Specifications, Pricing and Availability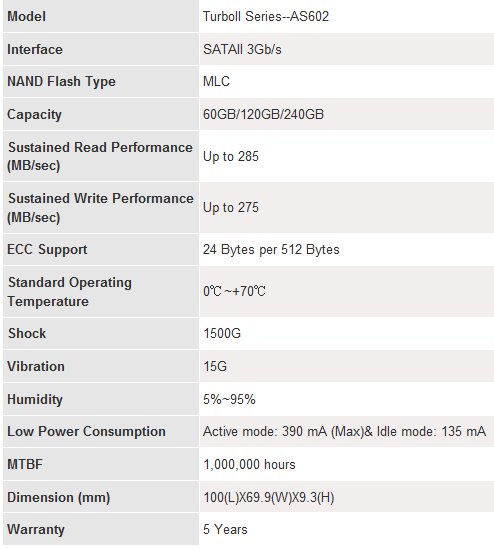 Apacer is offering the TurboII-AS602 in three separate capacities; 60GB, 120GB and 240GB. All three are rated at 285MB/s read and 275MB/s write speeds and feature 24 Bytes per 512 Bytes ECC. These figures are pretty much standard for SandForce consumer drives. Apacer takes the standard SandForce drive and escalates the package with two different options.
The first is what we are looking at today; the Notebook Upgrade Kit which features everything you need to quickly and easily clone your notebook drive with Acronis True Image HD and a USB 2.0 to SATA cable. The Desktop Upgrade Kit includes the same drive cloning software, but replaces the USB 2.0 to SATA cable with 2.5" to 3.5" brackets that are used to install your TurboII Series-AS602 in a standard desktop HDD bay.
SSDs are great for notebook environments, especially if you travel with your notebook. The AS602 has a shock rating of 1500Gs and can withstand vibration up to 15Gs. There is nothing worse than checking into your hotel after a long flight and learning that your HDD has crashed due to vibration.
The AS602 also has a max power draw of only 390mA and an idle mode draw of 135mA. We've seen SandForce SF-1200 drives pull as much as 500mA when used with older flash memory, so Apacer has done a very good job of reducing power consumption by selecting premium components.
We had a difficult time finding the new TurboII-AS602 available in Australia and in the global market. This is a new product, so it may take some time to hit retail and e-tail outlets.
Apacer has an industry leading 5 year warranty on their high speed TurboII-AS602 SSD which gives you peace of mind when at the time of the sale, since you know you are covered for the long haul.
The Packaging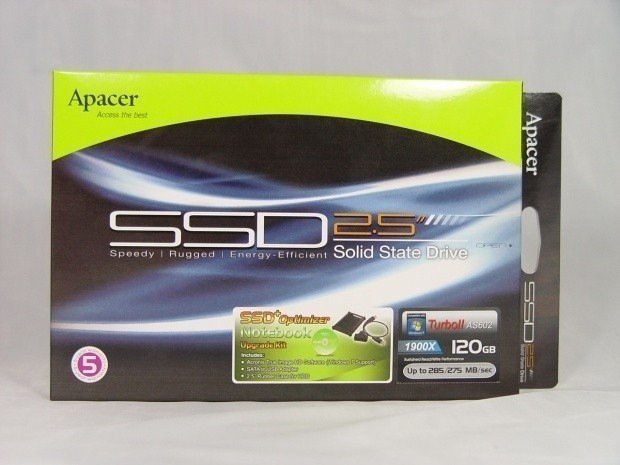 The Apacer TurboII-AS602 comes in a very retail friendly package that allows the customer to quickly learn about the product. On the front Apacer proudly displays their Notebook Upgrade Kit details, the capacity of the drive and even a quick performance rating. We also found the 285/275MB/s at the lower right hand corner. On the lower left hand side Apacer shows their 5 year warranty logo.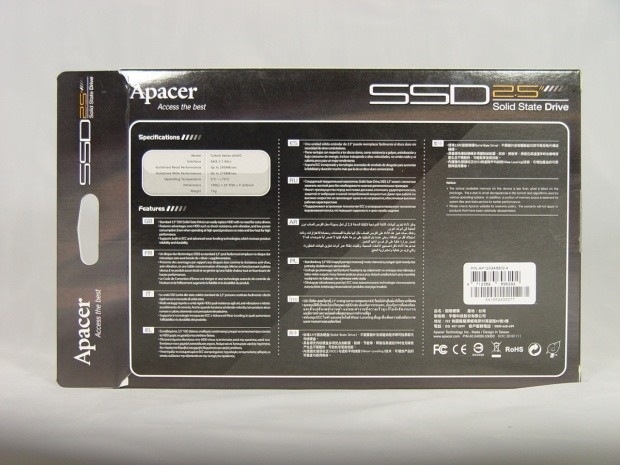 The back of the package has some general information about SSDs and some specific specifications.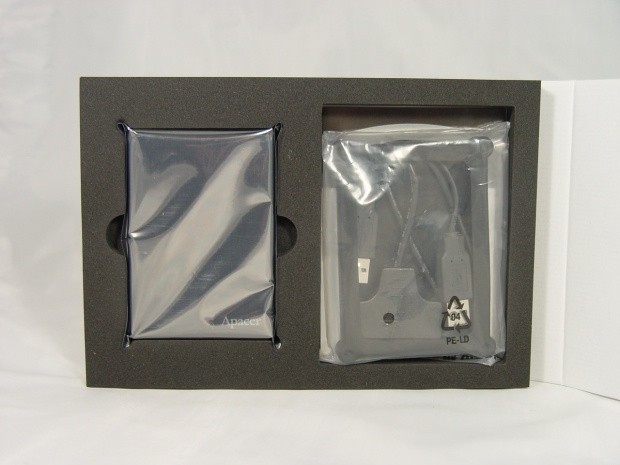 The inner package is setup very well with the drive in its own separate compartment and the accessories in another. This keeps your drive from being scratched or damaged during shipping.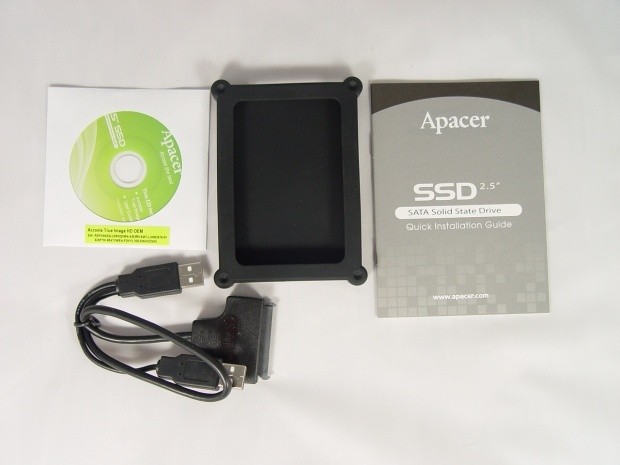 The accessory package is well thought out and Apacer included everything needed to quickly and easily get your new drive up and running in your notebook. A mini disk with Acronis drive cloning software was a great addition, but the self powered USB 2.0 to SATA port makes connecting your drive to your notebook very easy. While you are cloning the drive Apacer even included a rubber surround for the drive.
The Apacer TurboII Series-AS602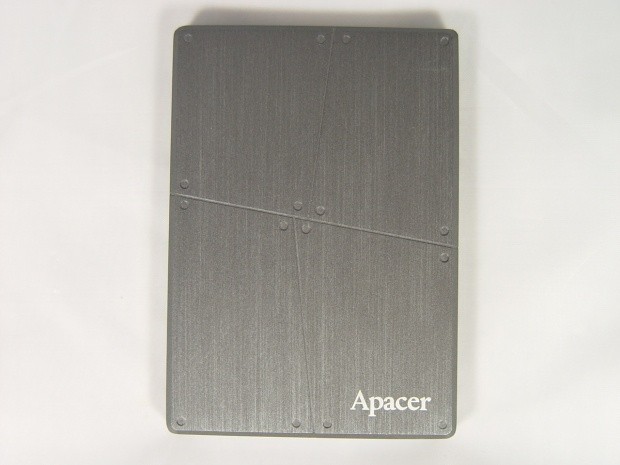 Here we get our first look at the Apacer TurboII-AS602 and it's like nothing we've seen before. Apacer went with a very nice aluminum case that was milled to look like a piece of military hardware.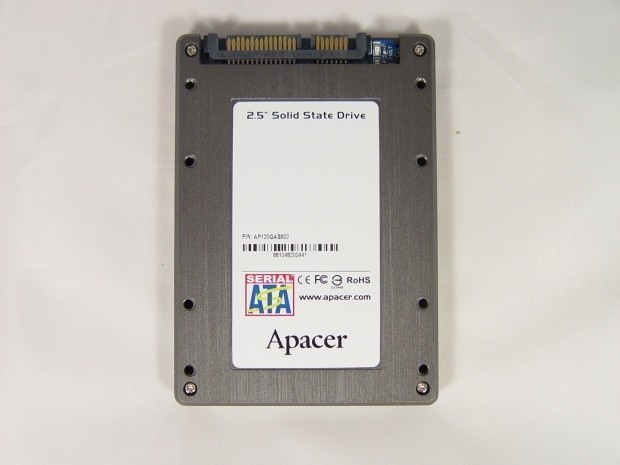 Even the back of the drive reminds us of something you would see in an advanced fighter jet. One thing that really caught our eye was the inclusion of additional mounting points on the bottom and side of the drive. The standard set is included, but also a set closer together.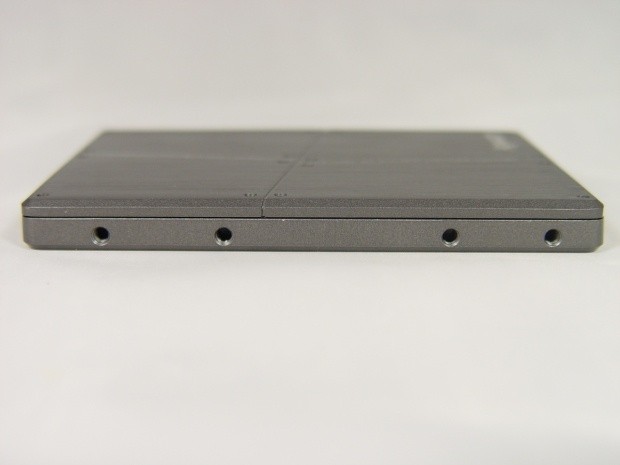 On the side we also found an additional set of mounting points that accompany the standard locations.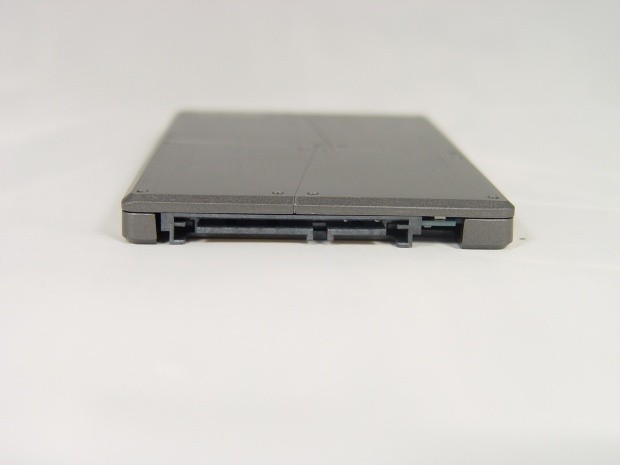 The SATA power and data connections are located where they should be, so you will easily be able to install the drive in your notebook or desktop computer.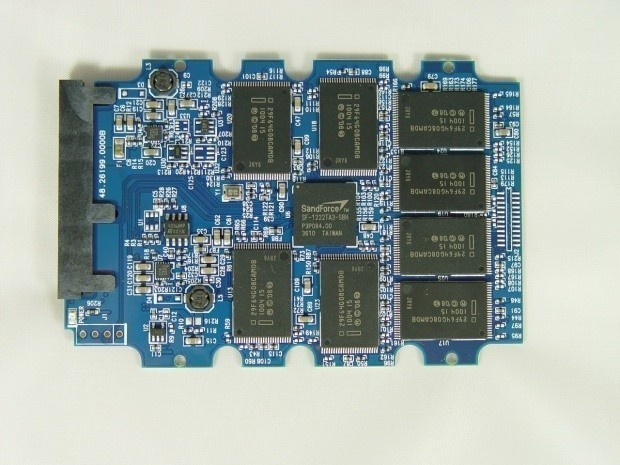 Inside we found the familiar SF-1222TA3 controller from SandForce and eight Intel flash modules per side.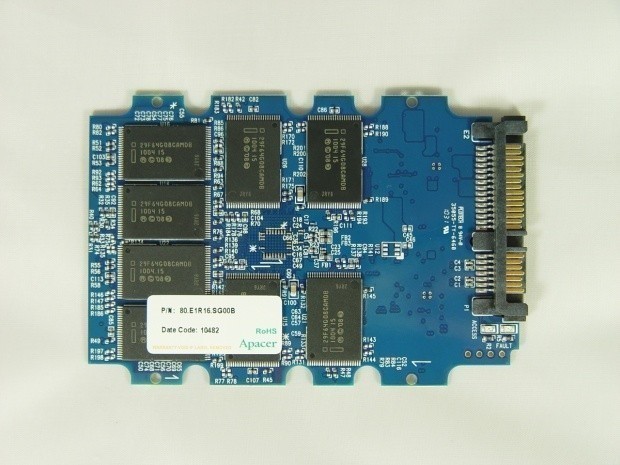 The TurboII-AS602 has a lot of surface mount components on the PCB, more than we are used to seeing. I can't wait to check out the performance of this highly developed drive.
Test System Setup and ATTO Baseline Performance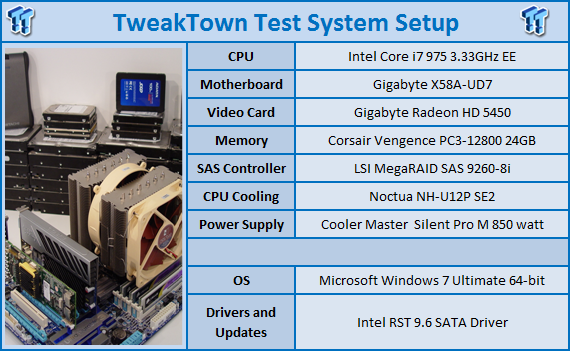 We would like to thank the following companies for supplying and supporting us with our test system hardware and equipment:
AVADirect
,
GIGABYTE
,
Cooler Master
,
LSI
,
Corsair
, and
Noctua
.
You can read more about TweakTown's Storage Product Testing Workstation and the procedures followed to test products
in this article
.
ATTO Baseline PerformanceVersion and / or Patch Used:
2.34
ATTO is used by many disk manufacturers to determine the read and write speeds that will be presented to customers.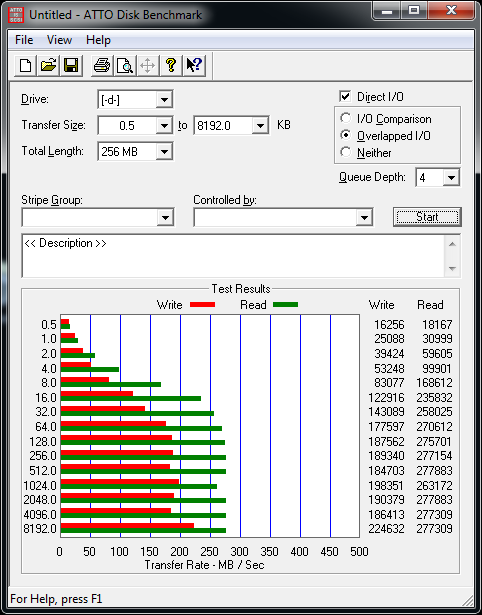 Using ATTO to check the manufacturers claimed speeds, we see some off results. The AS602 performed quite a bit slower than all of our other SandForce SF-1200 based SSDs. The 277MB/s read is just a little slower than the 285MB/s that we are used to, but the write speed of 225MB/s is quite a bit slower than the 275MB/s we expect.
Benchmarks - HD Tune Pro
HD Tune ProVersion and / or Patch Used:
4.00
Developer Homepage:
http://www.efdsoftware.com
Product Homepage:
http://www.hdtune.com
HD Tune is a Hard Disk utility which has the following functions:
Benchmark: measures the performance
Info: shows detailed information
Health: checks the health status by using SMART
Error Scan: scans the surface for errors
Temperature display
HD Tune Pro gives us accurate read, write and access time results and for the last couple of years has been gaining popularity amongst reviewers. It is now considered a must have application for storage device testing.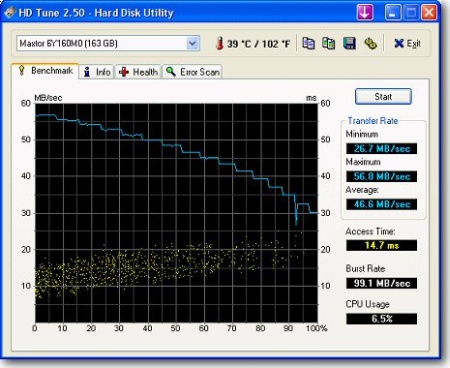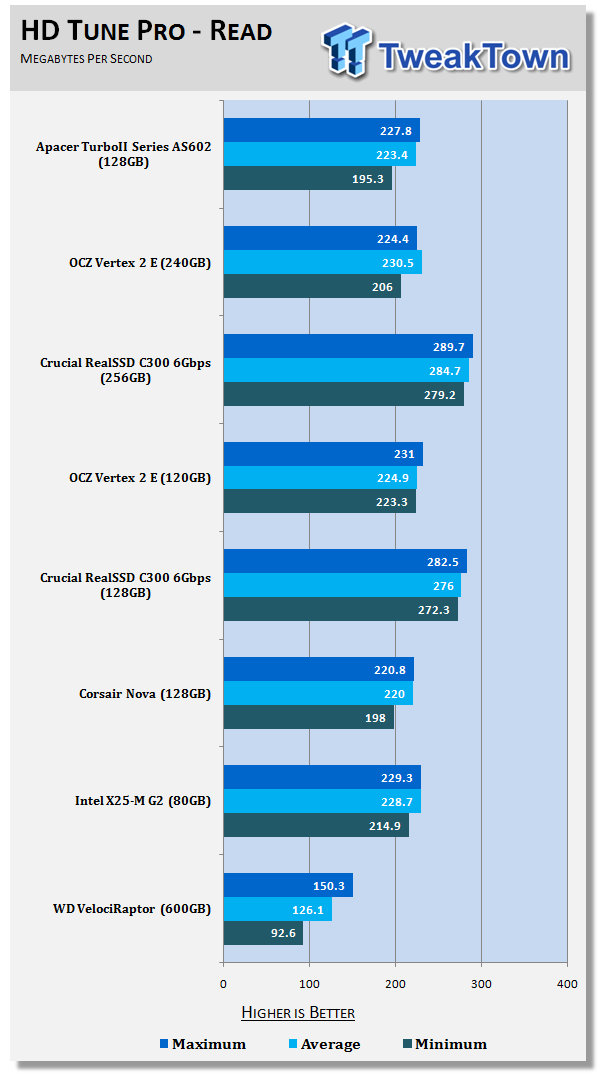 The sequential read speed across the drive was comparable to the Vertex 2 120GB, so even though the ATTO results were low, the AS602 can read data very quickly.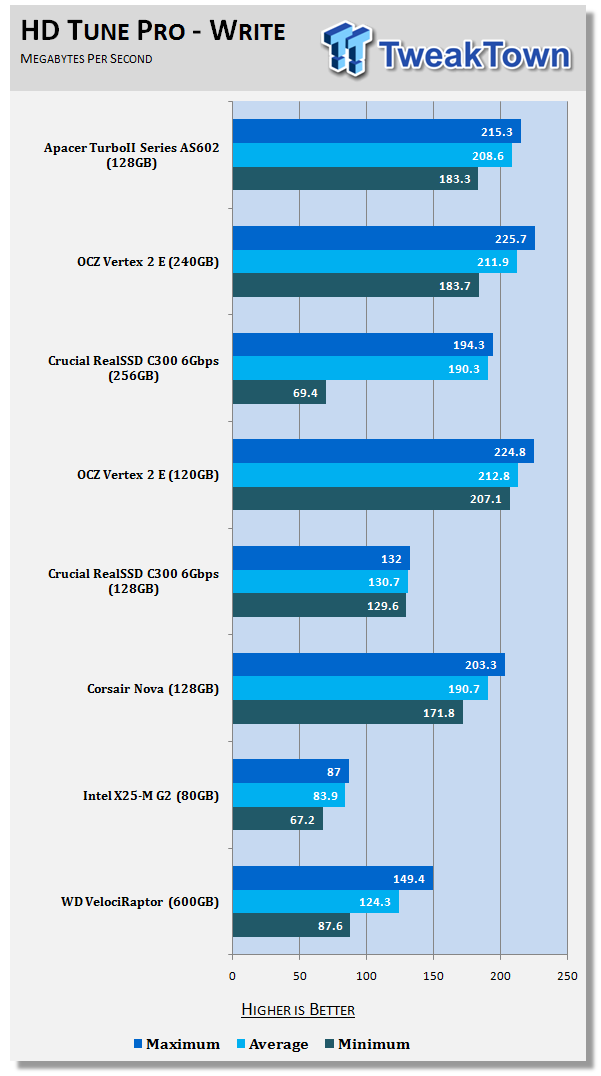 The write speeds across the drive were also very fast and on par with the Vertex 2. The TurboII-AS602 had a couple of dips on the performance graph, but we suspect the drive was tested extensively before it arrived to our office.
Benchmarks - Everest Random Access Time
Everest Random Access TimeVersion and / or Patch Used:
4.60
Developer Homepage:
http://www.lavalys.com
Product Homepage:
http://www.lavalys.com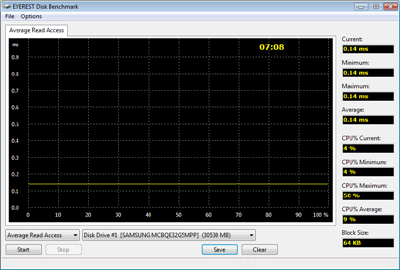 Everest Ultimate and Corporate Edition offer several different benchmarks for testing and optimizing your system or network. The Random Access test is one of very few if not only that will measure hard drives random access times in hundredths of milliseconds as oppose to tens of milliseconds.
Drives with only one or two tests displayed in write the write test mean that they have failed the test and their Maximum and possibly their Average Scores were very high after the cached fills. This usually happens only with controllers manufactured by JMicron.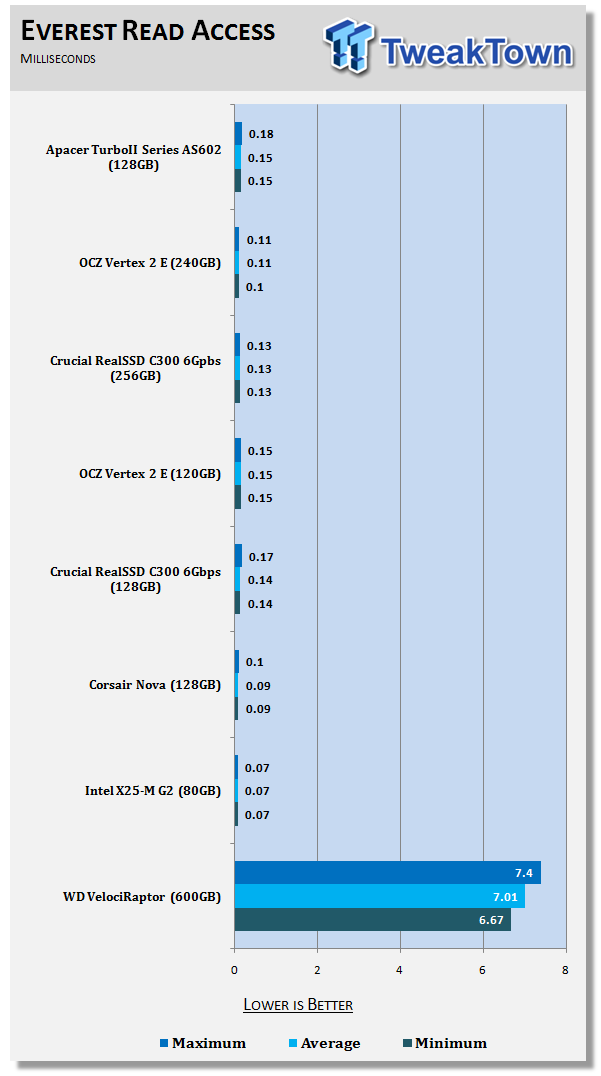 The Apacer TurboII Series AS602 120GB drive delivered solid read access times that are on par with other SandForce SF-1200 drives. The access times are what makes an SSD feel fast when you are multitasking and moving around Windows on your PC.
At the bottom of the chart is one of the fastest consumer platter drives, the Western Digital VelociRaptor 600GB. Looking at the results, you can see why SSDs make your system respond so much better in everything.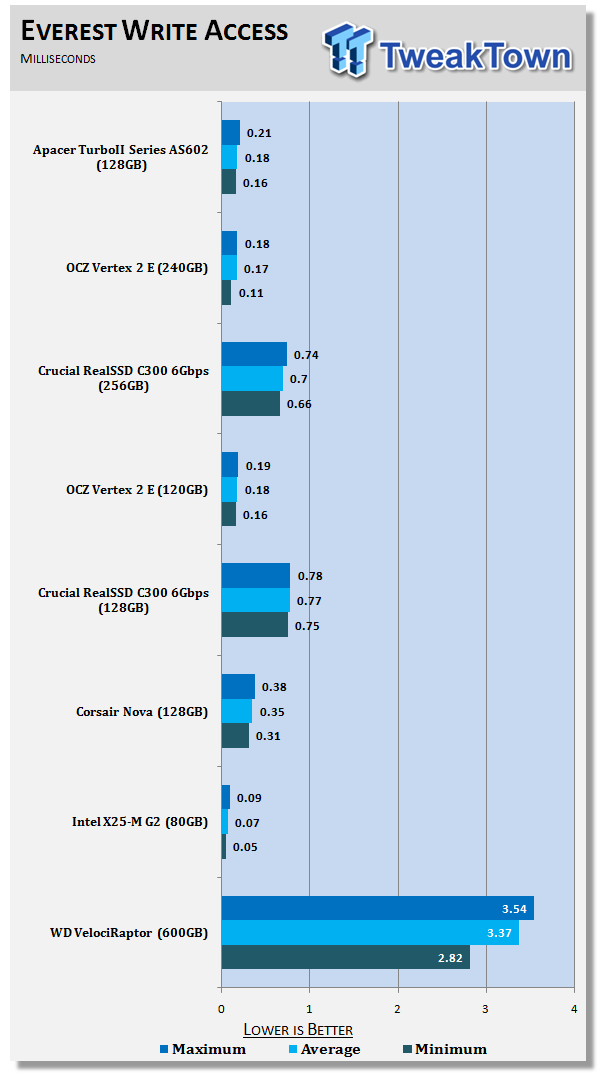 The write access times are also very fast on the AS602.
Benchmarks - CrystalDiskMark
CrystalDiskMarkVersion and / or Patch Used:
3.0 Technical Preview
Developer Homepage:
http://crystalmark.info
Product Homepage:
http://crystalmark.info/software/CrystalDiskMark/index-e.html
Download here:
http://crystaldew.info/category/software/crystaldiskmark
CrystalDiskMark is a disk benchmark software.
Key Features:-
* Sequential reads/writes
* Random 4KB/512KB reads/writes
* Text copy
* Change dialog design
* internationalization (i18n)
Note:
Crystal Disk Mark 3.0 is not available to the public yet, but the Technical Preview does allow us to test 4K performance at queue depths of 4 and 32 in addition to 1. The current release Crystal Disk Mark only shows us QD 1.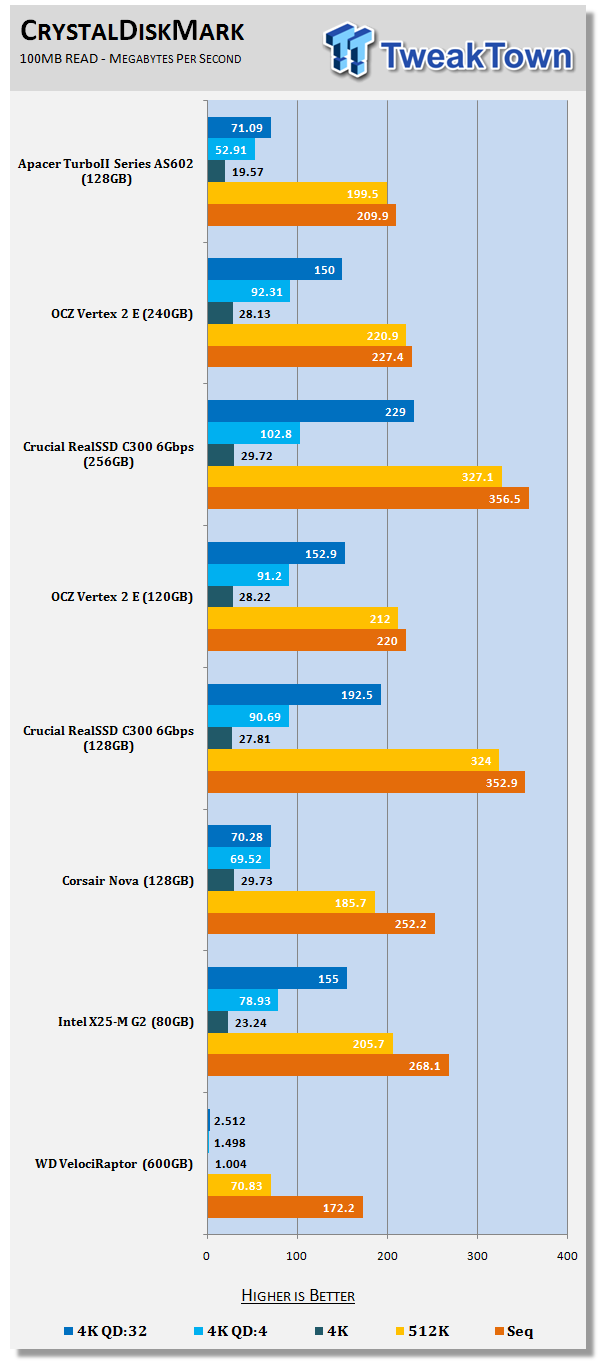 In CDM we look at 4K performance and 4K NCQ performance. This is where things really started to get interesting in our testing. The 4K results were quite a bit lower than the 120GB Vertex 2 and this lower performance scaled all the way up to the 32 depth with the AS602 delivering around half the 4K read speeds when compared to the Vertex 2.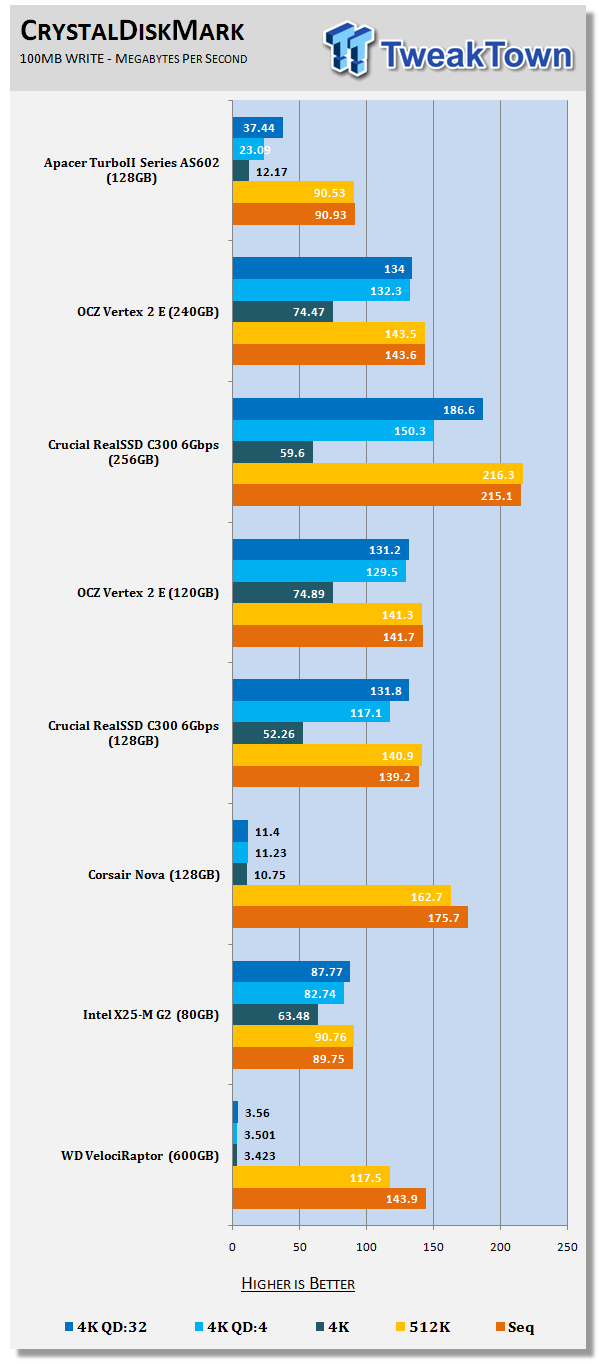 Nearly the same thing happened with the 4K write tests, but this time the AS602 had a difficult time with a single command. We'll have to keep an eye on the real world performance testing to see how this equates to real world speeds.
Benchmarks - PCMark Vantage Hard Disk Tests
PCMark Vantage - Hard Disk TestsVersion and / or Patch Used:
1.0.0
Developer Homepage:
http://www.futuremark.com
Product Homepage:
http://www.futuremark.com/benchmarks/pcmark-vantage/
Buy It Here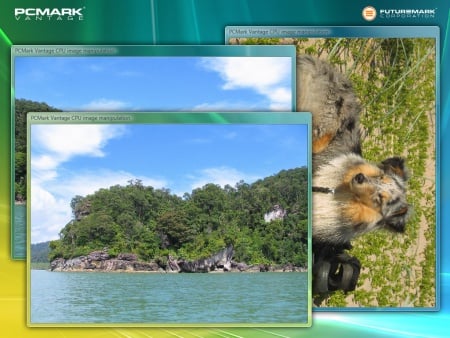 PCMark Vantage is the first objective hardware performance benchmark for PCs running 32 and 64 bit versions of Microsoft Windows Vista. PCMark Vantage is perfectly suited for benchmarking any type of Microsoft Windows Vista PC from multimedia home entertainment systems and laptops to dedicated workstations and high-end gaming rigs. Regardless of whether the benchmarker is an artist or an IT Professional, PCMark Vantage shows the user where their system soars or falls flat, and how to get the most performance possible out of their hardware. PCMark Vantage is easy enough for even the most casual enthusiast to use yet supports in-depth, professional industry grade testing.
FutureMark has developed a good set of hard disk tests for their PCMark Vantage Suite. Windows users can count on Vantage to show them how a drive will perform in normal day to day usage scenarios. For most users these are the tests that matter since many of the old hat ways to measure performance have become ineffective to measure true Windows performance.

HDD1 - Windows Defender
HDD2 - Gaming
HDD3 - Windows Photo Gallery
HDD4 - Vista Startup
HDD5 - Windows Movie Maker
HDD6 - Windows Media Center
HDD7 - Windows Media Player
HDD8 - Application Loading
Speaking of real world testing, here we are! - In Vantage we see the Apacer TurboII AS602 consistently being outperformed by the Vertex 2 120GB drive. The only thing I can think of is the programming or firmware on the AS602. We know that SandForce allows companies to order custom builds that allow the drives to perform a little differently in different tests. These features can be enabled or disabled at the factory. I'm not sure what features have been changed, but they are having an effect on some of the performance areas that we normally see SandForce controlled SSDs excel in.
Benchmarks - AS SSD
AS SSD BenchmarkVersion and / or Patch Used:
1.2.3577.40358
Developer Homepage:
Alex Intelligent Software
Product Homepage:
Alex Intelligent Software
Download here:
http://www.alex-is.de/PHP/fusion/downloads.php?cat_id=4&download_id=9
AS determines the performance of Solid State Drives (SSD). The tool contains four synthetic as well as three practice tests. The synthetic tests are to determine the sequential and random read and write performance of the SSD. These tests are carried out without the use of the operating system caches.
In all synthetic tests the test file size is 1GB. AS can also determine the access time of the SSD, the access of which the drive is determined to read through the entire capacity of the SSD (Full Stroke). The write access test is only to be met with a 1 GB big test file. At the end of the tests three values for the read and write as well as the overall performance will be issued. In addition to the calculated values which are shown in MB/s, they are also represented in IO per seconds (IOPS).
Note:
AS SSD is a great benchmark for many tests, but since Crystal Disk Mark covers a broader range of 4K tests and HD Tune Pro covering sequential speeds, we will only use the Copy Benchmark from AS SSD.
- Copy Benchmark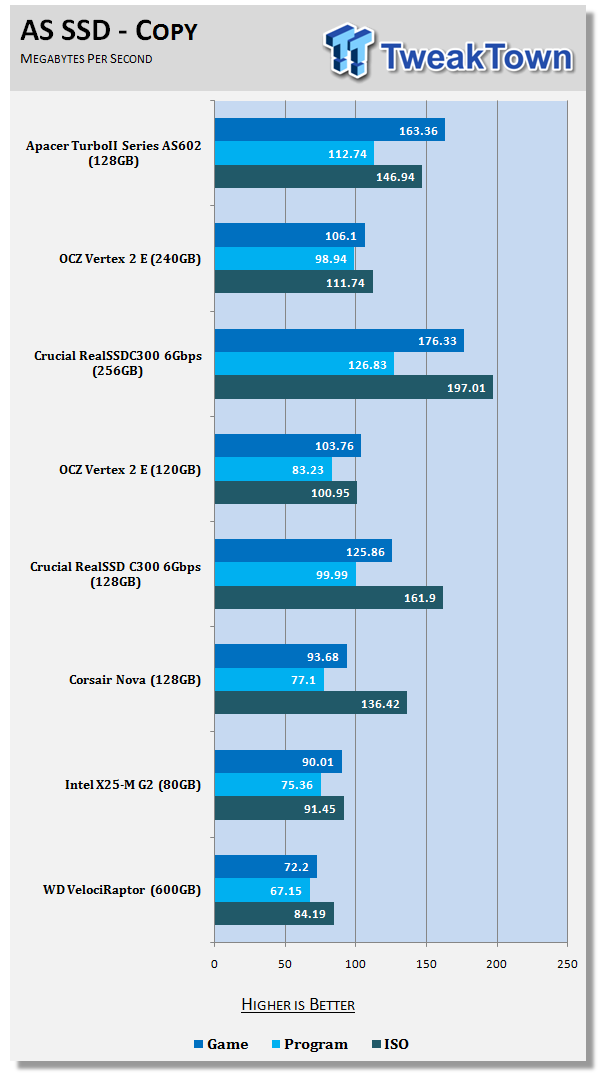 It looks like we found the bright spot on the Apacer TurboII AS602. Apacer has increased the file transfer performance on this SSD, and as you can see, it blows the Vertex 2 away when transferring data to and from the drive. This was an interesting approach to take and one that we haven't seen before. Normally SandForce SF-1200 controlled drives have a difficult time keeping up with the Crucial RealSSD C300, but the Apacer drive runs very close to this SATA 6G drive in these tasks.
Benchmarks - Passmark
Passmark Advanced Multi-User TestsVersion and / or Patch Used:
6.1
Developer Homepage:
http://www.passmark.com
Test Homepage:
http://www.passmark.com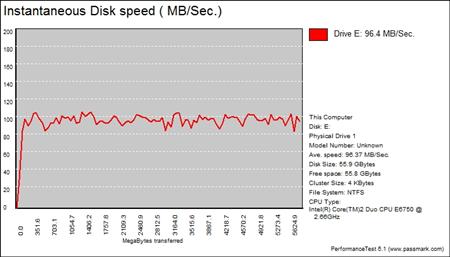 Many users complain that I/O Meter is too complicated of a benchmark to replicate results so my quest to find an alternative was started. Passmark has added several multi-user tests that measure a hard drives ability to operate in a multi-user environment.

The tests use different settings to mimic basic multi-user operations as they would play out on your server. Variances is read / write percentage as well as random / sequential reads are common in certain applications, Web Servers read nearly 100% of the time while Database Servers write a small amount of data.
The Workstation test is the only single user environment and will be similar to how you use your system at home.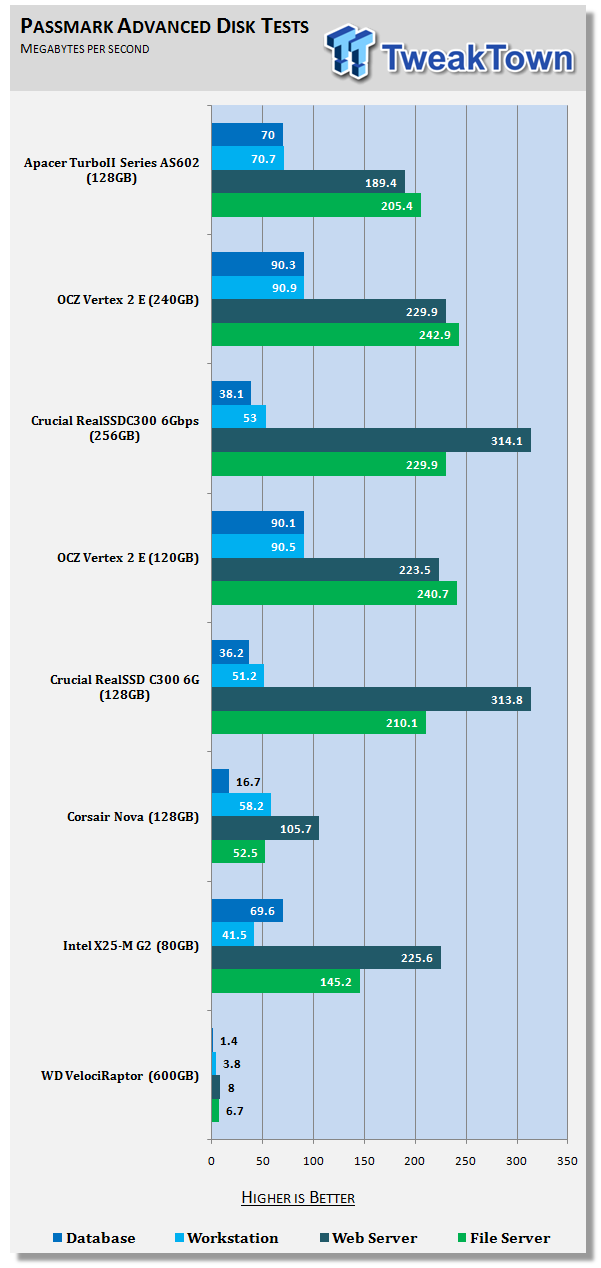 After seeing the 4K results we sort of expected less than average server performance out of the AS602, and the results show just that. The AS602 was down around 20MB/s on all of the server tests.
Final Thoughts
It is nice to see some variety coming from Apacer. After reviewing around 20 or so SandForce SF-1200 drives, we are finally starting to see companies take advantage of the tools offered by SandForce to squeeze out performance in other areas. Of course, adding to one means taking from another usually, and that is the case here today. Apacer sacrificed a bit of 4K and real world daily task speed to prop up the file transfer speeds. This is similar to what Corsair has done with their Performance 3; take a little away where you have some to spare and add some where it could be used more effectively.
Even though some of the tests were slower than the main competition, the differences were not that great when looking at the overall picture. Users who download a lot of content or constantly move large files around will find the Apacer TurboII Series AS602 a better fit than someone just using their system for work purposes. The file transfer tests have always been the lowest point for SF-1200 controlled drives, but Apacer has managed to bring that performance up quite a bit.
When it comes to the bundle, I'd have to say that the Notebook Upgrade Kit is one of the best we've seen. The only other company to come close so far has been Kingston and they never made a first generation SandForce drive. The included accessories really go above and beyond what we expected.
The construction of the actual drive is also note worthy. Apacer has made the best looking and highest detailed aluminum case. It's too bad the drive is going to be tucked away in your notebook or desktop out of sight. At least you will know there is a piece of geek art inside.
Pricing and Availability are the only real issues we had with the AS602. I combed all over Europe and Australia looking for an e-tail shop listing the drive in stock, but came away empty handed. The drive was just announced at the very end of January, so we are in that odd time frame when an announcement has been made but product has yet to hit store shelves or warehouse floors. They should be showing up any day now, though.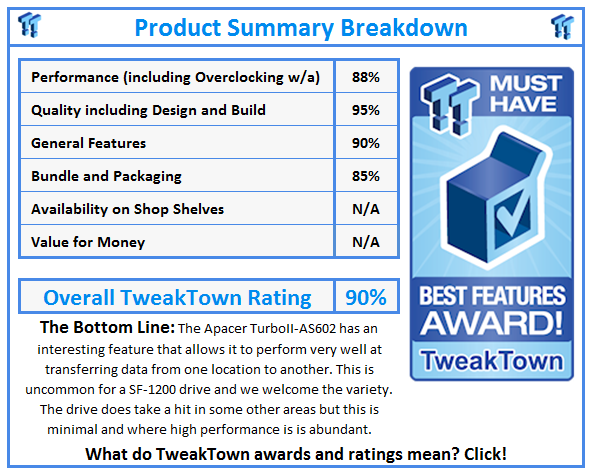 PRICING: You can find products similar to this one for sale below.

United States: Find other tech and computer products like this over at Amazon.com

United Kingdom: Find other tech and computer products like this over at Amazon.co.uk

Australia: Find other tech and computer products like this over at Amazon.com.au

Canada: Find other tech and computer products like this over at Amazon.ca

Deutschland: Finde andere Technik- und Computerprodukte wie dieses auf Amazon.de
We openly invite the companies who provide us with review samples / who are mentioned or discussed to express their opinion. If any company representative wishes to respond, we will publish the response here. Please contact us if you wish to respond.