Thermaltake BlacX Duet HDD Docking Station
Featuring eSATA, USB 2.0 and two HDD docking ports, the Duet offers everything a desktop HDD dock should, but in pairs.
Published Mon, Dec 13 2010 11:26 AM CST
|
Updated Tue, Nov 3 2020 7:02 PM CST
Introduction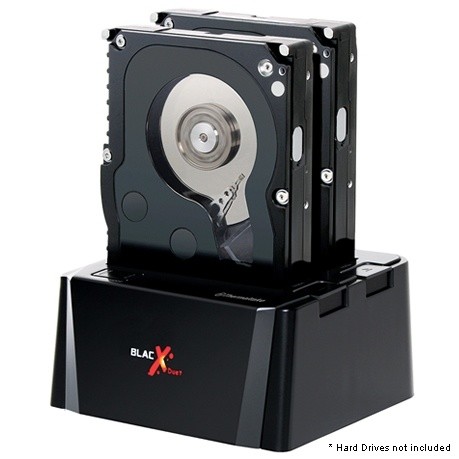 Over the last couple months we took on the mission of finding the perfect HDD desktop docking station. The first two products we looked at were low cost units that were only limited by the amount of bandwidth our motherboard was able to provide. After that we moved on to the Thermaltake BlacX 5G, another USB 3.0 docking station that included some great accessories, an extra long cable that made moving our test system from under the desk less painful and was also able to deliver amazing performance. Now that we've seen the best USB 3.0 has to offer, a new docking station has taken over our test bench. The Thermaltake BlacX Duet forgoes USB 3.0 entirely and sticks to a tried and true eSATA / USB 2.0 combination, but that's not what the duo in Duet is about.
Using eSATA's port replicator feature, Thermaltake managed to add another HDD dock to their standard USB 2.0 / eSATA docking station. This allows users to quickly add two raw hard drives to their system without cracking open the system's side panel. If you are a user who would like to swap one drive in and out of the system with ease, then most likely you have more than one drive to swap around. The best thing about the Duet, though, is that it still offers enough bandwidth to run the fastest SATA platter drives at full speed, just like USB 3.0 does.
Let's take a look at the full specification list for the Thermaltake BlacX Duet and see if this new, dual drive model is what we've been looking for.
Specifications, Pricing and Availability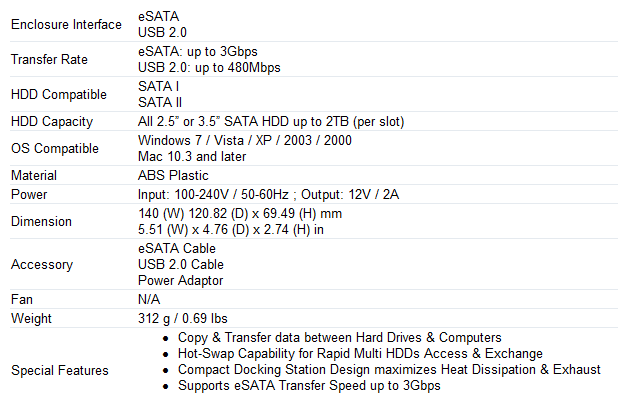 The Thermaltake BlacX Duet is the newest and least known desktop docking station on the market. Since its release, USB 3.0 has stolen headlines and minimized just about every other interface. eSATA has taken the biggest hit, but the reality of the situation is that eSATA is superior to USB 3.0 for attaching raw storage to a PC, since it doesn't require CPU power and delivers up to 285MB/s when used optimally. eSATA can also take advantage of higher function SATA protocols like native command queuing.
When it comes to the cost, the BlacX Duet is down to just 34.16 after a mail-in rebate. The price at
Newegg before the rebate is 44.16
, around 7 Dollars less than the USB 3.0 model.
The Packaging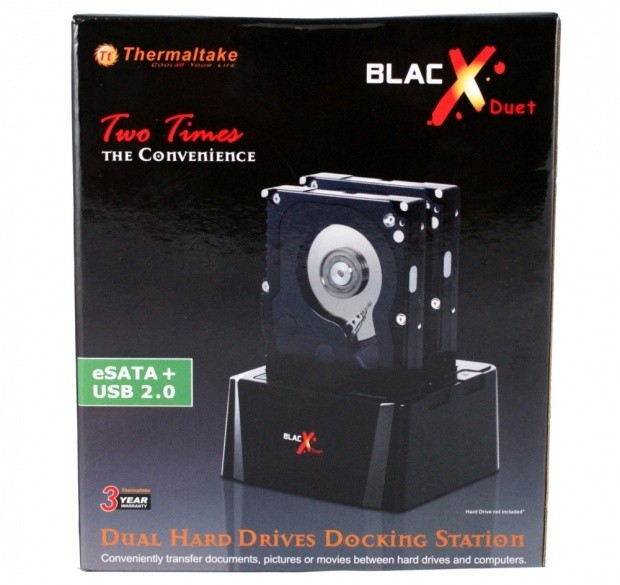 Thermaltake shows the best feature of the BlacX right on the front cover of the package; dual drives plugged into the desktop docking station for "Two Times the Convenience."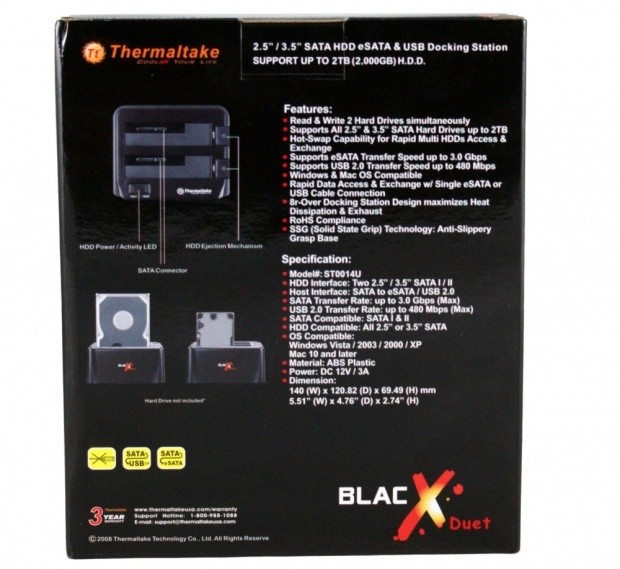 The back of the package goes into detail with the Duet pictured and also lists the features and specifications.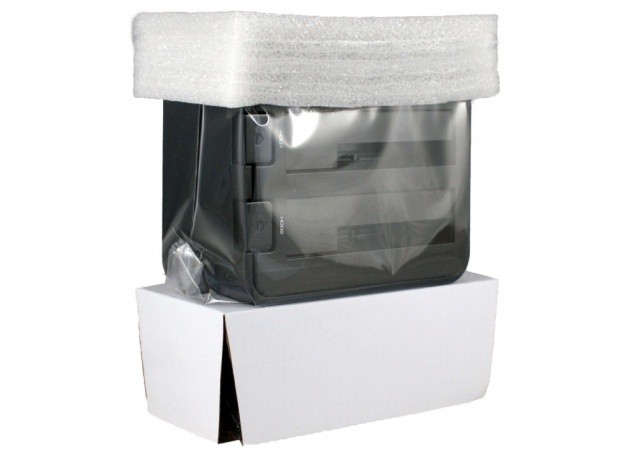 The inner packaging is handled by open cell foam at the top and a cardboard buffer at the bottom that also serves to keep the main unit and the accessories separated.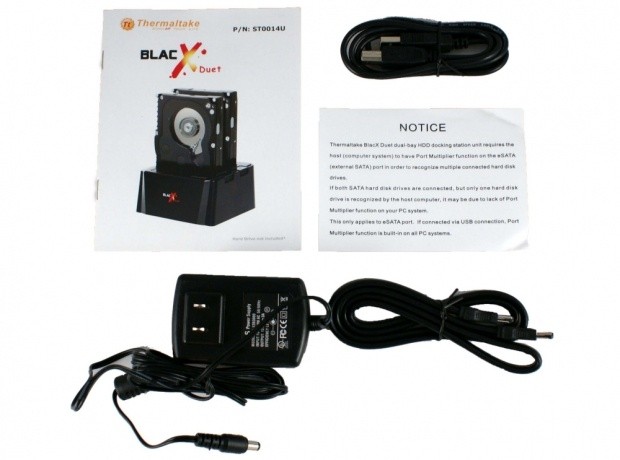 Speaking of the accessory package, here we see the manual, notice about port replicators, USB 2.0, eSATA cables and finally, the power plug.
The Thermaltake BlacX Duet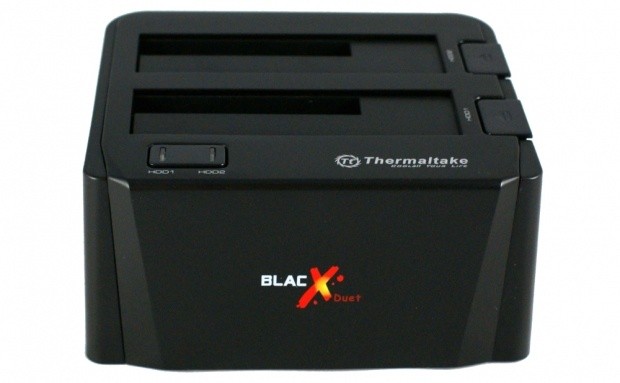 One of the features we like most about Thermaltake's latest BlacX product line is the power button located on the front of the docking station. Previous models had the power button on the back and it was sort of a pain to reach around to turn the system on and off before adding or removing a drive. For the Duet, though, we kind of wish there were two power buttons; one for each drive.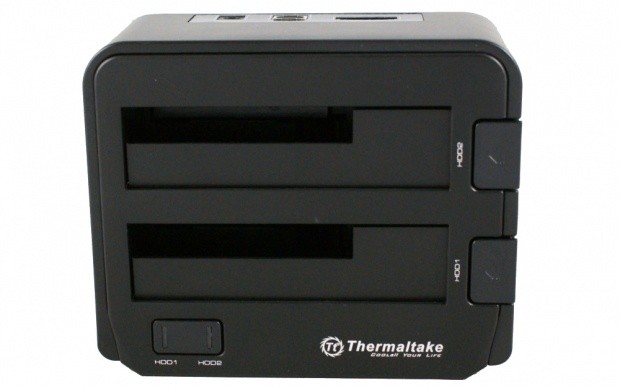 The top of the docking station is where most of the action is. Here we see the dual HDD mounting locations that can each accept either 2.5 or 3.5" SATA drives. Each side gets its own eject button.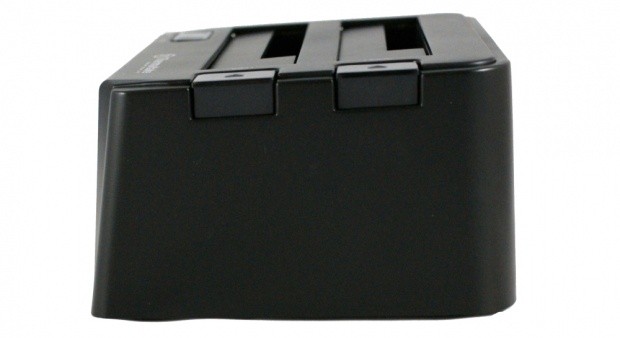 The BlacX Duet is sloped at the top to make it easier to add drives while the dock is sitting on your desk.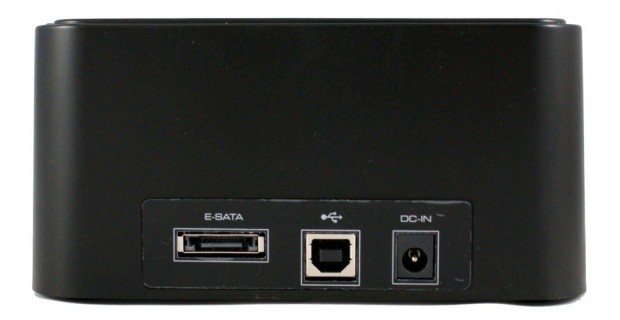 The back has three familiar ports; USB 2.0, eSATA and a spot for power.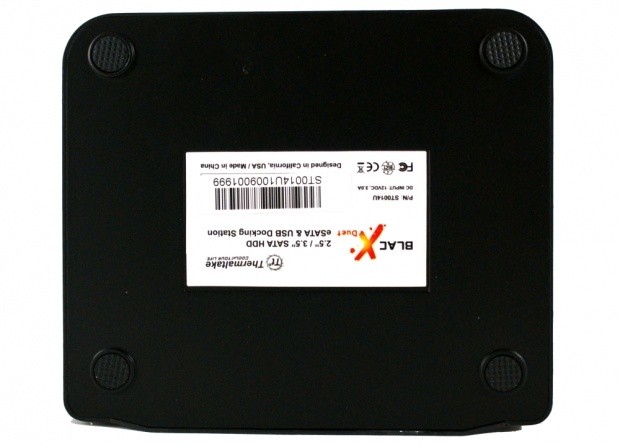 On the bottom we found four rubber pads that keep the BlacX from moving on your desk.
Test System Setup and ATTO Baseline Performance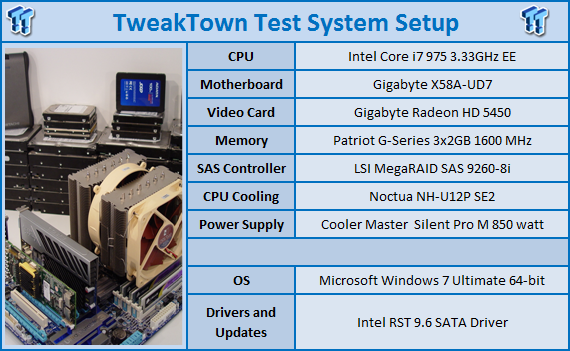 We would like to thank the following companies for supplying and supporting us with our test system hardware and equipment:
AVADirect
,
GIGABYTE
,
Cooler Master
,
LSI
and
Noctua
.
You can read more about TweakTown's Storage Product Testing Workstation and the procedures followed to test products
in this article
.
With the current USB 3.0 products on the market we are able to achieve up to 200MB/s reads and writes. Most motherboards now have dedicated eSATA ports on their rear I/O plate. These are usually added to a system by a JMicron controller, the kings of mediocrity. By adding a low cost SATA to eSATA bracket you can get true SATA II performance out of your eSATA device. We will have a larger article on this in the coming weeks, so come back to learn all about external data.
For testing today we will stick with the motherboard's onboard eSATA port that maxes out at around 135MB/s.
For testing we will use the Crucial RealSSD C300, the world's fastest 256GB SSD. Crucial has graced us with several of these drives for use in all of our storage product reviews. You can learn more about the Crucial RealSSD C300 256GB SSD
here
.
ATTO Baseline Performance
Version and / or Patch Used:
2.34
ATTO is used by many disk manufacturers to determine the read and write speeds that will be presented to customers.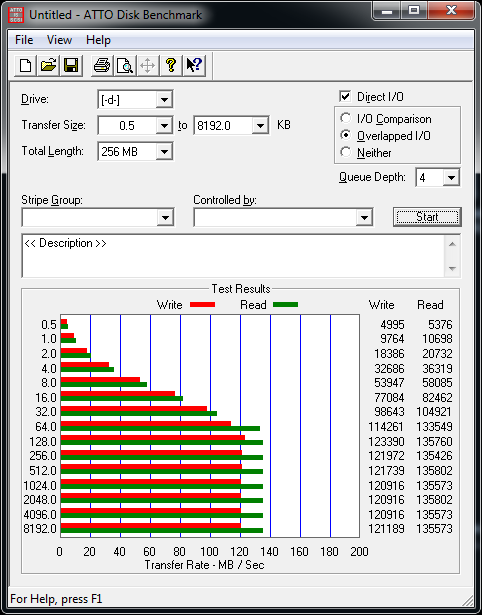 Using ATTO we see that JMicron controller limiting the available bandwidth, but we are still pushing data faster than what any desktop platter drive is able to move. The official scoring came to 135MB/s read speed and 121MB/s write speed.
Benchmarks - HD Tune Pro
HD Tune ProVersion and / or Patch Used:
4.60
Developer Homepage:
http://www.efdsoftware.com
Product Homepage:
http://www.hdtune.com
HD Tune is a Hard Disk utility which has the following functions:
Benchmark: measures the performance
Info: shows detailed information
Health: checks the health status by using SMART
Error Scan: scans the surface for errors
Temperature display
HD Tune Pro gives us accurate read, write and access time results and for the last couple of years has been gaining popularity amongst reviewers. It is now considered a must have application for storage device testing.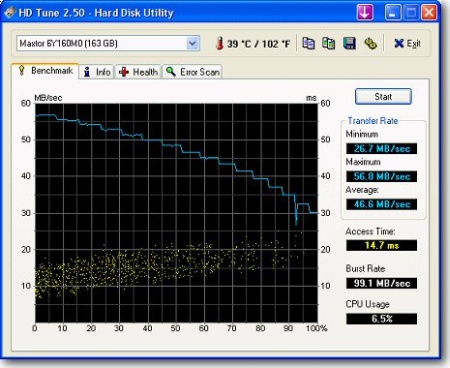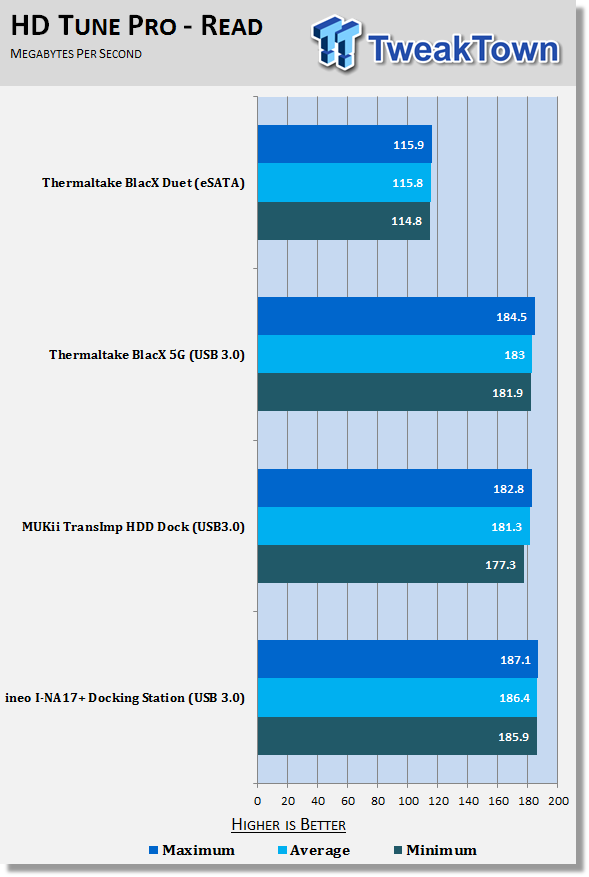 For testing we used the world's fastest solid state drive and we do that to push the devices we are testing to their limits. Here we see the Thermaltake BlacX Duet reading at 115MB/s when connected to the onboard JMicron eSATA port. This configuration allows more than enough bandwidth for any platter drive.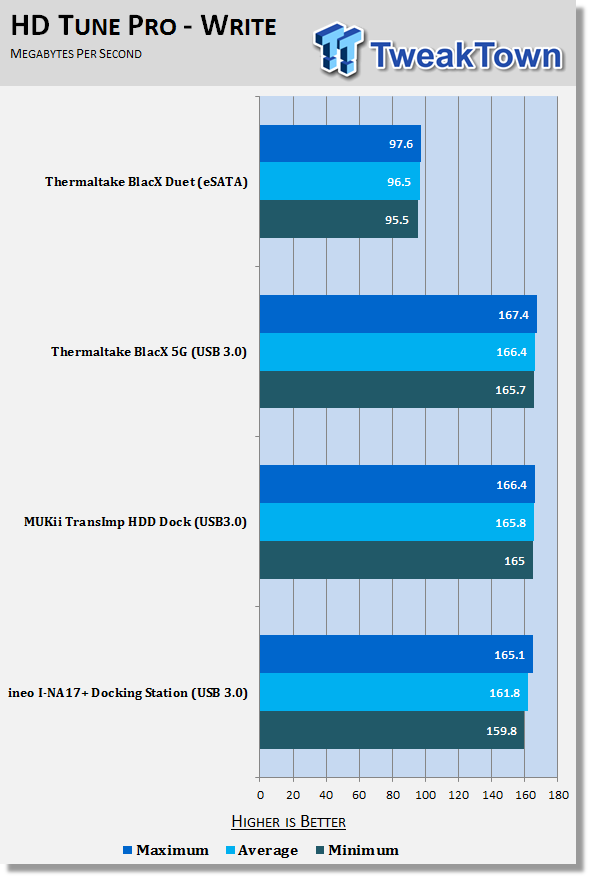 The write test shows that the combination as tested is quite a bit slower than the onboard USB 3.0, but with an average write speed of 96.5MB/s most users will not be able to saturate the bandwidth available.
Benchmarks - Everest Random Access Time
Everest Random Access TimeVersion and / or Patch Used:
4.60
Developer Homepage:
http://www.lavalys.com
Product Homepage:
http://www.lavalys.com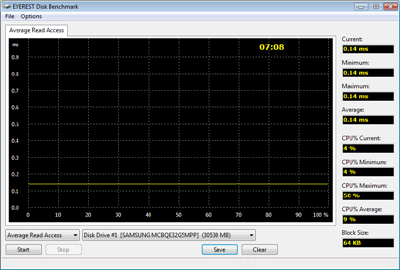 Everest Ultimate and Corporate Edition offer several different benchmarks for testing and optimizing your system or network. The Random Access test is one of very few if not only that will measure hard drives random access times in hundredths of milliseconds as oppose to tens of milliseconds.
Drives with only one or two tests displayed in write the write test mean that they have failed the test and their Maximum and possibly their Average Scores were very high after the cached fills. This usually happens only with controllers manufactured by JMicron.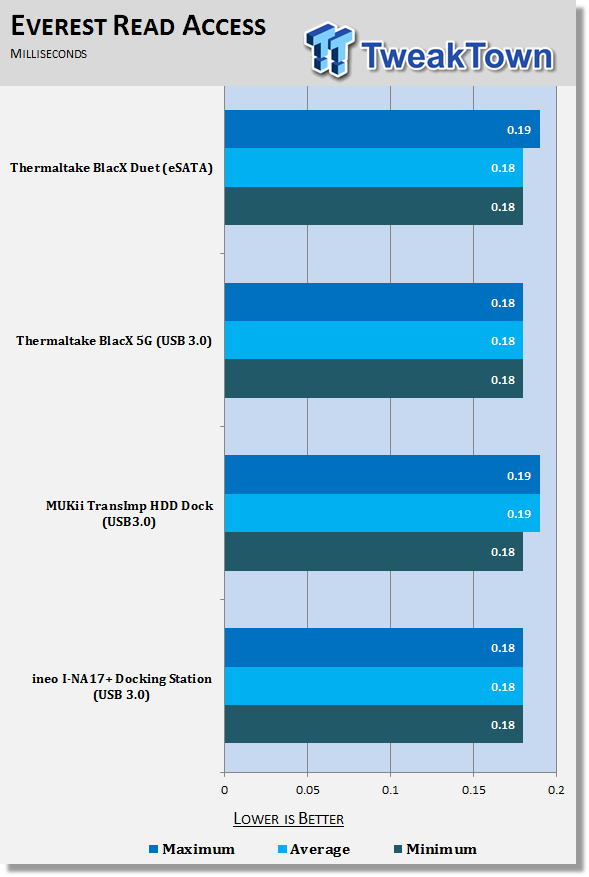 SSDs have very low access times and allow us to see if a product injects additional, unwanted latency in the data path. When it comes to reading data the Thermaltake BlacX Duet connected through eSATA doesn't add additional latency to the data path.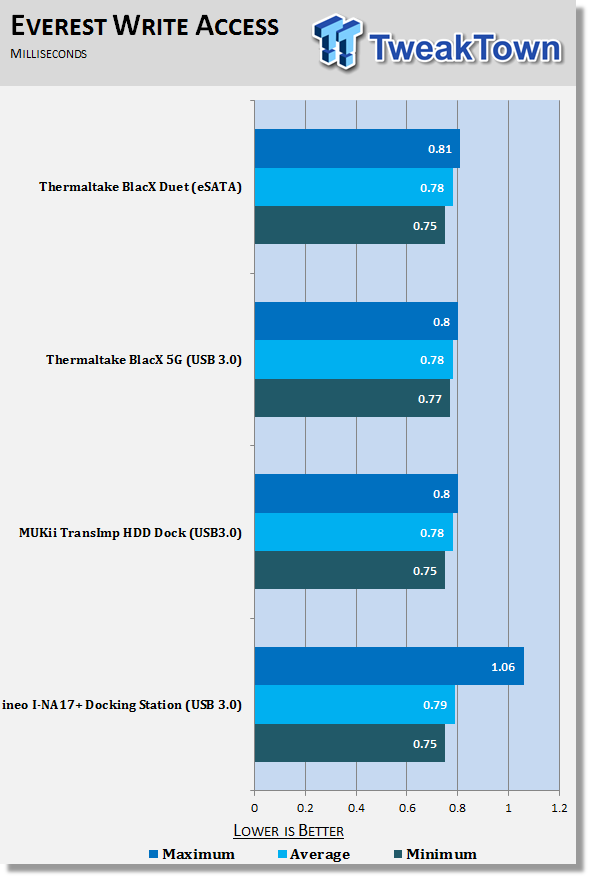 The write latency test shows the same results as the USB 3.0 docking stations. Both read and write latency are unaffected by the docking station.
Benchmarks - AS SSD
AS SSD BenchmarkVersion and / or Patch Used:
1.2.3577.40358
Developer Homepage:
Alex Intelligent Software
Product Homepage:
Alex Intelligent Software
Download here:
http://www.alex-is.de/PHP/fusion/downloads.php?cat_id=4&download_id=9
AS determines the performance of Solid State Drives (SSD). The tool contains four synthetic as well as three practice tests. The synthetic tests are to determine the sequential and random read and write performance of the SSD. These tests are carried out without the use of the operating system caches.
In all synthetic tests the test file size is 1GB. AS can also determine the access time of the SSD, the access of which the drive is determined to read through the entire capacity of the SSD (Full Stroke). The write access test is only to be met with a 1 GB big test file. At the end of the tests three values for the read and write as well as the overall performance will be issued. In addition to the calculated values which are shown in MB/s, they are also represented in IO per seconds (IOPS).
Note:
AS SSD is a great benchmark for many tests, but since Crystal Disk Mark covers a broader range of 4K tests and HD Tune Pro covering sequential speeds, we will only use the Copy Benchmark from AS SSD.
- Copy Benchmark
Most users looking to quickly add or subtract storage product to their system are usually doing it to transfer data to and from the drive. Being able to back up or save data quickly is just as important to being able to add the drive quickly.
In these tests we see that the eSATA BlacX Duet falls a little behind the BlacX 5G. The transfer speeds were still very good for the Duet and the scores would be higher if connected to the Intel ICH, but connected to the JMicron chip the eSATA setup is a little slower than USB 3.0.
Final Thoughts
The one area we didn't really touch on today is the fact that the Duet can run two drives at the same time. The catch is there is only so much bandwidth to and from the enclosure, so if you are reading or writing to both drives at the same time you will divide the bandwidth between the two. This division will rarely be a perfect 50 / 50 split since one drive will be faster than another.
The Thermaltake BlacX Duet is a unique product that's designed for users who need access to multiple drives easily. Being able to quickly add two drives doubles the convenience factor and gives users the opportunity to copy from one drive to the other without the need to open the computer case. Software such as Acronis will even allow users to mirror data from one drive to another. Anyone working in the computer service field needs a Thermaltake BlacX Duet permanently attached to their system's eSATA port.
When it comes to performance, eSATA delivers more than enough bandwidth for traditional platter drives even when connected to the subpar JMicron bridge chip. Users looking for the best eSATA performance can invest a couple of dollars in a SATA to eSATA adapter. These are available for less than 5 Dollars online and many motherboards even ship with them included in the accessory package.
Thermaltake has a well-established list of retail and e-tail outlets, so finding a BlacX Duet will be simple enough.
Newegg currently lists the Thermaltake BlacX Duet for 44.16
, but after a mail-in rebate the cost goes down to 34.16. This is less than the single drive USB 3.0 BlacX 5G and in my opinion the Duet is better value and offers more convenience.
PRICING: You can find products similar to this one for sale below.

United States: Find other tech and computer products like this over at Amazon.com

United Kingdom: Find other tech and computer products like this over at Amazon.co.uk

Australia: Find other tech and computer products like this over at Amazon.com.au

Canada: Find other tech and computer products like this over at Amazon.ca

Deutschland: Finde andere Technik- und Computerprodukte wie dieses auf Amazon.de
We openly invite the companies who provide us with review samples / who are mentioned or discussed to express their opinion. If any company representative wishes to respond, we will publish the response here. Please contact us if you wish to respond.