Quick Review: Clickfree Wireless Backup
Backing up; we know we should do it, but sometimes we simply forget or just can't be bothered. Let's check out a device from Clickfree which should make the process a little easier.
Published Wed, Nov 17 2010 8:04 AM CST
|
Updated Tue, Nov 3 2020 7:02 PM CST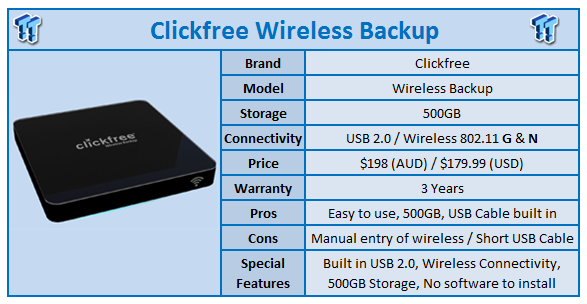 Backing up isn't something everyone needs to do, but as someone who works from home and does everything on my PC, it's something I should not only do, but do on a regular basis. Today we're going to find out if we've got a device that can finally do what I should already be doing.
Getting inside the Clickfree Wireless Backup box, there's not heaps going on. We've got the device itself along with a quick install guide, power cable and cleaning cloth. Apart from that the only other item we've got is the actual device.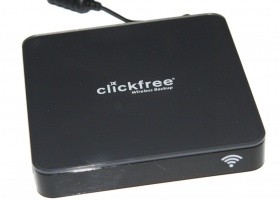 The device itself isn't that big at all and on a whole there's not a whole lot to it. The front has a light that runs across the bottom and a logo that represents wireless connectivity. The top has the Clickfree Wireless Backup logo and around the back we've got a small port for the power cable that's included along with a USB cable that is attached to the device.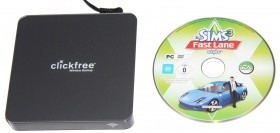 The most important feature for a device like this is the setup process; it has to be simple for it to cater to more than just the user that knows their way around a computer. With the power plugged in we attach the Clickfree WB into a spare USB port. We're greeted with an auto run pop up and click the "do more" option that allows us to setup the device.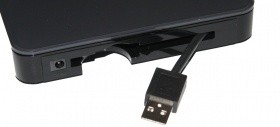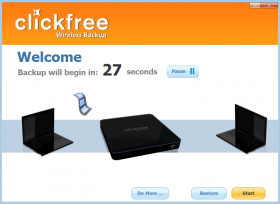 You're able to use the Clickfree WB in a few ways; the first is just have it connected to your PC via USB. The second is to have your computer connect to it wirelessly and the third is for the device to connect to your router. Since we wanted to use the latter option, we went into wireless settings, wrote in our SSID and network password. Once that was done we selected the type of files to back up; for me it was mainly photos, text documents, excel documents and some video footage that comes off my digital camera.
You can get it to just grab all those files of your hard drive(s), or you can choose individual folders. Again, I chose the latter options and got it to pull the data from my TweakTown folder, My Documents and a few other places. Once that was all done I let it back up.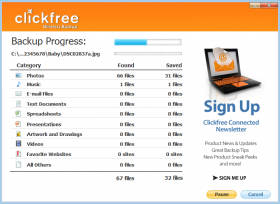 After a little bit of time everything was done and I was greeted with a message that said so, while also telling me that it was configured to connect to my wireless network. Once done you can pull the USB cable out, place it back in the device and then it's just a matter of waiting for the device to connect to your wireless network which Clickfree says can take up to five minutes. You'll know once it's connected as the LED will go from orange to blue.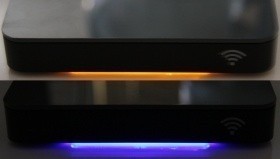 Once that's all done my computer is ready to be backed up at 3am every morning; since I leave my machine on 24 / 7 this isn't an issue for me, but you may want to adjust the time the backup is done if you don't leave your PC on all the time. Of course, you've also got the option to manually back it up if you like.
Being wireless carries with it the ability to have more than one computer back up to the device as well. If you want more devices to be backed up you can plug it in to each PC via USB and do the aforementioned process on every machine. Once a machine is setup it can then be backed up wirelessly.
The Clickfree Wireless Backup is a great device and while only limited to a 500 GB model at the moment, we're sure that the possibility of higher models could come later down the track. It turns what is a mundane and boring task that is a pain to remember to a mundane and boring task that you don't have to worry about.
There's not much to dislike about the Clickfree Wireless Backup and a whole lot of things to love. Our main peeves would be the very short USB cable and the fact that you have to manually enter the wireless settings. The price is higher than your typical 500GB storage drive, but the inclusion of wireless, the feature that makes the device stand out from the pack, does indeed incur a higher than typical price tag.
Good storage, easy setup, wireless connectivity and a friendly user interface make the Clickfree Wireless Backup a great option for anyone from a home user to a business wanting a more streamline backup solution. There's nothing worse than having the person that does your nightly back up away and no one in the office knowing what to do.
PRICING: You can find products similar to this one for sale below.

United States: Find other tech and computer products like this over at Amazon.com

United Kingdom: Find other tech and computer products like this over at Amazon.co.uk

Australia: Find other tech and computer products like this over at Amazon.com.au

Canada: Find other tech and computer products like this over at Amazon.ca

Deutschland: Finde andere Technik- und Computerprodukte wie dieses auf Amazon.de