Introduction, Specifications, Pricing and Availability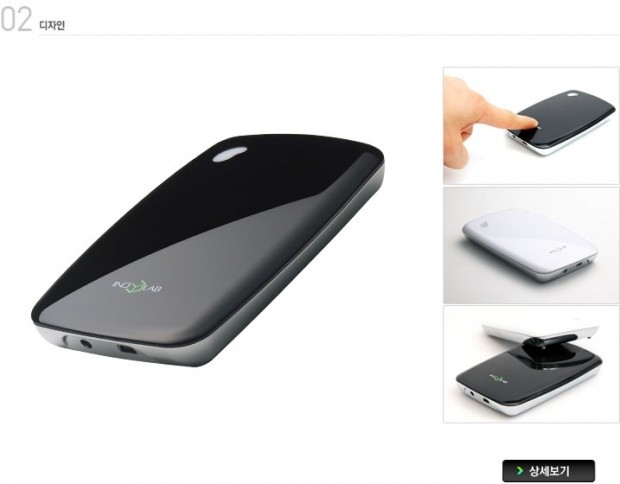 Introduction
It isn't everyday that something completely new comes across our desks these days. Sure, really cool things like the OCZ RevoDrive come in every week, but they are rarely the first in their category. When INDYLAB announced their latest product called Touch, we knew it was something new and exciting and we wanted to give it a run through our labs.
As the name implies, the INDYLAB Touch is a touch sensitive USB 2.0 portable hard drive. To our knowledge, this is the world's first touch enabled portable storage device. You might be wondering what functions could possibly be controlled on a portable storage device other than power. What makes the Touch cool is that the button is hidden. Without knowing where to touch the drive to turn it on, you will not be able to use the drive. Think of it as security without needing to remember a password or encryption key.
Let's take a look at the INDYLAB Touch and see what it has to offer.
Specifications, Pricing and Availability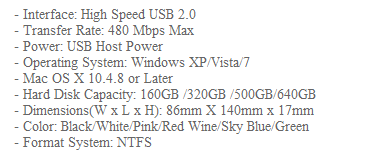 INDYLAB is a Korean company that makes several different models of portable storage products and even has their own line of solid state products. The Touch, one of INDYLAB's newest products, is currently not sold in the US or Europe as far as I can tell. For now, it is an APAC region only product.
Going over the specifications we can see that the only method for connectivity is a single USB 2.0 port. With USB 3.0 starting to gain market share, the cost of USB 2.0 products has been steadily declining. We were able to find the INDYLAB Touch 500GB, just like the one we are reviewing today,
for 111,900(KRW) or just a little under 100 USD
.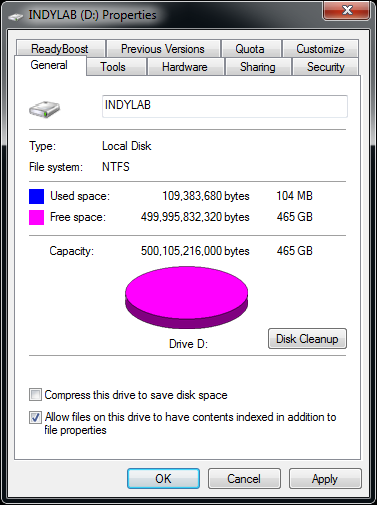 Our sample drive is the 500GB model that uses a Samsung 2.5" hard drive. After formatting we are left with 465GB of free space. Unlike most external drives that turn on as soon as power is sent to the drive, the Touch must be touched in a special location before it starts to spin the drive up.
The Packaging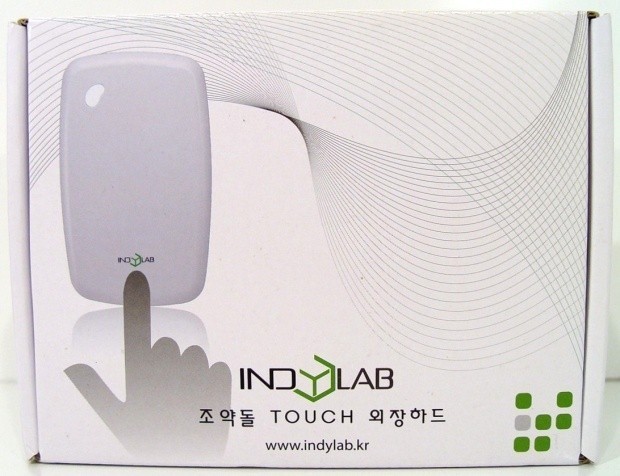 INDYLAB put together a nice minimalist package for the Touch. Here we see an image of the product , which is nearly all of the information presented on this side other than the company website.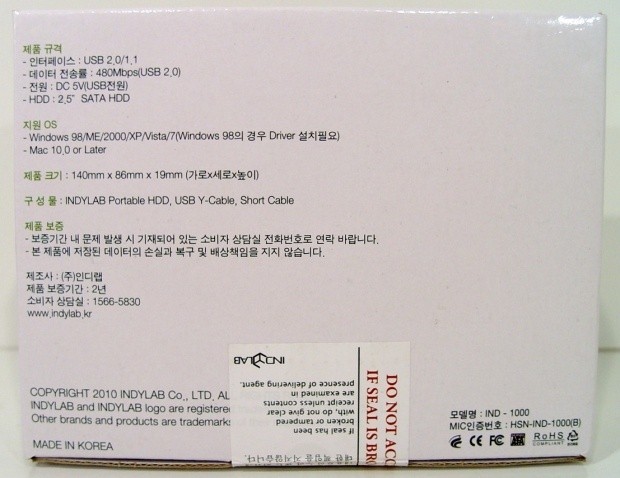 On the back we finally start to get some detailed information about the drive in a specifications list.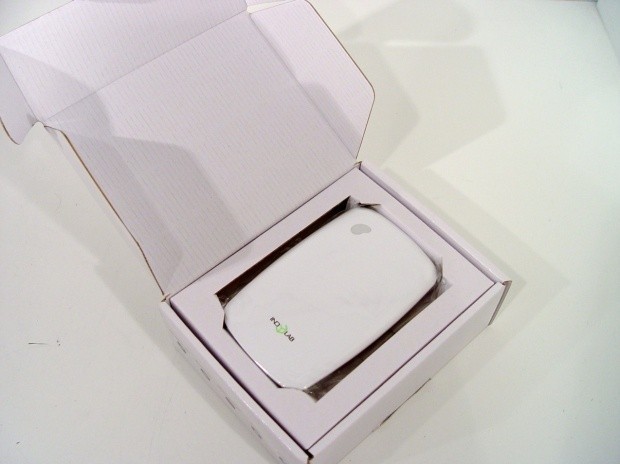 The inner packaging keeps the drive secure and away from the accessory packs so your drive should be delivered problem free.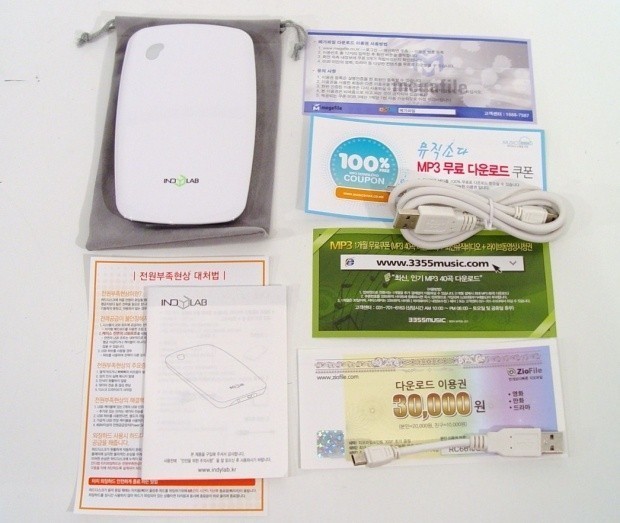 When it comes to accessories INDYLAB done something not seen stateside; they included around 100USD in coupons good for music and other downloads. The Touch also includes a pair of USB cables and a polishing cloth to remove fingerprints.
The INDYLAB Touch USB 2.0 500GB HDD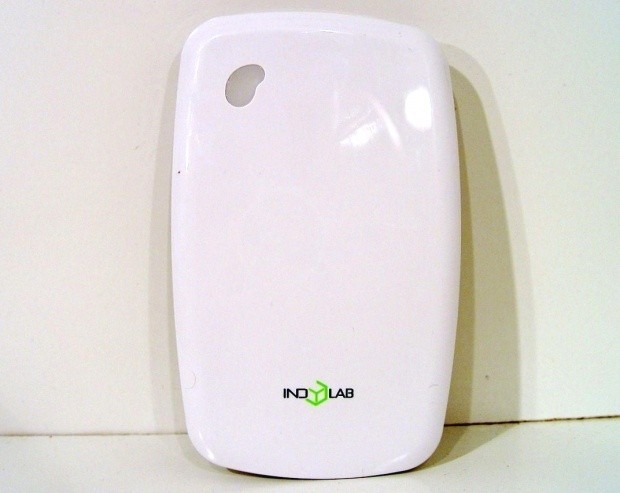 Here we take our first look at the INDYLAB Touch. The white area at the top is not the touch button but an LED that shows when the drive is turned on. You have to touch the INDYLAB logo to turn the drive on. When you touch the logo to enable or disable operation, a catchy little 2 second jingle is played.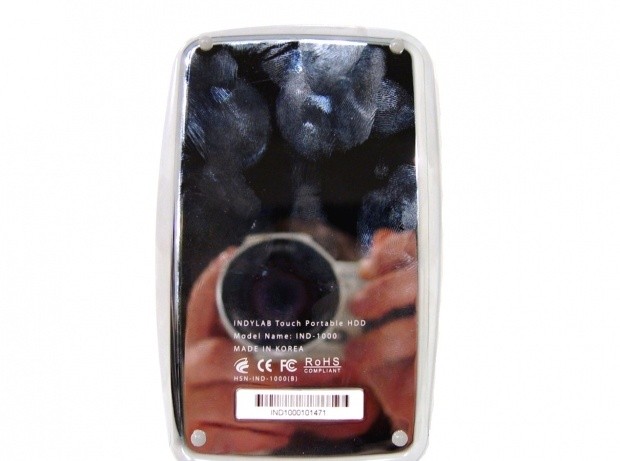 The back of the Touch reminds me of my IPOD Classic. It is a good thing that INDYLAB includes a microfiber cloth to keep the fingerprints off of the unit. This picture was taken within 5 minutes of the unit coming out of the box.

The Touch uses a standard mini USB port and if your computer isn't able to provide enough power you can plug into an external power jack. Luckily our GIGABYTE X58A-UD7 has USB ports that provide plenty of power but your mileage may vary.
Test System Setup and ATTO Baseline Performance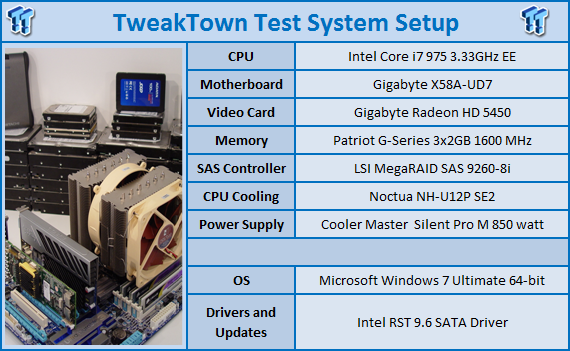 We would like to thank the following companies for supplying and supporting us with our test system hardware and equipment:
AVADirect
,
GIGABYTE
,
Cooler Master
,
LSI
and
Noctua
.
You can read more about TweakTown's Storage Product Testing Workstation and the procedures followed to test products
in this article
.
Today we are testing the INDYLAB Touch USB 2.0 500GB portable HDD. The performance shown today represents the 500GB model; other capacity sizes will perform a little differently.
ATTO Baseline Performance
Version and / or Patch Used:
2.34
ATTO is used by many disk manufacturers to determine the read and write speeds that will be presented to customers.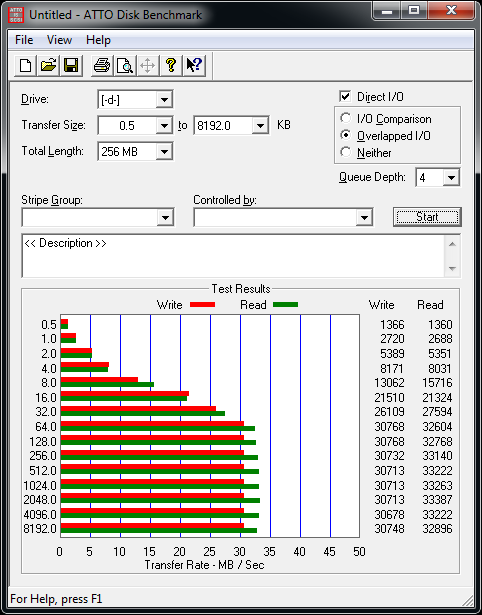 In ATTO we see exceptional USB 2.0 performance that exceeds 30MB/s read and write speeds.
Benchmarks - HD Tach
HD TachVersion and / or Patch Used:
3.0
Developer Homepage:
http://www.simplisoftware.com
Product Homepage:
http://www.simplisoftware.com/Public/index.php?request=HdTach
Buy It Here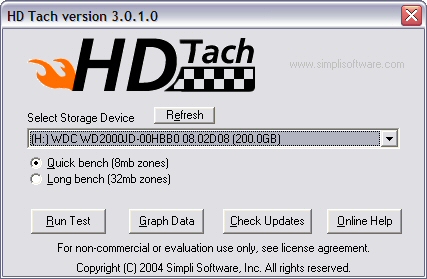 HD Tach has been around for a long time and is excellent when it comes to testing hard drive performance. It is also a very handy program when it comes to testing the controller used on particular motherboards. Tests such as Read, CPU Utilization and Burst are available at a click of the button and give you a good idea of how the hard drive can perform from system to system.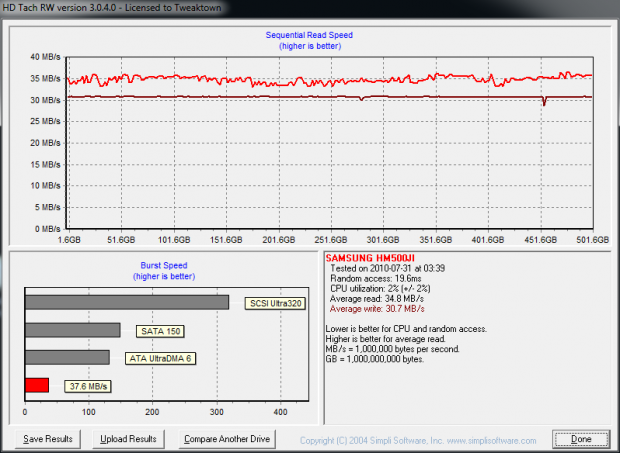 In HD Tach we can see STR read and write performance across the platters of the drive. Here we see consistent performance from start to finish just like we like to have. Both the reads and writes exceed 30MB/s and the burst rate is all the way up to a massive (for USB 2.0) 37MB/s.
Benchmarks - Crystal Disk Mark
CrystalDiskMarkVersion and / or Patch Used:
3.0 Technical Preview
Developer Homepage:
http://crystalmark.info
Product Homepage:
http://crystalmark.info/software/CrystalDiskMark/index-e.html
Download here:
http://crystaldew.info/category/software/crystaldiskmark
CrystalDiskMark is a disk benchmark software.
Key Features:-
* Sequential reads/writes
* Random 4KB/512KB reads/writes
* Text copy
* Change dialog design
* internationalization (i18n)
Note:
Crystal Disk Mark 3.0 is not available to the public yet, but the Technical Preview does allow us to test 4K performance at queue depths of 4 and 32 in addition to 1. The current release Crystal Disk Mark only shows us QD 1.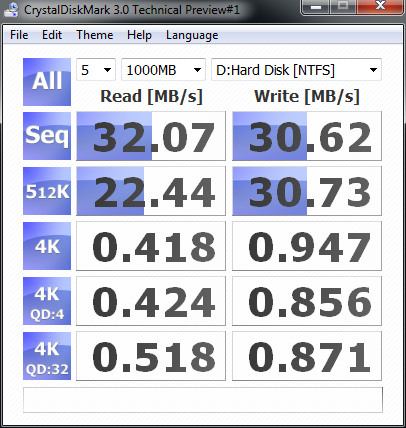 In a recent announcement the makers of CDM stated that they were making the 1000MB test the default benchmark so we have changed over from the 100MB test and started using the 1000MB test in our reviews.
USB does not take advantage of NCQ so queue depths do nothing for USB 2.0 or 3.0 performances. Here we do get a chance to see the 4K numbers that are on par with other platter based external drives. If the Touch were to use a solid state drive the 4K performance would increase significantly.
Benchmarks - AS SSD and Final Thoughts
AS SSD BenchmarkVersion and / or Patch Used:
1.2.3577.40358
Developer Homepage:
Alex Intelligent Software
Product Homepage:
Alex Intelligent Software
Download here:
http://www.alex-is.de/PHP/fusion/downloads.php?cat_id=4&download_id=9
AS determines the performance of Solid State Drives (SSD). The tool contains four synthetic as well as three practice tests. The synthetic tests are to determine the sequential and random read and write performance of the SSD. These tests are carried out without the use of the operating system caches.
In all synthetic tests the test file size is 1GB. AS can also determine the access time of the SSD, the access of which the drive is determined to read through the entire capacity of the SSD (Full Stroke). The write access test is only to be met with a 1 GB big test file. At the end of the tests three values for the read and write as well as the overall performance will be issued. In addition to the calculated values which are shown in MB/s, they are also represented in IO per seconds (IOPS).
Note:
AS SSD is a great benchmark for many tests, but since Crystal Disk Mark covers a broader range of 4K tests and HD Tune Pro covering sequential speeds, we will only use the Copy Benchmark from AS SSD.
- Copy Benchmark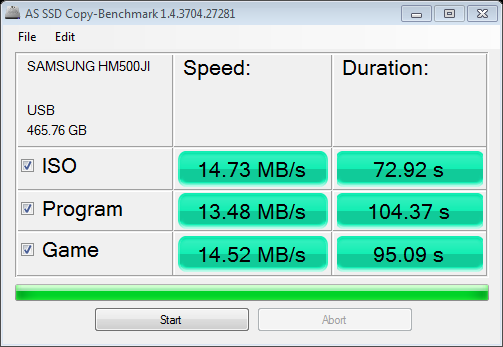 The most commonly used task for external storage products is transferring data to and from the drive. In AS SSD we are able to simulate a controlled transfer of three common file formats. Without NCQ and a faster interface we see that the INDYLAB Touch is limited to around 14MB/s of real world performance when transferring data.
Final Thoughts
With USB 2.0 quickly evaporating as a protocol for external storage media I am going to have a difficult time recommending the INDYLAB Touch to most users. The touch technology is very cool and I really dig the jingle that plays every time I press the button, but most users are looking for raw performance across the board and not gimmicky jingles or the cool factor.
When it really comes down to it, USB 2.0 is limited to around 30 to 35MB/s and in today's world of DVD, Blu-ray and game installs that are getting up to 15GB in size, that speed really isn't practical. The needed answer to hour long data transfers is USB 3.0. USB 3.0 is currently able to transfer data up to three times faster than USB 2.0 and if you are buying an external drive then there is no question that you need to buy something with USB 3.0.
I have to admit that I don't do much shopping in Korea, but after the conversion to USD the INDYLAB Touch costs roughly 95 USD. At that price, you will be able to purchase a 7,200 500GB RPM 2.5" drive and a low cost USB 3.0 case in the US. I am willing to bet that is true for Korea as well.