Introduction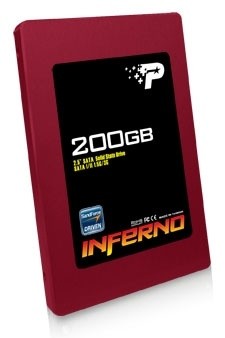 To break away from the Team SandForce mold so far, we have seen exclusive firmware with very limited real world improvements, MAC specific hardware (which was also cool blue), exotic memory choices and now one of the best looking SSDs to ever hit the market, the red Patriot Inferno.
At the time I don't think Patriot even knew that there would be so many SandForce partners (referred to around here as Team SandForce) making consumer products based on the now popular SF-1200 consumer SSD controller. In January when we caught our first glimpse of the Inferno, no one really knew just how awesome the product would be or how many different models would hit the market.
Patriot had their plan down from the start; make a smoking hot SSD, name it something ultra cool (or hot in this case) and make the freaking case red no matter what. At one point even some Patriot reps didn't know for sure if the red anodized case would make it to the final product, but everyone who saw the CES sample let it be known to marketing that the red must stay; me among them. There is just something about the color red, I'm a fan and I'm a fan of the Patriot Inferno.
My fanaticism really doesn't come from just the color red; that would be ridiculous and shallow. Instead Patriot has won me over with more traditional means that surround nearly all of their SSD products. At this time Patriot has one of the longest warranty periods for their SSDs, a full five years. To put this into prospective, Corsair just raised their warranty from two years to three and OCZ is still holding onto the more traditional two year warranty.
SSDs have a predetermined lifespan; they will one day stop writing data to a cell or cluster of cells. It is just a fact and nothing can be done about it. As long as you are not still using a first generation Western Digital 36GB Raptor and just now looking to replace it, don't feel like you are about to get short changed with an SSD, as we are talking lifecycles of ten years or greater under normal use. Enthusiasts on the other hand are not of this normal use category. To be honest, most of us heavy multitaskers see our notebook battery meter drop like a Space Shuttle countdown. If that sounds like you and opening eight or more apps at the same time while calling it a casual work day, then you are beating the hell out of your drive. My recommendation is to get a drive with a solid warranty just to be on the safe side. Also, note that I said one day a cell or block will not write data. When they do go bad the data can still be read, so no worries about losing data.
For those reading this that has never run an SSD before, I am sure you think running eight programs at the same time is an exaggeration. It's not. I can say that so casually now, but I have been running and gotten used to SSDs for a couple of years now. Running an SSD opens doors that were possible before, but gave you gray hair. For the last 30 days I have been running a very fast platter drive in my daily use, goes with me everywhere and sits next to my bed when I sleep 'Lenovo T61p'. You will have to wait to get a full break down in the next installment of The State of Solid State, but the short story is this has been a very long miserable month where just one large application open at a time runs slower than fifteen on a SandForce SF-1200 SSD. How can anyone continue to live this way?
Luckily I am swapping drives tonight as soon as this review is finished. Out with misery and in with the Patriot Inferno 100GB SandForce SF-1200 SSD. Let's have a look at the specs of the new drive that will power my life for the next 30 days.
Specifications, Pricing and Availability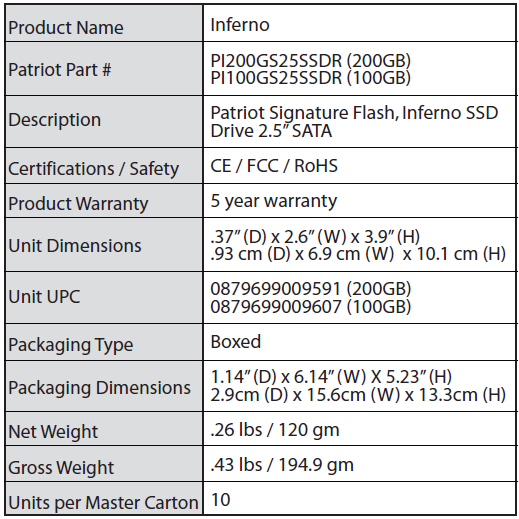 When looking at the specs we see that the Patriot Inferno is a typical Team SandForce drive with performance numbers that could have been claimed for many different drives on the market. With some products this might be a bad thing, but since we are talking about the world's best 100 to 128GB SSD, the point is a bit mute. The specs sheet tells us that Patriot has the capacity versions of the Inferno already announced, 100GB and 200GB. My Patriot rep has stated to me that this will soon include extended capacity versions, so look for 120 and 240GB to be added soon.
If you read the story about the OCZ extended drives then you know that companies are starting to roll out extended SandForce models and soon we may see end users given the ability to flash their drive from the standard X00 to extended capacities. Some companies have already stated that they are not going to bother with the hassle, while others will put in the work to make the process easy for users. Patriot has told me that they are willing to offer users the ability to change their drives once the required software tools are built and tested. At this time we can't really comment on how easy this is going to be for any manufacturer since we haven't seen what is going to be required to make this happen.
When it comes to firmware updates it is impossible to tell how a company will perform in the future, but looking at records of previous products is a good indication of how well a company will do in the future.
On this page
we see that Patriot has released many firmware updates for their products. The area I am most versed in is Indilinx Barefoot and I see all of the major and minor releases available. From that it is pretty safe to say that Patriot has a good track record with keeping their products up to date.
We have already talked about the class leading five year warranty, but it is just one of the strong features Patriot has used to win me over with the Inferno. The price being the other and it is a good one. As it stands at the time of writing you can purchase the Patriot Inferno 100GB drive for
369.00 USD at Newegg
. Newegg also stocks the 200GB drive and it is aggressively priced as well,
shipping out the door for 679.00
. An additional value for desktop users, Patriot also includes a 2.5" to 3.5" form factor drive bracket, making desktop installation painless.
Let's take a look at the Patriot Inferno and see that red case.
The Packaging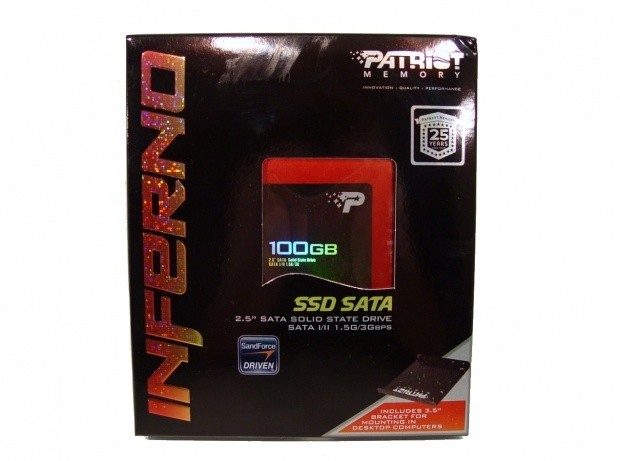 Patriot put together a very attractive package for the Inferno; a still image just doesn't do it justice. In the window we can see the drive and on it the capacity. At the bottom right we found a mention about the included adapter bracket for desktop use and the official SandForce Driven logo lets you know that this is one very fast drive.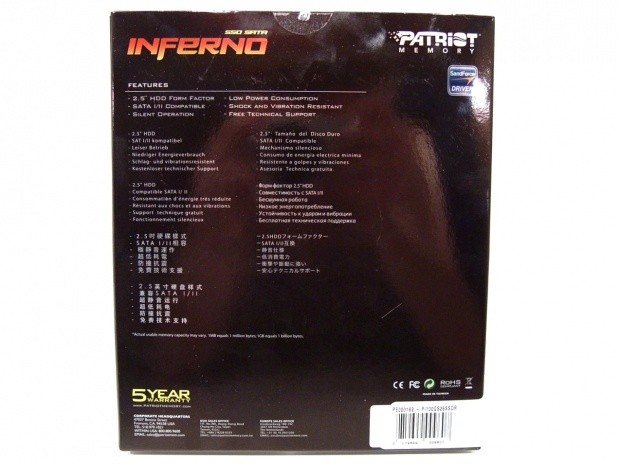 On the back we found a list of features and at the bottom we see that the Inferno comes with a 5 year warranty. Our only complaint is the lack of performance data shown on the package. Some retail shoppers might not really know about SandForce and need to see some performance claims in order to justify the purchase.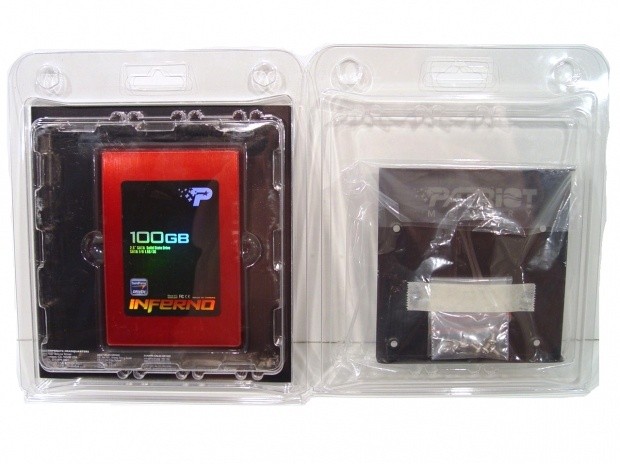 We like to look at the inner packaging to make sure a product is secure for shipping. Here we see that the drive is kept separate from the included desktop bracket and mounting screws. Everything appears to be safe and secure, then again, we are talking about a product can be hit with a baseball bat and still run without issue, so not much is required.
The Patriot Inferno 100GB SF-1200 SSD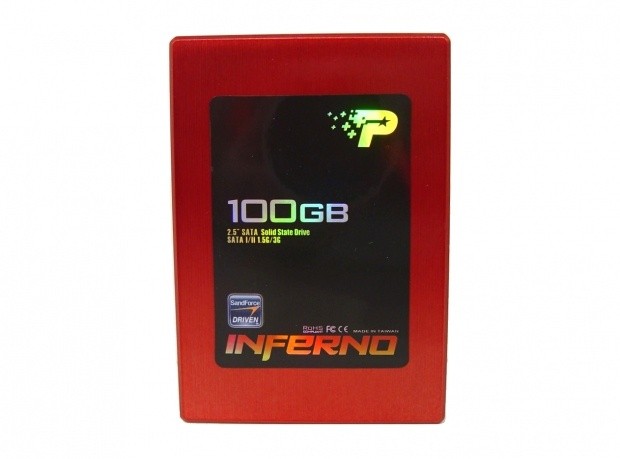 Here we get our first real look at our Patriot Inferno 100GB SandForce SF-1200 controlled SSD. Just like the box, a still image doesn't really show the finer details of the drive.
Under the anodized red is brushed aluminum that gives the drive depth when light reflects off the surface of the metal. I am not sure if the drive is actually anodized or uses two step candy color paint over brushed aluminum, but it is very hard and if paint it has been baked on perfectly.
The drive capacity was on the front sticker and on the back we found the official model and serial number for our sample Patriot Inferno. These were both laser etched in the case cover.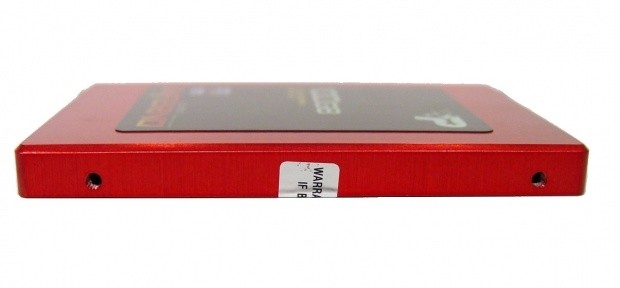 In the side image you can see some of the color depth a little better since the Inferno has a beveled edge. We also see that the correct mounting locations were used, making the drive very easy to mount in standard 2.5" form factor brackets.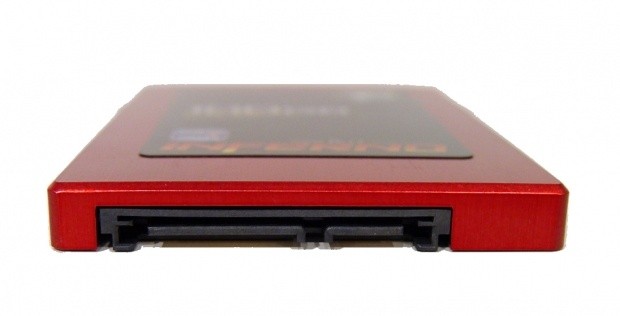 On the back we found standard SATA power and data ports.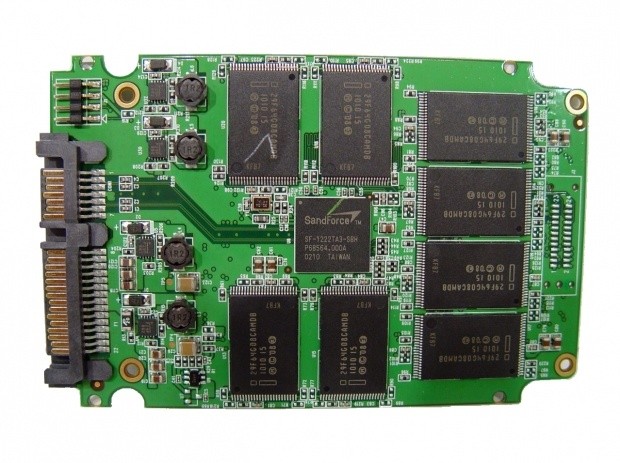 Inside we found what I am calling the 2+2 PCB named after the four chokes arranged in two by two fashion. The SandForce 1222 controller tells us that the Inferno uses the SF-1200 controller and the large I on the memory indicates Intel flash was used. We have seen the same flash used on all SF-1200 SSDs except the G.Skill Phoenix which used Samsung M Die.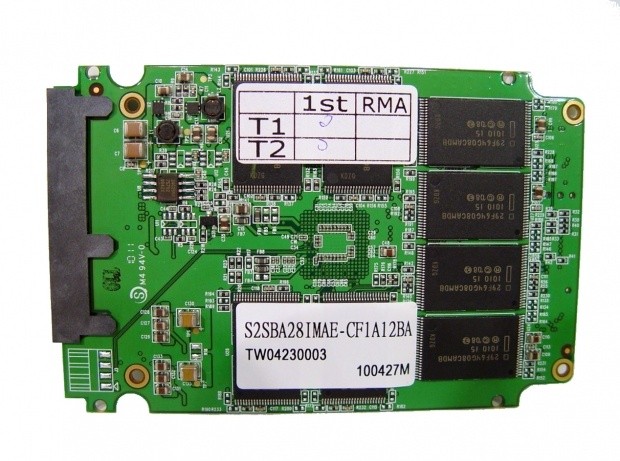 On the back we found eight more Intel flash memory modules bringing our total to sixteen.
Test System Setup and ATTO Baseline Performance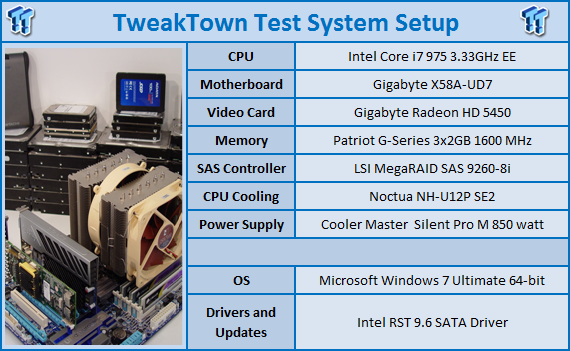 We would like to thank the following companies for supplying and supporting us with our test system hardware and equipment:
AVADirect
,
GIGABYTE
,
Patriot Memory
,
Cooler Master
,
LSI
and
Noctua
.
You can read more about TweakTown's Storage Product Testing Workstation and the procedures followed to test products
in this article
.
Today we are testing the Patriot Inferno against some very steep competition. The month of May brought many SandForce SF-1200 models into our testing lab as well as the Crucial RealSSD C300. To date TweakTown is the leading authority when it comes to testing next generation SSDs and you will find more models tested here than anywhere else. This allows our readers to make informed purchasing decisions before finding out that one product may not meet their exact needs.
If you feel we missed something, please get involved and help us make things better for all by commenting at the end of the review, participating in our forums or shoot me an email directly. You can find my contact information at the very bottom of the page under
Contact Us
.
When it comes to product testing, I like to use an old saying that my grandmother used to use. The Proof is in the Pudding. Let's have a taste of the Patriot Inferno and see how it goes down.
ATTO Baseline Performance
Version and / or Patch Used:
2.34
ATTO is used by many disk manufacturers to determine the read and write speeds that will be presented to customers.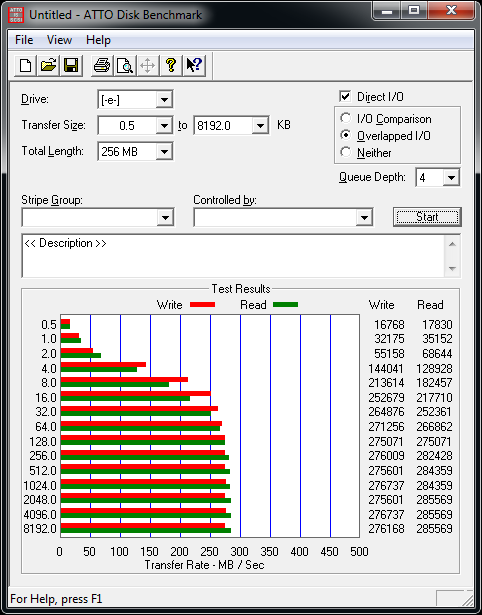 In ATTO we are able to verify the manufacturers transfer speed claims and as you can see, Patriot's claims of 285MB/s read and 275MB/s write speeds were nearly spot on. These are the real world limits of the SATA II interface which as you can see is now limiting maximum transfer rate on the Inferno.
Benchmarks - HD Tune Pro
HD Tune ProVersion and / or Patch Used:
4.00
Developer Homepage:
http://www.efdsoftware.com
Product Homepage:
http://www.hdtune.com
HD Tune is a Hard Disk utility which has the following functions:
- Benchmark: measures the performance
- Info: shows detailed information
- Health: checks the health status by using SMART
- Error Scan: scans the surface for errors
- Temperature display
HD Tune Pro gives us accurate read, write and access time results and for the last couple of years has been gaining popularity amongst reviewers. It is now considered a must have application for storage device testing.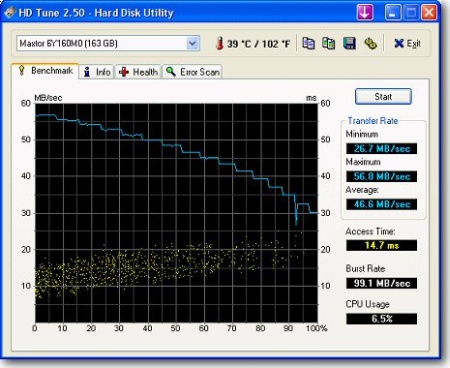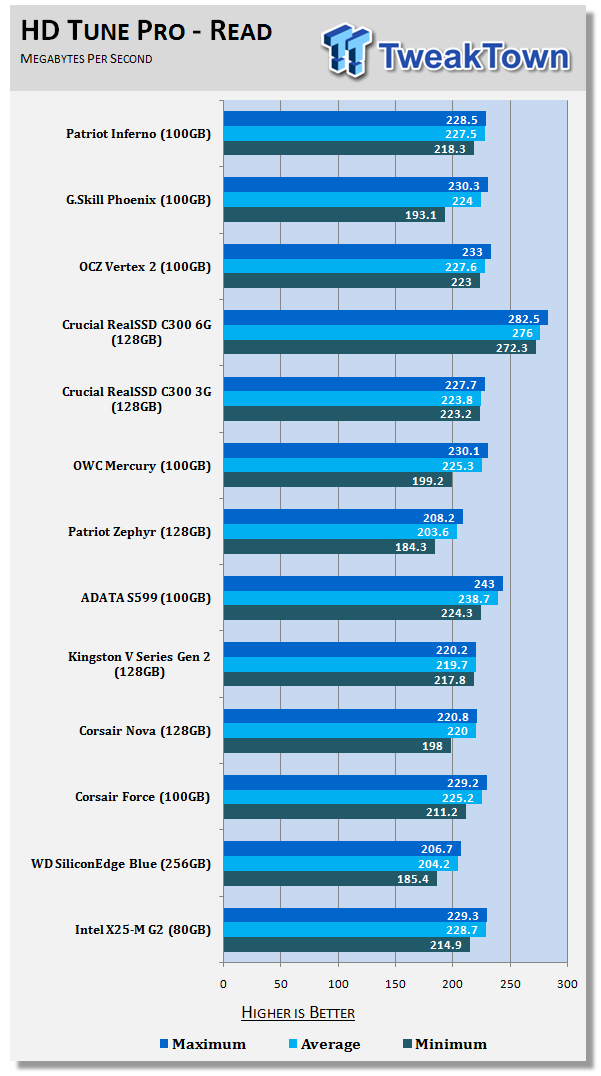 Our current chart has six SandForce SF-1200 drives on it and we have tested eight to date. When it comes to performance the main difference in speed comes from the firmware used and the chart represents four different firmware versions.
The Inferno arrived with a stock version called MP1, the first Mass Produced firmware for SandForce drives. Other than the OCZ Vertex 2 with its exclusive high 4K IOPS firmware and the Corsair Force which used an early beta firmware with a few bugs ironed out by Corsair engineers to achieve high 4K IOPS, the other firmware versions we tested were beta, pre-release but close enough to test.
When it comes to read speeds across the drives the only real standout on this chart is the Crucial RealSSD C300, the only SATA 6G SSD at this time.
The Patriot Inferno produces an excellent flat performance graph once the initial Windows cache is passed. Looking at our charts, you can see this by how close the maximum and average read speeds are.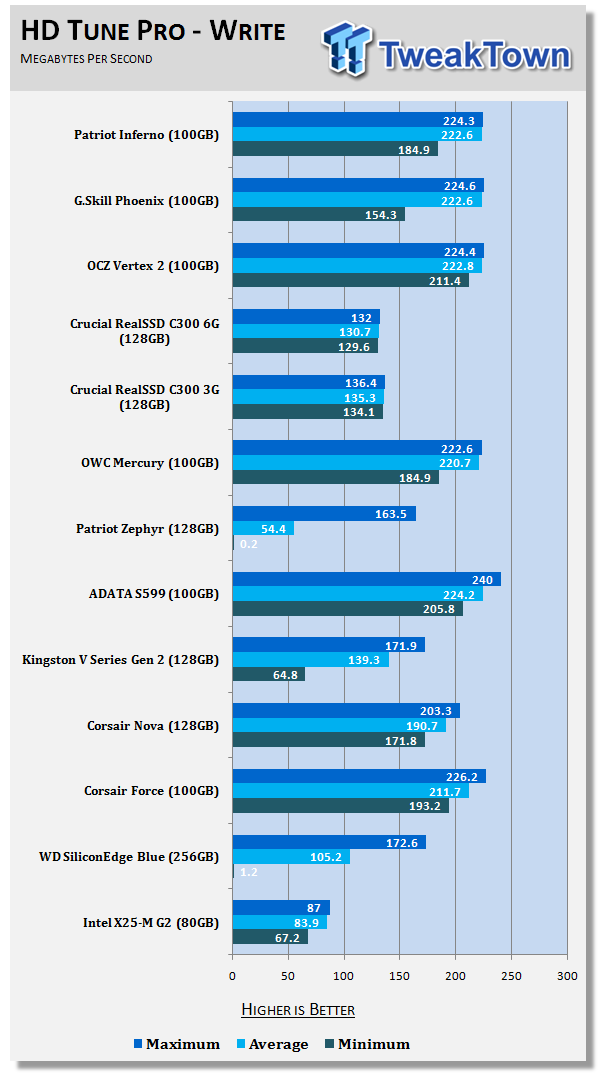 When it comes to writing data the same is true for the Patriot Inferno. Here we see the maximum and average speed together in a tight group and they stay that way after the initial 1ms of Windows cache is passed.
If you are currently comparing the RealSSD C300 to the Inferno, this is a good place to point out that the 128GB version of the C300 has a reduced write speed limit when compared to the 256GB C300 we initially looked at right after CES. At this time we are recommending SandForce over the C300 in the 100 to 128GB capacity range / price point.
Benchmarks - Everest Random Access Time
Everest Random Access TimeVersion and / or Patch Used:
4.60
Developer Homepage:
http://www.lavalys.com
Product Homepage:
http://www.lavalys.com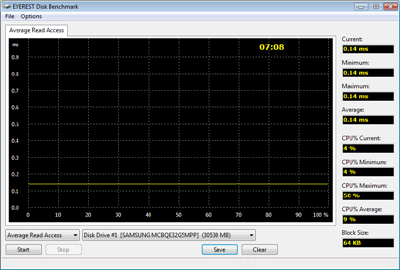 Everest Ultimate and Corporate Edition offer several different benchmarks for testing and optimizing your system or network. The Random Access test is one of very few if not only that will measure hard drives random access times in hundredths of milliseconds as oppose to tens of milliseconds.
Drives with only one or two tests displayed in write the write test mean that they have failed the test and their Maximum and possibly their Average Scores were very high after the cached fills. This usually happens only with controllers manufactured by JMicron.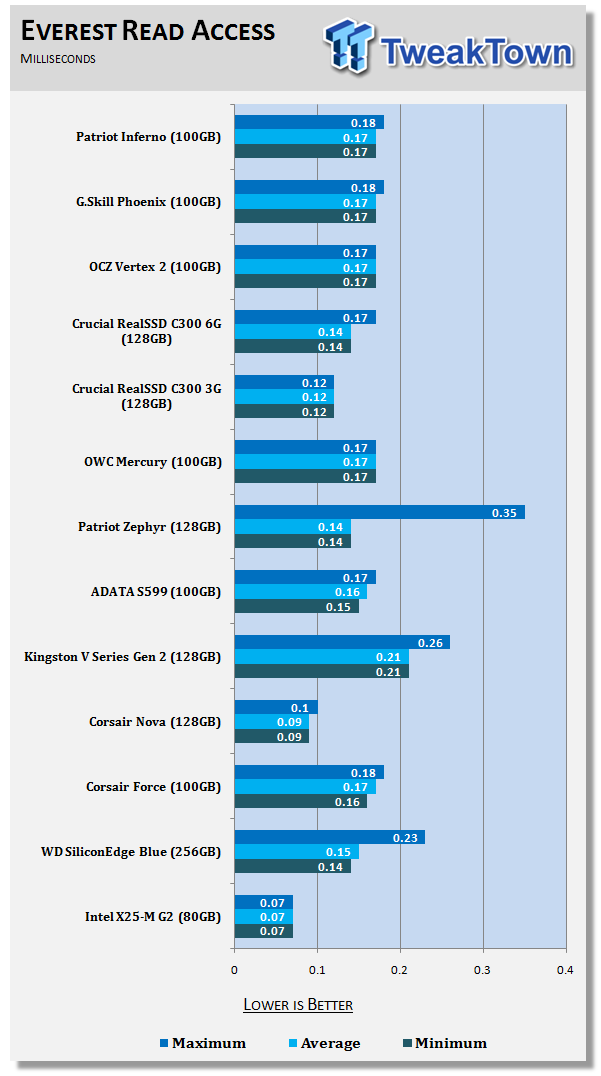 As expected, in the read access time test the Patriot Inferno put up very good numbers that are in line with other SF-1200 offerings.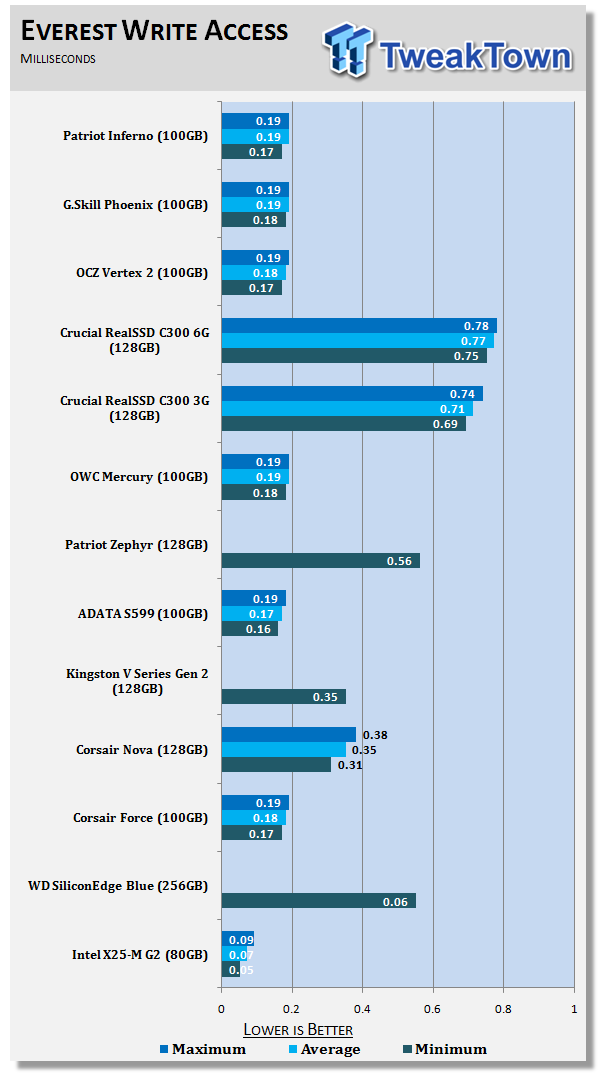 The same is true for the write access test with the Patriot Inferno delivering consistent performance across the drive. Access time is the number one feature of an SSD that end users will benefit from all the time. Everything you open or start will happen instantly, so fast that your finger will not have even left the button on your mouse.
Benchmarks - Crystal Disk Mark
CrystalDiskMarkVersion and / or Patch Used:
3.0 Technical Preview
Developer Homepage:
http://crystalmark.info
Product Homepage:
http://crystalmark.info/software/CrystalDiskMark/index-e.html
Download here:
http://crystaldew.info/category/software/crystaldiskmark
CrystalDiskMark is a disk benchmark software.
Key Features:-
* Sequential reads/writes
* Random 4KB/512KB reads/writes
* Text copy
* Change dialog design
* internationalization (i18n)
Note:
Crystal Disk Mark 3.0 is not available to the public yet, but the Technical Preview does allow us to test 4K performance at queue depths of 4 and 32 in addition to 1. The current release Crystal Disk Mark only shows us QD 1.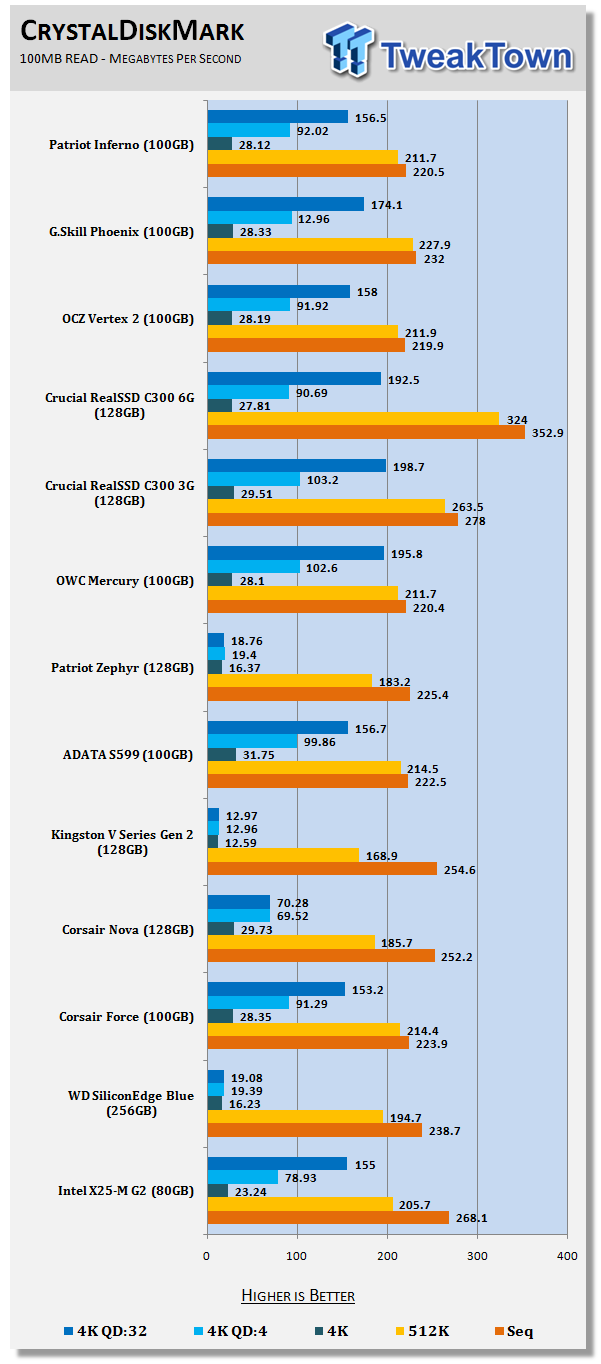 In CDM we are looking at 4K and 4K Queue Depth performance. Here we see the Inferno running as it should for a SandForce SF-1200 controlled drive with Intel flash. If you are a Patriot fan and saw the Zephyr on our charts, let me point out that the Zephyr is a new product from Patriot, but uses a JMicron controller that does not support NCQ commands.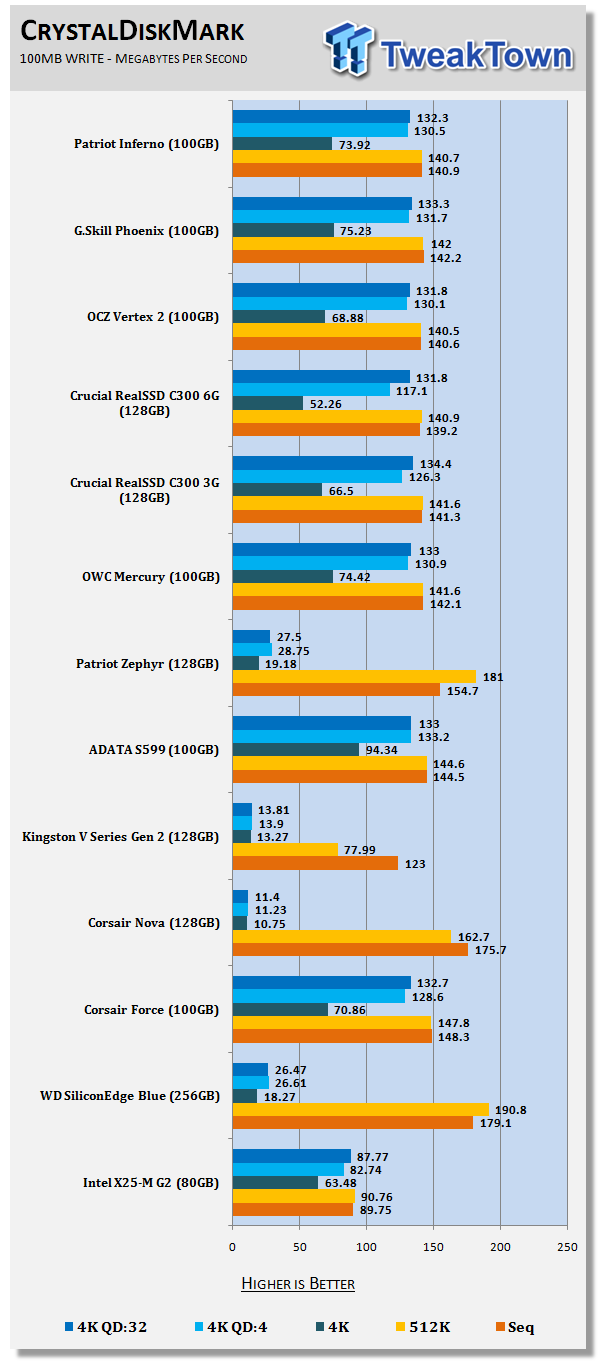 The 4K write speeds of the Patriot Inferno are also very strong and tell us that the drive is performing as it should.
Enough with the synthetic benchmarks; let's take a look at how the Inferno will perform in your system in real world applications.
Benchmarks - PCMark Vantage Hard Disk Tests
PCMark Vantage - Hard Disk TestsVersion and / or Patch Used:
1.0.0
Developer Homepage:
http://www.futuremark.com
Product Homepage:
http://www.futuremark.com/benchmarks/pcmark-vantage/
Buy It Here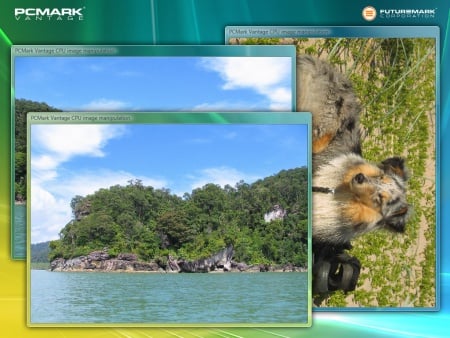 PCMark Vantage is the first objective hardware performance benchmark for PCs running 32 and 64 bit versions of Microsoft Windows Vista. PCMark Vantage is perfectly suited for benchmarking any type of Microsoft Windows Vista PC from multimedia home entertainment systems and laptops to dedicated workstations and high-end gaming rigs. Regardless of whether the benchmarker is an artist or an IT Professional, PCMark Vantage shows the user where their system soars or falls flat, and how to get the most performance possible out of their hardware. PCMark Vantage is easy enough for even the most casual enthusiast to use yet supports in-depth, professional industry grade testing.
FutureMark has developed a good set of hard disk tests for their PCMark Vantage Suite. Windows users can count on Vantage to show them how a drive will perform in normal day to day usage scenarios. For most users these are the tests that matter since many of the old hat ways to measure performance have become ineffective to measure true Windows performance.

HDD1 - Windows Defender
HDD2 - Gaming
HDD3 - Windows Photo Gallery
HDD4 - Vista Startup
HDD5 - Windows Movie Maker
HDD6 - Windows Media Center
HDD7 - Windows Media Player
HDD8 - Application Loading
The Patriot Inferno delivers some of the highest real world Windows test results for a drive today. Here we see that applications load at an incredible 212MB/s, more than double that of the RealSSD C300 128GB. The Inferno is an all around strong performer in typical Windows applications commonly used by users daily.
Since every product on the chart is an SSD, let me point out that in Application Load (dark blue on the chart), the fastest consumer desktop platter drive, the Western Digital VelociRaptor 600GB
scores just 8.76MB/s
in this test. Is there really anything else I need to say about the level of performance coming from the Patriot Inferno than that?
Benchmarks - AS SSD
AS SSD BenchmarkVersion and / or Patch Used:
1.2.3577.40358
Developer Homepage:
Alex Intelligent Software
Product Homepage:
Alex Intelligent Software
Download here:
http://www.alex-is.de/PHP/fusion/downloads.php?cat_id=4&download_id=9
AS determines the performance of Solid State Drives (SSD). The tool contains four synthetic as well as three practice tests. The synthetic tests are to determine the sequential and random read and write performance of the SSD. These tests are carried out without the use of the operating system caches.
In all synthetic tests the test file size is 1GB. AS can also determine the access time of the SSD, the access of which the drive is determined to read through the entire capacity of the SSD (Full Stroke). The write access test is only to be met with a 1 GB big test file. At the end of the tests three values for the read and write as well as the overall performance will be issued. In addition to the calculated values which are shown in MB/s, they are also represented in IO per seconds (IOPS).
Note:
AS SSD is a great benchmark for many tests, but since Crystal Disk Mark covers a broader range of 4K tests and HD Tune Pro covering sequential speeds, we will only use the Copy Benchmark from AS SSD.
- Copy Benchmark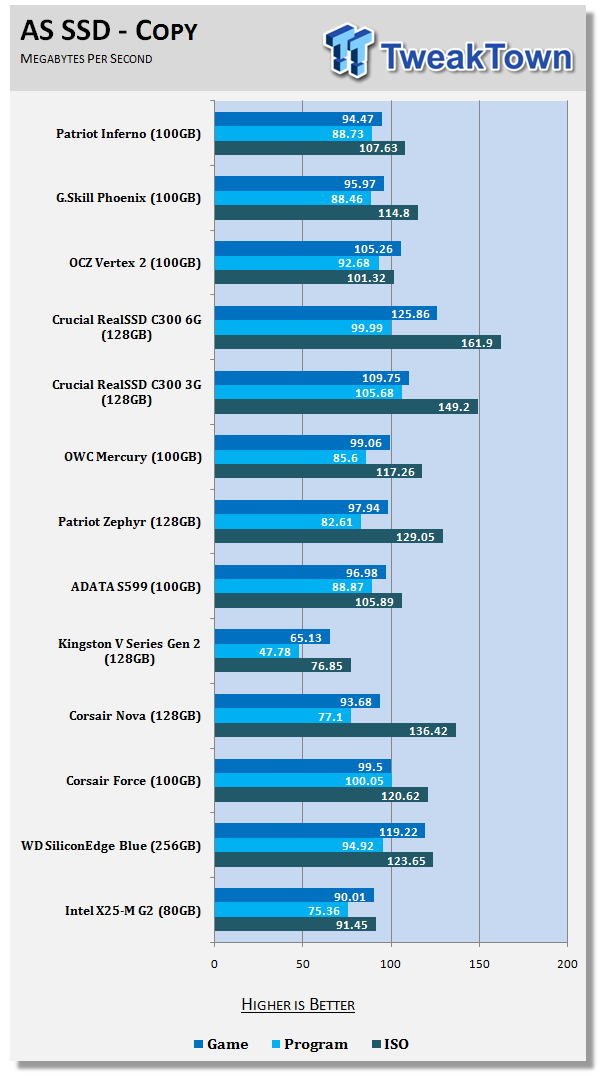 The one area that we criticize SandForce controlled drives in is in how they handle compressed data. Ironically the controller's ability to compress data is also one of the reasons why they are so fast and should have a longer lifespan when compared to other products on the market.
In the AS SSD File Copy Test we see that moving data from one area of the drive to another has 100GB Patriot Inferno running slightly behind the Crucial RealSSD C300 128GB in the Program test, but the C300 does pull further away in the other tests. Most users move data around on their HDD, but not so much that it negates the gains of typical Windows uses like application loading.
Benchmarks - Passmark
Passmark Advanced Multi-User TestsVersion and / or Patch Used:
6.1
Developer Homepage:
http://www.passmark.com
Test Homepage:
http://www.passmark.com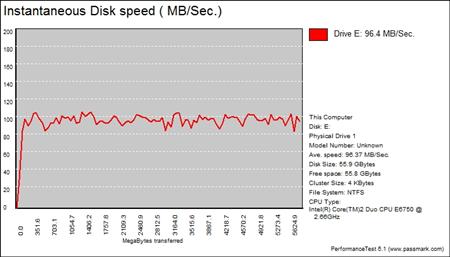 Many users complain that I/O Meter is too complicated of a benchmark to replicate results so my quest to find an alternative was started. Passmark has added several multi-user tests that measure a hard drives ability to operate in a multi-user environment.

The tests use different settings to mimic basic multi-user operations as they would play out on your server. Variances is read / write percentage as well as random / sequential reads are common in certain applications, Web Servers read nearly 100% of the time while Database Servers write a small amount of data.
The Workstation test is the only single user environment and will be similar to how you use your system at home.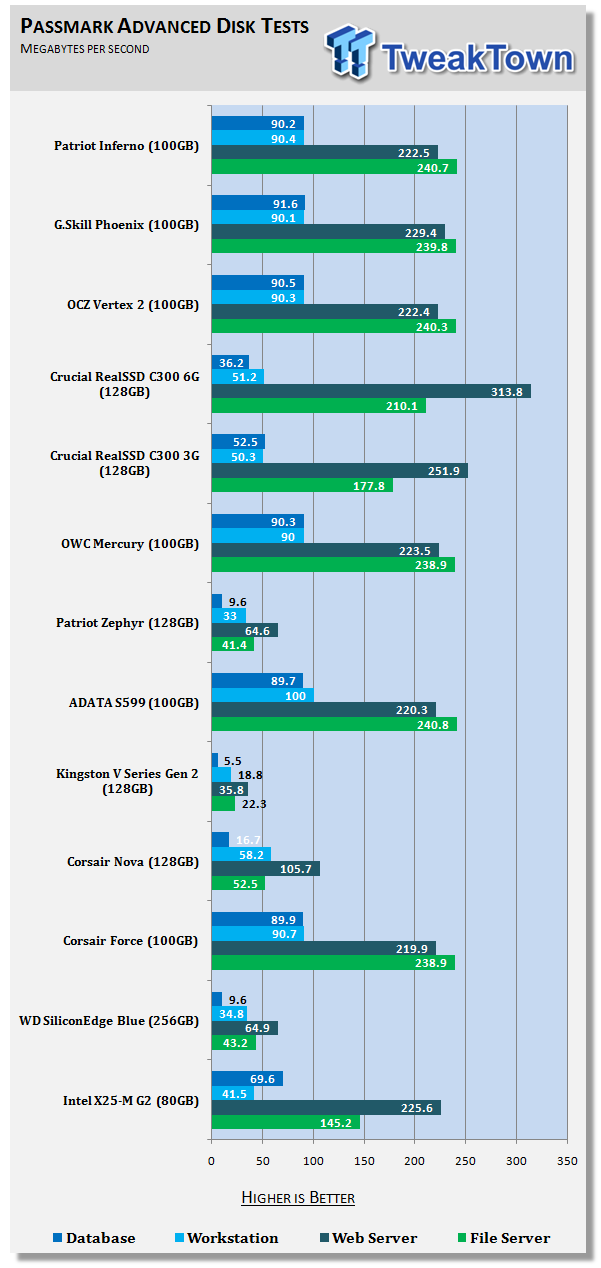 The server tests belong to the SandForce drives since SandForce's main focus started out being to launch a dominant enterprise SSD. Even now with a consumer model the Inferno is even faster than the Intel X25-E purpose build enterprise drives. Most enterprise users will look toward an enterprise focused SSD with the SF-1500 controller and SLC memory, but the 28% overprovisioned SF-1200 (non-extended capacity) SSD leaves other enterprise SSD manufacturers a bit concerned.
Final Thoughts
Patriot has a good mix of exciting add ons and features that make the Inferno a strong contender in the 100 to 128GB capacity / price SSD category. Our testing shows solid performance in every test that far exceeds the mechanical capabilities of traditional platter drives; even those offered in the enterprise category costing double that of the Patriot Inferno. SSDs are still limited in capacity, but this is something we have grown accustomed to with fast data storage products like 10 and 15K RPM HDDs. HDDs have grown in capacity and SSDs will do the same over time as flash memory technology will allow prices to be reduced.
Patriot has a winning combination with their industry leading five year warranty, product availability, included desktop bracket and one of the fastest drives anyone has ever tested. The Inferno takes care of business everywhere you look and leaves the user feeling satisfied in knowing that their investment is covered for five years and came with a bracket accessory that other products on the market ship without.
It is difficult to imagine that such performance could come from a consumer product and that the limits of SATA II are now a factor in performance in this market. SATA III drives are on the market from Crucial, but you have to dive deep into your pocket to purchase the 256GB version that delivers performance like the 100GB Patriot Inferno in most common real world usage scenarios.
In the PCMark Vantage section I pointed out that the new 600GB VelociRaptor is able to load applications in one test just a bit under 10MB/s and that the Inferno runs the same test at 212MB/s. This is just one example; many can be cited, but it is also just half the story. The VelociRaptor takes an average 7 milliseconds to even start reading the data to open an application, while the Inferno takes just .17 ms. You can do the math if you want to, but we are measuring SSDs in hundredths of milliseconds and HDDs in milliseconds.
I know that many reading this have yet to use an SSD in their computer, but numbers, no matter how impressive, can't even begin to convey what the user experience is like. Since we are comparing SSD to HDD, it should be said that you will lose data capacity. If this is a problem, get a NAS for home / online long term storage or desktop users can just move their old platter drive into D: and store all it can hold. There are two kinds of storage; SSDs and an old man walking with a cane. Get both and everything will be covered.
When it comes to cost the Patriot Inferno will
set you back 369.00 USD
at the time of writing and
679.00 for a 200GB
. Given how much your computing experience changes by installing and using a Patriot Inferno, I call it a great buy. Add in the five year warranty, accessory desktop bracket and I now call it a TweakTown Editor's Choice Winner.