Introduction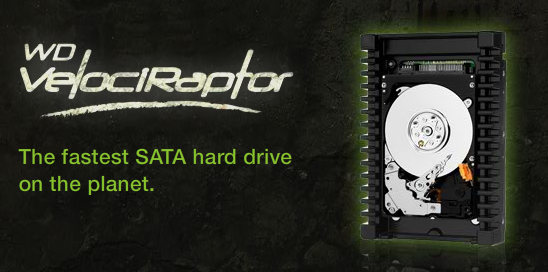 Western Digital was the first and only company to release a consumer 10,000 RPM HDD. Since the first Raptor release no other company has even attempted to release a drive with a 10K platter speed that included a consumer SATA interface. The Raptor Series brought the 10K enterprise standard to consumer levels with the need of using a SAS controller and SAS interface. Until the introduction of solid state drives (SSDs) the enthusiasts standard was fairly clear; if you didn't have a Raptor, VelociRaptor or any number of RAID configurations using a minimum of two of these drives, you couldn't really consider yourself a power user.
SSDs clouded the window a bit and for the first time Western Digital had competition in the enthusiast HDD market. The VelociRaptor did have two key advantages that kept the first VelociRaptor in good graces of enthusiasts, price and capacity. With new SSD technology displacing previous generation technology in the 400 USD price range, the older Indilinx Barefoot tech is now reaching the 300 USD range for 128GB of capacity. The VelociRaptor has already dipped 100 USD from its introductory price of 300 USD making a 300GB WD VelociRaptor SATA-II 200 USD.
On the capacity front we have already reviewed drives with 512GB of capacity, quite a bit more than the first 300GB VelociRaptor, but of course the cost was more than what six 300GB VelociRaptors would be. It was still a contributing reason why Western Digital should take a good look at the series and either kill it or update it with a new product line as quickly as possible.
Given that it is now April, quick wasn't really on Western Digital's deck since we have been hearing rumors of a new VelociRaptor since CES back in January. Looking at how the market has changed since that time, it is easy to dissect why. SATA 6G has had a few ups and downs with Marvell slow to act on driver issues that affect performance. Getting in a good test with SATA 6G and an existing drive, the Caviar Black 1GB with SATA 6G was the next logical step and would have moved a new VelociRaptor back. Western Digital has also spent a great deal of time working on a solid state drive product line and we have already seen
the first fruit
fall from the WD SSD tree last month.
The good news is that the wait is now over and Western Digital has just announced / started shipping a new higher capacity, feature rich VelociRaptor that promises to usher in a new level of performance that will bridge the gap between low cost platter based drives with massive capacity and higher priced SSDs with minimal capacity.
Let's take a look at the specs for the new 450 and 600GB VelociRaptor featuring SATA 6G connectivity.
Specifications, Pricing and Availability

When Western Digital puts out a spec sheet they really like to go all out. Here we see the spec sheet for the 600GB drive. Western Digital is also releasing a 450GB drive with similar specifications, but some items do differ. Today we will focus on the 600GB drive since that is what we have on hand to review.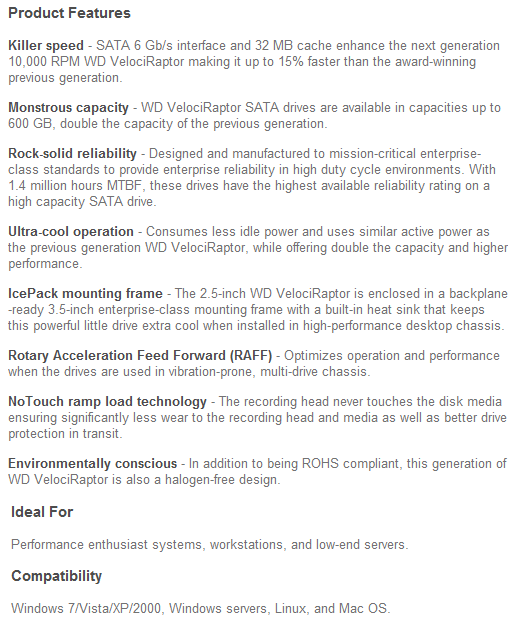 Above is the feature list that is a little easier to read through. On the surface we see that the capacity and cache has been doubled from the previous generation VelociRaptor. Performance has increased, but not doubled.
As we mentioned earlier, there is a 450GB drive, but that is not the end of the new product lineup. A 450 and 600GB 2.5 inch form factor version is available to OEMs and will most likely make their way into the entry level servers. End users don't have to worry about adapting the 2.5 inch drive to 3.5 inch desktop cases since the VelociRaptor is hitting the shelves again with a heatsink / adapter. The adapter is being called an IcePack by WD.
When it comes to the price, things lean towards the 600GB drive. With an MSRP of 329 USD for the 600GB and 299 for the 450GB, you would pretty much have to be brain dead to not spend the additional 30 USD on the larger drive. For comparison the first generation VelociRaptor can be found for 199 USD in 300GB capacity; we will have to look at the performance difference today to see how everything evens out.
The second generation SATA 6G VelociRaptor is already shipping to distributors and retailers and we should start to see the drives listed any day now.
The Western Digital VelociRaptor SATA 6G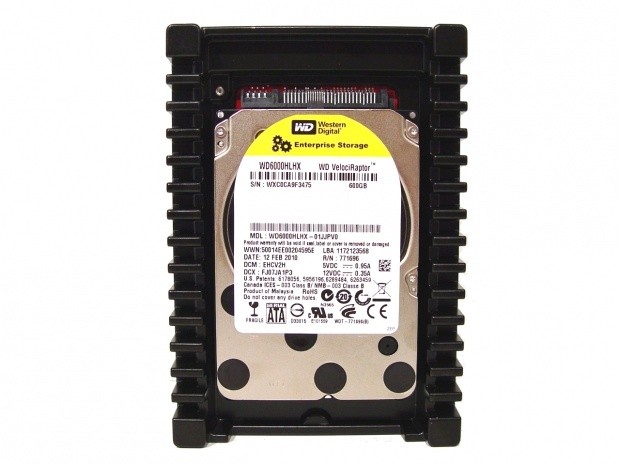 Western Digital sends OEM packaged drives to reviewers so we didn't get to show the retail packaging this round. We have all seen the WD retail packing before and know that the drives are packed very well in retail trim.
All of the information is located on the top label that is found directly on the drive.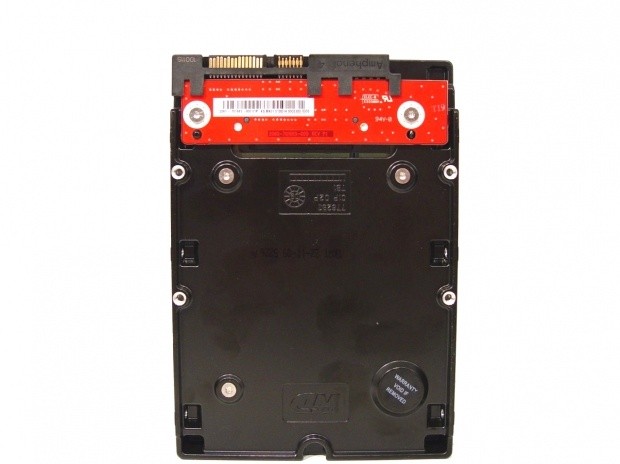 On the bottom of the adapter we see that it still has the mounting locations that are found on standard 3.5 inch form factor drives, so you will not have an issue mounting the new VelociRaptor in locations that use the bottom mounting system.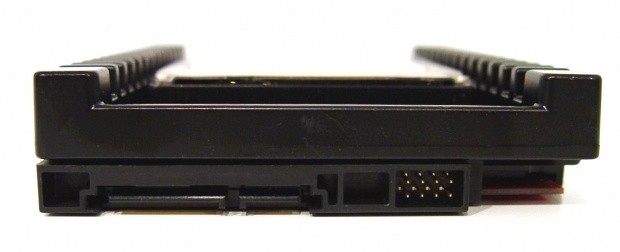 The first round of VelociRaptor drives is why we check for standard power and data SATA connectors and here we see that WD learned from the first VelociRaptor and made sure to get the placement right this round.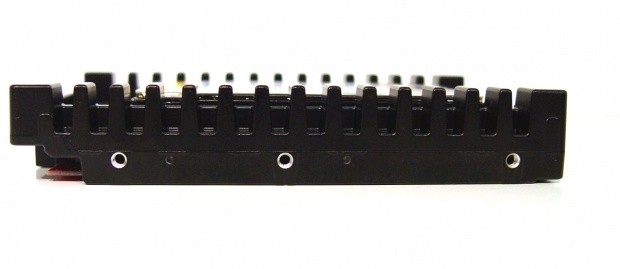 All three of the standard mounts were also found on the side.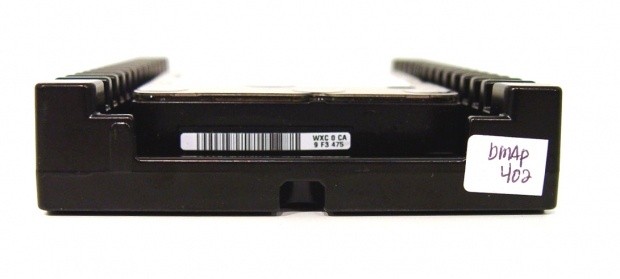 There isn't much special about the front of the drive, but this view shows the height of the IcePack's fins on the side.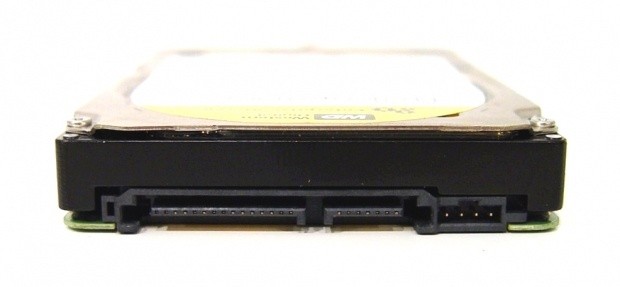 We noticed something odd about the adapter used in the IcePack; it appeared that where the drive connects to the adapter that it may be a SAS drive. With the drive separated from the adapter we see that it is not a SAS connector.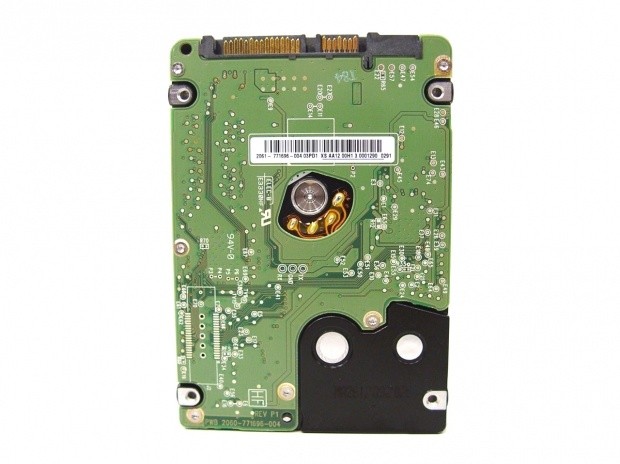 A quick look at the bottom of the drive doesn't tell us much since all of the components are mounted to the other side of the PCB.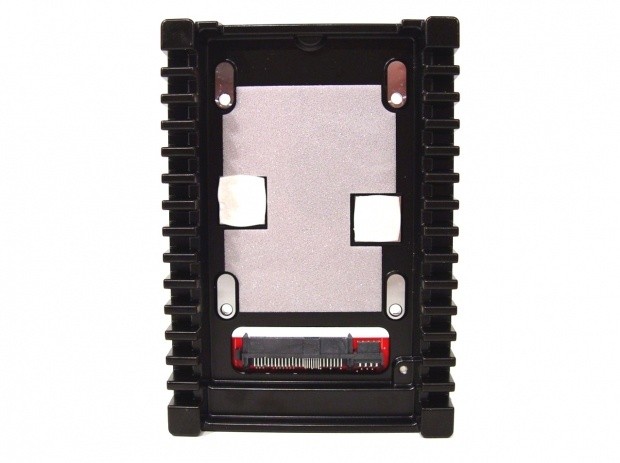 With the drive out of the IcePack we were able to snap a shot of the thermal transfer materials used to move heat from the drive to the IcePack.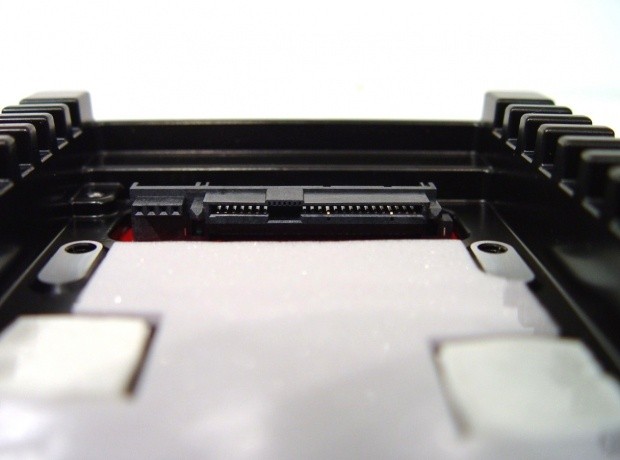 We were correct on the pin configuration on the adapter. Here we see that it is defiantly setup to accept SAS drives, but the additional pins is not the only thing needed to make a SAS drive run. For fun I installed a Seagate 15K.2 SAS drive into the adapter and attempted to operate it off of a standard SATA cable. SAS drives do not turn on just from receiving power, a command has to be sent to the drive and SATA does not support this command, thus the 15K.2 just sat there in an inoperable state.
Test System Setup and ATTO Baseline Performance
Test System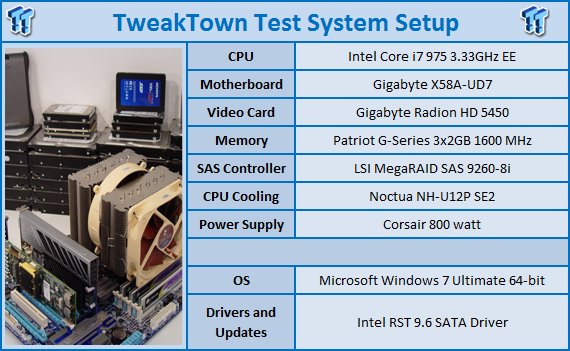 We would like to thank the following companies for supplying and supporting us with our test system hardware and equipment:
Intel
,
GIGABYTE
,
Patriot
,
LSI
and
Noctua
&
Corsair
.
You can read more about TweakTown's Storage Product Testing Workstation and the procedures followed to test products
in this article
.
The new WD VelociRaptor was tested on the onboard GIGABYTE X58A-UD7 Marvell SATA 6G adapter. The other SATA 6G devices were tested on the same onboard adapter. SATA II testing was conducted on the X58A-UD7 Intel SATA 3G.
In the above image you may have noticed a few HDDs in the background. We are in the process of testing all of them with the new Intel RST 9.6 drivers and in the near future will have a complete breakdown of their performance.
ATTO Baseline Performance
Version and / or Patch Used:
2.34
ATTO is used by many disk manufacturers to determine the read and write speeds that will be presented to customers.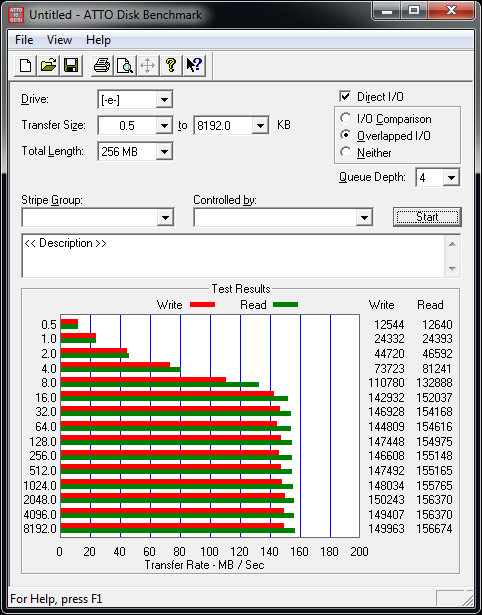 In ATTO we see a nice progressive wave of performance that shows the drive is running normally. Our drive arrived a few hours after the official launch so we didn't get time to run it on Intel SATA II, but given that the Intel chipset performs better than the onboard Marvell SATA 6G we are thinking we will be able to pull another 5% from the drive.
Benchmarks - HD Tune Pro
HD Tune ProVersion and / or Patch Used:
4.00
Developer Homepage:
http://www.efdsoftware.com
Product Homepage:
http://www.hdtune.com
HD Tune is a Hard Disk utility which has the following functions:
- Benchmark: measures the performance
- Info: shows detailed information
- Health: checks the health status by using SMART
- Error Scan: scans the surface for errors
- Temperature display
HD Tune Pro gives us accurate read, write and access time results and for the last couple of years has been gaining popularity amongst reviewers. It is now considered a must have application for storage device testing.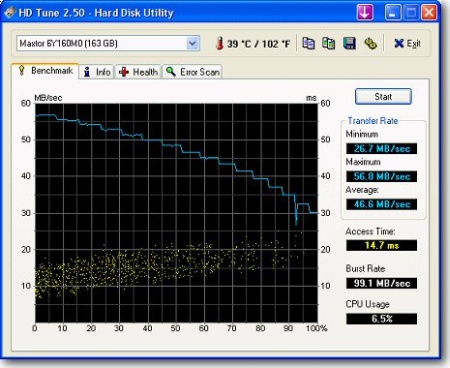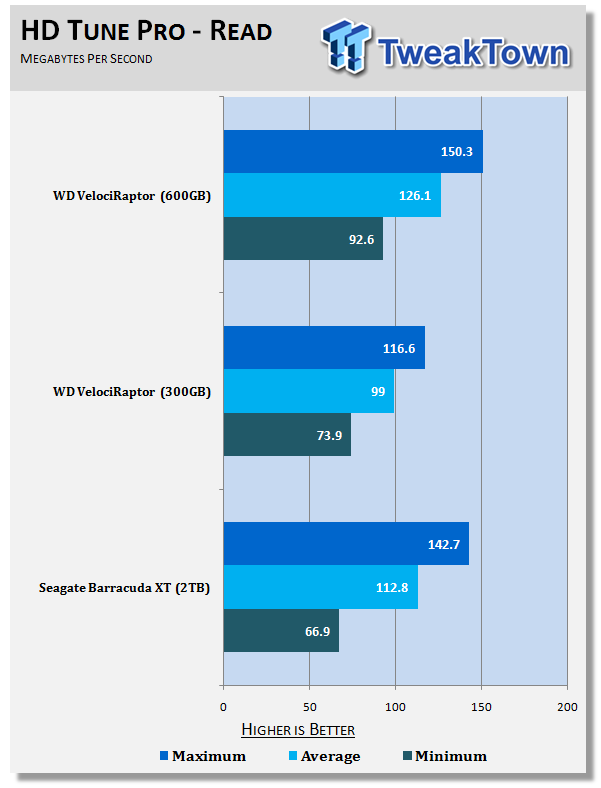 When it comes to raw read speed across the drive we see the new VR200M reading close to 30MB/s faster than the first generation VelociRaptor (VR150M) in the average category. Minimum and maximum both show nice performance boosts as well.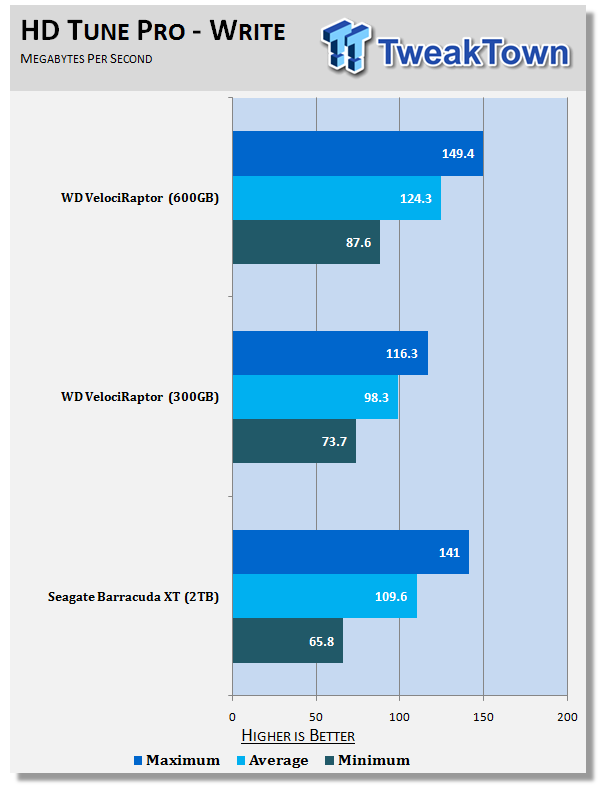 The raw write tests also show a nice performance boost from the previous generation VelociRaptor. It is safe to say that the new VelociRaptor gives us an across the board performance increase.
Benchmarks - Everest Random Access Time
Everest Random Access TimeVersion and / or Patch Used:
4.60
Developer Homepage:
http://www.lavalys.com
Product Homepage:
http://www.lavalys.com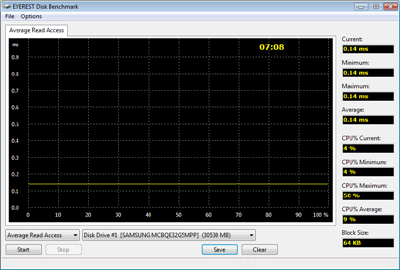 Everest Ultimate and Corporate Edition offer several different benchmarks for testing and optimizing your system or network. The Random Access test is one of very few if not only that will measure hard drives random access times in hundredths of milliseconds as oppose to tens of milliseconds.
Drives with only one or two tests displayed in write the write test mean that they have failed the test and their Maximum and possibly their Average Scores were very high after the cached fills. This usually happens only with controllers manufactured by JMicron.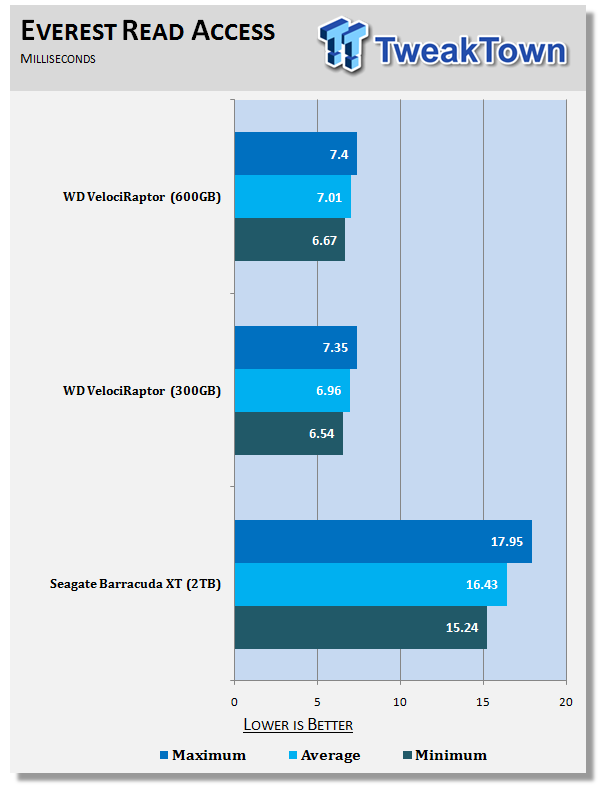 All of the data given to us and even the spec sheet suggest that the new VR200M should have lower read access times, but the Marvell SATA 6G controllers adds latency that we wouldn't see if the drive were tested on an Intel SATA controller. Still, Marvell owns the consumer SATA 6G market right now and we have to work with the hand we are dealt.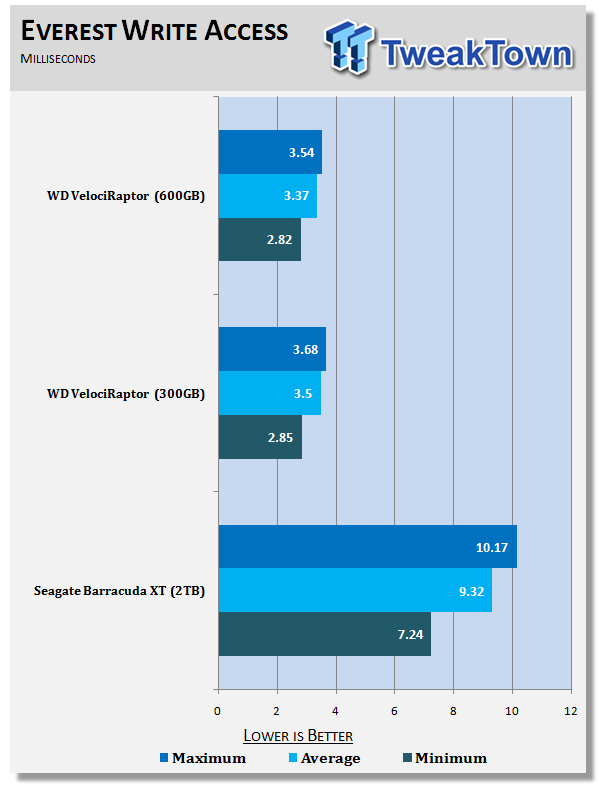 The same is true with the write latency. In this test, though, the VR200M is able to give better results than we see from the VR150M, but if both were tested on the same controller the SATA 6G VelociRaptor would give us even better results.
Benchmarks - Crystal Disk Mark
CrystalDiskMarkVersion and / or Patch Used:
3.0 Technical Preview
Developer Homepage:
http://crystalmark.info
Product Homepage:
http://crystalmark.info/software/CrystalDiskMark/index-e.html
Download here:
http://crystaldew.info/category/software/crystaldiskmark
CrystalDiskMark is a disk benchmark software.
Key Features:-
* Sequential reads/writes
* Random 4KB/512KB reads/writes
* Text copy
* Change dialog design
* internationalization (i18n)
Note:
Crystal Disk Mark 3.0 is not available to the public yet, but the Technical Preview does allow us to test 4K performance at queue depths of 4 and 32 in addition to 1. The current release Crystal Disk Mark only shows us QD 1.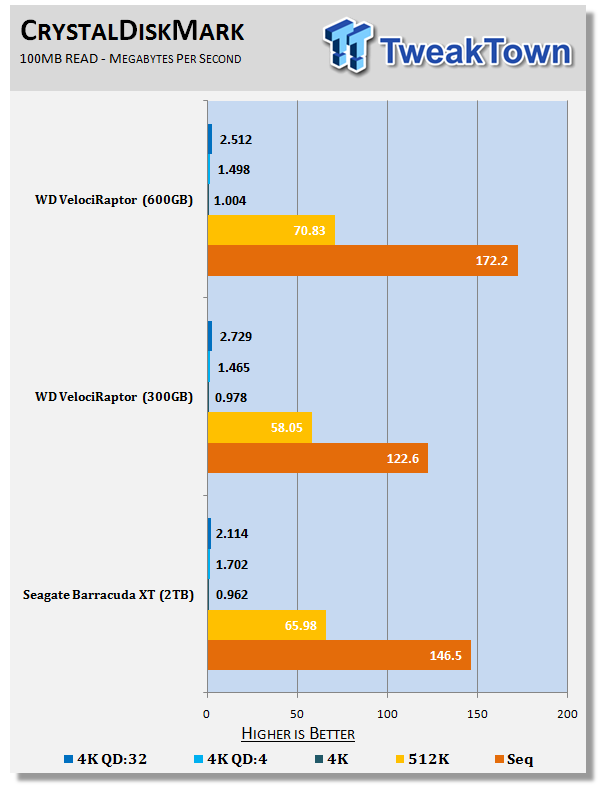 Here we see good scaling of the queue depths, but solid state drives are kicking around data at 4K at much higher rates.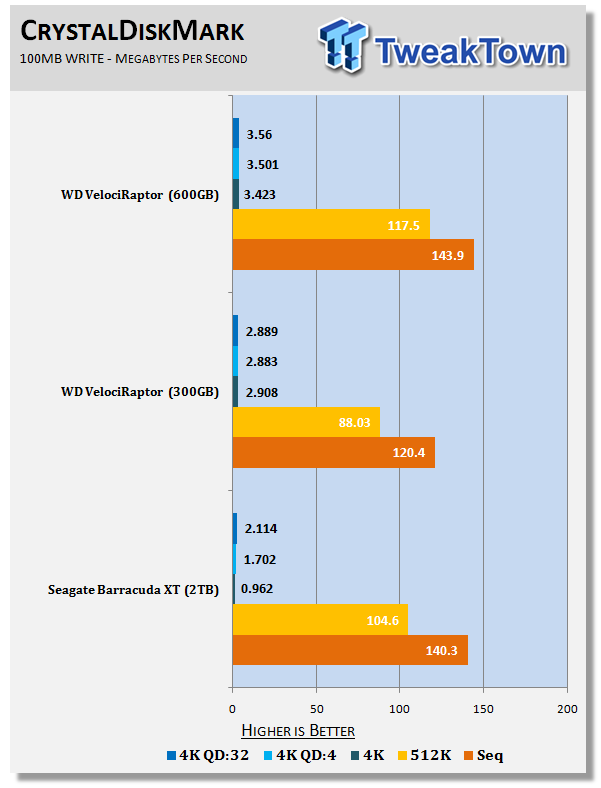 The 4K write numbers shown on the VR200M are higher than the previous generation VelociRaptor.
Benchmarks - PCMark Vantage Hard Disk Tests
PCMark Vantage - Hard Disk TestsVersion and / or Patch Used:
1.0.0
Developer Homepage:
http://www.futuremark.com
Product Homepage:
http://www.futuremark.com/benchmarks/pcmark-vantage/
Buy It Here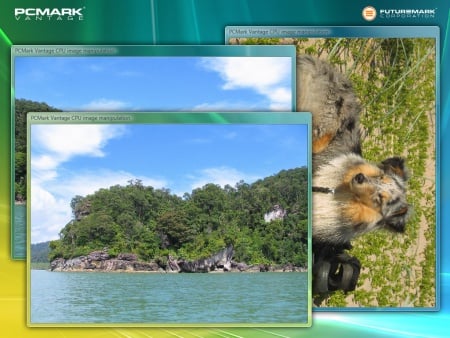 PCMark Vantage is the first objective hardware performance benchmark for PCs running 32 and 64 bit versions of Microsoft Windows Vista. PCMark Vantage is perfectly suited for benchmarking any type of Microsoft Windows Vista PC from multimedia home entertainment systems and laptops to dedicated workstations and high-end gaming rigs. Regardless of whether the benchmarker is an artist or an IT Professional, PCMark Vantage shows the user where their system soars or falls flat, and how to get the most performance possible out of their hardware. PCMark Vantage is easy enough for even the most casual enthusiast to use yet supports in-depth, professional industry grade testing.
FutureMark has developed a good set of hard disk tests for their PCMark Vantage Suite. Windows users can count on Vantage to show them how a drive will perform in normal day to day usage scenarios. For most users these are the tests that matter since many of the old hat ways to measure performance have become ineffective to measure true Windows performance.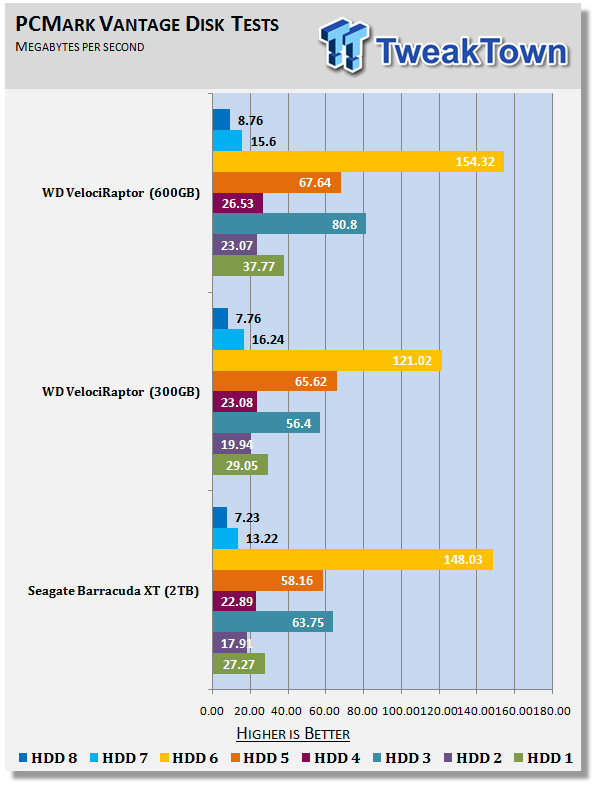 HDD1 - Windows Defender
HDD2 - Gaming
HDD3 - Windows Photo Gallery
HDD4 - Vista Startup
HDD5 - Windows Movie Maker
HDD6 - Windows Media Center
HDD7 - Windows Media Player
HDD8 - Application Loading
Windows users looking to make the new VelociRaptor as their boot drive should pay more attention to these tests than any other. Here we see a nice performance boost compared to the previous generation VelociRaptor. Things get a little sketchy when comparing the SATA 6G VR200M to the SATA 6G Barracuda XT. In these tests we see the numbers getting a lot closer, so close in fact that in only a few tests do we see the VR200M coming away with a significant performance lead.
Benchmarks - AS SSD
AS SSD BenchmarkVersion and / or Patch Used:
1.2.3577.40358
Developer Homepage:
Alex Intelligent Software
Product Homepage:
Alex Intelligent Software
Download here:
http://www.alex-is.de/PHP/fusion/downloads.php?cat_id=4&download_id=9
AS determines the performance of Solid State Drives (SSD). The tool contains four synthetic as well as three practice tests. The synthetic tests are to determine the sequential and random read and write performance of the SSD. These tests are carried out without the use of the operating system caches.
In all synthetic tests the test file size is 1GB. AS can also determine the access time of the SSD, the access of which the drive is determined to read through the entire capacity of the SSD (Full Stroke). The write access test is only to be met with a 1 GB big test file. At the end of the tests three values for the read and write as well as the overall performance will be issued. In addition to the calculated values which are shown in MB/s, they are also represented in IO per seconds (IOPS).
Note:
AS SSD is a great benchmark for many tests, but since Crystal Disk Mark covers a broader range of 4K tests and HD Tune Pro covering sequential speeds, we will only use the Copy Benchmark from AS SSD.
- Copy Benchmark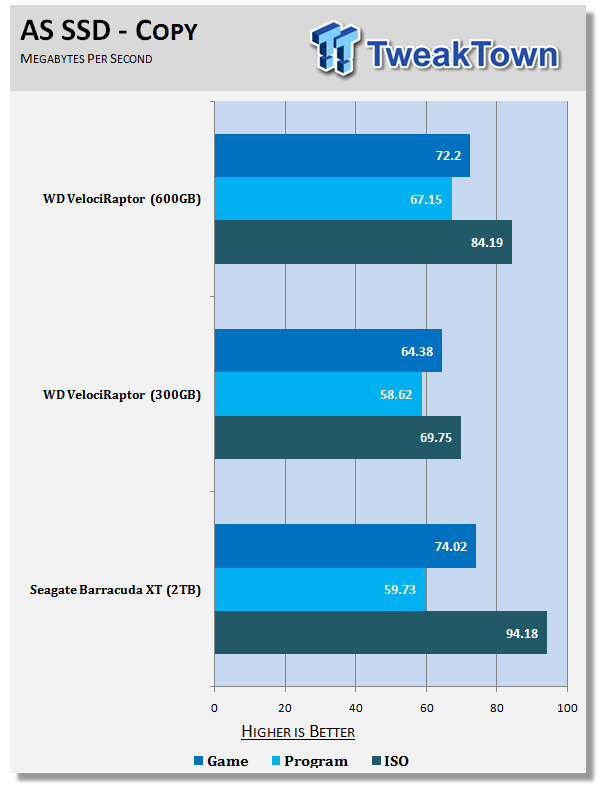 Once again we see a nice improvement over the VR150M, but the Seagate SATA 6G Barracuda XT is able to pull away in two of the three tests.
Benchmarks - Passmark
Passmark Advanced Multi-User TestsVersion and / or Patch Used:
6.1
Developer Homepage:
http://www.passmark.com
Test Homepage:
http://www.passmark.com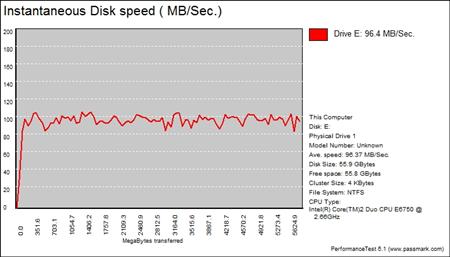 Many users complain that I/O Meter is too complicated of a benchmark to replicate results so my quest to find an alternative was started. Passmark has added several multi-user tests that measure a hard drives ability to operate in a multi-user environment.

The tests use different settings to mimic basic multi-user operations as they would play out on your server. Variances is read / write percentage as well as random / sequential reads are common in certain applications, Web Servers read nearly 100% of the time while Database Servers write a small amount of data.
The Workstation test is the only single user environment and will be similar to how you use your system at home.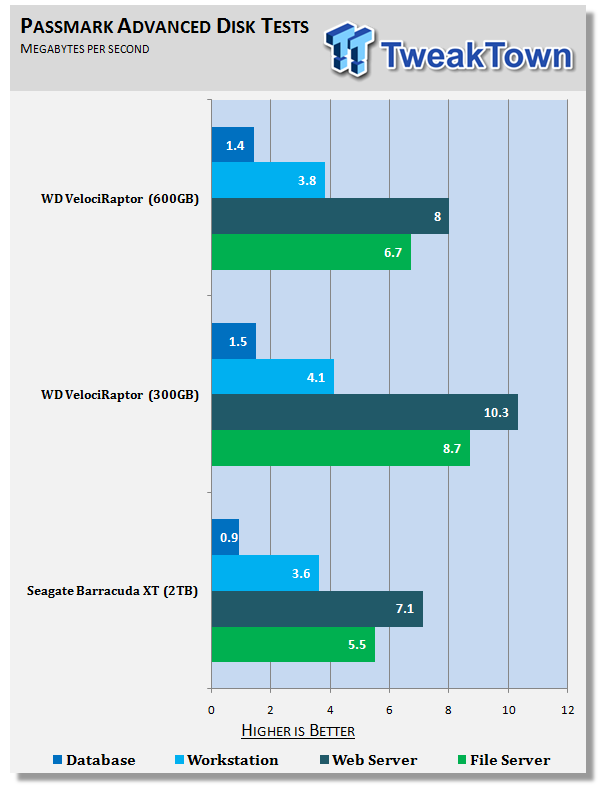 The Marvell controller pokes its head once again and here we actually see the 300GB VelociRaptor on the Intel SATA II performing better than the two drives running on the Marvell SATA 6G controllers.
Final Thoughts
I hate to say it but the VelociRaptor VR200M is facing heavy competition from both sides of the isle. On one side we find solid state drives with the Indilinx Barefoot controller becoming available at the same 330 USD price point, but with only 128GB of capacity. On the flip side, products like the Seagate Barracuda XT and even Western Digital's own 2TB Caviar Black are able to move data just as fast as the VR200M. Granted, when it comes to access times the 7,200 RPM platter drives can't give the same access times as the 10K VelociRaptor VR200M, but then again, the VR200M is not able to compete with the access times offered by SSDs.
I wish I could find a way to keep the series in a brighter light since it has significant historical value; every Raptor and VelociRaptor change the playing field, but in 2010 the proven recipe, the magic, it has been diluted just enough to come and go with little relevance to the target audience, power users and enthusiasts.
Aside from the lack of a big bang, there are some cases where the VR200M can really shine. Users looking to add high speed storage to their system to make up for lower capacity SSDs is a good example. There are many people that have purchased 32 and 40GB SSDs for their operating system but need an additional drive to install all of their programs on. Power users have been doing this for years and the practice goes all the way back to high speed 10K SCSI drives. These users install their OS to the C: Drive and then install programs to the D: Drive. The Western Digital VelociRaptor SATA 6G 600GB drive would make a damn fine D: Drive.
More traditional users looking to only use a single drive in their system would be hard pressed to find a better bang for the buck, best of both worlds in speed, capacity and overall cost per gigabyte. Who would have ever thought that would be a statement made about the VelociRaptor? That statement really goes to back up my thoughts at the beginning of the conclusion to this article. Maybe I just expected more, a Raptor that really took a bite out of all other platter based drives and not a Raptor that just eats its own.
At 330 USD the 600GB VelociRaptor is at the upper end of the mainstream platter based drives. 2TB drives that are priced around the same offer real world transfer speeds equal or greater than the VR200M, but also offer three times the capacity. These drives don't offer the same user experience found in 10K RPM drives from the reduced access times, but you have to weigh where your priorities rest.