'2012' Blu-ray Movie Review
"Kind of galling when you realize that nutbags with cardboard signs had it right the whole time."

Published Sat, Mar 27 2010 5:34 AM CDT
|
Updated Tue, Nov 3 2020 7:02 PM CST
The year is 2012 and the world has descended into social unrest and the earth itself is beset with ecological disasters. When Los Angeles is totally destroyed by earthquake and numerous other disasters strike different parts of the world, the race is on to save as many as possible and our accepted way of life.
The accomplished cast including Woody Harrelson, Danny Glover, John Cusack and Thandie Newton are all mostly cannon fodder for the horrifyingly realistic visual effects, those of which are solely the reason the film exists.
Director Roland Emmerich is the new Irwin Allen, that is, master of modern disaster movies. However, unlike Allen, Emmerich has the budget and more importantly the technology at his disposable to bring his apocalyptic vision to life. Whilst I enjoy disaster movies, I feel I should mention one aspect of the film that bothers me slightly. As I mentioned earlier, the visual effects are horrifyingly real and are shown in such dense detail. One slow motion panning shot reveals people falling out of a collapsing high rise building, evoking images of September 11. It's at times an uneasy sight, not helped by the rather sleazy, 'disaster porn' aspect of the film. It revels in the destruction, rather than simply offering the image to an audience.
Overall, I enjoyed
'2012'
, but I could see how many would struggle to stomach it.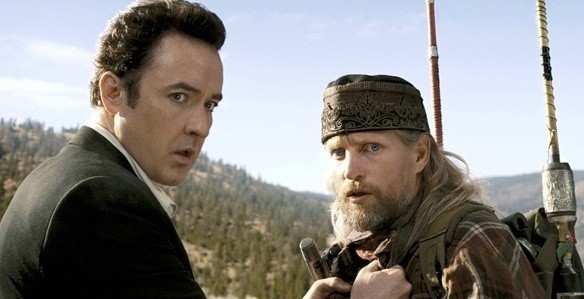 Video2012
is presented in a widescreen aspect ratio of 2.40:1.
2012
is one of those epic films which deserves to be seen on the big screen. Its scope is directly proportional to the display device it's viewed on. Still, on Blu-ray at the very least its visual fidelity is kept intact with a 1080p image.
The image is very sharp; so sharp that it gives off a slightly unrealistic sheen at times. Colour balance is rather good, with just the slightest edge of pink on skin tones.
Let's be honest, most people who buy this film are doing so for the visual effects and these scenes look amazing.
Overall, a fairly demo-worthy experience.
[img]2[/img]
Audio
The main audio track is encoded in DTS HD Master Audio 5.1, at 24 bits.
Be prepared for a rather bombastic experience. The soundtrack really jolts to life during the Los Angeles earthquake sequence, with some fantastic bass and very, very active surround channels.
Later during the volcano sequence, I felt that the bass was turned down too much. Whether this was due to concern of overloading the soundtrack, I am not sure. However, I really wanted to feel that and I didn't. Still, this is a production choice and not a reflection of the Blu-ray quality.
Overall, a very good, but slightly inconsistent audio track.
[img]3[/img]
Extras
Sony Pictures have stuffed the single disc Blu-ray to the gills, without compromising the audio and picture quality. Let's take a look at what's here.
First up is the
Audio Commentary by Writer/ Director Roland Emmerich and co-writer Harold Kloser
. Emmerich generally does a pretty good commentary and this is no exception, but his overall dryness and due to the nature of the film, only the most dedicated of fans will see this through to the end.
The
Picture in Picture: Roland Vision
is a nice little track, which while pretty scant in terms of length, continue to pop up pretty regularly throughout the film. These often take the form of CG pre-visualisation shots and talking head interview footage. Throughout the visual effects scenes they often show bluescreen footage which is quite revealing. Again, only dedicated fans will see this through, but it's slightly more entertaining and varied than the audio commentary.
Featurettes:
,
Roland Emmerich: Master of the Modern Epic
shows Emmerich running around the set, organising the fairly large production around him. The cast and crew are rather generous with their thoughts on the director.
Designing the End of the World
is a fairly in-depth look at the visual effects, rounding up various CG artists to show pre-vis segments and work in progress shots. This is probably the best extra on the disc.
Science Behind the Destruction
interviews a few of the scientific advisors to the film, to try and justify the more outlandish parts of the film (that is, pretty much all of it).
The End of the World: An Actor's Perspective
interviews some of the admittedly superfluous actors from the film. Finally,
Mysteries of the Mayan Calendar
is a brief discussion on the ancient culture and how adept their understanding of time actually was.
The
Interactive Mayan Calendar
is a rather smart BD Java extra, which in one part delves into the ancient Mayan culture, and in another will reveal your horoscope. Call me suspicious.
The
Alternate Ending
is laughably bad and thank goodness it was changed. The
Deleted Scenes
are rather short and would have just served to make the film slightly longer.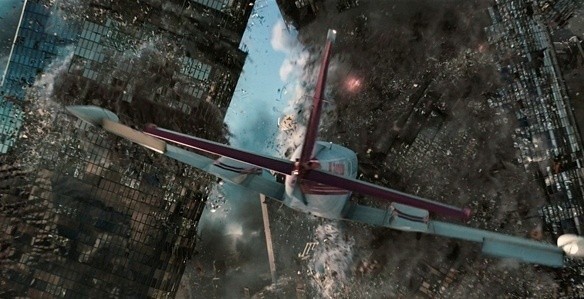 Review Equipment Used:
Display
: Sony KDL52X3100 LCD (1080p resolution/ 24p playback)
Player
: Sony BDP-S550 Blu-ray, PlayStation 3 (24p playback)
Sound
: Sony STR-DA5400ES Receiver (7.1 configuration), Sony SSX70ED front speakers (x2), Sony SSCNX70ED center speaker, Sony SSFCR7000 surround speakers (x4), Sony SAW3800 Subwoofer (Front), Sony SAWM500 Subwoofer (Rear)
PRICING: You can find products similar to this one for sale below.

United States: Find other tech and computer products like this over at Amazon.com

United Kingdom: Find other tech and computer products like this over at Amazon.co.uk

Australia: Find other tech and computer products like this over at Amazon.com.au

Canada: Find other tech and computer products like this over at Amazon.ca

Deutschland: Finde andere Technik- und Computerprodukte wie dieses auf Amazon.de
We openly invite the companies who provide us with review samples / who are mentioned or discussed to express their opinion. If any company representative wishes to respond, we will publish the response here. Please contact us if you wish to respond.