Introduction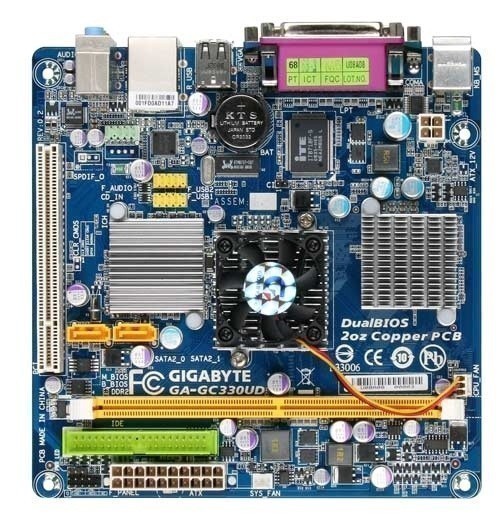 When Atom was first brought to our attention during Computex 2008, the idea of an ultra low power processor was extremely exciting; especially with the idea of Nettops and Netbooks really taking off. After all, Celeron processors when underclocked were anything but exciting. Even in their underclocled and undervolted state they still used up much more power than what we would really like to see. And with Netbooks really the way to go, Intel was indeed ready to respond. The result was Atom.
First generation Atom processors were based around a very simple x86 core with a 512K L2 cache designed to focus on power savings rather than raw speed. The N270 clocked at 1.6GHz was able to do a very good job for many companies in their Nettops and Netbooks. Power consumption was reduced significantly, but the problem was that more demand was being placed on the core than it could keep up with. Even simple video play back would cause problems if you attempted to do any multi-tasking on them and HD video playback? Don't even bother trying. Neither the CPU nor the IGP could handle the amount of cycles needed for decoding.
Atom has now got a boost to its design. Originally it was designed with a single core using hyper threading; the same technology Pentium 4 used to turn a single physical core into two logical processors. But it still wasn't enough. It seems that there is no real substitute for a true second core. Atom 330 is Intel's answer to a dual core low power CPU based around the Atom architecture.
Today we have on display GIGABYTE's GA-GC330UD all-in-one motherboard based around and including this CPU. Unfortunately we couldn't find this product listed on Newegg, but to give you an idea of where it sits in the market, it is being sold in various retail stores here in Australia for around $120 AUD. Compare that to VIA's EPIA SN18000 at over $400 AUD and it's clear that value is on side here for the GIGABYTE offering. Let's move on and see if its features and performance can also impress.
The Box and What's Inside
Package and Contents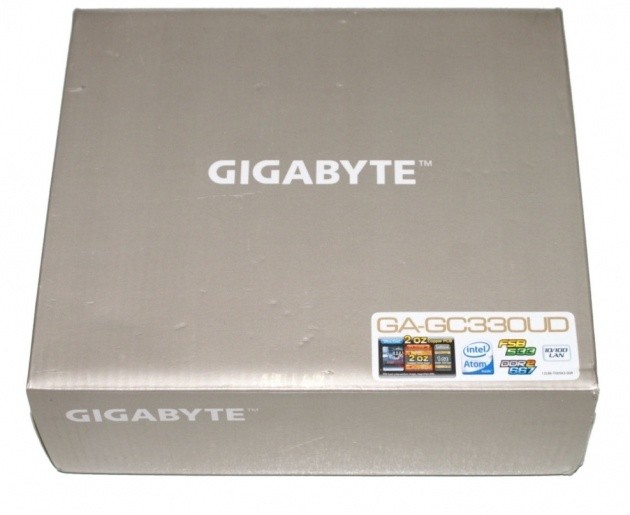 When the first Atom based boards hit the market we were told that Intel put alot of restrictions on its partners in terms of what the boards could be packed with and what they could be packed in. The result for GIGABYTE is a very plain grey box that is just over 17cm in length and 17cm in width; the exact size of a Mini-ITX board. There is only the company logo printed in the middle of the box with the board model sticker on the bottom right of the box.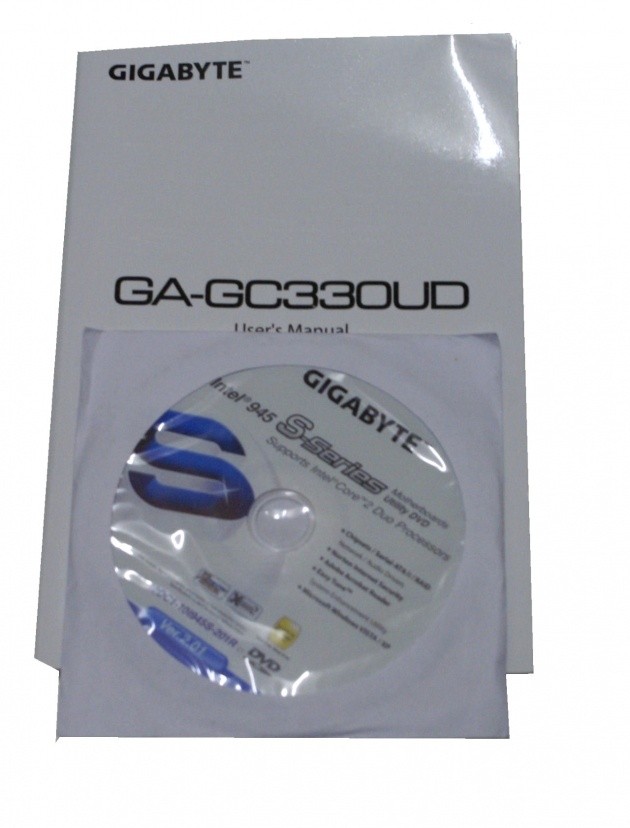 Moving along, we come to the documentation and software. With the limitations Intel has placed on the Atom platforms there is also a limitation on software. Atom boards are designed to work with Windows XP only. Therefore, the software CD that is included only contains Windows XP drivers and software. The user manual included has setup instructions for the board including BIOS and software setups for Windows XP.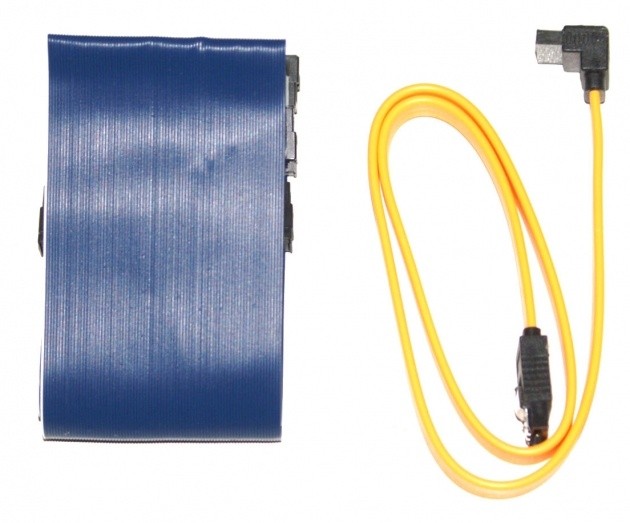 The included accessories for this board are extremely light. There is a single SATA data cable along with an IDE cable that can support two standard IDE or ATAPI devices.
The Motherboard
The Board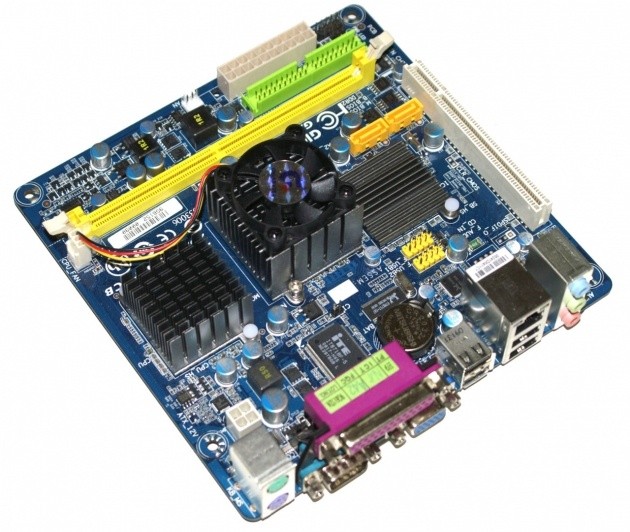 Onto the board itself now. GIGABYTE loves to use their traditional blue PCB which looks quite attractive, even to this day. The board itself is a baby, only measuring 17x17cm. It fits right into the Mini-ITX form factor that VIA brought to the market. Funnily enough, Intel wanted it to be slightly bigger just to push VIA out of the market, but with hundreds of Mini-ITX cases out there already, the partners pushed Intel into the Mini-ITX department.
For a mini board the layout is very good. Going old school, the board only uses a 20-pin ATX power connector located behind the single DDR2 memory slot and the 4-pin power connector for the CPU is located behind the PS/2 rear I/O ports.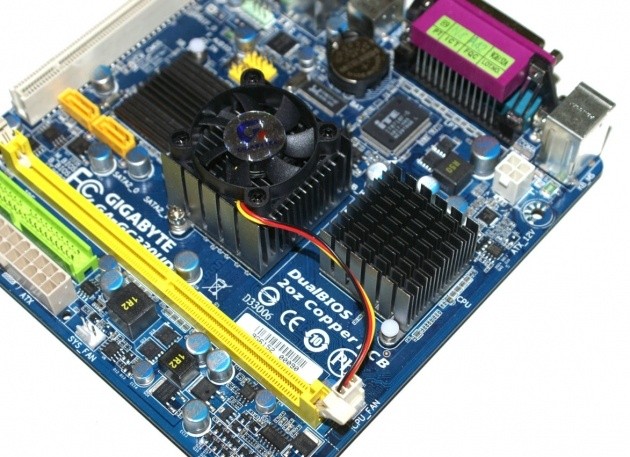 With such a low power draw for the CPU, the board is fitted with only a single phase voltage regulation system for the CPU. This baby isn't designed for overclocking, so there is no need to go with hundreds of expensive capacitors and chokes if they aren't needed. It's funny to see how this board is cooled. The Atom 330D processor is cooled by a passive fan along with the ICH7DH Southbridge. It's the 945GCM Northbridge that required the larger heatsink and fan combo to keep it cool. Obviously it's the power hog and the major heat generator. The sad thing about this setup is the 945GCM Northbridge supports a dual channel memory controller. However, with Intel's tight reign on Atom platforms, only single channel memory is allowed to be used.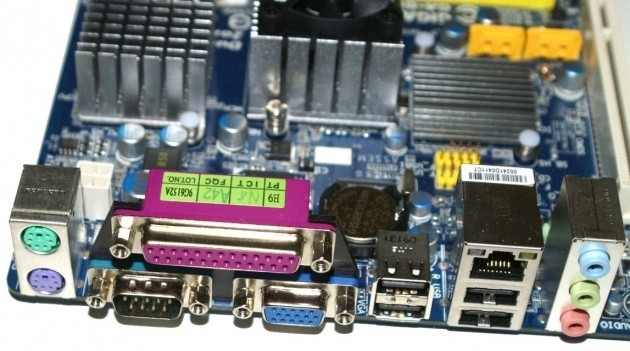 Intel pretty much crippled the Atom for any sort of serious home entertainment purposes. To get the true Atom brand the board can't have any DVI ports or HDMI ports and is limited to AC'97 audio output. To that end, we have a single CRT monitor output and three audio ports that support up to 5.1 audio output; just good enough for DVD playback. There are no eSATA ports or any digital audio or video outputs.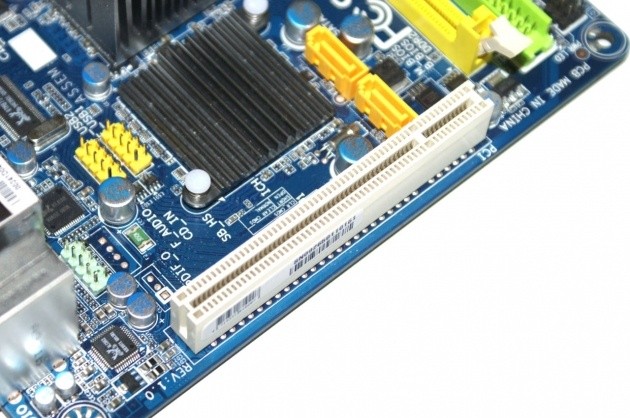 Lastly, we have the single expansion slot that the board supports and again with Intel's tight restrictions on Atom you only get a single PCI legacy slot. What we would like to see is a PCIe x1 or even a x16 slot since the chipset is capable of supporting this interface. There are also two SATA ports driven from two of a possible six that the ICH7 Southbridge supports.
BIOS and Overclocking
BIOS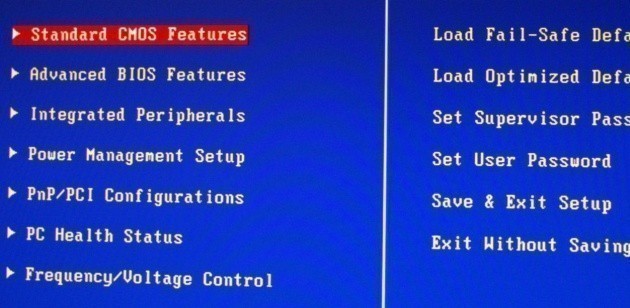 GIGABYTE has kept its Award 6 modular BIOS interface which we are all familiar with. Since this board isn't aimed at overclockers, but more a niche market, the board is very limited in overclocking and tweaking. However, under the Frequency/Voltage Control menu there are some options.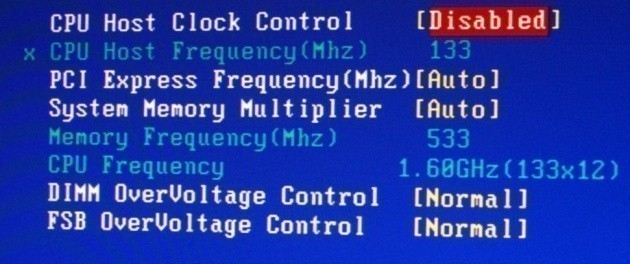 Under the Frequency/Voltage Control menu you can adjust the CPU FSB as well as DIMM voltage and FSB voltage. There is no provision for CPU voltage control, CPU ratio or any other tweaking options.
Overclocking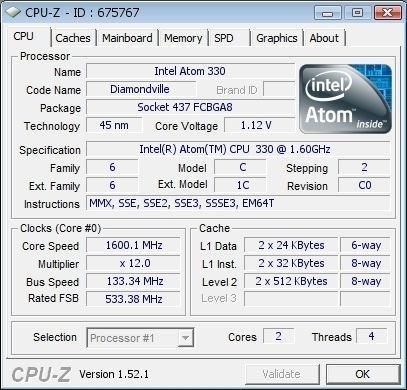 Validation:
http://valid.canardpc.com/show_oc.php?id=675767
Unfortunately due to the limited overclocking nature we didn't get the board stable at any speeds above default. However, here we can see that the Atom 330D uses a dual core nature with Hyper Treading. Under Windows 7 when using Task Manager we were greeted with four logical processors.
Important Editor Note: Our maximum overclocking result is the best result we managed in our limited time of testing the motherboard. Due to time constraints we weren't able to tweak the motherboard to the absolute maximum and find the highest possible FSB, as this could take days to find properly. We do however spend at least a few hours overclocking every motherboard to try and find the highest possible overclock in that time frame. You may or may not be able to overclock higher if you spend more time tweaking, or as new BIOS updates are released. "Burn-in" time might also come into play if you believe in that.
Test System Setup and Memory Performance
Test System
Intel Atom 230 and 330 Test SystemMemory
: 1x 2GB DDR2-1200 G.Skill (Supplied by
Corsair
)
Hard Disk
: Intel X25-M 80GB SSD (Supplied by
Intel
)
Graphics Card
: Integrated Graphics Processor 945G
Operating System
: Microsoft Windows 7 Starter
Drivers
: Windows Default Drivers
VIA Nano Test SystemMemory
: 2x 1GB DDR2-800 A-DATA
Hard Disk
: Intel X25-M 80GB SSD (Supplied by
Intel
)
Graphics Card
: Integrated Graphics Processor Chrome9
Operating System
: Microsoft Windows 7 Starter
Drivers
: Windows Default Drivers
Today we are not only just reviewing this board, but also doing some platform tests to see just who has the better low power/low cost option here. First we have the older GIGABYTE GA-GC230UD based around the 1.6GHz single core Atom. We've also included the 1.8GHz clocked VIA Nano and of course our new GA-GC330UD dual core Atom, clocked again at 1.6GHz.
The two Atom platforms are pretty well matched with the same memory and GPU. The Nano has an advantage with a better GPU and dual channel memory. Let's see just what happens, shall we?
EVEREST Ultimate EditionVersion and / or Patch Used:
2006
Developer Homepage:
http://www.lavalys.com
Product Homepage:
http://www.lavalys.com
Buy It Here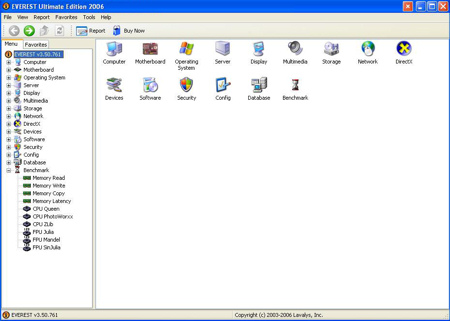 EVEREST Ultimate Edition is an industry leading system diagnostics and benchmarking solution for enthusiasts PC users, based on the award-winning EVEREST Technology. During system optimizations and tweaking it provides essential system and overclock information, advanced hardware monitoring and diagnostics capabilities to check the effects of the applied settings. CPU, FPU and memory benchmarks are available to measure the actual system performance and compare it to previous states or other systems.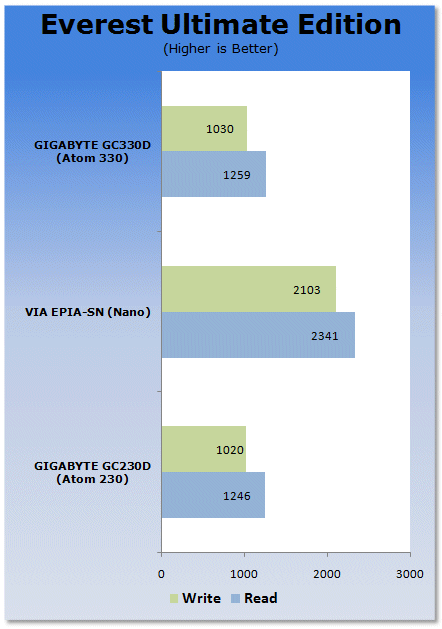 Starting as we normally do with EVEREST, we see that the two Atom platforms perform almost identically. Despite a second core on the 330, the single channel memory and IGP sucking system memory for its frame buffer means that the performance is pretty lackluster.
Benchmarks - Sisoft Sandra
SiSoft SandraVersion and / or Patch Used:
2009
Developer Homepage:
http://www.sisoftware.co.uk
Product Homepage:
http://sisoftware.jaggedonline.com/index.php?location=home&a=TTA&lang=en
Buy It Here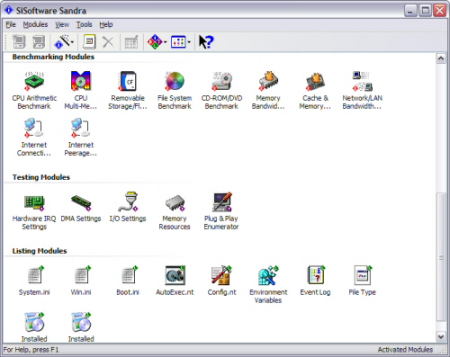 SiSoft Sandra (
S
ystem
AN
alyser,
D
iagnostic and
R
eporting
A
ssistant) is a synthetic Windows benchmark that features different tests used to evaluate different PC subsystems.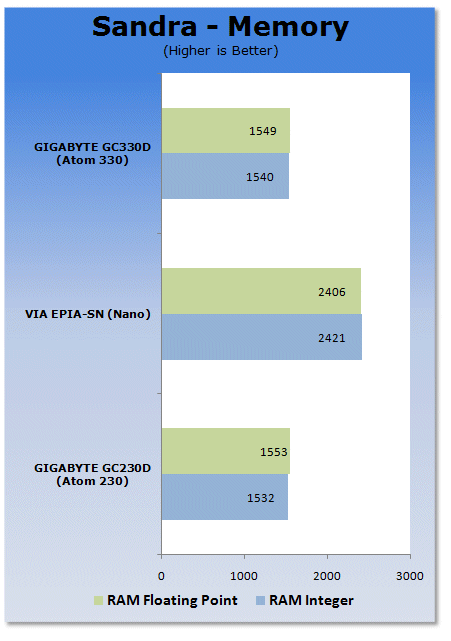 Again in Sandra we see that the memory performance trend continues with Nano in front due to dual channel support straight out of the bag.
Benchmarks - PCMark Vantage
PCMark VantageVersion and / or Patch Used:
Unpatched
Developer Homepage:
http://www.futuremark.com
Product Homepage:
http://www.futuremark.com/benchmarks/pcmark-vantage//
Buy It Here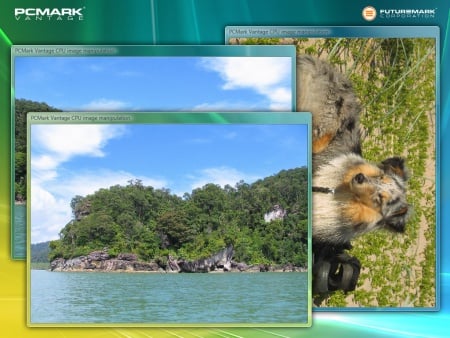 PCMark Vantage is the first objective hardware performance benchmark for PCs running 32 and 64 bit versions of Microsoft Windows Vista. PCMark Vantage is perfectly suited for benchmarking any type of Microsoft Windows Vista PC from multimedia home entertainment systems and laptops to dedicated workstations and high-end gaming rigs. Regardless of whether the benchmarker is an artist or an IT Professional, PCMark Vantage shows the user where their system soars or falls flat, and how to get the most performance possible out of their hardware. PCMark Vantage is easy enough for even the most casual enthusiast to use yet supports in-depth, professional industry grade testing.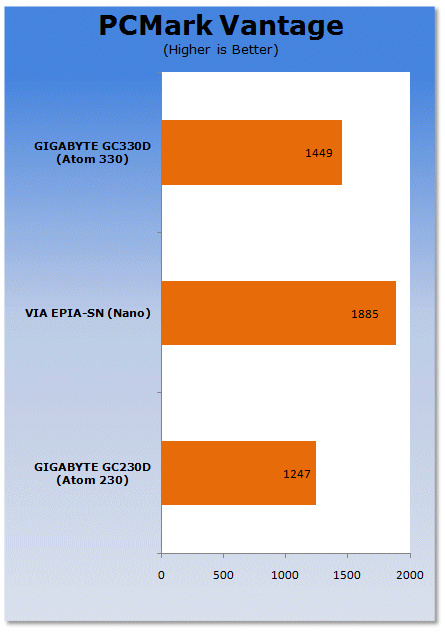 Onto synthetic tests; we see that the Nano manages still to hold out against the new Atom, but the extra core gives the Atom 330 a good jump on the older 230.
Benchmarks - SYSmark 2007 Preview
SYSmark 2007Version and / or Patch Used:
1.04
Developer Homepage:
http://www.bapco.com/
Product Homepage:
http://www.bapco.com/products/sysmark2007preview/>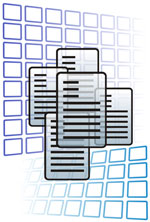 SYSmark 2007 Preview is the latest version of the premier performance metric that measures and compares PC performance based on real world applications.
SYSmark 2007 Preview extends the SYSmark family, which has been widely accepted by IT Managers, PC OEMs, press and analysts worldwide to support Windows Vista™.
SYSmark 2007 Preview allows users to directly compare platforms based on Windows Vista™ to those based on Windows XP Professional and Home.
The new release also incorporates numerous new features and enhancements such as an improved GUI allowing streamlined start-up and run along with a heads-up-display (HUD) and automated error reporting.
SYSmark 2007 Preview is an application-based benchmark that reflects usage patterns of business users in the areas of Video creation, E-learning, 3D Modeling and Office Productivity. This new release includes a robust and refreshed set of applications.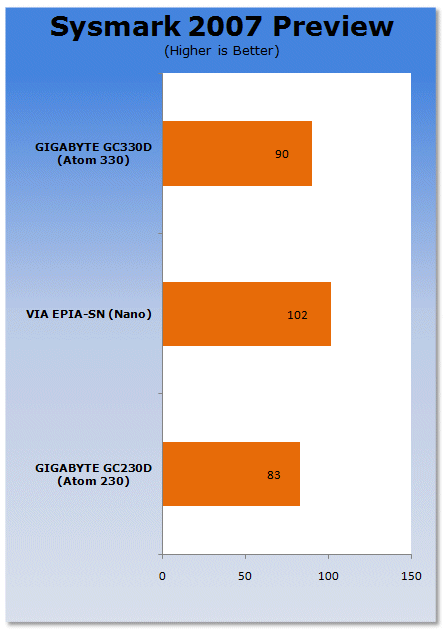 Into a real world applications test, we see that the Atom 230's single core can't keep up at all with the dual core 330's extra core and HT support. But both have a problem keeping up with Nano due to greater memory bandwidth, a better GPU and faster core clocks.
Benchmarks - Media Playback
MPEG-2 Playback
For MPEG-2 playback tests, we ran The Matrix DVD, a personal favourite of mine on each system with Hardware Acceleration enabled to check for smoothness of playback as well as CPU usage during the test. The result was with 30 minutes of playback and the CPU utilization is the average.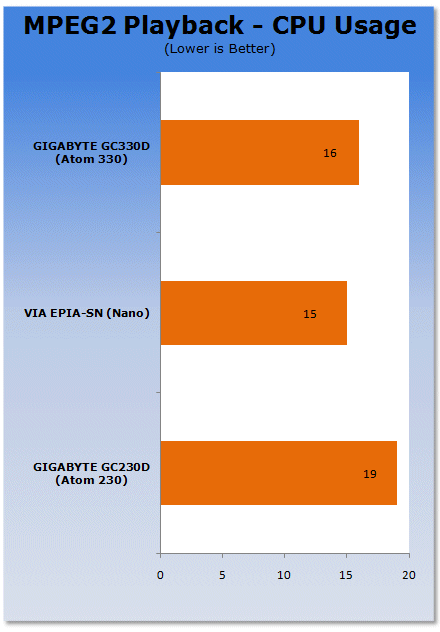 Having a dual core Atom didn't really reduce much CPU time when running the movie. However, the thing we noticed was when we swapped out tasks such as running a flash program on Facebook in the background, we didn't stall out like the Atom 230 did. CPU usage went up to around 46% where the Atom 230 hit 95% and would sometimes stall out. The Nano was about the same as the Atom 330 in these tests when it came to multi-tasking.
MPEG-4 Playback
Playback for MPEG-4 was again done with the Matrix, only encoded down to MPEG-4 DIVX 6.8 codec. 30 minutes was the time run. Smoothness of playback, audio sync and CPU usage are the keys here once again.
Now into MPEG-4 playback and this is where the Atom 330 manages to really shine. Compared to the 230 CPU, usage was much lower, but still not able to keep up with Nano. However, playback was smooth and while multi tasking we managed to keep the playback smooth and running where Atom 230 stalled out quite a bit.
HD Playback
Using the Matrix again encoded in 720p we did our playback tests again, a 30 minute run was done with Smoothness of video, audio/video sync and CPU usage the big things as well as multi-tasking.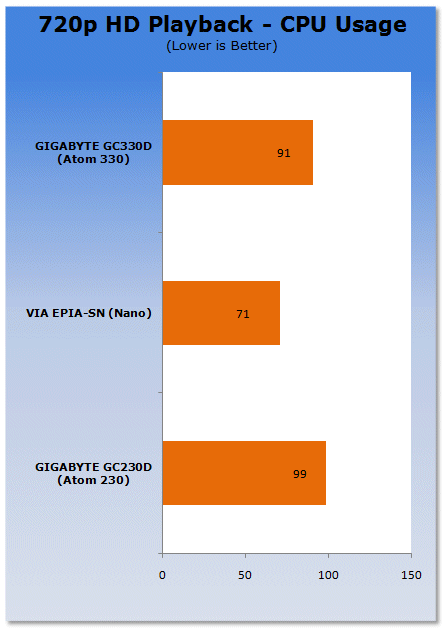 Atom 230 failed this test terribly with Atom 330 not far behind. CPU usage was way too high. Atom 230 could not play back the movie at all; it would simply jump all over the place. Atom 330 managed to run a bit smoother, but not really at all watchable. Only VIA Nano was able to play back the movie successfully. However, multi-taking was out of the question.
Benchmarks - Crysis
CrysisVersion and / or Patch Used:
1.1
Timedemo or Level Used:
Custom Timedemo
Developer Homepage:
http://www.crytek.com/
Product Homepage:
http://www.ea.com/crysis/
Buy It Here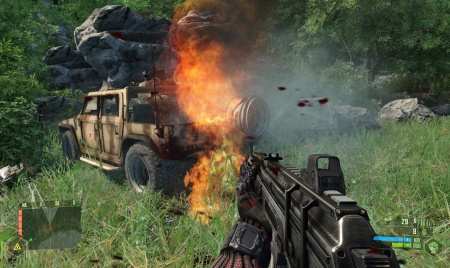 From the makers of Far Cry, Crysis offers FPS fans the best-looking, most highly-evolving gameplay, requiring the player to use adaptive tactics and total customization of weapons and armor to survive in dynamic, hostile environments including Zero-G.
Real time editing, bump mapping, dynamic lights, network system, integrated physics system, shaders, shadows and a dynamic music system are just some of the state of-the-art features the CryENGINE™ 2 offers. The CryENGINE™ 2 comes complete with all of its internal tools and also includes the CryENGINE™ 2 Sandbox world editing system.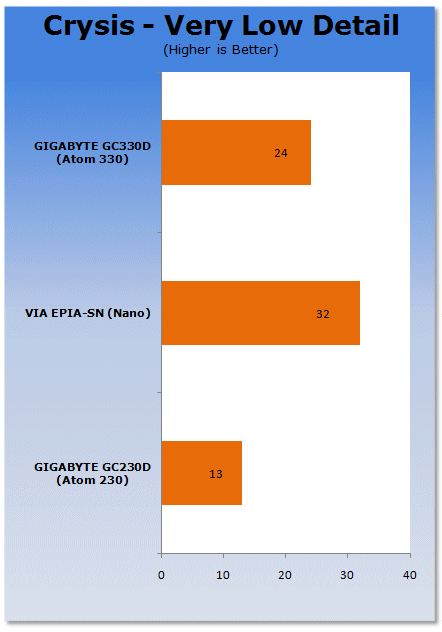 Gaming on any of these platforms using the IGP's is pretty well out of the question. VIA managed to get the higher score, though. Atom 330 didn't manage to do much better than the 230 due to a very limited GPU.
Power Usage and Heat Tests
Power Consumption
We are now able to find out what kind of power is being used by our test system and the associated graphics cards installed. Keep in mind; it tests the complete system (minus LCD monitor, which is plugged directly into an AC wall socket).
There are a few important notes to remember though; while our maximum power is taken in 3DMark06 at the same exact point, we have seen in particular tests the power being drawn as much as 10% more. We test at the exact same stage every time; therefore tests should be very consistent and accurate.
The other thing to remember is that our test system is bare minimum - only a 7,200RPM SATA-II single hard drive is used without CD-ROM or many cooling fans.
So while the system might draw 400 watts in our test system, placing it into your own PC with a number of other items, the draw is going to be higher.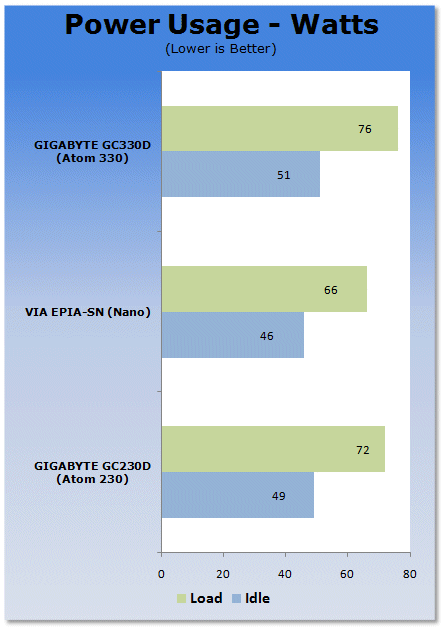 This is where things get interesting. Despite an extra core on the Atom 330 processor it still manages to keep right up with the Atom 230 in saving power. Both platforms aren't that far off the Nano processor platform.
Heat Generation
As a new measure, we are now monitoring the heat generation from the key components on the motherboards, this being the Northbridge, Southbridge (if it contains one) as well as the Mosfets around the CPU. The results are recorded at idle and load during the power consumption tests.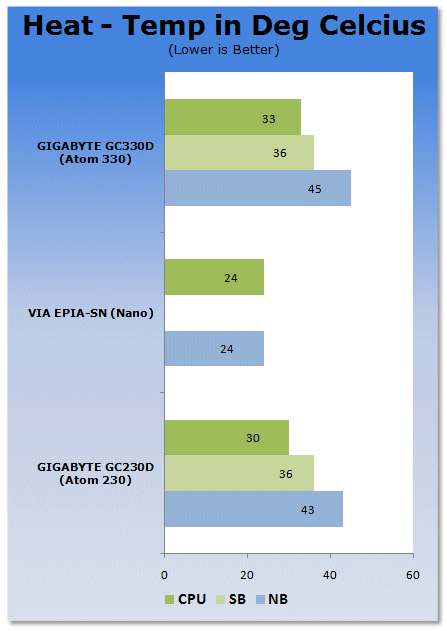 Here we see that the Atom 330 actually generates only an extra couple of degrees of heat compared to the 230 Atom, but both fall behind the VIA Nano which is even able to run without a heatsink for quite some time.
Final Thoughts
Ultra low power platforms have finally come off the ground and not just for car PC users. Now we are seeing them make their way into the home and also into the office. After all, an Atom powered workstation designed for simply running Word, Excel and basic web browsing makes it perfect for the job.
The first generation Atom processor, while being very energy efficient, did lack some power. Despite the fact it was given Hyper Threading technology, this really didn't help in any real world applications. In media playback tests we didn't see any real work being done by the Hyper Thread; it sat idle most of the time. It's clear that there is no substitute for a real second core.
Now we have something even better than the original Atom and that's the 3xx series Atom with a real second core as well as support for Hyper Treading. You have two real cores and two hyper threaded cores. And with Windows 7 supposedly having a much better assignment to know the difference between real cores and virtual cores, Atom 3xx series really is how Atom should have been in the first place.
As for GIGABYTE, the GA-GC330UD really is no different a board compared to earlier ones we've reviewed. The same chipset, layout, features and memory support are in place; the only difference is a better CPU.
As mentioned in our introduction, value is the big plus here with this board being less than half the price of the competition from VIA. At around $120 AUD you can't go wrong for an all-in-one platform with a decent balance of efficiency and performance for your low power requirements.
Overall, the GA-GC330UD is a brilliant board with the inclusion of the Atom 330 processor. The only addition we would like to see is DVI video output as well as replacing the PCI slot with a PCIe slot of some description.