Watchmen HD Movie Review
"A living body and a dead body have the same number of particles. Structurally there's no difference."

Published
3 minutes & 51 seconds read time
Once dubbed 'unfilmable', the immensely popular graphic novel
Watchmen
by famed author Alan Moore has found its way past the big screen and has arrived now on our smaller screens.
The vigilante group known as 'The Watchmen' live in an alternate 1985, an era when Nixon has been re-elected as President and America has won the Vietnam War. Now disbanded, some of them have achieved great wealth and success, whilst some try to fit into an awkward world and others live in squalor. When former Watchmen Eddie Blake (Jeffrey Dean Morgan) is murdered, the remaining members band together to not only solve the mystery of his death, but protect their own lives. However, an investigation unearths greater implications for the entire human race.
I have not read the original graphic novel, but some of my closest friends are die hard fans. Some love this film and others do not. With only a basic knowledge of the novel, this film seems to be a pretty accurate translation of the page. I suspect had I been a little more familiar with the novel, I would enjoy this a little more. As it stands,
Watchmen
is a more thoughtful comic book movie than the norm, but as a stand alone film I felt rather detached from the world it created and I didn't enjoy it as I wanted to.
Of note; presented on this Blu-ray is the theatrical cut, as opposed to the 25 minute longer directors cut Blu-ray which has been just been released in the United States. Interestingly, this theatrical cut does not feature on the U.S. disc and has not been released separately, whilst the directors cut does not feature on the Australian disc. Paramount Home Entertainment will apparently release that version later this year. I do look forward to giving the film another chance then.
VideoWatchmen
is presented in the widescreen aspect ratio of 2.40:1, encoded with AVC-MPEG 4 compression
For fans of the film, this is everything that could be expected and more. Every frame of the film bursts with detail, the clarity of which I was pleasantly surprised. From the opening moments of a close up on the Comedians craggy face, I knew that this would be demo material all the way. Frequently the colour balance alternates from dark and grimy to colourful and pleasing, but at no time does the encode let it down. There's plenty of detail in the shadows and black levels are as good as your display will allow. I didn't detect any bothersome noise reduction, nor film artifacts, despite not being filmed digitally.
Simply put, fans of the film will be very pleased; others will probably buy this for demo material alone.
Audio
The main audio track is encoded in Dolby TrueHD, at 24 bits.
Titles like
Watchmen
make the investment in a home theater system well and truly worth it - this audio track will wring every last ounce of grunt from it. At times nuanced and subtle, other times banging your head with sonic goodness, this is demo worthy material without question.
There were no issues with dialogue and a surround presence was kept at all times, even during the more dialogue heavy sequences. Bass is suitably low and underscores the entire film, but groans appropriately lower when called upon.
I found some of the music choices a little confusing with the use of 'The Ride of the Valkyries' particularly absurd, but overall the score by Tyler Bates was appropriate.
Overall, this what makes the Blu-ray investment worthwhile. Top marks indeed.
Extras
The extras section is the bottleneck of the package. Annoyingly, the best feature from the U.S. directors cut - the picture in picture walkthrough, hosted by Director Zach Snyder is absent. What's left is more promotional in nature, but let's take a look.
The bulk of the extras are made up of three featurettes;
The Phenomenon: The Comic that Changed Comics
is a 30 minute documentary on the genesis of the original graphic novel. Many subjects are interviewed, including DC comics staffers, but it suffers from the absence of creator David Moore, who disassociated himself from the film project. Next is
Real Superheroes, Real Vigilantes
, another near 30 minute documentary which through interviewing many and varied subjects takes a look at the mantel of justice that individuals have taken up over the years and why they choose to do so. I believe I saw some tantalising glimpses of footage not featured in the film, which I can only assume originates from the directors cut version. The last featurette;
Mechanics: Technologies of a Fantastic World
is concerned with some of the scientific sections of the film, which may or may not ever come to pass. It's fun to dream, at any rate.
Further, we have another eleven, far more briefer segments referred to as
Making of Webisodes
, which have a cumulative run time of a little over half an hour, but annoyingly missing a 'play all' option. In the absence of a fully fledged making of documentary, these little snippets look at specific parts of production and despite their scant length, there is still quite a bit of information imparted.
Lastly, we have a
Music Video
for My Chemical Romance's contribution to the soundtrack. I am not a fan. However, I think this is the first time I have seen a music video presented in HD, though.
Disappointingly absent are all the theatrical trailers, which I recall featuring a great version of the song 'The Beginning is the End' by the Smashing Pumpkins.
Overall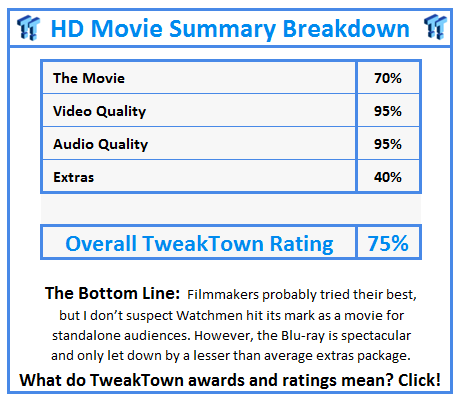 Review Equipment Used:
Display
: Sony KDL52X3100 LCD (1080p resolution/ 24p playback)
Player
: Sony BDP-S550 Blu-ray, PlayStation 3 (24p playback)
Sound
: Sony STR-DA5400ES Receiver (7.1 configuration), Sony SSX70ED front speakers (x2), Sony SSCNX70ED center speaker, Sony SSFCR7000 surround speakers (x4), Sony SAW3800 Subwoofer (Front), Sony SAWM500 Subwoofer (Rear)
PRICING: You can find products similar to this one for sale below.

United States: Find other tech and computer products like this over at Amazon.com

United Kingdom: Find other tech and computer products like this over at Amazon.co.uk

Australia: Find other tech and computer products like this over at Amazon.com.au

Canada: Find other tech and computer products like this over at Amazon.ca

Deutschland: Finde andere Technik- und Computerprodukte wie dieses auf Amazon.de
We openly invite the companies who provide us with review samples / who are mentioned or discussed to express their opinion. If any company representative wishes to respond, we will publish the response here. Please contact us if you wish to respond.