Bedtime Stories
is a fairly non threatening family film, with a not too subtle injection of moral subtext. It tells the story of Skeeter Bronson (Adam Sandler) whose family hotel was forcibly sold when he was a child, under the condition that when he was of age he could run the hotel. Working diligently at the hotel since then, providing numerous thankless services, he finds out he has been passed over for the managerial role in favour of the arrogant Kendall (Guy Pierce). A dejected Skeeter takes solace in the stories he tells to his niece and nephew and is soon surprised to find that he is able to conjure up the events of the stories to occur in real life. If only he could manipulate this new found power to improve his life...
Despite Adam Sandler's normal standard of 'humour' being childish at best, this marks new ground for him; this actually being aimed at children. I'm not normally a fan of Sandler, but this is now the second of his last two films that I haven't outright hated (the other being last years
You don't mess with the Zohan
. Could this mean that the actor is growing on me? God, I hope not. There's also a nice extended cameo from English comic Russell Brand, whom is an actor to definitely watch in the future.
VideoBedtime Stories
is presented in the aspect ratio of 2.35:1, encoded in AVC MPEG-4 compression.
Straight up:
Bedtime Stories
features a wonderful transfer, spotless and perfect in pretty much every way. Each frame bustles with vibrant colour and makes for a very pretty demo disc. As a reviewer it's often easier to detail what a transfer does not do, rather than what it does do, but this makes this particular job quite easy - because my little notepad of complaints was empty.
Another exceptional effort from the folks at Disney.
Audio
The main audio track is encoded in DTS HD Master Audio 5.1, at 24 bits.
A suitable accompaniment to a stellar video track, this is a pretty damn good audio track. I didn't detect any examples of audio sync problems. The track is surprisingly active for a Disney family film; the surrounds are almost always in use and are used to great effect, especially during the fantastical story sequences. Bass usage is a little light (again, fairly standard for a Disney film), but active when really needed.
A pretty solid effort and the only thing holding it back is the family nature of the film itself.
Extras
The extras package is made up of a few child friendly extras that do little to reveal the making of the film. Here's what we have:
Three
featurettes
which start off with
Until Gravity Do Us Part
which is a really short look at the making of the climactic space sequence, which signified the part where the film almost fell apart. It looks like the same technology used to film the Neo vs. Smith sequence from
Matrix Revolutions
was used.
To All the Little People
waxes lyrical about the child actors of the film, whom to be fair, did a pretty good job in the film.
It's Bugsy
is a really short, but nonetheless fun segment on the scene stealing hamster. It's revealed that they aren't actually his real eyes (shock!) but CG animated over a real hamster. Ah, Hollywood, you habitual trickster!
Next up is,
Laughter is Contagious: Outtakes
which is a pretty safe collection of flubs from the set. I just know that there are some juicy ones that were kept off this collection, but alas.
Finally, we have a bunch of
Deleted Scenes
totaling a little over 10 minutes. As per usual, there is nothing major that was left off and these would have served to just make the film a little too long.
Disney have also classily added a
DVD copy
of the film in the package. This is a really nice touch and although I personally don't think I would be in a situation where I would need to use it, I could see it being very useful for your typical family. Considering that at retail the DVD retails for around $30 AUD and the Blu-ray for just $5 more, this becomes a pretty good buy.
Overall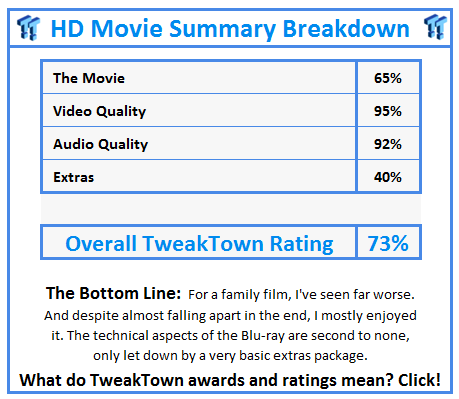 Review Equipment Used:
Display
: Sony KDL52X3100 LCD (1080p resolution/ 24p playback)
Player
: Sony BDP-S550 Blu-ray, PlayStation 3 (24p playback)
Sound
: Sony STR-DA5400ES Receiver (7.1 configuration), Sony SSX70ED front speakers (x2), Sony SSCNX70ED center speaker, Sony SSFCR7000 surround speakers (x4), Sony SAW3800 Subwoofer (Front), Sony SAWM500 Subwoofer (Rear)