Sin City HD Movie Review
"Get me a hardtop with a decent engine and make sure it's got a big trunk!"

Published
5 minute read time
Based on the critically acclaimed graphic novel by Frank Miller and directed with immense style by Robert Rodriguez,
Sin City
signaled a new found maturity in comic book to film adaptations that continued with
Batman Begins
and paved the way for the even darker
The Dark Knight
and
Watchmen
.
Sin City
is essentially four short stories, presented as relatively coherent story. Whilst they are fairly separate, characters will often pop up in cameos between them. The first of the three main stories;
The Hard Goodbye
tells the story of Marv (Mickey Rourke), the grotesque felon whom is gifted a night of passion from a hooker, but wakes up next to her dead body. With nothing else to live for, Marv pursues her killers. The truce between the criminals and the corrupt law is shaken in
The Big Fat Kill
when Dwight (Clive Owen) murders a corrupt cop and in my favourite segment;
The Yellow Bastard
Sin City's only good cop Hartigan (Bruce Willis) plays protector to Nancy Callahan (Jessica Alba), even if it means the sacrifice of his own life.
Sin City
worked as a graphic novel and it works just as well, if not better, as a film. This could have been a disaster that forever sullied the name of comic book adaptations, but that mantel is still retained by
Batman and Robin
.
VideoSin City
is presented in the widescreen aspect ratio of 1.78:1, encoded with AVC MPEG-4 compression.
I can't begin to tell you how awesome the transfer is. The very specific nature of the photography is presented perfectly; blacks are inky black and whites burn the screen with their intensity. The splashes of colour are bold and brilliant. Detail is razor, and I mean
razor
sharp. Other than some intentional grain, there are no video nasties introduced. Shot digitally, this hasn't even touched film.
The intent with the film was to make the first true comic book movie and this Blu-ray transfer is really the first time it's shined through. Disney has gone above and beyond with this presentation. Top marks!
Audio
The main audio track is encoded in DTS HD Master Audio, at 24 bits.
Just as fantastic as the video transfer, the audio transfer delivers in spades. There is so much going on in the mix, but at no time does it become too much. Almost relentlessly, all eight channels are used to the maximum - talk about immersive. There were some really fantastic examples of surround panning, taking full advantage of the additional audio channels.
Bass was ever present, but never threatened to overwhelm the mix.
Whilst the score by Robert Rodriguez is sleazily appropriate, I can't say I actually enjoyed it. I was a little disappointed that the fantastic song from the theatrical trailer - Cells by the Servant was missing from the film proper.
Overall, a great, nay perfect audio mix.
Extras
Announced for release long before it actually made it to stores, we now know why; the immense and at times technically impressive extra features. Let's jump in:
First up we have the new
Cinexplore
feature. Now this is awesome stuff; accessible only by profile 2.0 Blu-ray players. For the entire duration of the film, overlaid on the film during playback, are green screen snippets of behind the scenes footage and frames from the graphic novel, comparing with what is happening during the film. These segments move across the screen and jump from corner to corner. Played in conjunction with the audio commentary, it creates an enveloping behind the scenes experience. This is the next evolution of picture in picture video tracks and Disney should be applauded for pushing the Blu-ray envelope. Bravo.
Kill 'Em Good: Interactive Comic Book
is a brief translation of the graphic novel frames of 'The Big Fat Kill', with very slight animation and voiceover. Cool, but brief and it's hard to not wonder why only one was done?
Next up we have two
Audio Commentaries
, the first provided by Director Robert Rodriguez and graphic novelist Frank Miller and the second by Director Robert Rodriguez and co-director Quentin Tarantino. These tracks coupled with the aforementioned
Cinexplore
feature are going to reveal pretty much everything you wanted to know about the film and probably a little more. Rodriguez has always struck me as a down to earth, 'aww shucks' kinda guy and this does little to dispel the notion. There's also a bonus
Audience Reaction Track
(nicely presented in 5.1) which was presumably recorded at the premiere of the film in Rodriguez's home town of Austin, Texas. Whilst this is cool and a nice way of emulating the theatre experience, I couldn't imagine watching the entire film this way.
Recut stories
, on disc two presents the four stories which make up
Sin City
as separate entities, extended by around 23 minutes in total. I've only read a few of the graphic novels, but I'm told that these presentations are even slavishly closer to the graphic novel. Importantly, they are presented in the same quality as the film - that is full 1080p and DTS HD 7.1 audio. Classy.
A large collection of
Featurettes
are next;
How It All Went Down: Convincing Frank Miller to Make the Film
a brief discussion on the work Rodriguez had to do to woo over the hesitant artist,
Special Guest Director Quentin Tarantino
looks at the two directors friendship and Tarantino's seeming interest in shooting digitally for the first time (he hasn't shot digital since, so I would have liked to have heard more on that side of things),
Hard Top with a Decent Engine: The Cars of Sin City
looks at the classic cars in the film, but where did they all come from?
Booze, Broads and Guns: The Props of Sin City
takes a look at the real world manufacturing of every prop, keeping in mind that it has to look exactly the same as it does on paper,
Making the Monsters: Special Effects Make-Up
is one of the more interesting featurettes and discusses the challenge of the flourishes of colour with the films particular cinematography,
Trench Coats and Fish Nets: The Costumes of Sin City
tells of not only creating the intricate, and at times alluring costumes, but emulating what's on paper, all the while making it work with the particular style of the film,
15 Minute Film School
shows some of the Frank Miller test footage, which was discussed in an earlier featurette,
Sin City: The All Green Screen Version
is a really sped up version of the film, as the name suggests, purely in green screen form. This would have worked much better as a picture in picture track, and at any rate the
Cinexplore
feature kinda makes this redundant.
The Long Take With Quentin Tarantino
presents a 17 minute long, uninterrupted take of a scene featuring Benecio Del Toro which is basically impossible to do with the limitations of film, a limitation that digital filming does not have. Finally, we have the most indulgent piece
Sin City: Live in Concert
, which features Rodriguez and Bruce Willis playing music. Stick to your day jobs, guys.
Wrapping up the collection are two
Theatrical Trailers
, which features the awesome song 'Cells' by The Servant. Disappointingly, these are only presented in standard definition, the only real complaint I have about the entire disc.
Overall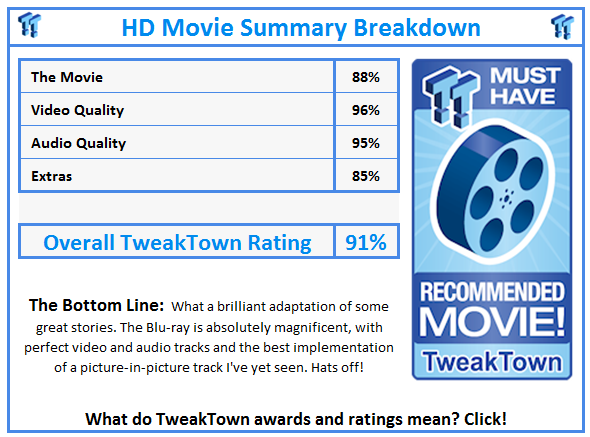 Review Equipment Used:
Display
: Sony KDL52X3100 LCD (1080p resolution/ 24p playback)
Player
: Sony BDP-S550 Blu-ray, PlayStation 3 (24p playback)
Sound
: Sony STR-DA5400ES Receiver (7.1 configuration), Sony SSX70ED front speakers (x2), Sony SSCNX70ED center speaker, Sony SSFCR7000 surround speakers (x4), Sony SAW3800 Subwoofer (Front), Sony SAWM500 Subwoofer (Rear)
PRICING: You can find products similar to this one for sale below.

United States: Find other tech and computer products like this over at Amazon.com

United Kingdom: Find other tech and computer products like this over at Amazon.co.uk

Australia: Find other tech and computer products like this over at Amazon.com.au

Canada: Find other tech and computer products like this over at Amazon.ca

Deutschland: Finde andere Technik- und Computerprodukte wie dieses auf Amazon.de
We openly invite the companies who provide us with review samples / who are mentioned or discussed to express their opinion. If any company representative wishes to respond, we will publish the response here. Please contact us if you wish to respond.