Intel X25-M 80GB 2.5-inch Solid State Disk
Intel certainly know how to make awesome CPUs and now they prove to carry their expertise across to the SSD market, too.
Published Sat, Nov 22 2008 11:00 PM CST
|
Updated Fri, Sep 18 2020 10:50 PM CDT
Rating:

91%
Manufacturer: Intel
Introduction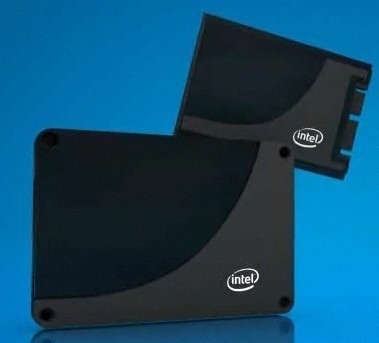 The testing for the new Intel X25-M has been completed for a couple of weeks now, but I have been putting off writing the article. Reviewers are faced with tough decisions from time to time; generally it is because we had found a fatal flaw and try to work with a company to correct the issue. This time the flaw is simply that the drive is
too
good. Intel is saying that their first entry into the consumer SSD market is able to read up to 250 MB/s, while other products are claiming a maximum of 175 MB/s. Honestly, who in their right mind would want to send over a consumer SSD for us to review knowing that it would be compared to the Intel X25-M? - Where do I sign up for unemployment because my job is gone?
The good thing is that Intel has left us a couple of back doors and has not totally disrupted the market. The first and foremost is price. We are starting to see 128GB MLC based drives with decent performance break the 300 Dollar barrier. The new Intel X25-M just showed up at Newegg for a little over twice that amount for the 80GB version we are looking at today. I may be saved after all, but information about rapid price drops are starting to leak out. The last I heard from the rumor mill is that the X25-M will get a new price of 530 USD before the year is out; still a lot more than some of the others, but clearly not out of range for enthusiasts.
Intel strategically let slip their intention to enter the SSD market last year and the world has patiently waited for the 500 pound chipzilla to enter the fray. Intel brings with them the resources to not only make exceptional products but also the ability to do it quickly, drawing on their decade's worth of experience with memory products. For most users Intel is a processor company, but the truth is Intel has branched out into many semiconductor fields, NAND Flash being one of them. It was only a matter of time before Intel entered the SSD market, so let's take a look and see just how good the new Intel X25-M really is.
Specifications, Availability and Pricing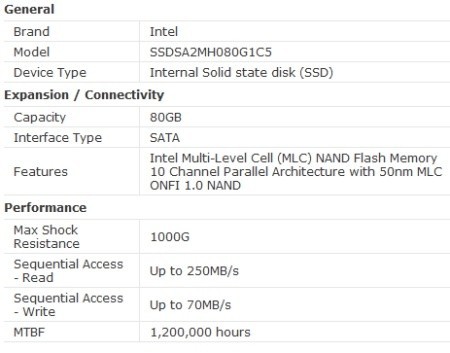 On paper there really isn't that much that tells us the drive is outstanding other than the Sequential Read Transfer Rate of 250 MB/s. Write speed on the Intel X25-M is stated to be around 70 MB/s which is decent, but some of the other drives we have tested make the same claim. It will be interesting to see what the benchmarks tell us.
The 1000g shock rating is much better than platter based drives, but I have reviewed a large number of SSDs that claim 1500g. Testing this claim is another matter since I have yet to find a baseball bat that tells how much force was applied. 1000 or 1500g, both are pretty large numbers and as stated previously are much better than platter drives. Last year alone I put to rest four standard hard drives due to dropping them from around 3 feet in the air on accident. I managed to drop an SSD a few weeks ago from 5 feet and it did not have a problem.
Features worthy of mention that are not located on the specifications sheet include true SATA connectivity. Many of the lower cost SSDs on the market use a SATA-to-PATA bridge chip that slows performance, but the X25-M uses SATA 2.6 technology that allows data to be read and written much faster. Intel's controller uses 10 channels from the controller to the memory and this accounts for the drives class leading speed. Intel has also designed advanced wear leveling techniques as well as a lower transaction amplification. When data is written to the drive, say 1GB, more than 1GB is written to the drive. That amount over 1GB is critical; less extra data will lead to a faster drive and less wear.
Moving on, we see that the X25-M has 80GB of capacity. A larger version is in the works and should be released in the coming months. Newegg, at the time of writing shows the drive in stock and for sale at 621 USD, a far cry from the Patriot Warp V2 and G.Skill MLC drive. Let's move on and get to the benchmarks.
The Packaging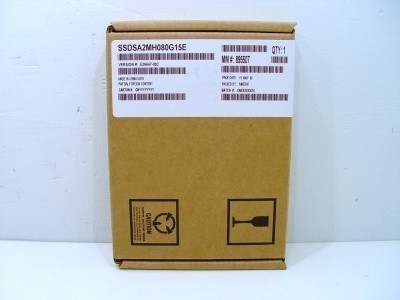 Our Intel X25-M sample came in OEM packaging from Intel Australia. The packaging is sufficient to keep it from being damaged in shipping, but it lacks retail "on the shelf" appeal.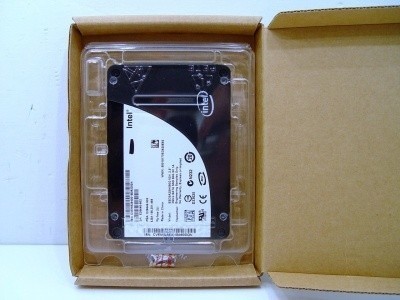 Inside the box we see the protective molded plastic that keeps the drive safe. Many SSDs have come to our office in similar packaging; none have been damaged thus far.
The Intel X25-M 80GB SSD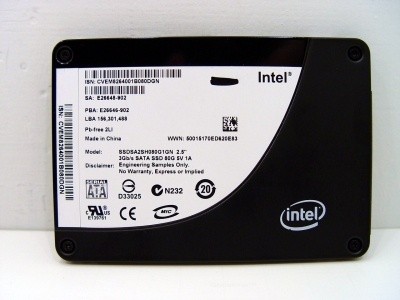 The front cover holds the warranty information as well as the model number, capacity and serial information.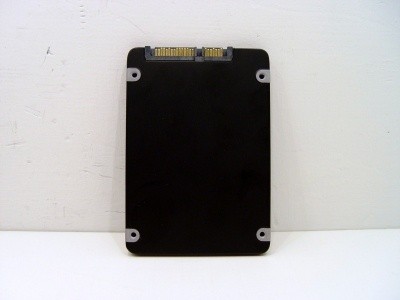 The back of the drive has the standard bottom screw mounts that are often found on notebooks.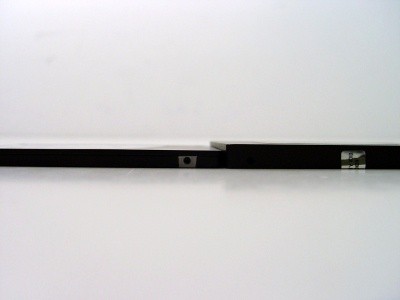 The first thing I noticed when removing the drive from the package is how thin it is. Here we see the drive compared to a standard 9.5mm 2.5" notebook drive.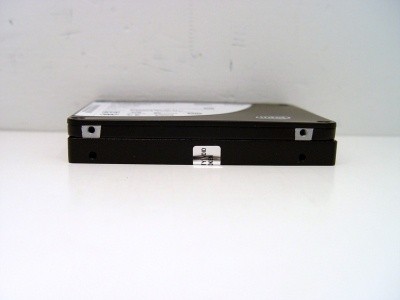 The side screw holes still mount up, so even though the Intel SSD is thinner you should not have a problem installing the drive in your notebook or desktop with the appropriate 2.5" to 3.5" adapter.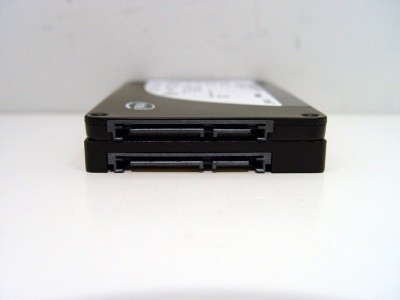 Moving to the back, we see that the SATA Data and Power Plugs are where they are supposed to be.
Test System Setup
Test System
Processors
: AMD Opteron 2356 (2.3GHz Quad-Core) x2
Motherboard
: Tyan S2915-E (Supplied by
Tyan
)
Memory
: Kingston KVR667D2S4P5/2G x4 (Supplied by
Kingston
)
Graphics Card
: XFX 8800 GTX (Supplied by
XFX USA
)
Enclosure
: Lian Li V2000
Cooling
: Noctua NH-U12DO (Supplied by
Noctua
)
SATA Controller
: Areca ARC-1231ML (Supplied by
Areca
)
SAS Controller
: Areca ARC-1680i (Supplied by
Areca
)
Operating System
: Microsoft Windows Vista Ultimate X64
Today we are comparing the Intel X25-M MCL SSD to several other 2.5-inch drives that are either widely used in the industry or previously reviewed here at TweakTown.
Patriot Warp V2
: The
second revision
of the Warp Series was a speed demon and set a new price point for 128GB SSD's to aim for.
Crucial CT32GBFAB0
:
The Crucial SLC SSD
is one of the early technology solid state drives and will provide a great example of just how far solid state has progressed.
G.Skill FS-25S2-64GB
:
This SLC drive
from G.Skill is a rebadged Samsung drive that G.Skill was able to price much lower than Samsung's drive. The FS-25S2-64GB is the SLC drive others aspire to be.
Hitachi 7K100
: The 7K100 is a 100GB notebook hard drive that was used by several notebook manufacturers. This is the drive that came with my Lenovo T60.
Hitachi 7K500
: The 7K500 is the first 500GB notebook drive to hit the market. Unfortunately the drive is 12 millimeters tall and can only be used in a small number of notebooks. A standard notebook drive is only 9.5mm tall.
Western Digital Scorpio Black
: The
WD Scorpio Black
is a past award winner here at TweakTown and we found it to be one of the best platter based notebook drives available. At the time of review the 320GB version was the fastest platter based 2.5 inch notebook drive on the market.
Benchmarks - HD Tune Pro
HD Tune ProVersion and / or Patch Used:
3.00
Developer Homepage:
http://www.efdsoftware.com/
Product Homepage:
http://www.hdtune.com/>
HD Tune is a Hard Disk utility which has the following functions:
- Benchmark: measures the performance
- Info: shows detailed information
- Health: checks the health status by using SMART
- Error Scan: scans the surface for errors
- Temperature display
HD Tune Pro gives us accurate read, write and access time results and for the last couple of years has been gaining popularity amongst reviewers. It is now considered a must have application for storage device testing.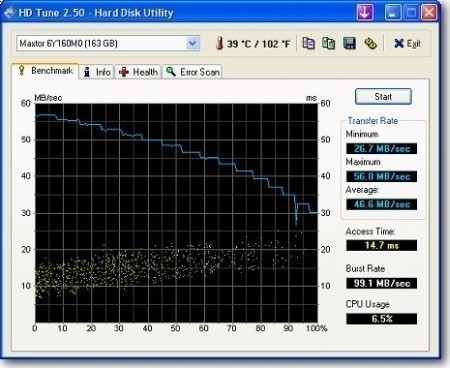 Read Tests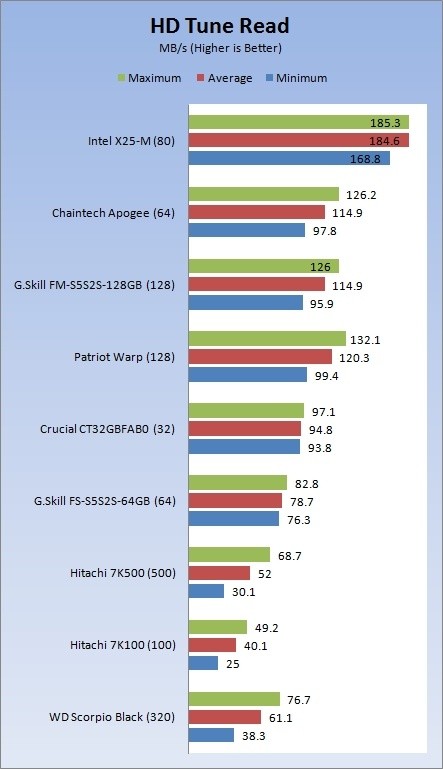 We expected the Intel X25-M to read quite a bit faster than the other MLC drives, but I must admit that doubling the speed of Samsungs/G.Skill SLC drive caught me off guard. The Intel MLC actually reads faster than the new Seagate 15K.6 SAS drive.
Write Tests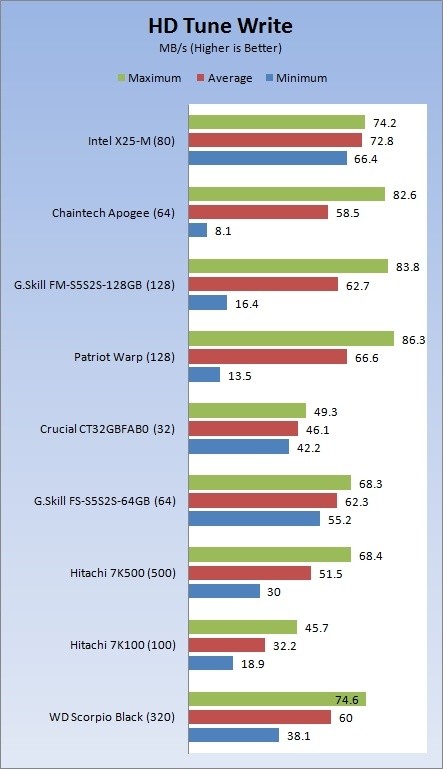 Write speed is where we see the Intel drive take a back seat to some of the other MLC drives, but only in maximum speed. Minimum write speed is where we see the biggest difference between the MLC drives; the Intel MLC drive does not take a nose dive at any point in the test.
Benchmarks - Everest Random Access Time
Everest Random Access TimeVersion and / or Patch Used:
4.60
Developer Homepage:
http://www.lavalys.com/
Product Homepage:
http://www.lavalys.com/ >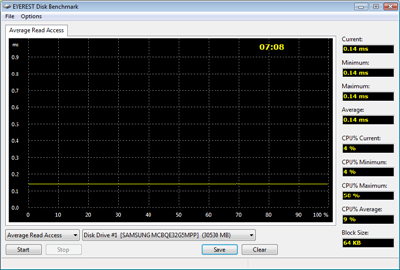 Everest Ultimate and Corporate Edition offer several different benchmarks for testing and optimizing your system or network. The Random Access test is one of very few if not only that will measure hard drives random access times in hundredths of milliseconds as oppose to tens of milliseconds.
Read Tests
Access time is a where solid state drives excel and here Intel's X25-M drive was able to outperform every other drive in our test.
Write Tests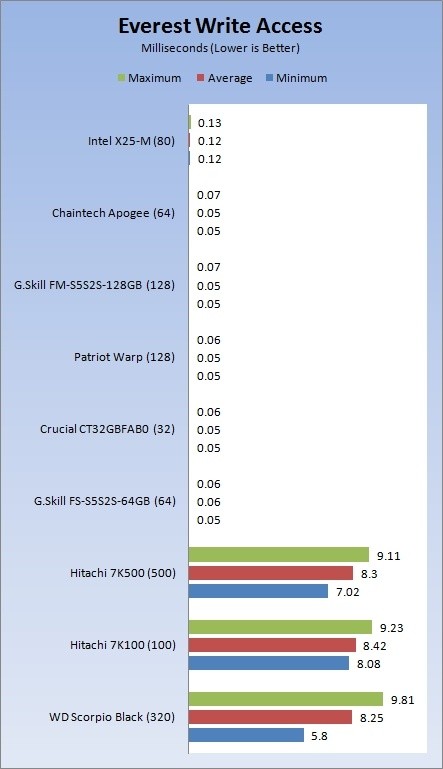 Write Access Latency was a little different; the Intel MLC drive was a little slower than the other MLC drives, but is still much faster than the platter based drives.
Let's see how all of these synthetic benchmarks relate to real world applications.
Benchmarks - PCMark Vantage Hard Disk Tests
PCMark Vantage - Hard Disk TestsVersion and / or Patch Used:
1.0.0
Developer Homepage:
http://www.futuremark.com
Product Homepage:
http://www.futuremark.com/benchmarks/pcmark-vantage//
Buy It Here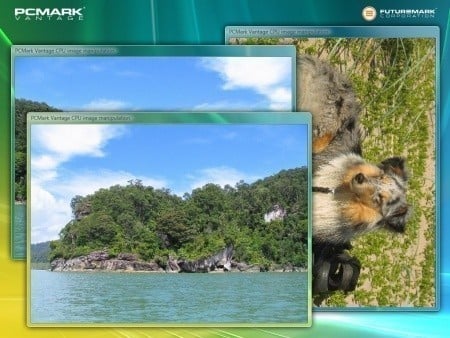 PCMark Vantage is the first objective hardware performance benchmark for PCs running 32 and 64 bit versions of Microsoft Windows Vista. PCMark Vantage is perfectly suited for benchmarking any type of Microsoft Windows Vista PC from multimedia home entertainment systems and laptops to dedicated workstations and high-end gaming rigs. Regardless of whether the benchmarker is an artist or an IT Professional, PCMark Vantage shows the user where their system soars or falls flat, and how to get the most performance possible out of their hardware. PCMark Vantage is easy enough for even the most casual enthusiast to use yet supports in-depth, professional industry grade testing.
FutureMark has developed a good set of hard disk tests for their PCMark Vantage Suite. These tests are based on real world applications that many of us use daily.

HDD1 - Windows Defender
HDD2 - Gaming
HDD3 - Windows Photo Gallery
HDD4 - Vista Startup
HDD5 - Windows Movie Maker
HDD6 - Windows Media Center
HDD7 - Windows Media Player
HDD8 - Application Loading
In our first real world set of tests the Intel X25-M destroyed the benchmark numbers set by all of our previous drives. It really wasn't even a competition, more like a promotional round of golf where a celebrity takes on a pro, but this time the pro didn't hold anything back.
Benchmarks - Passmark
Passmark Advanced Multi-User TestsVersion and / or Patch Used:
6.1
Developer Homepage:
http://www.passmark.com/
Test Homepage:
http://www.passmark.com/ >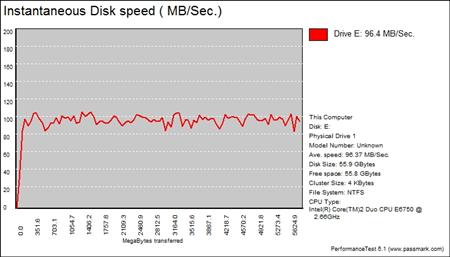 Many users complain that I/O Meter is too complicated of a benchmark to replicate results so my quest to find an alternative was started. Passmark has added several multi-user tests that measure a hard drives ability to operate in a multi-user environment.

The tests use different settings to mimic basic multi-user operations as they would play out on your server. Variances is read / write percentage as well as random / sequential reads are common in certain applications, Web Servers read nearly 100% of the time while Database Servers write a small amount of data.
The Workstation test is the only single user environment and will be similar to how you use your system at home.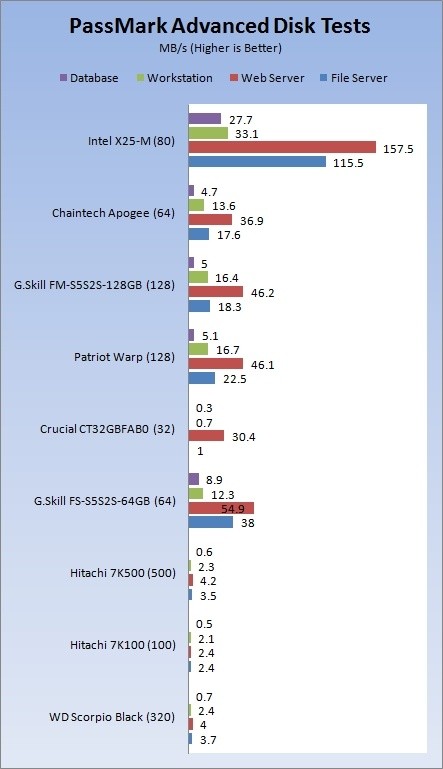 In the advanced disk tests we see that the Intel X25-M would make an excellent drive for server tasks. Given the drives high cost I am glad to see that it has the performance to back it up.
Final Thoughts
Over the last few months we have seen a pretty broad range of solid state drives from many manufacturers. The truth is that many of those drives have come from only two sources, Samsung being the largest. SSD's are made up of two primary parts, the NAND flash memory and the controller which handles everything from I/O requests to managing the wear leveling algorithm. In typical Intel fashion everything for the X25-M was designed in house, sort of like the way Core i7 was designed to work with the X58 chipset. Intel was able to use their manufacturing and design strengths to make a product that gels seamlessly.
Up until now most multi-level cell SSDs came with a bit of baggage. There are reports all over the internet claiming poor real world performance and we are able to see the instances where write speeds drop off, even if for a millisecond or two. When working with applications, a couple of milliseconds is enough to cause the system to pause for a couple of seconds. Some users have reported crash-like symptoms with most other MLC SSDs, but the Intel X25-M has far fewer than the other drives we have seen. To just come right out with it, Intel has perfected the MLC SSD and all of the others have been left behind.
Still, no matter how good Intel's new X25-M is, there is the nagging price issue at hand. Many users may prefer to take the bad with the good with the low cost SSDs on the market and just live with a moment or two a day of poor performance. Those that are looking for a no compromise solution and have the wallet to back it up should get in line for the X25-M, because you will not find anything better at its price; MLC or SLC.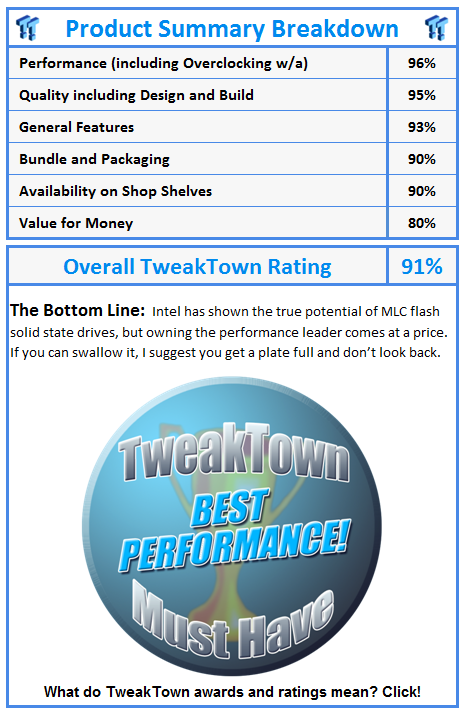 PRICING: You can find products similar to this one for sale below.
United States: Find other tech and computer products like this over at Amazon.com
United Kingdom: Find other tech and computer products like this over at Amazon.co.uk
Australia: Find other tech and computer products like this over at Amazon.com.au
Canada: Find other tech and computer products like this over at Amazon.ca
Deutschland: Finde andere Technik- und Computerprodukte wie dieses auf Amazon.de
We openly invite the companies who provide us with review samples / who are mentioned or discussed to express their opinion. If any company representative wishes to respond, we will publish the response here. Please contact us if you wish to respond.
Related Tags