TweakTown's Rating: 84%
The Bottom Line
Even with a decent score, the KLEVV CRAS V RGB do not live up to expectations. While fast, that is all this kit of DDR5 has on offer. Performance is bested by other competitors, and the RGB lighting sync issue is also a major concern.
Pros
+

Heavy heat spreaders

+

RGB

+

XMP and EXPO support

+

New styling
Cons
-

Flexibility

-

RGB loses phase quickly

-

Need for secondary software for RGB control
Should you buy it?
Avoid
Consider
Shortlist
Buy
Introduction, Specifications, and Pricing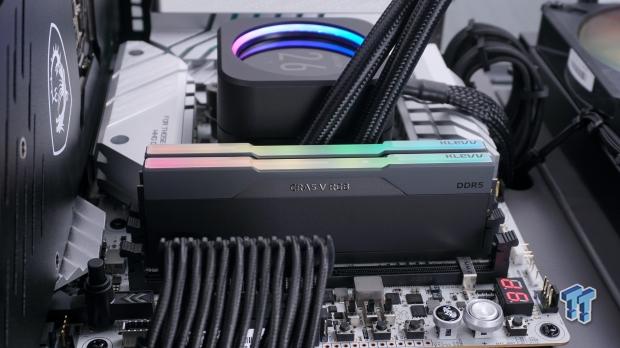 In the past, every kit of KLEVV memory has been a pleasure to use. KLEVV, a subsidiary of SK Hynix and Essencore, tended to use some of the best ICs in the game, delivering a product that many would say is second to none. Every time we review a kit from them, we harken back to the DDR3 and DDR4 we had in hand and were always pleased with what we got. Even in the early releases of their DDR5 sets, we still found that not only did we get what was on the box for speed and performance, but there was always some form of flexibility within those kits.
Lines like "overclocking is not a guarantee, and your results may vary", are thrown around in this industry quite a bit, but in our experience with many manufacturers not using revisions, what you see in reviews is what you tend to find with retail examples. With every previously tested DDR5 set we have used, there is always some movement in the timing set, and even if somewhat limited, we cannot recall a set of RAM that would not push the speed. However, you are about to see a set of DDR5 that only runs at spec, although that spec is pretty darn good out of the box.
Even though KLEVV memory has a special place in our hearts, this is an instance where, even though it may not be expected from the manufacturer to deliver anything past what the box states, we wish it would have. The new KLEVV CRAS V RGB is a stylishly enticing lineup with everything you would want in a set of DDR5, density, speed, and decent timings, but in this market, is that enough to fulfill the wants and desires of those looking at memory of this caliber? Hopefully, we will answer that by the time we are done looking over what they have sent us, and for their sake, we hope that some of you like what you see. Otherwise, KLEVV may have a lineup that has missed the mark.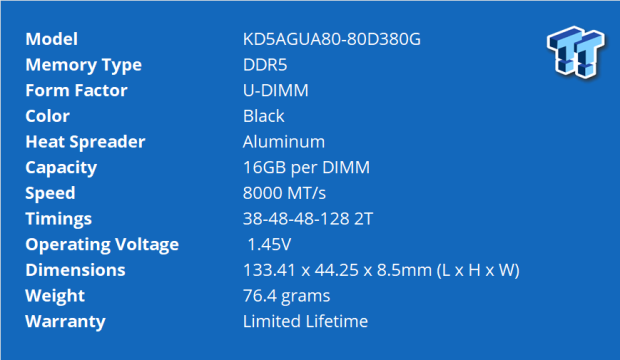 We can only pull three things from the KD5AGUA80-80D380G part number of this KLEVV CRAS V RGB. First is that the KD5 stands for KLEVV DDR5, and one of the many 80s refers to the 8000MHz speed, while the 38 near the end relates to the CAS timing, but the rest makes little sense to us. As you follow what else is in the chart, you will see that this KLEVV CRAS V RGB is mostly black, with a bit of trim near the top presented in a dark gray. We also see that this is a 32GB kit, but with the 8000 MHz speed, it leaves many happy with that bit. Timings are 38-48-48-128 2T, which is a tad loose for the speed, but we will hold judgment until we have seen the charts.
Beyond the basics, there are other points to discuss. With thick aluminum heat spreaders, these KLEVV CRAS V RGB weigh in at 76.4 grams per stick, nearly thirty percent more aluminum than many on the market. To attain the speed and timings of the XMP and EXPO profiles, you must use 1.45 VDIMM, which is expected with these high-speed-rated kits. Dimensionally, they are somewhat compact, at 133.41mm long, 44.25mm tall, and 8.5mm thick, and of course, this 32GB kit of KLEVV DDR5 comes with a limited lifetime warranty.
Lastly, you will want to know about pricing and availability. We were told that the MSRP for this KLEVV CRAS RGB kit is $229.99, which does not seem horrible at first glance. However, you can now get kits that can attain this speed and timing set with 48GB for a similar price. We are told that these are not in the wild when writing this review and are not expected to hit the stores until December. We do not know when in December, as we were not given a specific release date as we would normally receive. Also, while we do not currently use an AMD-based system for testing, we feel that an EXPO profile at this speed is silly. We cannot comprehend the support KLEVV will have to provide, as only the latest AMD systems can hit these numbers, where everyone else will flounder in attempts to run said profile. However, we digress and will see what KLEVV has in store for us with their new CRAS V RGB 8000 MHz 32GB kit of DDR5.
Packaging and KLEVV CRAS V RGB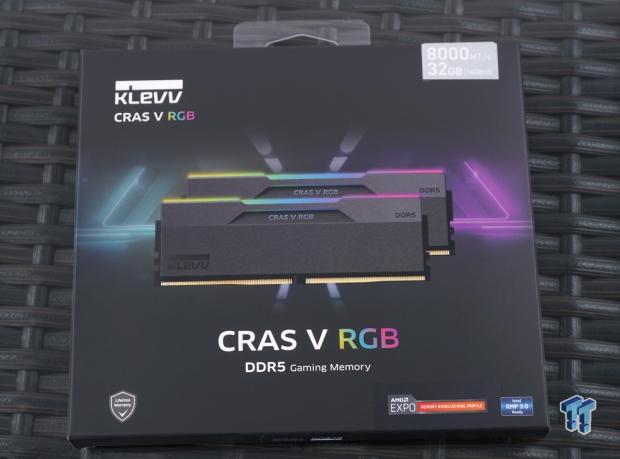 The KLEVV name, logo, and CRAS V RGB are in the top-left corner of this artsy-looking packaging, while the speed and density are shown in the top-right corner. The center offers an image of the kit with the diffuser illuminated, surrounded by what appears to be an RGB-illuminated hallway. Across the bottom, we find the notations of the limited lifetime warranty, EXPO support, and XMP 3.0 support.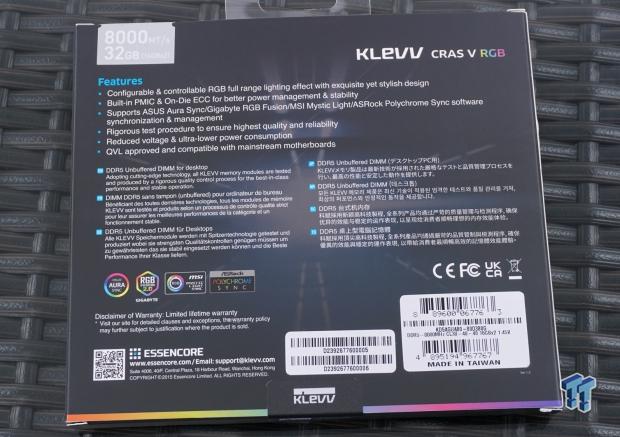 The reverse shows features like controllable RGB, built-in PMIC and ECC, sync support, testing, voltage, and QVL approval. The middle covers what it is before we see the sync icons separating the company information below. To the right are a serial number sticker and the product sticker.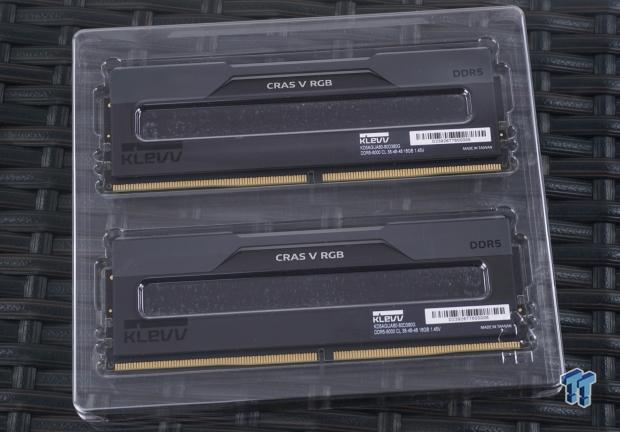 We find the plastic component inside the packaging, an anti-static measure that also ensures damages are mitigated from shipping. Unlike many other manufacturers, we see the inner packaging overly dusty, but that does stick to the plastic and does not transfer to the sticks inside it once removed.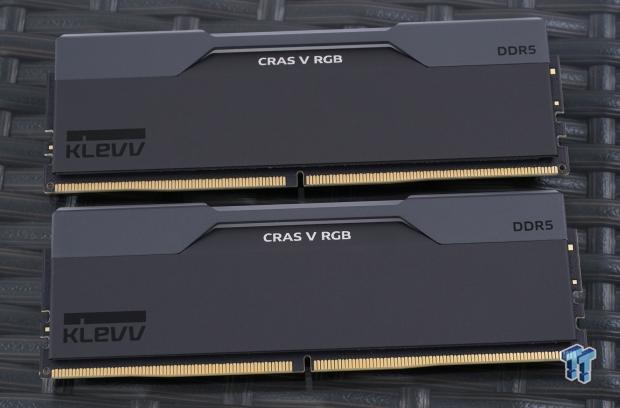 The KLEVV CRAS V RGB modules we have been sent for review are in full view. The bulk of the heat spreaders covering the black PCBs are also black, with the KLEVV name and logo near the bottom and the CRAS V RGB name near the top. On the gray portion, they printed that these are DDR5 sticks. With only a slight view of the diffusers at the top, we also noticed the indented area on the sides, allowing light to point downwards, helping flood the system with more illumination.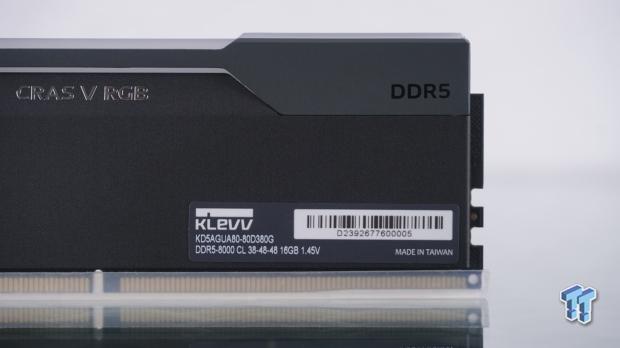 On the back of each module, you will find a product sticker delivering the part number, type, speed, timings, and voltage, along with the fact that they are made in Taiwan. Outside of that, where you may have assumed the CRAS V RGB was painted white in the previous image, both sides have chromed letters that deliver the name.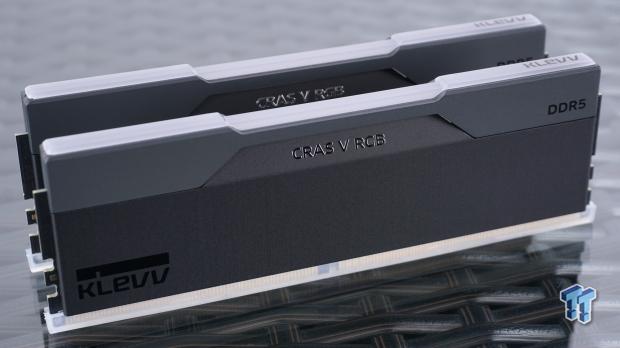 From a different angle, not unlike how many will see this kit once installed, we have to say that the visual appeal of this kit is on point. We like what we see with the textured black spreaders topped with a dark gray section, the chromed lettering, and the wide diffusers.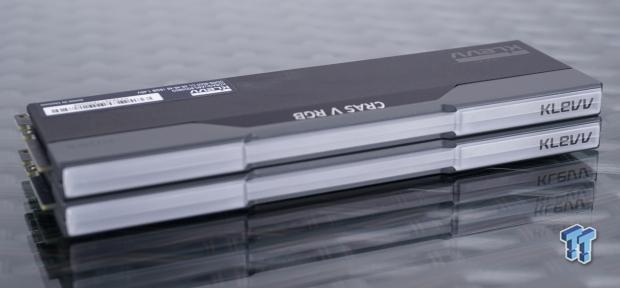 Speaking of the diffusers, while they are shaped to go along with the spreaders, they are also stepped at the ends for added height, and the portion on the right sports the KLEVV name. However, these appear to be two-piece diffusers, and we would much rather that line not run down the center of them.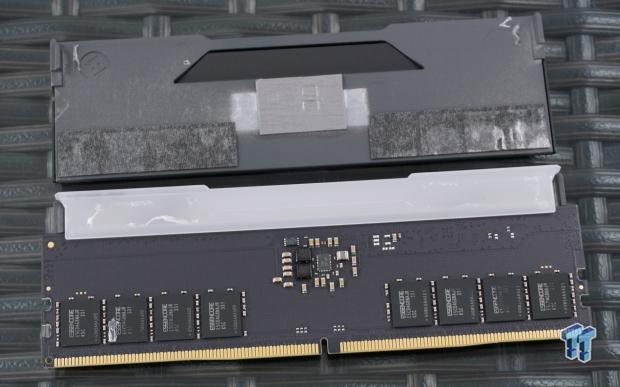 While having to use something to pry these spreaders apart, we can see what is under the hood. The PMCI is in the center as it should be, and we see eight chips labeled Essencore, which, from our last review of KLEVV RAM, we are told is done for binning purposes rather than leaving the SK Hynix labeling.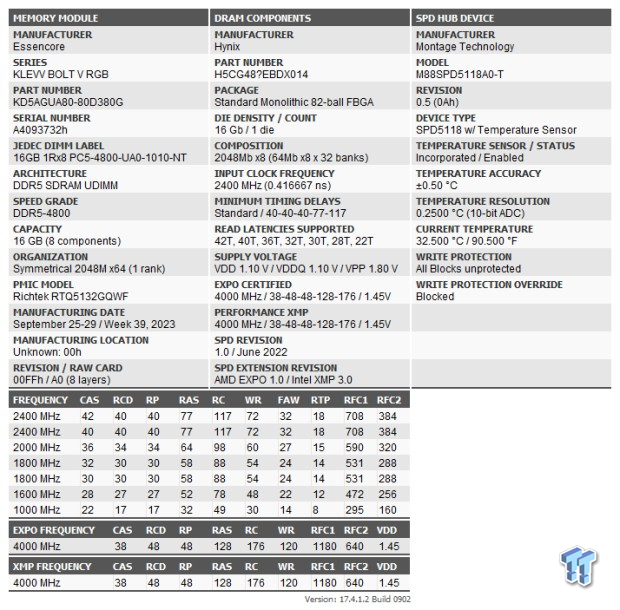 Opening up, Thaiphoon Burner raises a couple of questions. On the ICs, we see the part number E5CDAG8NAJRKSC. However, the part number programmed to them is H5CG48?EBDX014, made by SK Hynix. We believe these are early A-die chips based on what is on the IC. We also see no mention of the PMIC in this screenshot, where it is obviously a Richtek 0P=AC chip used in the previous image.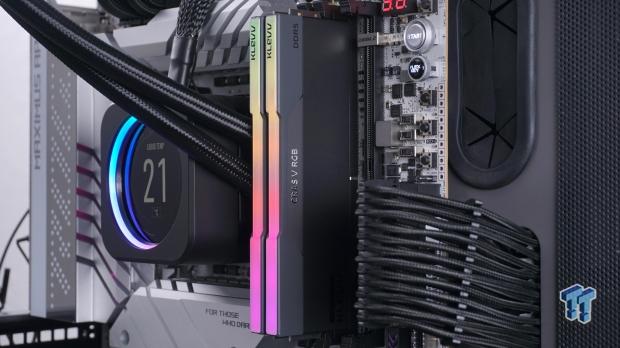 Once the needed steps are taken to boot a new set of DDR5, we see that the KLEVV CRAS V RGB does nothing but get better looking once powered and allowed to do its thing. From this angle, the RGB color blends are smooth and bright, but sadly, as bright as our booth lights are, it is tough to make out the glow from the sides of the sticks.
Test System Details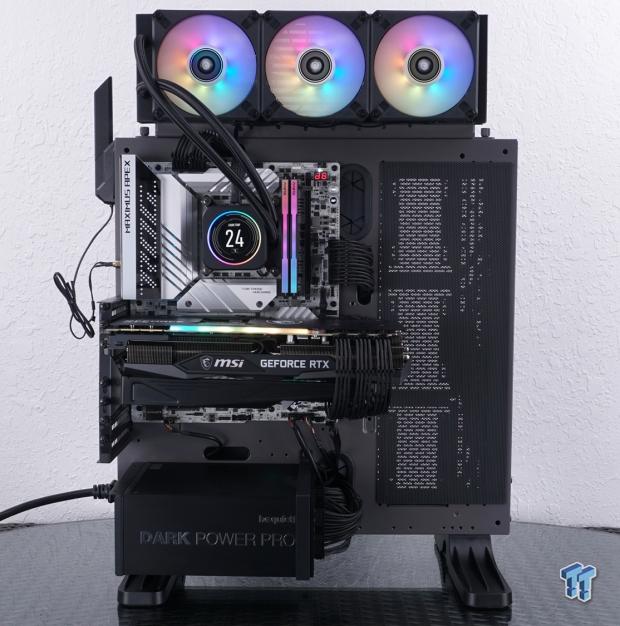 To obtain the Intel CPU-Z screenshots, you will see directly following this image; this is the system we used to do it, as well as in getting the results seen in the following pages. Thanks to Intel, be quiet!, ASUS, MSI, Corsair, and Sabrent for supporting us with this venture. Detailed specifications of the system can be found below.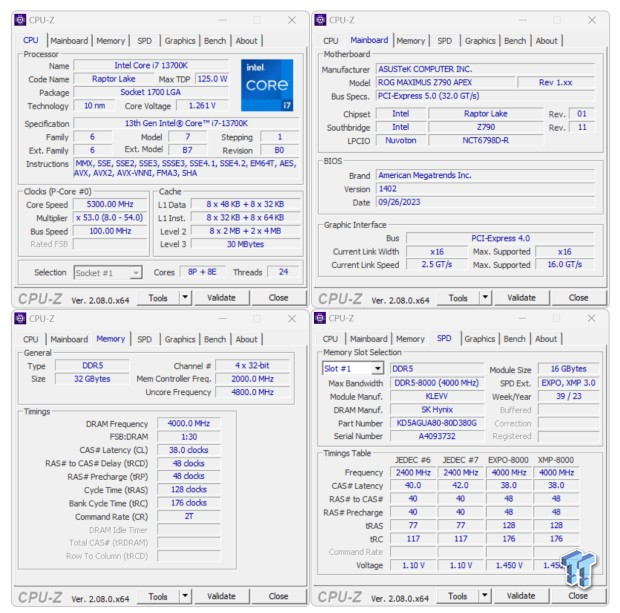 When we applied the XMP 3.0 profile, our kit responded in kind, delivering what we would expect to see from them. The CPU-Z screenshot shows we are at 8000 MHz with 38-48-48-128 2T timings. Also, looking to the right side, you will see an EXPO 8000 MHz profile in the SPD tab. Checki9ng the voltages after applying the XMP option, we noticed that the VDIMM was set to 1.45V, our SA was at 1.297V, and the MC increased to 1.403V.
As we do, we added voltage to see what was left in the tank, but the KLEVV CRAS RGB 8000 MHz kit is tuned to the edge. Whether we left the voltages as seen in the XMP run or with our standard bump of 0.10V across the board, we could not reduce the timings without testing issues, and attempting to raise the speed results in an immediate BSOD when trying to boot to Windows.
Chad's Intel DDR5 Dual-Channel Test System Specifications
Intel Performance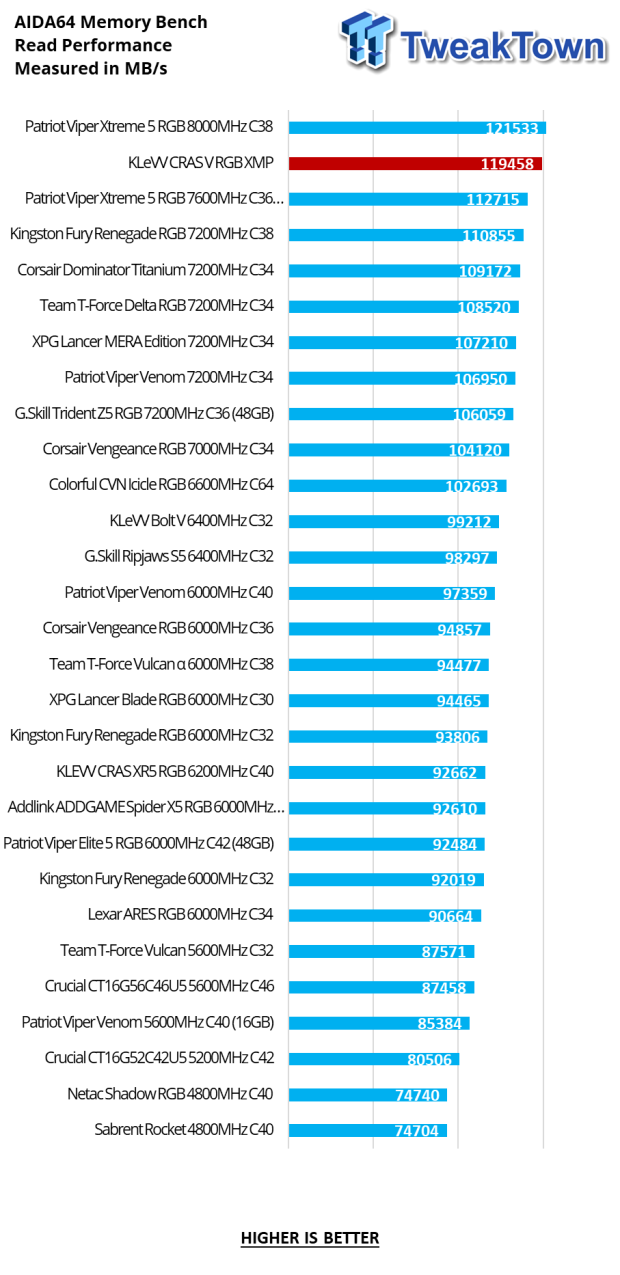 With a second-place finish in AIDA 64 read performance, KLEVV starts well, and the small performance gap compared to the Patriot Xtreme 5 is down to the tighter timings of the Patriot kit. Even so, at 119,458 MB/s, the KLEVV CRAS V RGB delivers performance on a level we would expect.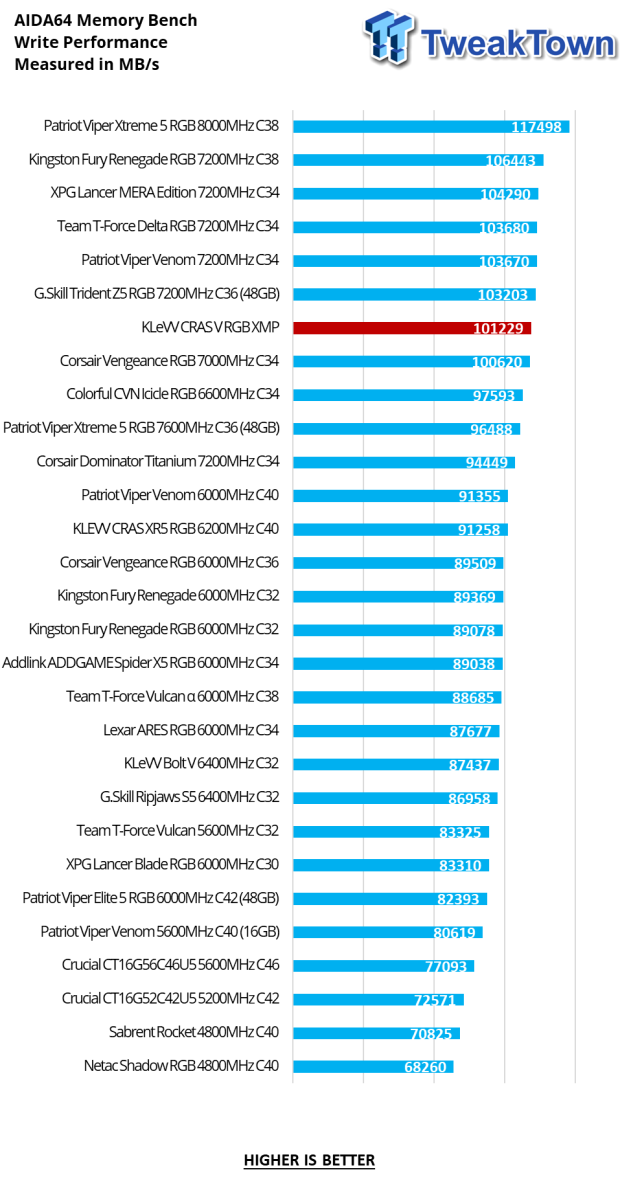 When we looked at the write performance of AIDA 64, we feel that KLEVV has a lot of room to improve. At 101,229 MB/s that these KLEVV deliver, they fall some 16,000 MB/s short of their direct competition.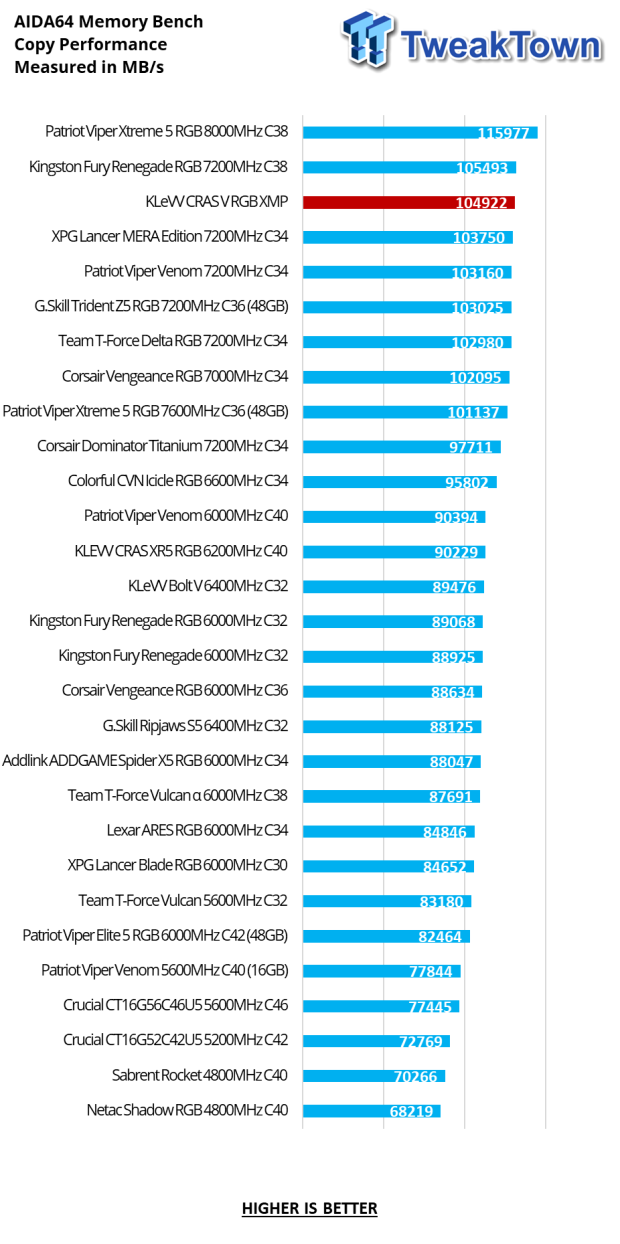 We have much less issue with the copy performance results, which leaves the KLEVV CRAS V RGB in third place. However, at 104,922, they still fall slightly more than 11,000 MB/s short of the Patriot Viper Xtreme 5.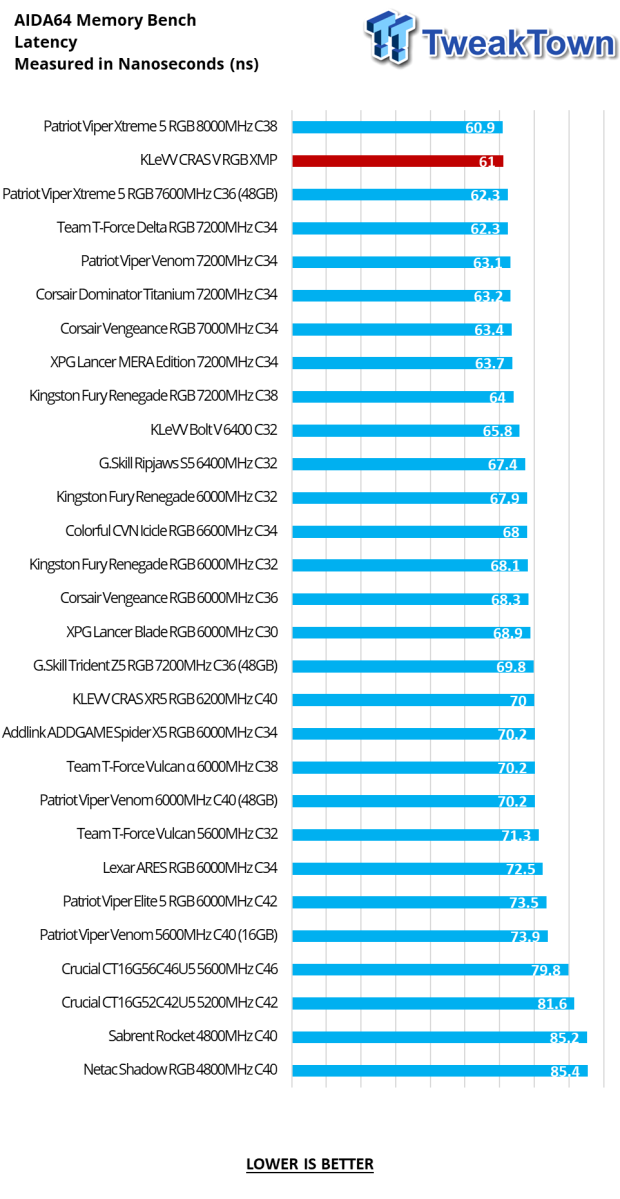 Going head to head with Patriot this time, when it comes to latency, we will not make a big deal over 0.1ns between the pair of 8000 MHz submissions in this chart. At 61ns for the CRAS V RGB, it is about as good as it gets out of the box.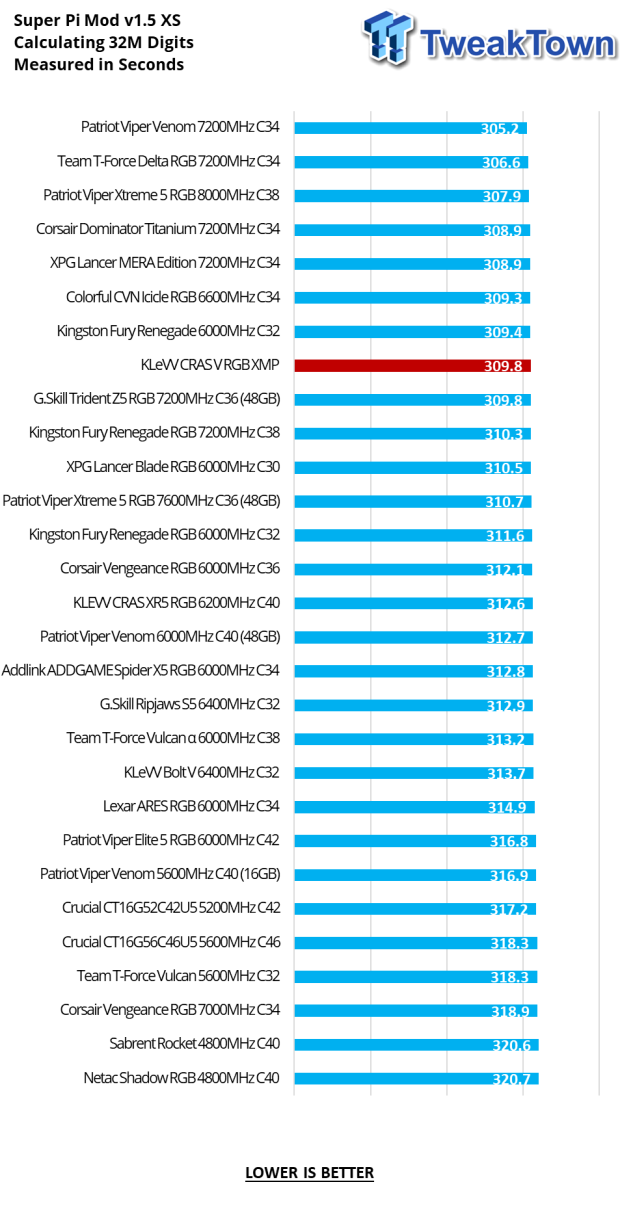 Taking five minutes and almost ten seconds to complete the 32M test of Super Pi, the CRAS V RGB comes in eighth overall. Compared to their direct competitor, they are roughly two seconds slower.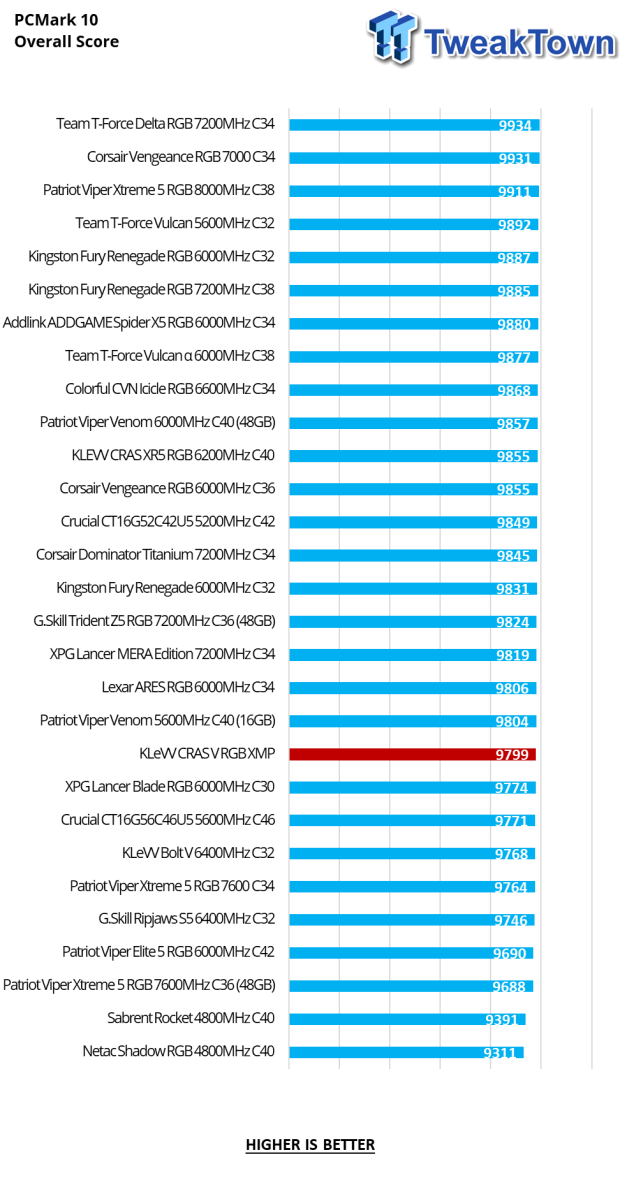 PCMark 10 does not like the KLEVV CRAS V RGB with the 9799 score they received. Again, compared to the Patriot Xtreme, which scored 9911, KLEVV seems to have some work to do in this sort of testing.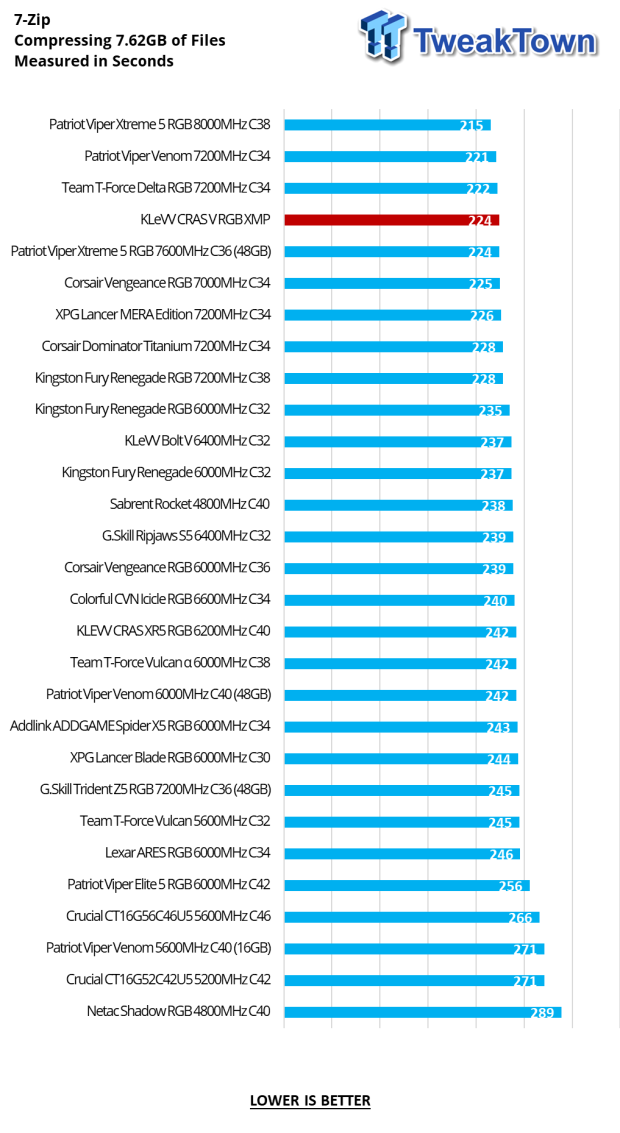 File compression is something that KLEVV and their CRAS V RGB seem pretty good at. With a 224-second run, we cannot complain as they land in fourth place. When we look at the Xtreme 5 from Patriot, though, we see what kits of this caliber should do with their nine-second advantage over the KLEVV DDR5.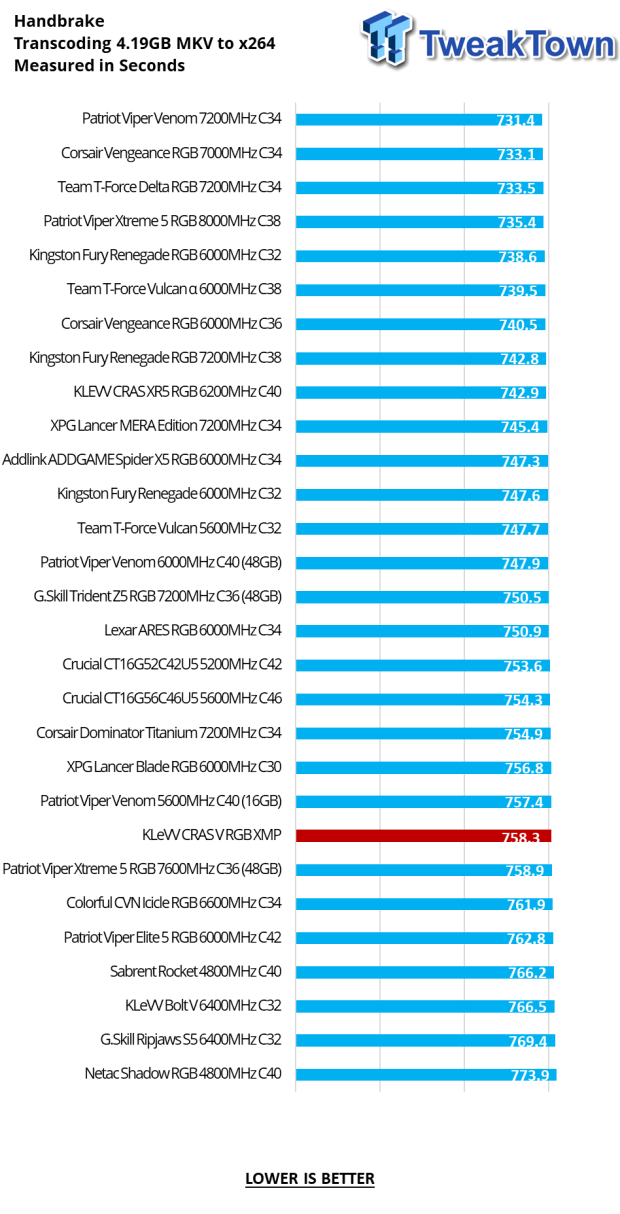 Regarding transcoding, the KLEVV CRAS V RGB flounder, compared to the bulk of the kits on our chart. Even though the Patriot 8000 MHz kit does not receive top honors either, they can eat through the 4.19GB file 22.8 seconds faster than these KLEVV can, which is a huge amount of time the end-user will have to deal with.
Final Thoughts
Starting with what will appeal to most users, we cover the aesthetics. We love the black and gray KLEVV uses with the CRAS V RGB and how the diffuser delivers illumination in two areas. However, even when it comes to aesthetics, we did run into an oddity. While most kits will eventually get out of phase with their RGB lighting, with the KLEVV, it takes seconds, not minutes. Even with a CMOS clear and a fresh boot to Windows, the KLEVV CRAS V RGB was five or six LEDs out of phase by the time we saw the desktop. To combat this anomaly, you must use some motherboard sync or third-party software to keep them looking proper, at least looking the way you would expect. Looking on-site, we see nothing available in support of the downloads section to mitigate this.
While the performance of this 8000 MHz kit is, on average, pretty decent, it is oddly strange that there is not a single drop of flexibility. Not all RAM will overclock, but this is SK Hynix/Essencore we are talking about here. They should have the best of the best for ICs, and we feel the lack of overclocking is an expectation of DDR5, as any other kit we have tested offers this. Why opt for the KLEVV CRAS V RGB when you get so much more from the Patriot Xtreme 5 RGB? At similar price points upon release, we find it a tough sell for KLEVV with what they have provided us in this set of CRAS V RGB. On the flip side, if you are looking for plug-and-play 8000 MHz DDR5, you will get that, but nothing more if or when the bug to overclock bites.
There is also the EXPO support, which for once did not seem to cripple the KLEVV RAM as we see in many other submissions with both EXPO and XMP support. However, many with a DDR5-supporting AMD system may try to run this kit, which will be bad in many instances. As we mentioned, only the latest from AMD with newer AGESA are hitting these levels, leaving many in the AMD camp SOL. We also think that saying they support EXPO will open them up to many issues from users, likely ending in many returns.
Even though they are not in the wild yet, we implore KLEVV to think about what they offer, especially compared to similar kits. Not only does it seem that they are using much older ICs, and the SPD profile differs from what we can see on the chips, but many things do not add up in the end. While you will need to wait a bit to try your luck with a set of CRAS V RGB at $229.99, we feel your money can be more wisely spent. The fact that you can get 6000 MHz kits that can push to this level kicks this idea right in the grapes, and for us, we are disappointed, knowing what KLEVV was capable of in the past, yet delivered a kit today that falls flat in many aspects.