TweakTown's Rating: 96%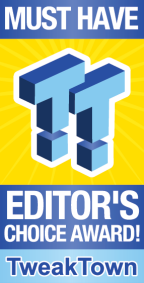 The Bottom Line
Performance suffered slightly due to our mistakes with Windows updates, but that should not deter you from grabbing this amazing set of Viper Xtreme 5 RGB, as they are everything you will need from a set of DDR5.
Pros
+

Removable heat spreaders

+

RGB & unique styling

+

XMP only

+

Tight tertiary timings

+

Flexibility
Cons
-

Availability in the wild
Should you buy it?
Avoid
Consider
Shortlist
Buy
Introduction, Specifications, and Pricing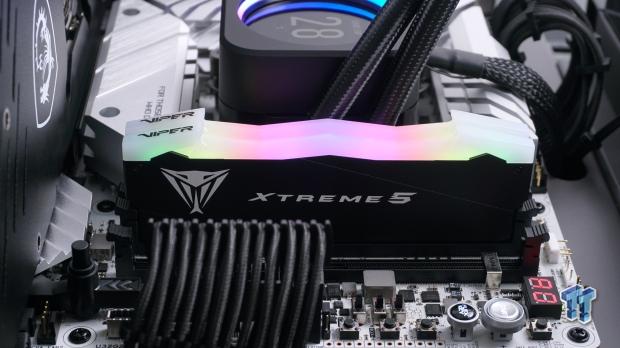 As they do, Patriot continues to keep us busy with yet another product from their massive lineup of options. However, with many of their product lines, their DRAM tends to be designed for the masses. Whether it be a lower speed-binned offering or common density, for most users, you will find what you need in their Viper Venom range or even within the Viper Elite, like the 6000 MHz set we reviewed last. However, for those looking for the best of what Patriot offers, you should look at the Viper Xtreme kits, like the one we have for you today.
It sports RGB and high contrast between the textured black heat spreaders and the white paint applied to it and against the white diffuser used to produce some of the most intense lighting offered in any set of DDR5. Visually, what we have in hand is identical to the only 8000 MHz set of DDR5 we have tested this far in the PVXR532G80C38K we reviewed in early May of this year. Of course, some things have changed as well. While our latest kit is slightly slower, it is part of the newer non-binary kits, delivering fifty percent more density.
Knowing what we do of Patriot and what they deliver in their DDR4 and DDR5, we hope not only to find top-tier performance from this set of RAM we are about to take a deep dive into, but we also are looking forward to the flexibility and fun had in overclocking. Unlike 32GB kits, there is a touch more to think about when it comes to tinkering with them, but we will address this and hopefully make it as easy for you to accomplish what you will see of this Patriot Viper Xtreme 5 RGB as it has been for us. One thing we can say is to strap in and pay attention. These are one of maybe three kits that have reached our IMC limit, and from what we saw in testing, there is much more in the tank; we simply do not have the proper CPU to get the most of what Patriot offers here.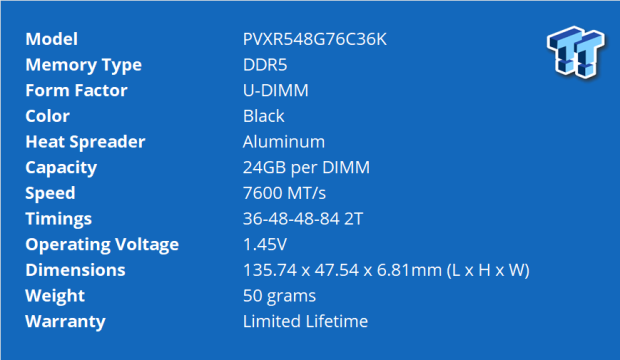 Patriot sent over the PVXR548G76C36K set, translating to Patriot Viper Xtreme RGB in DDR5. Beyond that, we see a 48GB 7600 MHz RAM set to CAS36, and the K signifies its black color. Taking that further, this set of UDIMMs comes with removable black aluminum heat spreaders, which is ideal for not only seeing the ICs and PMIC but also lends to the XOC community, where LN2 pots or liquid-cooled blocks are used, eliminating the chance of ripping an IC from the PCB.
Being non-binary, this Viper Xtreme 5 RGB set comes with two sticks offering 24GB of density on each of them. This variation's speed is 7600 MHz and comes with the timing set of 36-48-48-84 2T at 1.45V. Our chart does not cover that the base SPD/JEDEC speed of these Viper Xtreme DDR5 is 5600 MHz with 46-46-46-89 2T timings, and that is not all. Patriot also programs the other two XMP options along with the XMP settings we described above. The second is 7400 MHz with 36-44-44-110 2T timings, and the third is 7200 MHz with 34-42-42-84 2T timings.
Beyond what the kit can do, we have the measurements, where we find that the Xtreme 5 RGB is 135.74mm from end to end, 47.54mm in height, and just 6.81mm thick. Each stick in the kit weighed in at 50 grams exactly, and of course, all of Patriots memory comes with a limited lifetime warranty.
While the stock is currently unavailable as we write this review, limiting any listings we can find, we know enough to proceed. We are told that this set of PVXR548G76C36K is slated to retail at $224.99. To put that into perspective, the only other set we can locate that is close, with matching speed and density, comes from G.Skill, but they are CAS38 kits. Comparing price points, G.Skill is asking $249.99, which, on paper, is not as nice as what we were given from Patriot to review today. We are also told that restocking will happen shortly, so while you may be excited about what you see here, you should not have to wait very long to get your hands on a set.
Patriot Viper Xtreme 5 RGB DDR5 32GB (2X16GB) 7600MHz Dual-Channel Memory Kit
Packaging and Patriot Viper Xtreme 5 RGB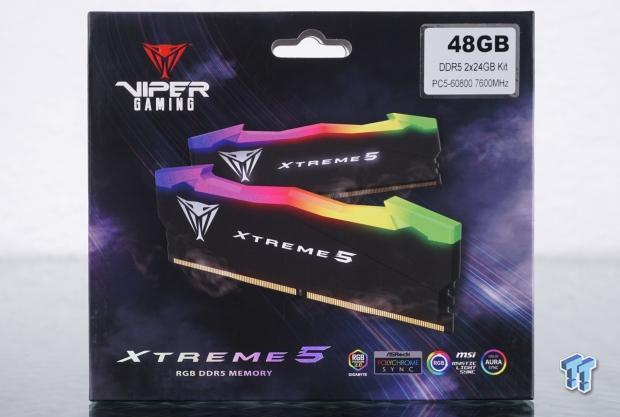 Patriot took some time to design the Viper Xtreme 5 RGB packaging. With trails of light and smoke as the backdrop, the illuminated sticks in the center are embossed, adding a nice touch we rarely see. At the top, we see the Viper head logo on the left, whereas the right side shows us the density and speed. Across the bottom, we see the kit's name and five sync systems that control the RGB lighting.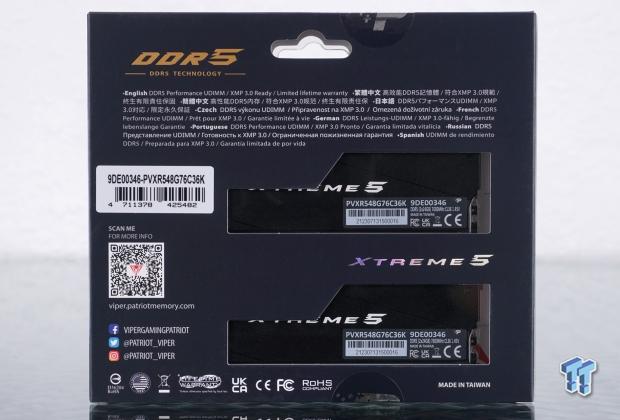 Along with a partial view of tamperproof stickers at the top and bottom, Patriot explains that this DDR5 is performance UDIMM, which is XMP 3.0 ready and is backed by a limited lifetime warranty. Below it is the product sticker showing the part number, a QR code to deliver you to the site, social media addresses, and a pair of windows providing a view of what is inside.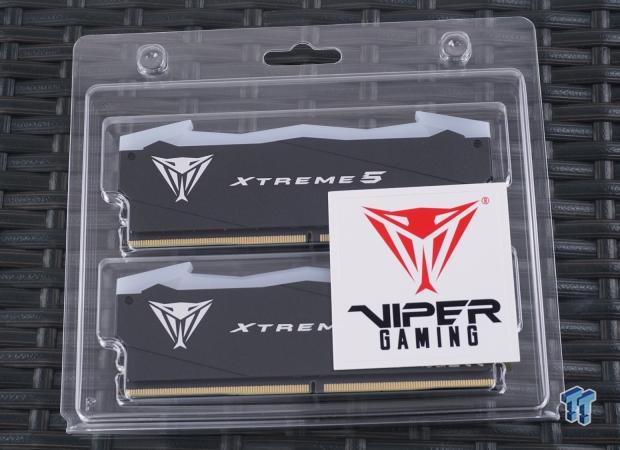 Along with the RAM inside the plastic inner packaging that protects the RAM from damage and is an anti-static measure, we get another Viper head logo sticker to put wherever we see fit.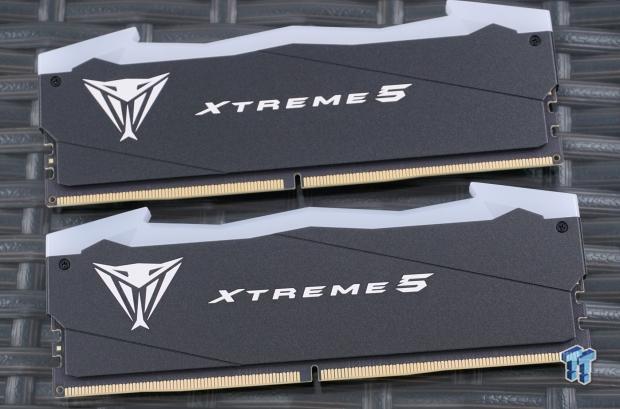 With nothing blocking the view now, we can see visually what the Viper Extrem 5 RGB is all about. At the top is a highly stylized diffuser that accents the angles of the heat spreaders. The heat spreaders are textured and have the logo, and the series painted white across them. If you look near the diffusers, you can see the tiny screws holding the spreaders in place, and of course, they come with black PCBs.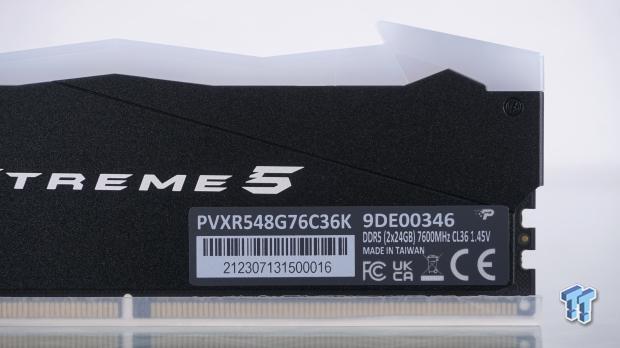 The other side of our Viper Xtreme 5 RGB is nearly identical, even down to another set of screws securing this side of the spreader. The difference is the placement of the product sticker, which delivers the part number, serial number, type, density, speed, CAS latency, voltage, and where it is made.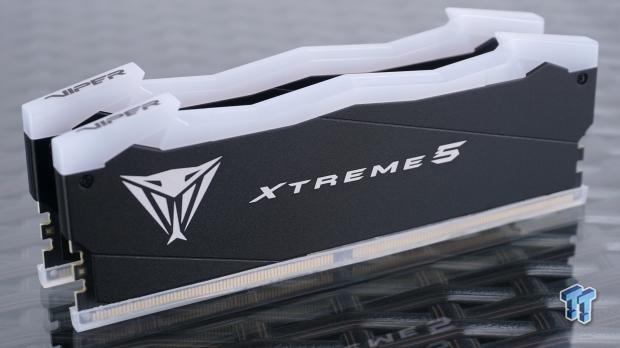 As an idea as to what the Xtreme 5 RGB will look like in any system, we stand them as we do in this image so that our system does not play a part in the visual experience, which makes it easier to visualize how they may look on your motherboard. We notice that the pair of body lines pop much more from this angle than they do head-on, and the black and white theme should be a perfect addition to any build theme.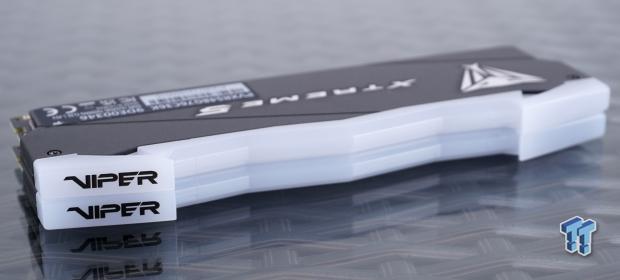 Once installed, it is harder to see the heat spreaders, and even with the very angular design of the diffusers of the Xtreme 5 RGB, Patriot still found room to add their name with black paint, allowing anyone to tell whose RAM you are using easily.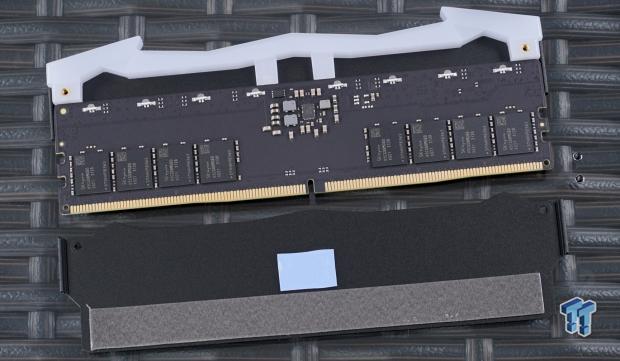 You will only need to remove two of the four screws to get a look at the bits that make the Xtreme 5 RGB what they are. We find eight ICs covered with easy-to-release thermal tape and a larger thermal pad covering the PMIC and its components, helping to keep these sticks as cool as possible, no matter what you plan to do with them.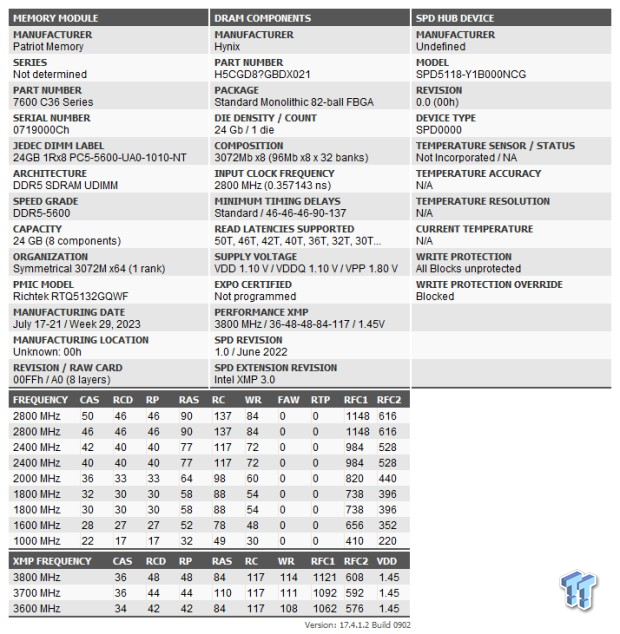 Using Thaiphooon Burner, we can see that Patriot was not lazy in the programming aspect of their kits. Everything you will want to know is available from the Hynix H5CGD8?GBCX012, where the "?" is an M for M-die. Even though the PMIC manufacturer is not shown, we get a model number, but from the previous image, we see it is a 0D=9E Richtek chip.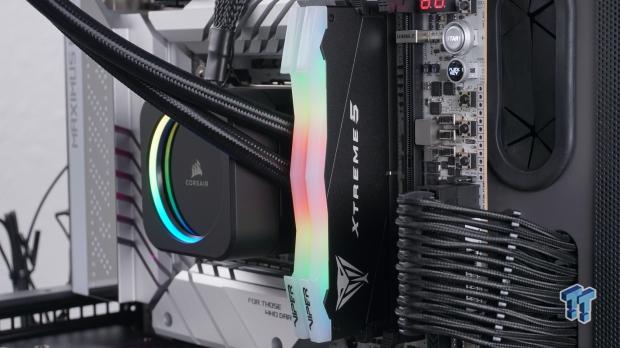 The lights in our booth are bright, which is why the RGB illumination is washed out. Still, we can tell you with certainty when in a chassis and let them do their thing, there is quite a flood of illumination coming from them that will glow into other components in the build. Again, we love the contrast and simplicity of the naming and logo, and even installed on the Z790 APEX, and we are not mad at the overall appearance.
Test System Details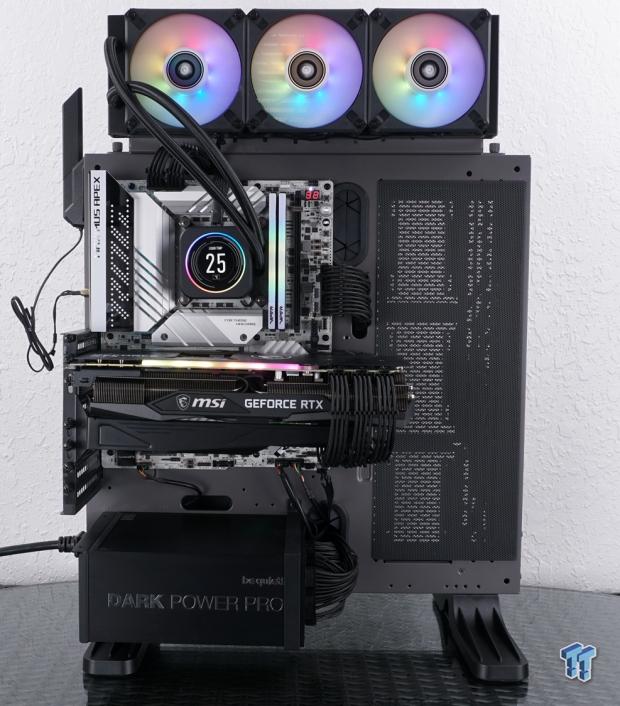 To obtain the Intel CPU-Z screenshots, you will see directly following this image; this is the system we used to do it, as well as in getting the results seen in the following pages. Thanks to Intel, be quiet!, ASUS, MSI, Corsair, and Sabrent for supporting us with this venture. Detailed specifications of the system can be found below.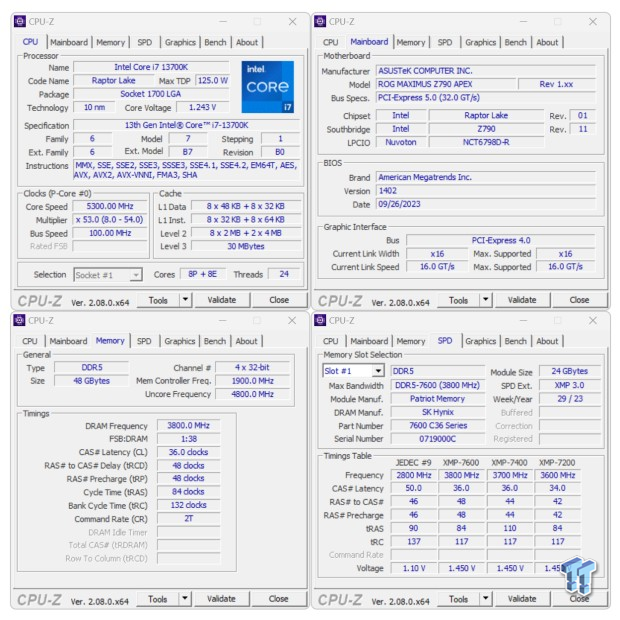 After taking the appropriate steps with installing a new kit of DDR5 on the APEX, we find that the Patriot Xtreme 5 RGB produces what the packaging says it will. Our RAM is running at 7600MHz with 36-48-48-84 2T timings, and if you look at the SPD tab, there is no EXPO support with these sticks. As to the voltages, the VDIMM is set to 1.45V, while the SA is 1.281V, and our MC is set to 1.403V.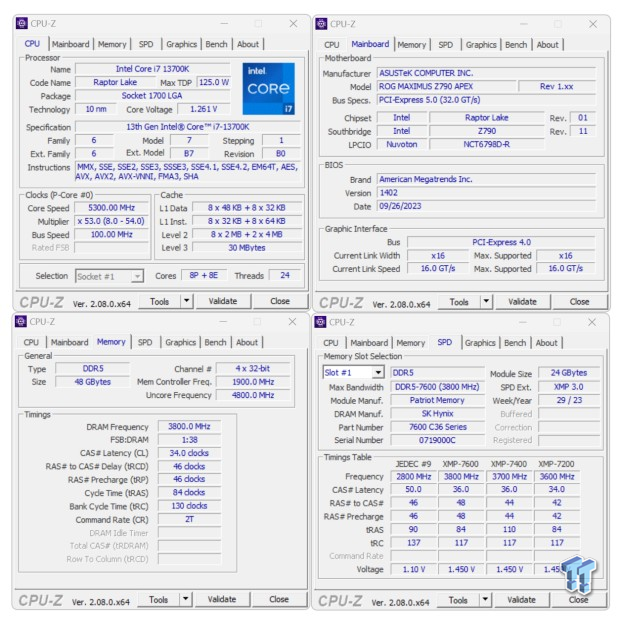 Using 1.55 VDIMM, 1.381V for the SA, and 1.50625V on the MC, we could lower the timings of our Xtreme 5 RGB. We landed with the timings getting down to 34-46-46-84 2T, which adds a nice boost to most of our testing.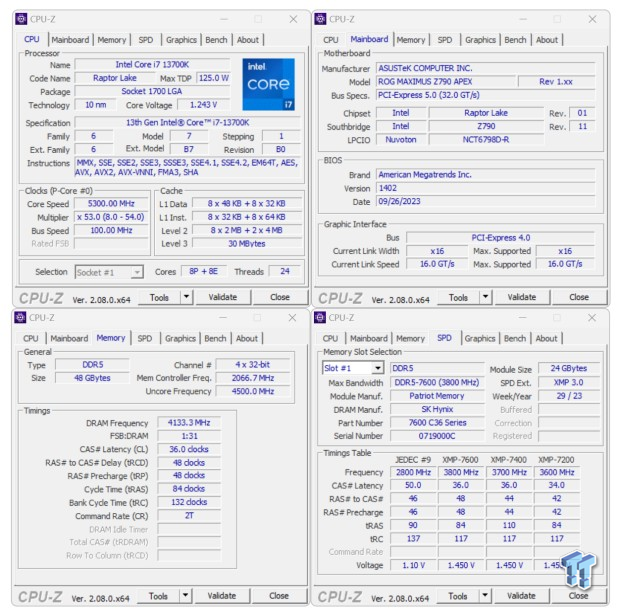 As we addressed in the previous review, to enable overclocking of speed, you must address the DRAM REF Cycle Time 2 and its cohort, the DRAM REF Cycle Time Same Bank, as Patriot runs them tight for more performance with the XMP enabled. Opening them up into the 600s allows us to push for maximum speed. In this instance, we ran into a blockage at 8267 MHz with the primary XMP timings still used. 8400 MHz made it to Windows, telling us there is more in the tank, but the IMC of our 13700K is not up to the task of going any further.
Chad's Intel DDR5 Dual-Channel Test System Specifications
Intel Performance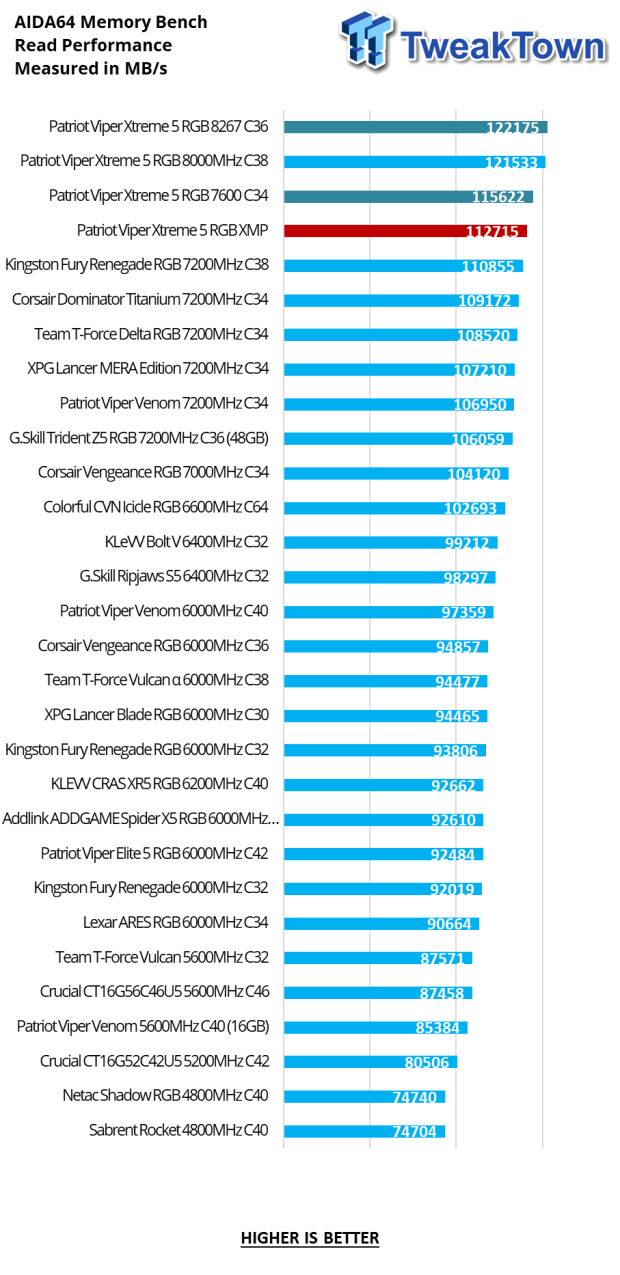 Even with Windows updates kicking many kits in the grapes with performance, the Xtreme 5 RGB still pulls off some good results with read bandwidth. The XMP profile delivers second-place performance at 112,715 MB/s. With the timings tuned, we got a boost of 2907 MB/s over XMP, and with more speed, the gap from XMP results crept to 9460 MB/s.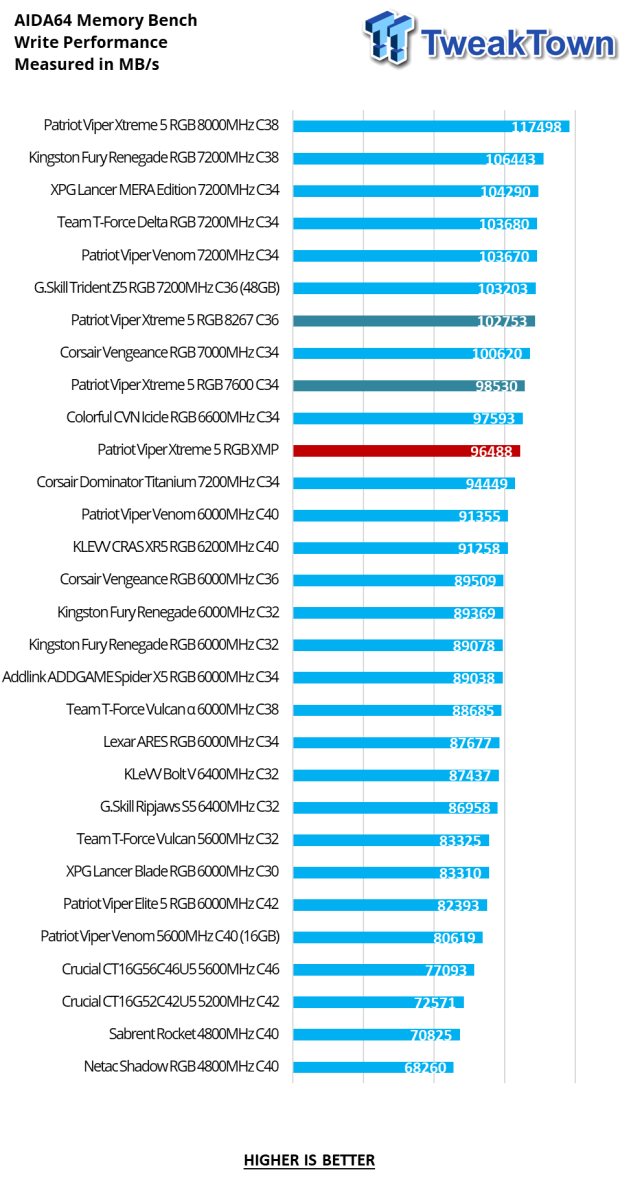 Write performance is not as good, but it still is respectable, all things considered. XMP starts us off at 96,488 MB/s, landing Patriot in the top ten. 2042 MB/s is the advantage to running the Xtreme 5 RGB with tighter timings, whereas more speed gets us another 6265 MB/s over the XMP results.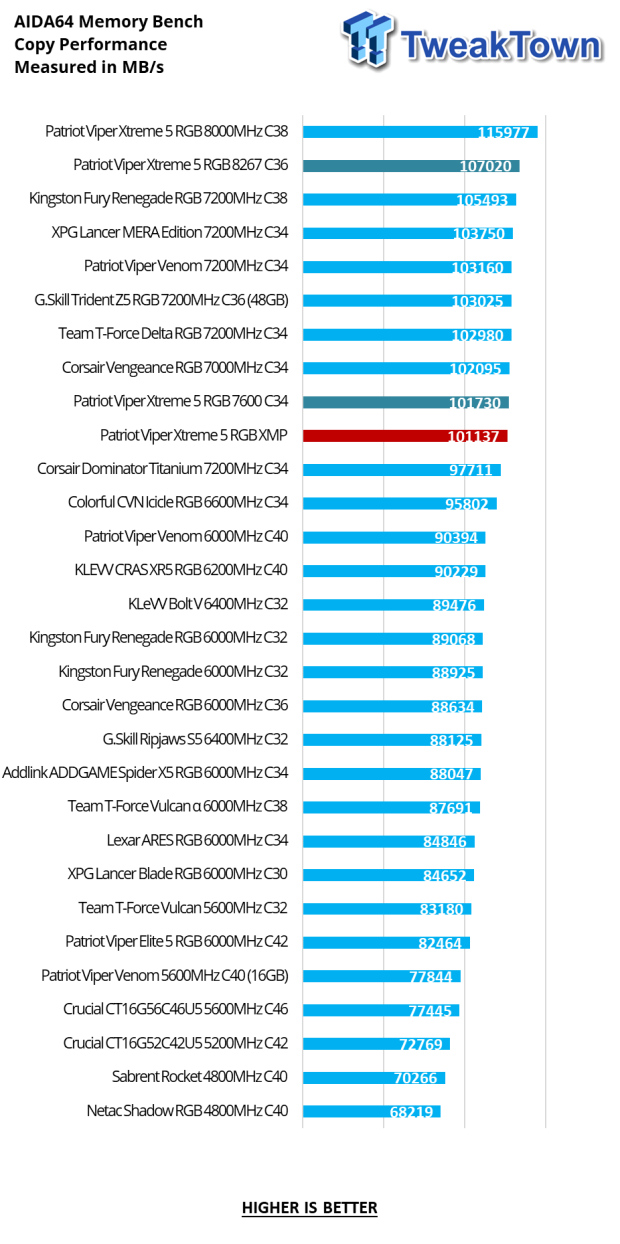 Copy performance results put Patriot in eighth place overall, starting at 101,137 MB/s via the XMP settings. Reducing timings doesn't offer much, but we see a 593 Mb/ advantage there. However, if you add a ton of speed as we did, we got a 5883 MB/s jump from XMP.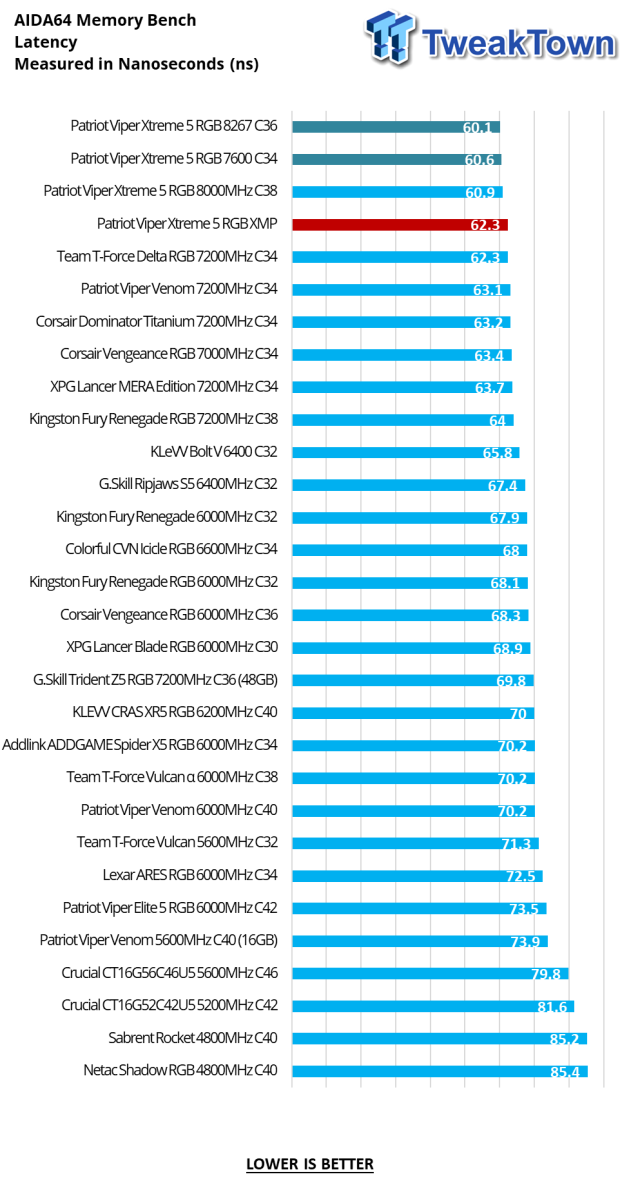 Latency is impressive for this set of DDR5. While the 8000 MHx set of Patriots does offer a slightly lower latency, the 62.3ns from these Xtrem 5 RGB is quite good. We could even improve upon that without much effort, as you can see by the CAS 34 run at 60.6ns and the 8267 MHz run at the top of the chart at 60.1ns.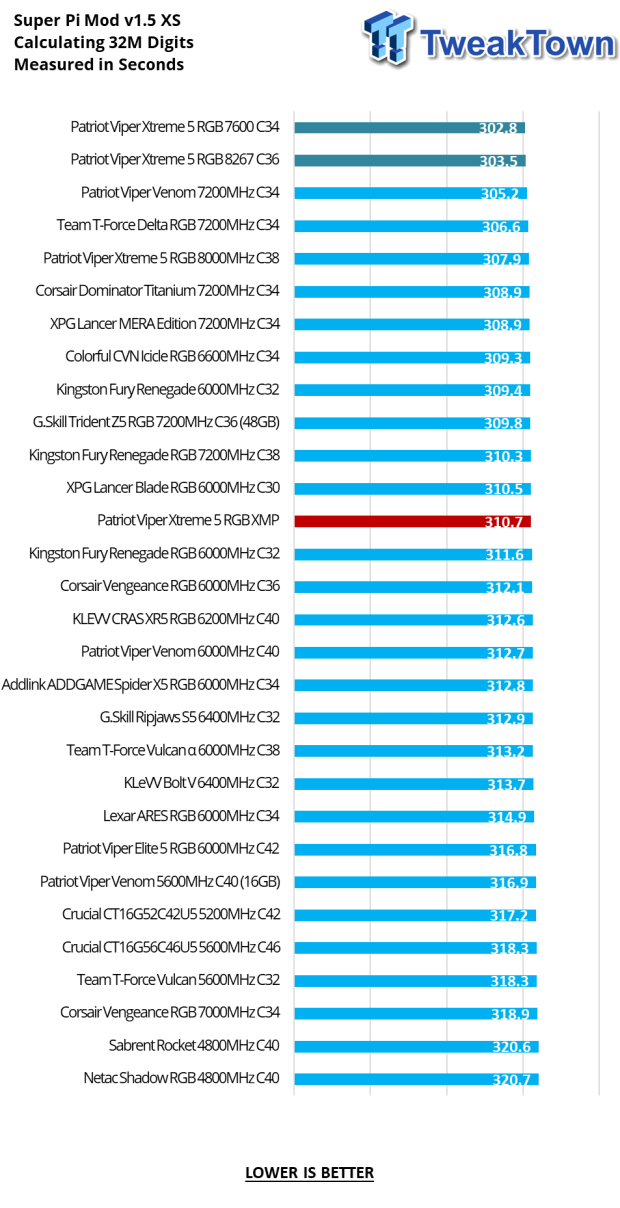 Super Pi results do not start amazing, where we find the XMP run at five minutes and ten seconds to complete the 32M test. However, for those who like to tinker, you can vastly improve upon that time. With more speed, we got that time down to five minutes and three seconds, but the fastest run we have seen to date comes via tighter timings, completing the test at five minutes and two seconds.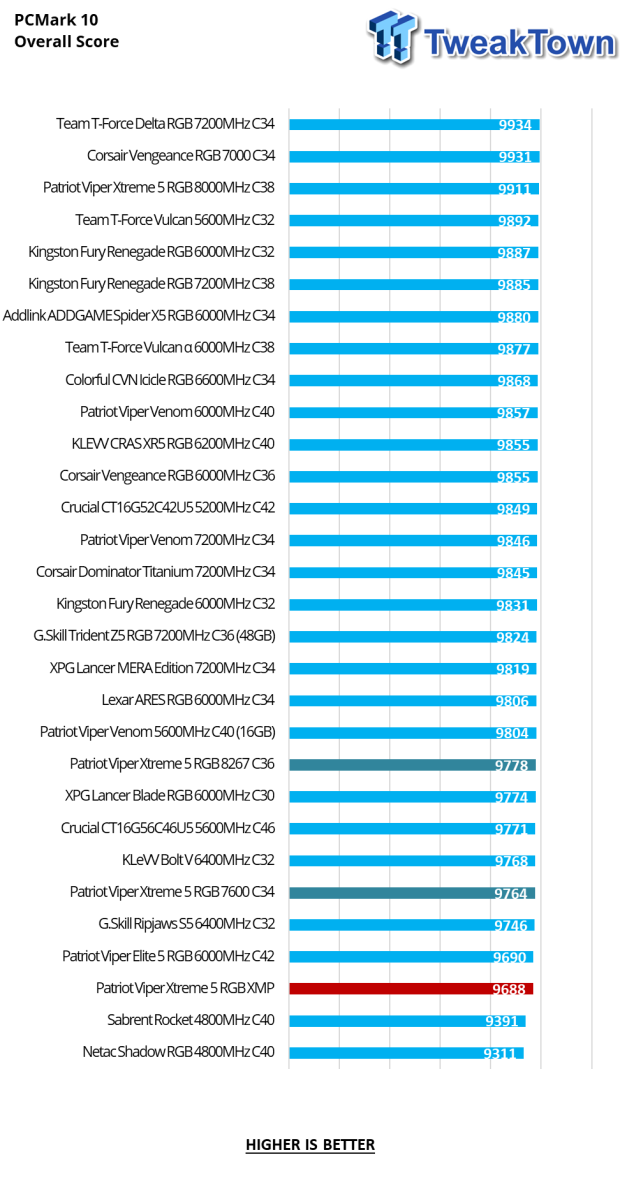 Results such as these are why we will not use PCMark 10 in the future. There is no rational reason why the XMP results should be mixing company with 4800 MHz kits, and we feel that the overclocked scores were also well behind what they should be. Again, Windows updates could be the culprit, but we cannot continue using this metric because scaling does not indicate performance.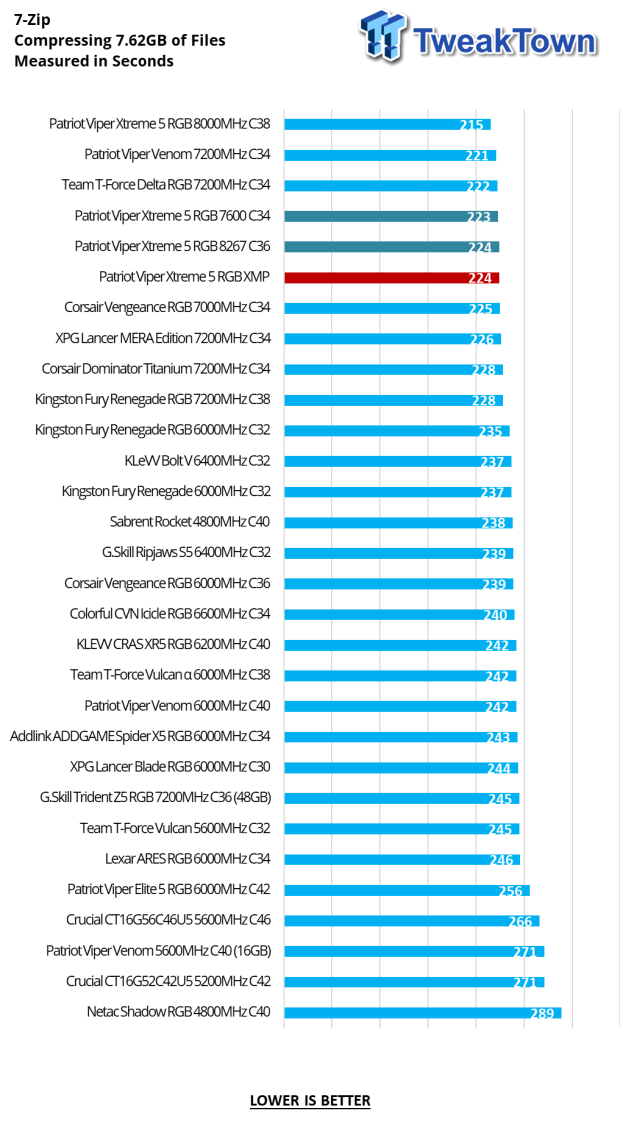 Testing with 7-Zip is back on track, where we find this set of Patriot Viper DDR5 settling into fourth place. Adding more speed with the timings wide open, as we described earlier, was no help, and reducing the timings only nets us a second back for every 7.62GB of data we compressed.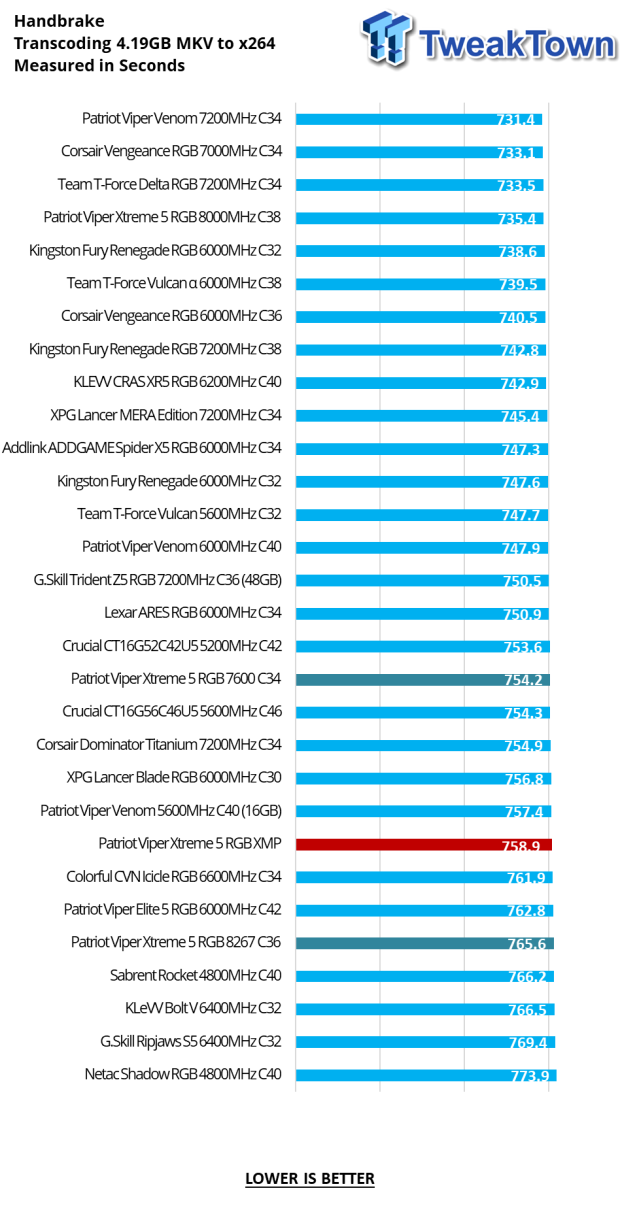 Handbrake also seems to dislike this set of Xtreme 5 RGB, with all of their results being below average when it comes to transcoding. With XMP results similar to 6000 MHz offerings, there is nothing to get overly excited about. Adding speed hurt the score, but the adjusted timings played a part in that. We gained four seconds to complete the task using tighter timings, but we feel all the results should be much higher on this chart.
Final Thoughts
At the end of it all, what do we have? We get a set of DDR5 made of the XOC crowd, as plenty is left in the tank of the 7600 MHz kit we have here. The XMP performance is on point in many metrics, with only two showing abnormal results. That being said, we gained headway by tightening the timings in all but one metric, and the same is said for the additional speed, some 667 MHz beyond XMP, and that is not all this kit has to offer. Sadly, our CPU is the limiting factor for kits binned this high, but even so, we easily reached the 8267 MHz mark.
To be fair, though, to reach any additional speed, we had to increase the DRAM REF Cycle timings to get anywhere. As set in the XMP profile, we could not make any headway regarding additional speed. However, it did not matter when we were reducing the timings, so it pulled ahead a few times in the charts. Non-binary kits have proven to need a little extra love when tinkering with them, but we feel the effort is well worth the time, as it makes a huge difference in what can happen.
Visually, we love the aesthetic, just as we did when we looked at the 32GB kit of 8000 MHz DDR5 from this series. What you gain here is similar performance from a slower binned kit, making it lighter on your pocket when it comes to obtaining them, which is a win-win situation for all involved. The only downside at this moment is that our timing stinks, and the availability of this specific set of RAM is near non-existent unless you want to look for third-party sellers with pricing jacked up from them to make a profit.
At the end of it all, we get an additional fifty percent density with what appears to be no penalty. Not only do we get to use more tabs and run VMs without the issues arising from 32GB kits, but these Patriot Viper Xtreme 5 RGB retain all of the fun and flexibility of previous Patriot kits. However, the game has slightly changed when it comes to timing adjustments. Even so, at only $224.99, this amazing set of DDR5 is an amazing deal in our minds, and being more affordable and more tightly binned in timings than their competition makes these Patriot Viper Xtreme 5 RGb a no-brainer for those looking to take their IMC to the max, and enjoy the benefits of what faster DDR5 can offer.