TweakTown's Rating: 96%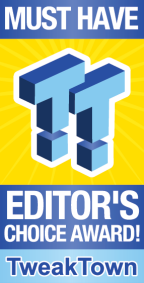 The Bottom Line
Corsair's follow up to the impressive and popular K70 PRO sees the introduction of impressive adjustable magnetic switches and other improvements, making the new Corsair K70 MAX RGB Magnetic one of the best keyboards of 2023.
Pros
+

Adjustable switches

+

Excellent build quality and keycap feel

+

The best dedicated media buttons you'll find on a keyboard

+

iCUE software support

+

Save up to 50 onboard profiles
Cons
-

Pricey

-

50 profiles but no dedicated macro keys
Should you buy it?
Avoid
Consider
Shortlist
Buy
Introduction & Specification Details and Close-up
It's no secret that the Corsair K70 RGB PRO Mechanical Gaming Keyboard is one of the best wired mechanical keyboards released over the past couple of years, with build quality that is up there with some of the best you're likely to find and low-latency performance that truly excels no matter the task. Based purely on the product name, you might think that the new Corsair K70 MAX RGB Magnetic Mechanical Gaming Keyboard would present a slight variation on the PRO, but it turns out that there's quite a bit of difference going from PRO to MAX.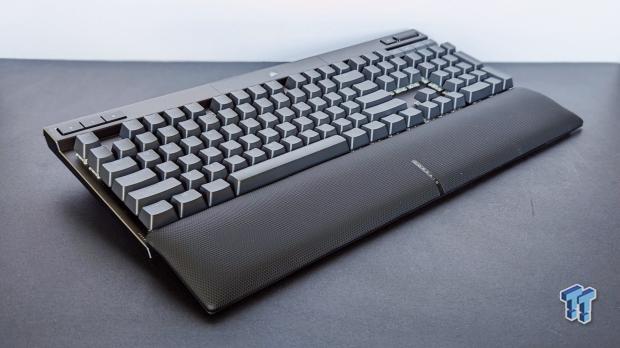 The biggest comes underneath the hood with the new CORSAIR MGX switches, which let you (via Corsair's iCUE platform) adjust the actuation point on every key between 0.4mm and 3.6mm - drastically changing the responsiveness while giving you the option to have a specific fast and sensitive profile for gaming and another for everyday PC use. The CORSAIR MGX switches are magnetic mechanical, and to go one step further, you can assign two actions to a single keypress - very cool.
How it works is quite fascinating as instead of the traditional mechanical switch design that is purely physical with carefully calibrated plates, the CORSAIR MGX switches accurately track how far a magnet is from the bottom of the switch - which leads to being able to adjust the actuation point. And within Corsair's iCUE software, you can set that up alongside dual action functionality on a per-key basis.
There's much more to the Corsair K70 MAX RGB than the cutting-edge switch design; you've also got an improved physical design compared to the PRO on top of that keyboard's excellent and broad range of features. Let's dig in.
Specifications & Close Up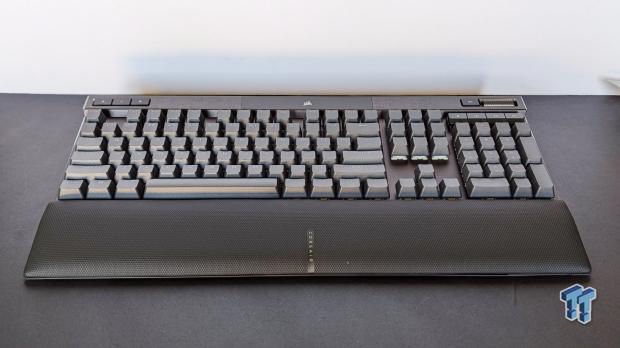 Product Name: Corsair K70 MAX RGB Magnetic Mechanical Gaming Keyboard
Product Type: Wired Gaming Keyboard
Size (Full/TKL): Full
Switch: CORSAIR MGX
Actuation Point/Force: 0.4mm to 3.6mm (2.0 by default)/45g
Polling Rate: Up to 8000 Hz with CORSAIR AXON
Interface: USB
Lighting: RGB (Up to 20 layers of effects)
Dimensions: 442 x 166 x 39.2 mm
Weight: 1390 grams (keyboard)
What's in the Box: Corsair K70 MAX RGB, Braided USB-A to USB-C cable, Two replaceable keycaps, Key Cap Puller, Wrist Rest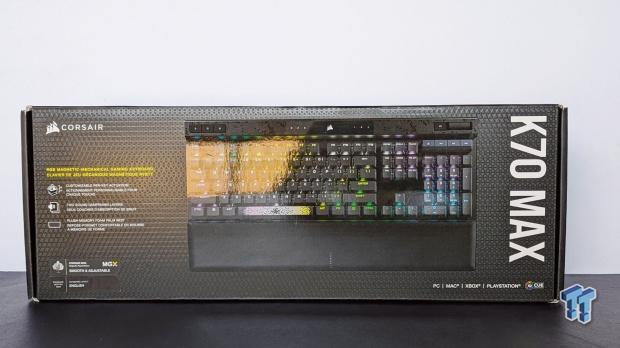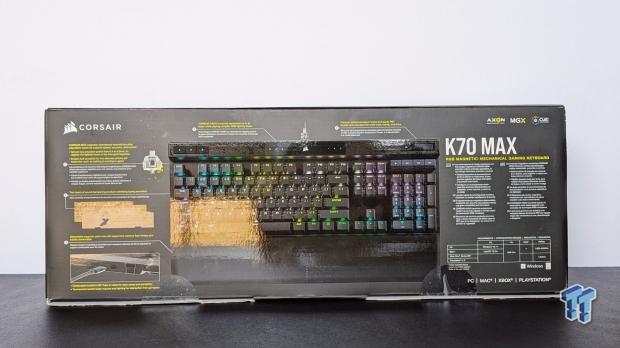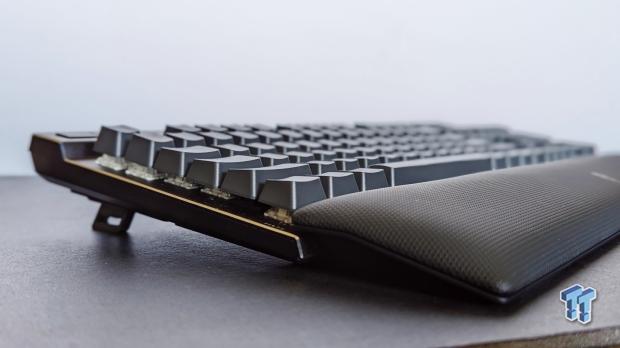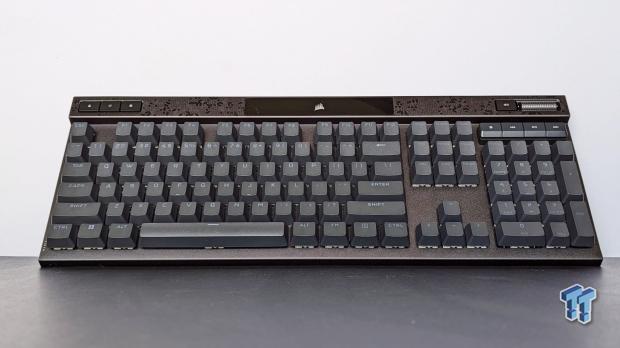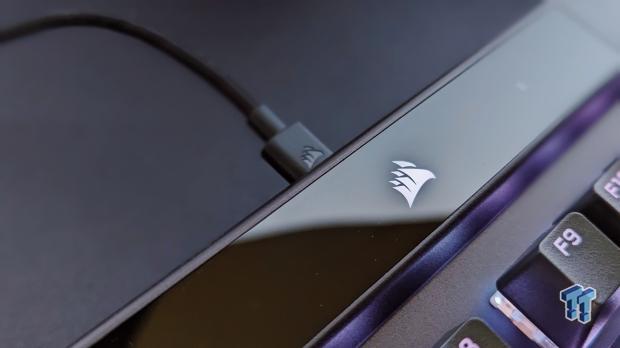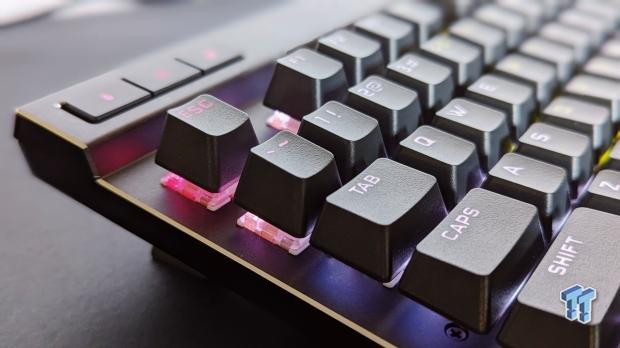 Kosta's Test System Specifications
Motherboard: MSI MPG X670E Carbon Wi-Fi
CPU: AMD Ryzen 9 7900X
GPU: NVIDIA GeForce RTX 4090 Founders Edition
Cooler: Corsair iCUE H100i RGB PRO XT Liquid CPU Cooler
RAM: 64GB (2x32GB) Corsair DOMINATOR PLATINUM RGB DDR5 DRAM 5200MHz
SSD: Sabrent Rocket 4 Plus-G M.2 PCIe Gen 4 SSD 4TB, Sabrent Rocket 4 Plus Plus M.2 PCIe Gen 4 SSD 8TB
Power Supply: Thermaltake Toughpower GF1 850W
Case: Thermaltake Core P3 Tempered Glass Snow
OS: Microsoft Windows 11 Pro 64-bit
Design & Software
Design
Although it's not an essential part of a mechanical keyboard, at least not an element that will make or break a purchase decision, having a comfy wrist rest can improve the everyday enjoyment of using a keyboard. The Corsair K70 RGB PRO shipped with a detachable wrist rest, but it featured a soft rubber coating on what was otherwise a hard attachment that was also quite large in terms of the desktop real estate it took up. The new Corsair K70 MAX RGB features a definite improvement in this area, with a leatherette and foam combo that complement the keyboard's minimal style while considerably ramping up the comfort factor. Plus, it magnetically attaches to the main keyboard - a nice little nod to the underlying switches powering it all.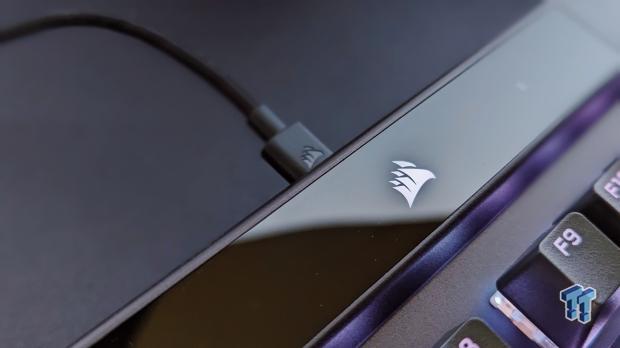 Weighing in at just under 1.4kg, the Corsair K70 MAX RGB is heavier than the PRO, but when it comes to a full-sized mechanical keyboard, anything between 1 to 2kg is the sweet spot for having something that won't budge when placed on a desk. For the most part, the Corsair K70 MAX RGB's physical design remains similar to the PRO, from the sturdy and great-feeling volume dial to the brilliant, dedicated audio control buttons that carry a premium feel akin to an expensive DVD player from back in the day.
It features the same premium aluminum top plate, albeit with a subtle pattern that screams Corsair. Adding to the premium feel is the PBT DOUBLE-SHOT Keycaps that have a matte finish that's great for both typing and gaming, which is then bolstered by the per-key RGB lighting and the 20-layers you can configure via the iCue software (and then store onto the keyboard). With 8M of memory, you can keep up to 50 profiles on the keyboard alongside 20 layers of lighting effects for some serious customization.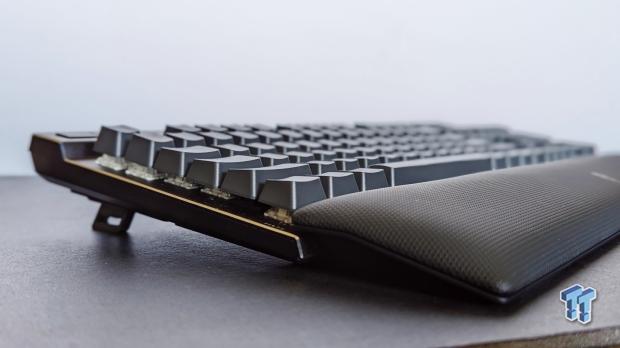 The premium features, from the build to the cutting-edge adjustable magnetic keyboards, come at a cost - USD 229.99, to be exact. Price is always a factor when it comes to gauging the overall value of a product, not to mention being used to temper expectations when a product sits within the budget category. The Corsair K70 MAX RGB Magnetic Mechanical Gaming Keyboard is one of the priciest keyboards we've reviewed. However, it's also among the most impressive for build quality, features, and overall aesthetics.
Software
Like all Corsair products, the Corsair K70 MAX RGB uses the company's iCUE software suite for in-depth customization, which extends to updating firmware - a given for any new peripheral or piece of hardware in 2023. The good news is that iCUE recently got a massive overhaul where it's now a modular piece of software to account for the fact that it can do everything from monitoring your system to being a catch-all for Corsair's entire range of products. Installing the necessary components helps iCUE feel less bloated, and the visual design is clean, stylish, and detailed.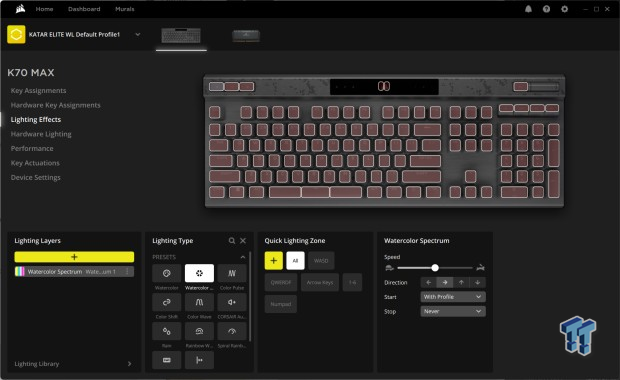 Being able to do per-key actuation point adjustment thanks to the new CORSAIR MGX switches is one of the Corsair K70 MAX RGB's big selling points, so it's awesome to see that iCUE now features an in-built tutorial system that quickly explains the UI so you can get to customizing in no time. With the new modular design for iCUE, all of the Corsair K70 MAX RGB's settings are kept within a single screen, and you've got separate sections for customization made and stored within the software and those stored on the hardware, which is great.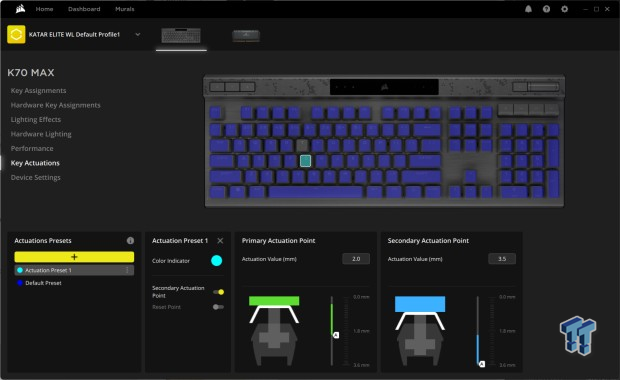 Remapping keys is quite simple: select the key from the image of the Corsair K70 MAX RGB and then choose from a list of categories ranging from other keys on the keyboard, mouse functionality, app shortcuts, and more. Here, you've also got the option to set a key's secondary 'actuation' function - which leads to the Key Actuations. A clean visual representation of the switch that lets you adjust the actuation point from the default 2.0mm (and add a second if you want). It's all straightforward to use, which is wonderful for a keyboard as feature-packed and customizable as this.
Gaming Performance and Productivity
Gaming Performance
You can adjust one more feature for the Corsair K70 MAX RGB: the Polling Rate - from the default 1,000 Hz up to an impressive 8,000 Hz. Polling Rate for a peripheral like a keyboard is a measurement of the latency of sending data to the PC, where the standard 1,000 Hz translates to a respectable 1ms - which is imperceptible. Other factors play into latency, but the Corsair K70 MAX RGB's 8,000 Hz represents an 8 times increase to deliver a latency of 0.125ms. Is it overkill? Probably, but for competitive gamers, it could be the thing that makes all the difference throughout a long period.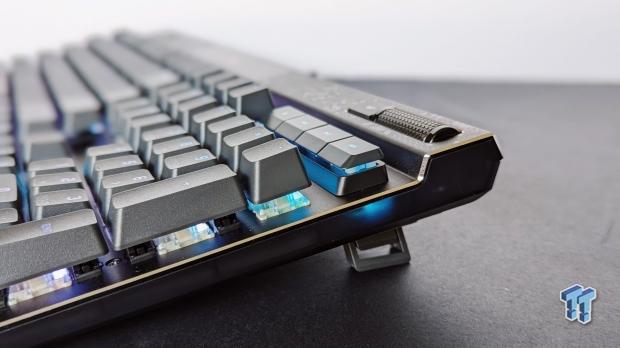 With fully customizable per-key actuation points and an actuation force of 45g, the Corsair K70 MAX RGB - even with the default linear setting of 2ms - is wonderful for gaming. From playing competitive shooters like Apex Legends and Call of Duty: Modern Warfare II to running some Nightmare Dungeons in Diablo IV - the performance was flawless alongside the feel and responsiveness of each keystroke.
Changing the actuation point to 3.0mm and then a super-fast 1.0mm and playing a few training rounds of Apex Legends - I could feel the difference, to the point where it did feel like different models or variants of the same mechanical keyboard. Outside of the actuation point adjustments, the Corsair K70 MAX RGB features one very cool game-friendly addition: a switch on the back that disables all processing and advanced lighting for a simple and pure keyboard without disruption.
Productivity
Dedicated media controls are a plus for a mechanical keyboard, a nice-to-have feature outside the pure gaming features circle. In addition, the robust volume dial adds fine control over the volume (and a dedicated mute button). Still, even these keys/buttons/dials can be customized to perform any other features. For example, in my time with the Corsair K70 MAX RGB, I reprogrammed the overall Volume Mute to mute my microphone - as it was easier to access than fiddling to try and find the mute button on my headset.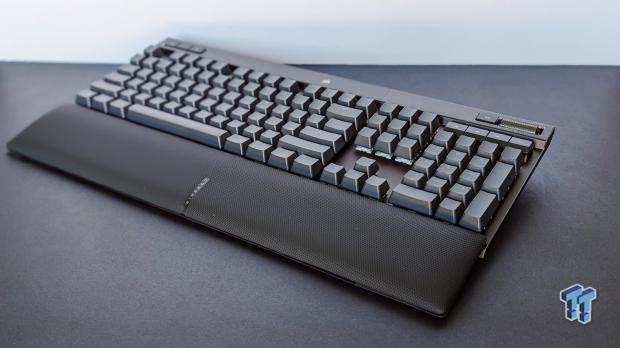 Although the default linear-style actuation point of 2mm doubles as something perfectly fine for gaming and typing - being able to raise the actuation point to, say, 3.0mm or higher does add a more traditional mechanical feel to the key presses that are in step with typing large volumes of text in that you're less likely to make an accidental keypress if you need to press down for it to register. Throw in the ability to store up to 50 profiles, and you've got something as much of a productivity beast as a keyboard built for gaming.
Keyboard Click Sound Level
To test a keyboard's overall sound level, we use the Ozito Digital Sound Level Meter, capturing the sentence "the quick brown fox jumps over the lazy dog" multiple times and recording the maximum dB level. This indicates how "loud" the switches used are for everyday usage. The following chart showcases where the Corsair K70 MAX RGB Magnetic Mechanical Gaming Keyboard sits.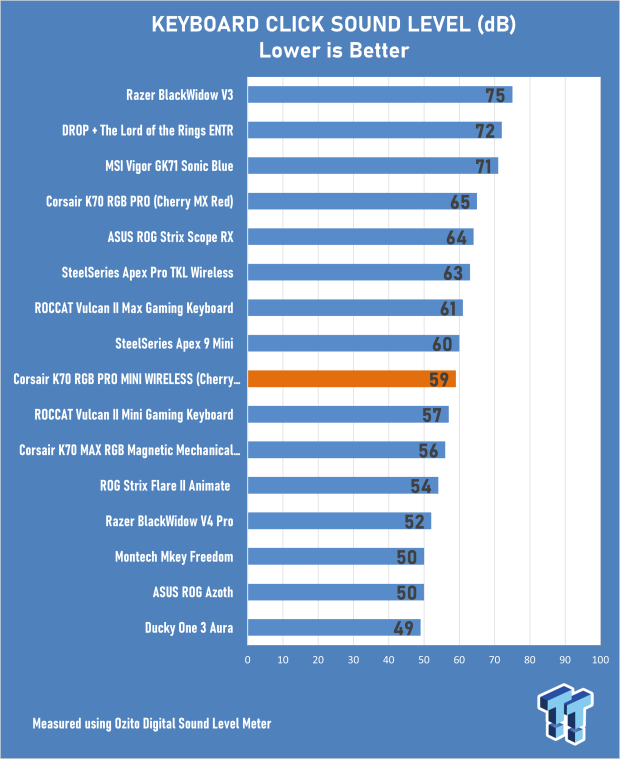 Final Thoughts
It certainly sits on the pricey side, but the Corsair K70 MAX RGB Magnetic Mechanical Gaming Keyboard ticks all of the boxes in addition to bringing something pretty exciting and 'premium' into the mix - switches that you can adjust the actuation point on a per-key basis. The new CORSAIR MGX switches are so accurate you can add a second function to each keypress down to 0.1mm. This means you can adjust things to be fast and linear for competitive games and then change things to be more responsive and tactile when typing.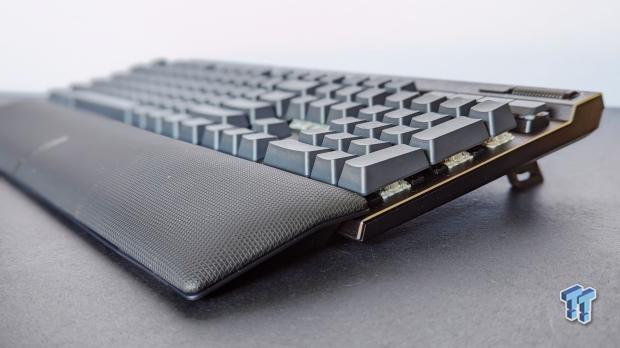 It's hard to fault the Corsair K70 MAX RGB, but it's not perfect - some dedicated macro buttons would have been nice, especially considering the extra rea-estate on the top bar. Ultimately, the Corsair K70 MAX RGB takes one of the best keyboards available and improves upon it meaningfully. From deep customization to robust software support to an overall excellent build quality. If you can justify the cost of entry, you'd be hard-pressed to find a more versatile and well-put-together alternative.