TweakTown's Rating: 94%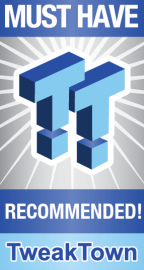 The Bottom Line
Cost and style carry the Ripjaws S5 through the gauntlet. They may have taken some punches along the way, but the overall package deal has us recommending you will be hard pressed to find a better deal in its class.
Pros
+

Low-profile

+

Cost

+

Unique aesthetic
Cons
-

No PMIC thermal pad

-

Whitewashed ICs

-

Performance in class
Should you buy it?
Avoid
Consider
Shortlist
Buy
Introduction, Specifications, and Pricing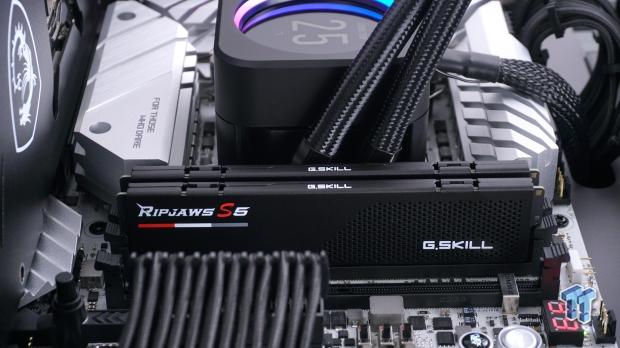 Seeing the top-tier product from G.Skill with the Trident Z5 RGB back in June, we got back with them to see if there were anything else they would like us to look at. Well, we could have opted for Trident Z5 without RGB, but better than that, we get to look at G.Skills mainstream product series, one that we have gone to many times to fill the RAM void in our builds. Since the inception of Ripjaws, we have had a set in one of the many colors and even kept an older set of DDR3 Ripjaws that reside in our RAM storage trays hung on the wall.
In the past, you could do some pretty amazing things with Ripjaws. They were not as nimble and flexible as the Trident kits they were overshadowed by, but they were always good value for the money. There has always been some flexibility to overclock, and in the past, with all of the color options, you could fit these older kits to any build theme. However, for this run, we see that only black and white are currently options as to which would look best in your system. Nonetheless, we are excited to jump into the newest sets of Ripjaws and see if history holds any merit today.
So, on with it then, as we get up close and personal with G.Skills Ripjaws S5. Looking at the site, under the heading of Ripjaws S5, we see six SKU pages to fit any need. Kits begin at 5200 MHz 32GB kits and top out at 6800 MHz 96 GB kits, offering a bit of an idea of what you can expect. Along with all of the speed, density, and latency options to pick through, we mentioned the pair of colors, but we have yet to note that the new Ripjaws S5 comes with an all-new design, and not one bit of it holds any ties to kits of old. To some, that may be a disappointment, but we are on the side of progress and are keen to get to it and see what G.Skill has up its sleeve with its Ripjaws series.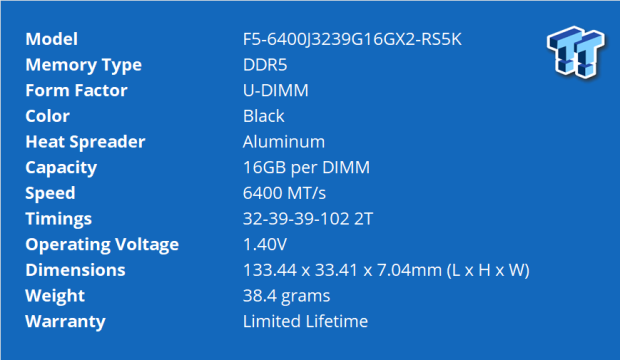 The F5-6400J3239G16X2-RS5K we have from the Ripjaws S5 lineup comes with black PCBs and, in this instance, black aluminum heat spreaders on this DDR5 noted by the K at the end. The 16X2 portion of the model number tells us that this is a 32GB kit, and we saw the 6400 MHz portion early on in that same part number. After the J, we see 3239, which refers to the latencies, as the XMP 3.0 profile tunes the kit to 32-39-39-102 2T. To reach 6400 MHz at CAS32, G.Skill had to bump the VDIMM for stability, leaving us at 1.40V.
Dimensionally, 33.41mm is about as low-profile as you will get with RAM sporting heat spreaders. We also see that each stick weighs 38.4 grams, meaning the heat spreaders are not especially thick. Under the spreaders are SK Hynix ICs, but as you will see later, they have G.Skill's name on them. We also get an unlocked PMIC under there, so we can overclock and push the juice if needed.
Most of the kits we have seen in the past come with a hefty price point. There have been a few kits to break over $300, and many kits have shipped with MSRPs around $200, but that is not the case with the Ripjaws S5. Looking at the usual suspects, Newegg and Amazon are asking the same price. Considering what we are getting is snappy fast, has the lowest latency we have had at this speed, and looks good too, but it only requires you to shell out $104.99 to get them. Thus far, G.Skill has a real shot at impressing the lot of us with their Ripjaws S5.
Packaging and G.Skill Ripjaws S5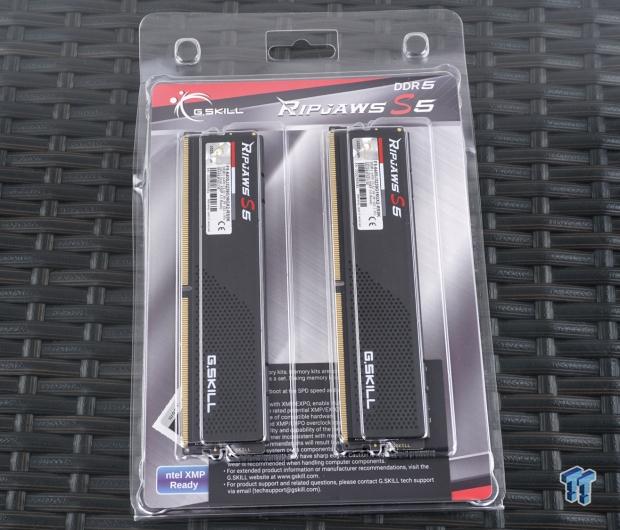 Packaging consists of plastic exterior packaging with a cardboard insert as the backdrop. At the top, we get the G.Skill name and logo, with Ripjaws S5 DD5 next to it. The RAM, as is the crease near the top, is on full display, which caused no physical damage to the sticks inside. We also see that these are XMP 3.0 ready, and even with the typo, we know it is Intel.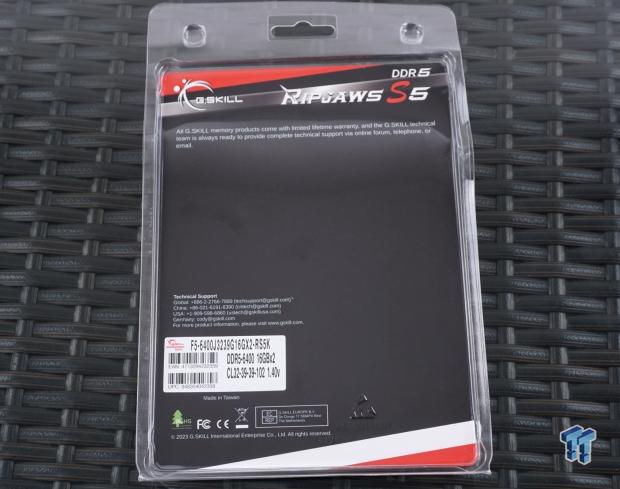 Flipping it over, we find much of the same as we saw on the reverse, but this time, rather than the sticks in view, we get technical support information and the product sticker. Explaining exactly what is under the hood of the kit we just saw.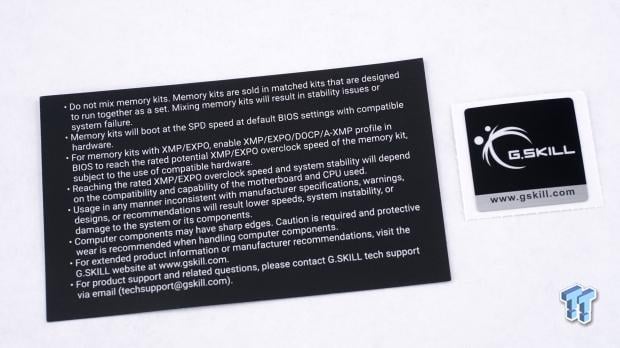 We also found a card and a case badge along with the RAM. The sticker can go wherever you please, but the card offers tips and tricks to get the most from your purchase. It also iterates that for warranty or tech support help, reach out via the provided addresses.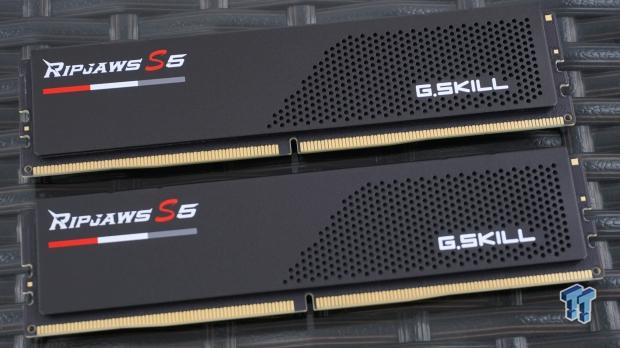 Our Ripjaws S5 came black, making the Ripjaws S5 and the red, white, and gray bar pop, as does the G.Skill name painted on them at the right. Around the G.Skill name are hundreds of small holes drilled through the aluminum. One could say they are there for ventilation, but our gut says it is a stylistic play more than anything.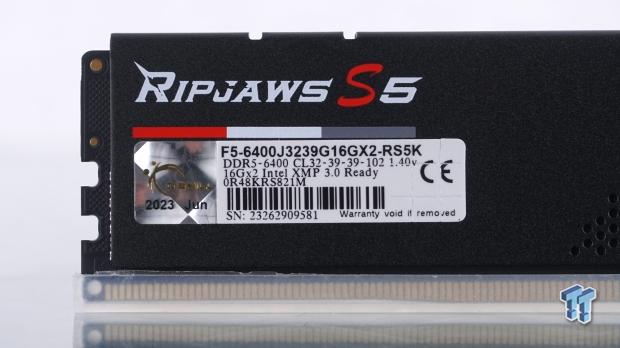 On the other side of the stick, you will find an identical layout of painted bits and small holes, all but the product sticker. On it is the born-on-date in the holographic portions, with the part number, speed, timings, density, and serial number all provided here.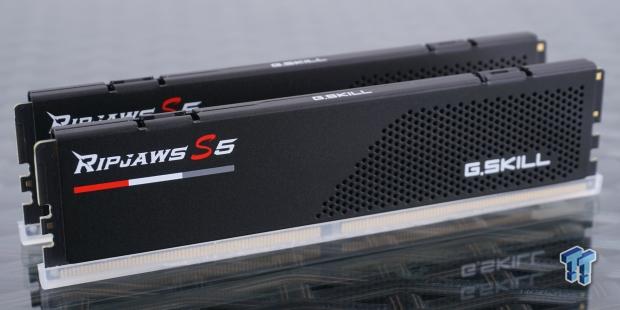 At all angles, we like what we see. G.Skill's claim to be low-profile is certainly a reality as the heat spreaders come together along the top just a few millimeters taller than the PCB. The more we look at this kit, it does remind us of something from long ago, possibly made by OCZ or GeiL, but it has no real visual ties to Ripjaws of the past.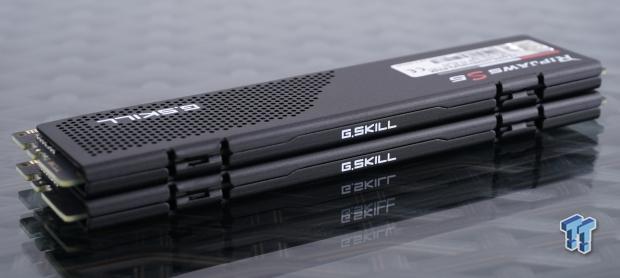 At the edges, you see the seam and latches holding the heat spreaders together, but in the center of them is the G.Skill name in white, highly contrasted, to make the brand easy to see.
Under the spreaders, we see thermal tape used to cover all of the ICs on the PCB. Yet again, there is not a thermal pad for the PMIC, but as we saw with the Trident Z5, we didn't see a need in our testing. Our BIOS tells us that these are SK Hynix chips, but for some reason, G.Skill branded them, as you see here.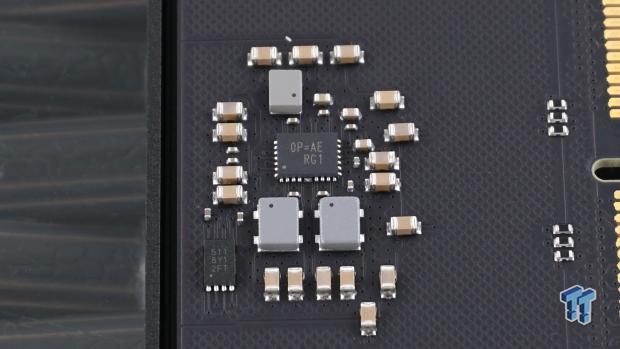 The unlocked PMIC of choice is the 0P=AE RG1 from Richtek. This tiny component allows the user to not stop with VDIMM limited to 1.445V but can take them higher with the proper cooling.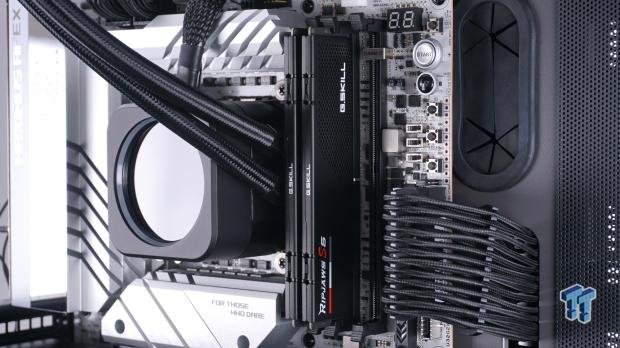 While black sticks are not exactly a match made in heaven with the Z790 APEX, even so, the Ripjaws S5 does not look horrible in there, either. If buying a set, we would opt for white ones, but since these are low-profile, many will buy them and hide them under a CPU cooler.
Test System Details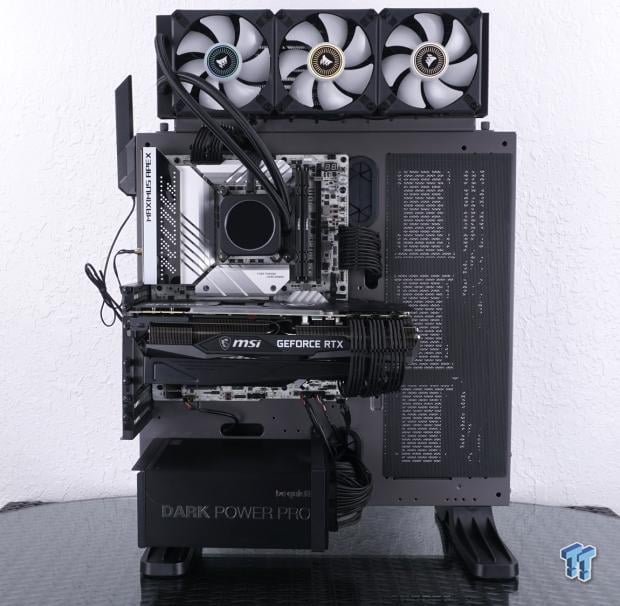 To obtain the Intel CPU-Z screenshots, you will see directly following this image; this is the system we used to do it, as well as in getting the results seen in the following pages. Thanks to Intel, be quiet!, ASUS, MSI, Corsair, and Sabrent for supporting us with this venture. Detailed specifications of the system can be found below.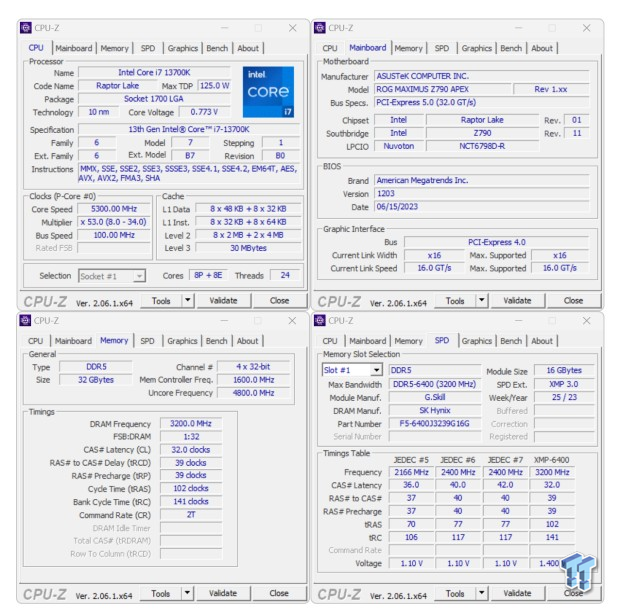 As always, we install the RAM, clear CMOS, then apply XMP in BIOS and see what shakes. In this instance, we got a set of RAM that runs 6400 MHz with 32-39-39-102 2T timings. On another trip back into the BIOS, we found the VDIMM was set to 1.40V as intended. The System agent was chilling at 0.897V, while the Memory Controller used 1.145V.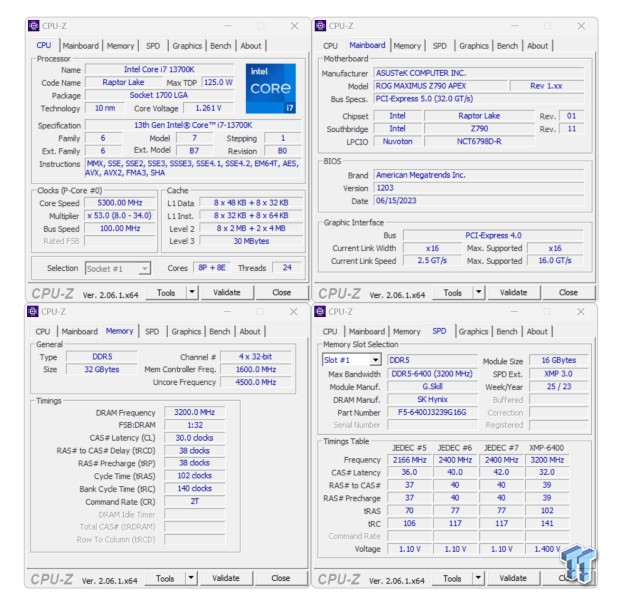 Our endeavor to lower the timings did not get us far, but we did find interesting things along the way. While 30-38-38-102 2T is the furthest, we got stable with 1.50 VDIMM/DDq/Tx, 0.997V SA, and 1.254V MC. Voltages were our crux. We saw CAS 28 stable in a lot of the testing, but not with the voltages we used, but we saw 28-37-37 in Windows, and with more voltage, we could have stabilized it. We did, but it goes beyond our methodology.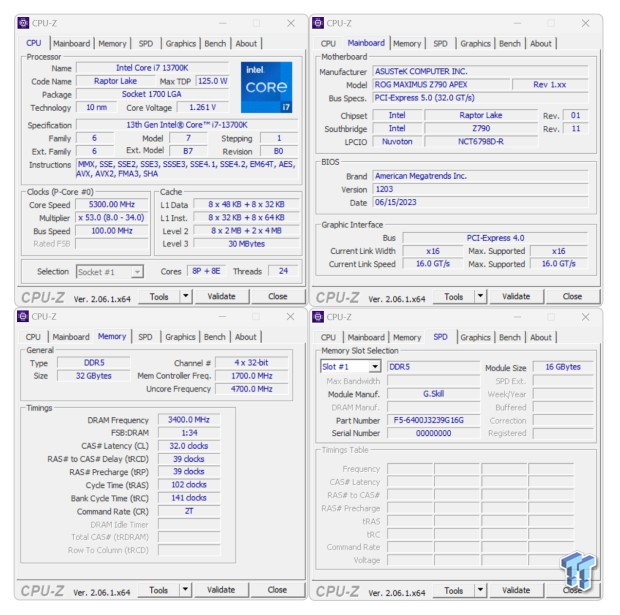 We got the Ripjaws S5 up to 6800 MHz at CAS 32, which is terrific from what we have seen thus far. We still use the same voltages as we did for the previous run. 6800 MHz was not all these have either. We made it through most of the testing at 6933 MHz, but encoding failed. Again, with more volts, we could get more from the Ripjaws S5, but top speed will be limited to the brassiness of your spheres.
Chad's Intel DDR5 Dual-Channel Test System Specifications
Intel Performance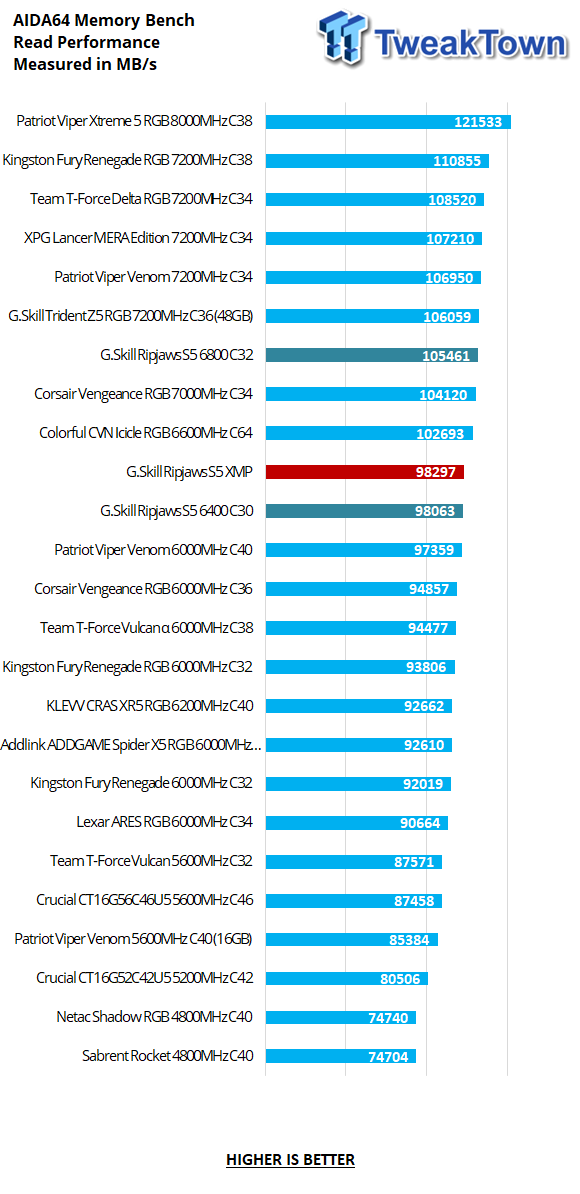 The Ripjaws S5 read performance is what we'd expect5 to see, planted between the fastest 6000 MHz kit and the 6600 MHz one, at 98,292 MB/s. We lost a couple hundred MB/s with reduced timings but gained 7164 MB/s over XMP with additional speed. Faster than the Vengeance 7000 MHz kit and slightly behind the Trident Z5 at 7200 MHz.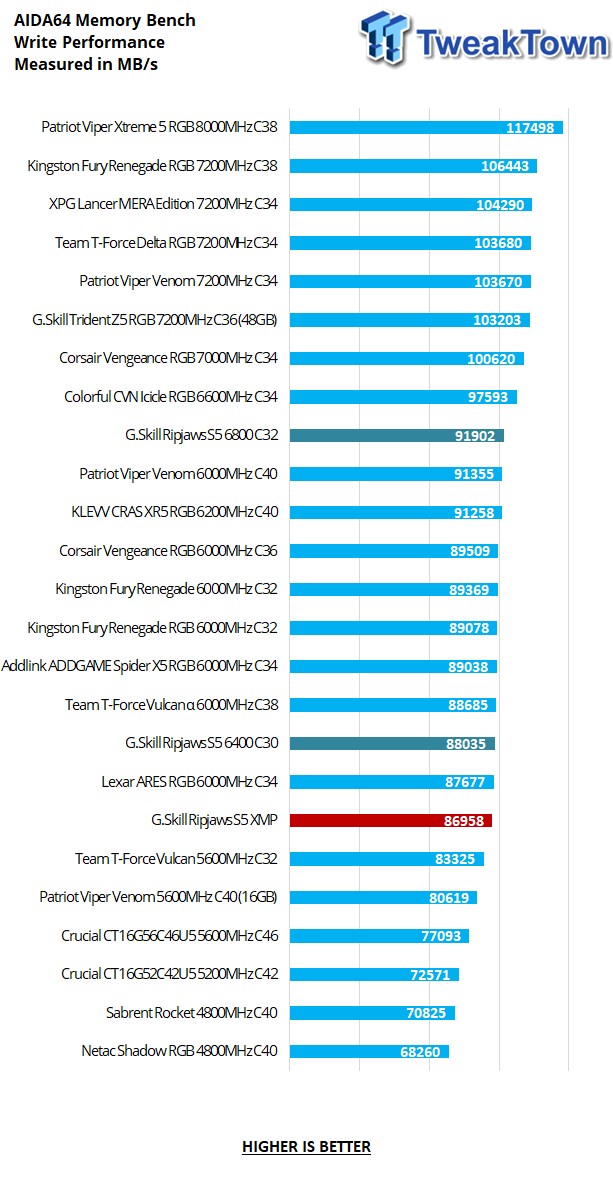 The results we see with the write performance are not as good as before. We find the Ripjaws S5 near the bottom from the XMP run at 86,958, slower than many of the 6000 MHz entries. Overclocking helps a ton this time, though. Rather than losing ground, CAS 30 delivered 1077 MB/s over XMP and added speed gets us 4944 MB/s more throughput.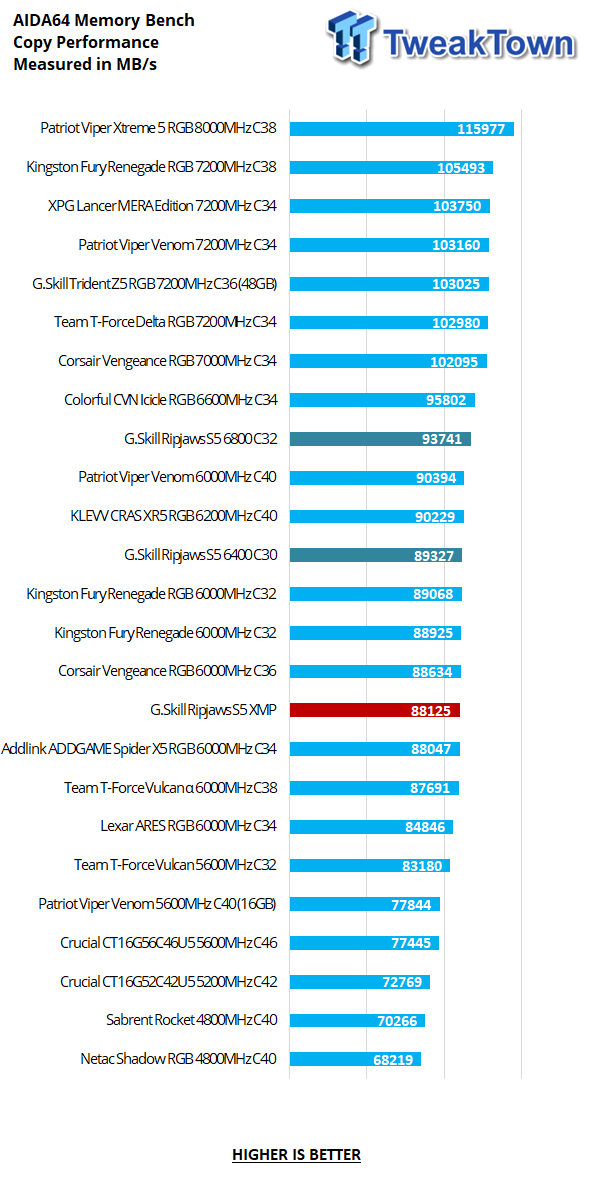 The copy performance is better but still a bit low for our liking. At 88.125, many of the 6000 MHz entries surpassed the Ripjaws S5. We gained traction with overclocking, and even though we got 1202 MB/s more with tighter timings, we fully expected the XMP results to land where the 6800 MHz overclock left us.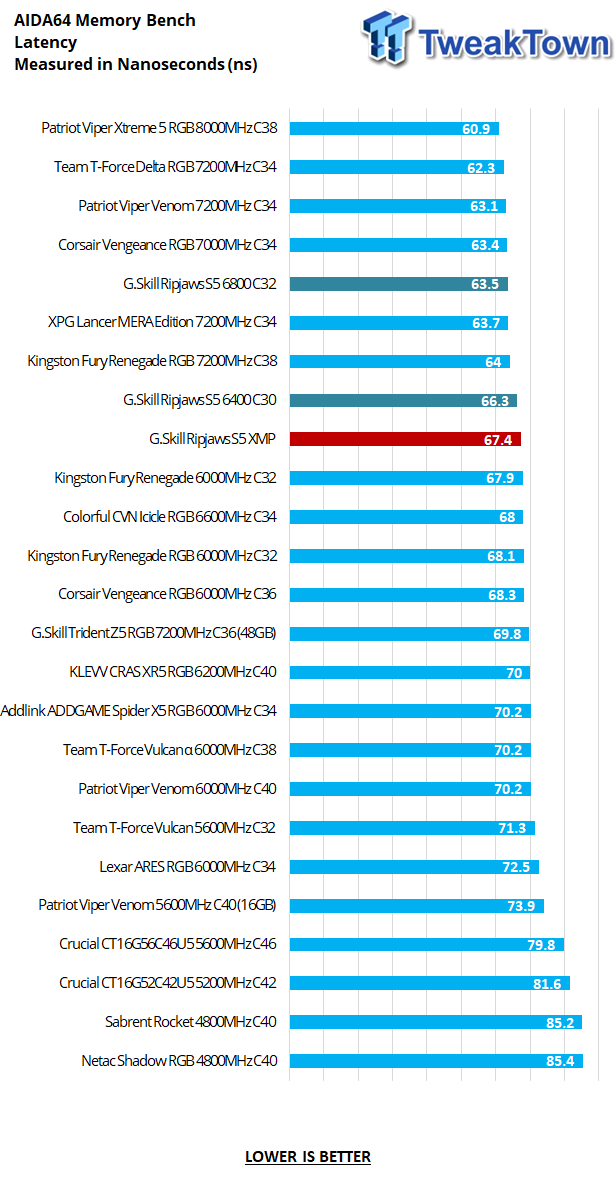 Regarding latency, G.Skill is on point for the speed and is not beaten by any slower set of sticks. With the baseline at 67.4, we had a lot of room to improve. Dropping to CAS 30 didn't drop it as much as we thought it would, but at 6800 MHz, it is hard to complain when it is only passed by 7000, 7200, and 8000 MHz submissions.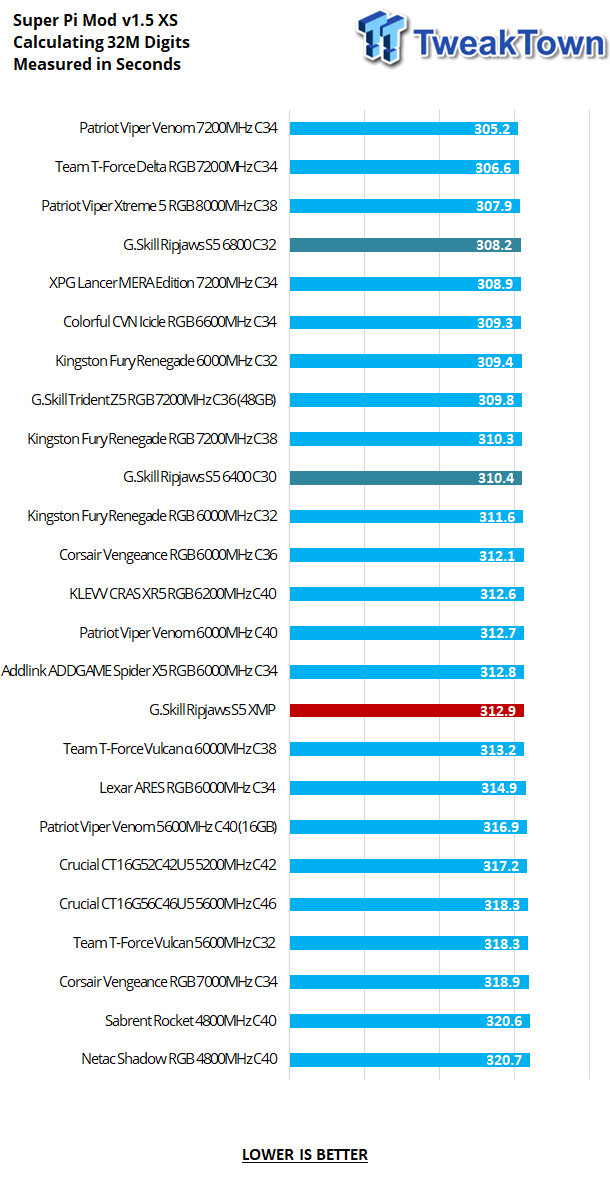 Super Pi times show that G.Skill is mixing it up with the other 6000 MHz samples but is a second slower than the fastest 6000 MHz set in the chart. CAS 30 drops us where we wanted the XMP results to land, but we are pleased with that fourth-place finish G.Skill gets with added speed.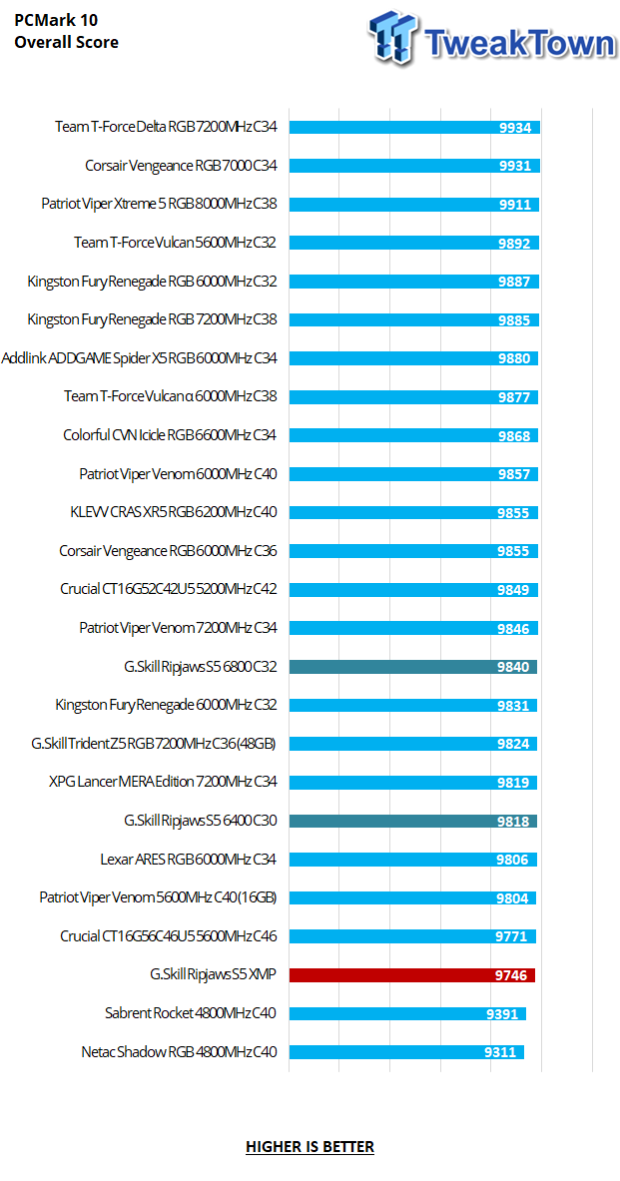 PCMark 10 and the results are some that will leave you scratching your head at times, and now is one of them. We did not expect the Ripjaws S5 to end up third from last. The gains from overclocking seem in line with what we would expect, but we wish we could be more excited about something.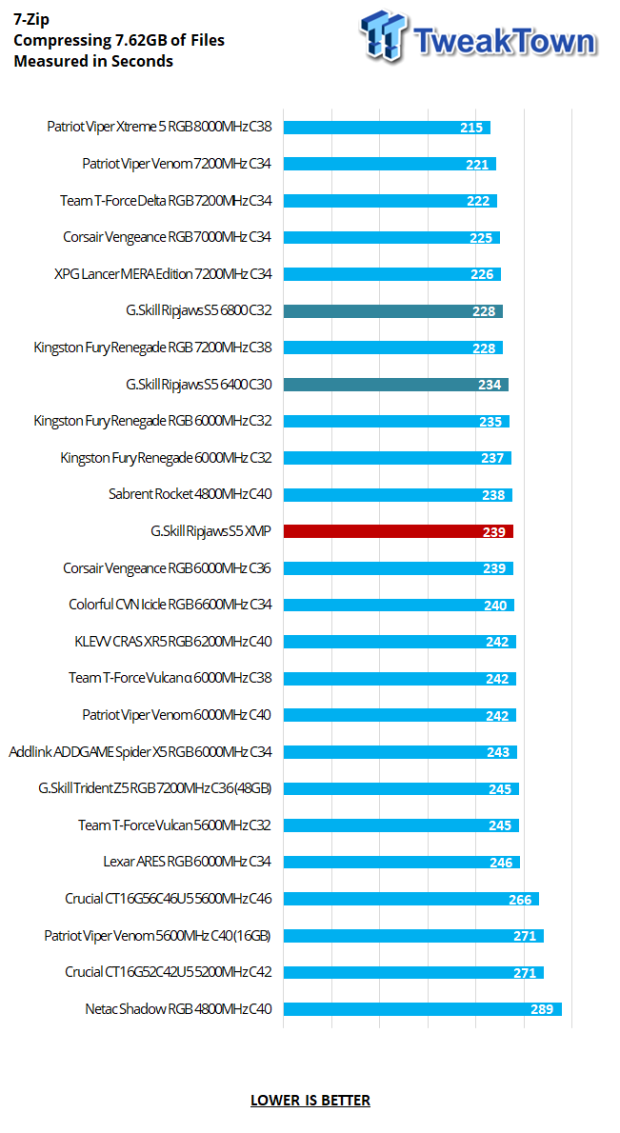 The time to complete our run of 7-Zip has G.Skill once again in the mix of slower kits with XMP in control. We knocked off another five seconds with CAS 30 set and, with more speed, gained eleven seconds back over what we got out of the box.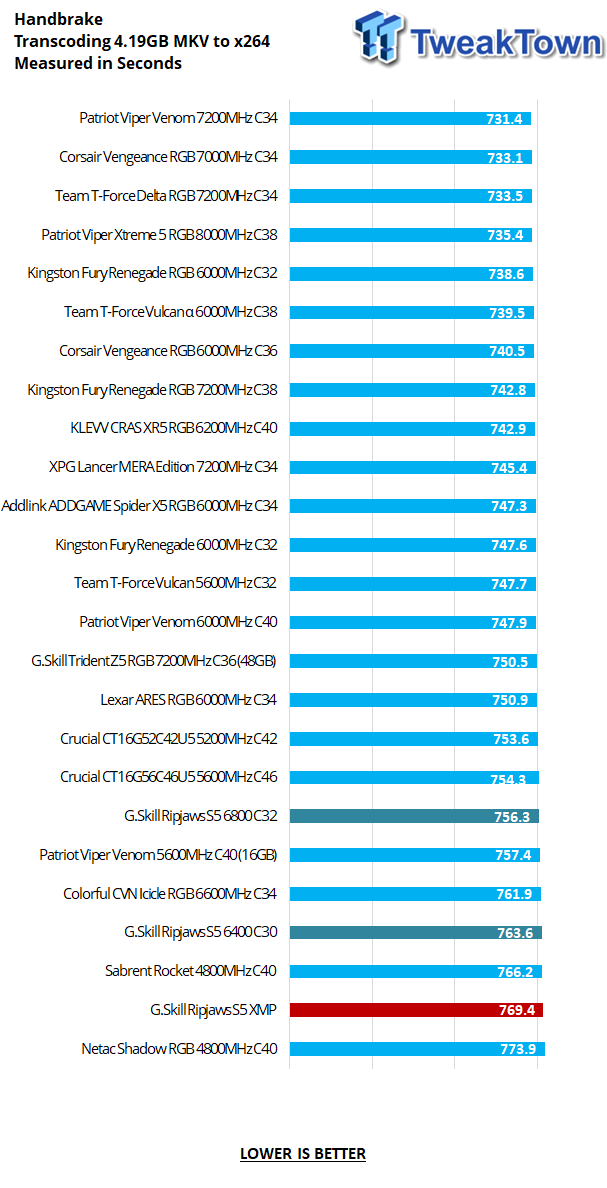 If your daily grind consists of encoding, you may want to look elsewhere. There is no reason these sticks should have placed so near the bottom of the chart, but here we are. Gains were had with overclocking, as they should be, but we can't get excited about them either.
Final Thoughts
Starting with the goodness of the Ripjaws S5, there is a lot to appreciate. The Ripjaws have broken the mold for a first in many years. In all of the previous kits, there was some need to hang on to the name's heritage. With their DDR5, they broke free and delivered something much sleeker, more high-end in appearance. Black or white are the options in color, but the textured aluminum with the tiny holes is attractive, and the bold paint choices make the branding stand out and easy to see at a glance. It is based on SK Hynix IC with an unlocked PMIC in control of things. We got a fair amount of overclocking headroom out of our Ripjaws S5 kit, and being low-profile, these will fit under coolers that many others wouldn't.
On the flip side of that coin, as good as they look, as well as they overclocked, more times than not, we found the Ripjaws S5 to deliver performance lower than we expected.
AIDA write and copy performance, Super Pi, PCMark 10, and handbrake are all metrics in which G.Skill seemed to find it hard to keep up with slower binned RAM kits. These are XMP results we are comparing here, as overclocking can dig G.Skill out of the mud in a couple of those instances, but we feel that CAS 32 for a set of 6400 MHz memory should have it flying and at least leaving the 6000 MHz entries in the wake across the board. We realize that this is not a top-tier offering. On paper, it should have done better, maybe not in all metrics, but enough to have us recommending fully that you go out and grab these.
Please do not get us completely sideways here. You are getting a solid product from a well-known manufacturer with a great reputation for fixing any issues you may run into, and that is all worth something as well. You can never really put a price on peace of mind, but G.Skill thinks it is around $100. Realistically, at $104.99 for 32GB of RAM, it does put a bit of a spin on the results we saw. While many of its direct competition was slightly ahead of the Ripjaws S5, they cost nearly twice as much on release. What you have left to ponder is whether the company name, warranty, low-cost, and low-profile nature of the Ripjaws S5 mean enough to forgo performance.
In our minds, the scales are swaying back and forth, evening out. Compared to its direct class of RAM, they are the most affordable in the group, and while you may get a bit more from the likes of XPG, Corsair, or Kingston, none of them were willing to kick out a sample to cross-reference the Ripjaws S5. In the end, for a little more than $100 for 32GB of sleek-looking DDR5, it's a hard one to pass up on.