TweakTown's Rating: 93%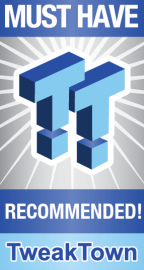 The Bottom Line
Those looking at an ITX motherboard for Intel's 12th or 13th Gen CPUs really should put ASRock's Z790 PG-ITX on the shortlist.
Pros
+

DDR5/PCIe 5.0

+

Thunderbolt 4 and USB 3.2

+

Killer LAN + Wi-Fi

+

Price and good performance

+

ITX platform
Cons
Should you buy it?
Avoid
Consider
Shortlist
Buy
Introduction, Specifications, and Pricing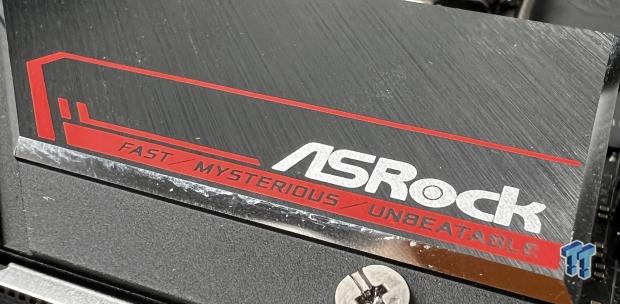 With Intel's 14th Gen reportedly around the corner, it is still somewhat unclear if this new generation will be a refresh of Raptor Lake-S or if we will see the new Meteor Lake architecture make an appearance after all. That said, my gut feeling is that Z790 will live one more cycle as the Raptor Lake-S refresh looks more likely as we inch closer to October.
ASRock's Z790 PG-ITX TB4 is one of very few ITX solutions found at the high-end for 12th and 13th Gen Intel CPUs. This board supports DDR5 memory with a peak capacity of 96GB, while speed can be ramped up to 7000MHz+ via overclocking.
Expansion is minimal with the ITX form factor, though ASRock includes a single PCIe x16 that does offer Gen 5 support while storage grabs three m.2 slots, all supporting Gen4. SATA, too, has been made available for legacy connectivity, with three ports.
Connectivity on this motherboard includes two Thunderbolt 4 and six USB 3.2 Gen 2 on the rear panel, with additional ports available via internal headers. Further connectivity includes the Killer Suite for LAN and Wi-Fi, offering 2.5Gbe wired connectivity and WiFi6e. Display connectivity consists of HDMI and DP on the rear panel and two additional display connections available over USB4.
Pricing
Pricing on the ASRock Z790 PG-ITX TB4 comes in at $349.99 with a three-year warranty.
Packaging, Accessories, and Overview
Packaging and Accessories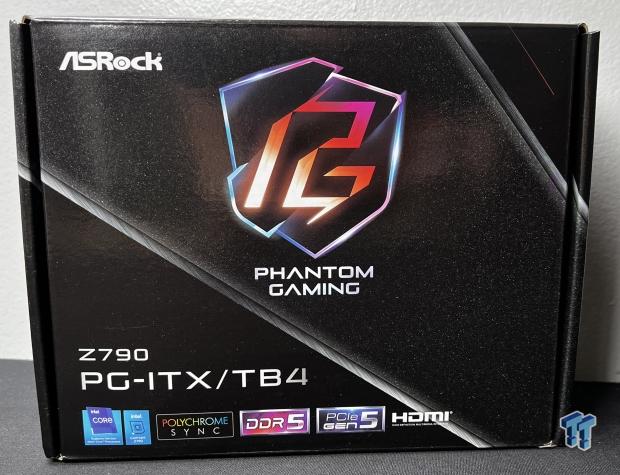 Packaging has stayed the same compared to the previous generation Phantom Gaming offering. The PG logo is centered on the box, and supported CPUs are listed along the bottom.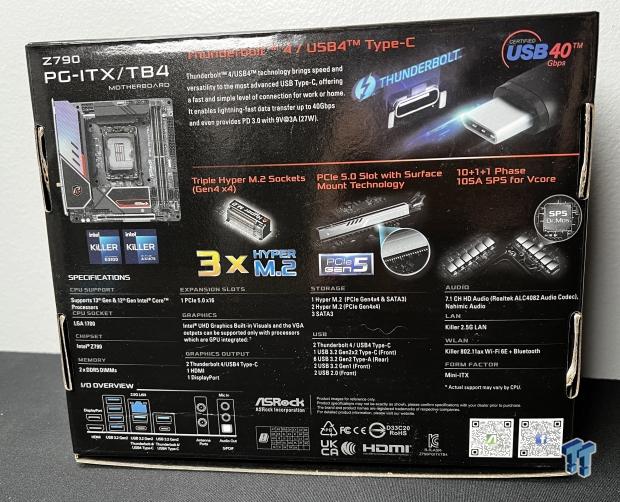 We have board specifications on the back along the bottom with a rear I/O diagram.
Included with the board, we found the user manual, Wi-Fi antenna, and SATA cables.
Motherboard Overview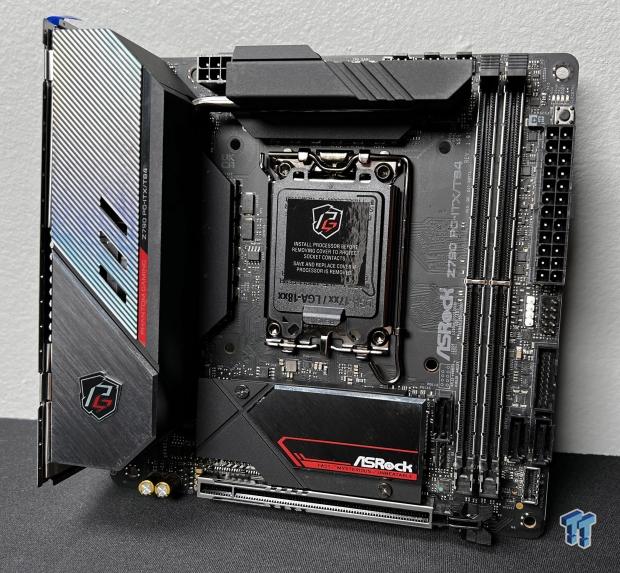 Being ITX, the PG is a small motherboard. We have two DIMM slots to the right of the LGA1700 socket, the first m.2 slot and chipset tucked under the center heatsink, and a full PCIex16 slot at the bottom.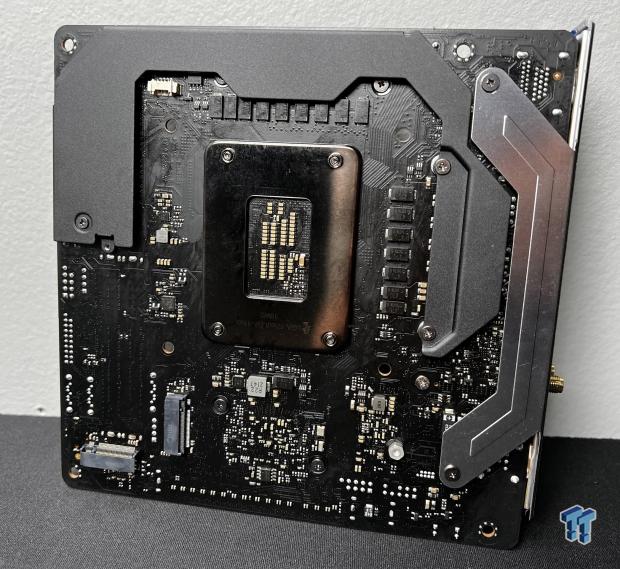 On the backside, we have a backplate across the top of the board, two m.2 right below the CPU socket.

The rear I/O gives us DP and HDMI at the top. This is followed by a mass of USB 3.2 Gen 2 ports and Thunderbolt/USB4 along the bottom. Further right, we have Wi-Fi and audio.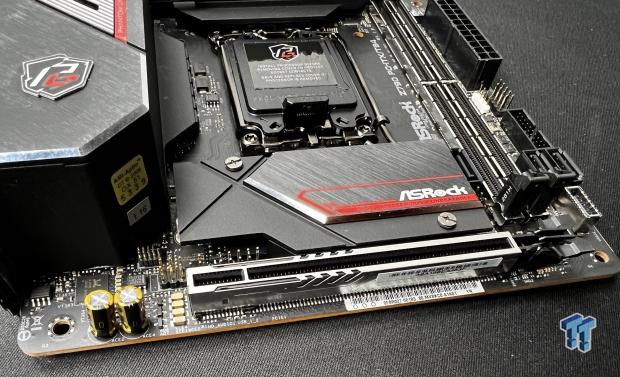 Taking a trip around the board, the bottom has just a few headers for front panel audio and chassis connections.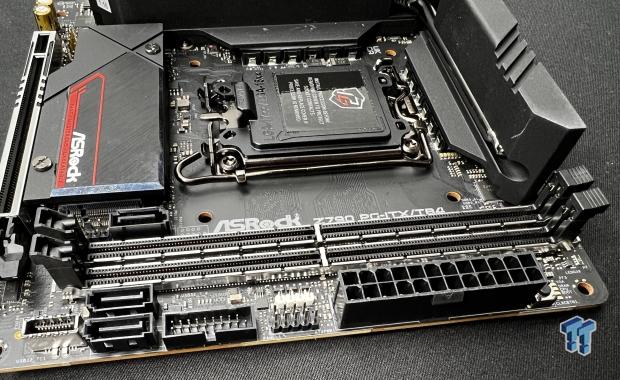 Around the corner, the side of the board packs in most of the connectivity. Three SATA and several USB 3.2 headers can be found here, along with the 24-pin power and fan headers.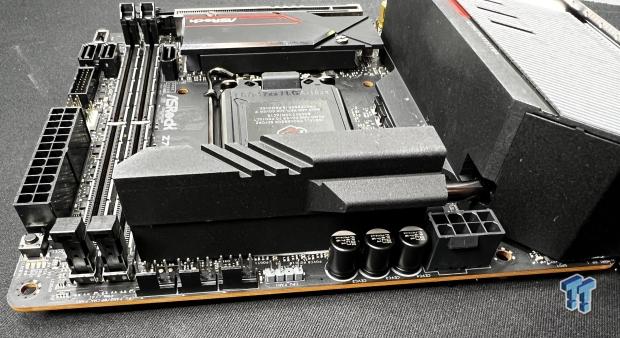 Across the top, we have more fan headers and eight-pin power.
UEFI, Software and Test System
UEFI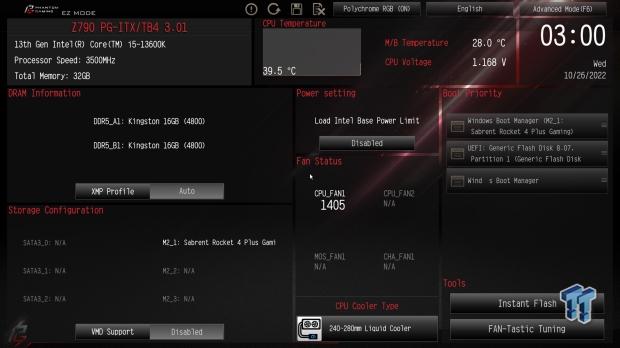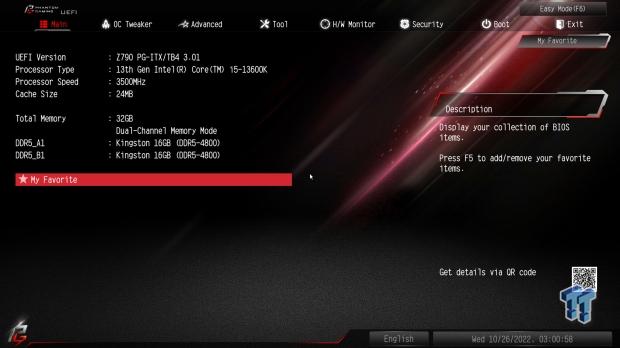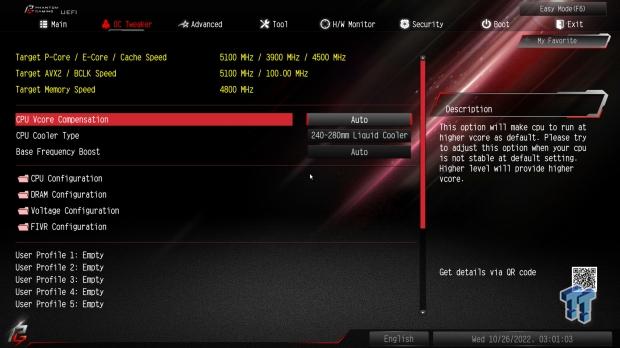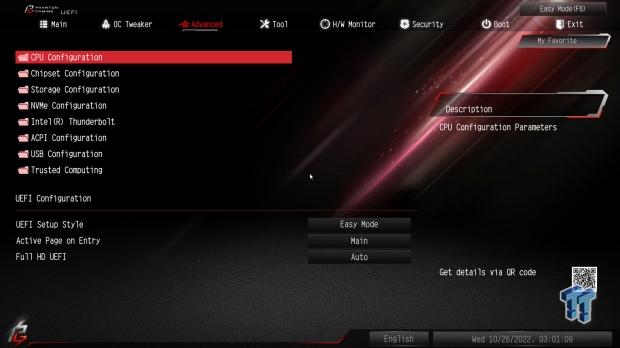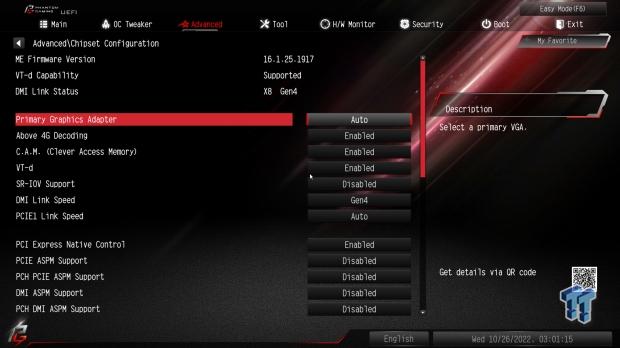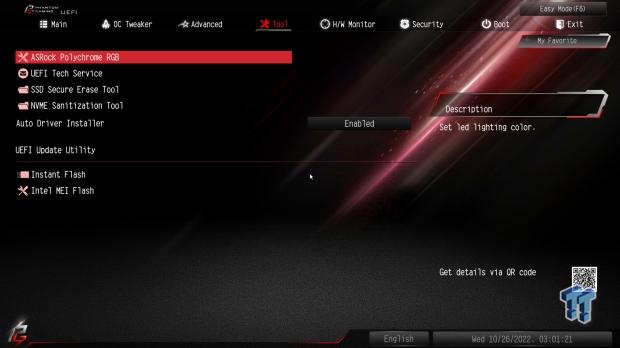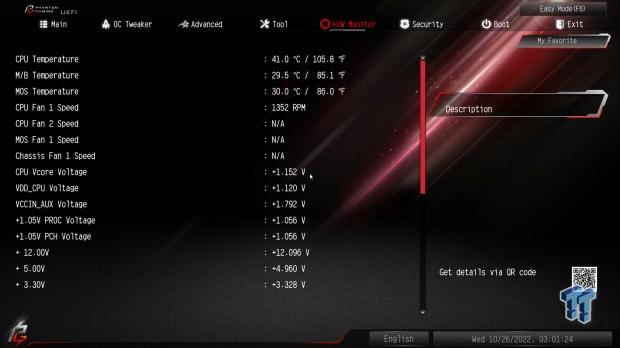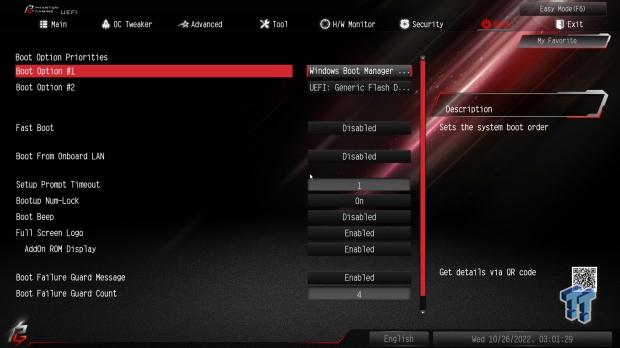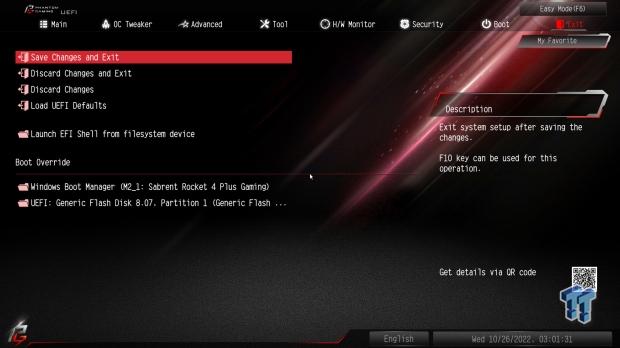 This BIOS should look familiar for anyone who has used an ASRock platform in the last few generations, though this one has a PG theme. Starting with EZ Mode, we have CPU and memory information on the top left and temperatures to the right. Down below, the dashboard is split into categories for DRAM, fans, and storage, each with its own options. To the far right, we have quick access to boot priority.
OC Tweaker includes current CPU and memory clocks at the top, tuning for both below. The advanced menu contains options for SATA storage, PCH, Thunderbolt, and NVMe. CPU config includes the ability to enable/disable cores, including E cores and P cores, separately.
Monitoring is included alongside fan control, while the tool menu allows you to control RGB and Secure Erase storage devices.
Motherboard Software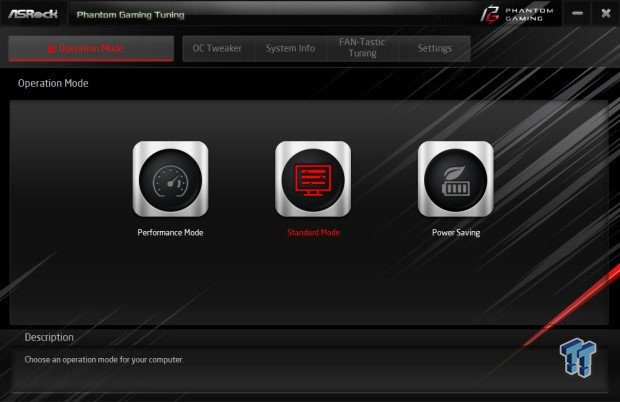 ASRock A-Tuning allows for quick access to performance profiles seen above.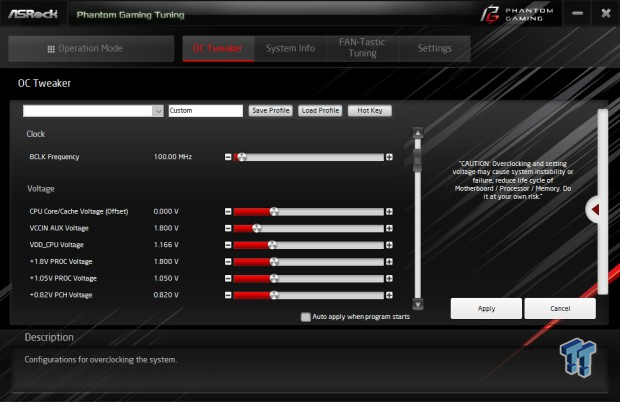 Users also can manually tune from the OC Tweaker menu.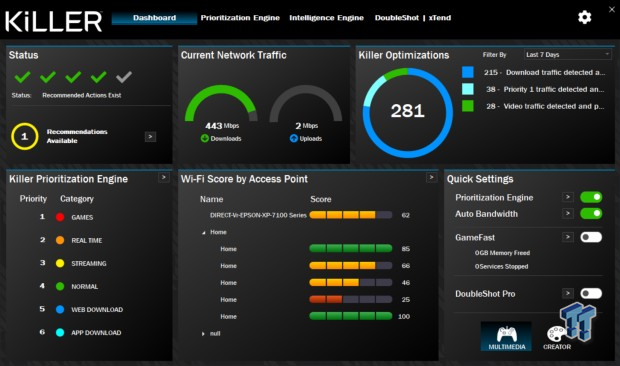 Additionally, with this platform using Killer for LAN and WLAN, you have access to Killer Intelligence Center.
Motherboard Testing Supporters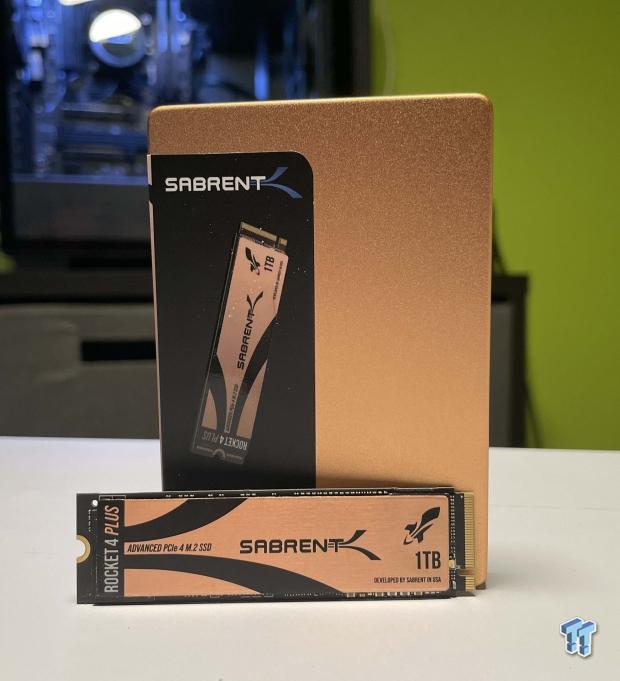 Sabrent supports our storage testing with the Rocket 4 Plus.
TweakTown Intel Motherboard Test System
Cinebench R23,Crossmark and AIDA64
Cinebench R23
Cinebench is a long-standing render benchmark that has been heavily relied upon by both Intel and AMD to highlight their newest platforms during unveils. The benchmark has two tests, a single-core workload utilizing one thread or 1T and a multi-threaded test that uses all threads or nT of a tested CPU.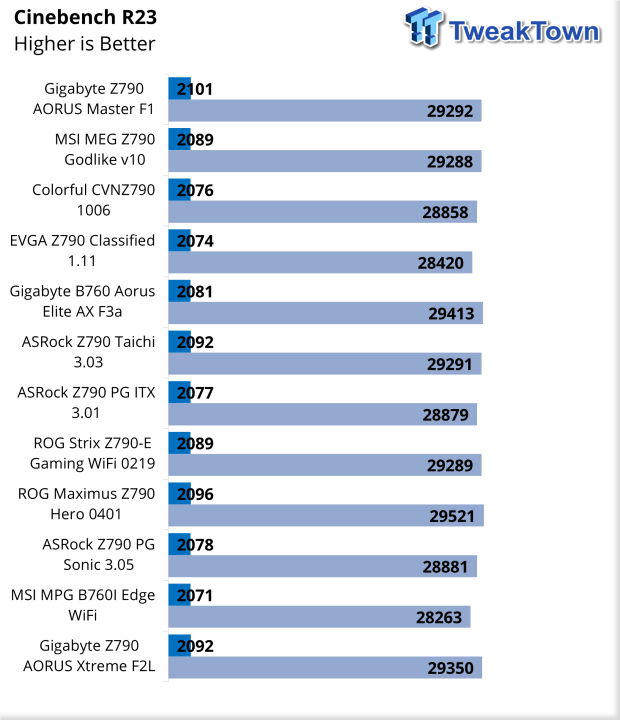 The PG ITX did quite well in our testing, with R23 showing 2077 single core and 28879 multicore.
CrossMark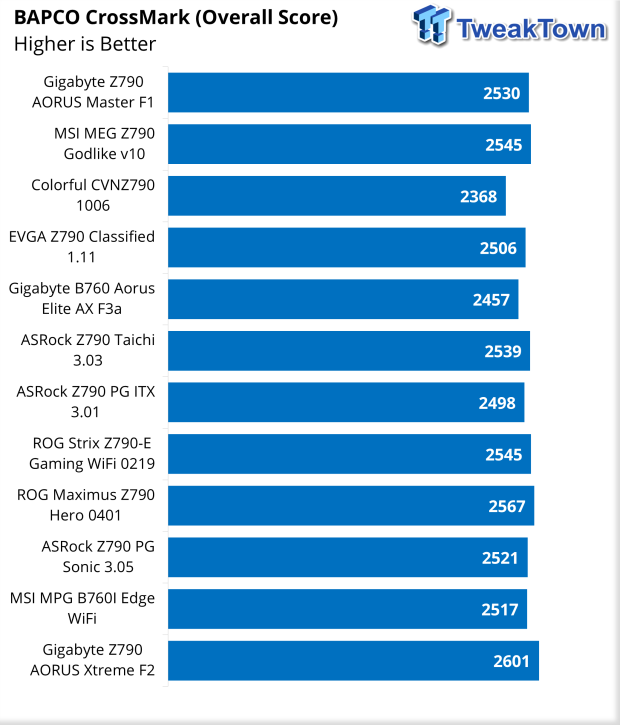 CrossMark landed us an overall of 2498 for PG.
AIDA64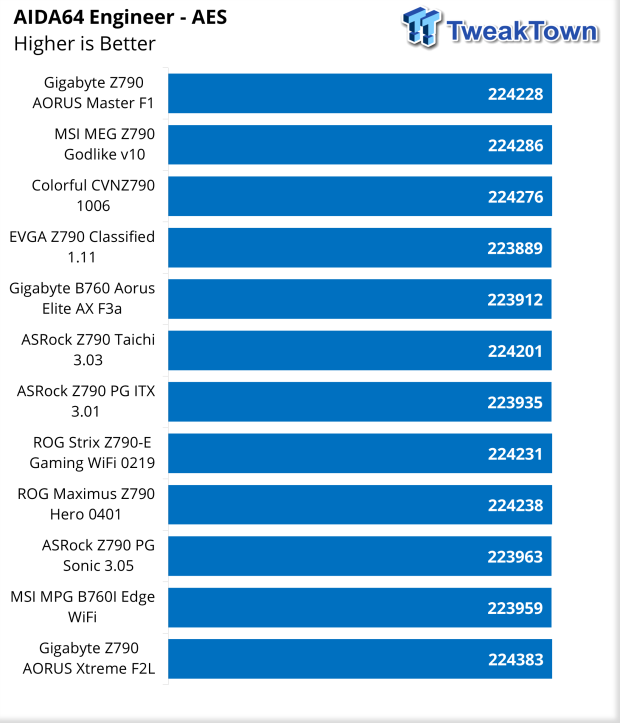 In AES, we picked up 223935.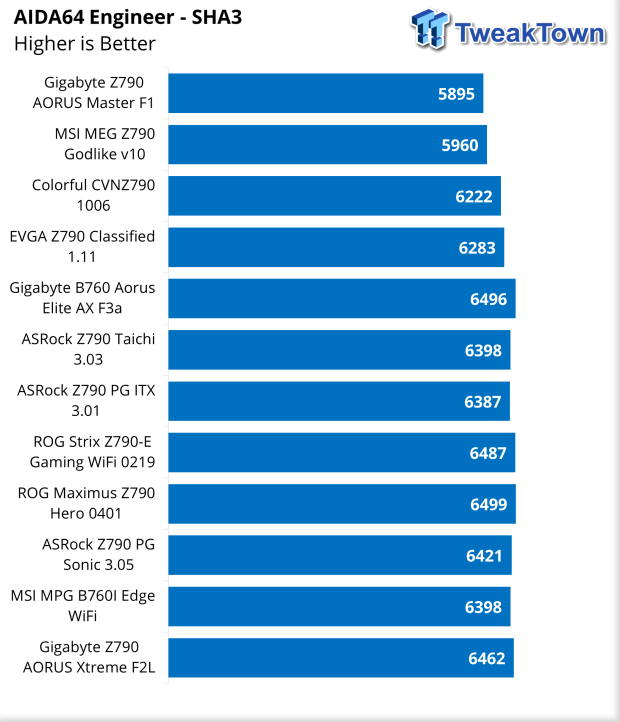 SHA3 tapped in at 6387.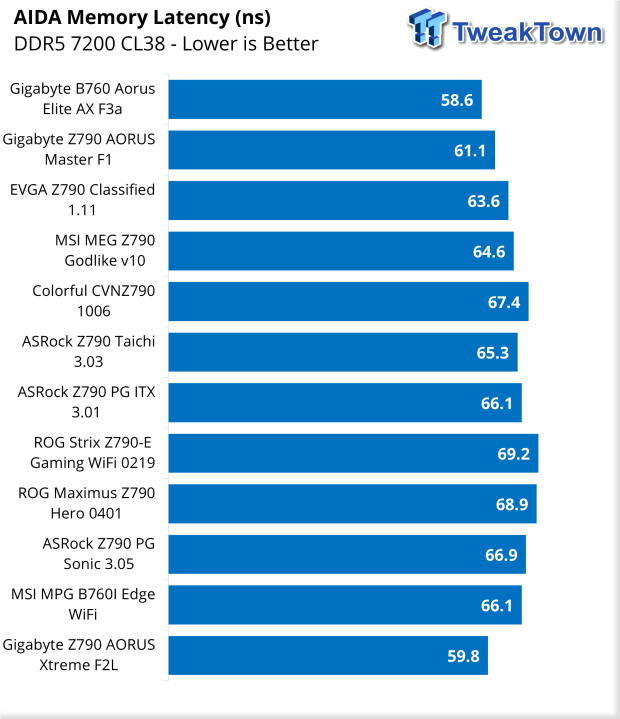 Memory latency landed at 66.1ns.
UL Procyon,3DMark, and CrossMark Benchmarks
UL Procyon Suite
The UL Procyon Office Productivity Benchmark uses Microsoft Office apps to measure PC performance for office productivity work.
The Photo Editing benchmark uses Adobe Lightroom to import, process, and modify a selection of images. In the second part of the test, multiple edits and layer effects are applied to a photograph in Adobe Photoshop.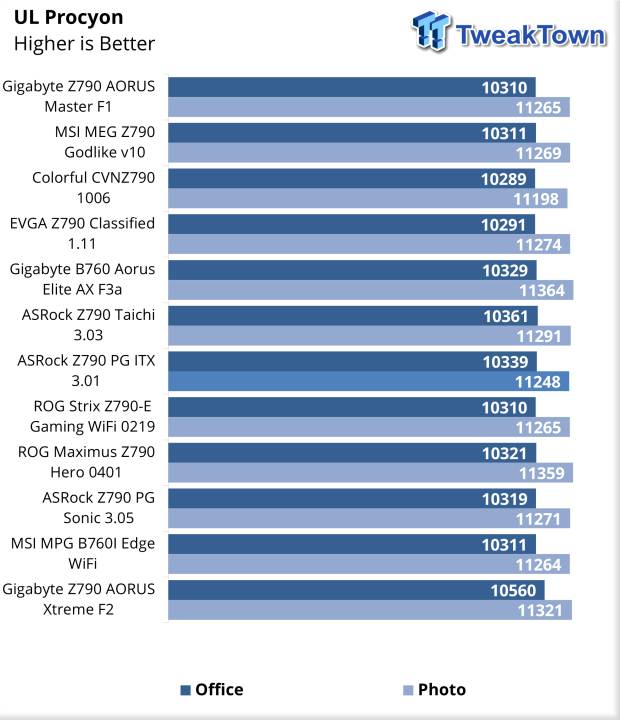 Procyon scored a solid 10339 for Office with Photo right there, scoring 11248.
3DMark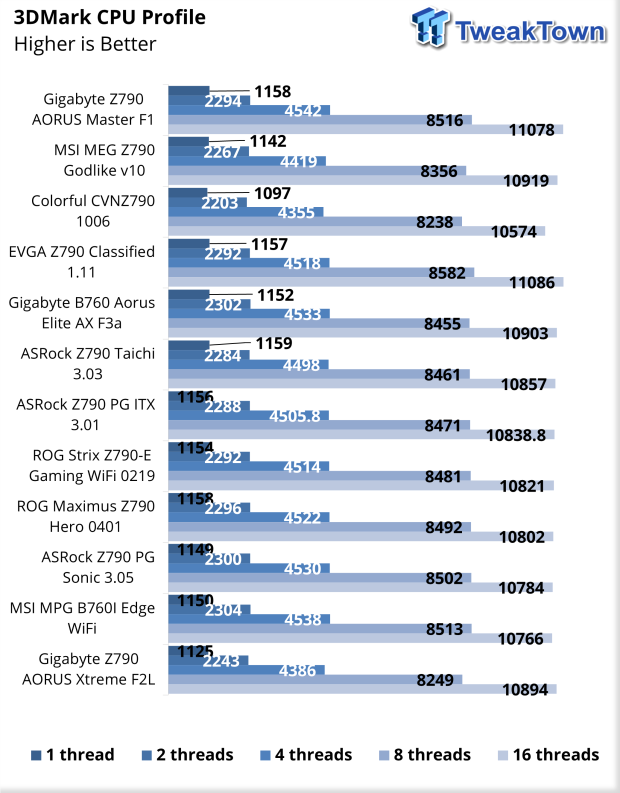 Starting with CPU Profile, the PG grabbed 1156 single thread while 16 threads scored 10838.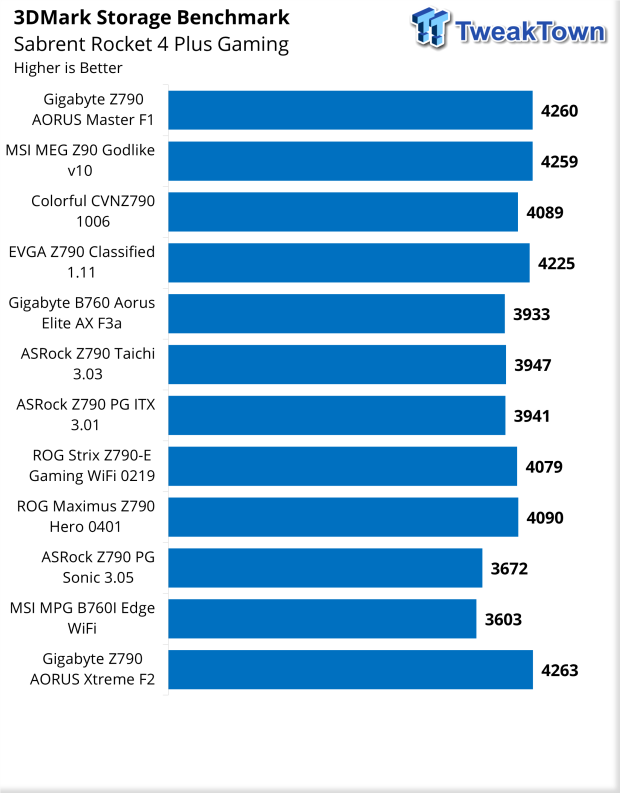 Flipping over to storage, our Rocket 4 Plus scored 3941 on the PG ITX.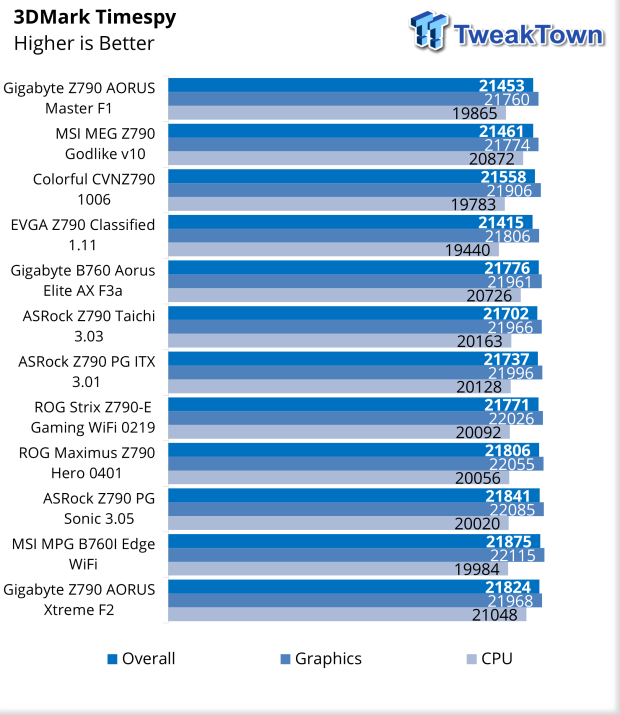 Time Spy gives us our first look at a gaming workload. The PG ITX did quite well, scoring 21737 overall.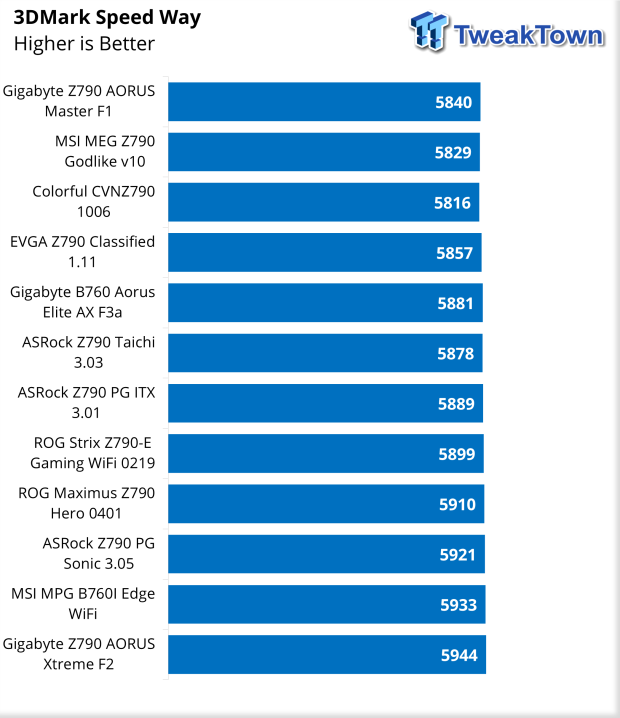 Speed Way was similar, the PG ITX right in line with others at 5889.
Gaming Benchmarks and Final Thoughts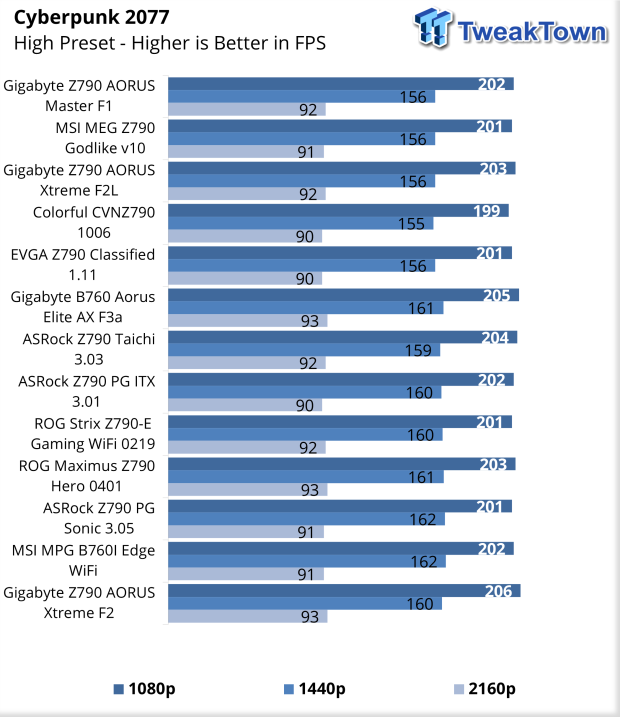 We default to our Cyberpunk 2077 benchmark for gaming, testing 1080p, 1440p, and 4K. For the PG ITX, we saw 202 FPS peak at 1080p, followed by 160 FPS at 1440p and 92 FPS at 4K.
Final Thoughts
With testing wrapped on the Z790 PG ITX, it comes off the test bench as one of the better ITX solutions we have tested. Features of this motherboard include support for USB 4 and Thunderbolt 4, alongside a host of USB 3.2, both gen 1 and 2, and even Intel's Killer Suite with the E3100G and AX1675.
That being said, this motherboard is identical to the Z690 offering, with just a few cosmetic changes to the heatsinks and a chipset swap. The underlying components are the same. This is certainly a cost-cutting measure from ASRock but should not interfere with performance, and our results confirm this.
Speaking of results, the Z790 PG-ITX ran right with more expensive solutions like Godlike, AORUS Xtreme, and ROG Maximus Hero in everything from R23, Cross Mark, and AIDA. Memory latency was among the better motherboards on this PG, and 3DMark offered support with top-notch performances in Time Spy and Speed Way.
Pricing on this solution carries an MSRP of $349.99, while last year's Z690 PG ITX came in at $329.99, a slight increase. With that, the Z790 PG-ITX is currently one of the cheaper options on the market for those wanting ITX, with comparables like the Strix Z790-I going for $469.99 and AORUS Ultra at $359.99, both lacking many of the features included in the solid ASRock offering.